When holiday guests arrive, they're going to be hungry, give them something delicious to nibble on with our Holiday Cocktail Charcuterie Board. This large charcuterie board is big enough to serve a crowd- great for holiday parties, award watch parties, and game day!

Large Charcuterie Board Idea | Holiday Cocktail Charcuterie Board
So, you're hosting this year's holiday party, and chances are you are going to need all the help you can get. Our Holiday Cocktail Charcuterie Board is the perfect set-up for guests to nibble on while you're busy putting the finishing touches on the holiday dinner.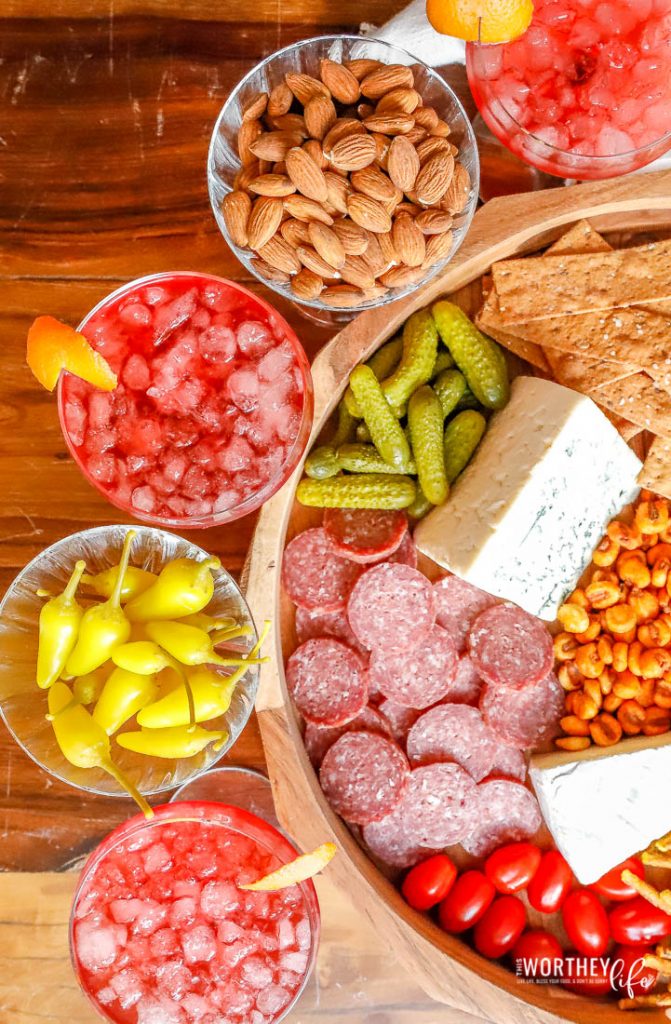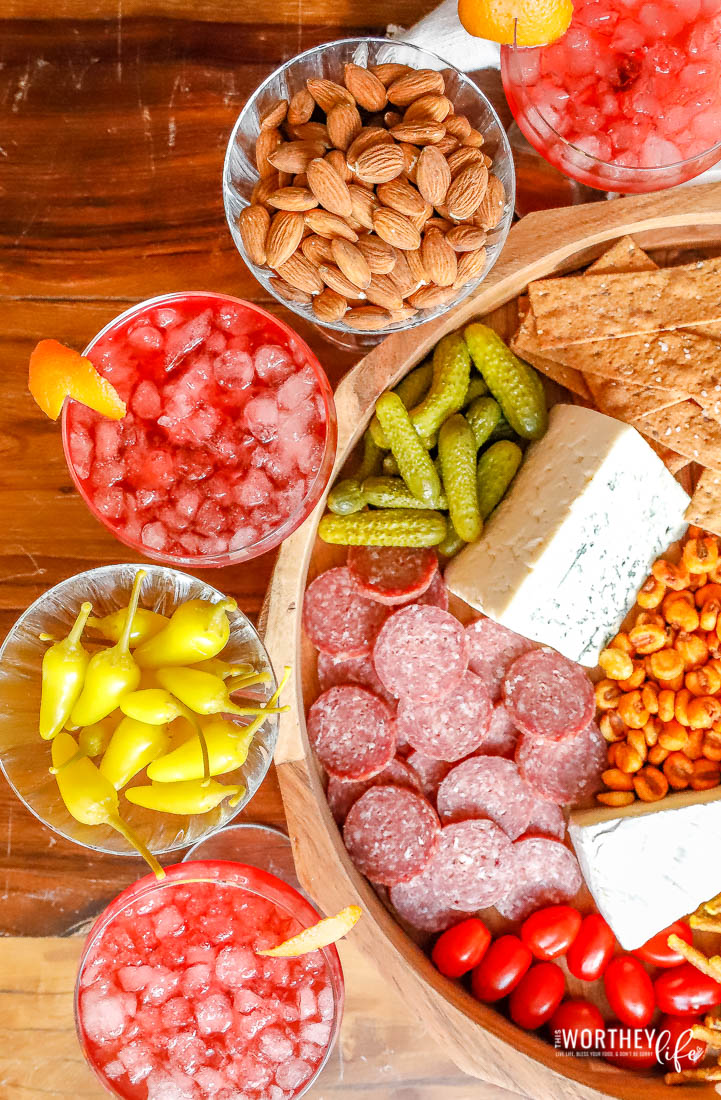 What's on our charcuterie board
This is an easy charcuterie board to put together, featuring three different kinds of cheese. We also added stuffed olives, cocktail pickles, cherry tomatoes, black pepper & thyme crackers, almonds, peppers, yellow mustard pretzel sticks, salami, prosciutto, blue cheese, brie, and a unique variety of Parmesan cheese. All of these great flavors come together to create a super yummy charcuterie board you can be proud of and then some!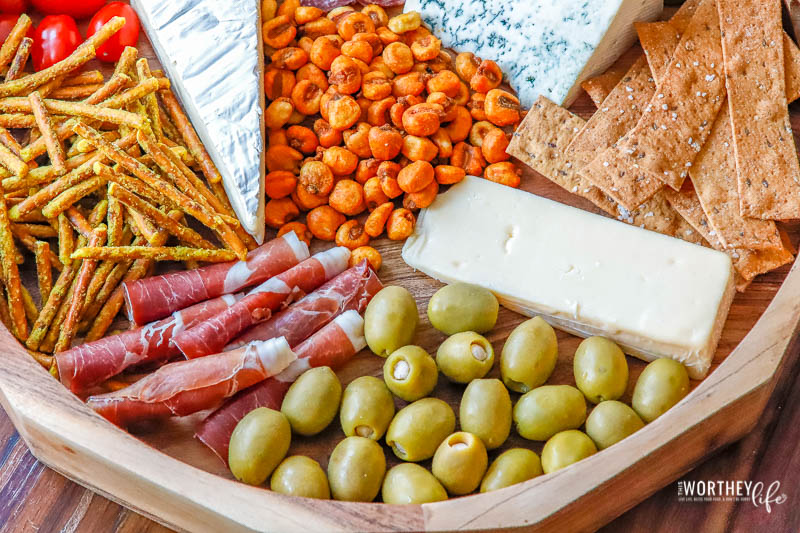 We're sharing a Cranberry Holiday Cocktail idea
And for the cocktail, this one uses simple ingredients and can be made just before guests arrive. It's a delicious combination of Jack Daniel's Winter Jack Tennessee Cider, Disaronno, ginger liqueur, citrus bitters, and cranberry juice. It's served over ice and has an orange peel garnish. One thing about this cocktail is it doesn't have the strong taste of booze, and yet it's quite boozy in terms of potency. In other words, its a sleeper, meaning it'll sneak up on you, and you won't even know it. Too many of this particular cocktail, and you better call an Uber or better yet, have a designated driver, and you're good to go.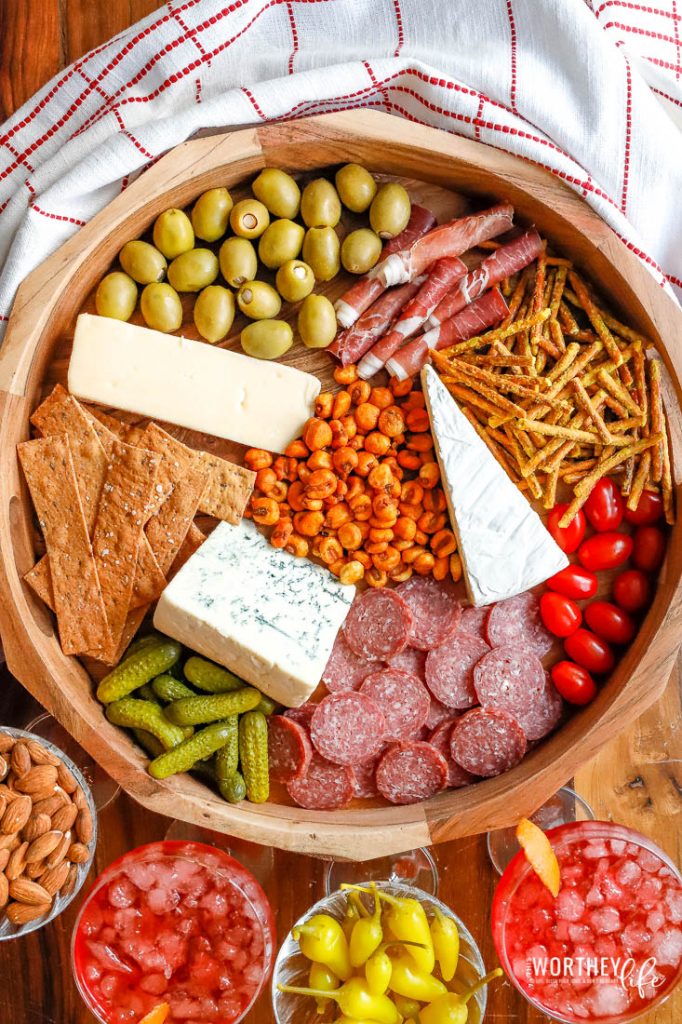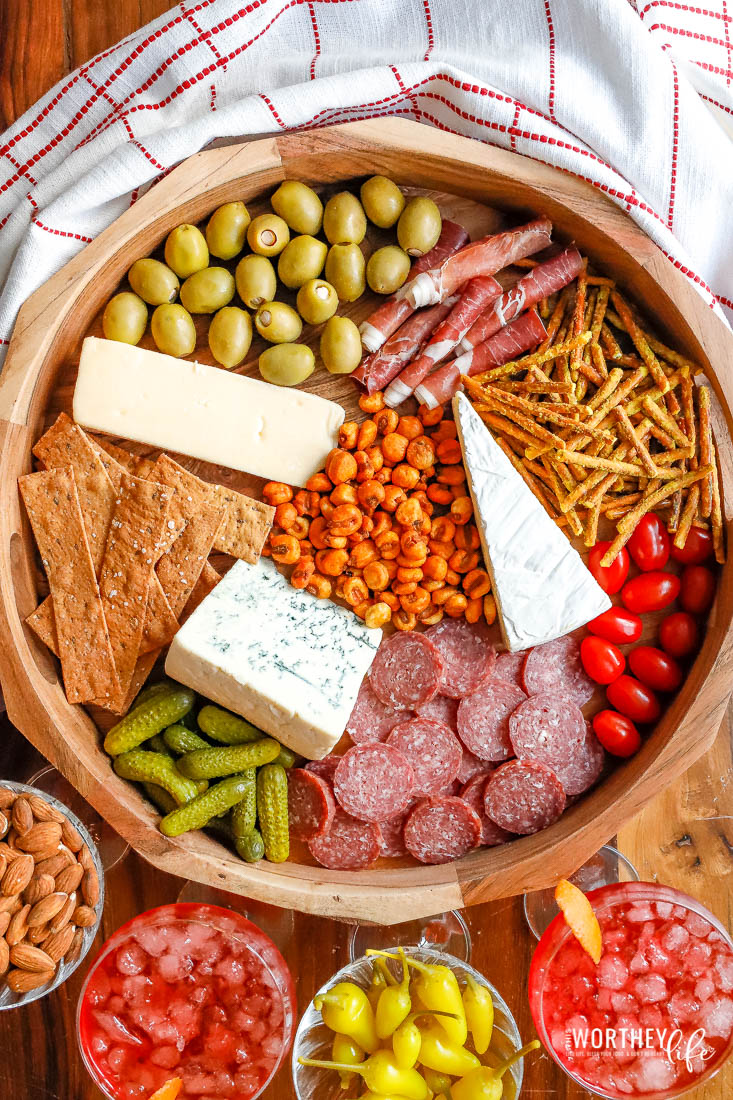 Cocktails and charcuterie boards go together like peanut butter and grape jelly!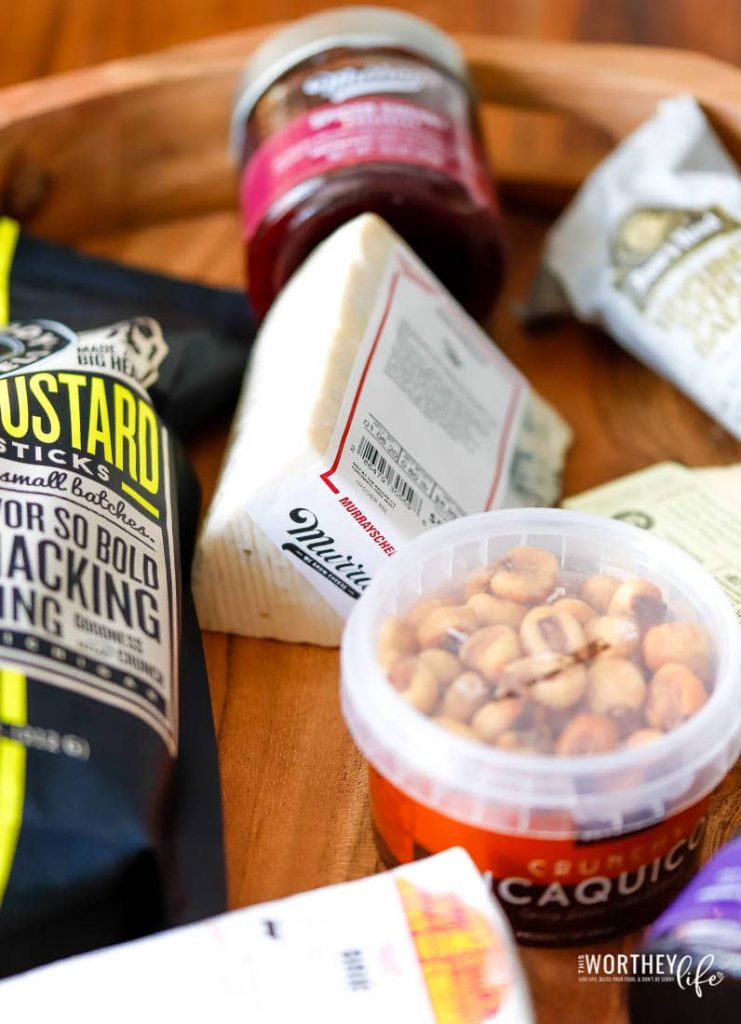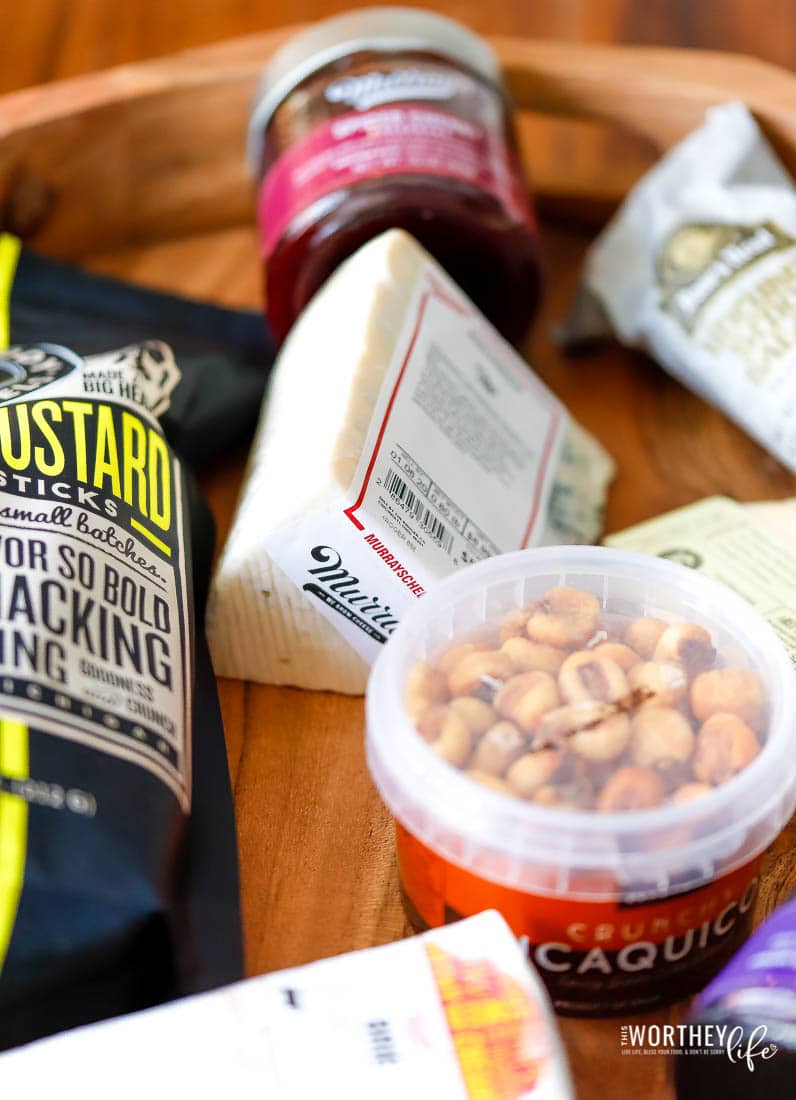 Additional Items To Add To Your Charcuterie Board
Figs. Figs will add a fruity sweetness that will balance perfectly with all of the savory and salty flavors, and figs pair well with a variety of cheeses like sharp, crumbly blue cheese, soft brie, and mild to extra-sharp cheddars. Figs also go exceptionally well with tangy goat cheeses and hard cheeses like Asiago, Manchego, Parmesan, and Pecorino Romano.
Fresh Fruit. Go ahead and go a little or a lot crazy when it comes to adding the natural sweetness of fresh fruit to your charcuterie board. Keep it seasonal with melons, strawberries, and berries in the summer months and pears, apples, plums, etc. in the colder months.
Assorted Nuts. Think cashews, walnut, macadamia, pistachios, and almond. Also, consider adding a bit of nutty sweetness by adding honey peanuts or praline pecans.
Veggies. Don't forget to add vegetables like celery, baby carrots, sliced of fresh cucumber, or endive.
Jams & Honey. Adding fruit jams and honey is another great way to sweeten up your holiday cocktail charcuterie board. Take it up a notch with peach and mint jam or spiced cherry jam. And a drizzle of honey atop of your Stilton blue cheese is a real show stopper. Let 'em know that you know exactly what you're doing when it comes to serving a memorable charcuterie board for the holidays.
Cured Meats. Cured meats are a mainstay when it comes to creating a charcuterie board you and your guests will love. For extra points, make a meatless charcuterie board for your non-meat eating eats. They will appreciate the kind, thoughtful, and accommodating gesture.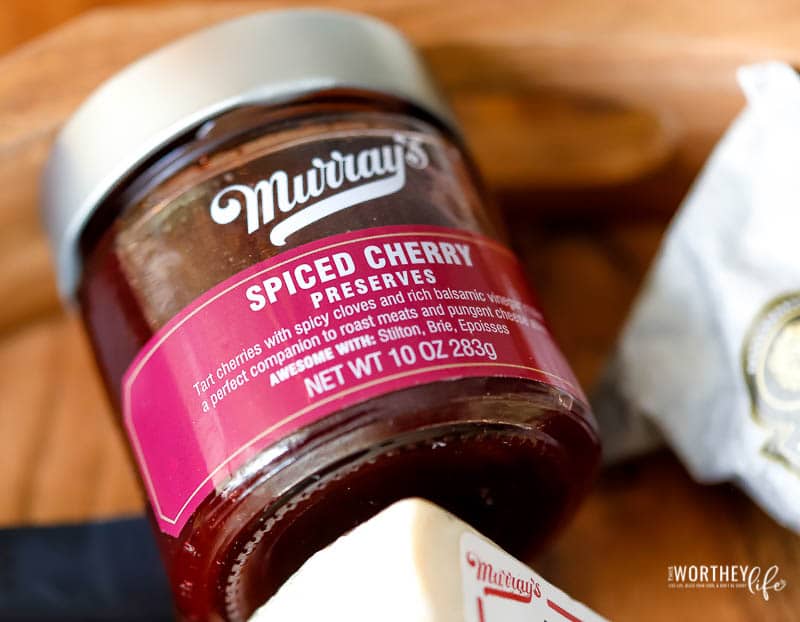 You Will Love Our Holiday Cocktail Charcuterie Board Because:
Beautiful
Savory
Sweet
Has ALL the good cheeses
The meat selection is BAE!
Easy to put together in no time.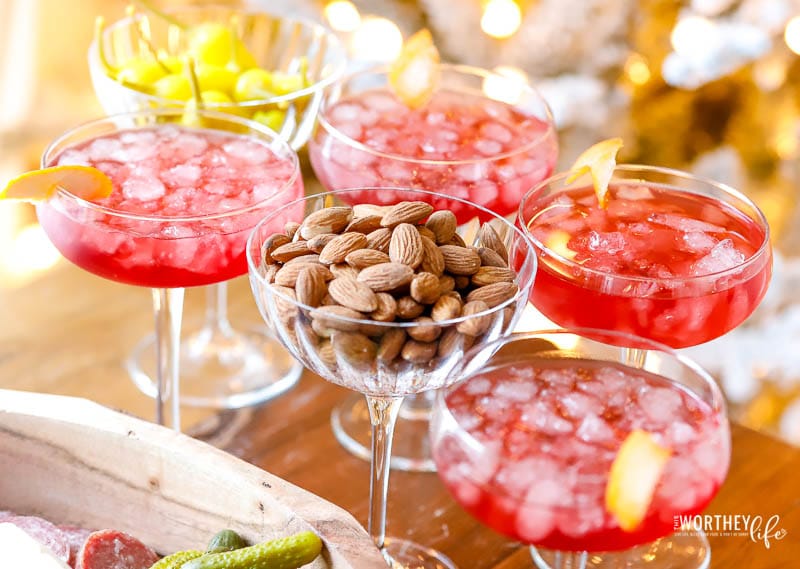 What's On Our Holiday Cocktail Charcuterie Board?
Boar's Head Sopressata Salami
Boar's Head Prosciutto
Murray's Black River Blu Cheese
Murray's Brie
Sartori Chardonnay BellaVitano which is a cow's milk young Parmesan cheese submerged in Chardonnay
Brie Stuffed Olives
Spicy Picaquicos
Firehook Multigrain Flax Cracker
Pop Daddy Yellow Mustard Pretzel Sticks
Whole Unsalted Almonds
Hot Hungarian Peppers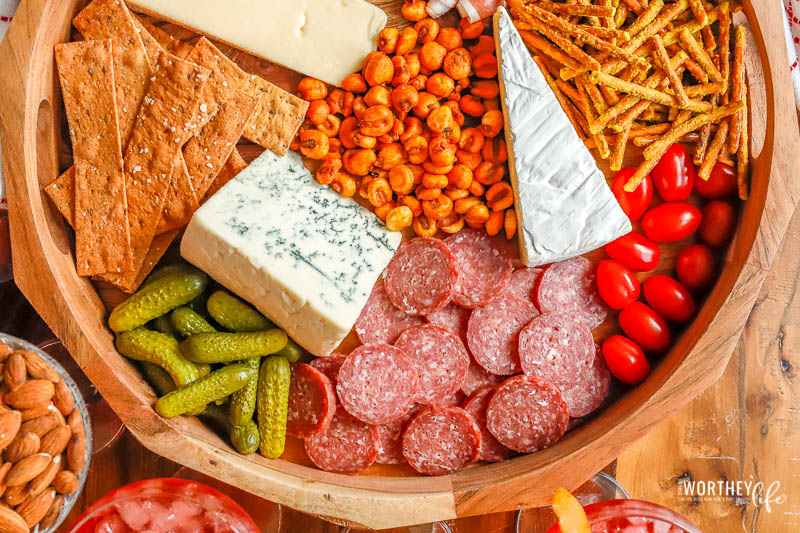 For our Holiday Cocktail Charcuterie board, we went heavy on the savory and salty but only because we love those flavors, but that's the most important thing about charcuterie boards, you can build them with the flavors you love.

Now that you have the instructions on how to put this holiday cocktail charcuterie board together, you are ready to impress your guests. But, you may have to remind them to save room for dinner!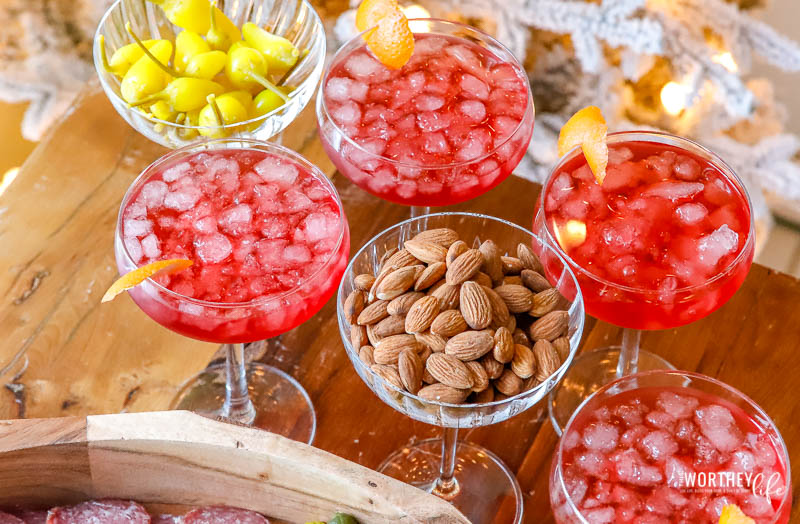 Holiday Cocktail idea – Cranberry Ginger Bourbon Cocktail
(makes for four servings)
Ingredients:
1 1/4 cup Jack Daniel's Winter Jack Tennessee Cider
1/2 Disaronno Originale Italian Liqueur
1/2 cup Domaine Canton French Ginger Liqueur
2 1/2 cups Cranberry Juice
4 long dashes Angostura citrus bitters
Orange Peel for garnish
Ice
Directions:
Express the oil of an orange peel around the rim of four coupe cocktail glasses. Set the glasses aside.
Into a large cocktail-pitcher, add 3 cups of ice.
Over the ice add Jack Daniel's Winter Jack Tennessee Cider, Disaronno liqueur, ginger liqueur, cranberry juice, and Angostura citrus bitters.
Using a large spoon stir the ingredients together vigorously for at 30 seconds.
Fill the glasses with ice, then fill each glass with the Cranberry Ginger Bourbon Cocktail.
Garnish with an orange peel on the rim of each glass.
Serve.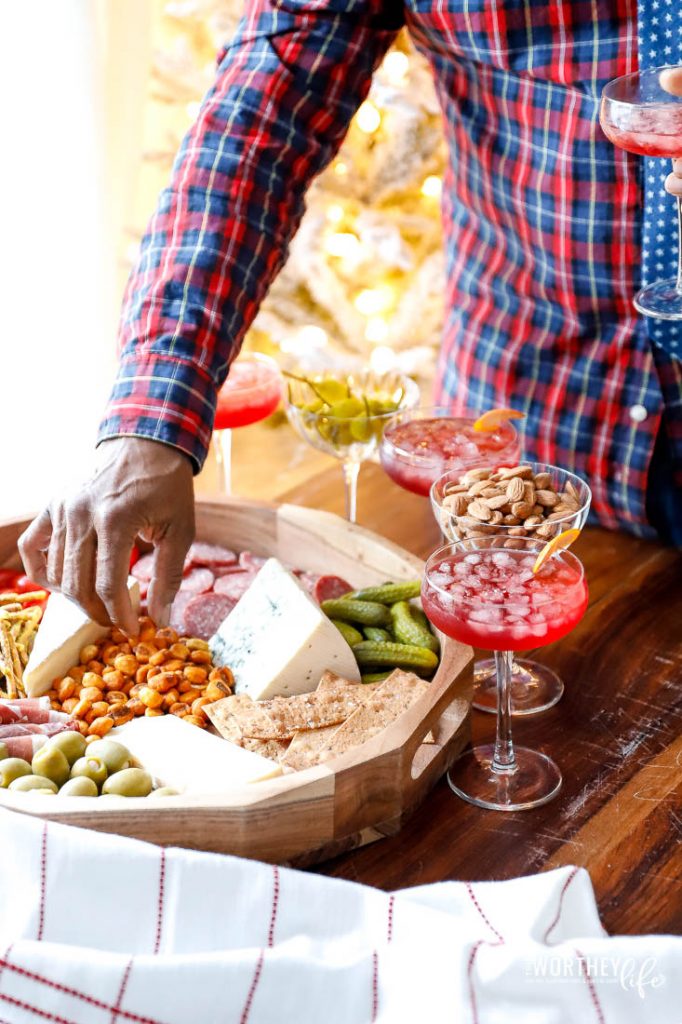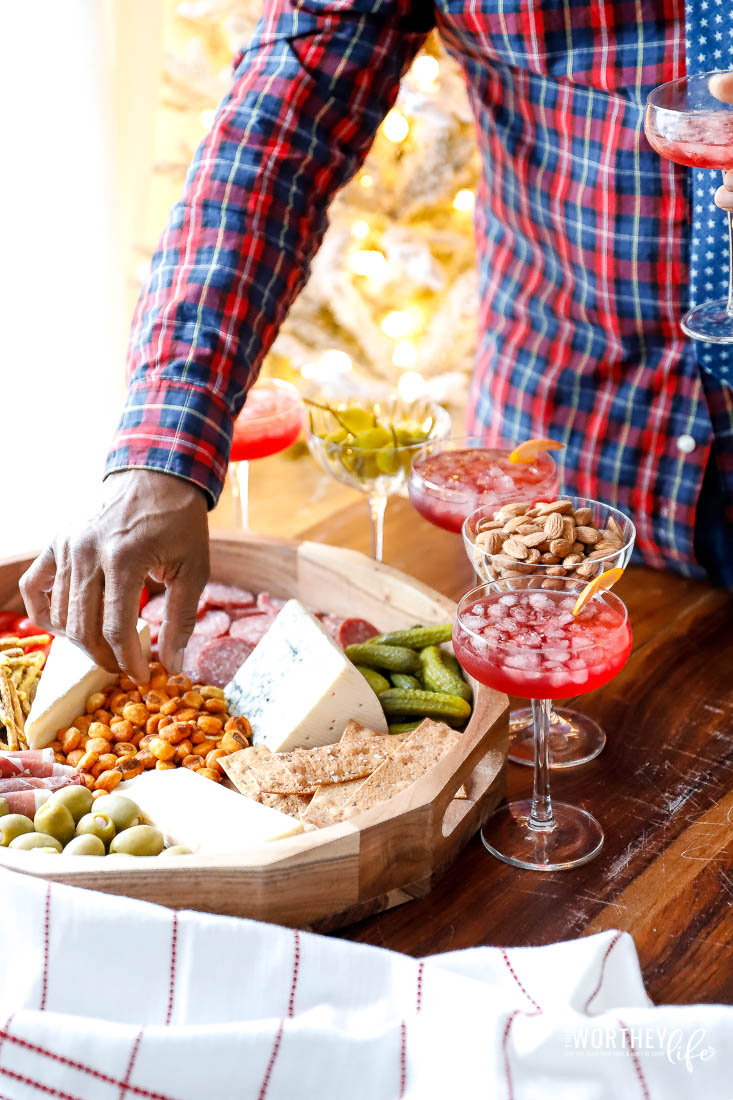 Tips On Creating A Large Charcuterie Board
A few weeks ago, we attended an event at Kroger for holiday planning, Eatertaining Made Simple. We were able to sample a variety of food and drinks from local vendors who have their products in Kroger stores around Michigan. A representative from Murray's cheese was there to give us tips on creating a charcuterie board.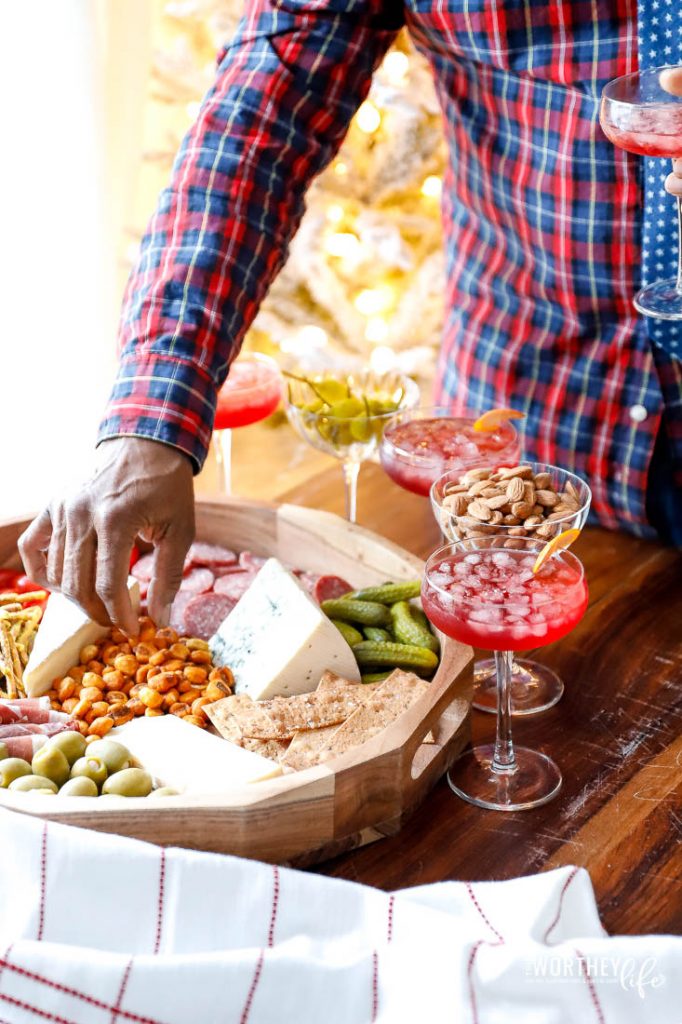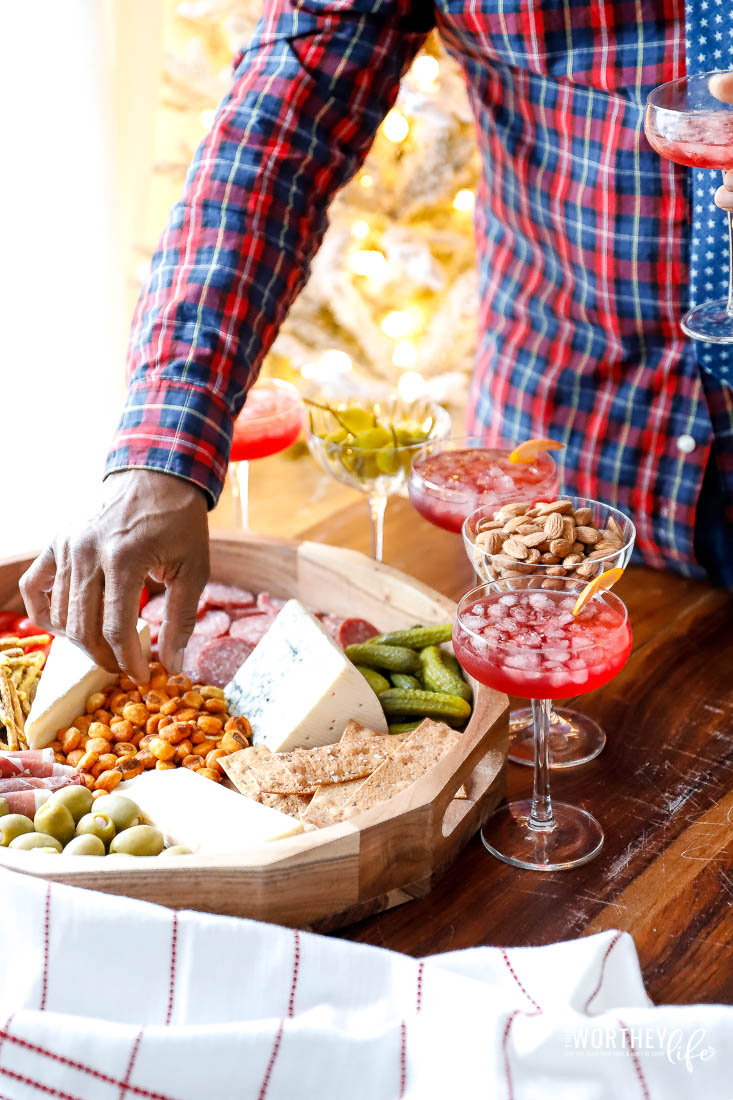 Here are some of the tips we learned:
The recommended serving size is 1 oz per cheese, per person.
Leave cheese at room temperature 1 hour before serving.
When in doubt- something old, something new, something stinky, something blue
Be creative when creating your charcuterie board
Put suggested pairings next to each other (complimentary example: aged gouda & fig spread. Contrast example: blue cheese & honey. Terroir example: Manchego & a Spanish Rioja
There are so many ways you can create a charcuterie board. The most important thing is to have fun with it, get creative, and choose flavors you and your guests will love!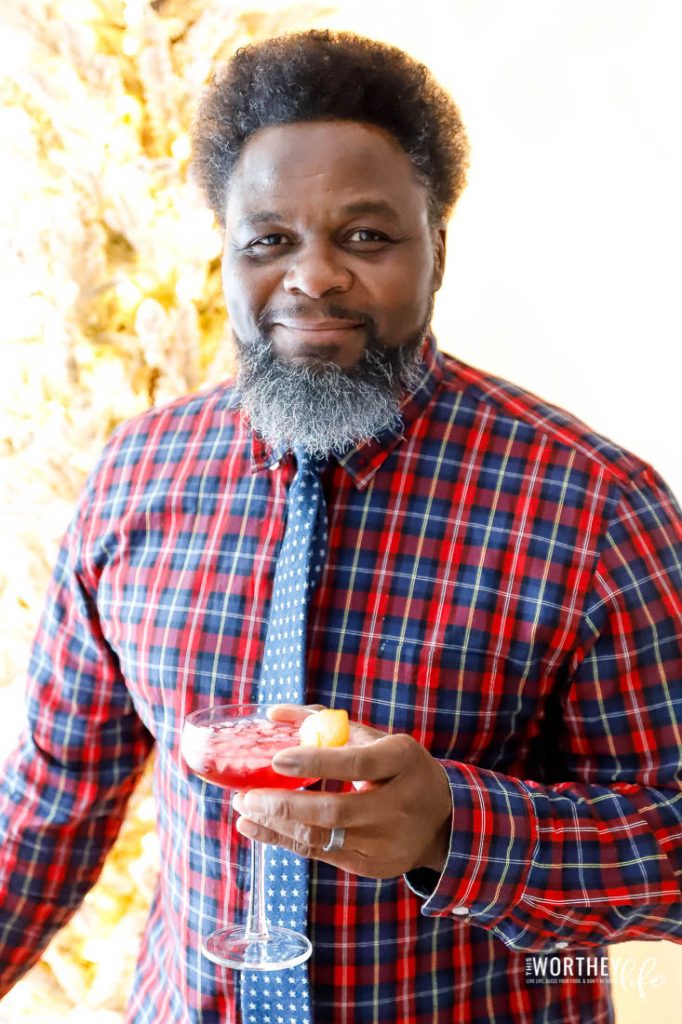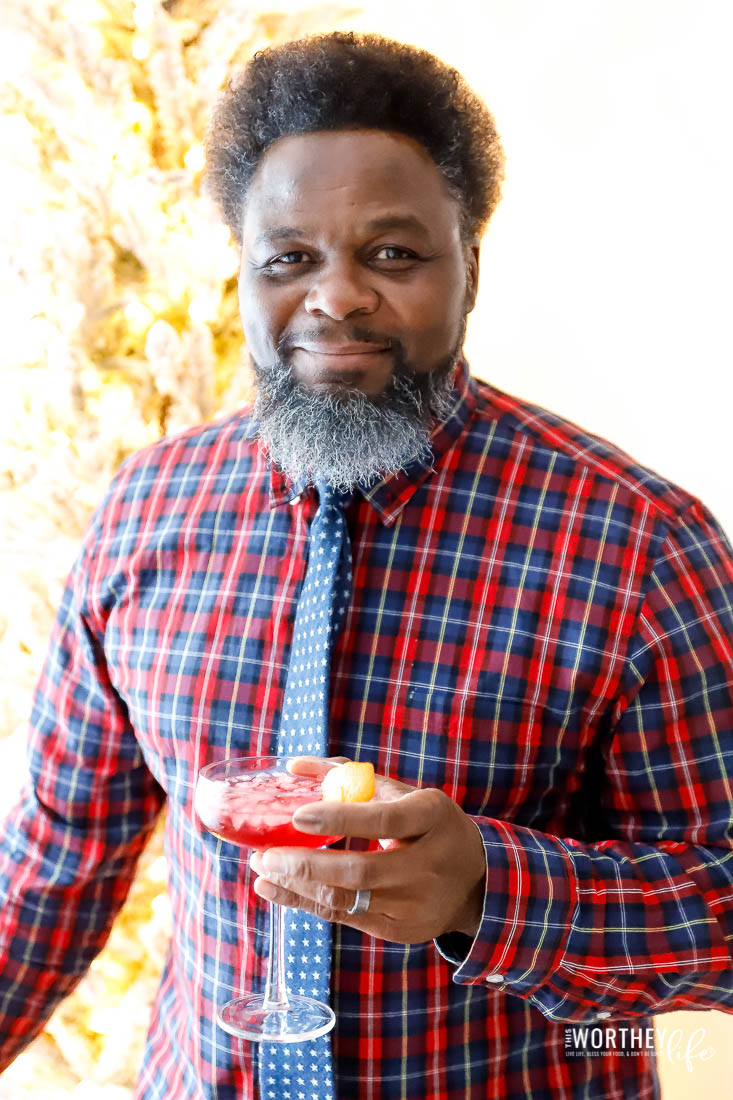 Happy Holidays!
Get more entertaining ideas below:
Christmas Hot Chocolate Charcuterie Board
Quick Holiday Entertaining Hacks When You're Short on Time
Bourbon Eggnog With White Chocolate