Made with a wonderful simple syrup using Michigan cherries, rhubarb, and tequila, this margarita is here to get the party started. With fresh rhubarb and cherries plentiful, serve your guests this summer our Cherry + Rhubarb margarita!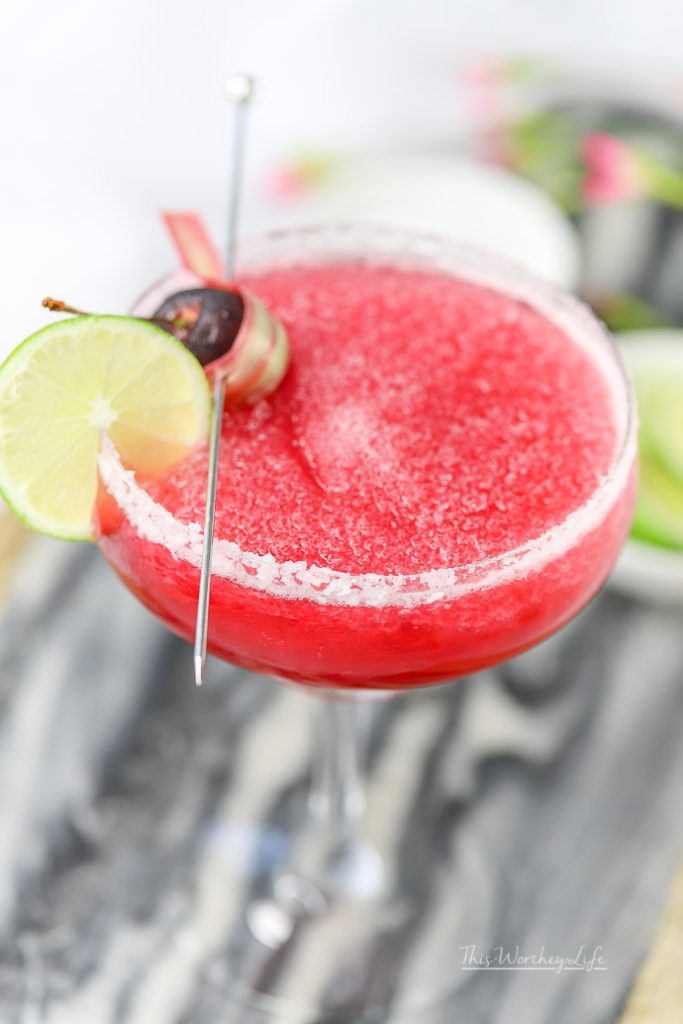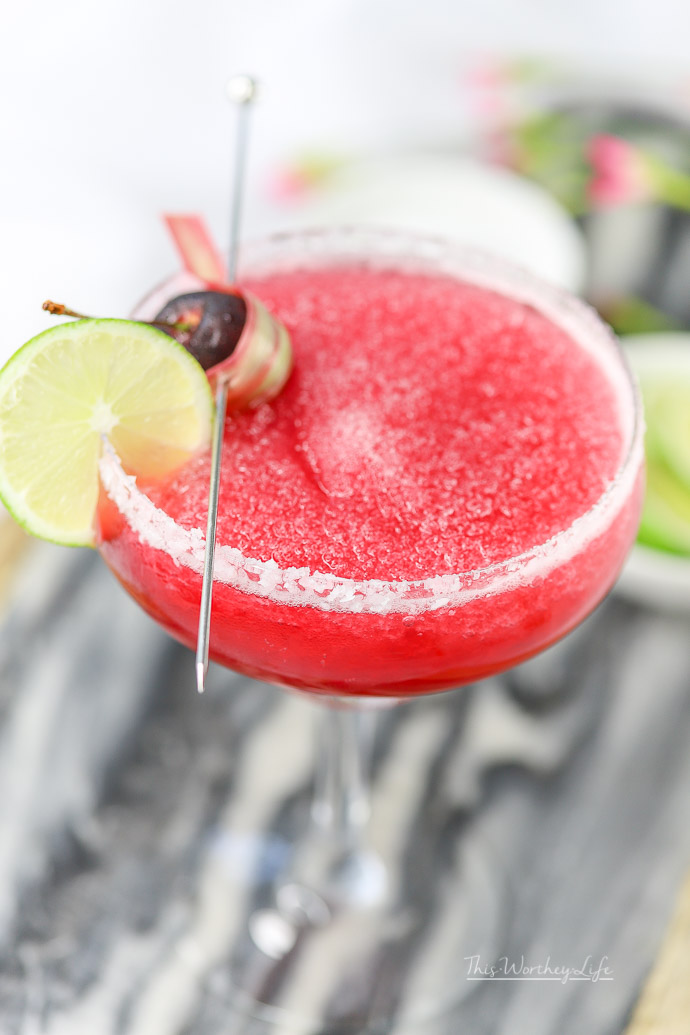 Cherry + Rhubarb Margarita
What you'll appreciate about this lil' number is how it is a tidy go-to cocktail that'll knock their socks off and is easy to put together. Well, you will definitely see red, in a good way. This crowd pleaser will plaster a knowing smile on your face and signal to everyone within pouring distance that you are a home bartending force to be reckoned with!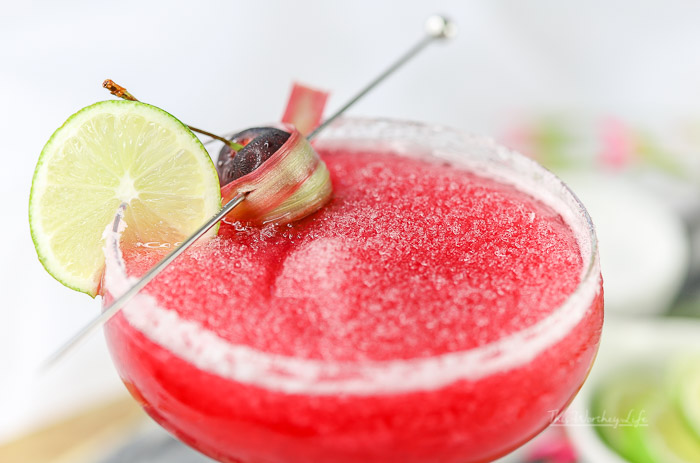 The base of this cocktail begins with a wonderful simple syrup of Michigan cherries and rhubarb, it consists of two cups of water, two cups of granulated sugar, a cup of pitted cherries with the stems removed, and a cupful of rhubarb cut into one-inch pieces. Bring the mixture to a boil over high heat for two minutes, then mash the fruit with a potato masher to release the juices. Remove the mixture from the heat source and place on a tight-fitting lid. Allow the syrup to stew for fifteen minutes and strain through a fine-mesh sieve into a Mason jar with a lid. Store on the shelf of your home bar and enjoy.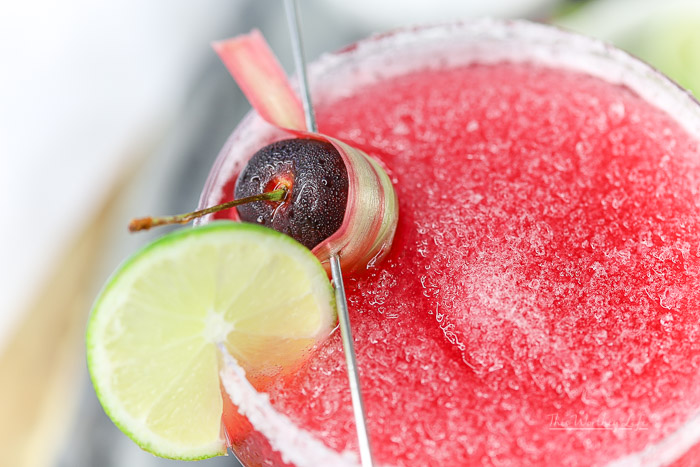 This is cocktail is a great one to play around with, add your favorite tequila, vodka, rum, or bourbon (I really love the bourbon one) and get your margarita one to the break of dawn.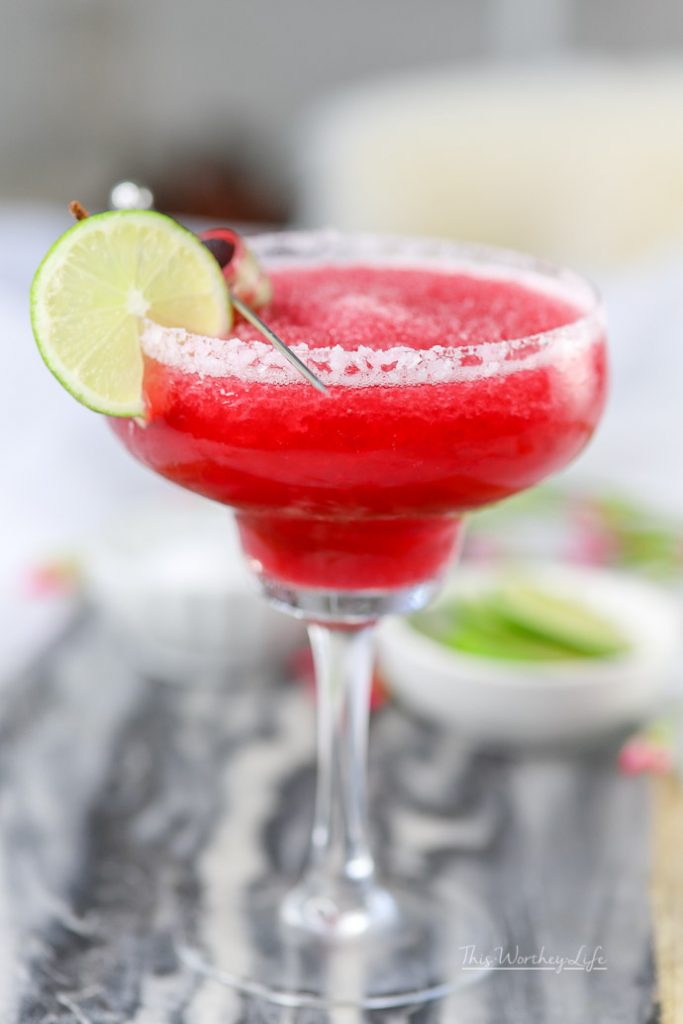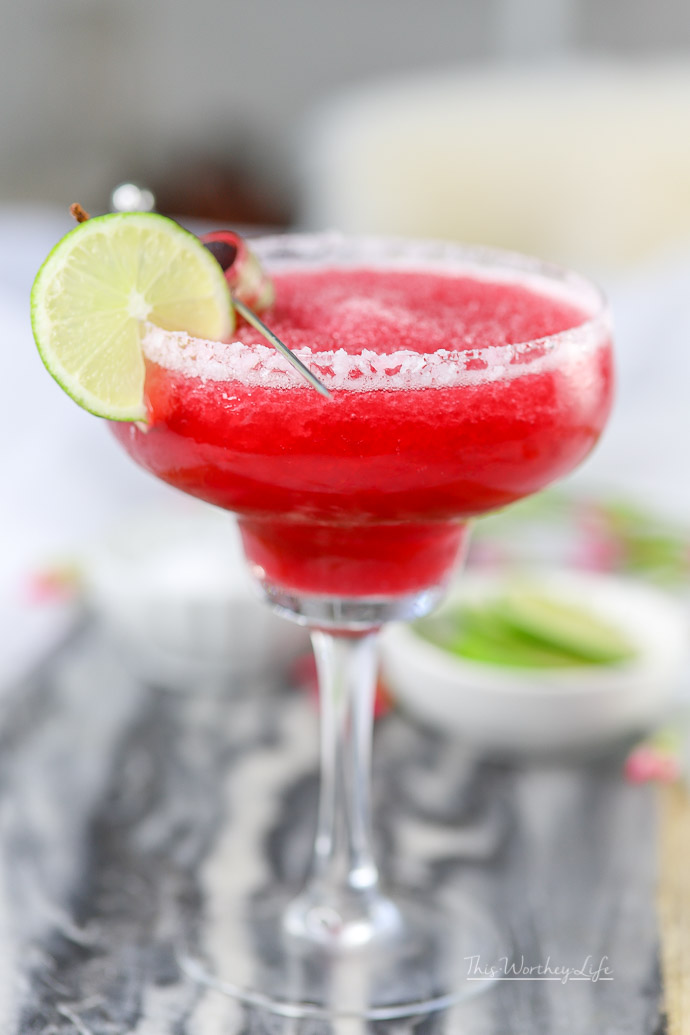 Summer Cocktail: Cherry + Rhubarb Margarita
(2 Servings)
Ingredients:
4 ounces tequila
2-ounces fresh lime juice
2 1/2 ounce cherry rhubarb simple syrup
4 dashes cherry bitters
4 cherry popsicles
2 1/2 cup ice
Prep:
Rim margarita glasses with coarse salt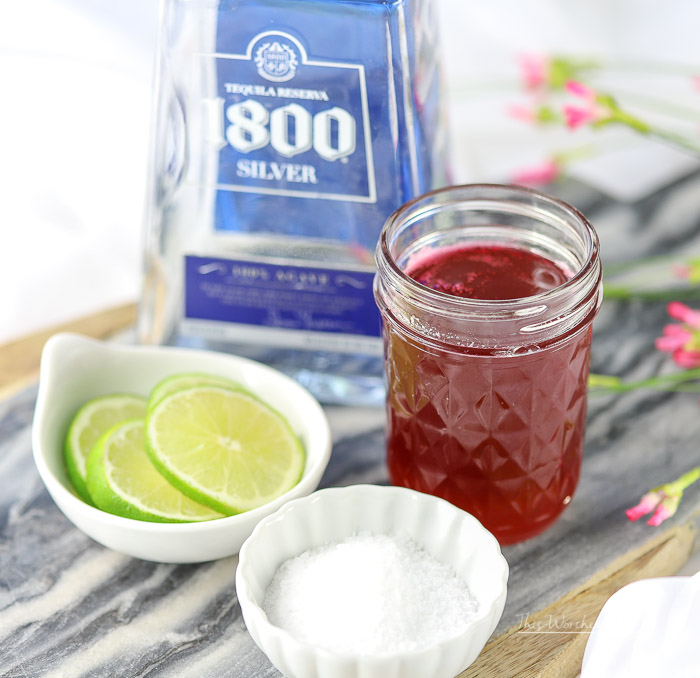 Directions:
Into a blender add tequila, fresh lime juice, cherry rhubarb simple syrup, cherry bitters, cherry popsicles, and ice.
Close the lid and pulse until the ingredients resemble a slush.
Pour into two margarita glasses with salt on the rims.
Garnish with a wedge of lime and a whole stemmed cherry wrapped in a sliver of fresh rhubarb.
Serve.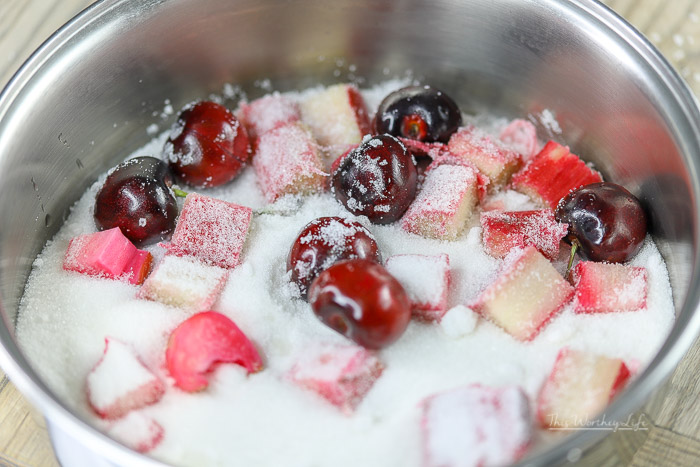 How to make Cherry Rhubarb Simple Syrup:
Ingredients:
8-10 ripe sweet Michigan cherries
1 large stalk rhubarb, cut into one-inch pieces
1 cup granulated sugar
1 cup water
Directions:
Place a medium sauce pan over medium-high heat.
Add one cup of water and one cup of granulated sugar.
Add the cherries with the pits removed and the rhubarb.
Continue to cook the fruit until the rhubarb becomes tender.
Using a potato masher press the cherries and rhubarb to release the juices.
Remove the mixture from the heat and place a tight fitting lid onto the pan.
Allow the simple syrup to steep for 10 minutes.
Strain the syrup through a fine mesh sieve into a small Mason jar.
Use in cocktails or other flavored drinks.
Warning: This is one of those cocktails you'll return to again and again, like a moth to the thirty flame. Raise a glass and let this one remind you of long, and wonderfully hot sunshiny summer days. It will become an ideal accompaniment to just about anything associated with summertime fun. The taste of Michigan cherries and backyard garden rhubarb, how much more comfort cocktail can you get?!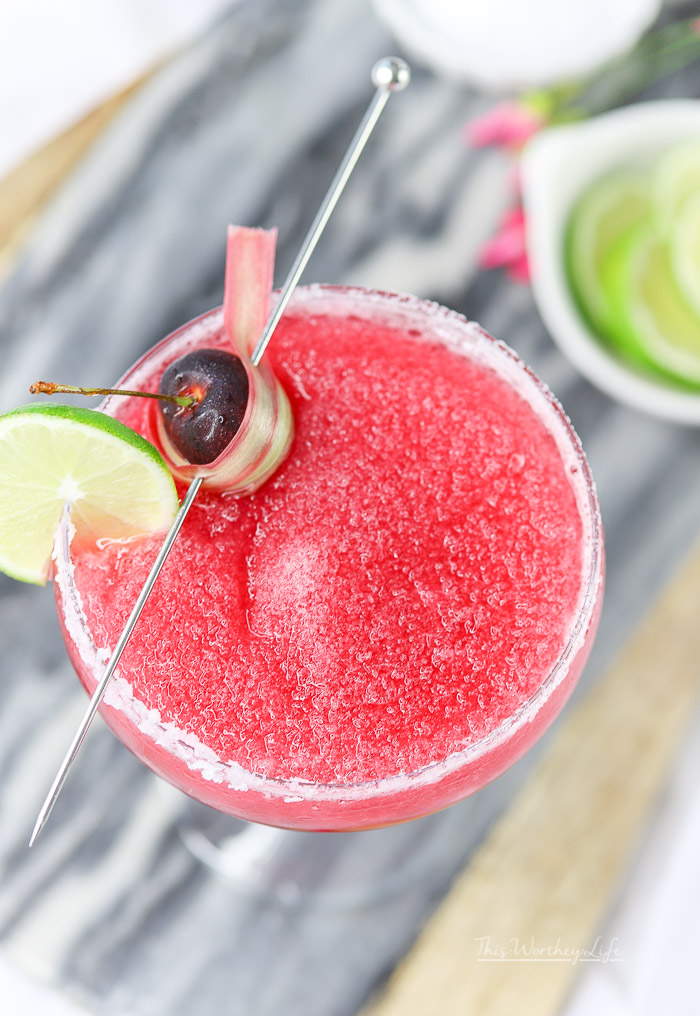 So, tell me, what is your favorite margarita or like me do you switch it up from time to time? I would love to read all about it. Drop us a line or leave a comment down below and blow our minds! Cheers!