The best potatoes always require lots of tender loving care! Our easy creamy potato recipe with Alfredo sauce is a dish that tastes of love and happiness. Make this potato side dish for your Thanksgiving dinner and mouths will drop!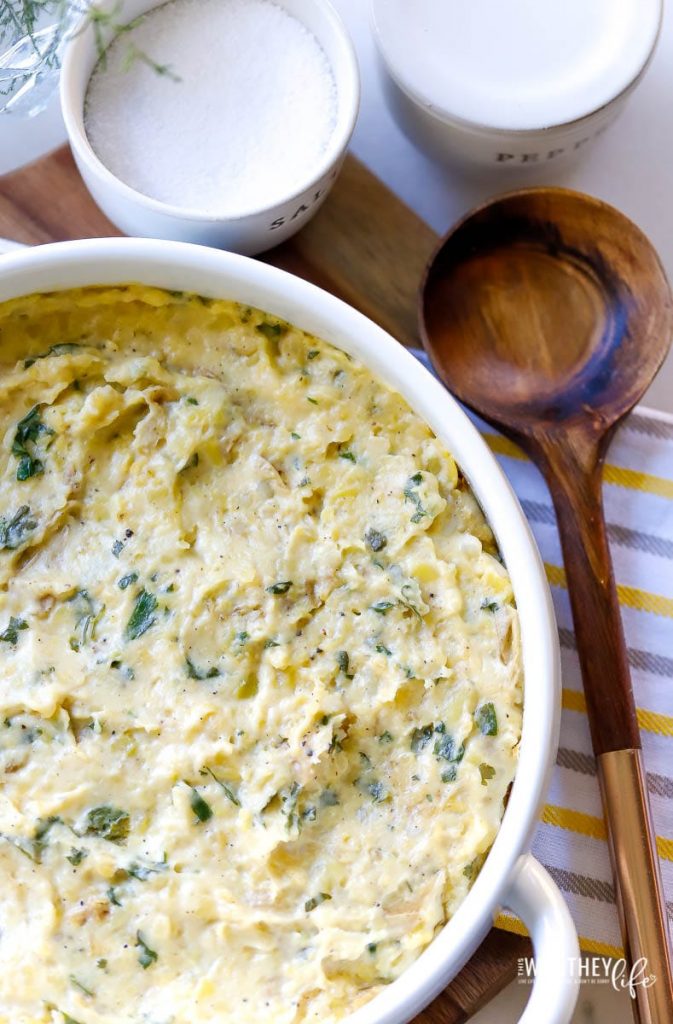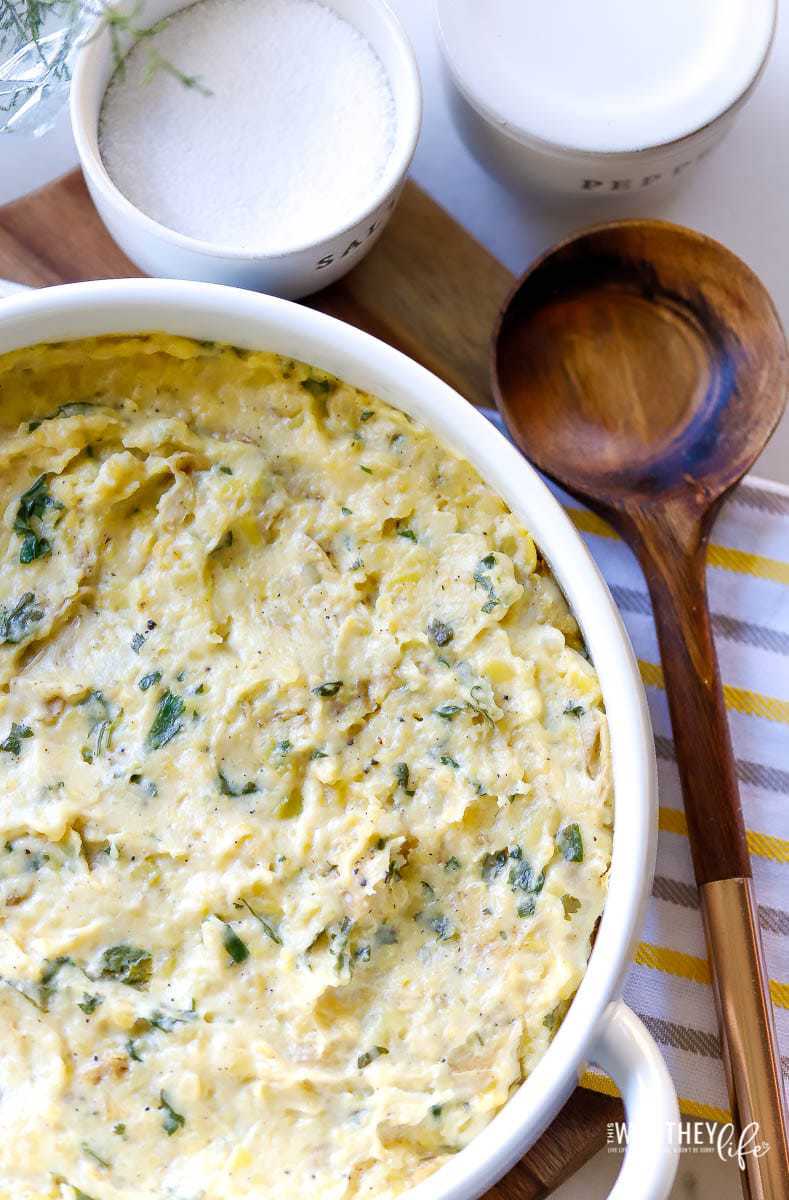 Creamy Potato Recipe With Alfredo Sauce
Potatoes are life! I don't want to imagine a world without potatoes, no way and no how! Honestly, I can't remember a time when I didn't like potatoes in as many shapes and forms as you can think of; from French fries, Steak fries, and waffle fries. And don't forget the ketchup. Or when it comes to steak it's hard to imagine not having a baked potato with sour cream, butter, salt, pepper, and chives.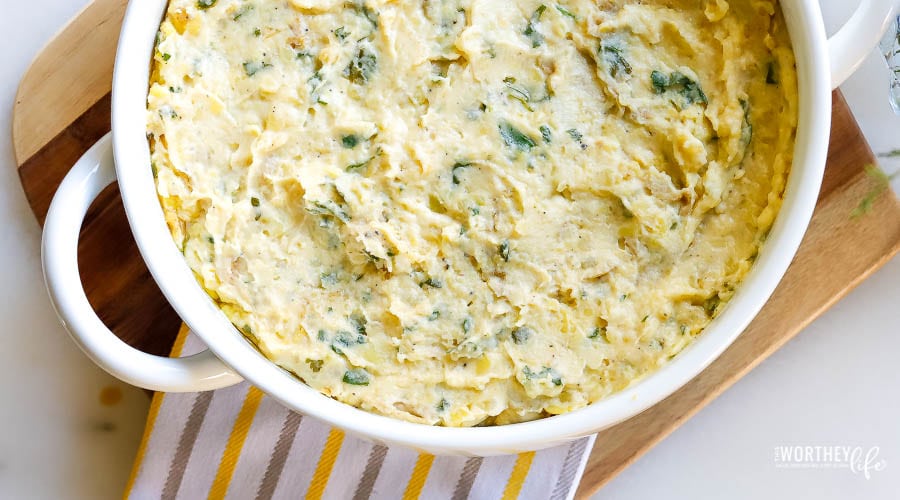 And don't get me started on skillet potatoes, my mama was famous for her skillet potatoes. I add caramelized onions and red and green bell peppers to mine. Then there's au gratin and scalloped potatoes made with country ham. But the king of potatoes, in my opinion, is without a doubt mashed potatoes. Mashed potatoes and I go way back like peanut butter and jelly.
When it comes to the Thanksgiving holiday spread, the table would be incomplete without a big beautiful buttery bowl of mashed taters! Besides, what are you going to do with all of the savory mouthwatering gravy if you don't have mashed potatoes to go with?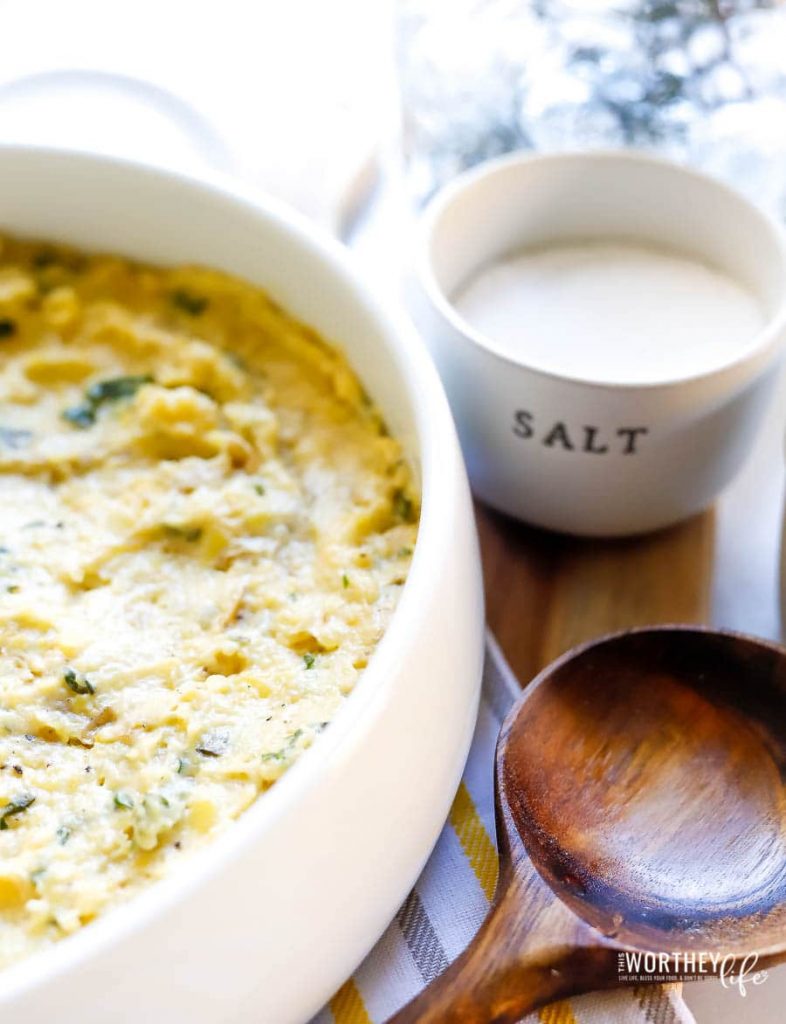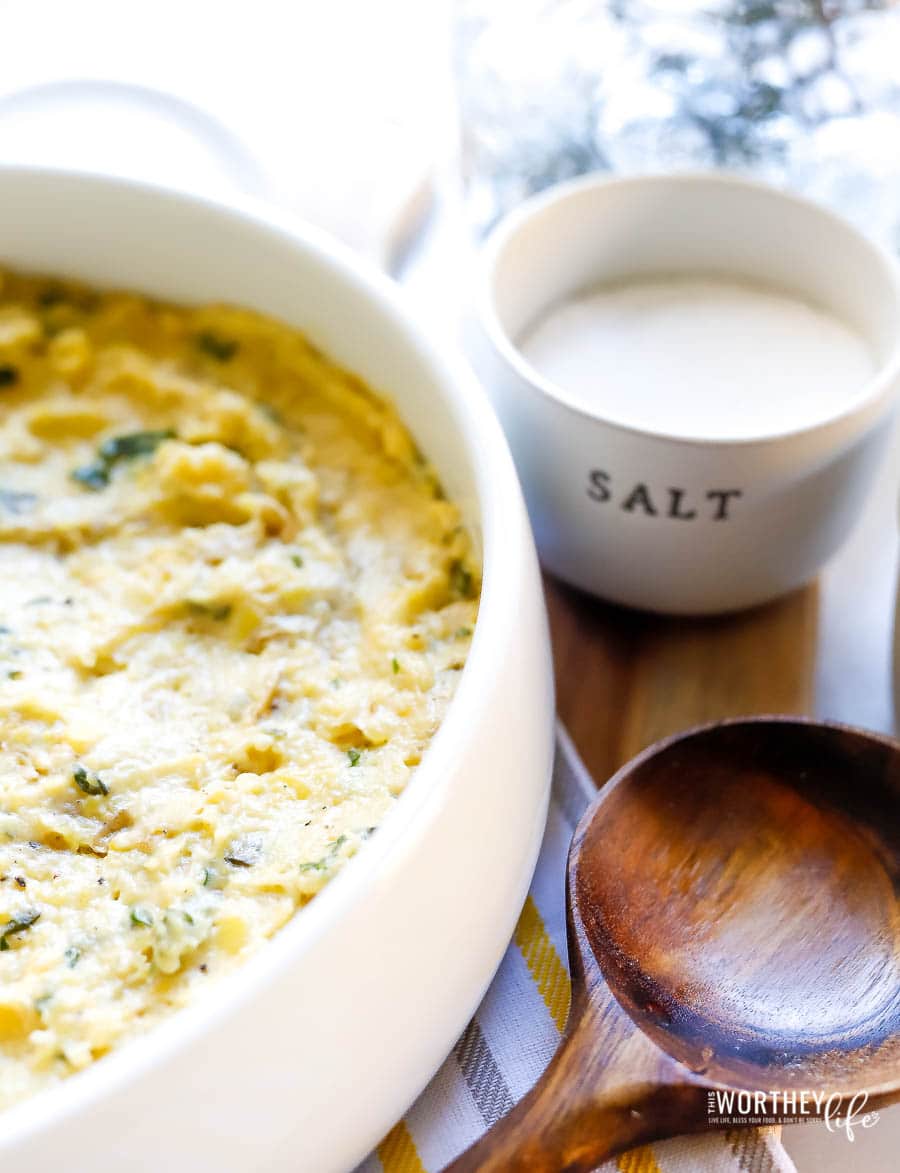 The More Potatoes The Better
I think the best potatoes are a combination of two or more kinds of potatoes. Personally, I prefer mixing either Yukon golds and russets potatoes or red skin potatoes and Yukon golds. No matter what Yukon golds are hands down my favorite variety of potatoes. What's not to like? So now you have a choice to make, Yukon golds and russets or red skin and Yukon golds? It's not an easy decision! But ultimately, it really doesn't matter because regardless of which duo you pick your smashed potatoes are going come out creamy, buttery, and spot-on delicious.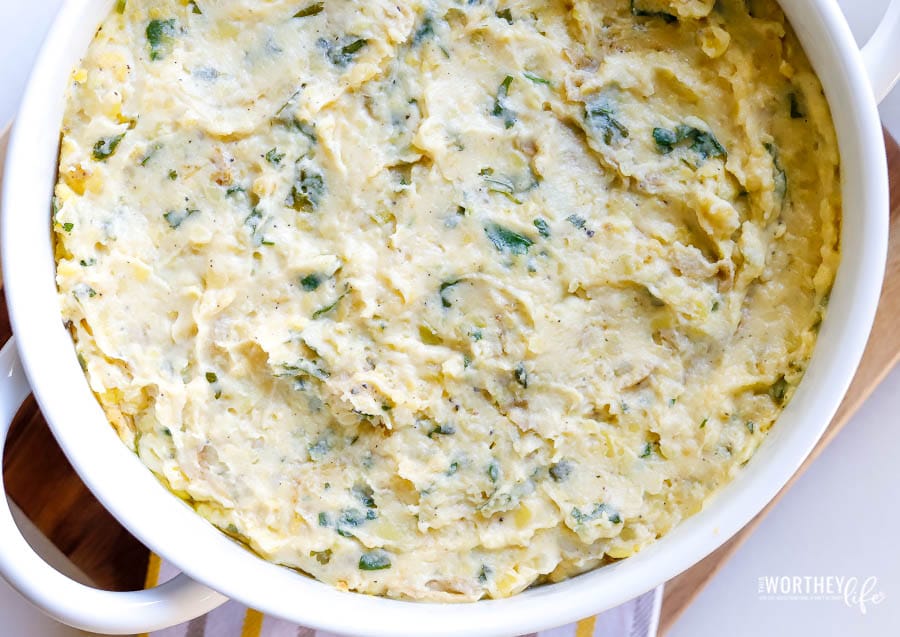 Best Potatoes To Use For Creamy Potato Recipe
Yukon golds hold the butter, heavy, cream, and salt like a champ! And, when you add Alfredo sauce it's a party in your mouth. Now, let's raise the bar and toss in some russet or red skin potatoes to the mix and this recipe becomes a yummy force to be reckoned with! This potato recipe is the perfect storm of comfort food made even better with so many layers of incredible flavors all of which combine perfectly to elevate potatoes to such lofty heights. A good potato recipe is proof of how something so simple can become, with only a few ingredients, so freaking good!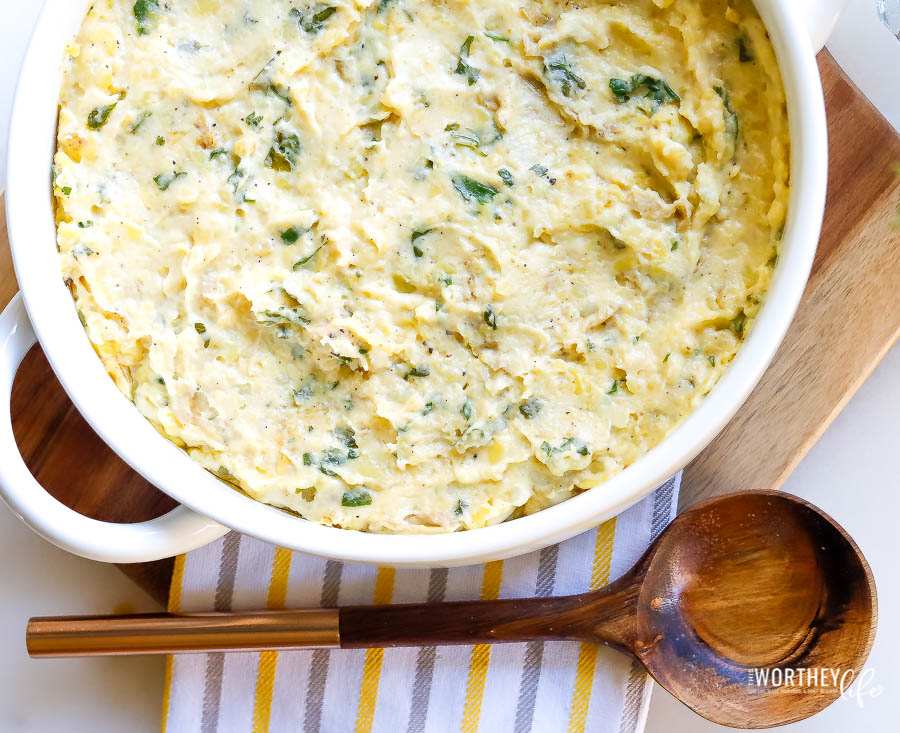 A word of caution, our Alfredo Smashed Potatoes are no joke! I gotta tell ya', these are dense, flavorful, and rich. In short, they're belly busters; so for sure, slide into some appropriate eating attire with the elastic waistband. Yet, you'll find out sooner rather than later, you will have a hard time stopping yourself from shoveling more of them into your pretty little mouth! FACTS!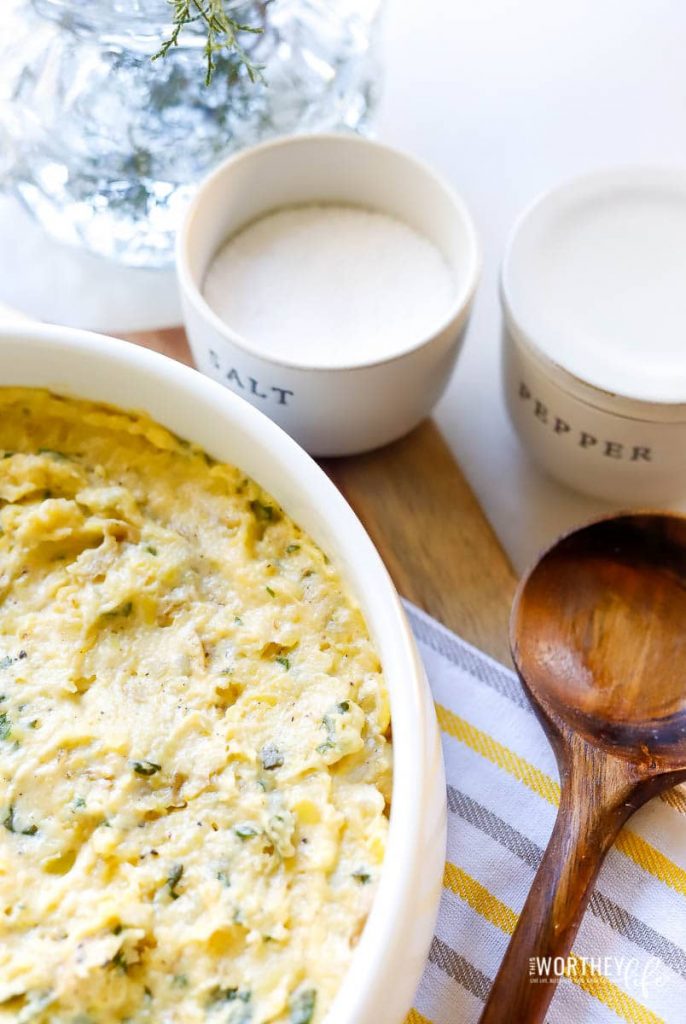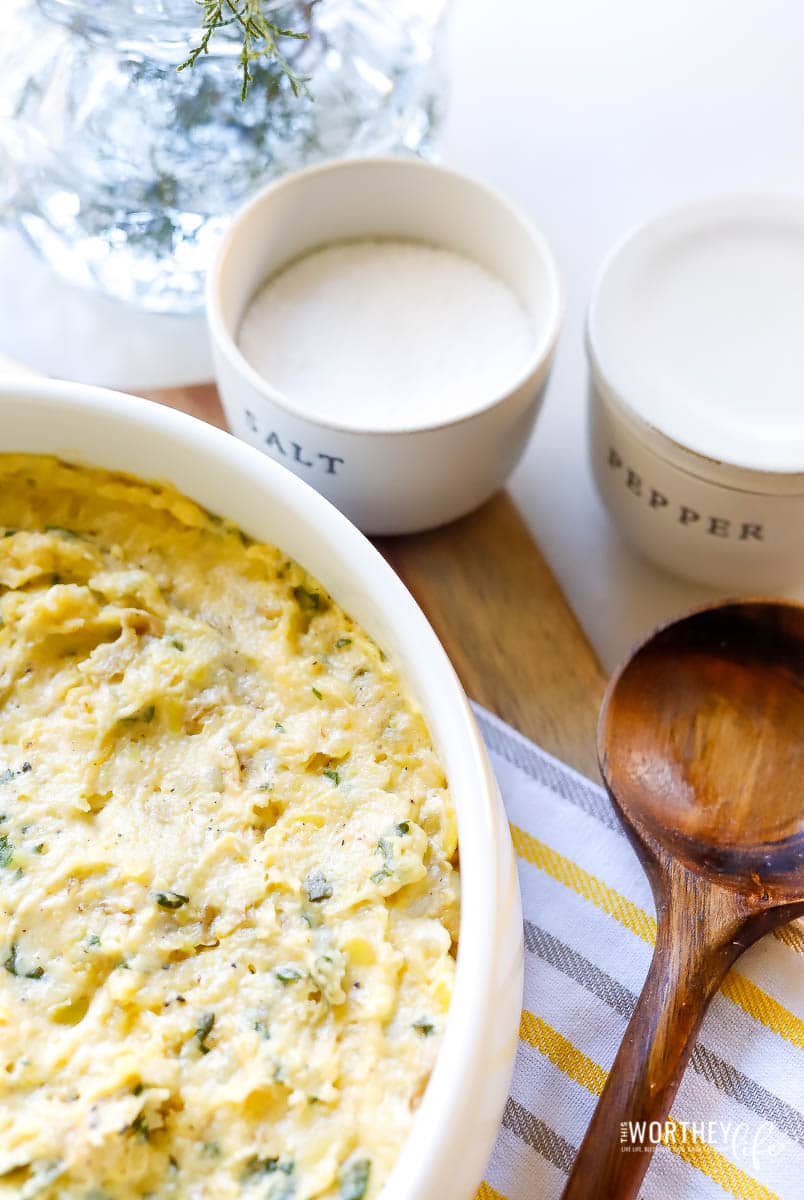 So, let's make some potatoes. Here are the top five tips for better potatoes:
Cut your potatoes in half when boiling them, or if they're big enough, cut the potatoes into quarters. They will cook faster.
Place your potatoes into a stockpot and run the water until it just covers the top of the potatoes. Do not put potatoes into hot water. The water and potatoes should start boiling at the same for evenly cooked potatoes.
Add Kosher salt when cooking your potatoes, and sea salt or a good flaky finishing salt just before serving them to guests.
Whatever you do, don't overcook your potatoes, cook your potatoes until they can be pierced with a fork. Then drain off all of the water and place them back into the hot pot and let them dry out a bit. The more water you can remove from your potatoes the better. Cooked potatoes with less moisture will absorb the butter and heavy cream better.
Only use quality butter, good salt, and freshly cracked peppercorns. For this recipe using homemade Alfredo is best, but a good jar of Alfredo is okay too. I used heavy cream, garlic, Kosher and finishing salt, freshly cracked black peppercorns, quality cheese, and fresh flat-leaf parsley.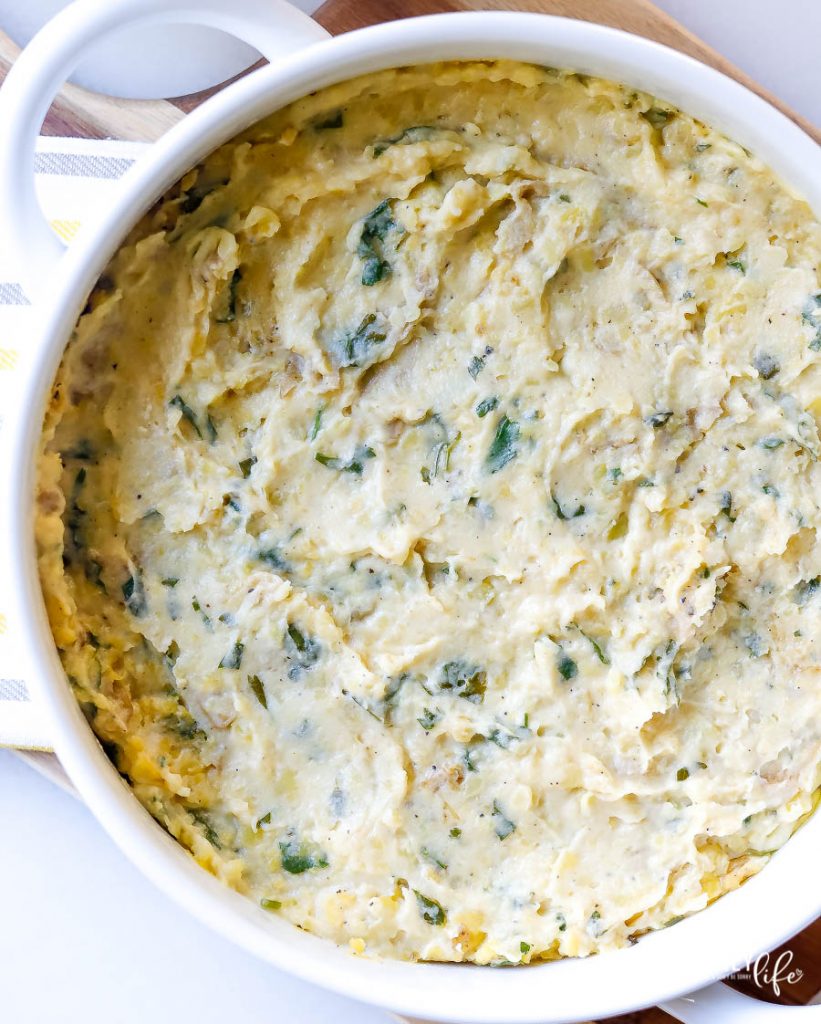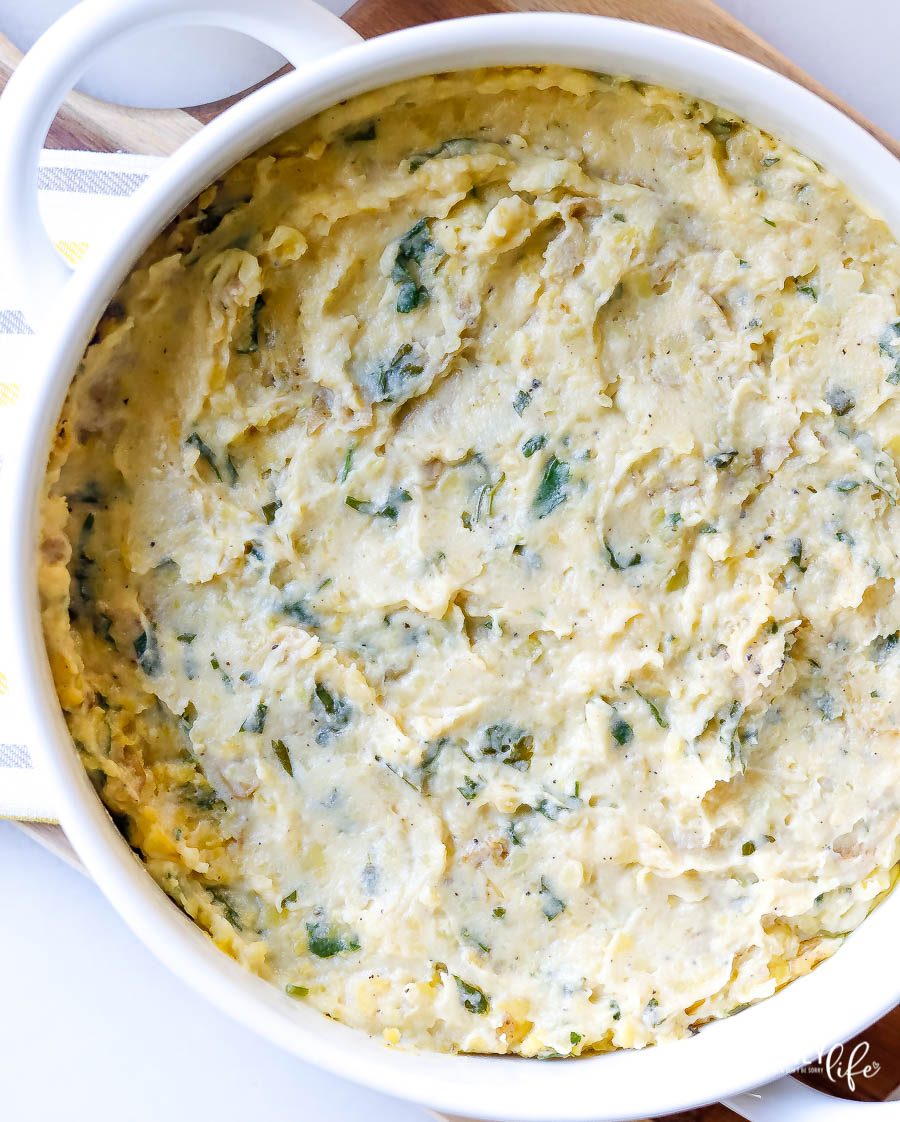 Are you ready to make some of the best potatoes you're likely to ever make? Grab the list, jump into your car, head to the grocery store then make this Alfredo Smashed Creamy Potatoes recipe. I have a feeling it may just become your favorite way to enjoy the goodness of potatoes!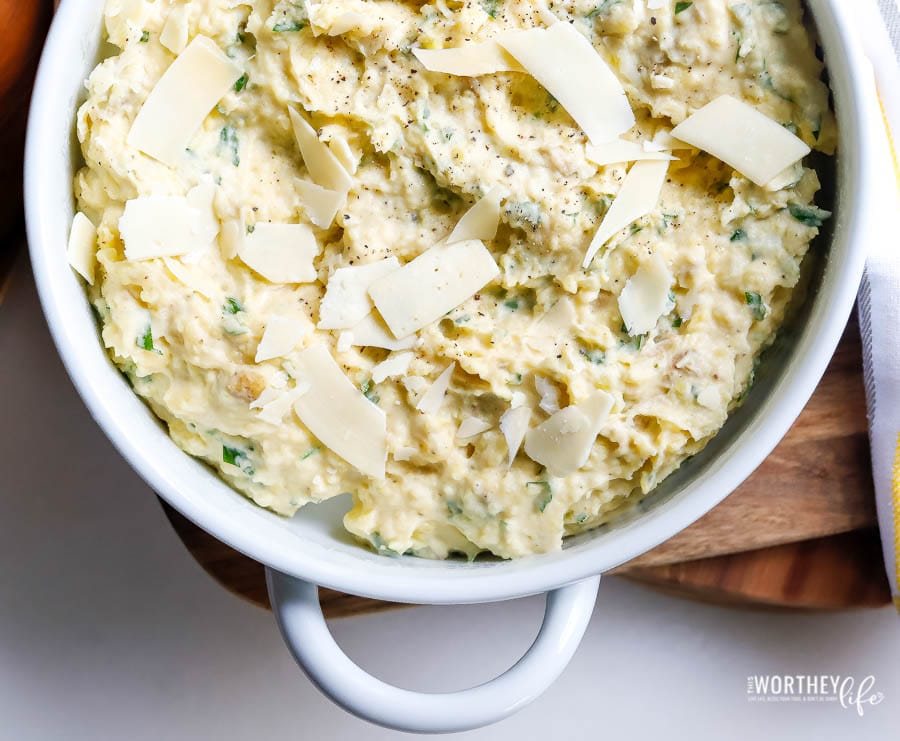 Creamy Potato Recipe
Ingredients:
1 1/2 pounds Yukon gold potatoes
1 1/2 pounds russet or red skin potatoes
1 cup Alfredo sauce
1 cup three Italian Asiago, Parmesan, and Romano cheese blend
4 cloves garlic
1/2 cup heavy cream
1/3 cup chopped flat-leaf parsley
4 tablespoons unsalted butter
flaky sea salt
freshly cracked black peppercorns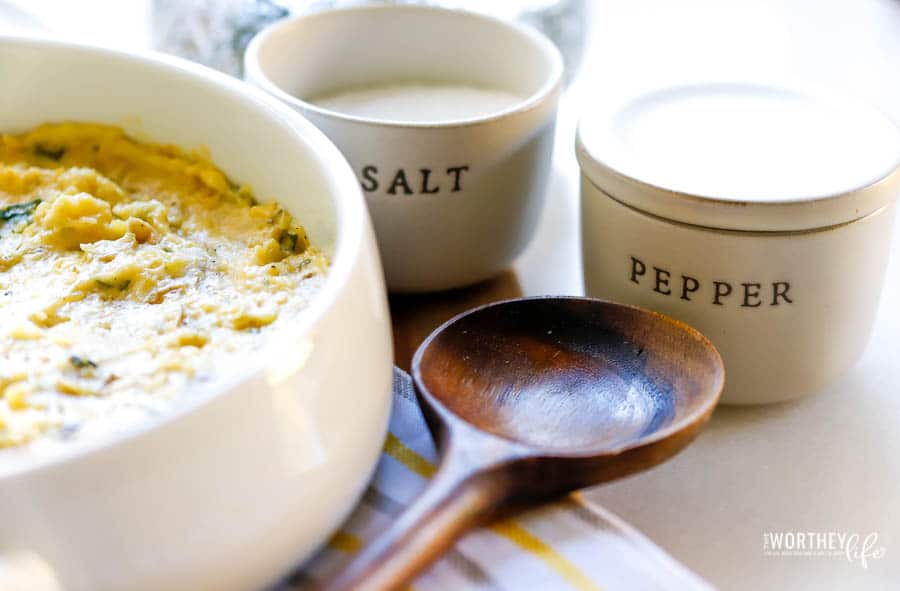 Directions:
Rinse potatoes and cut off any bad spots. I leave the potato skin on for more flavor.
Cut the potatoes in half or into quarters, make sure the potatoes chunks are all about the same size so they're all done at the same time.
Put the potatoes into a stockpot and fill the pot until the potatoes are just covered.
Add two tablespoons of Kosher salt to the pot.
Place the potatoes over med-high heat and cook for 12-15 minutes.
While the potatoes are boiling, place a saucepan over medium heat and melt the unsalted butter.
When the butter is melted add the Alfredo sauce, heavy cream, minced garlic, and chopped flat-leaf parsley.
Test the potatoes to make sure they can be pierced with a fork.
Drain your potatoes, I let my cooked potatoes drain in a colander for 4-5 minutes.
Place the potatoes back into the stockpot and place it over low heat for 3-4 minutes.
Use your preferred potato masher and begin smashing the potatoes, add the melted butter and Alfredo sauce mixture.
Mix the potatoes until they are your preferred consistency. I like mine smashed potatoes to be a little chunky but feel free to mash them until they're smooth, it's your call.
Add more salt, I prefer finishing salt and more freshly cracked black peppercorns at this stage of the recipe.
Serve Find more side dish recipe ideas for Thanksgiving
Cheesy Sweet Potato Pomme Purée
Creamy Collard Greens with Caramelized Onions &Bacon
Thanksgiving Side Dish Idea | Baked Butternut Squash Potatoes
Spinach &Bacon Smashed Potatoes
Cheesy Spinach Mashed Double Potatoes
50+ of the BEST Thanksgiving Side Dishes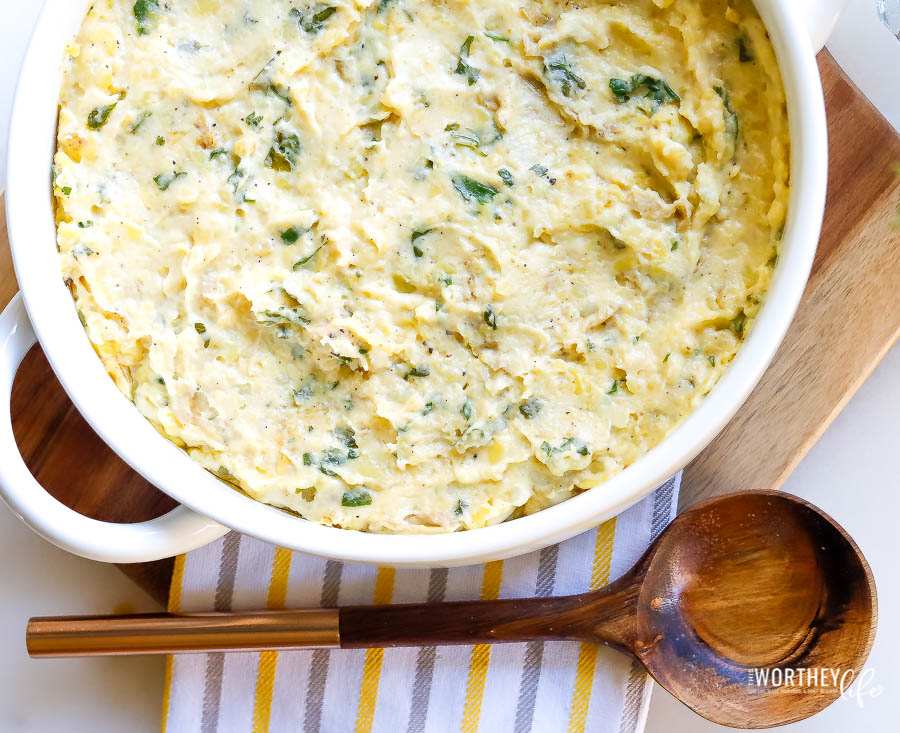 Yield:

10
Creamy Potato Recipe With Alfredo Sauce
Ingredients
1 1/2 pounds Yukon gold potatoes
1 1/2 pounds russet or red skin potatoes
1 cup Alfredo sauce
1 cup three Italian Asiago, Parmesan, and Romano cheese blend
4 cloves garlic
1/2 cup heavy cream
1/3 cup chopped flat-leaf parsley
4 tablespoons unsalted butter 
flaky sea salt
freshly cracked black peppercorns
Instructions
Rinse potatoes and cut off any bad spots. I leave the potato skin on for more flavor.

Cut the potatoes in half or into quarters, make sure the potatoes chunks are all about the same size so they're all done at the same time.

Put the potatoes into a stockpot and fill the pot until the potatoes are just covered.

Add two tablespoons of Kosher salt to the pot.

Place the potatoes over med-high heat and cook for 12-15 minutes.

While the potatoes are boiling, place a saucepan over medium heat and melt the unsalted butter.

When the butter is melted add the Alfredo sauce, heavy cream, minced garlic, and chopped flat-leaf parsley.

Test the potatoes to make sure they can be pierced with a fork.

Drain your potatoes, I let my cooked potatoes drain in a colander for 4-5 minutes.

Place the potatoes back into the stockpot and place it over low heat for 3-4 minutes.

Use your preferred potato masher and begin smashing the potatoes, add the melted butter and Alfredo sauce mixture.

Mix the potatoes until they are your preferred consistency. I like mine smashed potatoes to be a little chunky but feel free to mash them until they're smooth, it's your call.

Add more salt, I prefer finishing salt and more freshly cracked black peppercorns at this stage of the recipe.

Serve