Ready to impress your guests this spooky season? These Easy Halloween Party Food Ideas will surely be a hit with your loved ones.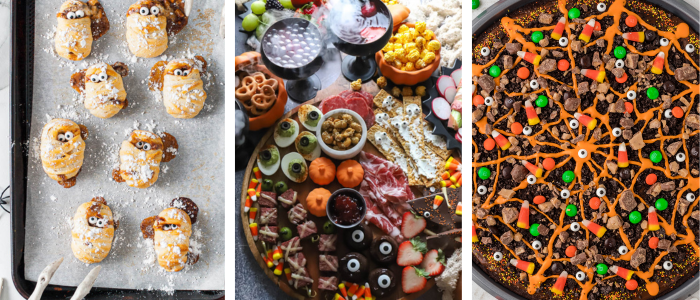 25 Easy Halloween Party Food Ideas
Halloween lurks just around the corner, beckoning you to summon your friends and family for a spooktacular celebration!
And what better way to conjure the eerie spirit than with an array of imaginative and delectable treats?
That's precisely why we've curated this collection of Simple Halloween Party Food Ideas.
You'll find many treats, from cookies, cakes, and brownies to chili, potatoes, and even soda floats – all hauntingly festive!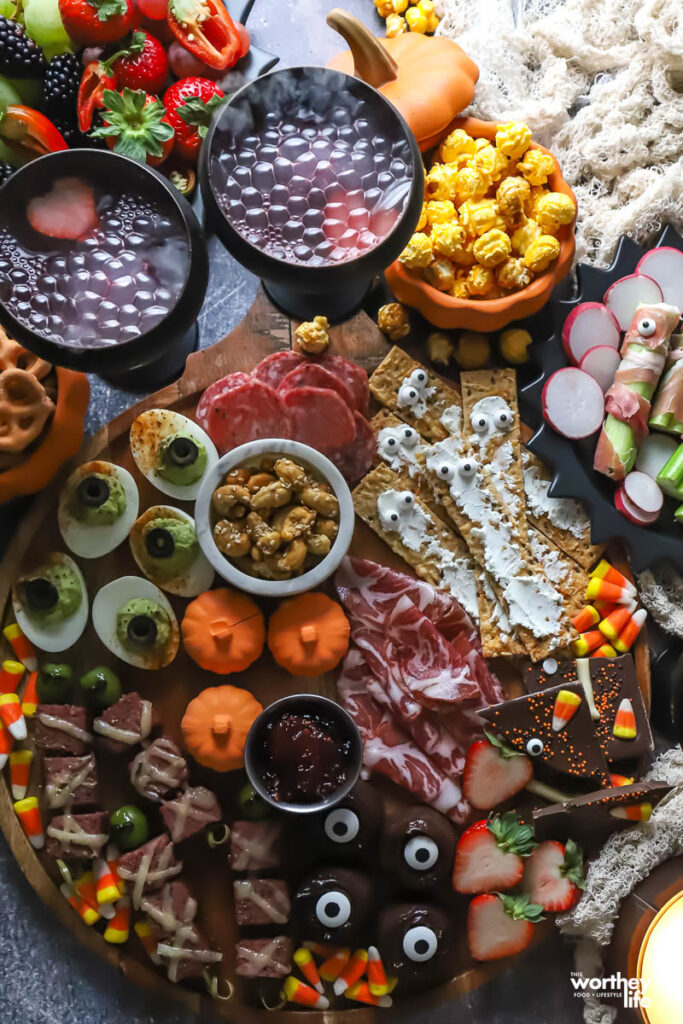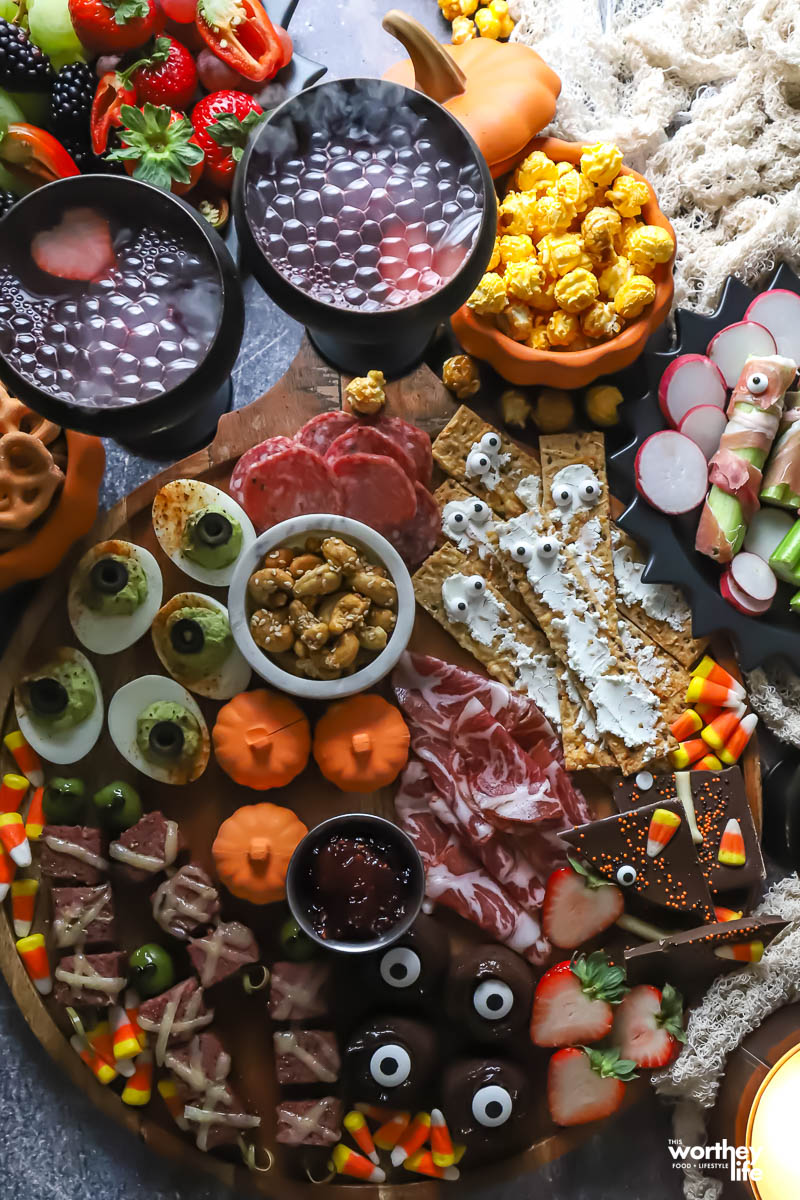 Get ready to cast a spell of deliciousness with our Spooky Charcuterie Board!
This hauntingly fun and festive platter is the ultimate Halloween party centerpiece.
Discover how to assemble a bewitching spread of spooky snacks, from ghoulish cheeses to eerie edibles, that will enchant your guests.
It's a spooktacular display that's bound to become the talk of your Halloween gathering.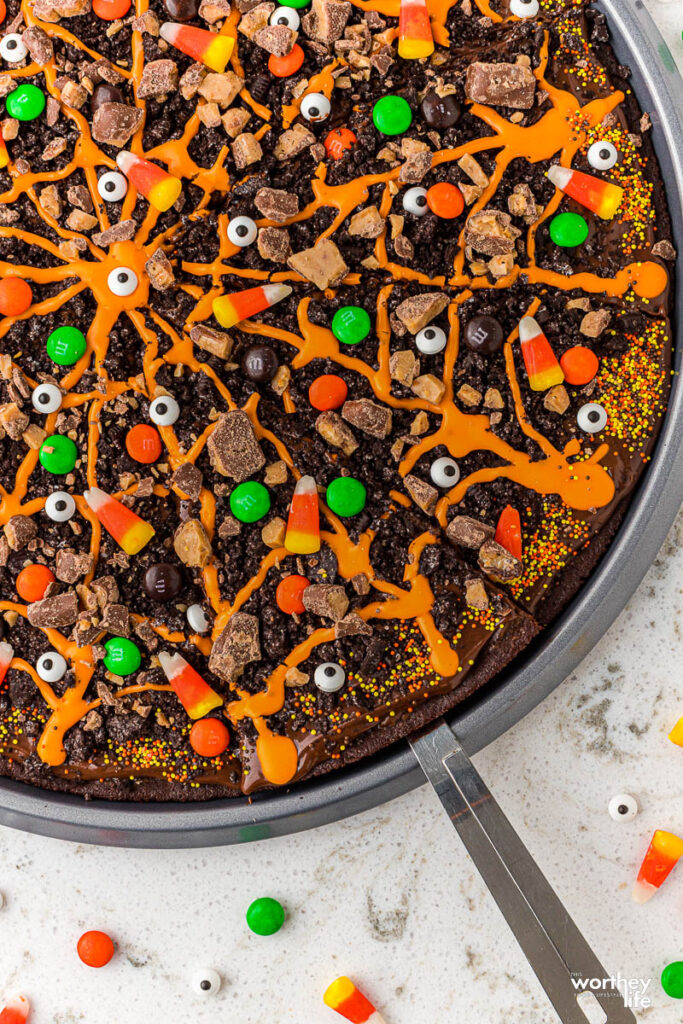 This creative and delicious treat is perfect for adding a spooky twist to your Halloween festivities.
Discover how to craft this eerie and mouthwatering dessert that's a feast for the eyes and the taste buds.
Get ready to delight your guests with a slice of Halloween magic.
Halloween Sweet Treats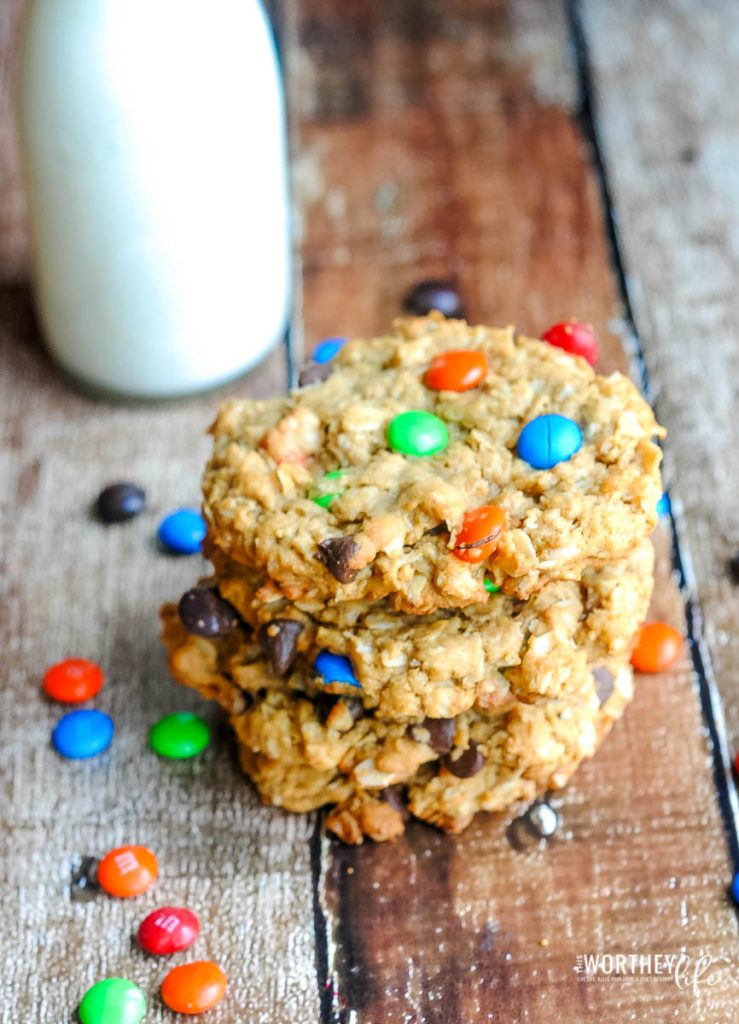 These frightfully delightful treats are perfect for your Halloween festivities.
Discover how to create these playful and delicious cookies that will enchant kids and adults.
It's a monstrous dose of fun in every bite!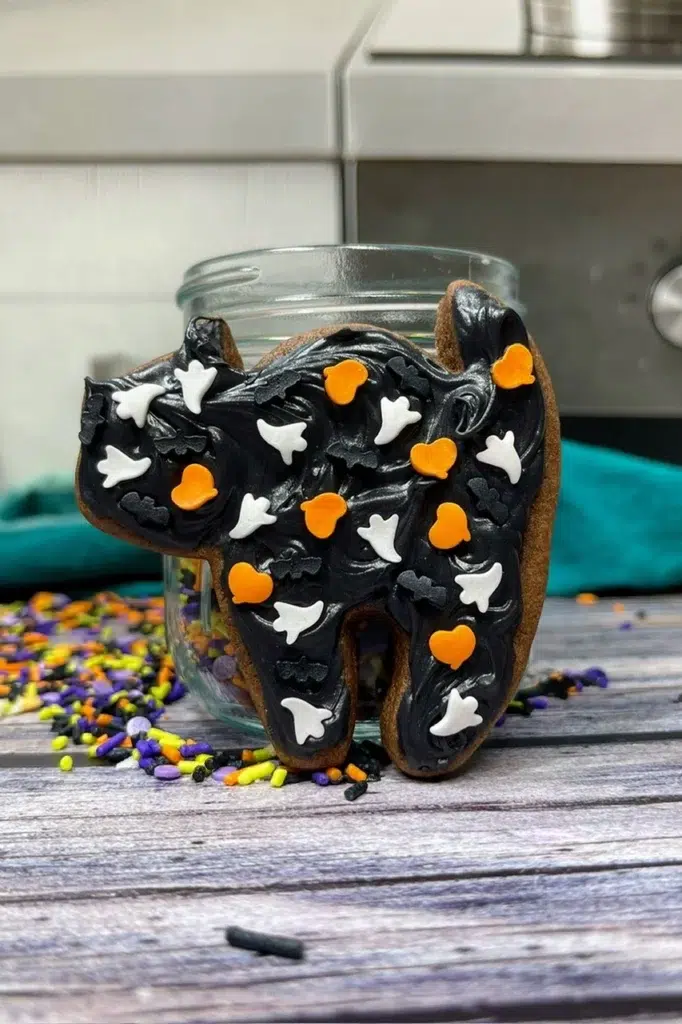 Spooky Cut-Out Black Cat Cookies
These delightful treats are shaped like adorable yet spooky cats.
They are whimsical, sweet, and easy to make.
You can decorate them with the whole family for a fun Halloween activity.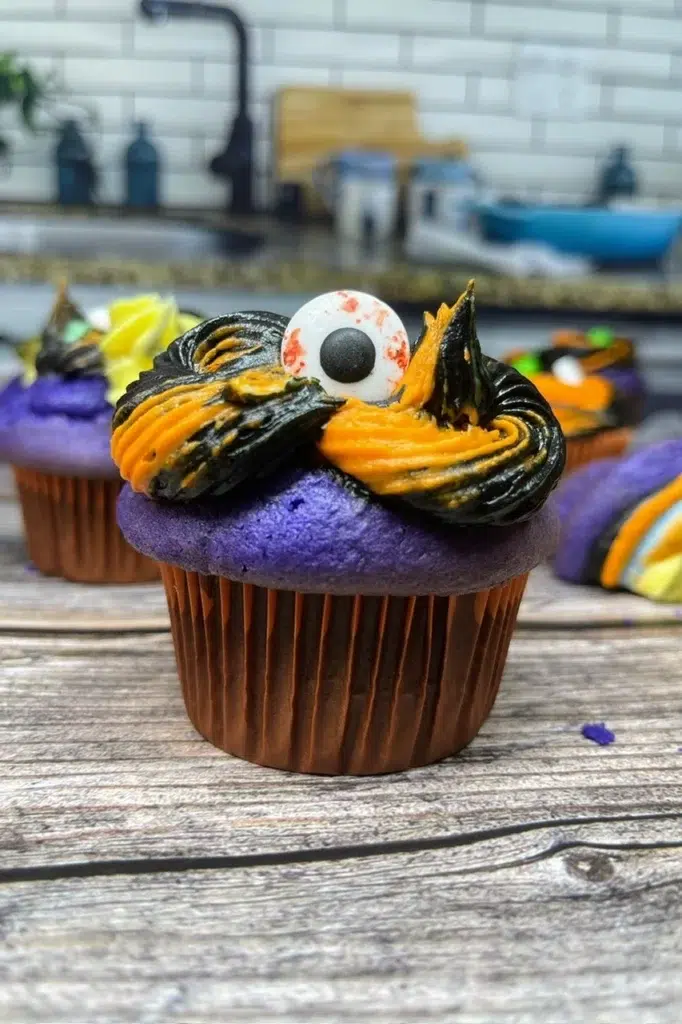 Purple Halloween Cupcakes Recipe
All you need for these Purple Halloween Cupcakes is box cake mix, eggs, oil, frosting, and food coloring!
They're customizable, too, as you can use whichever spooky sprinkles or colors you'd like.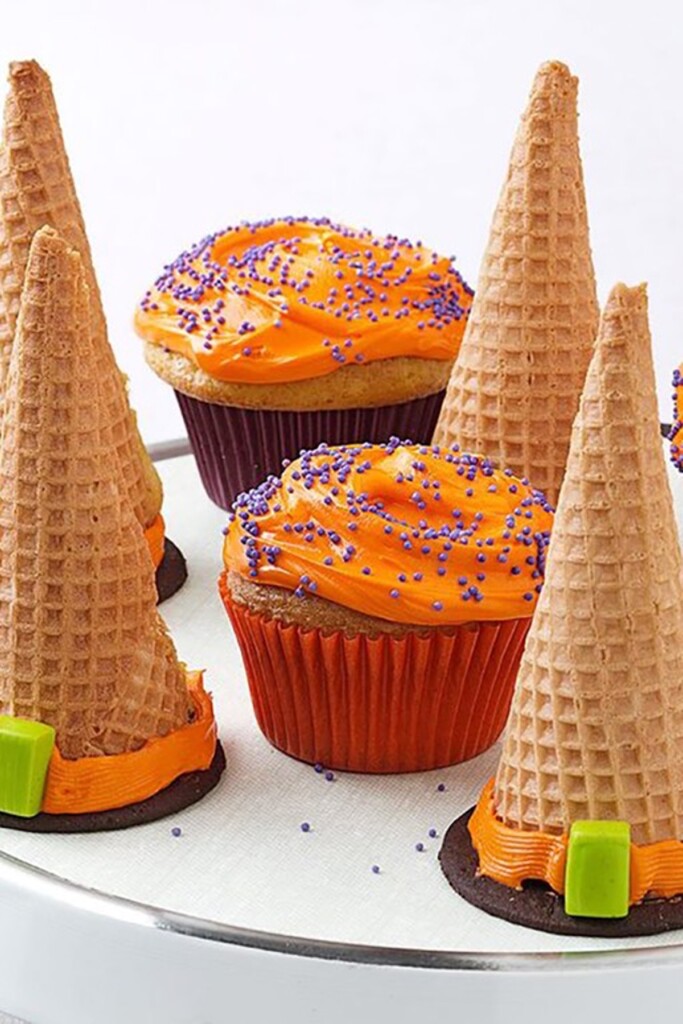 These Witches Hat Cone Cakes are perfect for Halloween parties and October snacks. You only need waffle cones, frosting, yellow cake mix, and other items.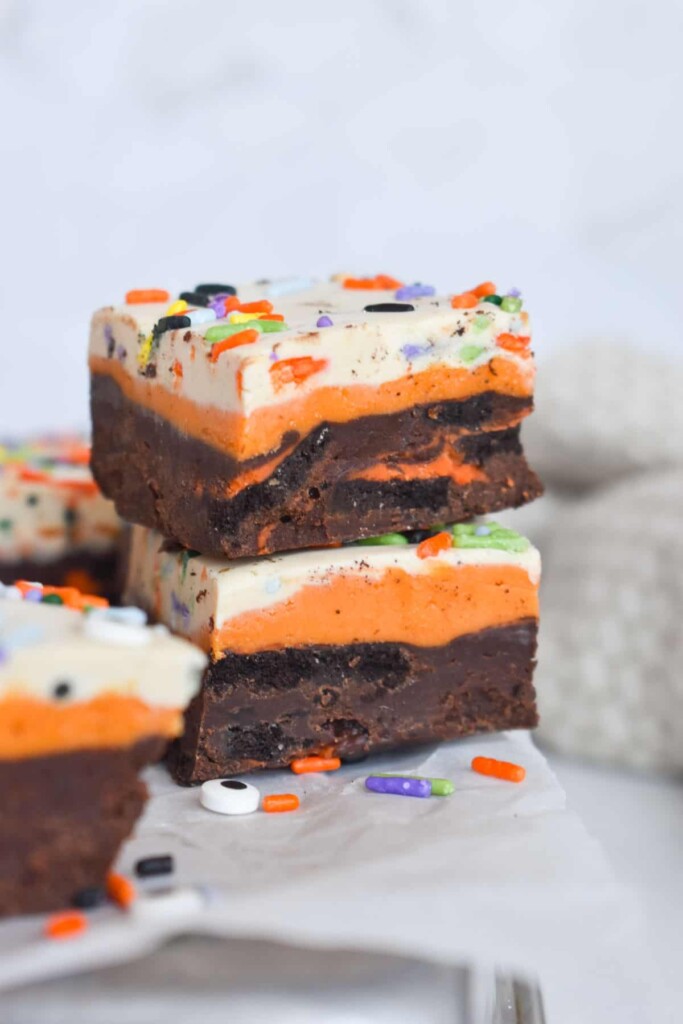 Delight your friends and family with this easy Halloween fudge!
It is fun, festive, and only takes a few minutes to whip up!
Featuring dark chocolate fudge, chopped Halloween Oreos, and vanilla fudge and sprinkles!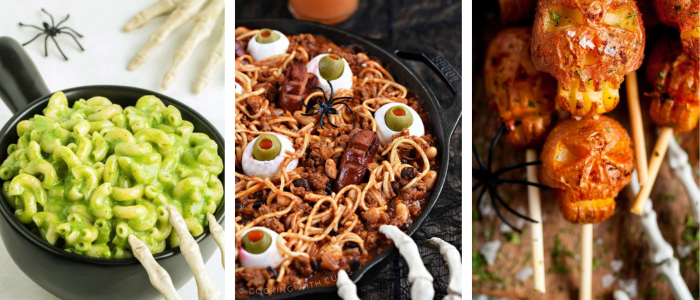 Savory Halloween Food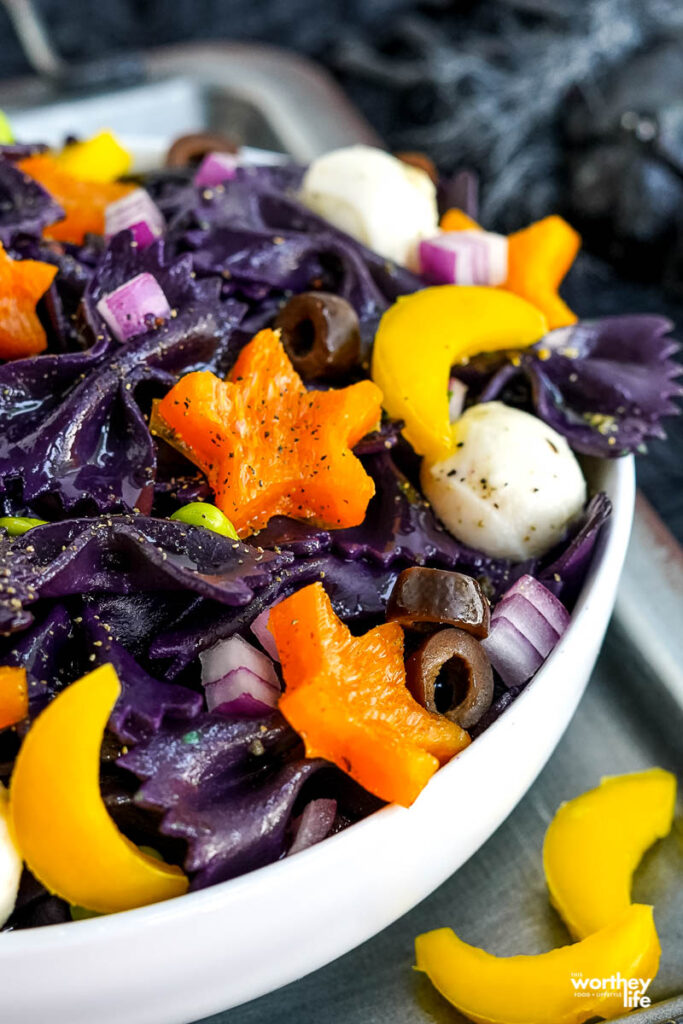 Dive into a cauldron of fun and flavor with this festive and frightfully tasty dish.
Perfect for adding a ghoulish twist to your Halloween celebration, this pasta creation is both delicious and eerily eye-catching.
Get ready to indulge in the flavors of the season.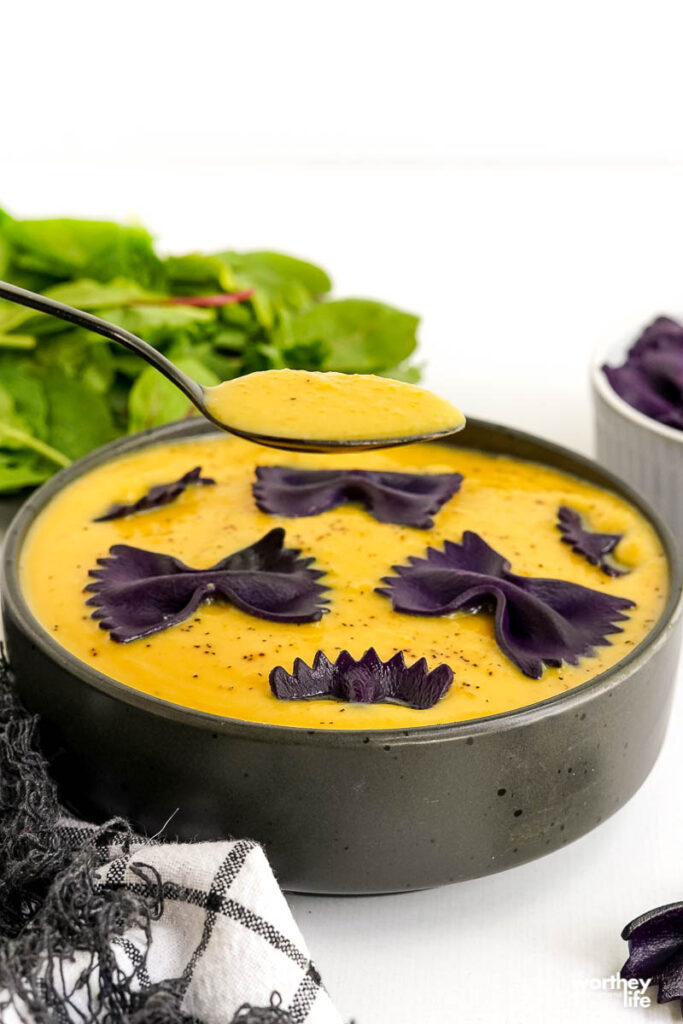 Sink your fangs into our bewitching Butternut Squash Bat Soup, the perfect brew for your Halloween festivities!
This spine-tingling recipe combines butternut squash's rich and velvety flavors with spooky bat-shaped croutons.
Prepare to enchant your taste buds and cast a delicious spell on your Halloween dinner.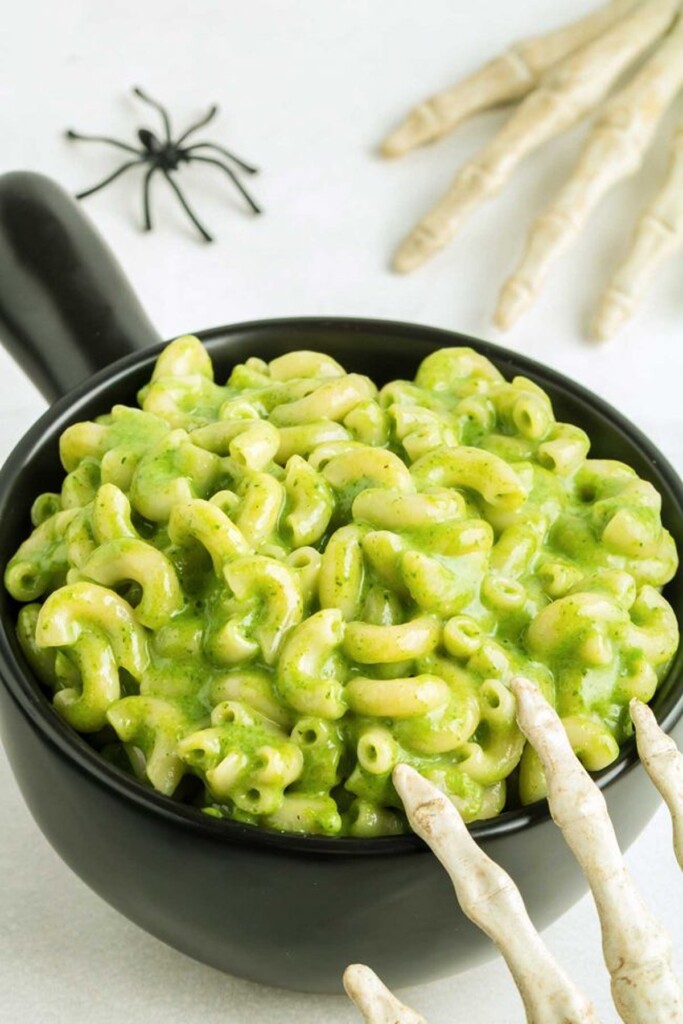 Are you looking for a savory, creamy dish to serve guests at a party?
This Halloween mac and cheese is tinted green using fresh baby spinach, but it's not an overpowering taste!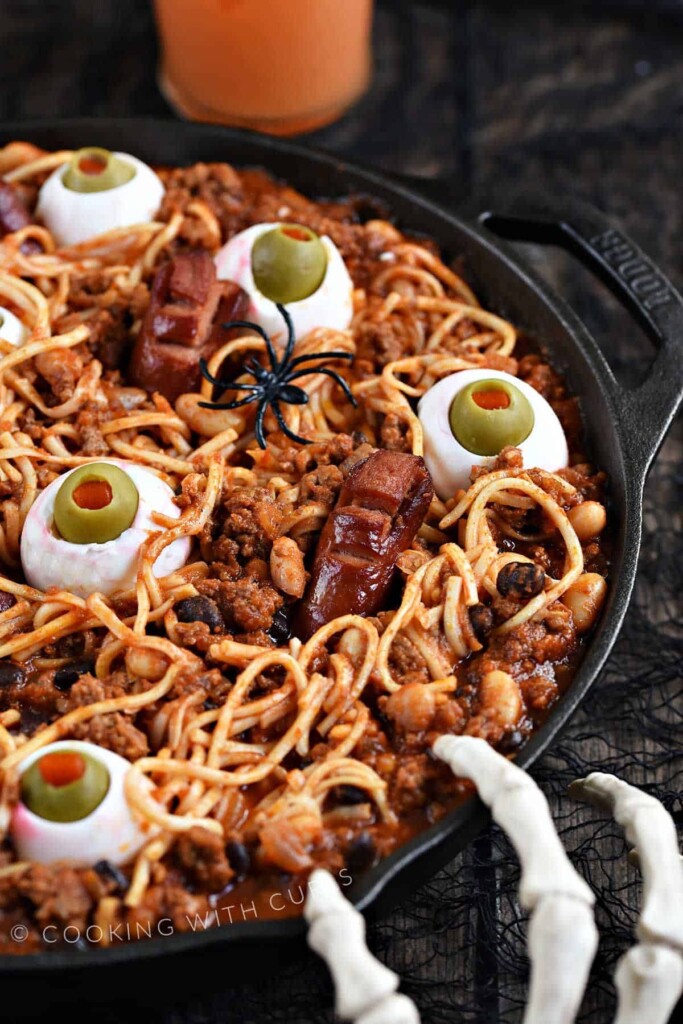 Easy Halloween Party Food Ideas like this spooky chili will surely be a hit with a crowd!
Featuring hard-boiled egg eyeballs with olives and finger-shaped hotdogs!
Other vital ingredients include chopped onion and garlic, ground beef, tomato paste, and crushed tomatoes.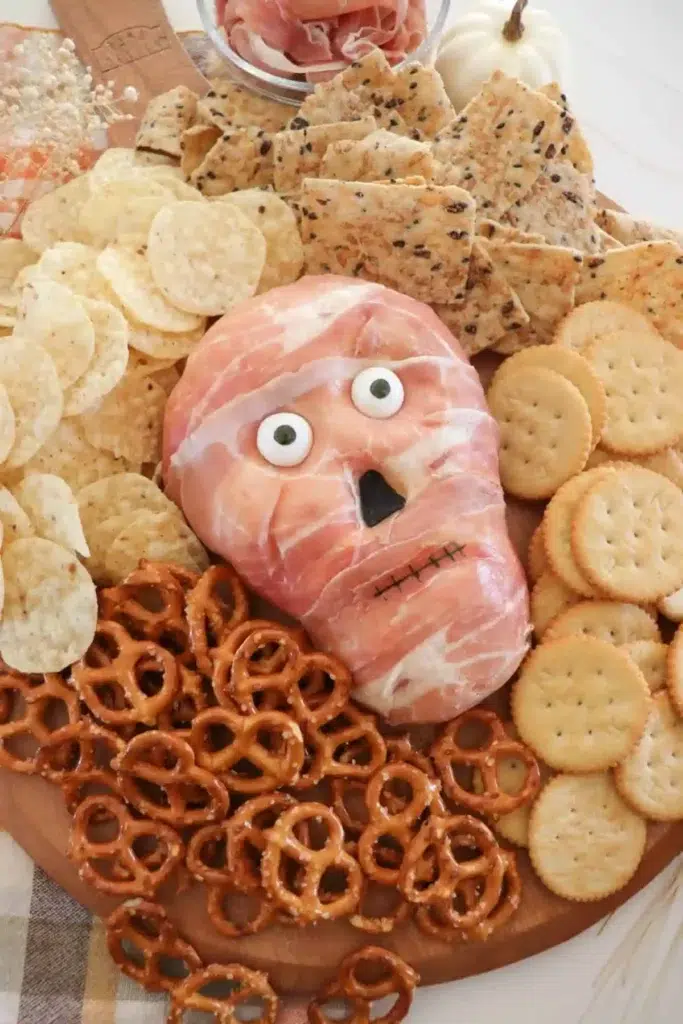 This is the perfect spooky platter recipe for a party.
Just grab your favorite cheese ball recipe and wrap it in prosciutto.
Then, mold its shape to create a spooky skull-shaped ball.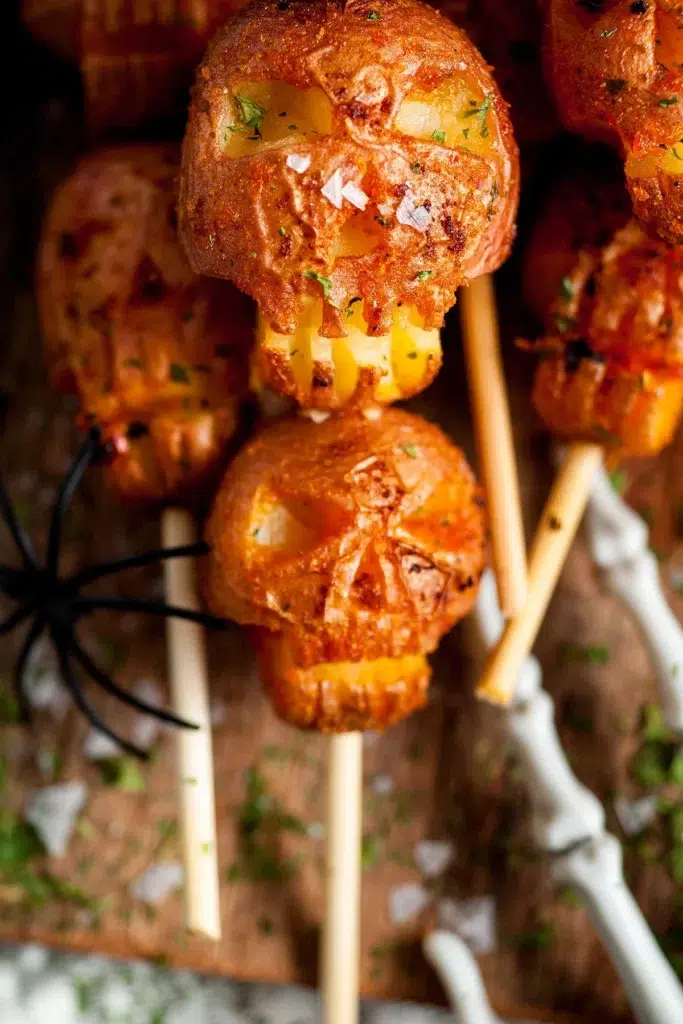 Skull Head Potatoes are fun and festive, featuring lemon juice, salt, pepper, garlic, onion powder, regular or smoked paprika, olive oil, and potatoes.
It's easier than you may think to carve skull faces into each mini potato with a paring knife.
Creative Halloween Food Ideas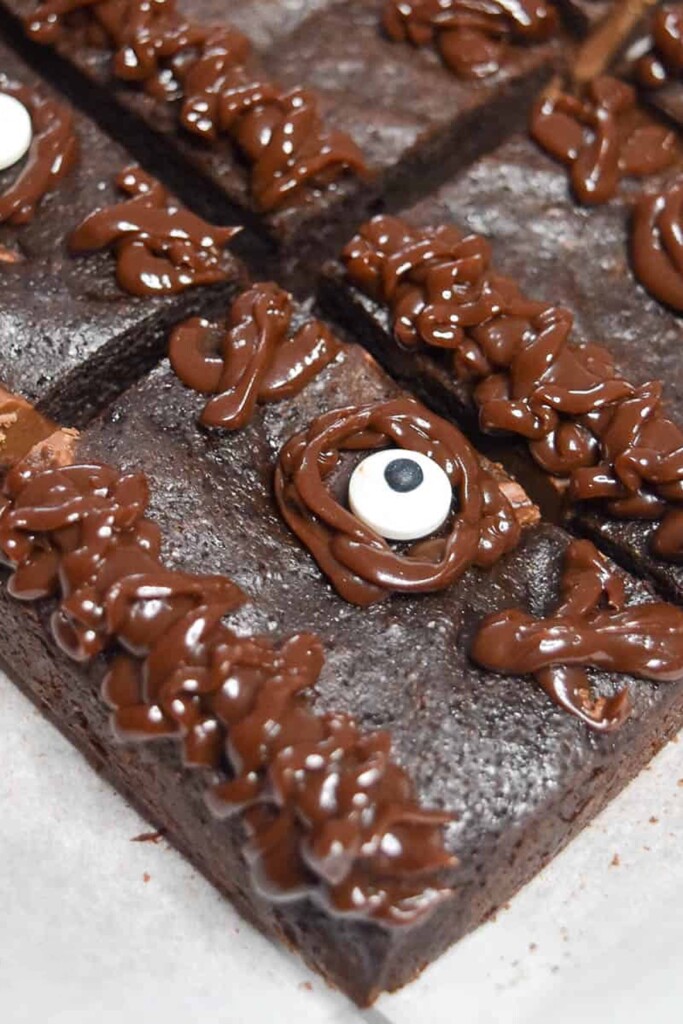 Hocus Pocus is a favorite Halloween season movie, so why not serve up some themed desserts?
These brownies are made from scratch with a step-by-step tutorial on how to decorate the book look.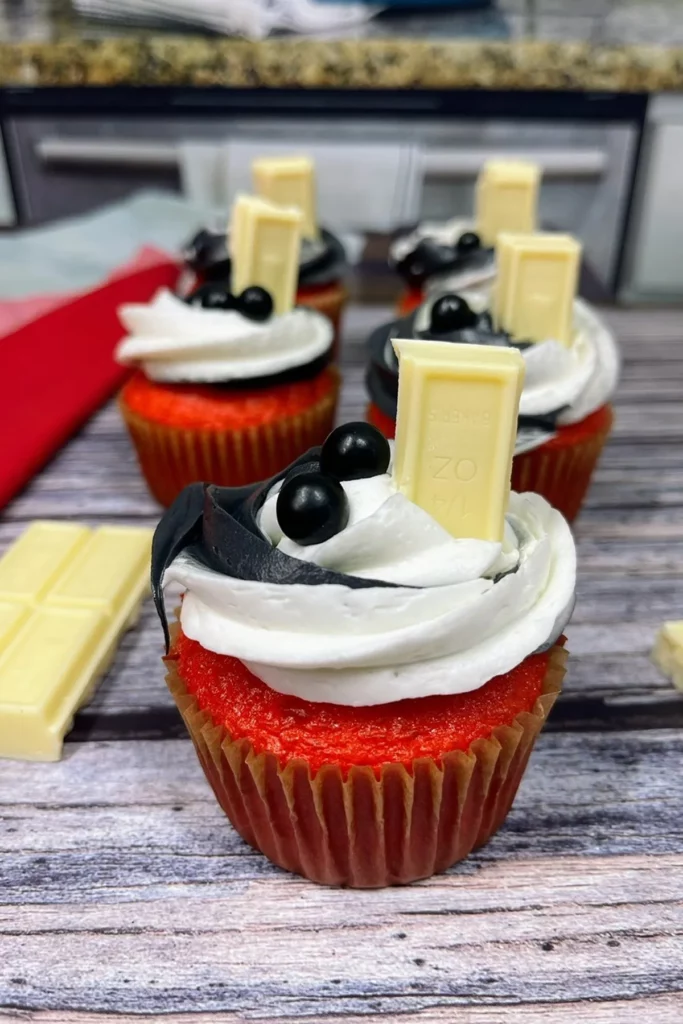 Cruella De Vil is one of my favorite Disney villains. I love to hate! Despite her puppy-napping ways, she does have style.
That's why these cupcakes will surely pop on any party platter!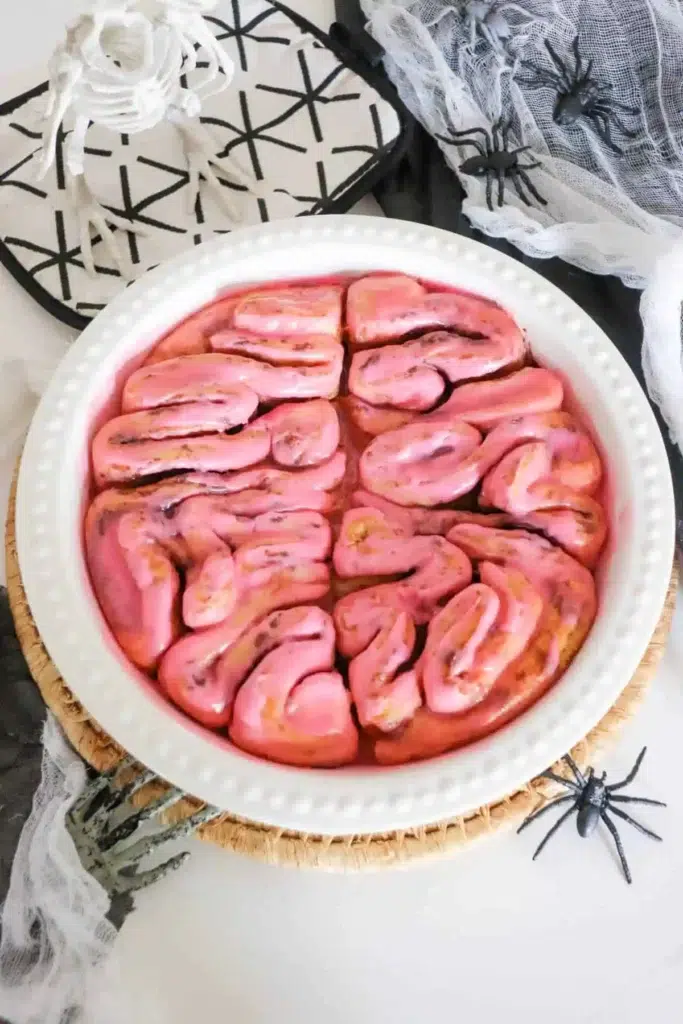 Looking for creative and super scary Easy Halloween Party Food Ideas?
You have to try these Cinnamon Roll Brains.
They may look gruesome, but they taste like heaven, and everyone will love them!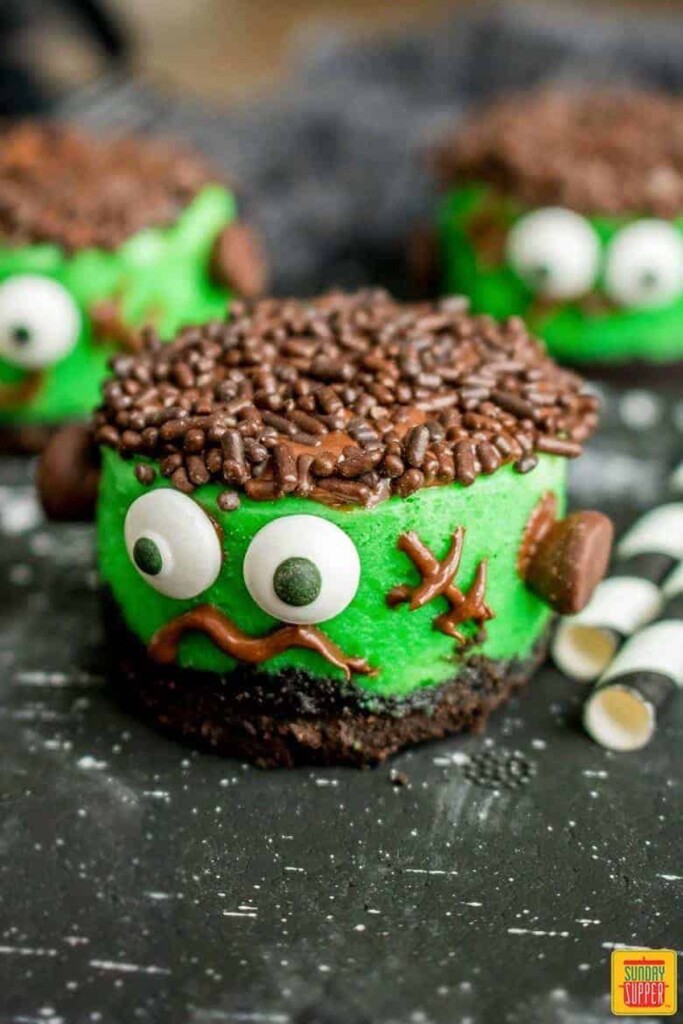 Mini Frankenstein Cheesecakes are an excellent bite-size finger food dessert for a Halloween party!
You only need cream cheese, sugar, eggs, flour, vanilla, green food coloring, Oreos, butter, and a few decoration supplies!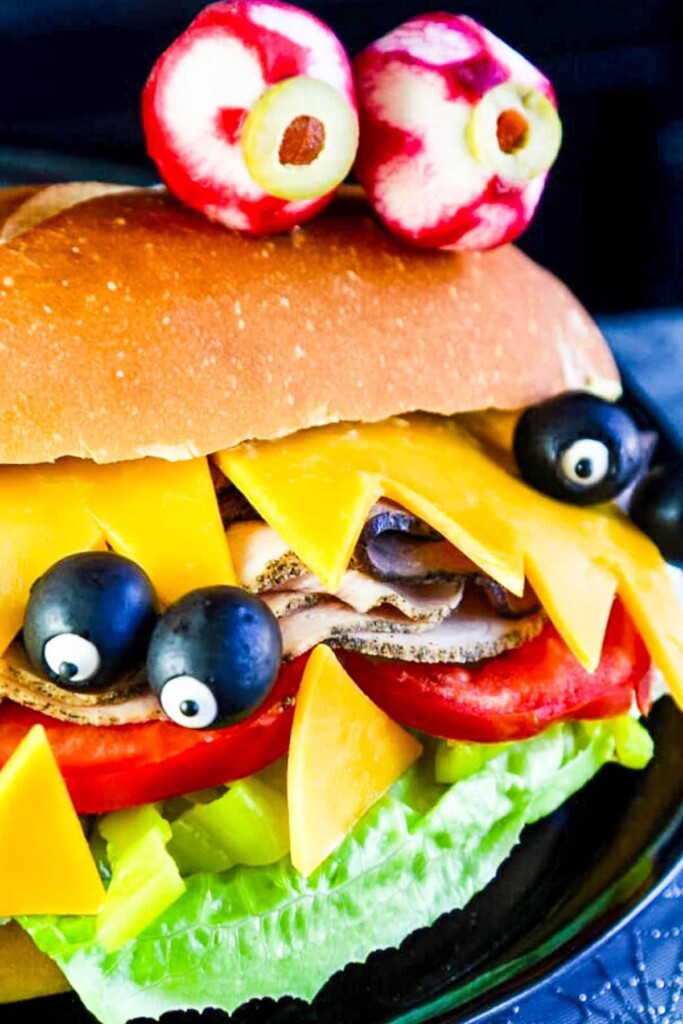 These Halloween sandwiches are cute, fun, savory, and festive.
Everything is so versatile, from the bread and meat to the cheese and spread.
Follow the steps for making the spooktacular faces.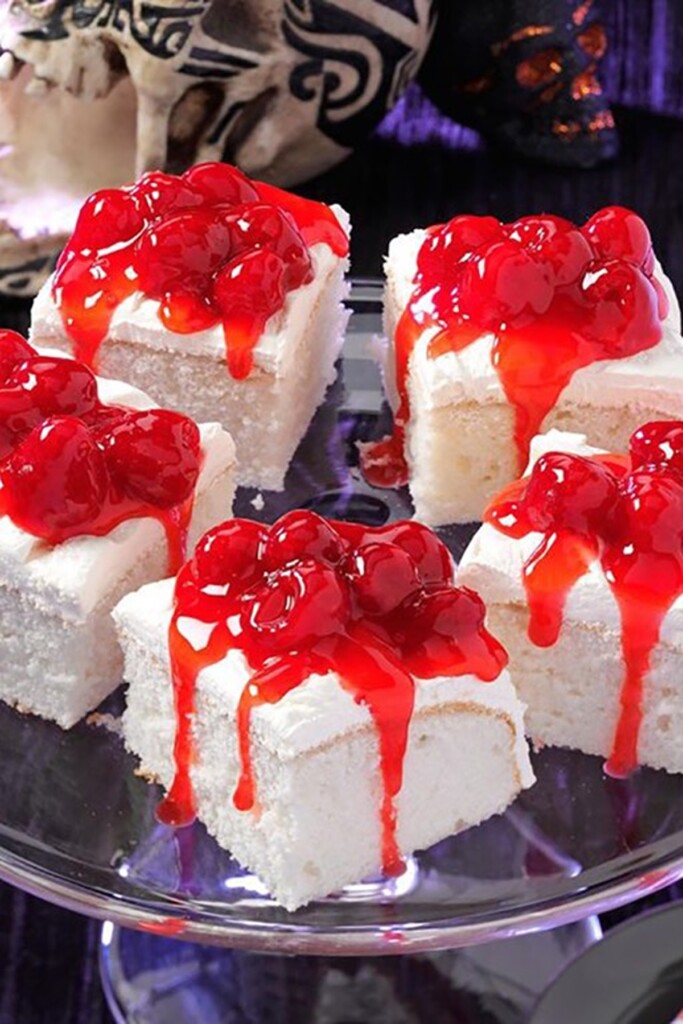 Easy Halloween Party Food Ideas like this Spooky Fresh Berry Cake are simple and delicious.
The contrast between the ghostly white cake base and the blood-red glaze is striking!
This dessert will stand out at the dessert table.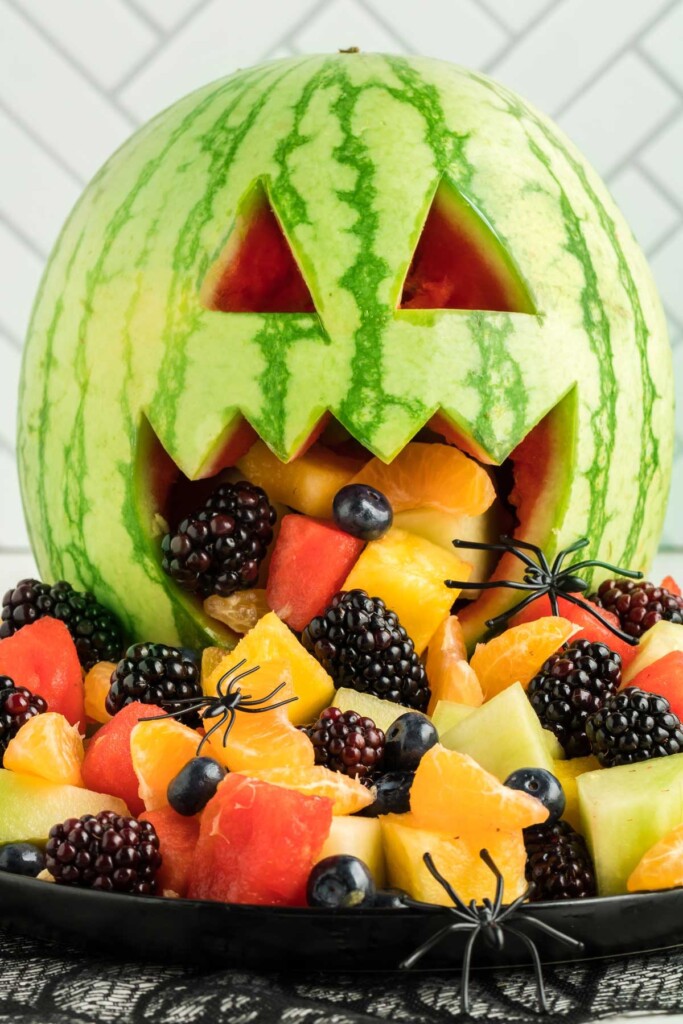 Don't forget to offer up something healthy and nutritious like fruit!
Just carve a spooky face in a large watermelon and display freshly chopped fruit coming out of the mouth.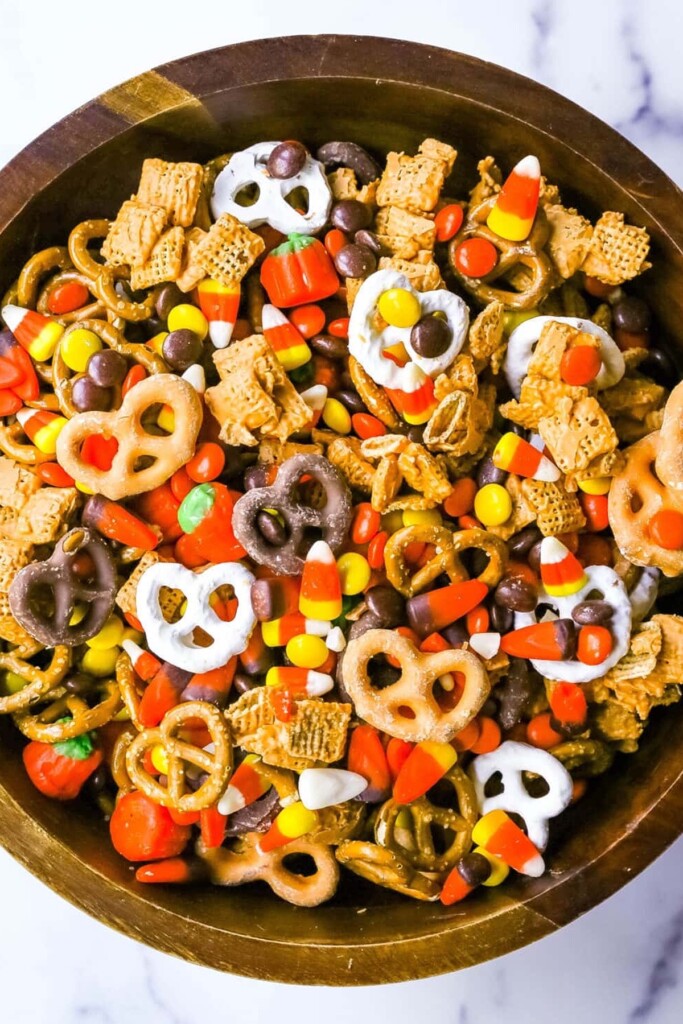 This Halloween Sweet and Salty Snack Mix features salty pretzels, butterscotch-flavored Chex cereal, candy corn, Reese's Pieces, and chocolate-covered pretzels.
You can add some of your favorite items, like candy or nuts.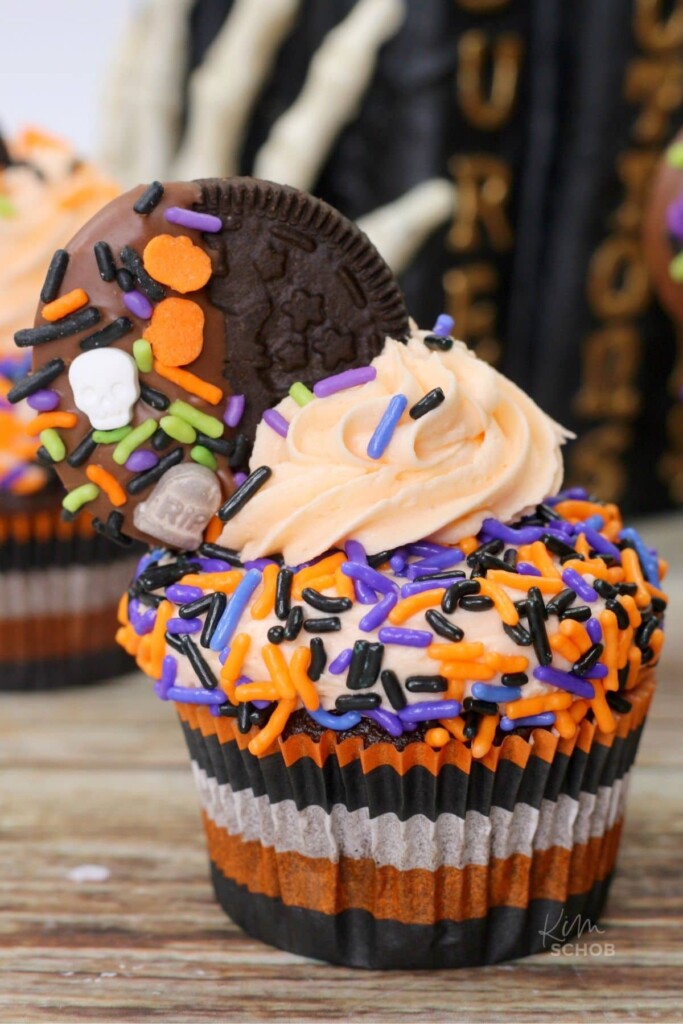 Serve up some extra delicious, Easy Halloween Party Food Ideas like cupcakes!
Scary Oreo Cupcakes are sure to be the star of the show at your social gatherings.
Key ingredients include chocolate cake mix and Ghirardelli milk chocolate melting wafers!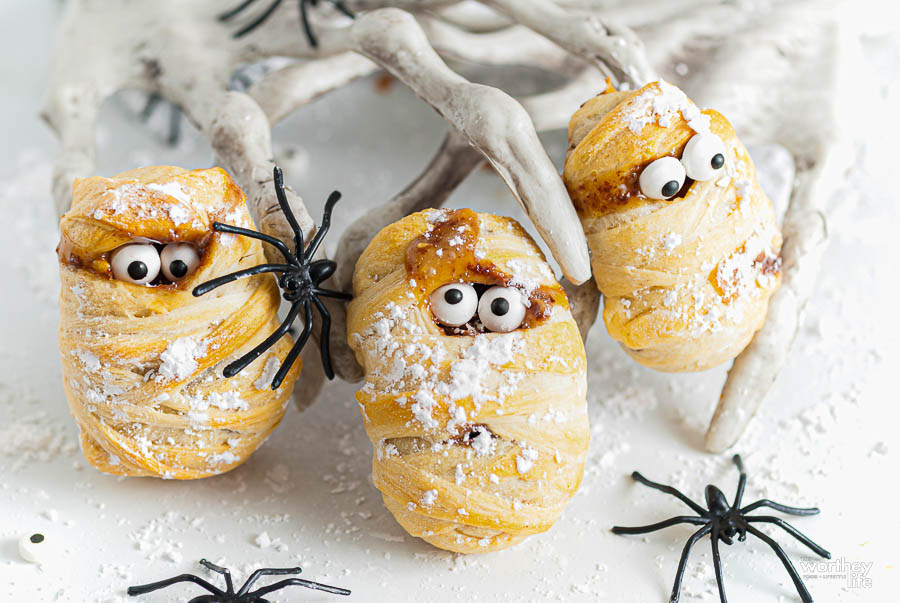 These super easy Mummy treats are the best thing you'll make this Halloween!
You only need Pillsbury crescent rolls, fun-size Snickers, powdered sugar, and candy eyes!
You will be pleasantly surprised at the tasty flavor combination.
Halloween Floats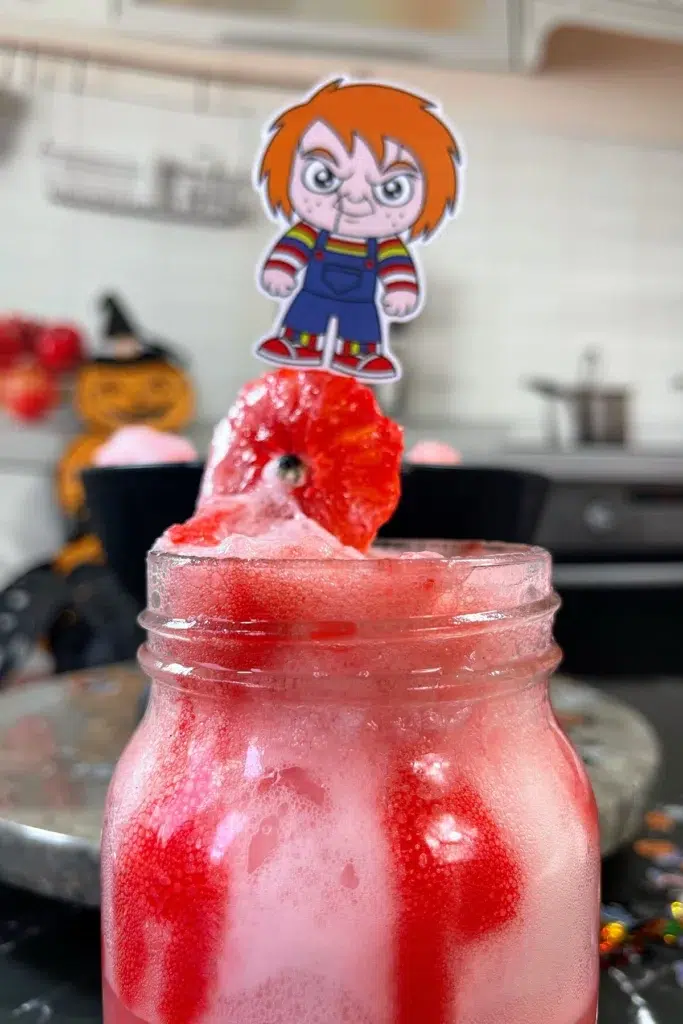 Halloween Rainbow Sherbet Punch
This spooky sherbet punch float recipe is oh-so-fun for a Halloween party!
With cool colors like orange, green, and red surrounded by bubbly liquid and a tasty creamy foam created when the ingredients are mixed.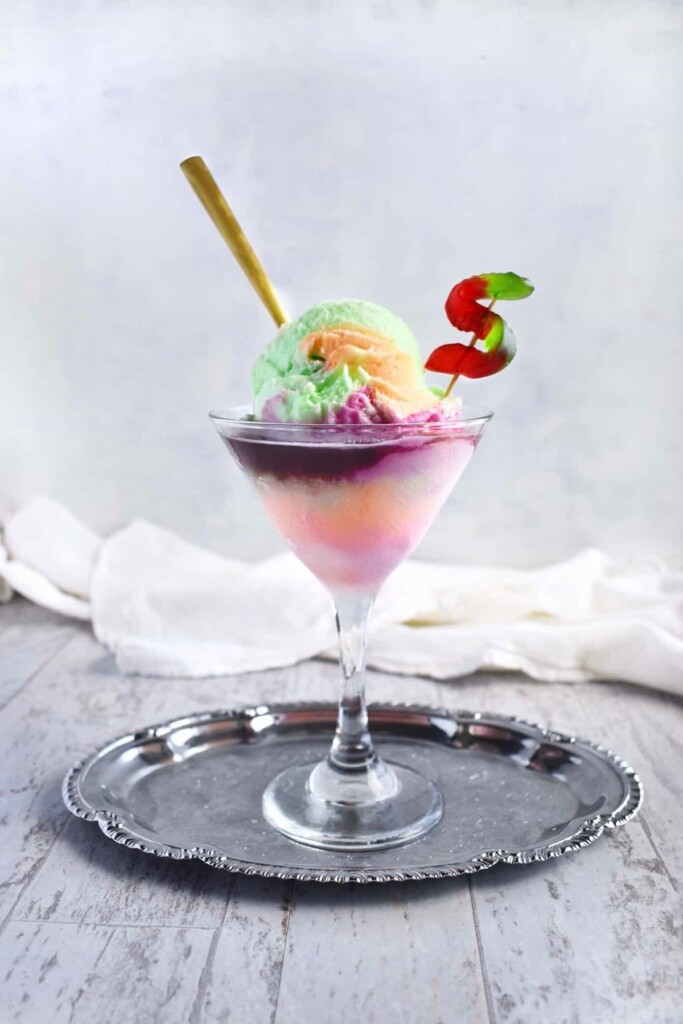 I had to add another Hocus Pocus recipe to this list because I love that movie.
Not to mention that this float is delicious! Sour gummy worms add a fun and unique twist and flavor to the recipe.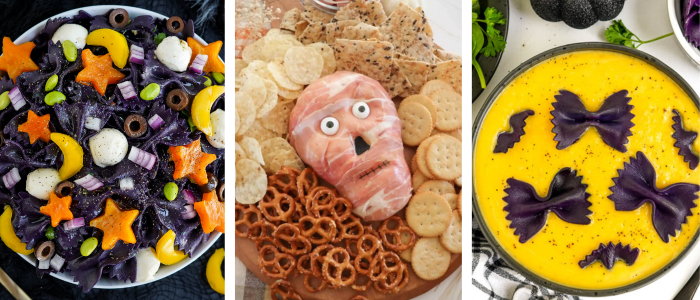 These Easy Halloween Party Food Ideas will be a hit at any spooky event!
Your dessert display will stand above the rest next to your savory BOOfet.
Let us know if you tried any of these recipes; we'd love your feedback!