This spooky charcuterie board, also known as a char-booterie board, is full of spooky treats, cheeses, and meats.
Check out how we put this Halloween board together.

Spooky Charcuterie Board
Joy Fielding once said, "October was always the least dependable of months … full of ghosts and shadows."
But obviously, Ms. Fielding never met a friendly ghost or a silver-lined shadow.
Wait, are silver-lined shadows a thing? Hmmm! Prolly not, but still!
We're all about having a go at Halloween and making it fun and an excuse to eat and drink well.
So, in the spirit of all things Hallow's Eve, we made a Boo-cuterie Board and filled it with lots of spook-a-licious goodies.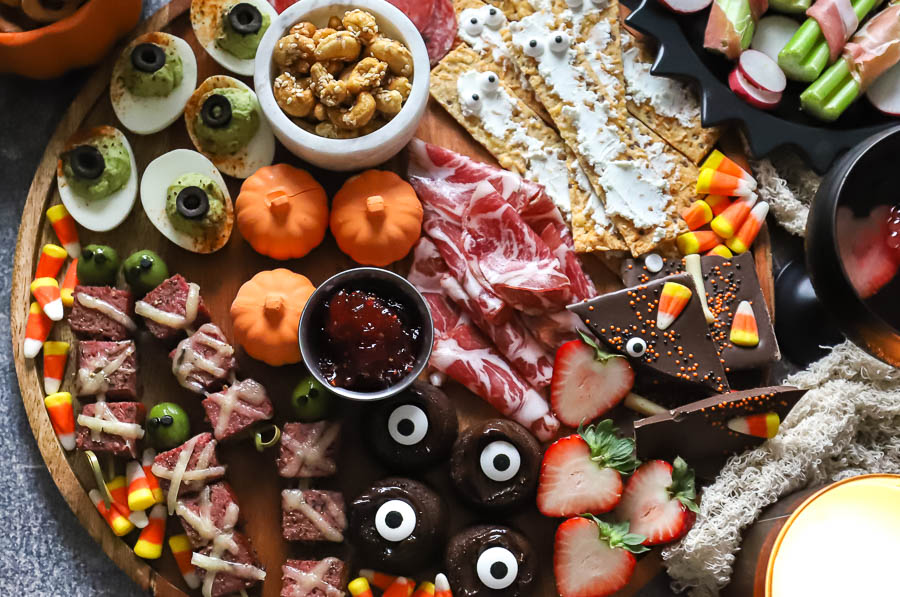 We were inspired by the Charbooterie board in the recent BH&G article. One of the things I love about charcuterie boards is how customizable they are; you can fill them with all the things you and your family love.
I also love a Halloween board with sweet and savory flavors. Even better if they are salty and sweet combinations too!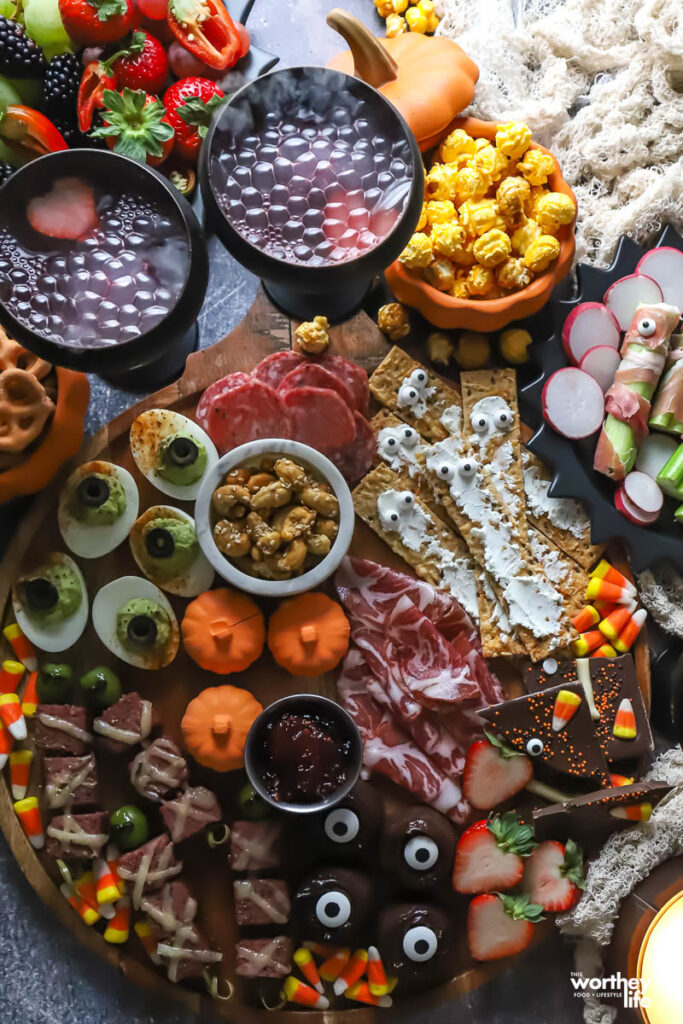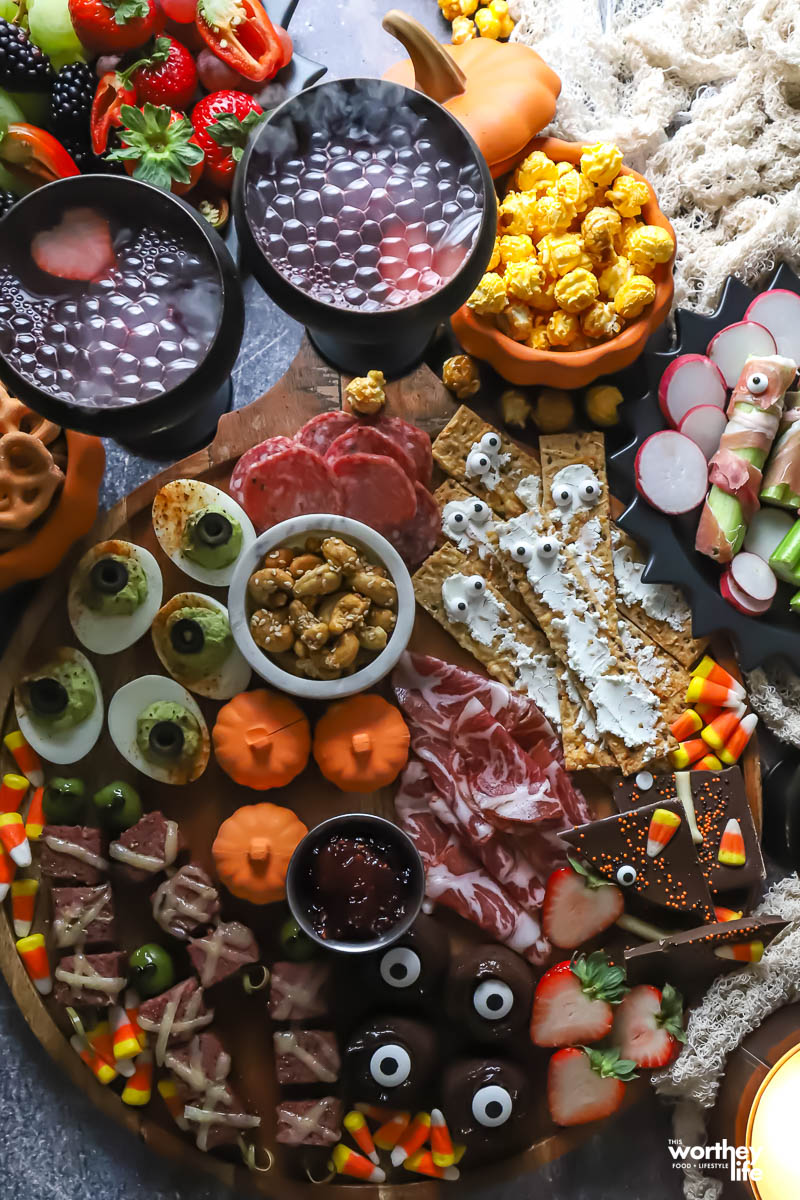 Here Is What You Will Need To Make Our Boo-Cuterie Board
Meat. I used Proscuitto, Genoa, and the thinly sliced Soppressata-style salami for this board. I also threaded cubes of summer sausage into a cocktail stick; I laced the sausage with strands of freshly grated white cheddar cheese and toasted them using a chef's torch.
Fruits & Veggies. I love adding both fruit and vegetable offerings on a charcuterie board. Our Halloween-themed board is served with red and green grapes, fresh sliced strawberries, and big sweet, and juicy blackberries. I also served mini-sweet red peppers, celery (wrapper with prosciutto), and thinly sliced radishes.
Savory Snacks. We used a mix of sweet and salty snacks like pumpkin-flavored yogurt pretzels, cheddar cheese, and caramel popcorn. I also used garlic sesame crackers smeared with softened goat cheese.
Avocado Deviled Eggs. These deviled eggs are so easy to make, and I like how the egg yolk mixture uses avocado and fresh lime juice instead of food coloring to achieve the green color. The filling includes egg yolk, fresh lime juice, shredded white cheddar cheese, sea salt, cracked black peppercorns, and a little horseradish spread. (recipe below)
Sweet Nibbles. You can't have a respectable Halloween-themed Boo-Cuterie Board without some lovely stuff. We added candy corn and brownie rounds topped with a creamy fudge spread and topped with a single large candy eyeball.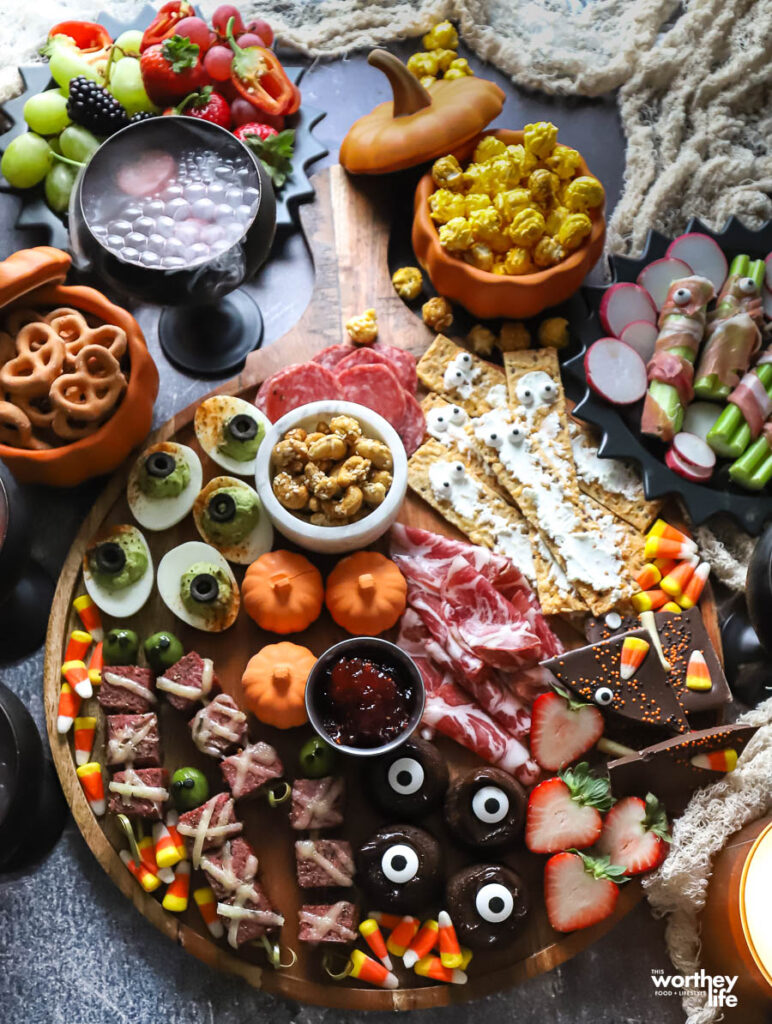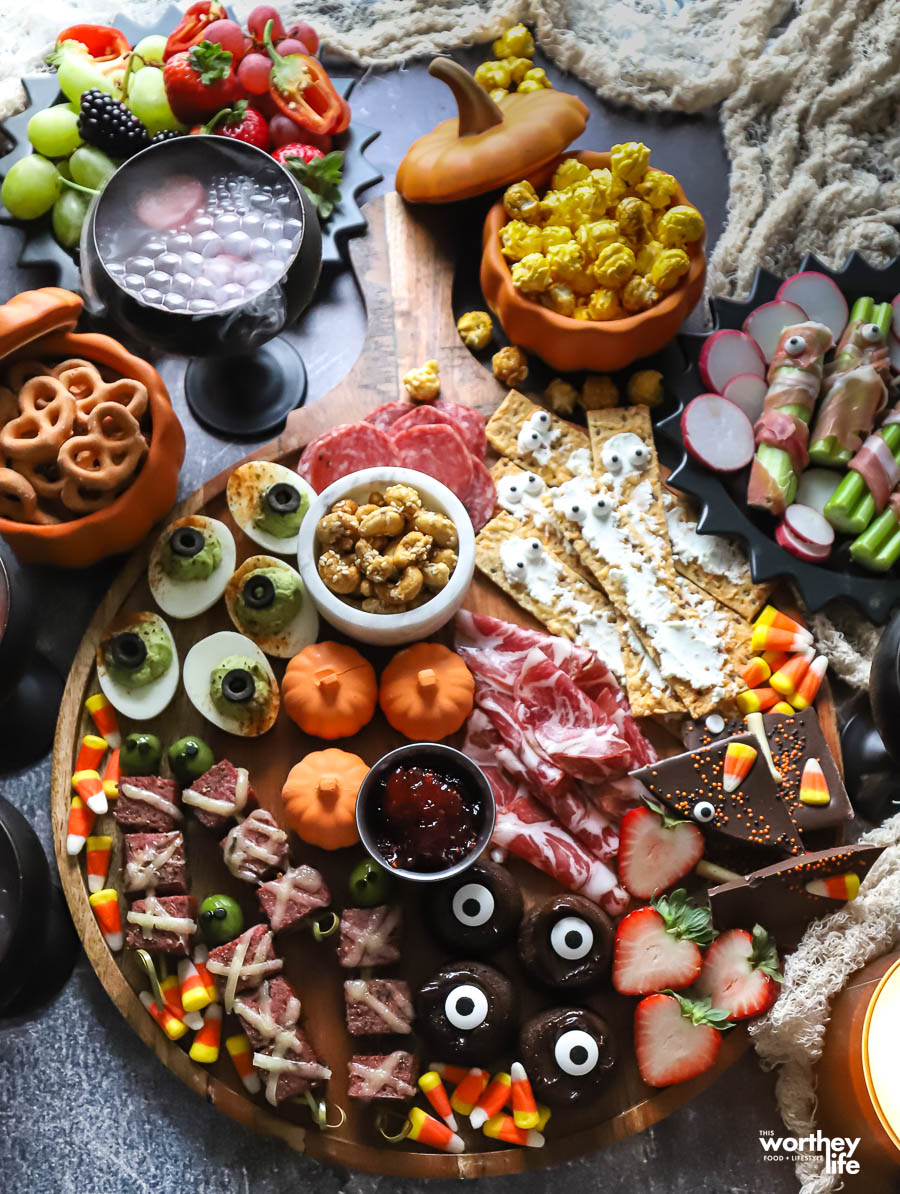 How to make a Spooky Charcuterie Board
This board serves 6-8
Ingredients used:
candy corn
Stonewall Kitchen Holiday Jam
Cheese & Garlic Flatbread Crackers
Goat Cheese
Caramel and Cheese Popcorn
Pumpkin Spice Yogurt Flavored Pretzels
Favorite Day White Chocolaty Hot Cocoa Bombs (pumpkin shape)
Maple Honey Sesame Cashews
Hallow's Eve Bark Williams-Sonoma
Eye-Ball Deviled Eggs
Mummy Summer Sausage Skewers
Celery & Proscuitto One-Eyed Ghouls
Assorted meats + cheeses
Assorted fruits + veggies (strawberries, blackberries, grapes, radishes)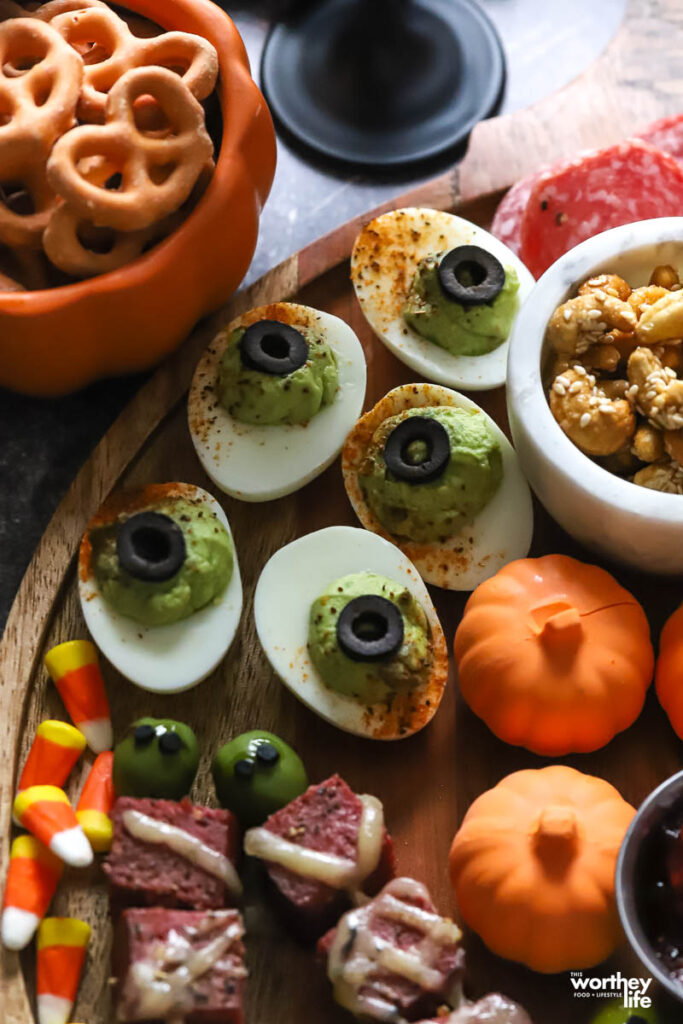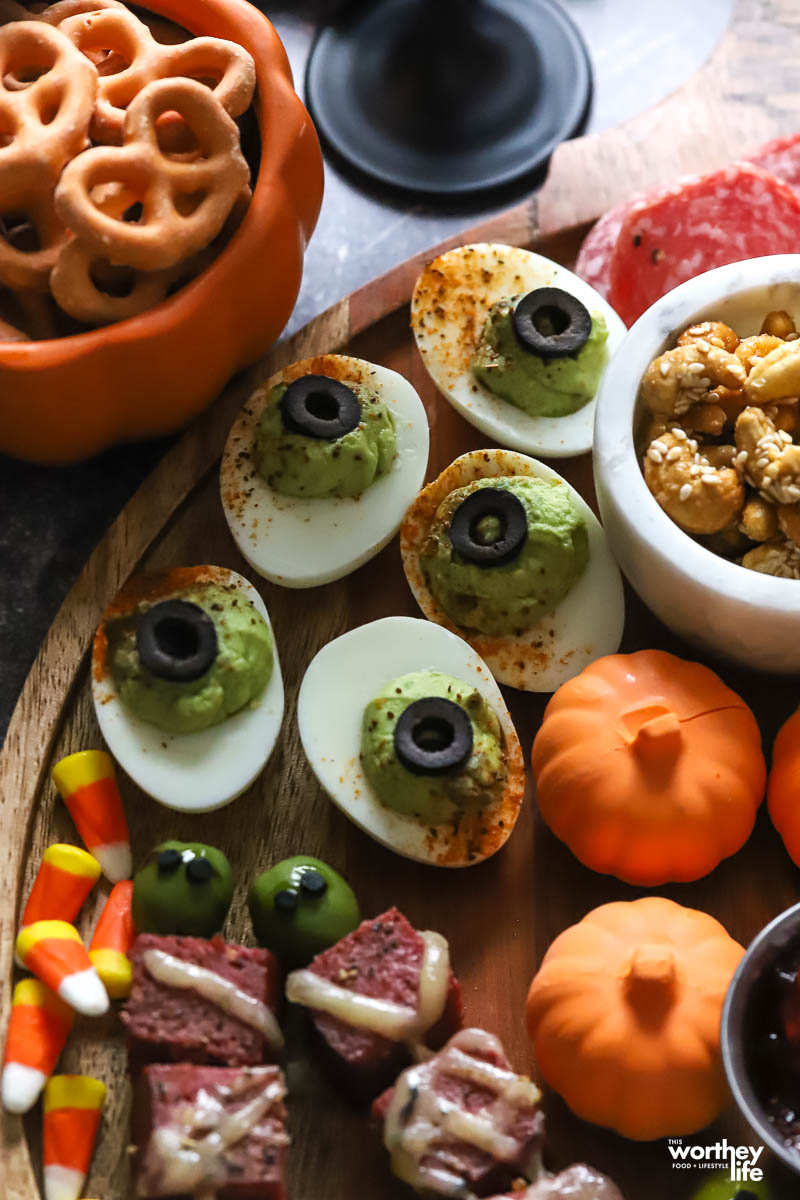 How to make Eye-Ball Deviled Eggs
1/2 of an avocado
1/4 cup of grated white cheddar cheese
2 tbsp minced onions
2 tbsp horseradish sauce or mayo
salt and black pepper to taste
sliced black olives
Directions:
Make hard boil six eggs, then when they are cool enough to handle safely, peel the eggs and cut them in half.
Add the egg yolks to a bowl and add avocado, cheese, minced onions, horseradish, salt, and black pepper to taste.
Use a hand mixer to blend the ingredients or pulse using a food processor.
Spoon the mixture into a Ziploc bag and cut off one of the corners.
Pipe the green egg mixture into the hard-boiled egg whites.
Top each one with a slice of black olive and dust with ground smoked paprika.
Serve.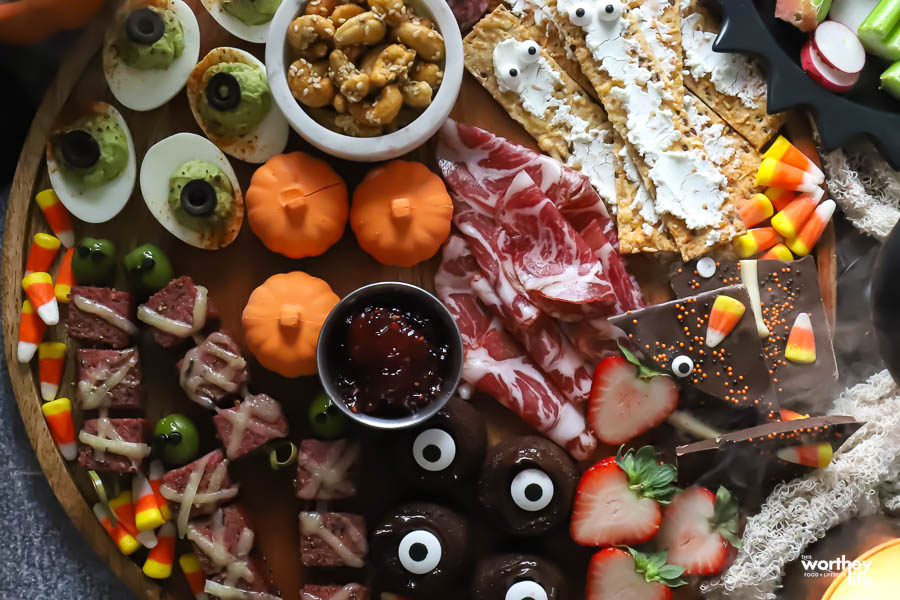 Mummy Summer Sausage Skewers
Ingredients:
cubes of summer sausage
shredded white cheddar cheese or any easily melted cheese
pitted green olives
small round and black nonpareil for the eyes
Directions:
Cut the summer sausage into i-inch by 1-inch cubes and thread them onto a cocktail skewer;
arrange the grated white cheddar cheese in a cross-hatch patch pattern to resemble a mummy's bandages.
Use a chef's torch to melt the cheese slightly, or place the skewer into a microwave for 10-20 seconds or until the cheese begins to melt.
Top each mummy with a green olive; we used baker's glue to attach the tiny round black nonpareils. If you do not have baker's glue use a dab of honey or agave.
Serve.

Celery & Proscuitto One-Eyed Ghouls
Ingredients:
clean and rinse celery cut into 4-inch pieces
an equal amount of prosciutto cut into thin strips
large eye nonpareil
f00d-grade clue or a dab of honey or agave
Directions:
Clean and rinse any debris off the celery stalks and cut them into 4-inch sections.
Cut each piece of prosciutto into thin slices.
Wrap each stalk of celery with a thin slice of prosciutto.
Use a dab of food-grade glue, honey, or agave to attach a single nonpareil eyeball.
Serve.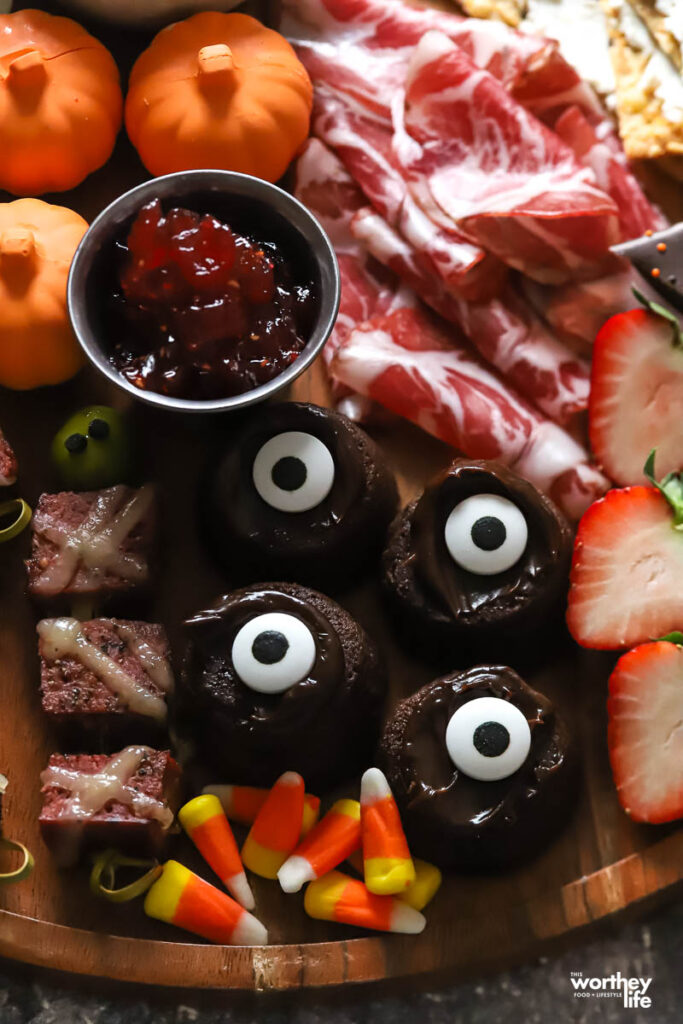 We use store-bought mini brownies topped with chocolate sauce and one large candy eye for the one-eye brownie bites.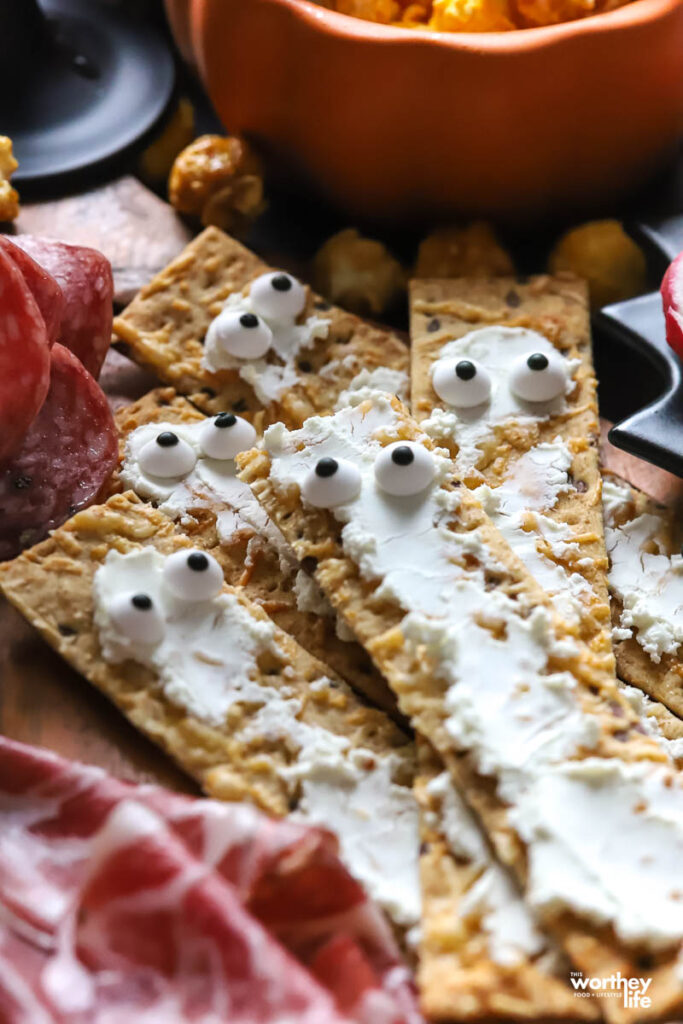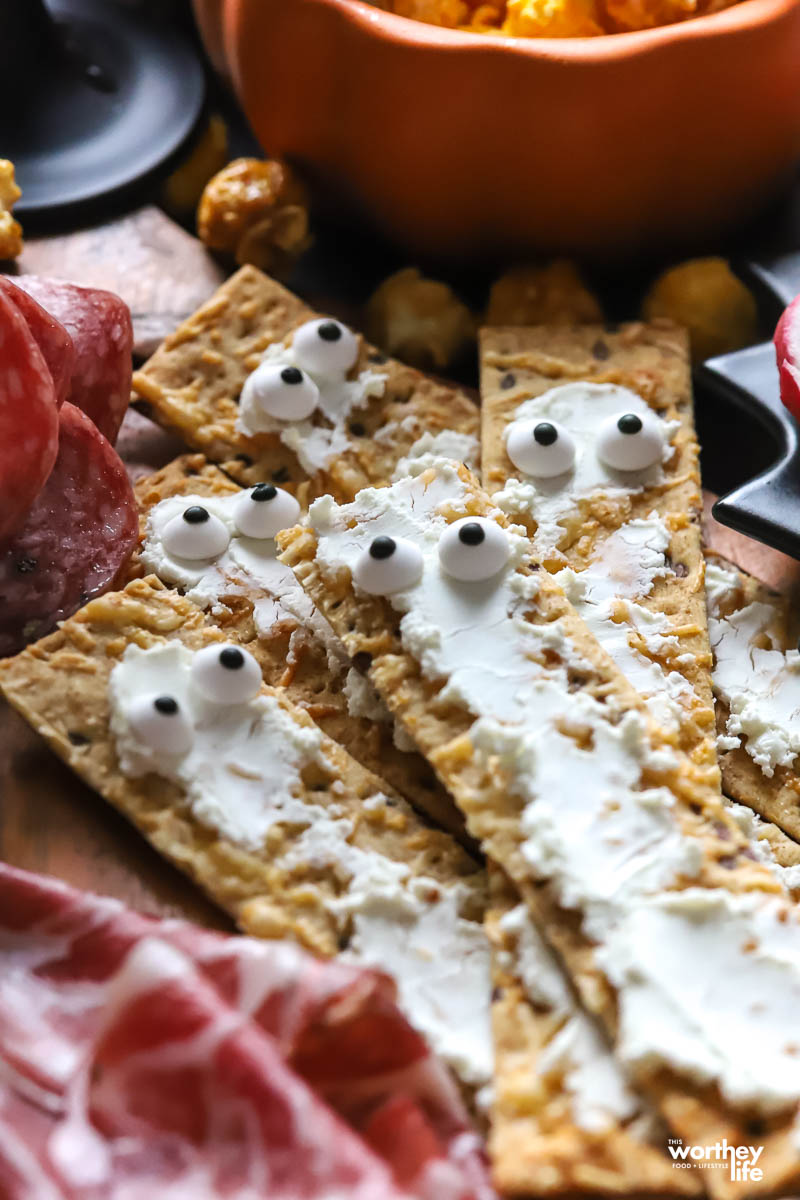 For the Goat Cheese Ghosts, it's pretty simple. We used Cheese & Garlic Flatbread Crackers, goat cheese, and small candy eyes.
Feel free to use your favorite type of cracker. You can also use dried blueberries or currants to make the eyes.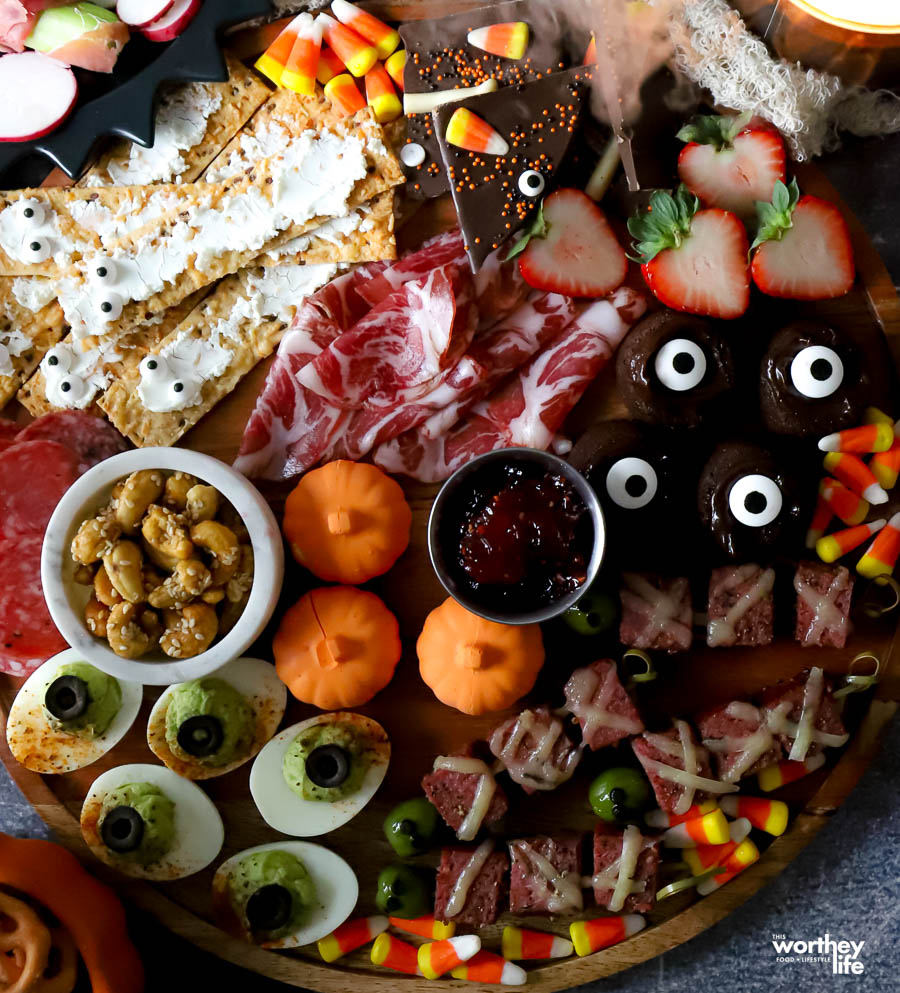 Our Boo-cuterie Board is the perfect way to entertain this Halloween!
You can choose whatever flavors you like, and feel free to serve a kid-friendly or pair an adult drink and enjoy!
Halloween Treats:
Easy Halloween Snacks For A Party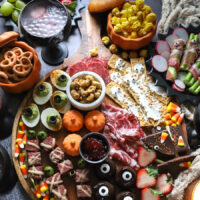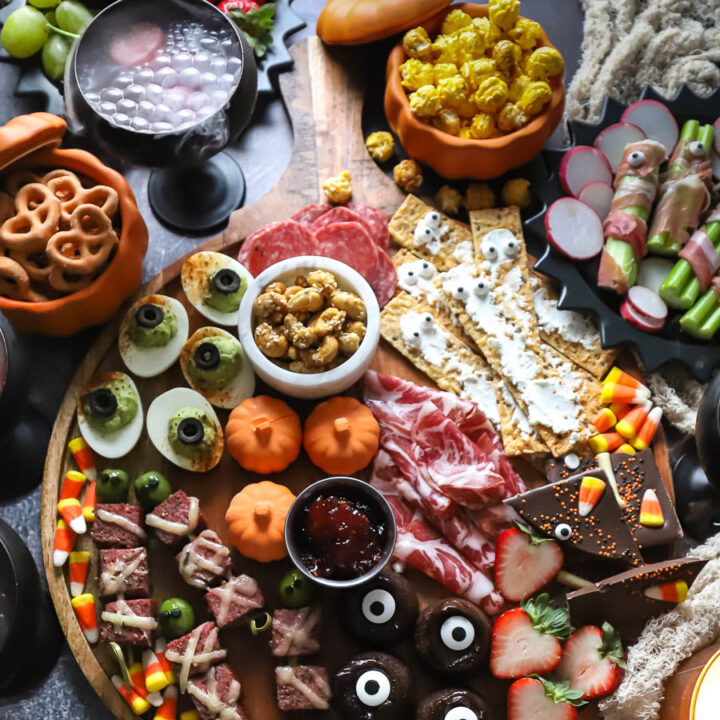 Ingredients
candy corn

Stonewall Kitchen Holiday Jam

Cheese & Garlic Flatbread Crackers

Goat Cheese

Caramel and Cheese Popcorn

Pumpkin Spice Yogurt Flavored Pretzels

Favorite Day White Chocolaty Hot Cocoa Bombs

pumpkin shape

Maple Honey Sesame Cashews

Hallow's Eve Bark Williams-Sonoma

Eye-Ball Deviled Eggs

Mummy Summer Sausage Skewers

Celery & Proscuitto One-Eyed Ghouls

Assorted meats + cheeses

Assorted fruits + veggies

strawberries, blackberries, grapes, radishes
Instructions
How to make Eye-Ball Deviled Eggs
1/2 of an avocado
1/4 cup of grated white cheddar cheese
2 tbsp minced onions
2 tbsp horseradish sauce or mayo
salt and black pepper to taste
sliced black olives
Directions:
Make hard boil six eggs, then when they are cool enough to handle safely, peel the eggs and cut them in half.
Add the egg yolks to a bowl and add avocado, cheese, minced onions, horseradish, salt, and black pepper to taste.
Use a hand mixer to blend the ingredients or pulse using a food processor.
Spoon the mixture into a Ziploc bag and cut off one of the corners.
Pipe the green egg mixture into the hard-boiled egg whites.
Top each one with a slice of black olive and dust with ground smoked paprika.
Serve.

Mummy Summer Sausage Skewers

Ingredients:

cubes of summer sausage
shredded white cheddar cheese or any easily melted cheese
pitted green olives
small round and black nonpareil for the eyes
Directions:
Cut the summer sausage into i-inch by 1-inch cubes and thread them onto a cocktail skewer;
arrange the grated white cheddar cheese in a cross-hatch patch pattern to resemble a mummy's bandages.
Use a chef's torch to melt the cheese slightly, or place the skewer into a microwave for 10-20 seconds or until the cheese begins to melt.
Top each mummy with a green olive; we used baker's glue to attach the tiny round black nonpareils. If you do not have baker's glue use a dab of honey or agave.
Serve.
Celery & Proscuitto One-Eyed Ghouls

Ingredients:

clean and rinse celery cut into 4-inch pieces
an equal amount of prosciutto cut into thin strips
large eye nonpareil
f00d-grade clue or a dab of honey or agave
Directions:
Clean and rinse any debris off the celery stalks and cut them into 4-inch sections.
Cut each piece of prosciutto into thin slices.
Wrap each stalk of celery with a thin slice of prosciutto.
Use a dab of food-grade glue, honey, or agave to attach a single nonpareil eyeball.
Serve.

We use store-bought mini brownies topped with chocolate sauce and one large candy eye for the one-eye brownie bites.

For the Goat Cheese Ghosts, it's pretty simple. We used Cheese & Garlic Flatbread Crackers, goat cheese, and small candy eyes.

Feel free to use your favorite type of cracker. You can also use dried blueberries or currants to make the eyes
Nutrition
Serving:
1
g
|
Calories:
303
kcal
|
Carbohydrates:
39
g
|
Protein:
13
g
|
Fat:
11
g
|
Saturated Fat:
5
g
|
Polyunsaturated Fat:
5
g
|
Cholesterol:
49
mg
|
Sodium:
471
mg
|
Fiber:
2
g
|
Sugar:
28
g