It's all a bunch of hocus pocus! With Hocus Pocus 2 streaming on Disney Plus, we had to make a Hocus Pocus Charcuterie Board!
Check out how we put this food board together.
It's so fun and perfect for a Hocus Pocus Movie Night idea.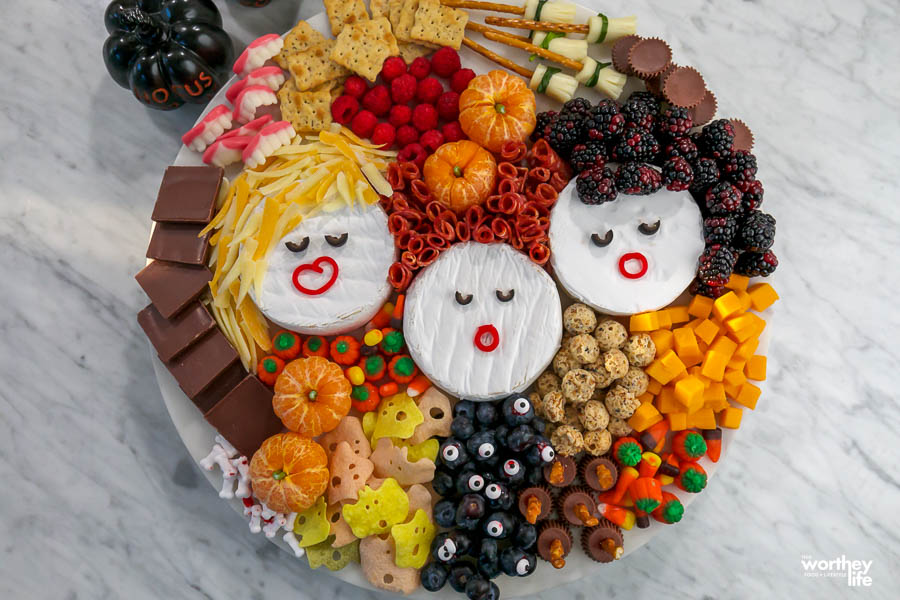 Chances are if you have been on social media, you have seen this trend, and we took it upon ourselves to take a stab at it and pay homage to Halloween's most famous witches, the Sanderson Sisters (Winifred, Sarah, and Mary).
This themed charcuterie board would be great for a Halloween party, filled with spooky snacks, and also perfect for a Hocus Pocus viewing party.
What You Will Need
To start, we placed three brie rounds in the center of the board; each round represents one of the Sanderson sisters; for hair, we used a variety of foods with a lot of texture.
Putting the Brie in the center of this Hocus Pocus charcuterie board is the base for this Halloween board.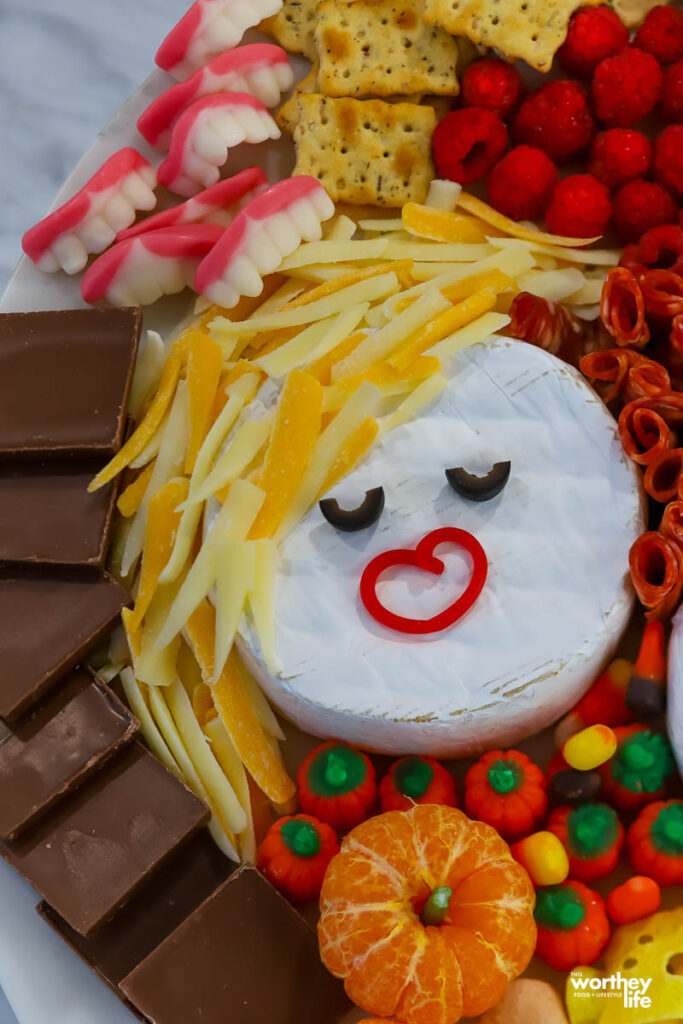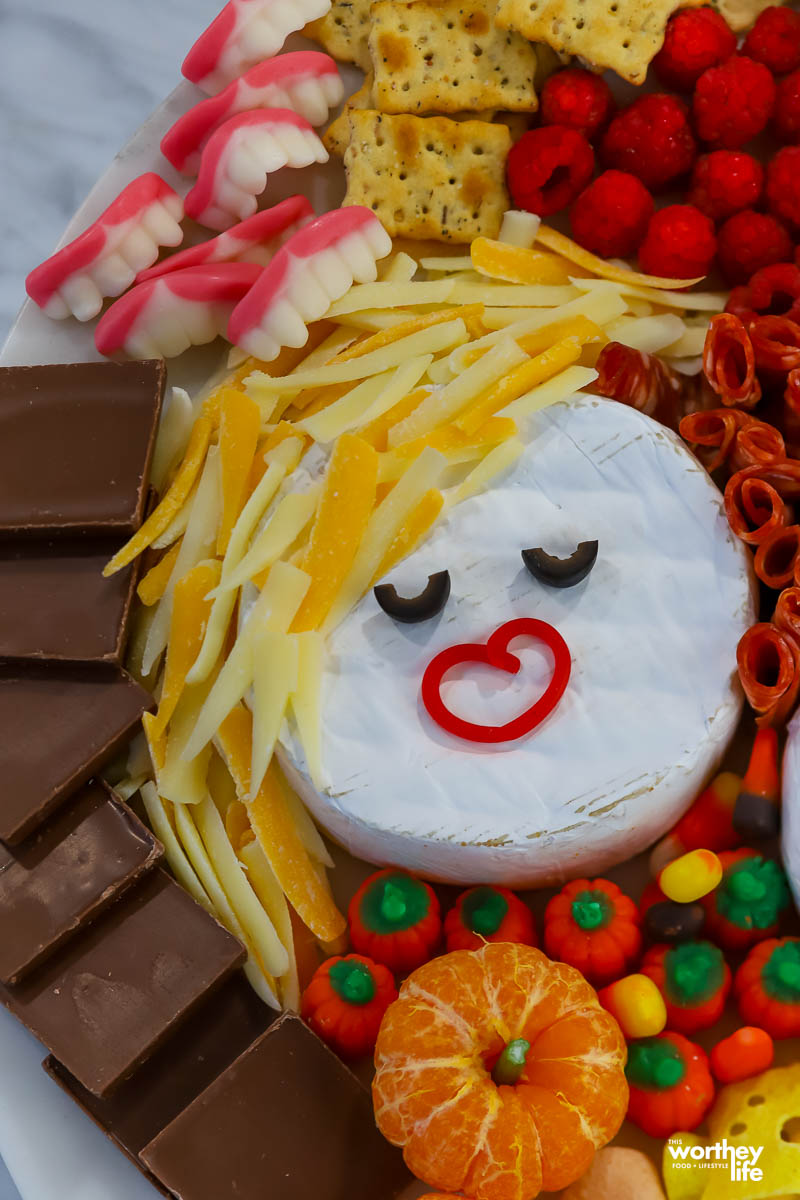 We shaved white and mild cheddar cheese to make Sarah Sanderon's hair.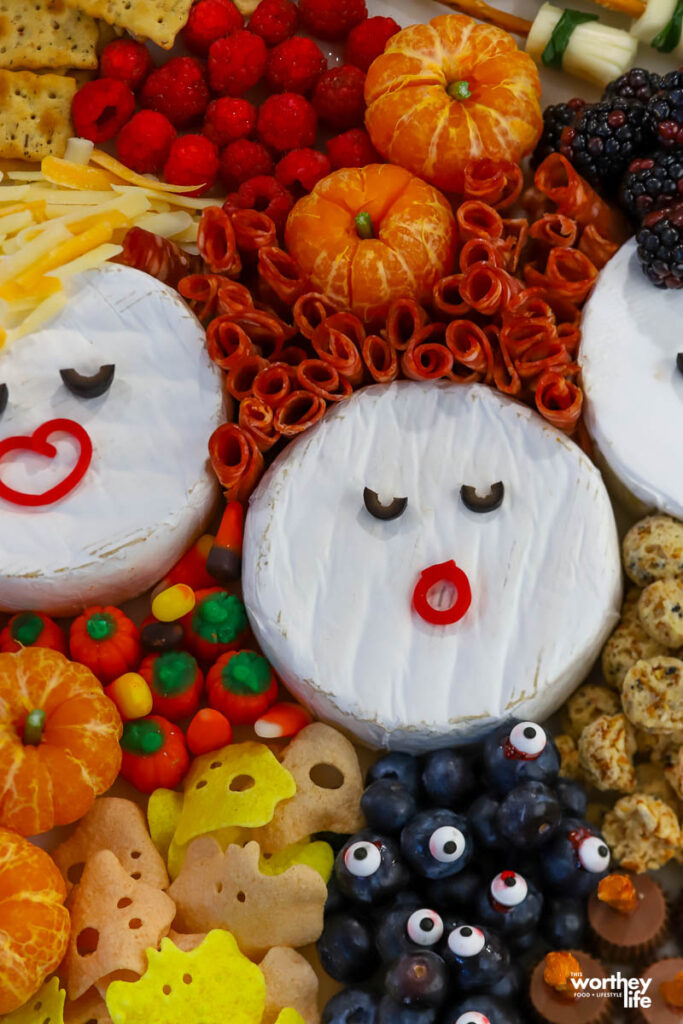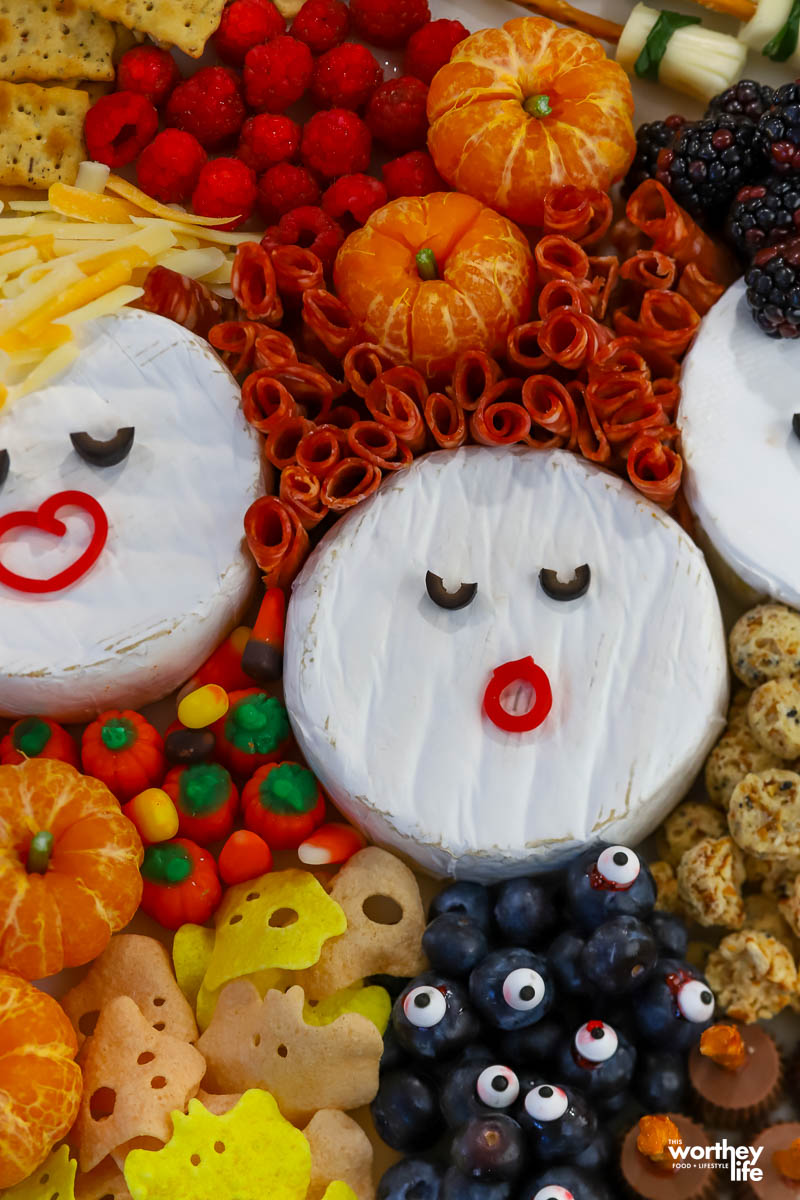 For "Winnie," we used rolled-up slices of uncured soppressata; you can also use uncured slices of Genoa salami.
You will want to use dark meat to create Winifred's bright red hair. The following meat will work for her dark red hair: salame, chorizo, or pepperoni.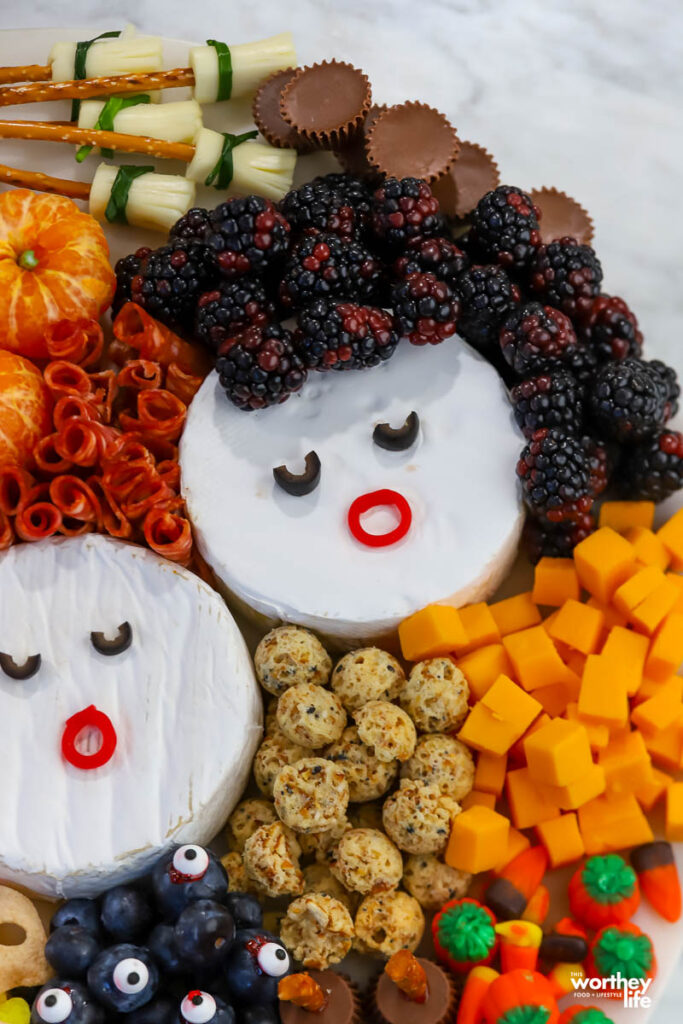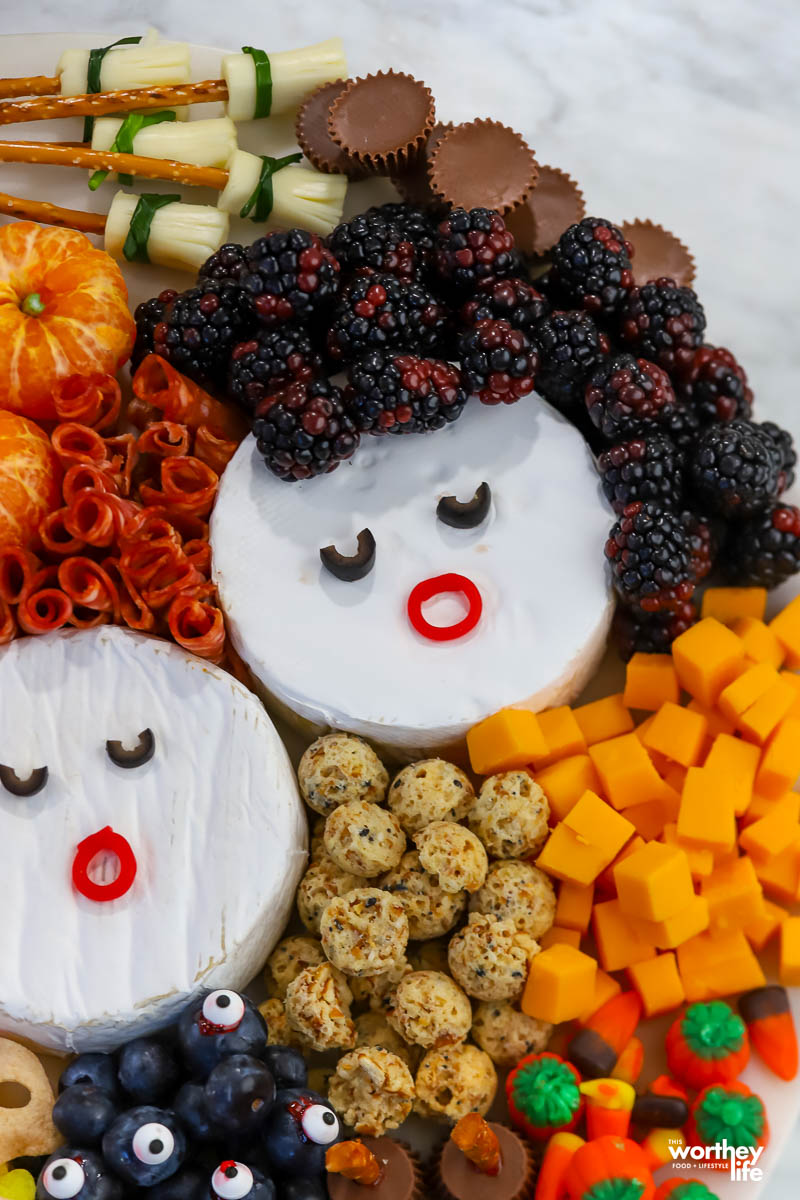 And lastly, for Mary, we used sweet ripe North Bay Produce blackberries.
We loved how Mary's hair turned out; those blackberries were a perfect size.
The sisters are the focal point, and the rest of the items we used to fill out the charcuterie board is entirely up to you.
Select Halloween-themed snacks and treats you know your family and friends will enjoy.
This is the perfect charcuterie board for a Hocus Pocus watch party or because you love a good-themed food board.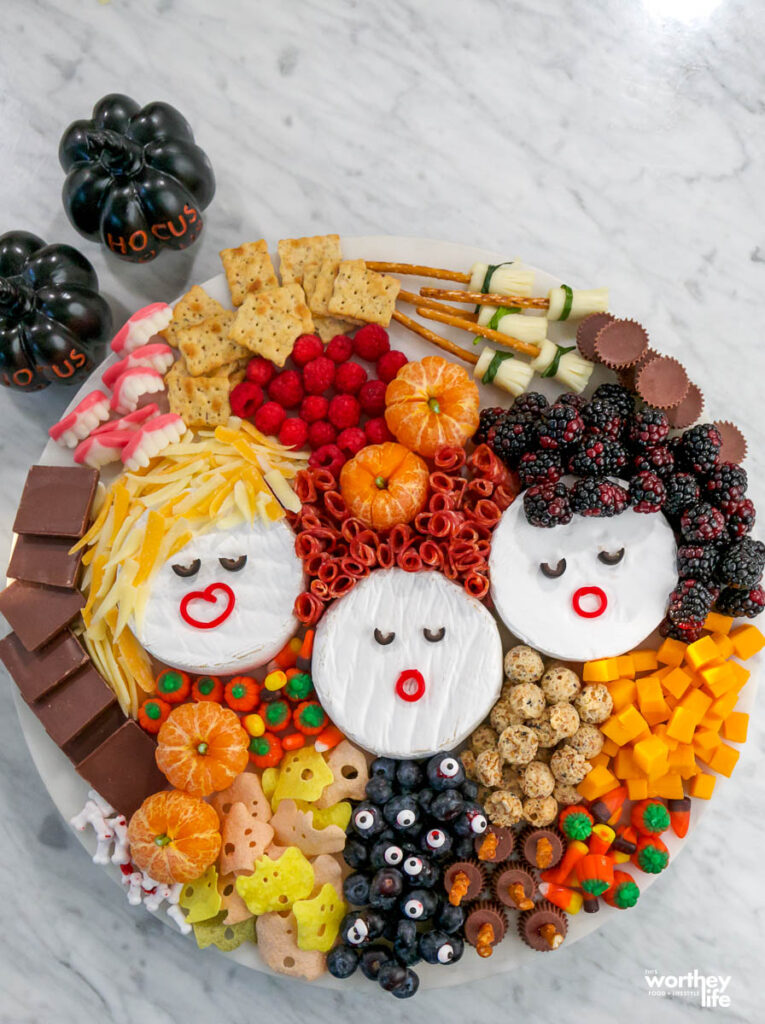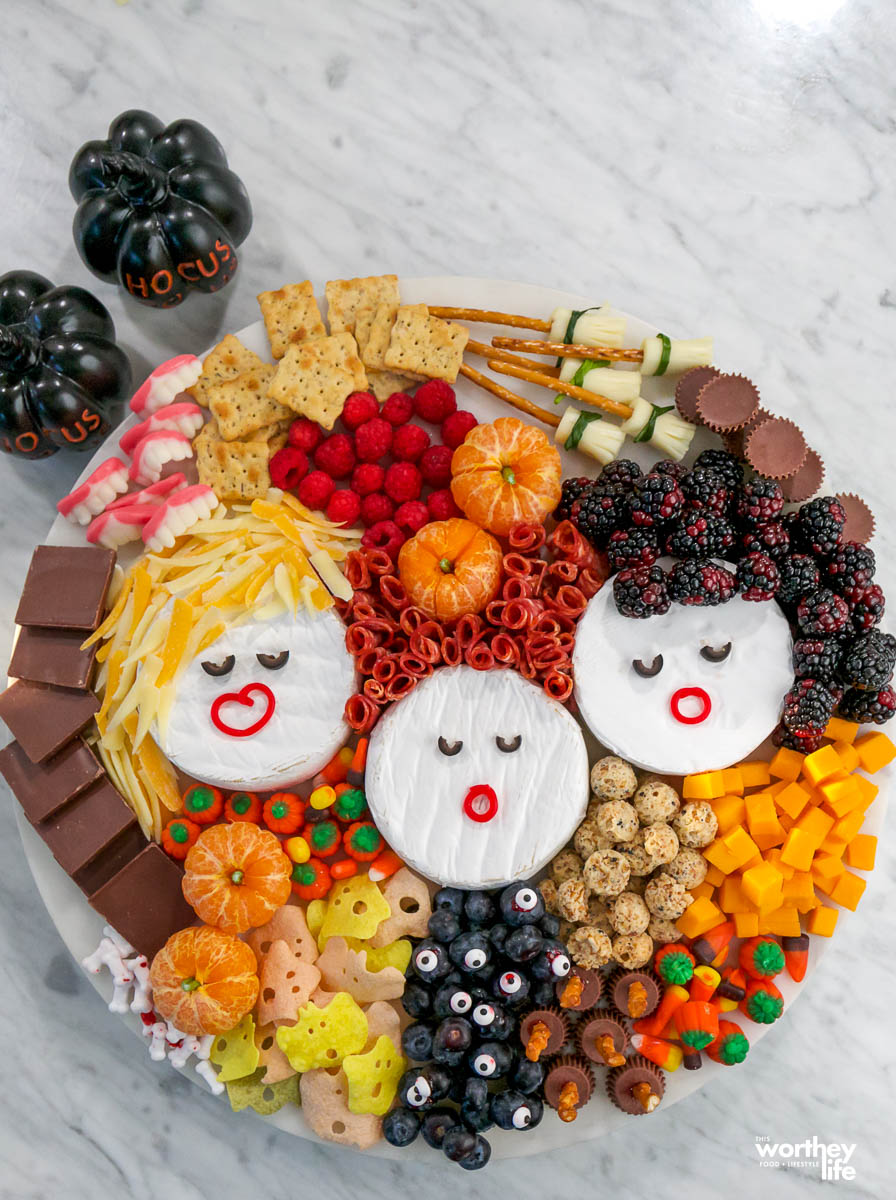 Tips For Success
Make sure the size of your board will fit all the items you want to use.
If you don't have a charcuterie board, you can cover a cookie sheet or cutting board with foil or butcher paper.
Fill in all the small gaps with snacking items, delicious sweets, and different shapes to give your board that complete look.
Make the witches first to ensure you have room for them. Then begin to fill in the rest of the board with other items.
Adding a variety of different colors is a great way to make your board festive and fun.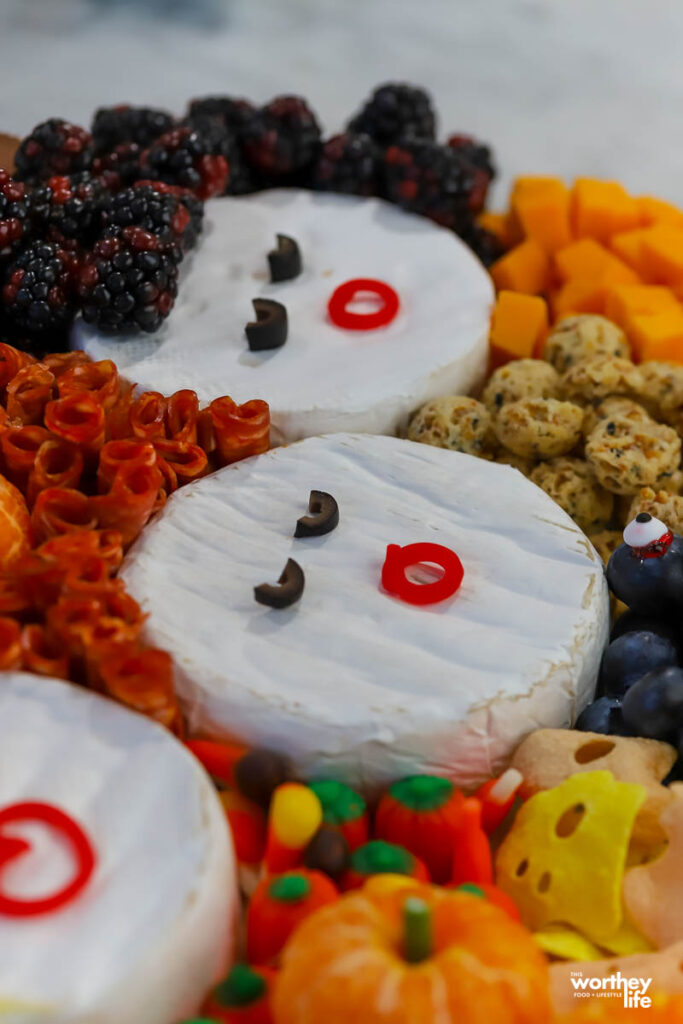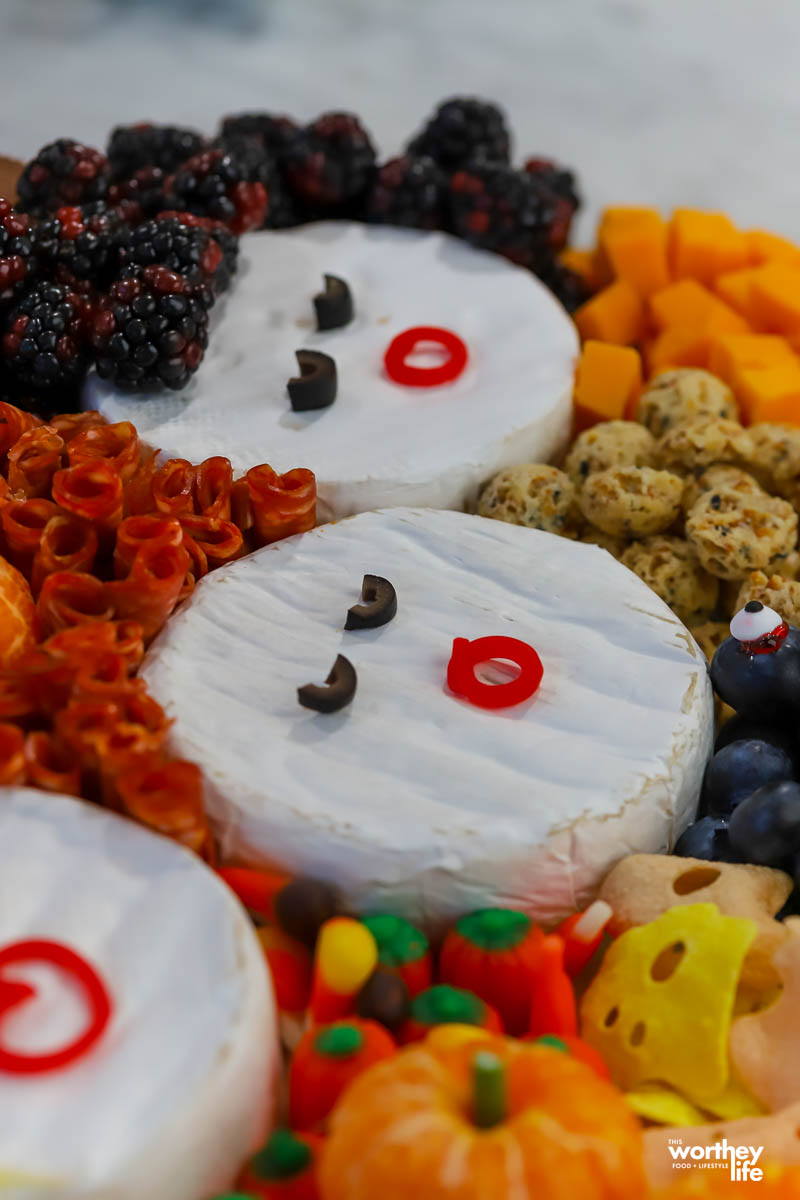 Eyes: Black Sliced Olives
Lips: Pull'n'Peel Twizzlers
Our Hocus Pocus board is made up of a variety of fruits, cheeses, and sweets.
We used North Bay Produce blueberries for the blueberries because they are juicy, sweet, and the perfect size to make mini eyeballs.
To create the blueberry eyeballs, we added a drop of red food gel to each blueberry, then pressed on a candy eyeball. We added a mix of sweet and savory sweets.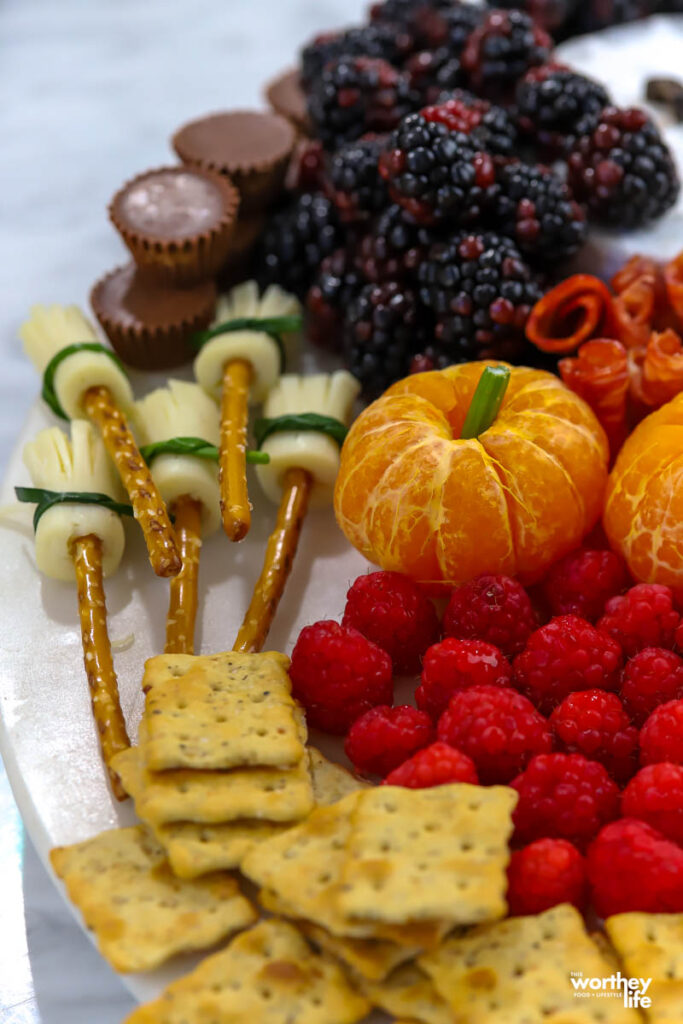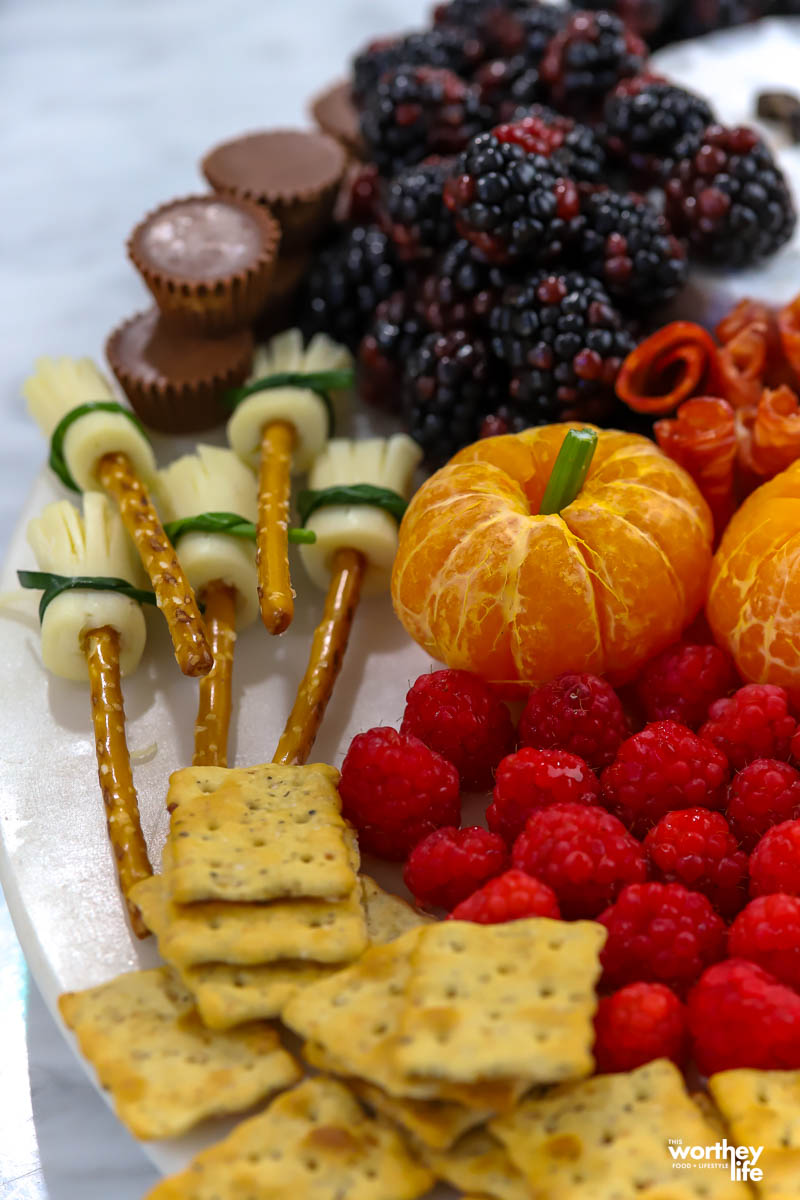 Another creative food item to make is edible pumpkins. We peeled mandarin oranges and added a small piece of celery stalk to each mandarin.
For the broomsticks, we added two different ideas.
Check out the post on how to make Witch's Broomsticks with peanut butter cups.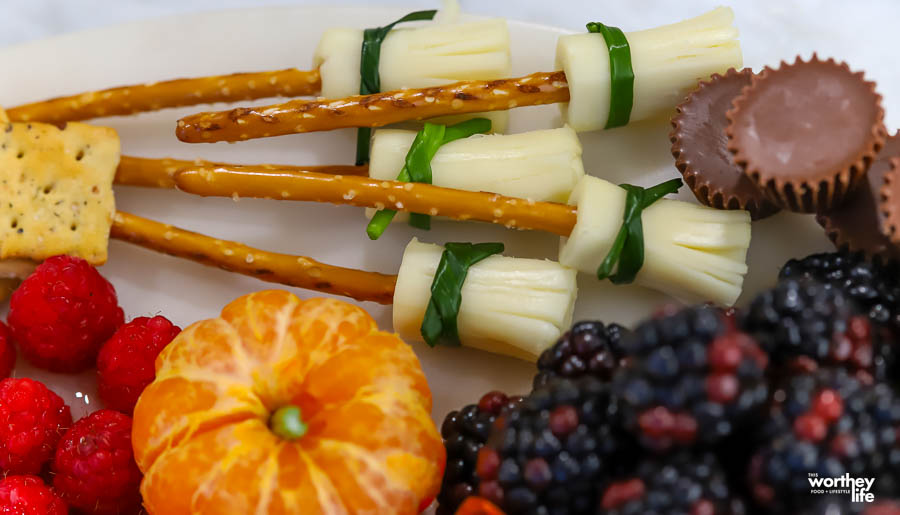 For the cheese broomsticks, we sliced Mozzarella String Cheese into three pieces.
Then we took a paring knife and created small slits on one end of the piece of string cheese.
We used pretzel sticks for the broom handle and chive for the ribbon.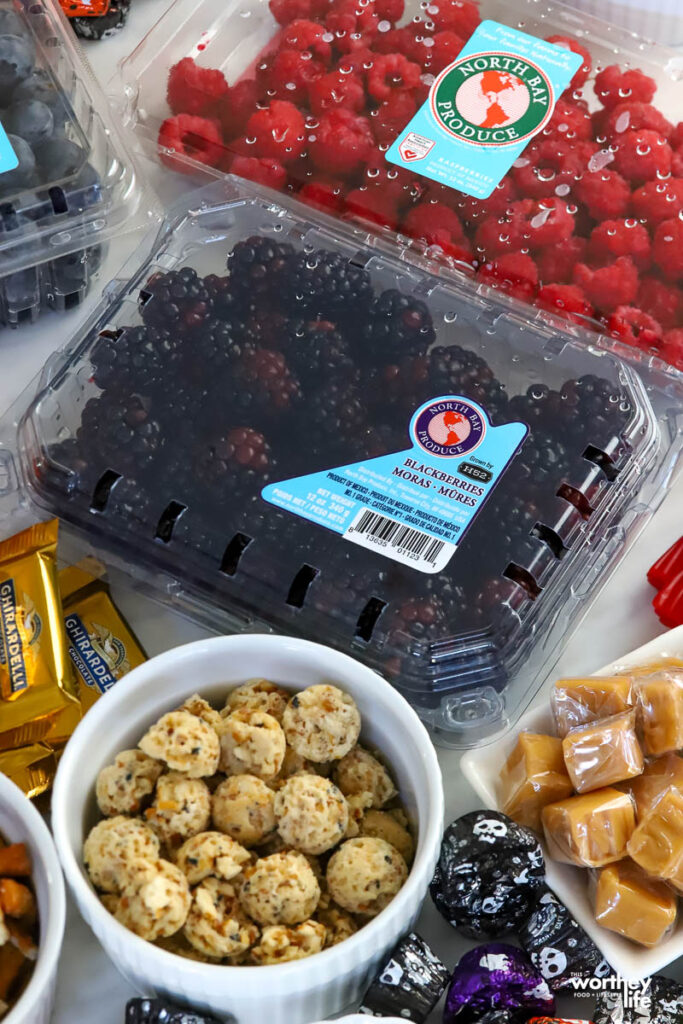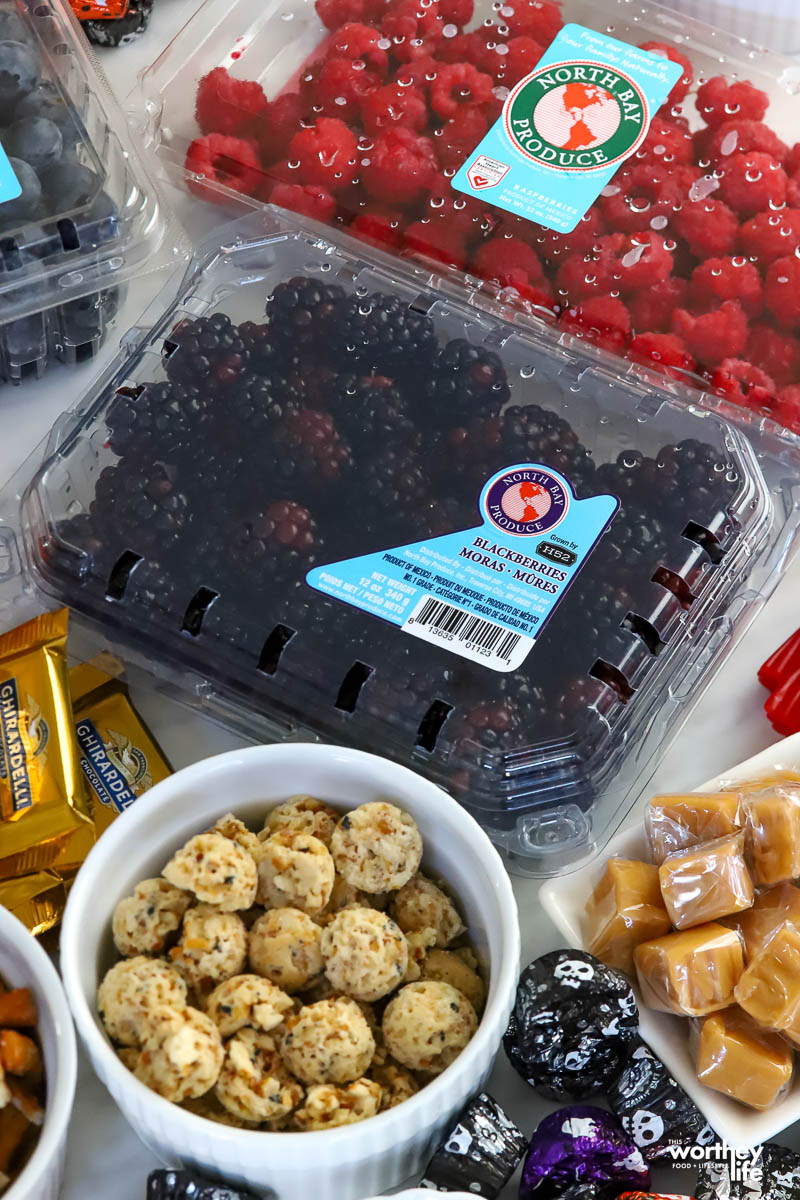 Ingredients used in the Hocus Pocus Charcuterie Board:
Candy Eyeballs
Mandarins
Pull'n'Peel Twizzlers
Veggie Chips Ghosts + Bats
Miniature Reese's Cups
Gummy Fangs
Skeleton Bones
Whisps Cheese + Pretzel Bites
Brach's Autumn Mix
Brach's Pumpkins
Dot's Homestyle Pretzels
Pretzel Sticks
Brie
White Cheddar Cheese
Sharp Cheddar Cheese
Ghirardelli Caramel Squares
North Bay Produce Raspberries
North Bay Produce Blackberries
North Bay Produce Blueberries
Reese's Pumpkins
Sliced Olives
Salame
Mozzarella String Cheese
Chives
Celery
Crackers
Additional option ideas for your Hocus Pocus Food Board
White Chocolate Hot Cocoa Bombs
Kraft Caramels
Apples
Grapes
Poison Caramel Apples
Rice Krispie Treats
A variety of deli meat
Witch Hat Cookies
Use a pumpkin cookie cutter to make pumpkin-shaped cheese
Festive Halloween Cupcakes
Another option for the face is to use food coloring or gel to draw on the sister's classic facial expressions.
Mummy Hot Dogs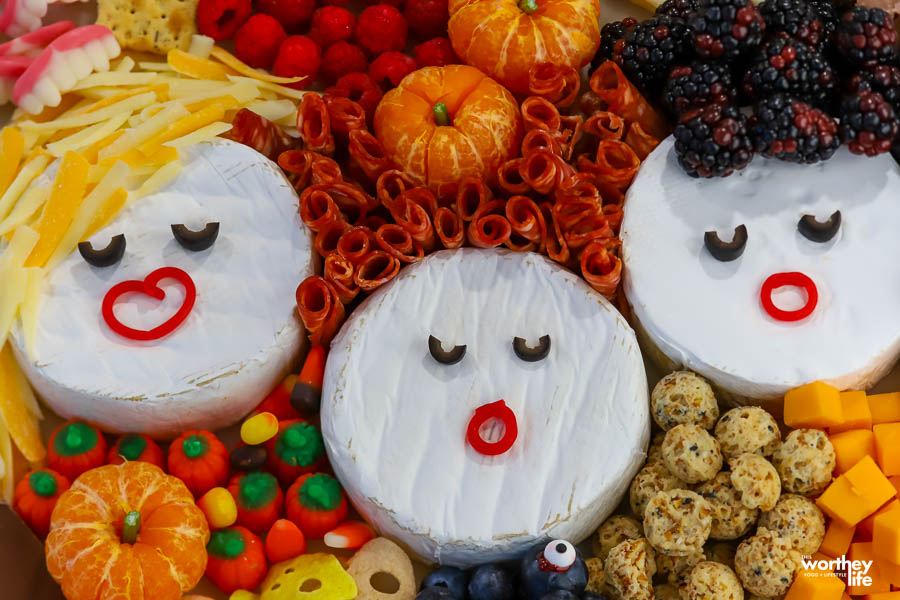 Can I change up the items used for the charcuterie board?
You can pick and cheese any snack items you would like for this charcuterie board.
I recommend meats, cheese, crackers, and other small snacking items.
Since this is a Halloween-themed look for fun candies in unique shapes and items like that.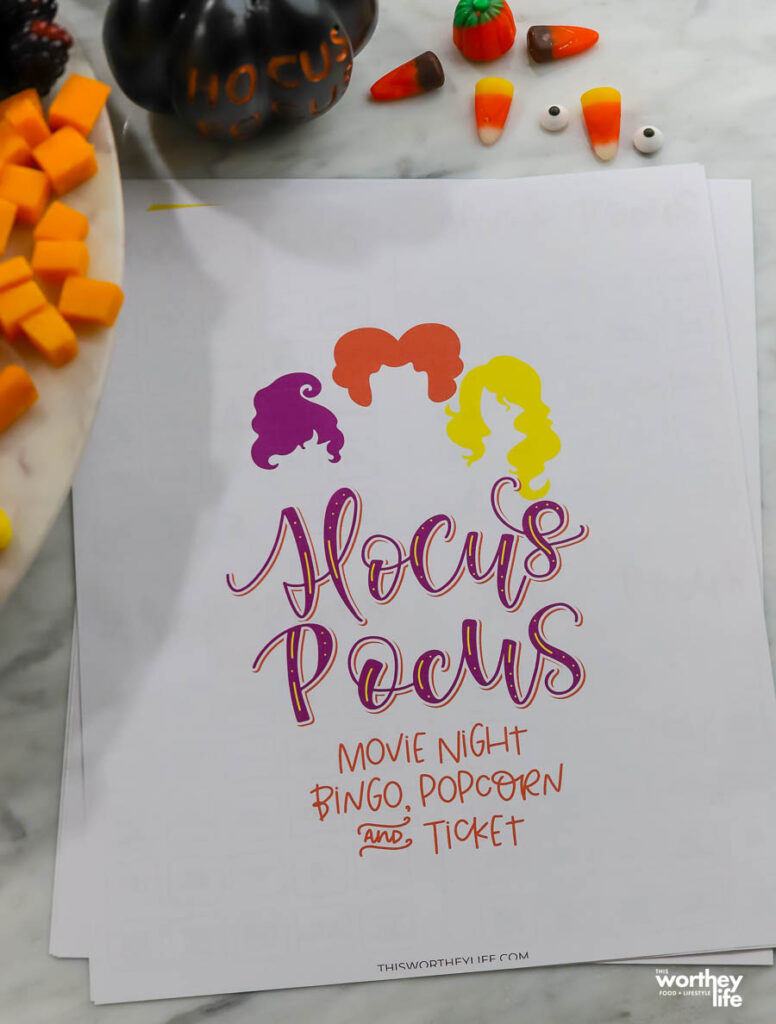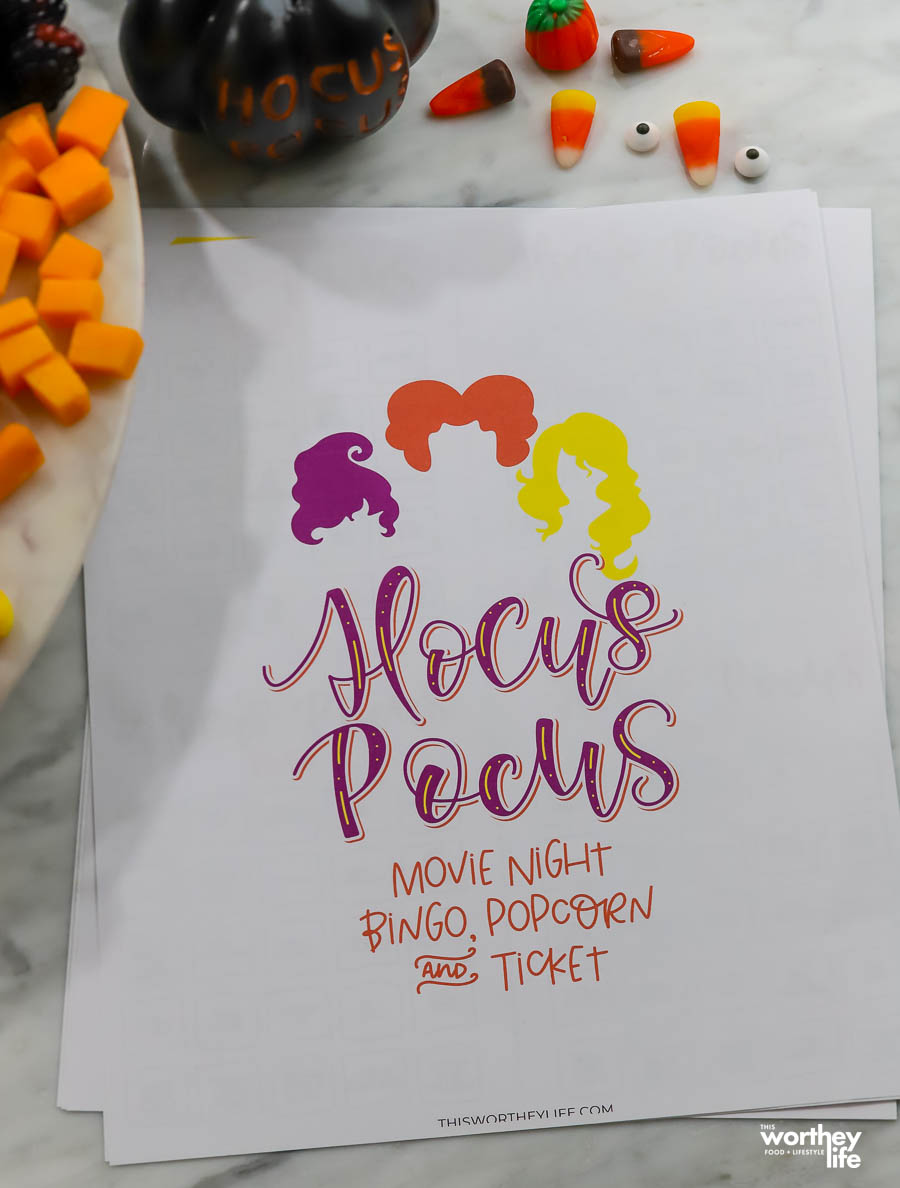 When does Hocus Pocus 2 release?
Stream the movie Hocus Pocus 2 on Disney+ starting 9/30/22!
It is currently streaming now on Disney Plus.
Be sure to grab these free Hocus Pocus printables for your movie night!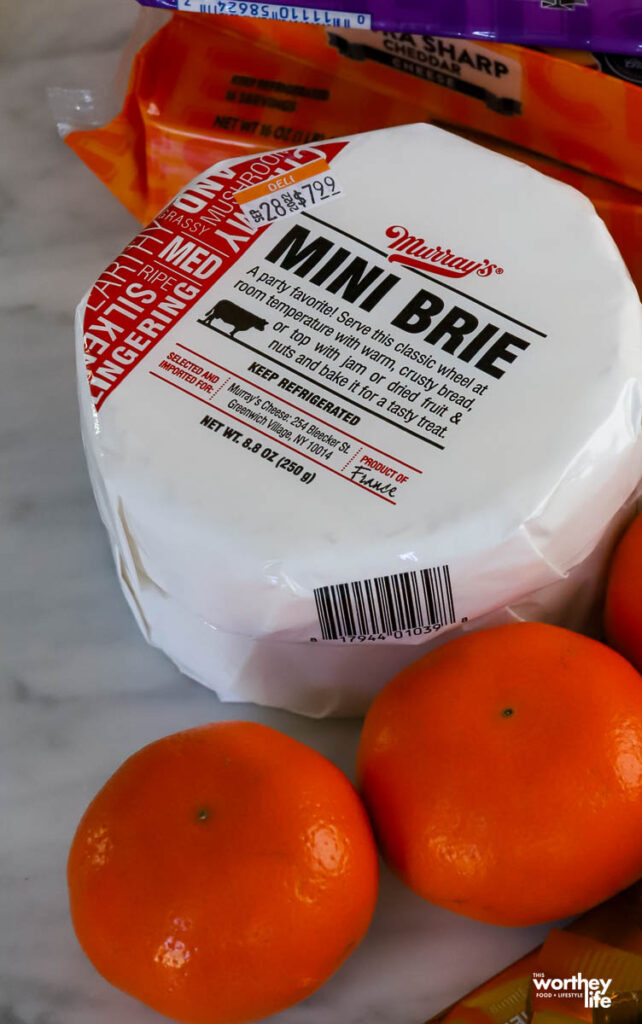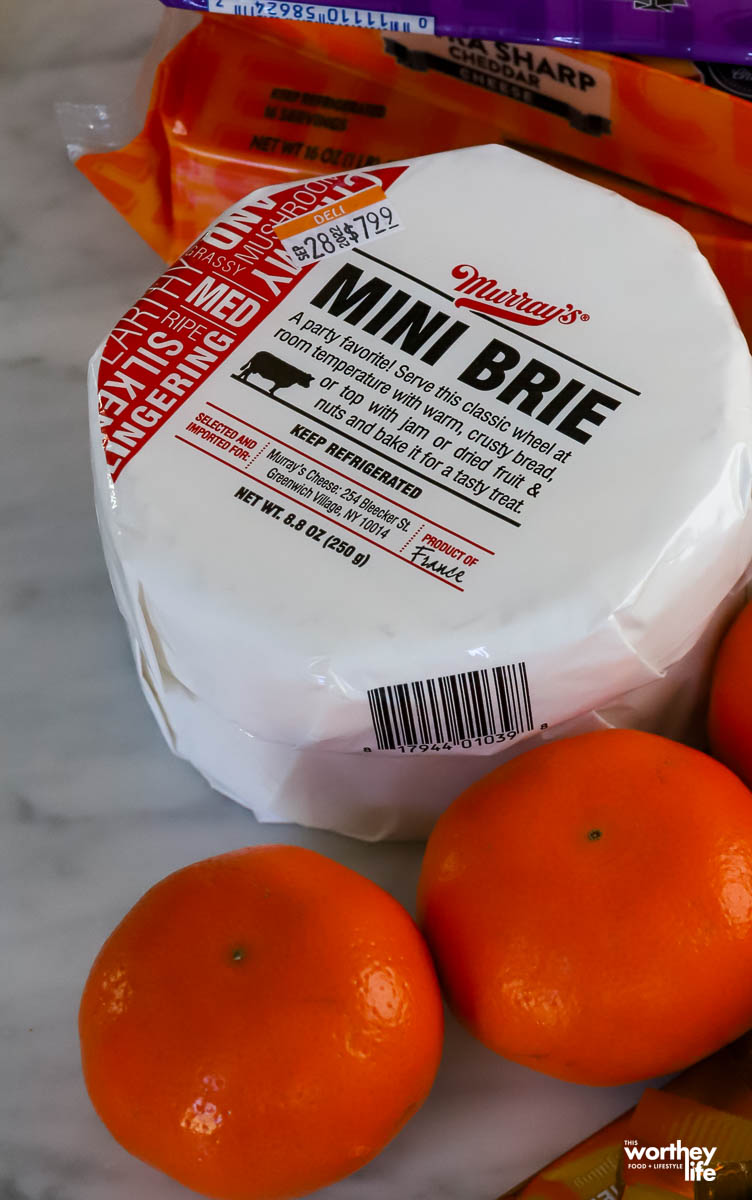 What if I don't want Brie cheese for my charcuterie?
The idea behind the Brie is it is round and can mimic the faces of each of the witches.
You could use Camembert Cheese in replacement if you would like.
Or even a goat cheese that you shape.

Is it hard to make a charcuterie board?
It is easy to make a charcuterie board.
The biggest thing I can recommend is ensuring you have a wide range of food items and fill all the space.
The goal is to fill your snack board with a delicious variety of food your guests or family can graze and enjoy.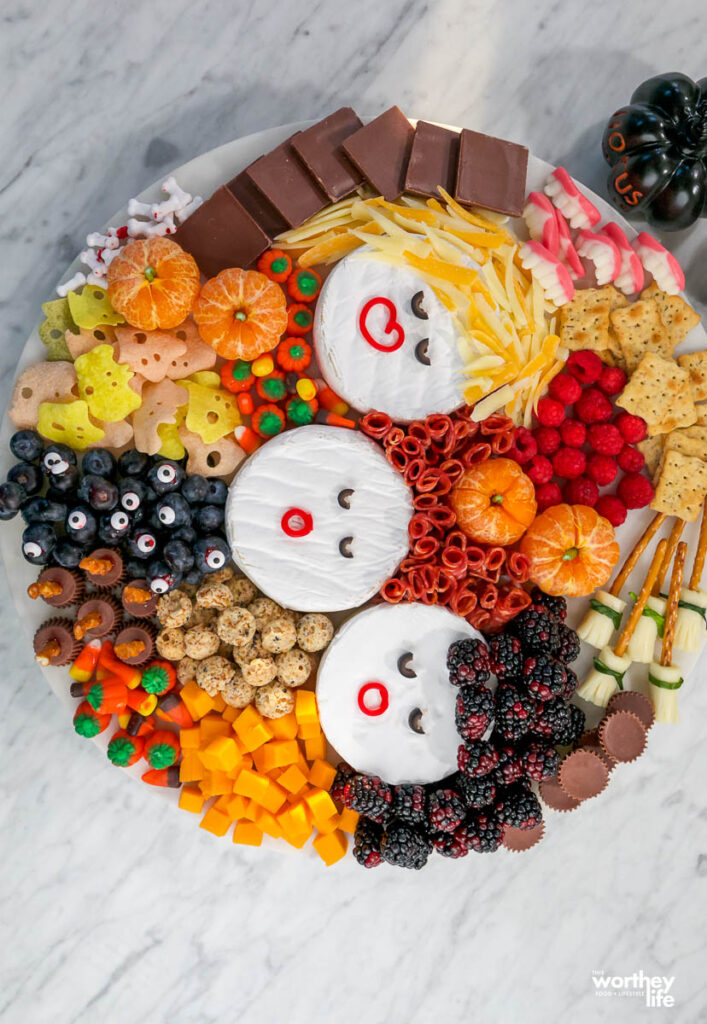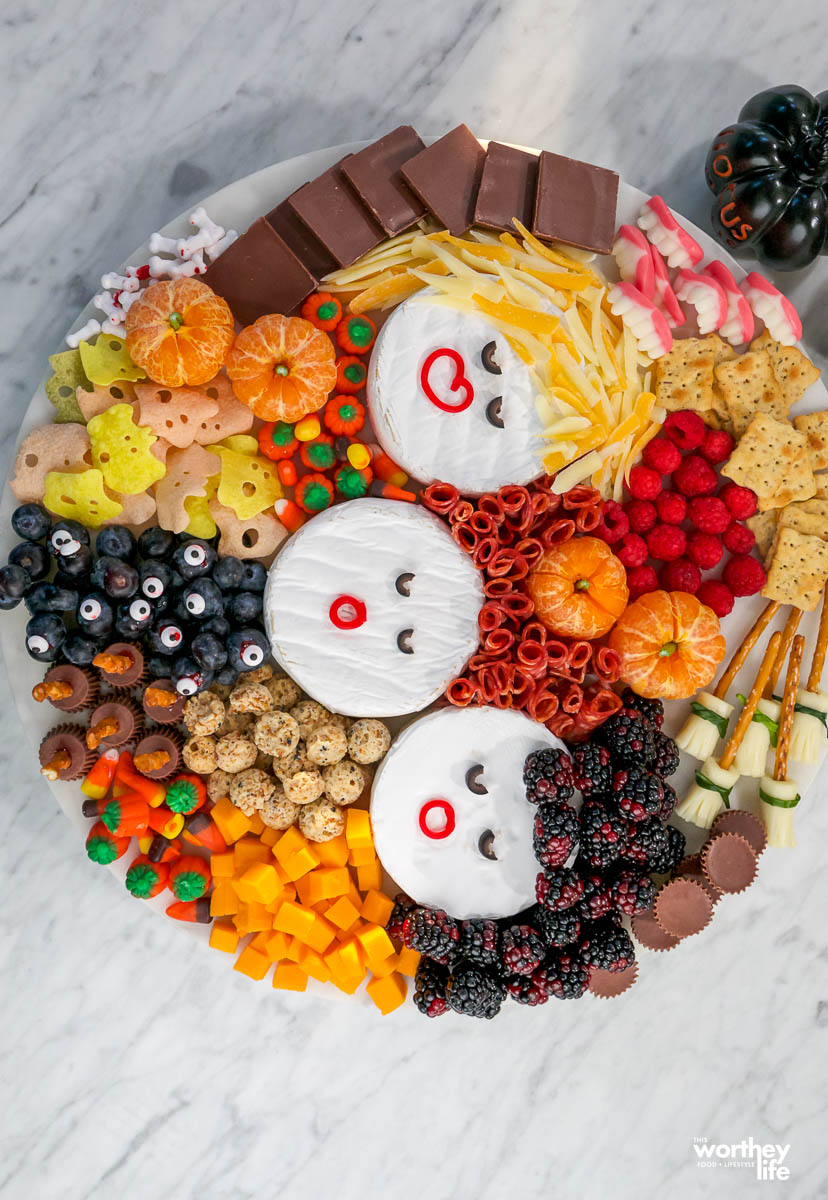 More Items to Place on Charcuterie Board
Here are some of my favorite items to add to your Halloween snack board that you can make and serve. The most important part is to have fun creating your board.
These are homemade or decorated treats that will be a treat for kids and adults to snack on.
Can I assemble this board in advance?
Yes, you can. Just assemble the board how you would like it, and then cover it with plastic wrap or foil.
Then it would help if you stored the snack board in the fridge until you are ready to serve it.
Feel free to make up your snack board 12-24 hours in advance if you need.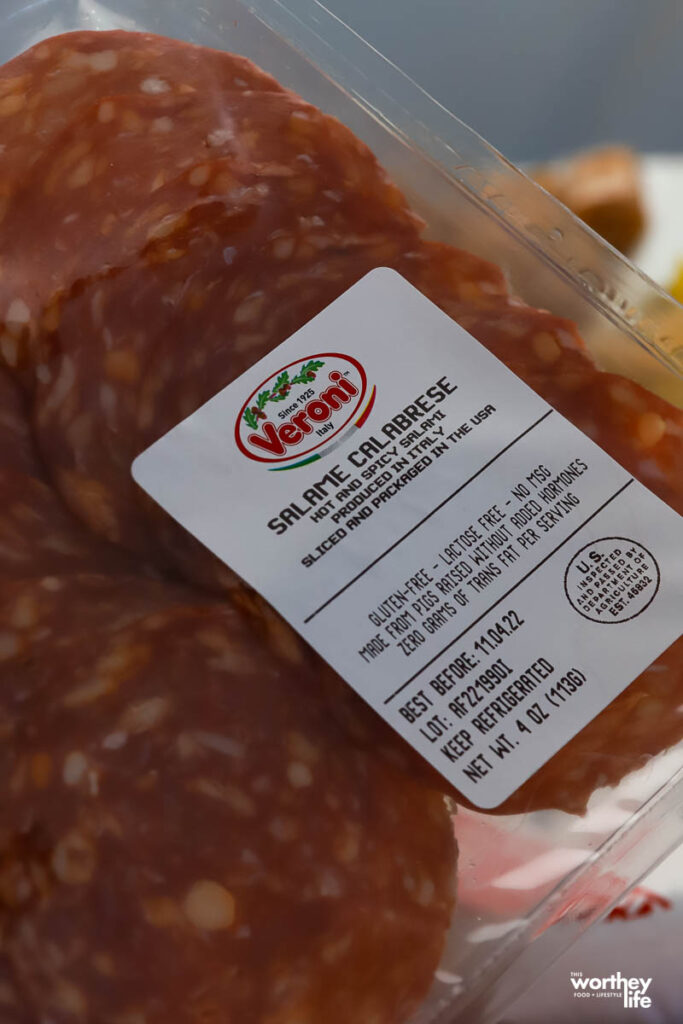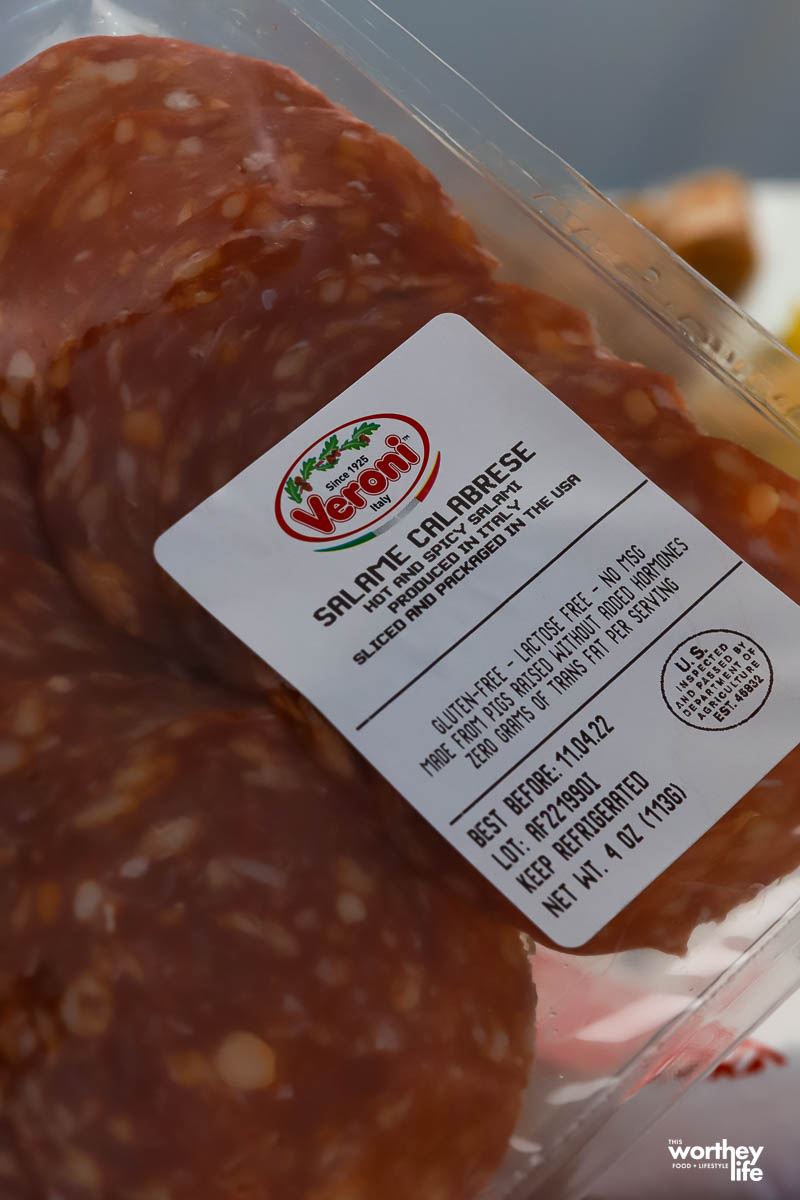 What is typically on a charcuterie?
Salami, pepperoni, a variety of cheeses, nuts, and even fruits and crackers are typically on a charcuterie.
Now the world has fallen in love with these snack boards, and you will find snack boards for all kids.
From dessert charcuteries, hot chocolate boards, and so much more.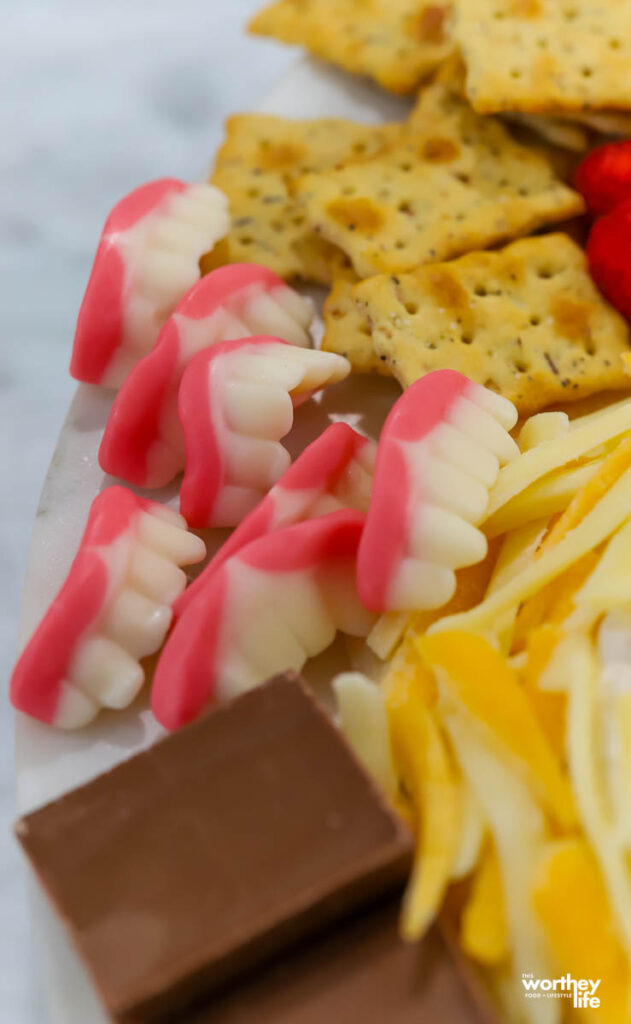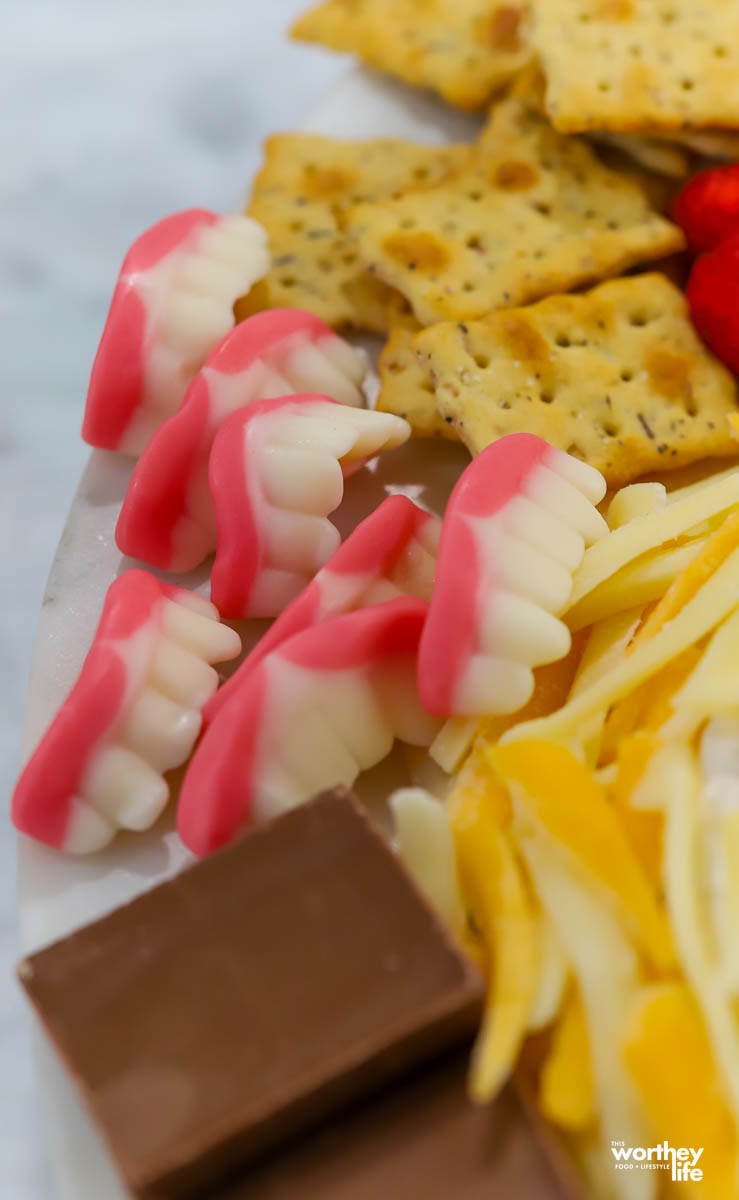 Typically, you pick up the items on your charcuterie with tongs or fingers.
Now for spreads and items, you can have a serving knife with it so people can cut off their cheese or spread the dip on a cracker.
There is no wrong way to eat off a charcuterie board.
Tag us on social when you make it. @thiswortheylife
Find more Halloween Food Ideas below: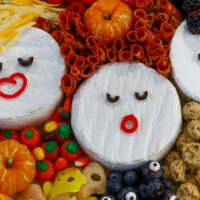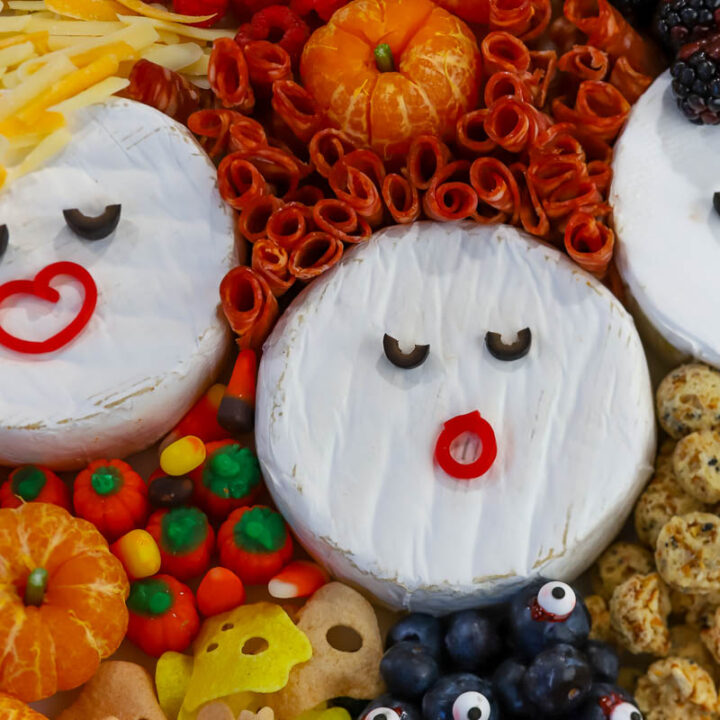 Ingredients
Candy Eyeballs

Mandarins

Pull'n'Peel Twizzlers

Veggie Chips Ghosts + Bats

Miniature Reese's Cups

Gummy Fangs

Skeleton Bones

Whisps Cheese + Pretzel Bites

Brach's Autumn Mix

Brach's Pumpkins

Dot's Homestyle Pretzels

Pretzel Sticks

Brie

White Cheddar Cheese

Sharp Cheddar Cheese

Ghirardelli Caramel Squares

North Bay Produce Raspberries

North Bay Produce Blackberries

North Bay Produce Blueberries

Reese's Pumpkins

Sliced Olives

Salame

Mozzarella String Cheese

Chives

Celery

Crackers
Notes
Additional option ideas for your Hocus Pocus Food Board
White Chocolate Hot Cocoa Bombs
Kraft Caramels
Apples
Grapes
Poison Caramel Apples
Rice Krispie Treats
A variety of deli meat
Witch Hat Cookies
Use a pumpkin cookie cutter to make pumpkin-shaped cheese
Festive Halloween Cupcakes
Another option for the face is to use food coloring or gel to draw on the sister's classic facial expressions.
Mummy Hot Dogs
Nutrition
Serving:
1
g
|
Calories:
228
kcal
|
Carbohydrates:
27
g
|
Protein:
7
g
|
Fat:
11
g
|
Saturated Fat:
5
g
|
Polyunsaturated Fat:
5
g
|
Cholesterol:
22
mg
|
Sodium:
327
mg
|
Fiber:
2
g
|
Sugar:
11
g