Get ready to celebrate all things Halloween with these super cute Ghost Cupcakes.
A treat that is sure to be a winner, these Halloween cupcakes are just what you need to make for your Halloween party or Halloween class party.
These cupcakes are made with a boxed cake mix, but you can also use a homemade chocolate cake recipe.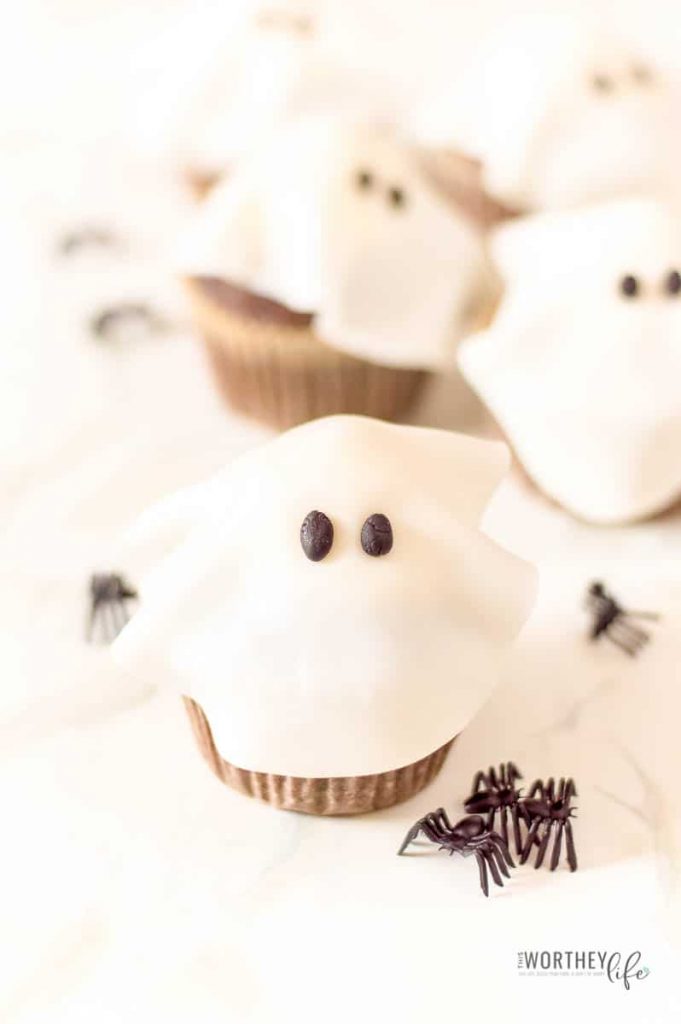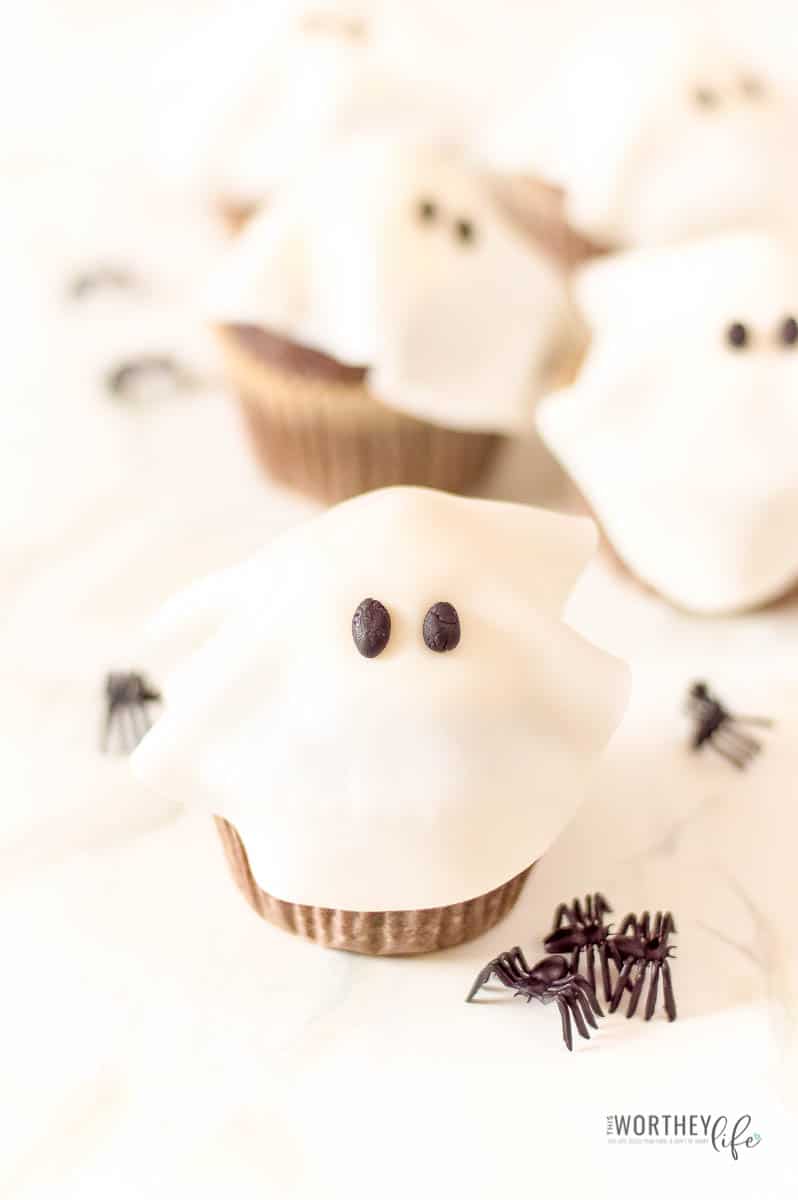 Ghost Cupcakes | Halloween Cupcake Recipe
It's the beginning of October, which means Halloween is almost here!
Let me introduce you to our Ghost Cupcakes if you're looking for some sweet treats to create this Halloween.
One way I save time in the kitchen is by using shortcuts.
I'm using a baking hack for this recipe by using a boxed cake mix versus making cupcakes from scratch.
For your Halloween cupcakes, it's up to you how you decide to create a basic chocolate cupcake recipe.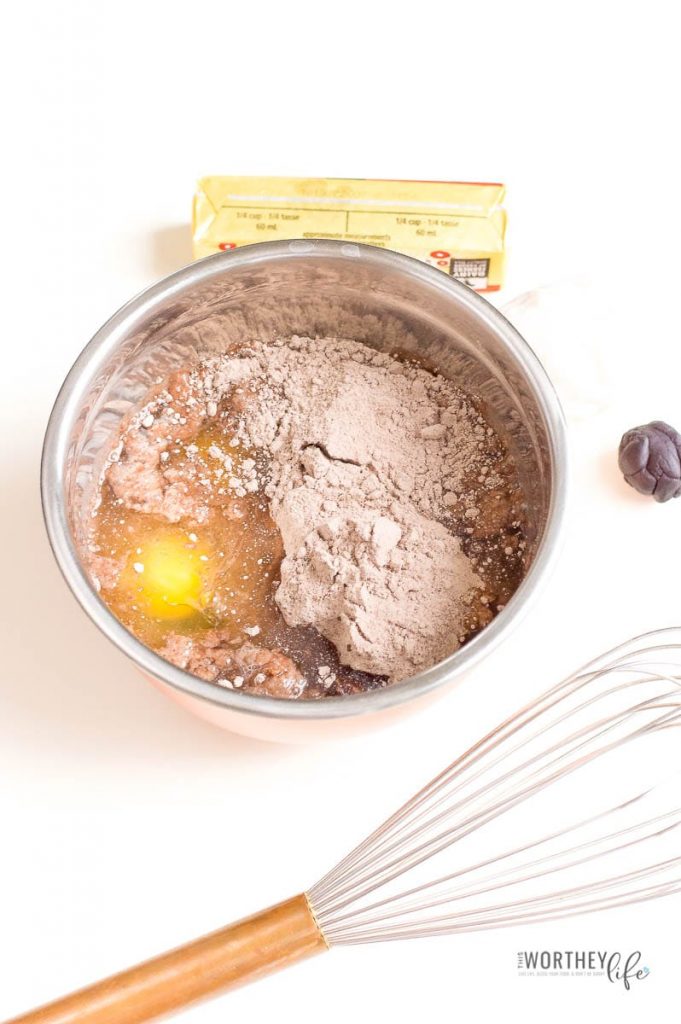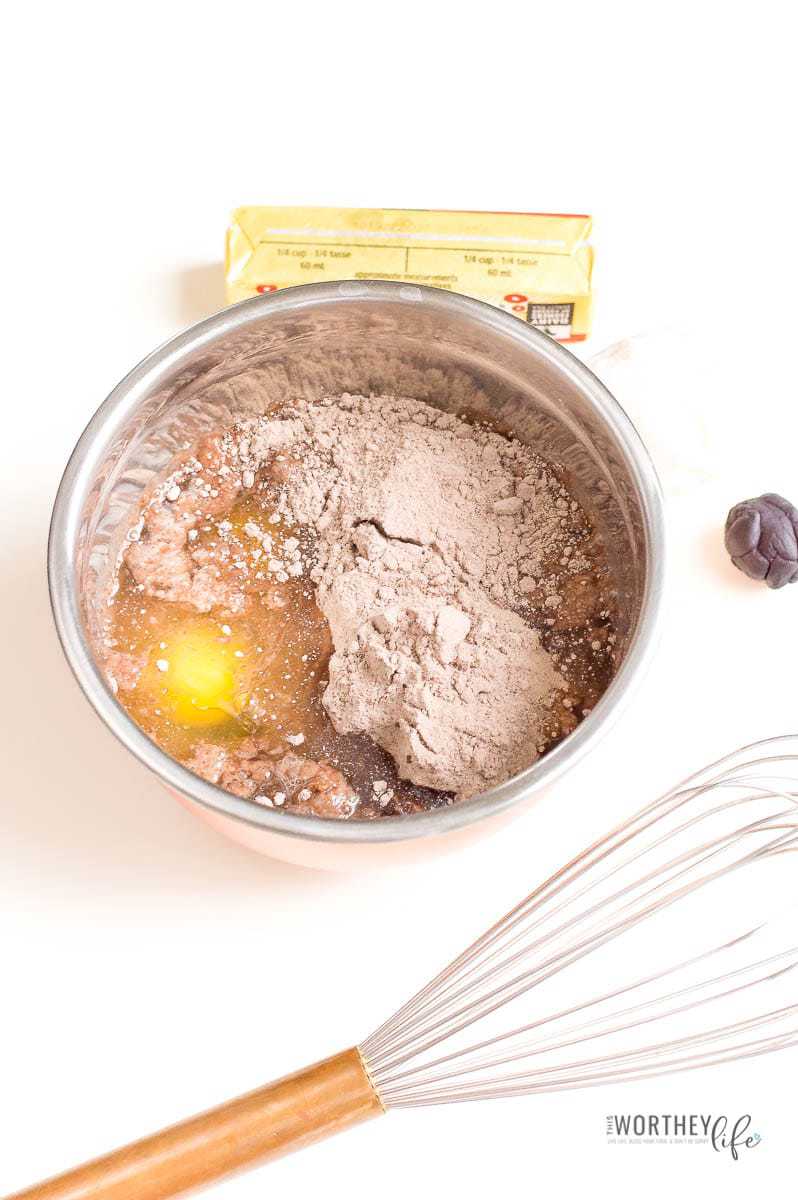 Ingredients needed to make Ghost Cupcakes for Halloween
Chocolate cake mix + all the ingredients to make it** (You can use a box cake mix or use a homemade chocolate recipe)
1 stick unsalted butter, softened
2 cups confectioners' sugar
1 tbsp milk
6-8 oz. white fondant
1-2 oz. black fondant
**This recipe yields 12 decorated cupcakes, and most cake mixes make 24, so we suggest cutting the recipe in half.
Yields: One dozen decorated cupcakes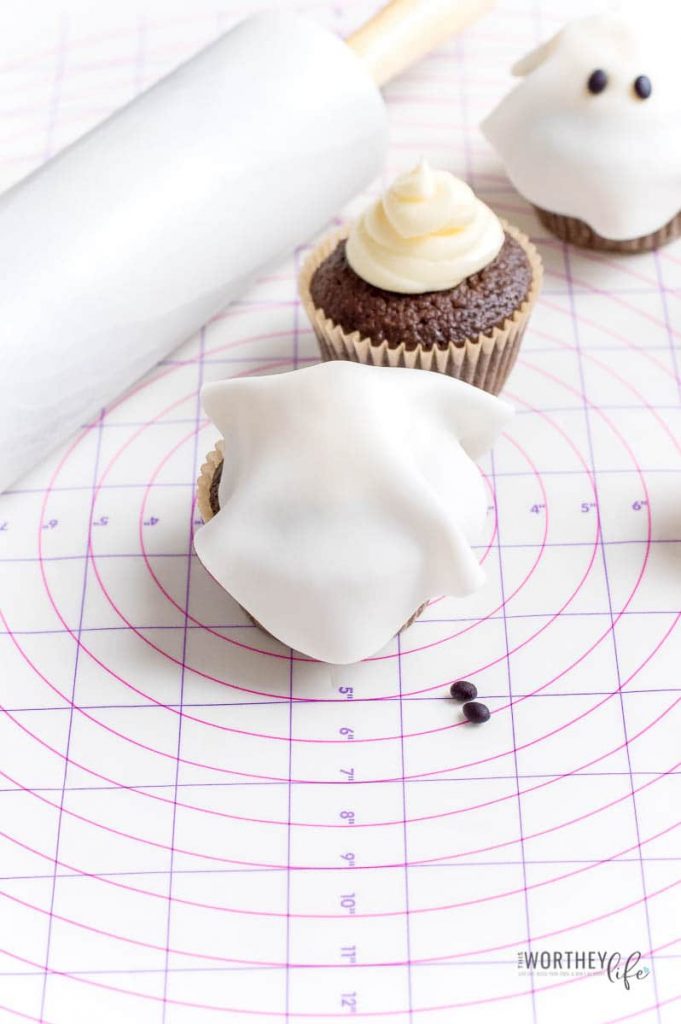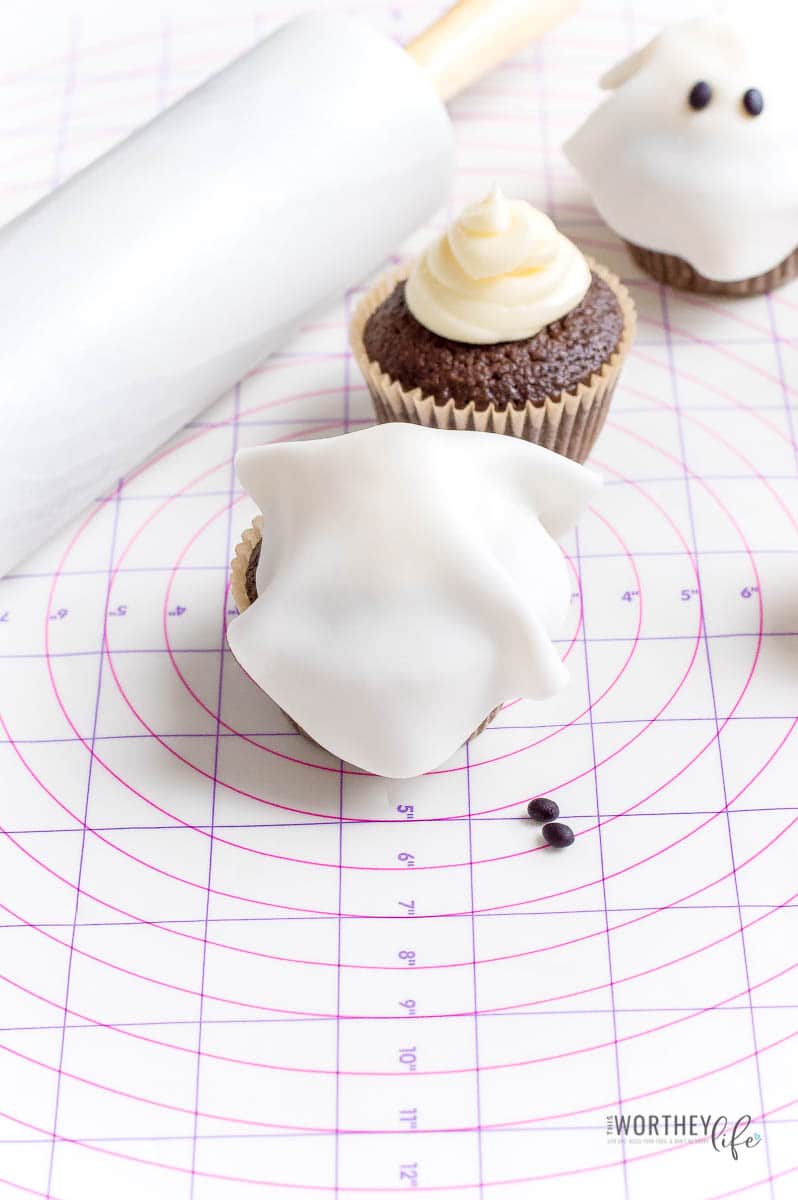 Directions on making Ghost Cupcakes:
Line a muffin tin with cupcake liners and set aside.
Preheat the oven according to the cake mix's directions.
Prepare cupcakes and bake them according to the box's recipe. Allow cooling completely before decorating.
Use an electric mixer to beat butter, sugar, and milk in a medium-sized bowl.
Once the ingredients are well-incorporated and form semi-stiff peaks, the buttercream has formed.
Scoop buttercream into a piping bag with a small slit cut at the bottom.
Frost the center of each cupcake, forming a peak about an inch high.
Roll out the white fondant using a rolling pin, so it's about ¼ of an inch thick.
Use a 3-inch circular cookie cutter to cut out 12 fondant circles.
Roll out each fondant circle so it's about 4 ½ inches in diameter – the circle itself doesn't have to be perfect.
Place one rolled fondant on top of the cupcake – it will fold and curve naturally, but that's okay. The beauty of these cupcakes is that they don't need to be uniform.
For each cupcake, roll out two small spheres from the black fondant. Flatten each one and give them an oval shape.
Lightly brush water on the back of each black fondant piece.
Stick two on each ghost – these will act as the cupcake ghost's "eyes."
Serve and enjoy!
Once you've made your cupcakes, creating the ghost is where you will spend most of your time bringing this sweet treat to life.
You'll need to use black and white fondant for these ghost cupcakes, but it is an easy ghost to make.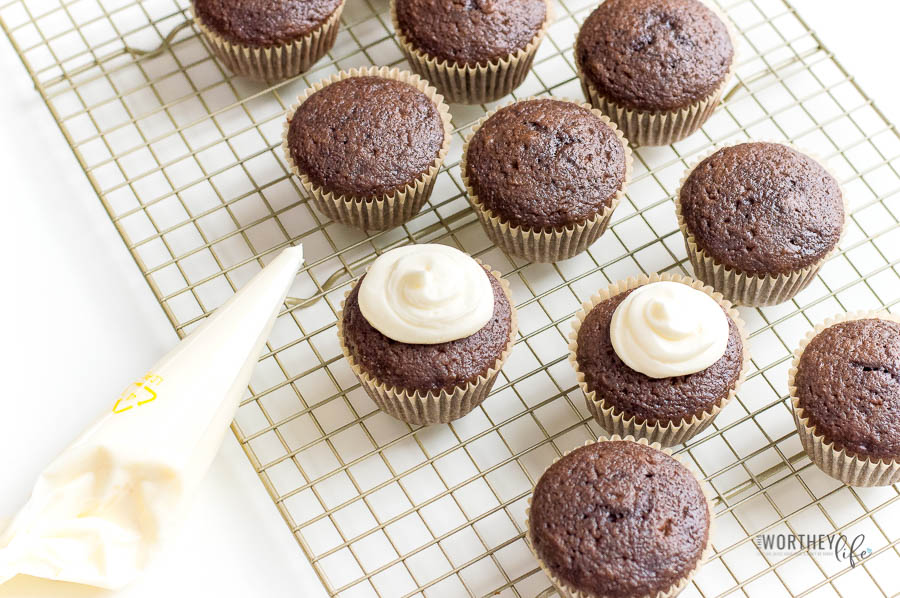 Can I Make Homemade Fondant
You are welcome to make homemade fondant or buy some at the store.
I know you can do either. It is all about what you prefer in flavor and your skill of making fondant or not.
Alternative to Frosting Under Fondant
Another trick you can use is grabbing a tootsie pop.
Use that to stick into the cupcake and place the fondant over the round part of the sucker.
This will hold up your ghost as well.
If your frosting isn't thick enough, it can fall flat over time, so consider the sucker being hidden to hold up your fondant ghost as well.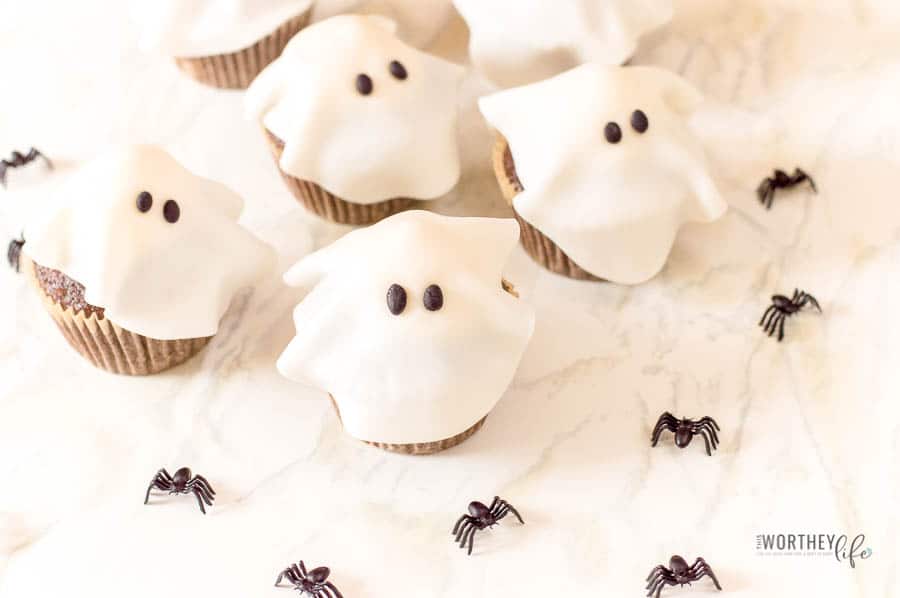 Can I Double This Recipe
If you have a Halloween party ahead, go ahead and make extra!
Or these are great school desserts or even daycare desserts you can serve up to little kids.
Whip these up for any and every occasion. They are legit delicious and a kid-friendly Halloween dessert that isn't spooky.
How to Store Cupcakes
Fondant dries fast, so one thing you need to do is work in small batches as you are making your ghost toppers.
Then store your finished cupcakes in an airtight container.
This will help prevent the fondant from drying and cracking as it sits.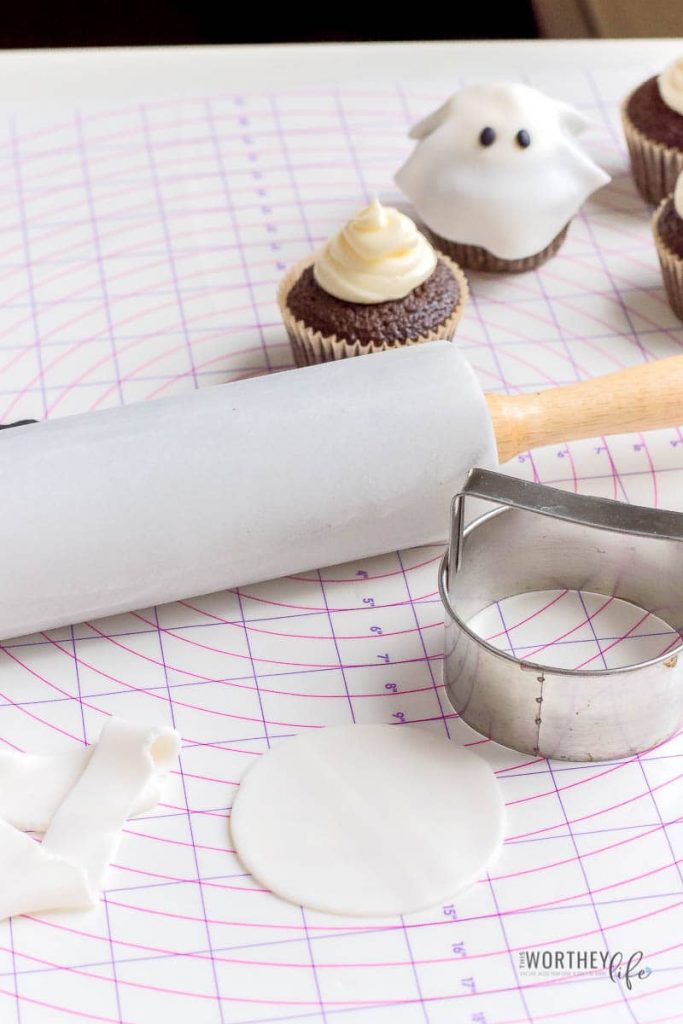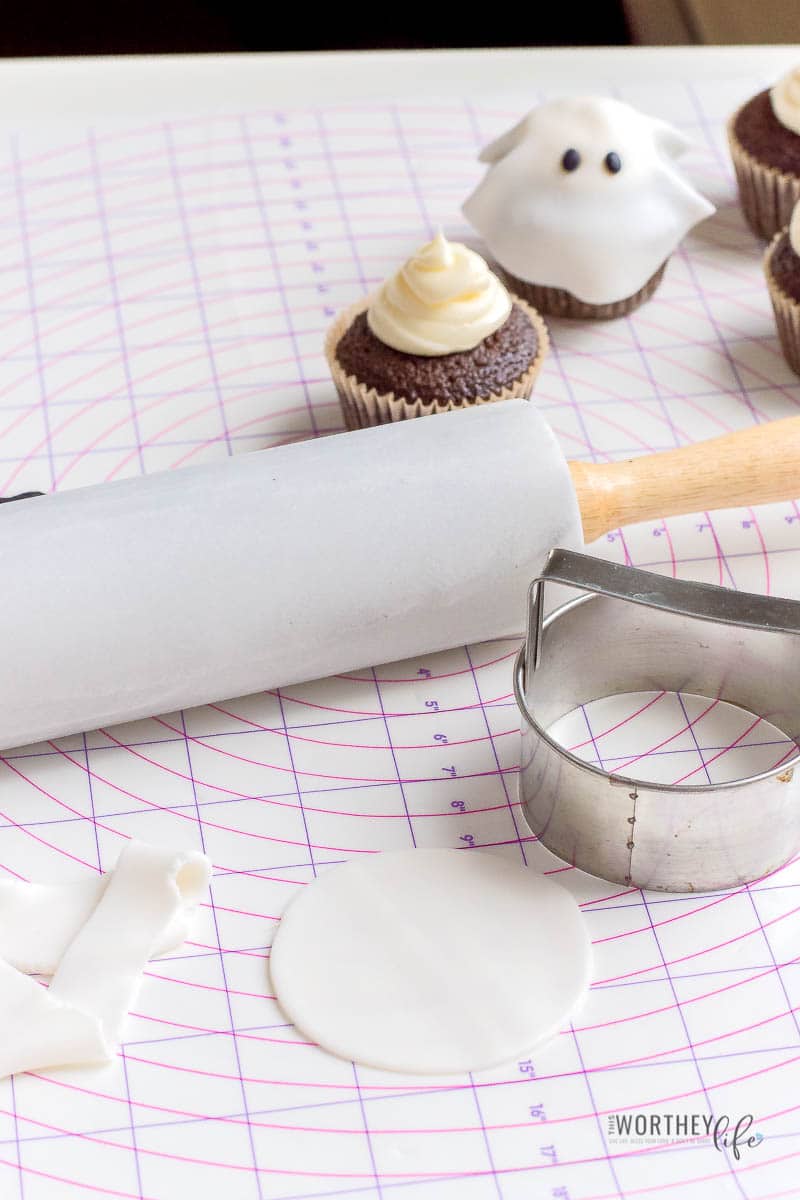 How Far In Advance Can I Make These Cupcakes
You are welcome to make these cupcakes 24-48 hours in advance.
I suggest staying in that 24-hour period for the best texture of a moist cupcake, soft fondant, etc.
Otherwise, you risk your cupcakes not being at the prime of flavor when you go to serve them up.
I made these a day in advance, and they tasted great the next day.
You can also do the cupcakes ahead of time and then right before making the ghosts and top them if you don't want to make them fully in advance.
It is up to you what steps you choose to take beforehand.
Cupcake recipes to try:
Dr. Seuss Thing 1 and Thing 2 Cupcakes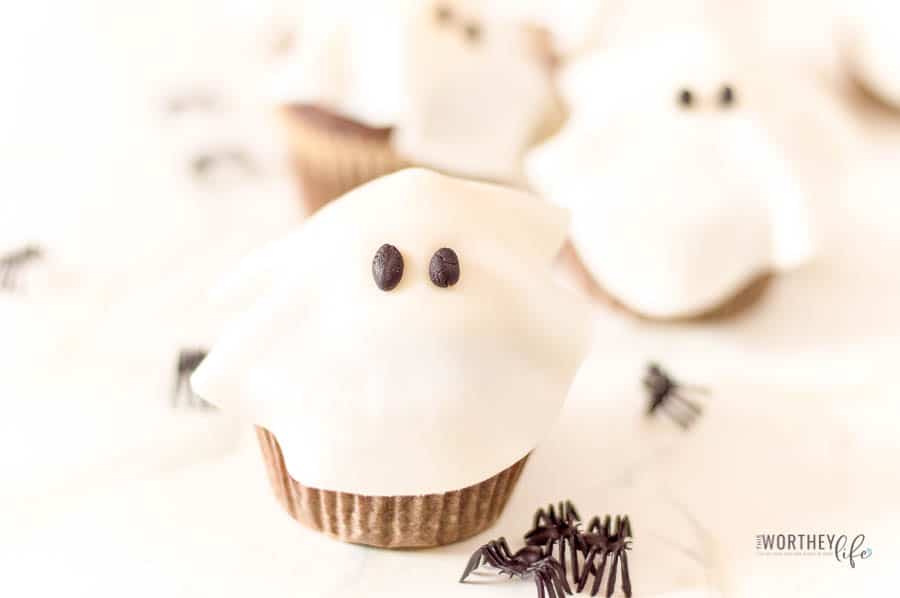 These cupcakes are fun and so delicious!
Your kids will love it as a Halloween class party treat, or serve them as a dessert for your upcoming Halloween Party!
Either way, it's one spooky treat to enjoy!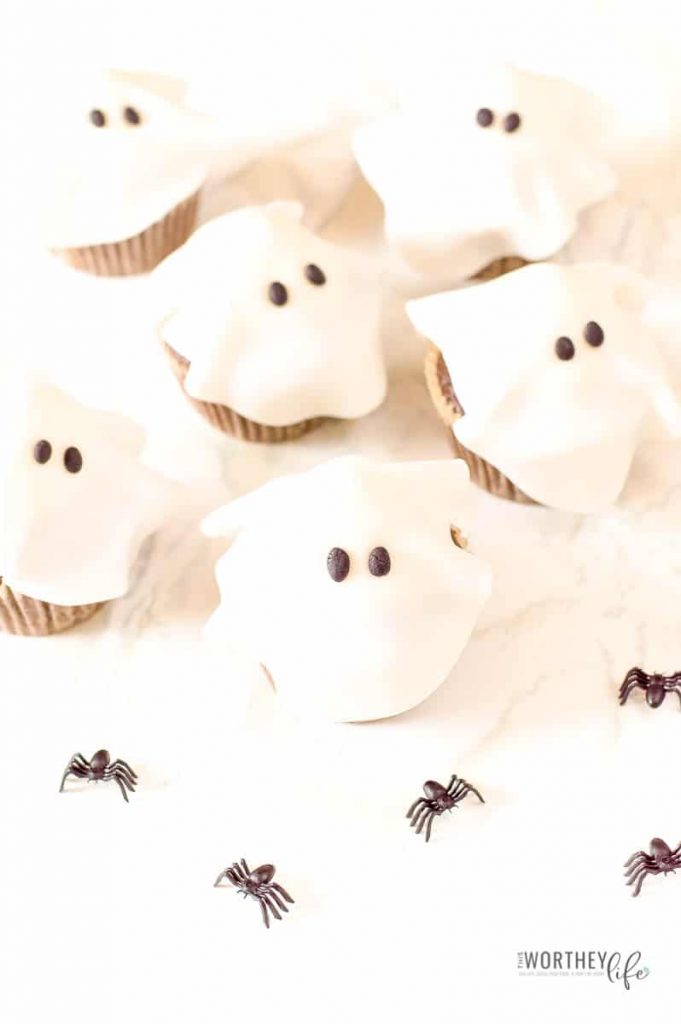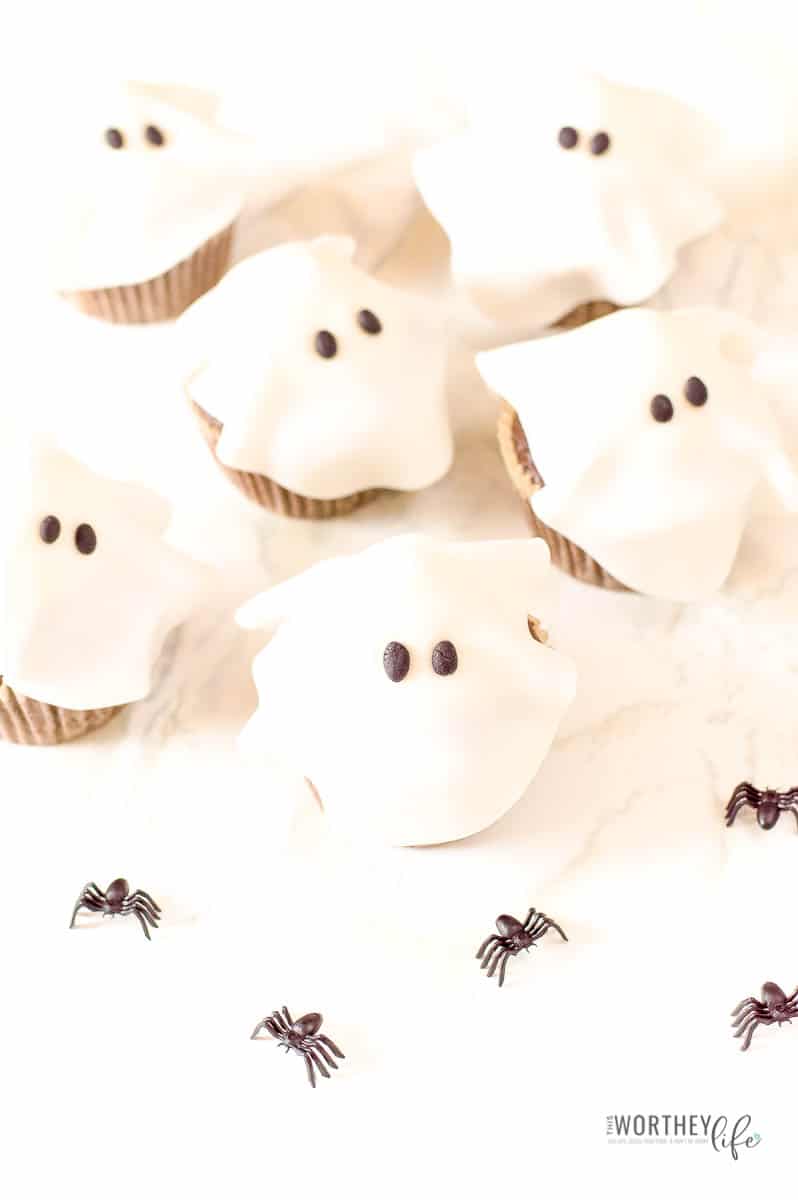 Need some more Halloween recipes? Check these out:
Dead-Eye Whiskey Halloween Cocktail Idea + Entertaining Tips
Rae Dunn Inspired Halloween Party Idea
Halloween Cocktail Using Black Vodka | Black Voodoo Citrus Cocktail
Kid-Friendly Halloween Drink: Green Apple Cider Lemonade
Halloween Treat Recipe idea | Meringue Halloween Apples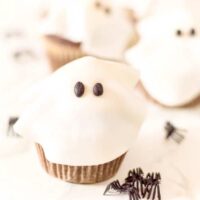 Ingredients
Chocolate cake mix + all the ingredients to make it**

You can use a box cake mix or use a homemade chocolate recipe

1

stick unsalted butter

softened

2

cups

confectioners' sugar

1

tbsp

milk

6-8

oz.

white fondant

1-2

oz.

black fondant
Instructions
Line a muffin tin with cupcake liners and set aside.

Preheat the oven according to the cake mix's directions.

Prepare cupcakes and bake them according to the box's recipe. Allow to cool completely before decorating.

In a medium-sized bowl, use an electric mixer to beat butter, sugar, and milk together.

Once the ingredients are well-incorporated and form semi-stiff peaks, the buttercream has formed.

Scoop buttercream into a piping bag with a small slit cut at the bottom.

Frost the center of each cupcake, forming a peak about an inch high.

Roll out the white fondant using a rolling pin so it's about ¼ of an inch thick.

Use a 3-inch circular cookie cutter to cut out 12 fondant circles.

Roll out each fondant circle, so it's about 4 ½ inches in diameter - the circle itself doesn't have to be perfect.

Place one rolled fondant on top of the cupcake - it will fold and curve naturally, but that's okay. The beauty of these cupcakes is that they don't need to be uniform.

For each cupcake, roll out two small spheres from the black fondant. Flatten each one and give them an oval shape.

Lightly brush water on the back of each black fondant piece.

Stick two on each ghost - these will act as the cupcake ghost's "eyes."
Nutrition
Serving:
1
g
|
Calories:
589
kcal
|
Carbohydrates:
130
g
|
Fat:
8
g
|
Saturated Fat:
5
g
|
Polyunsaturated Fat:
3
g
|
Cholesterol:
20
mg
|
Sodium:
33
mg
|
Sugar:
124
g