If you're planning a Halloween-themed party or Halloween movie night at home, we have 34+ easy Halloween snacks to check out.
This roundup of Halloween-themed food ideas is easy to make and super fun too!
Check out this list of easy Halloween party snack ideas below.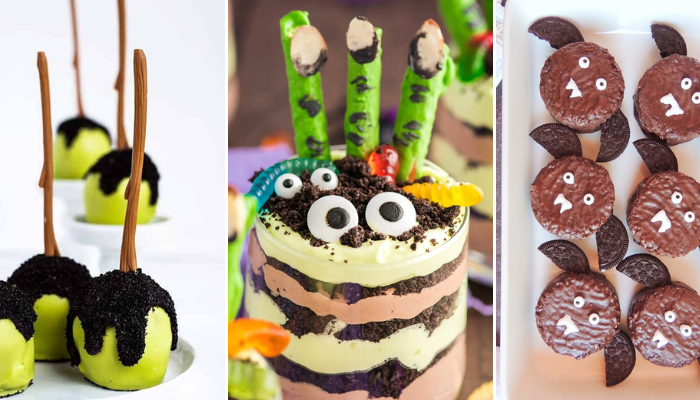 34+ Easy Halloween Snacks For A Party
What's more fun than a spooky party in October?
Well, one that's also serving some of these delicious Halloween party snack ideas, including a few no-bake treat ideas.
You'll find everything from petrified pastries to alarming appetizers!
Let's dig into this list of Halloween party Food Snack Ideas!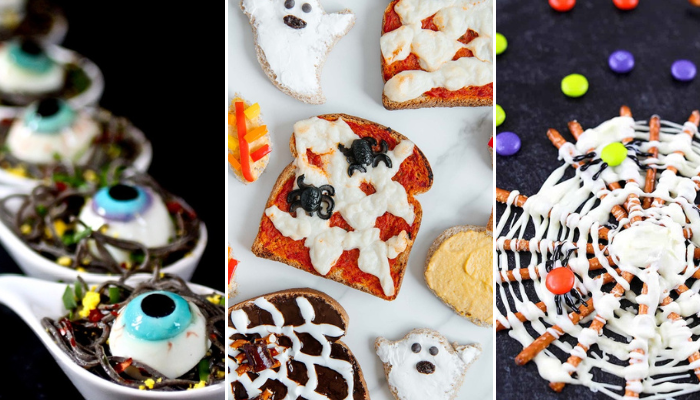 BOO-Rific Baked Goods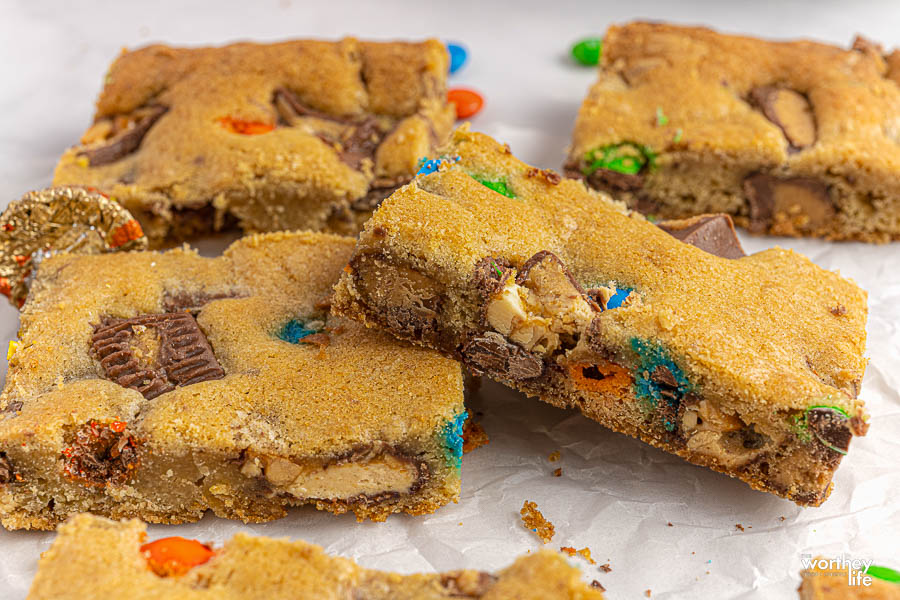 If you love Halloween candy, these Halloween cookie bars are just the ideal baked good to make for a party.
These cookie bars are super easy to make and a candy + chocolate lover's dream!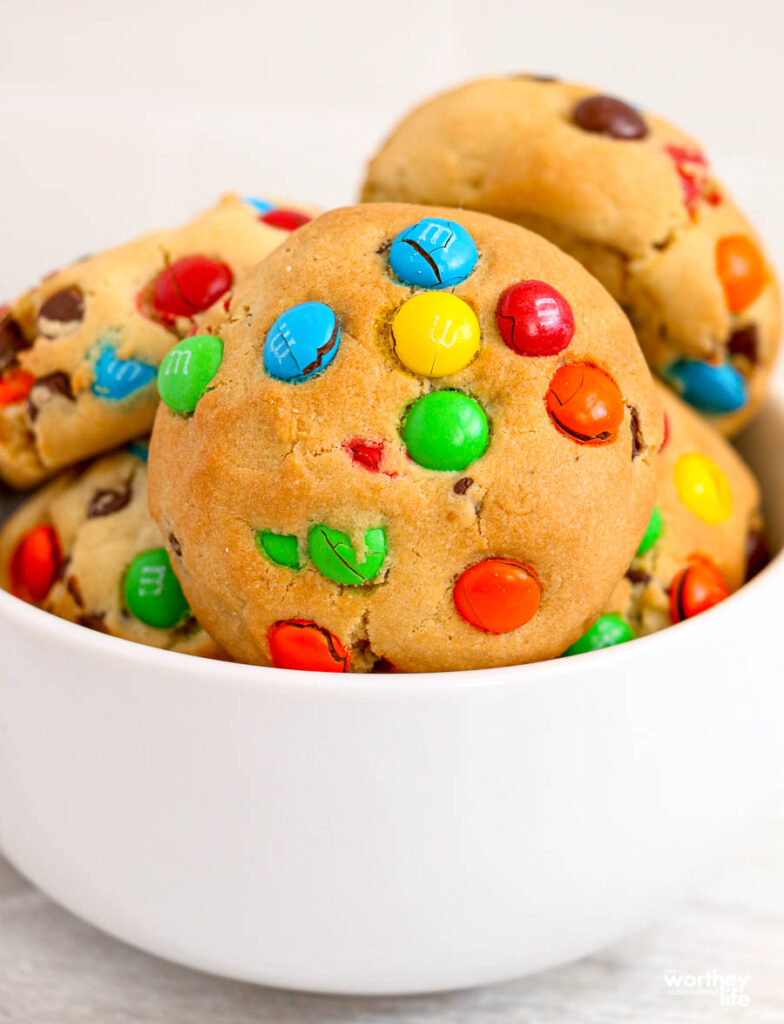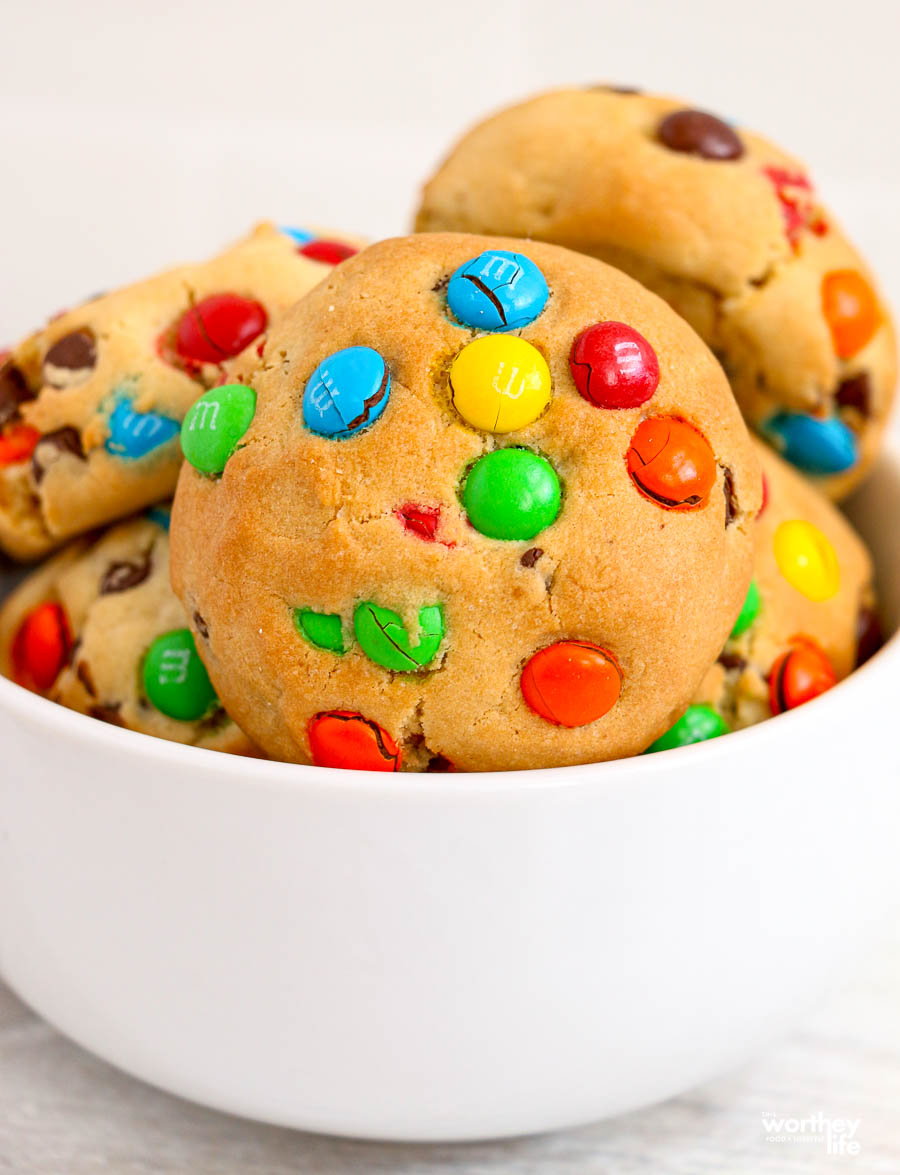 Monster cookies are buttery cookies studded with candy-coated M&M's and chocolate chips.
These air fryer cookies will be a hit and so simple to mix and bake in your air fryer.
If you don't have an air fryer, you can make Monster Cookies using this recipe.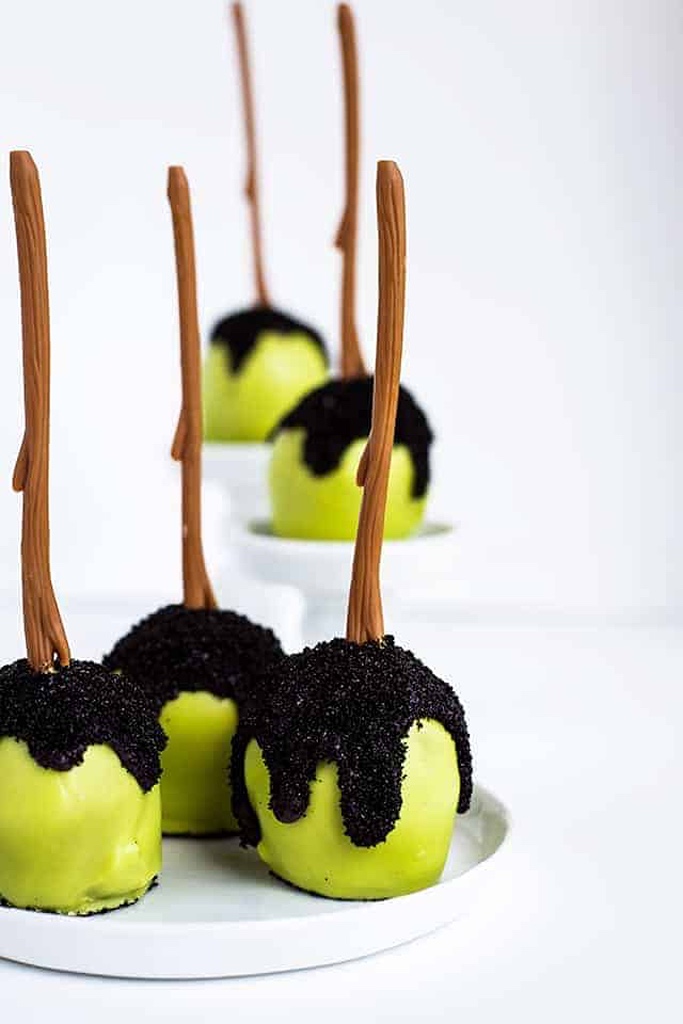 These poison apple cake pops are the perfect party appetizer!
They're all glammed up with their sparkly black sanding sugar tops!
The cake inside is a cake mix that has been doctored with delicious apple flavor.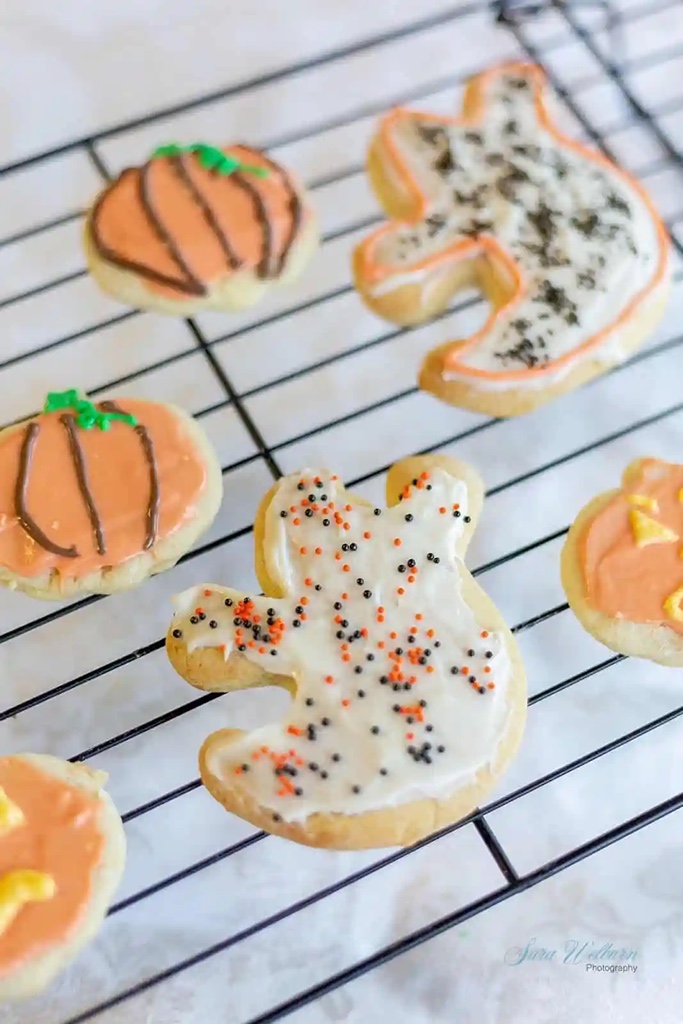 Halloween-themed sour cream sugar cookies are the perfect spooky snack idea!
The cream cheese frosting is fun to decorate.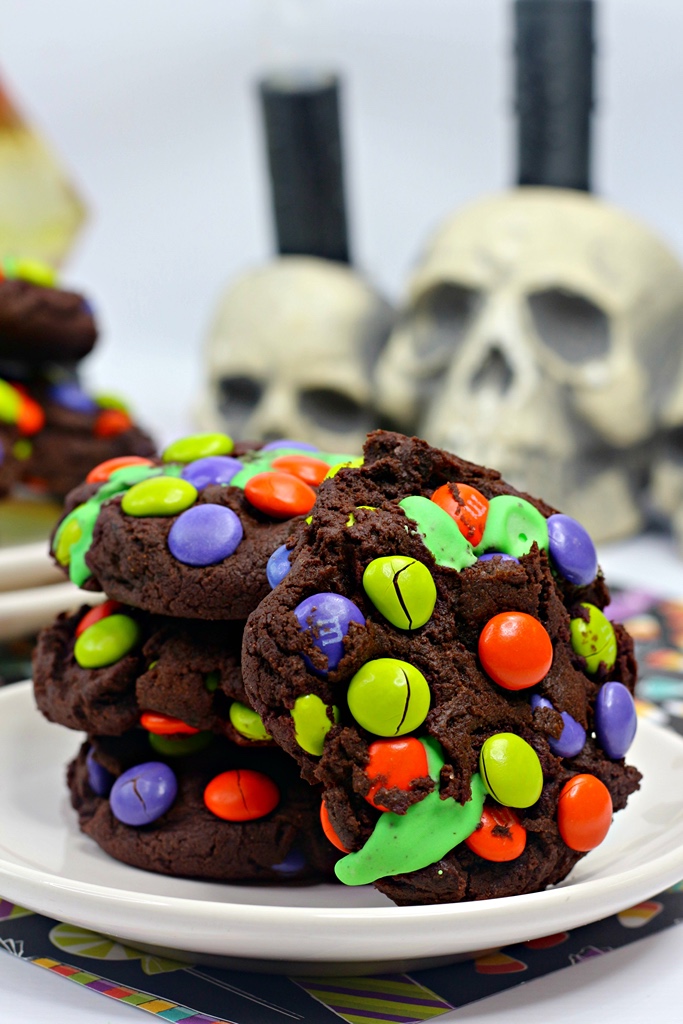 Who doesn't love the best chocolate cookies at a party?
You have to make these Hocus Pocus cookies because they're simple, chewy, and topped with M&Ms and a rich neon green frosting inside that creates an ooey gooey filling.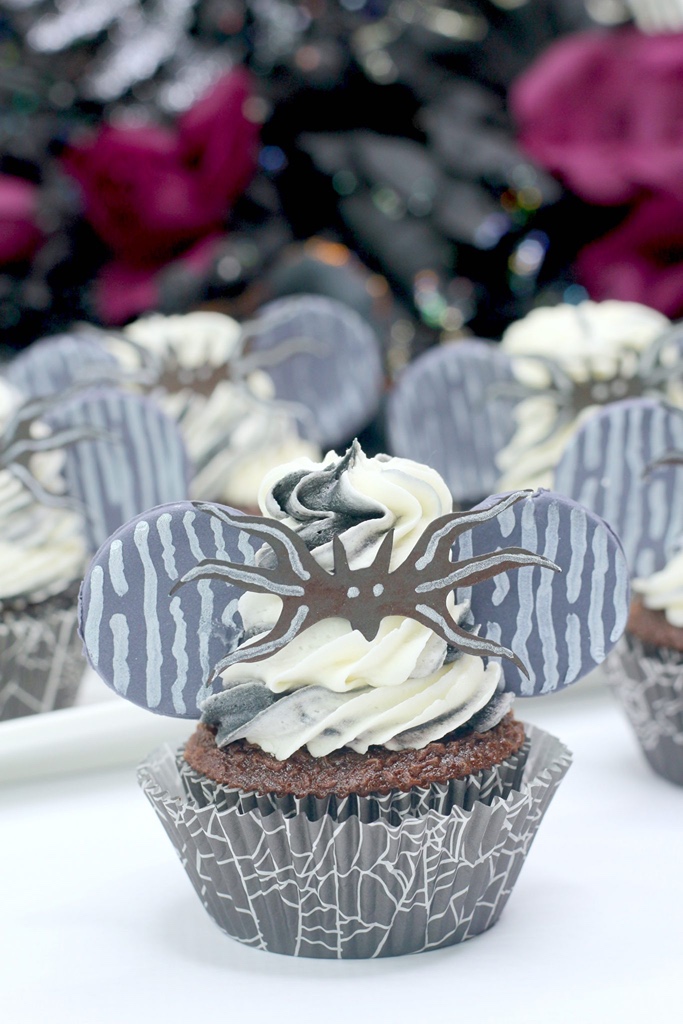 Mickey Mouse Jack Skellington Cupcakes
These Mickey Mouse Jack Skellington Cupcakes are fun to look at and even more fun to eat.
It's the perfect snack idea for a spooky good time.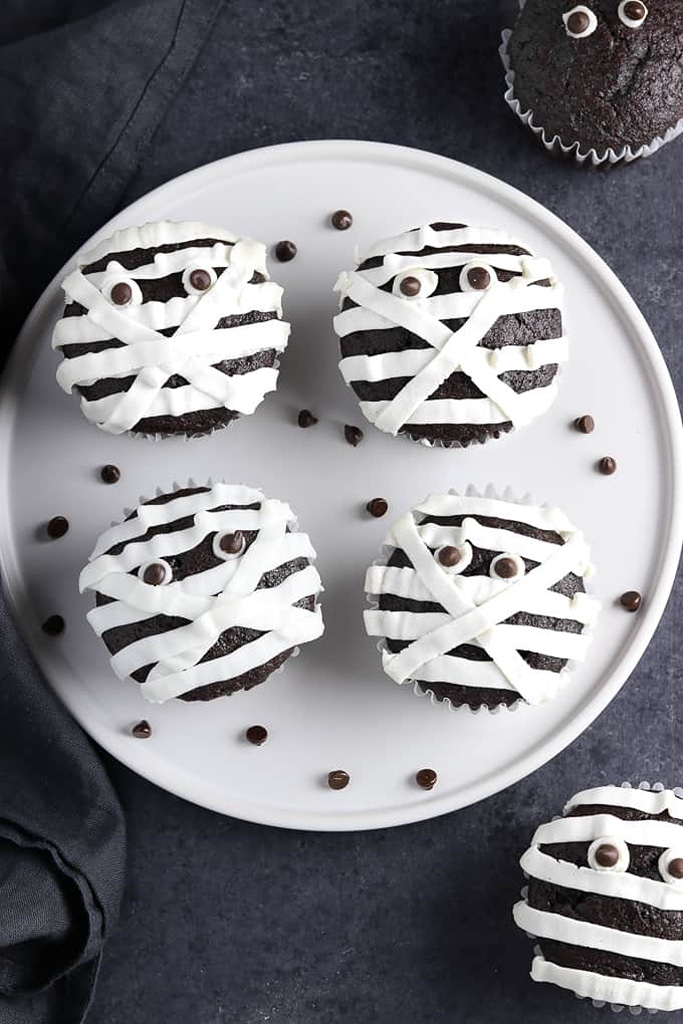 These Vegan Mummy Cupcakes will be a hit at your spooky Halloween bash.
They are fun to make, kid-friendly, and downright adorable!
The mummy wrapping is piped on with vegan buttercream, and the eyes are dotted with chocolate chips. It's so easy!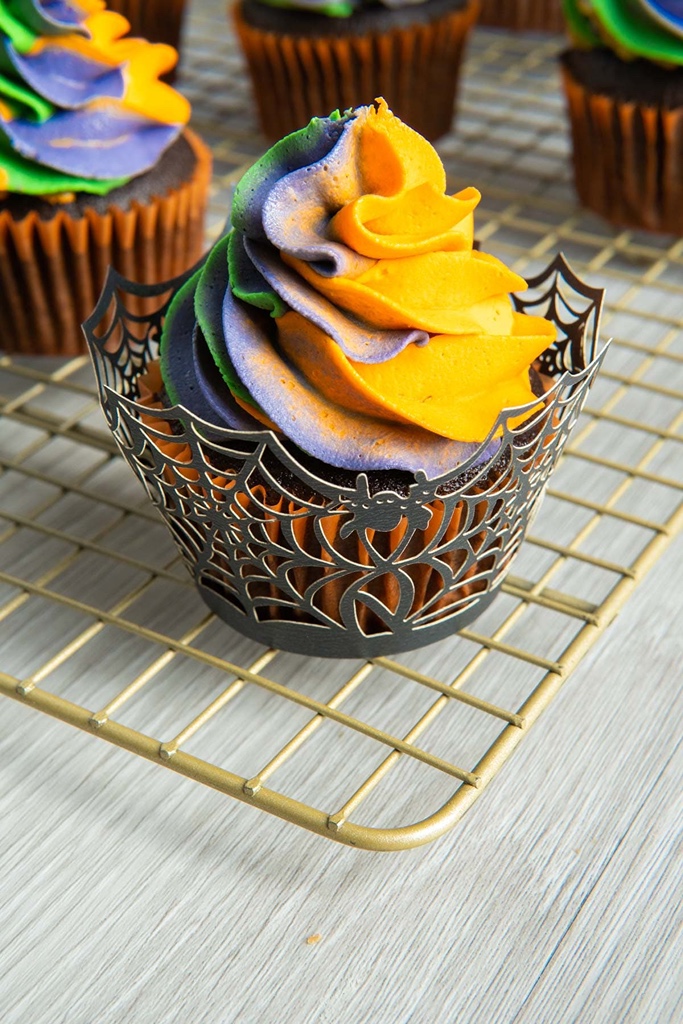 These cupcakes are the perfect party appetizer food for a Halloween party!
The tall swirls of orange, green, and purple frosting make them super eye-popping.
They're easy to make and deliciously moist.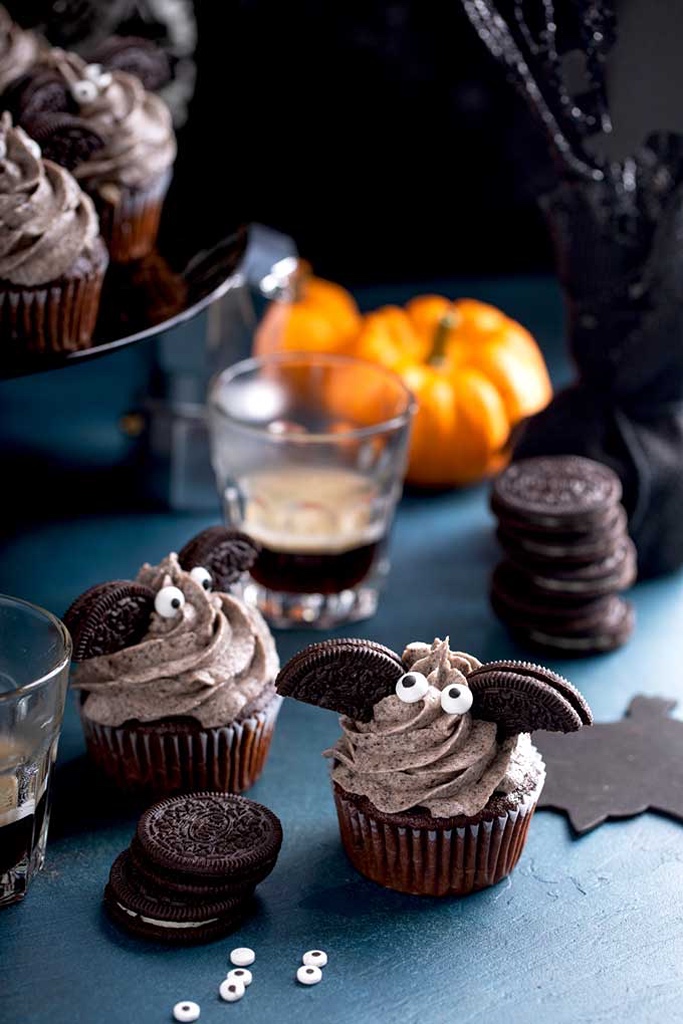 Festive Bats Oreo Cupcakes with Cookies and Cream Frosting is super fun to make, creamy, deliciously decadent, and a great food idea for any Halloween gathering.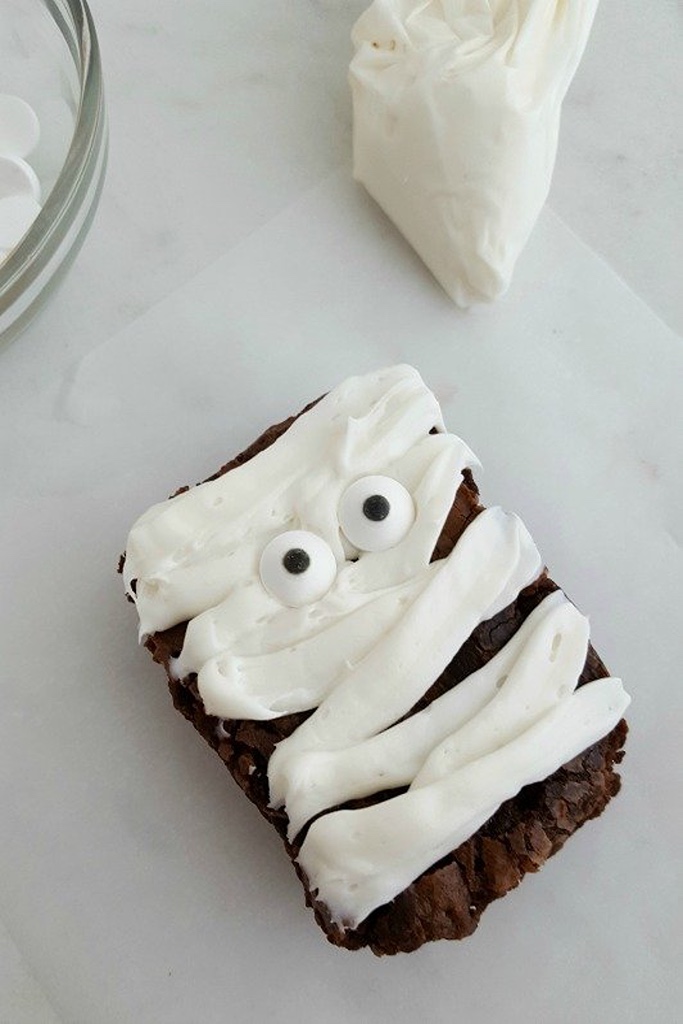 If you're always on the lookout for easy-to-make recipes that you can do with your kids, grandkids, or students, or at any group gathering like me for Halloween, this is the snack idea for you.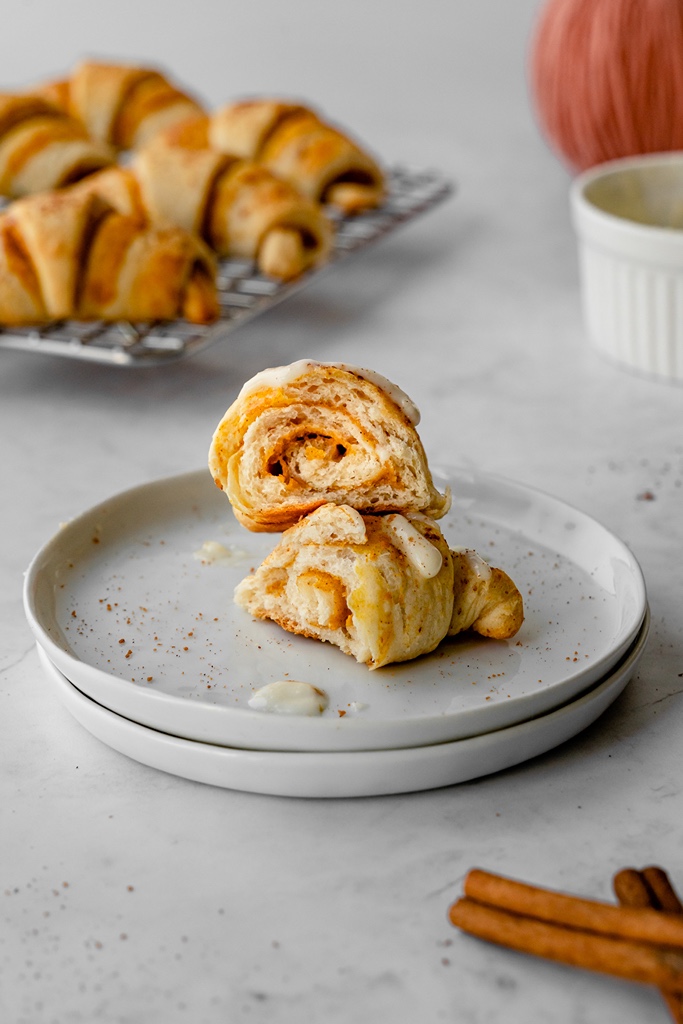 These easy Pumpkin Cream Cheese Crescent Rolls are fluffy, sweet, and tangy.
They're great for dessert, breakfast, or as a Halloween party appetizer – especially during the holidays!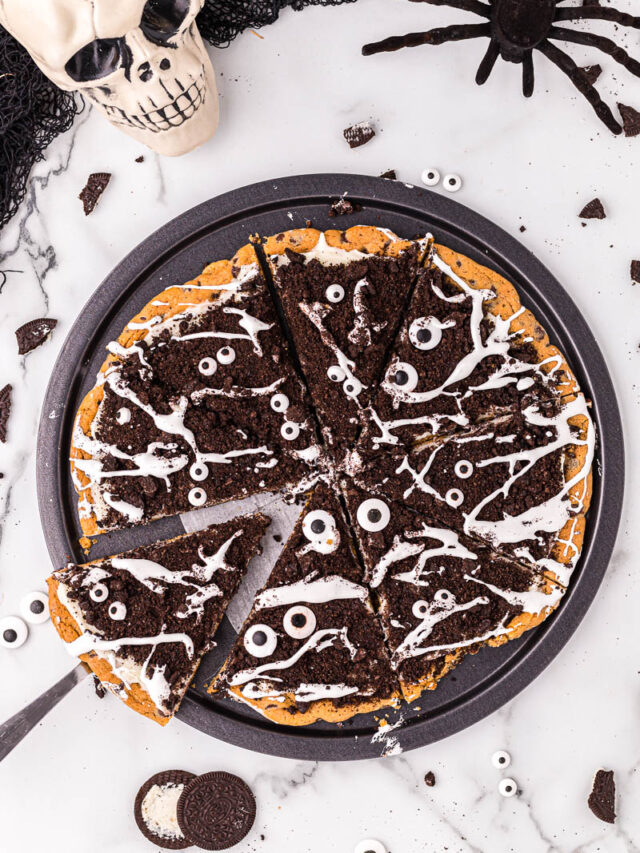 This spider cookie pizza Oreos recipe is a chocolate chip cookie topped with a rich cream cheese topping, crushed cookies, and candy eyes.
No-Bake Nightmares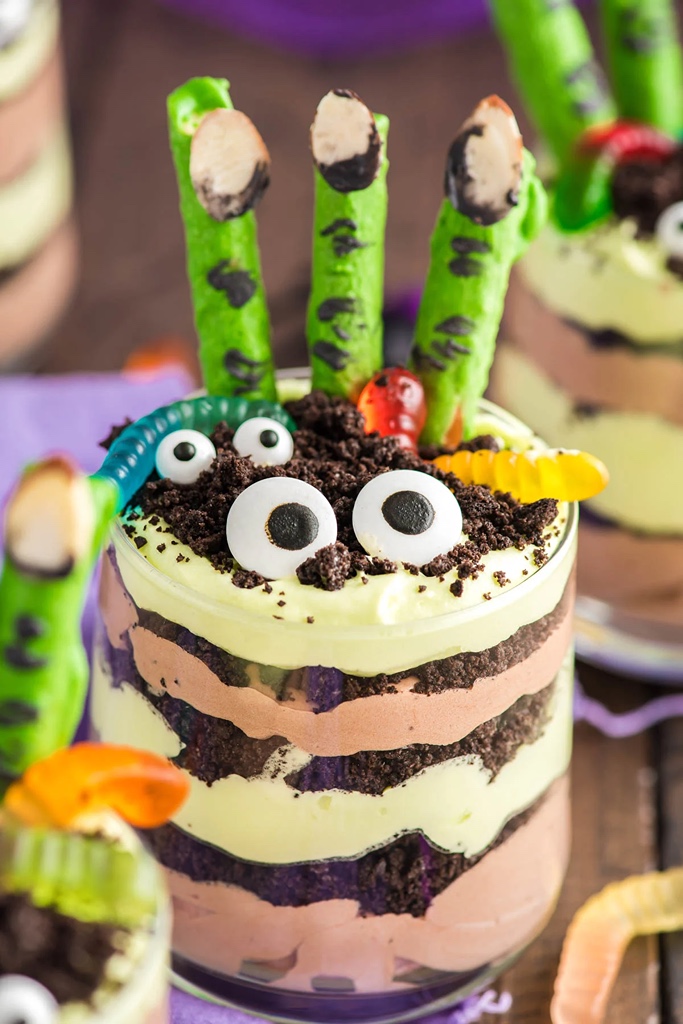 Unearth the undead at your spooky party with Dirt Cups! They may look like dirt, but they taste heavenly!
Creamy chocolate and vanilla layers are sprinkled with handfuls of crushed Oreo, with chocolate pretzel "monster fingers," gummy worms, and candy eyeballs!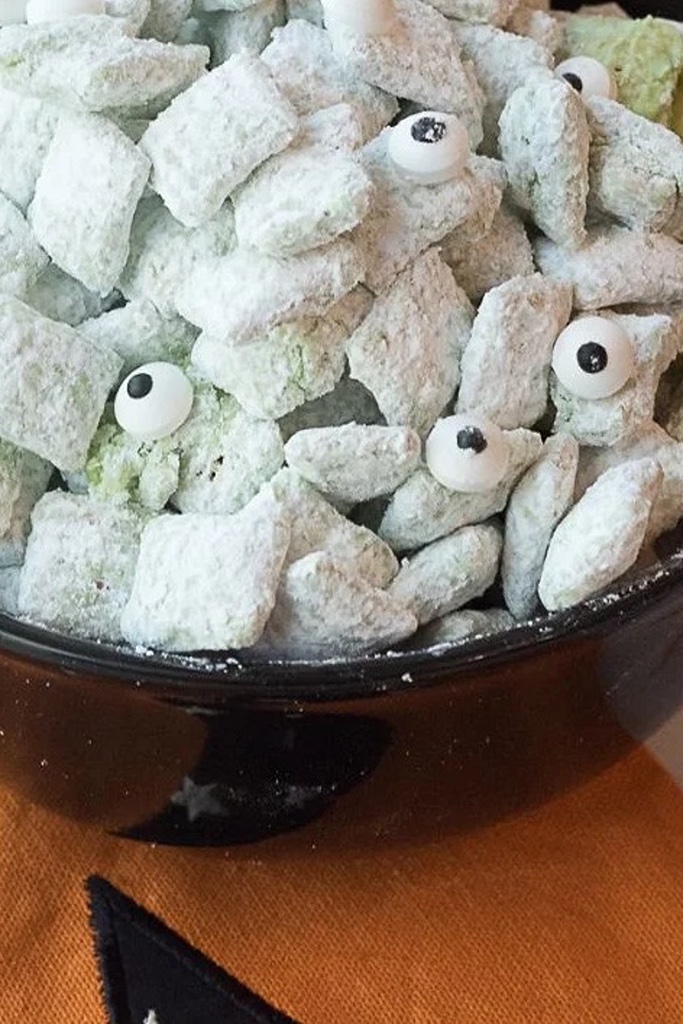 This Halloween Puppy Chow Recipe is perfect for a Halloween party snack idea.
If you're looking for a substitute for candy, why not make up this simple muddy buddy recipe?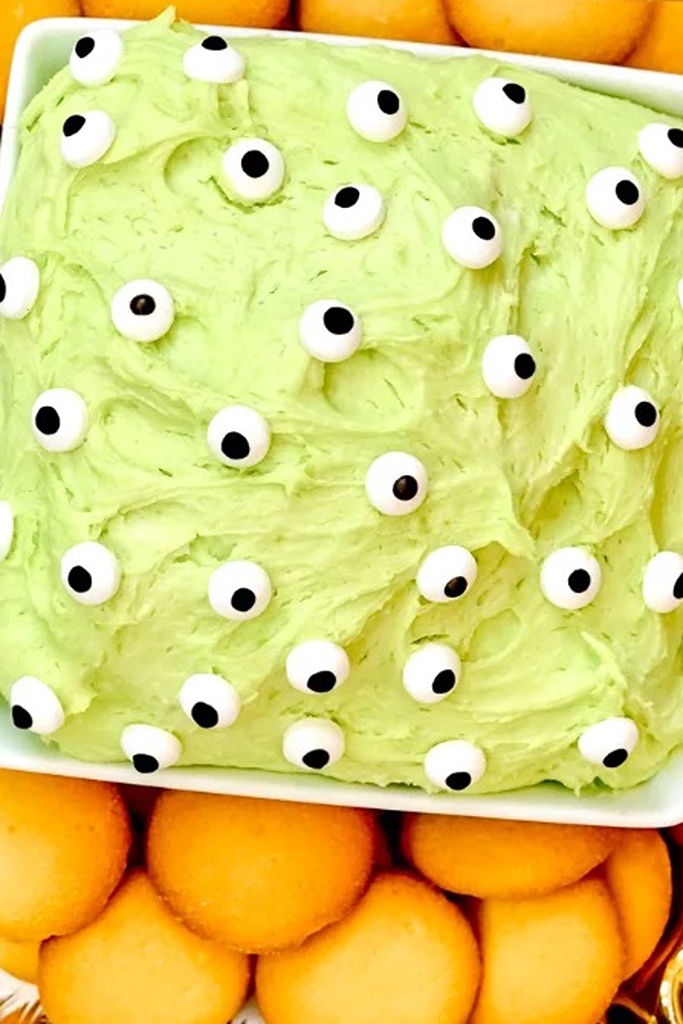 Finding the perfect Halloween party food idea as a snack or appetizer has never been easier.
This dangerous dessert dip has ingredients like cake mix, whipped cream, candy eyeballs, and other easy items.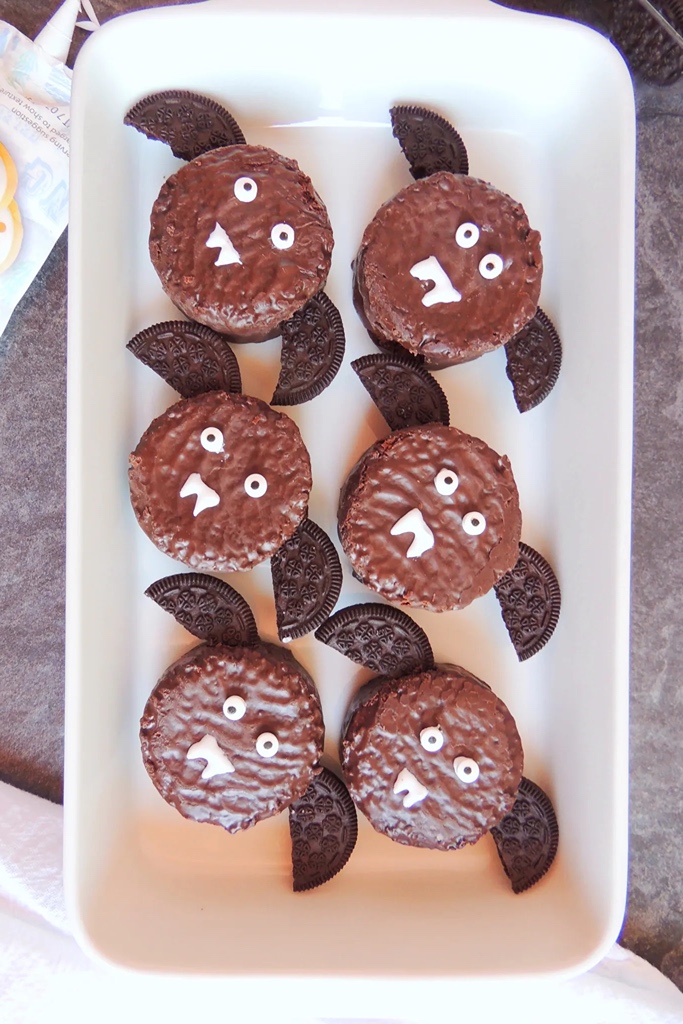 No-bake chocolate ding dong bats are an excellent Halloween food idea for feeding a crowd at the last minute.
It is the quickest and easiest festive snack I could think of.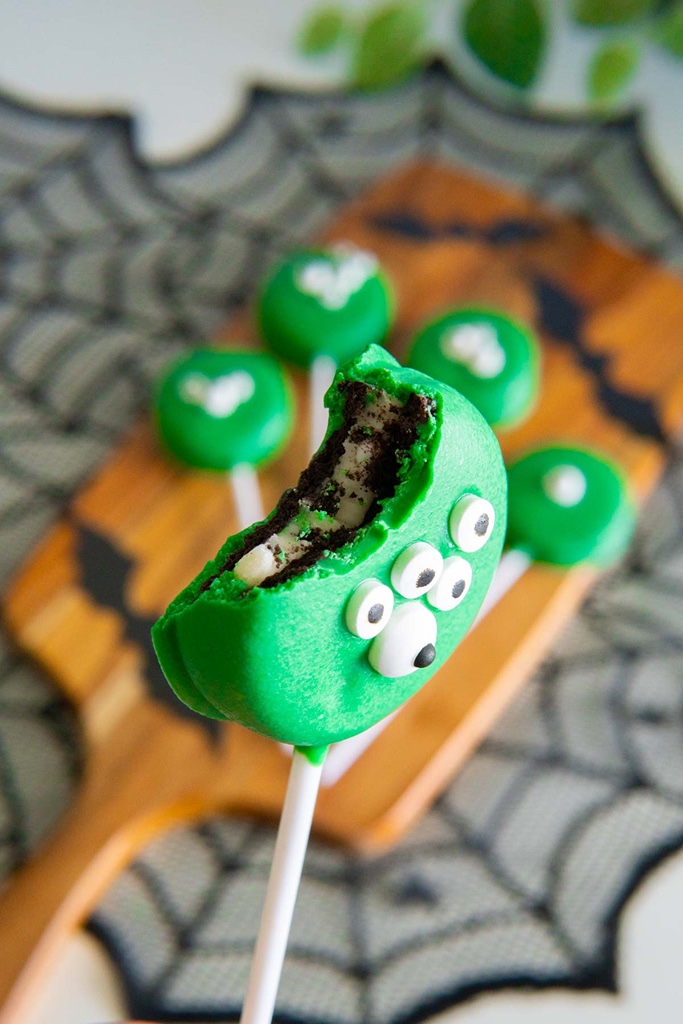 All you need for this little treat is green candy melts, Oreos, and candy eyeballs.
They're simple to make and perfect for a party or a trick-or-treater's bag.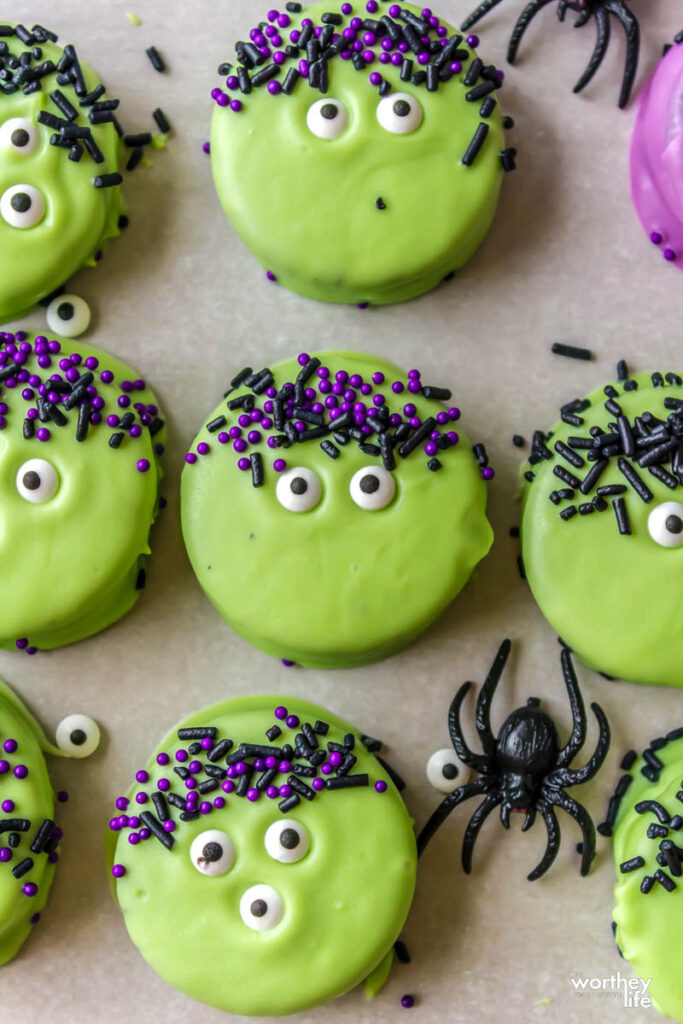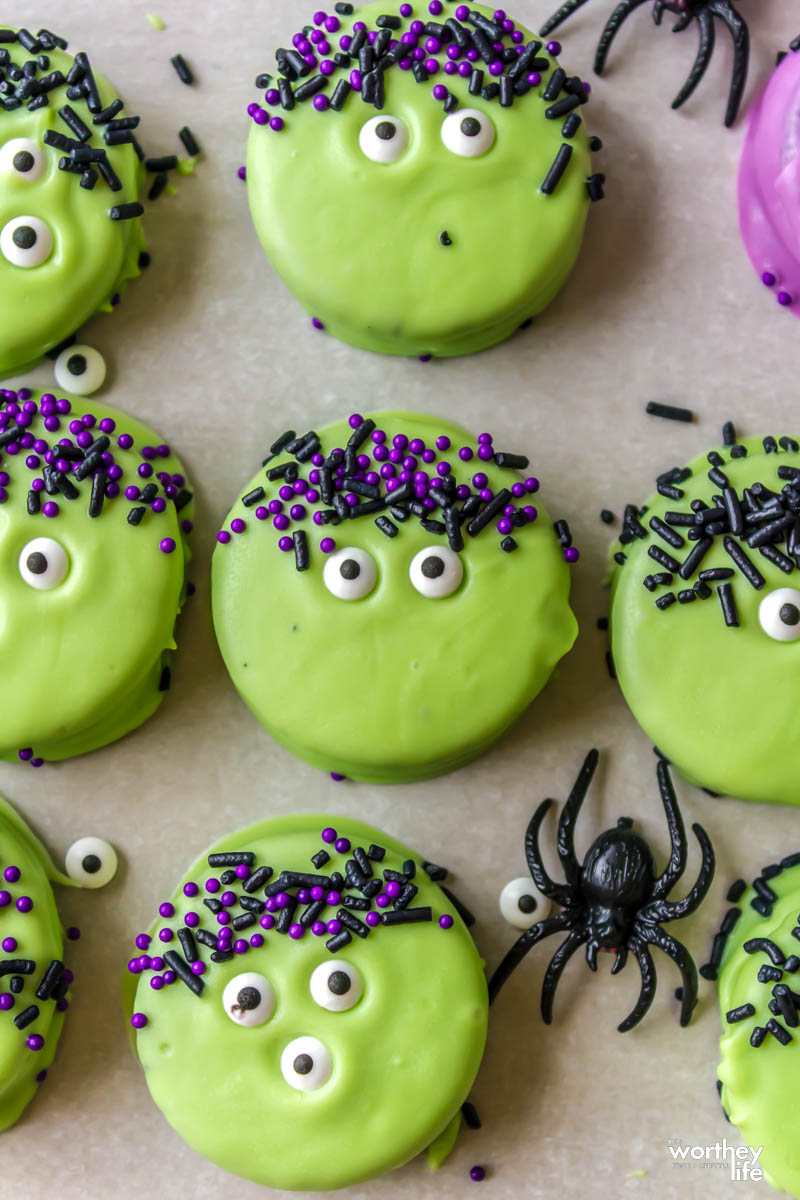 Bright purple and green chocolate, candy eyes, and sprinkles galore.
The ultimate no-bake Halloween treat your little monsters will gobble right up.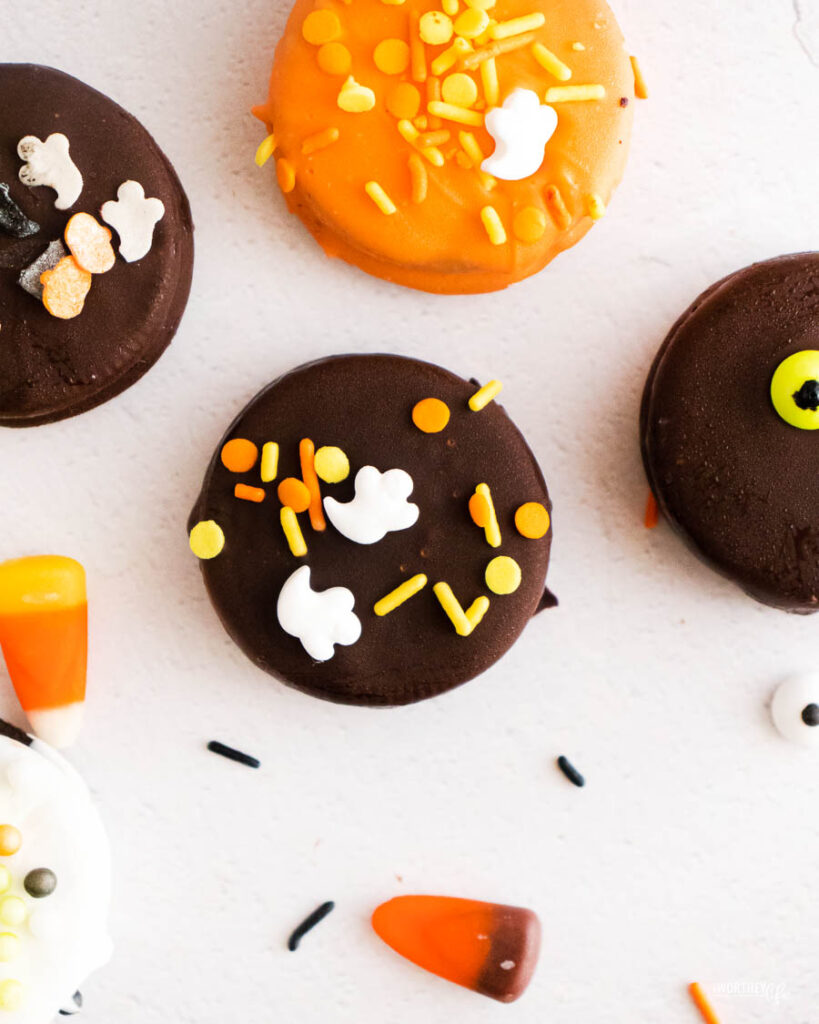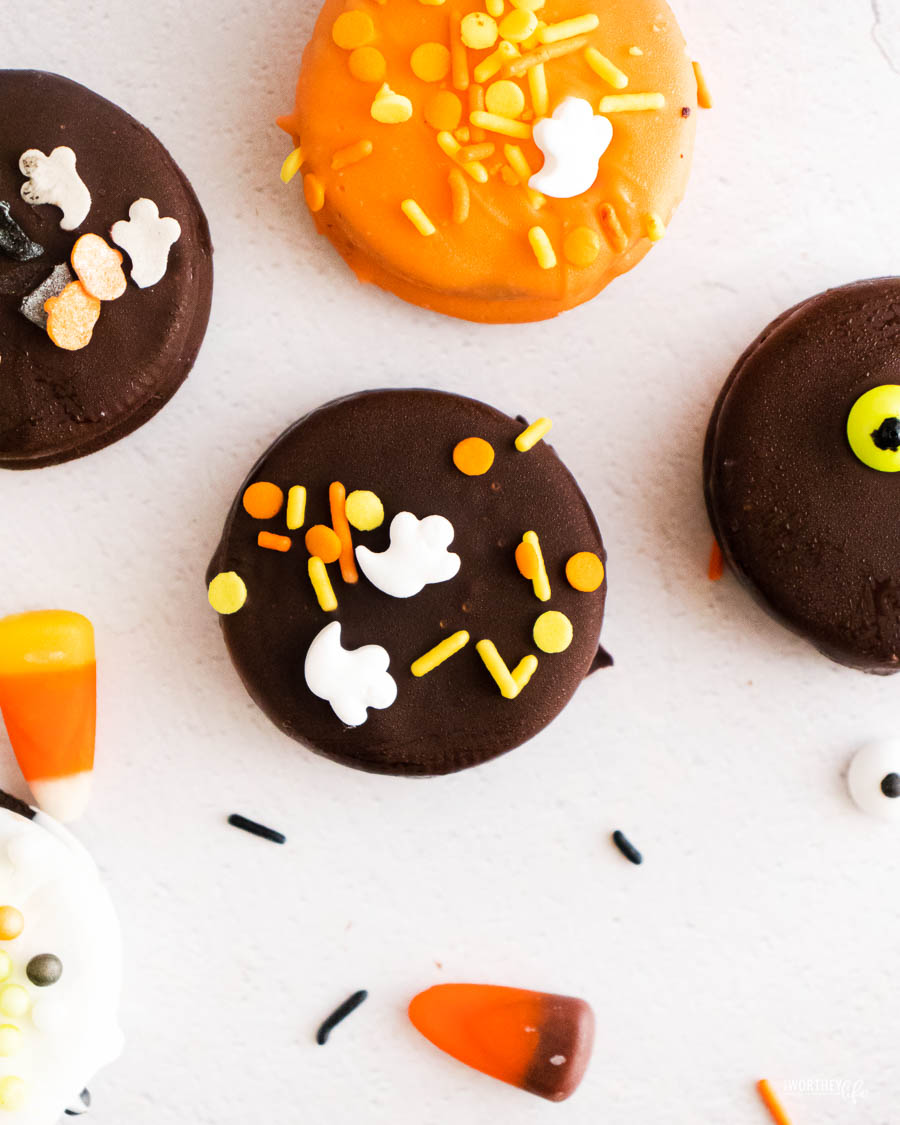 Halloween Chocolate Covered Oreos are festive and fun-colored dipped Oreos decorated with bright colors that scream Halloween.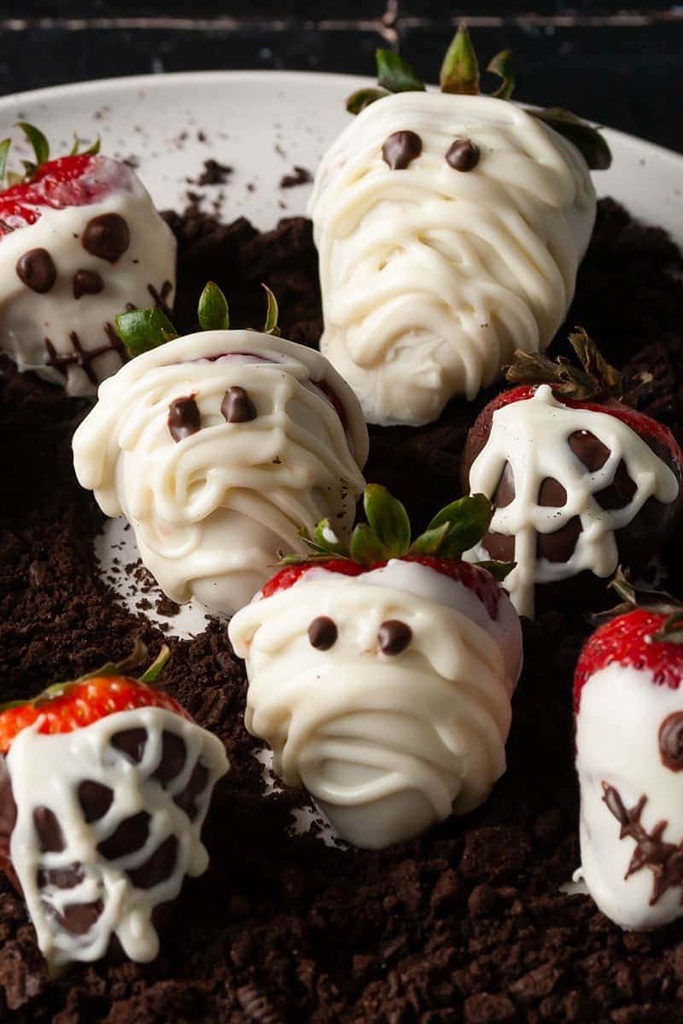 We are looking for a festive and fruity way to ring in the Halloween season.
These Easy Halloween Chocolate Covered Strawberries are delicious, adorable, and fun for the whole family!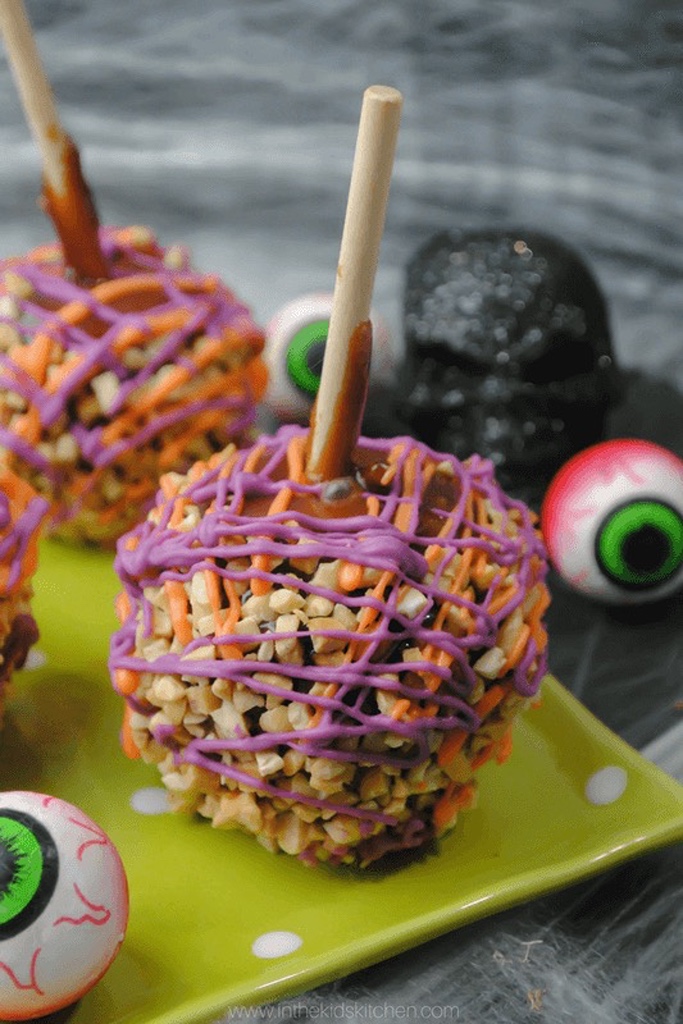 A spooky twist on a classic treat — kids and grown-ups will love these crazy colorful Halloween Caramel Apples!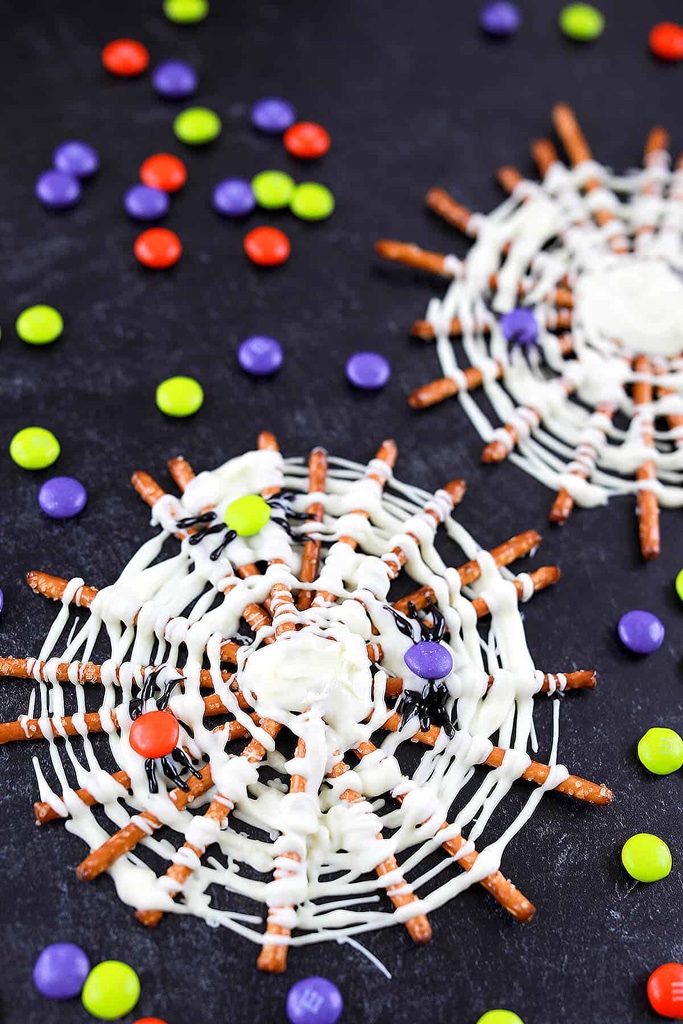 The perfect easy no-bake Halloween party food or appetizer idea: Chocolate Pretzel Spider Webs!
They're easy to make, and all your little trick-or-treaters will be crazy about them.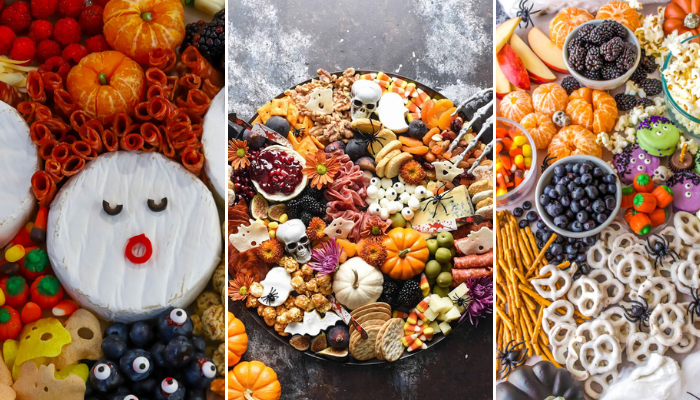 Sinister Savories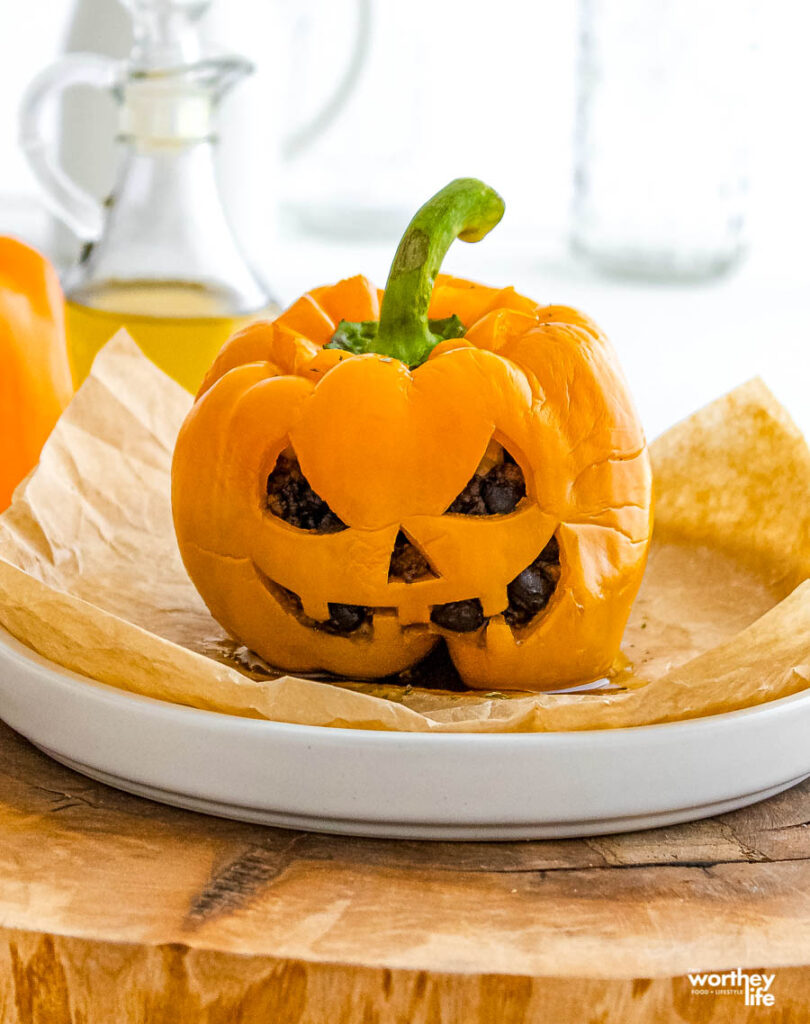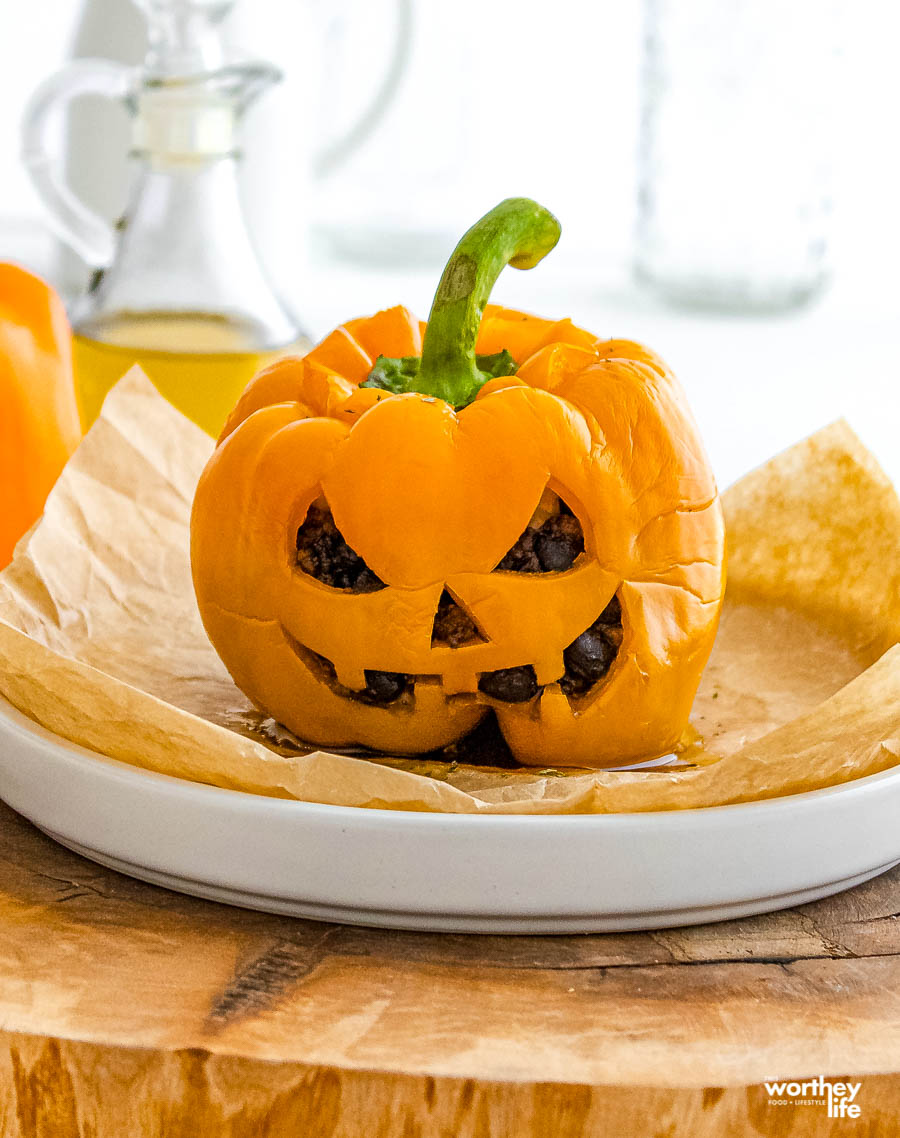 Jack O Lantern Stuffed Peppers
Check out my Jack O Lantern Stuffed Peppers made in the Instant Pot.
This fun and creative Halloween dinner idea will win over your kids.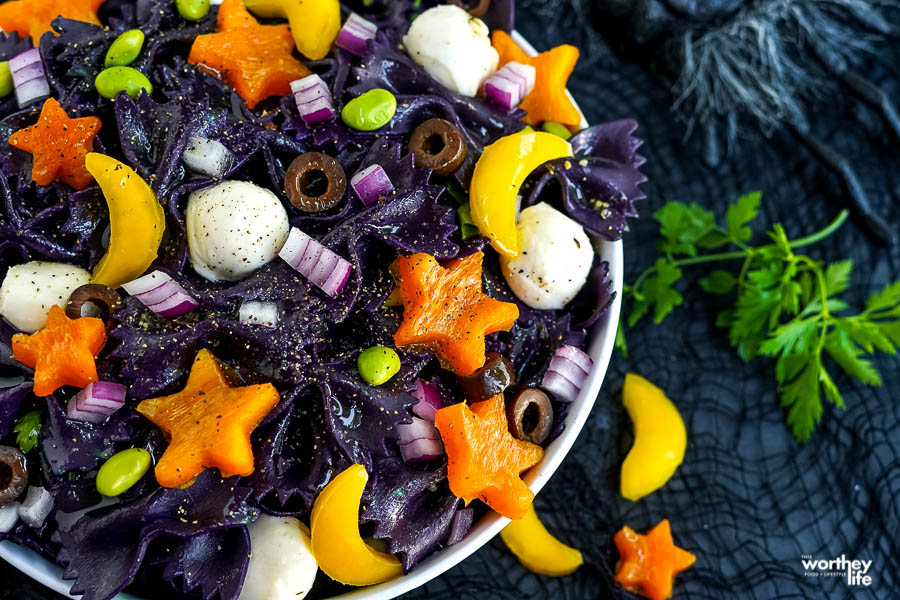 This black pasta is studded with veggies in fun shapes and delicious Italian dressing sauce.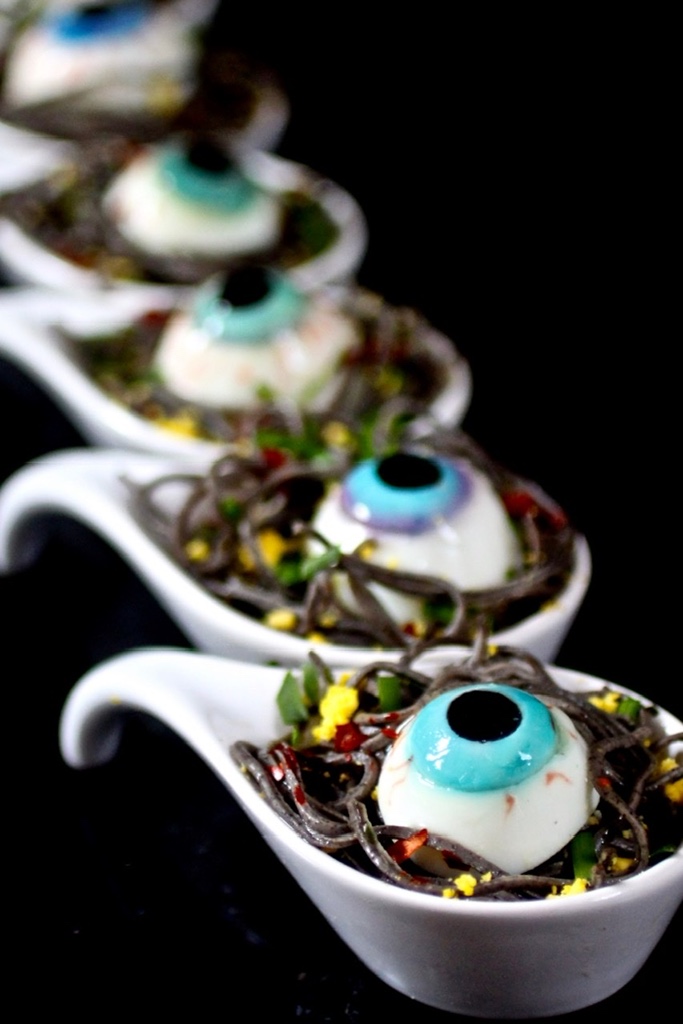 Slurp up this spooky spaghetti at your next Spooky gathering.
It's easy to make and perfect for a large crowd.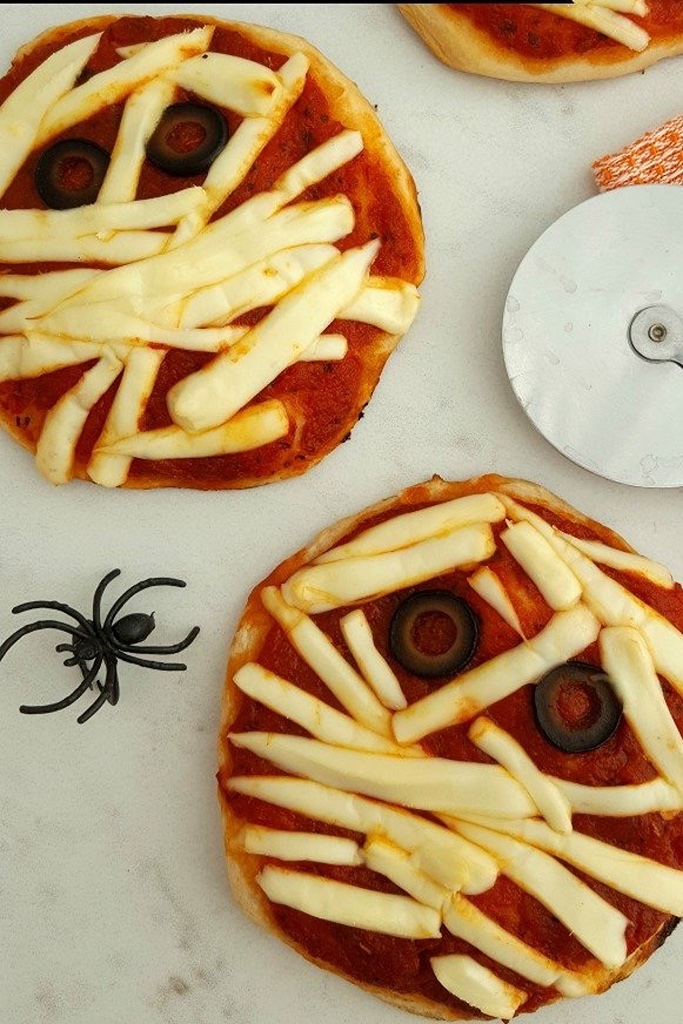 These Halloween appetizers will have your guests impressed.
They're spooky and yummy with all your favorite pizza flavors.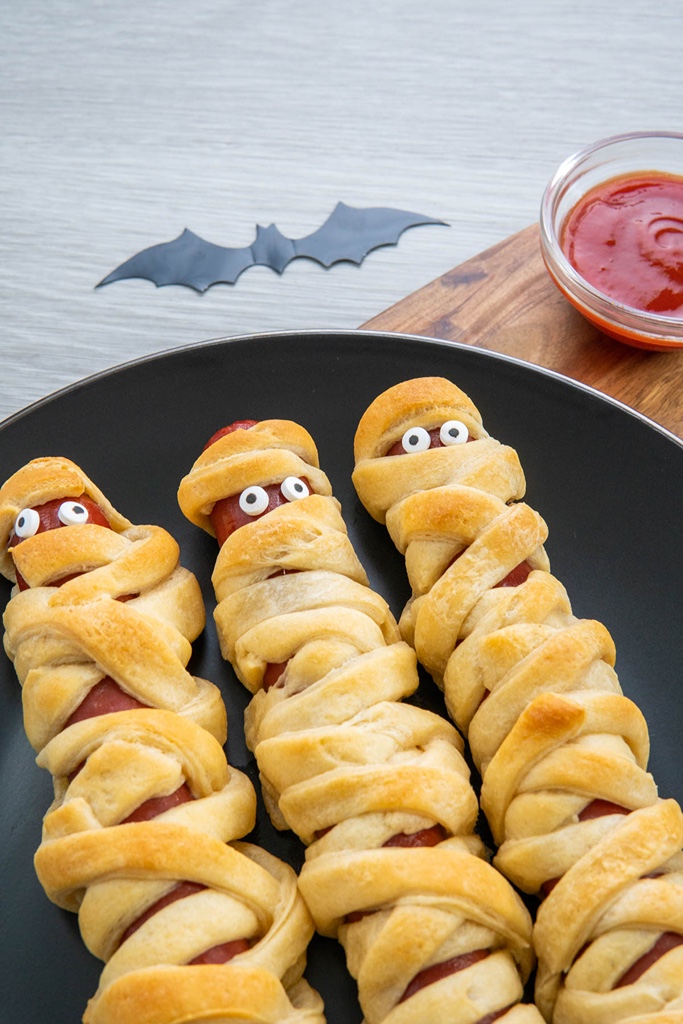 The perfect food idea for a haunting good time.
With only three ingredients, you'll be able to whip up a batch in no time.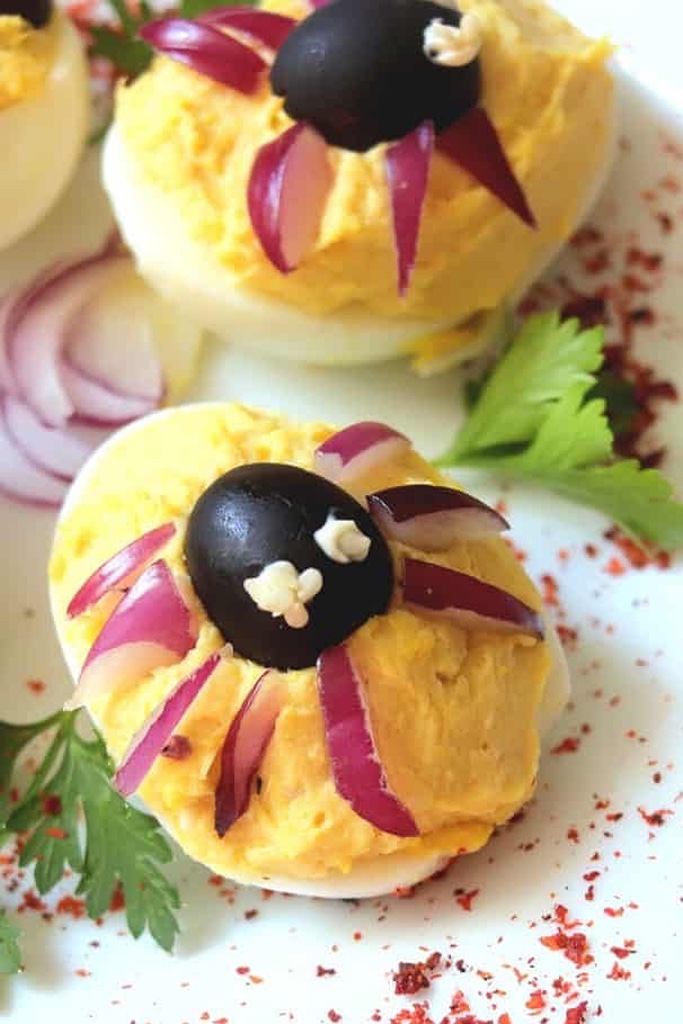 These Deliciously creepy Spider Halloween Deviled Eggs will be the talk of any party!
Unique recipe packs in more protein than traditional deviled eggs due to the cream cheese and chicken filling!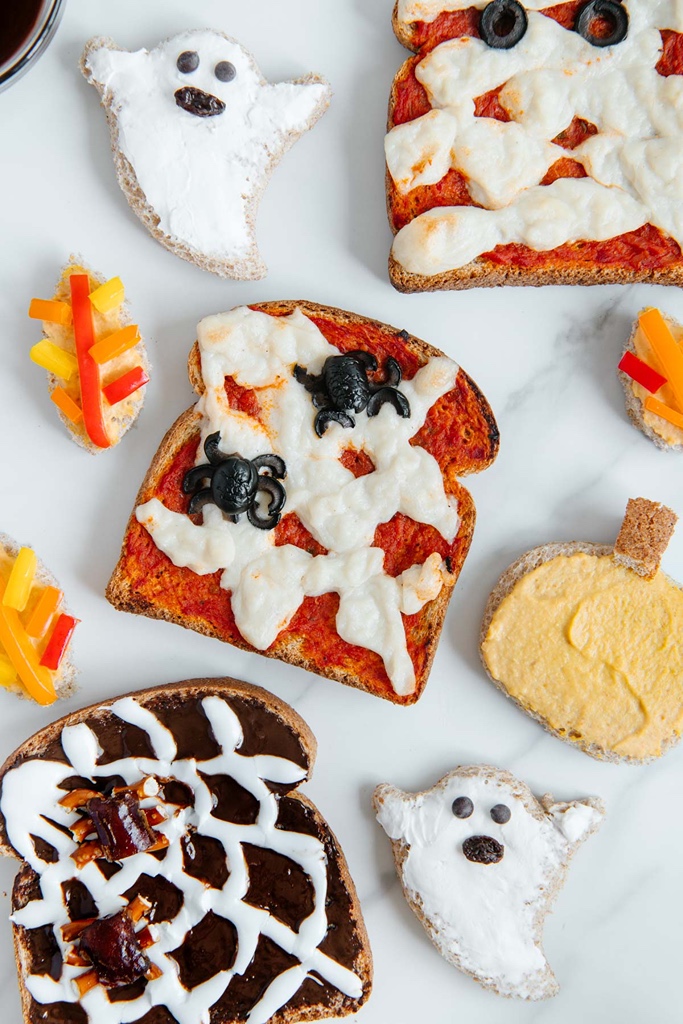 Eat, shriek, and be scared with these Healthy Halloween Toast recipes!
Each fun toast variety is vegan, gluten-free, and sure to bring smiles and joy into your kitchen.
It's a simple party snack idea option for vegans and vegetarians.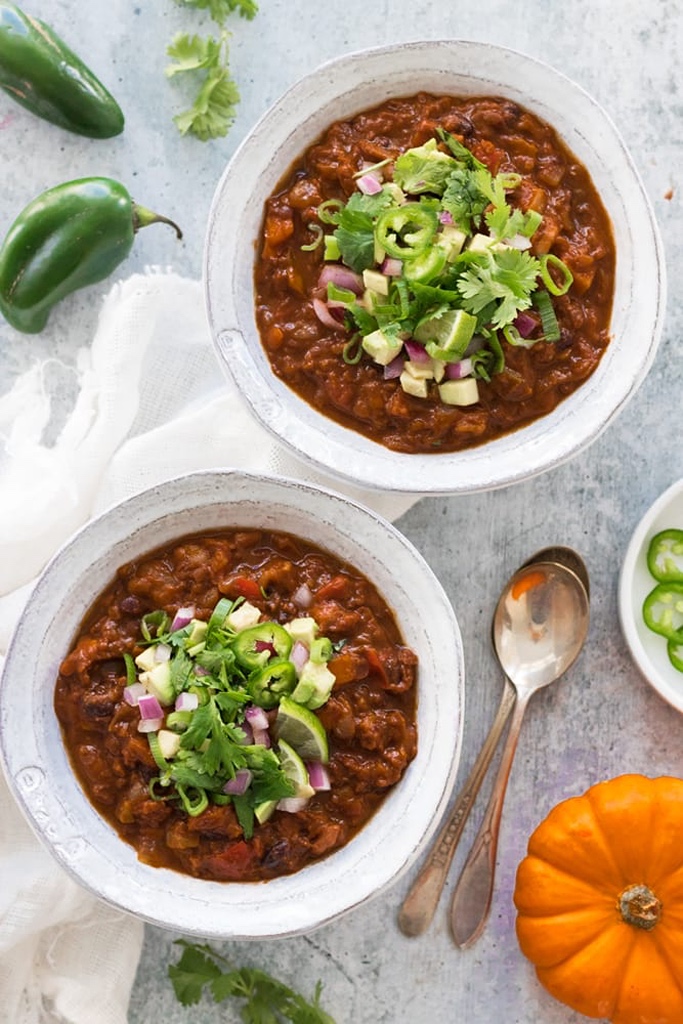 This vegan pumpkin chili is the perfect seasonal one-pot nutritious meal! It is spicy, slightly sweet, full of flavor, and has the most incredible texture – you would never know it is entirely plant-based.
Try this chili if you're trying to keep it simple and classy.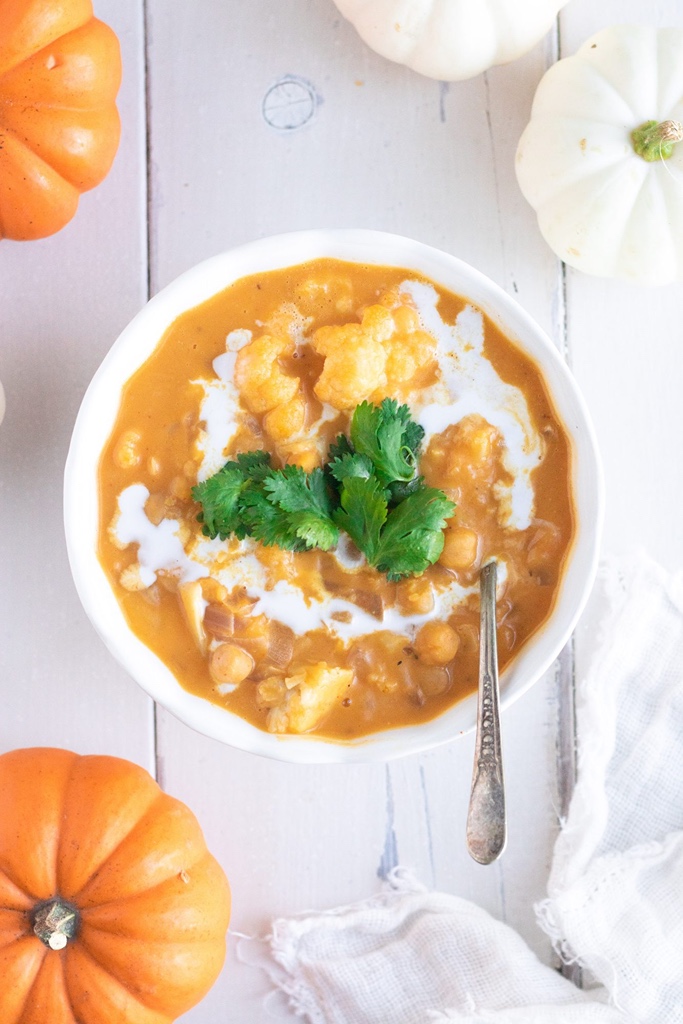 My favorite fall weeknight dinner is warm, comforting, and made in one pot!
This Easy One-Pot Vegan Pumpkin Curry is filled with cauliflower, chickpeas, and the most incredible blend of spices.
Make it in less than 15 minutes and impress everyone at your table.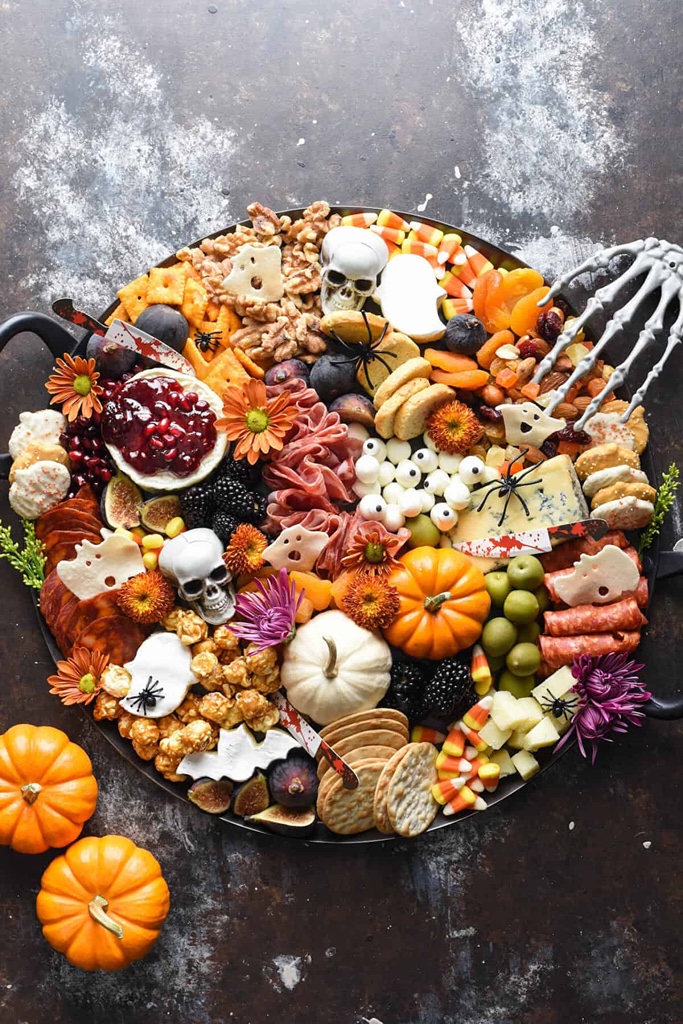 This creepy charcuterie contains cheese, cured meat, crackers, fruit, nuts, and other little treats!
What could be a better snack idea for an October gathering?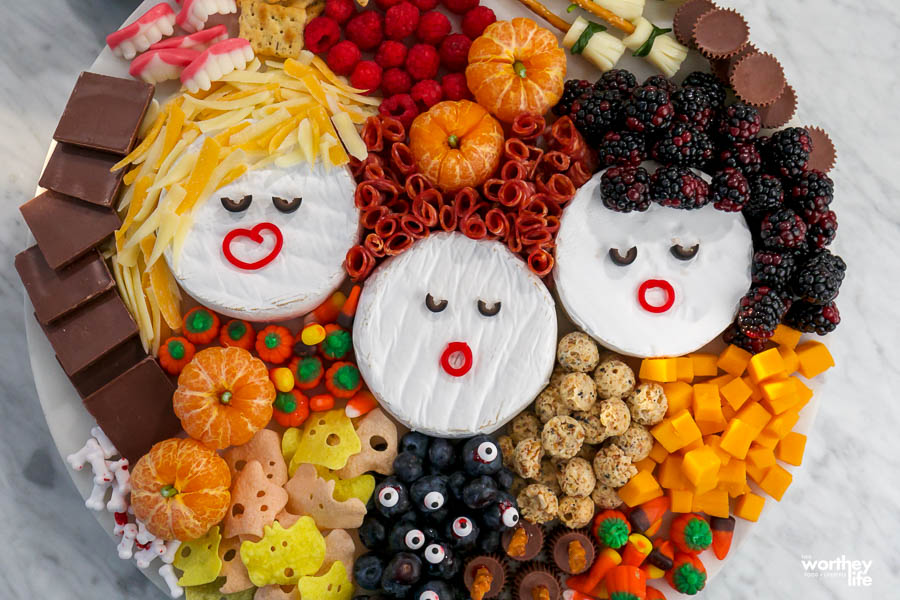 Hocus Pocus Charcuterierie Board
This themed charcuterie board will be perfect for a Hocus Pocus-themed party or movie night.
It's filled with various kinds of cheese, meats, fruit, chocolate, and candy. Check it out!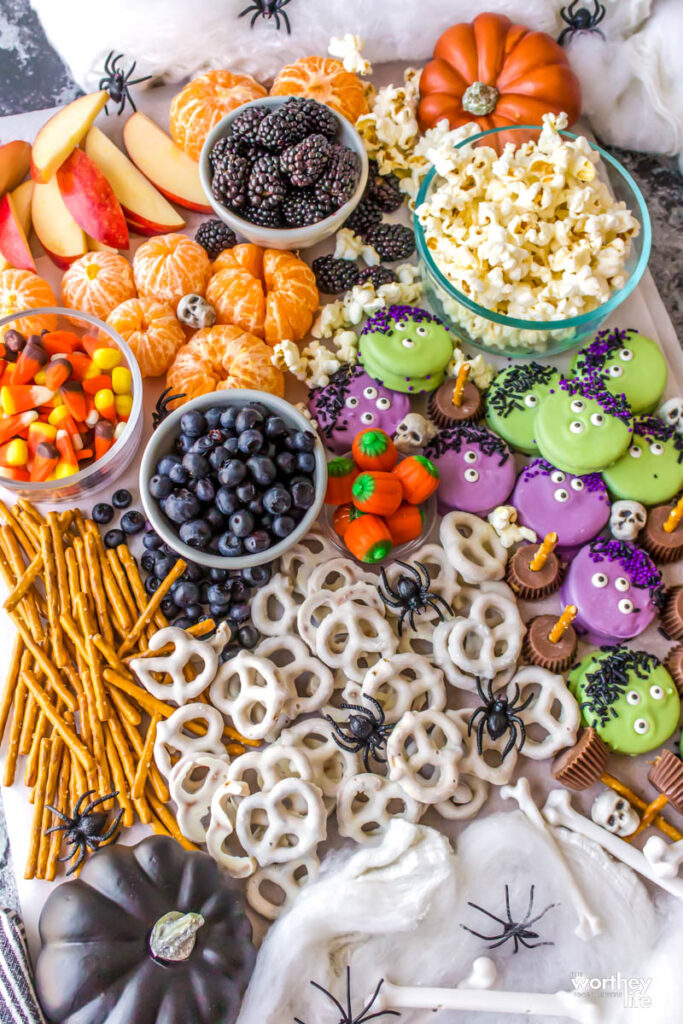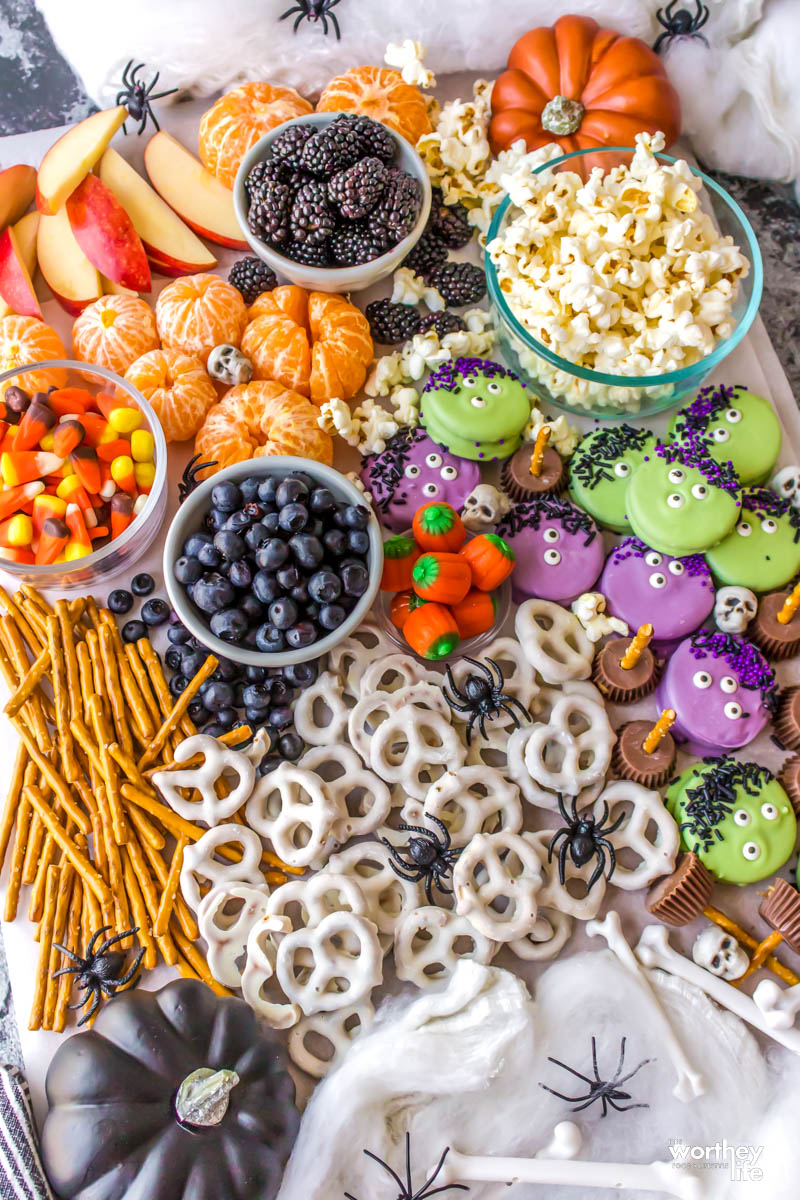 This snack board is filled with Halloween goodies.
It's a great idea for a party, a big enough spread to serve several people.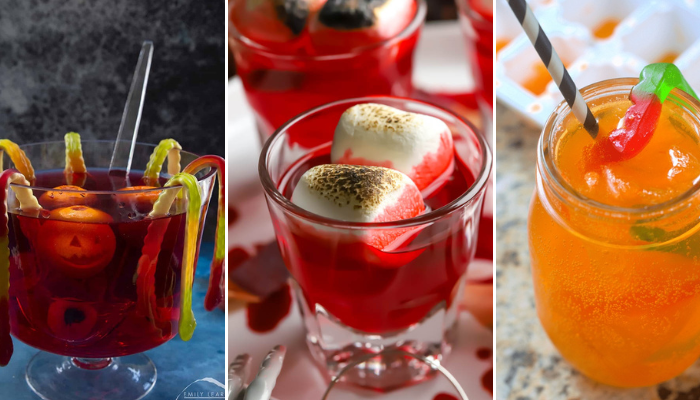 Devilish Undead Drinks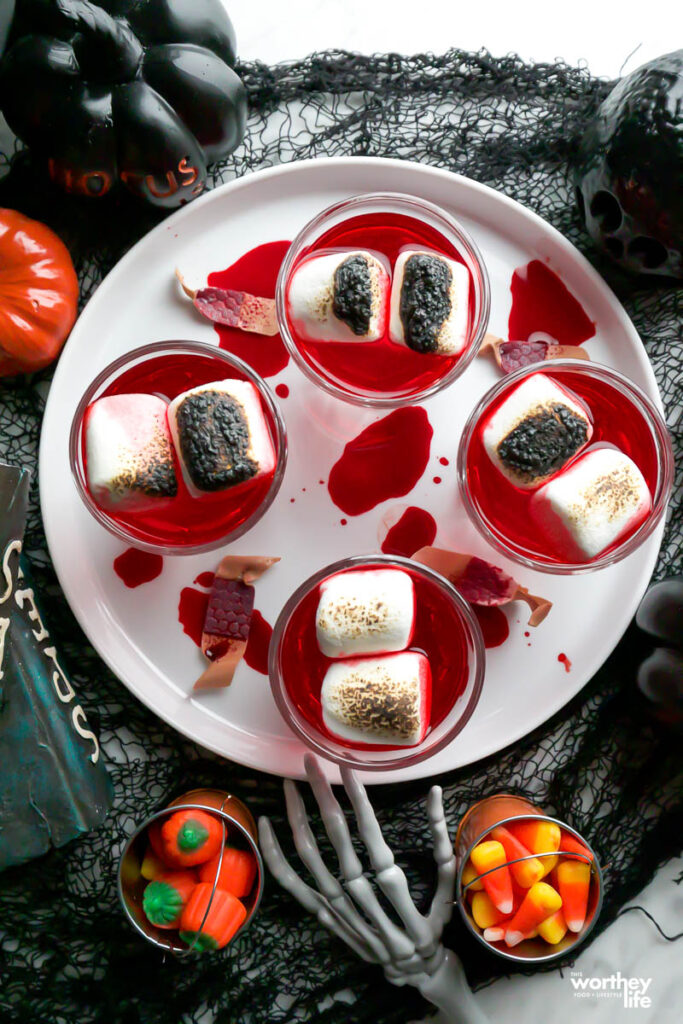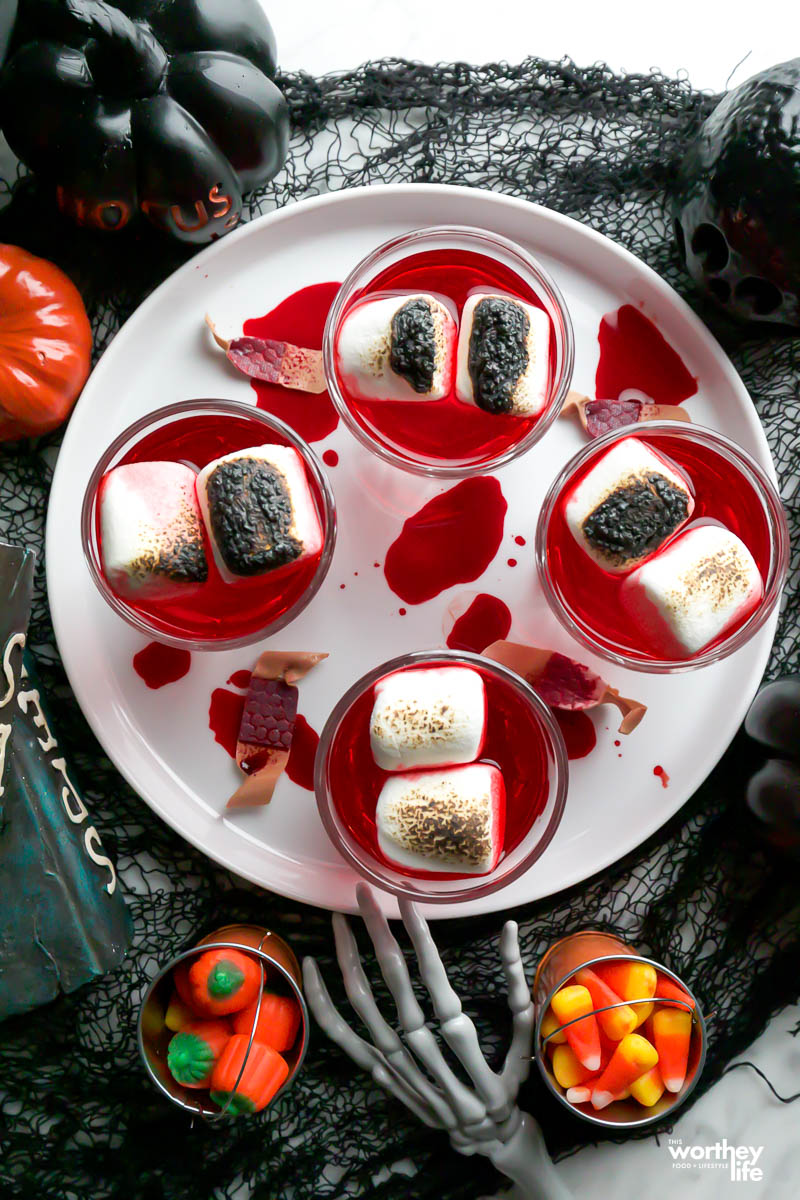 Our Blood Shots will be a perfect match for your Halloween party, giving it the ultimate Halloween drink to try this year!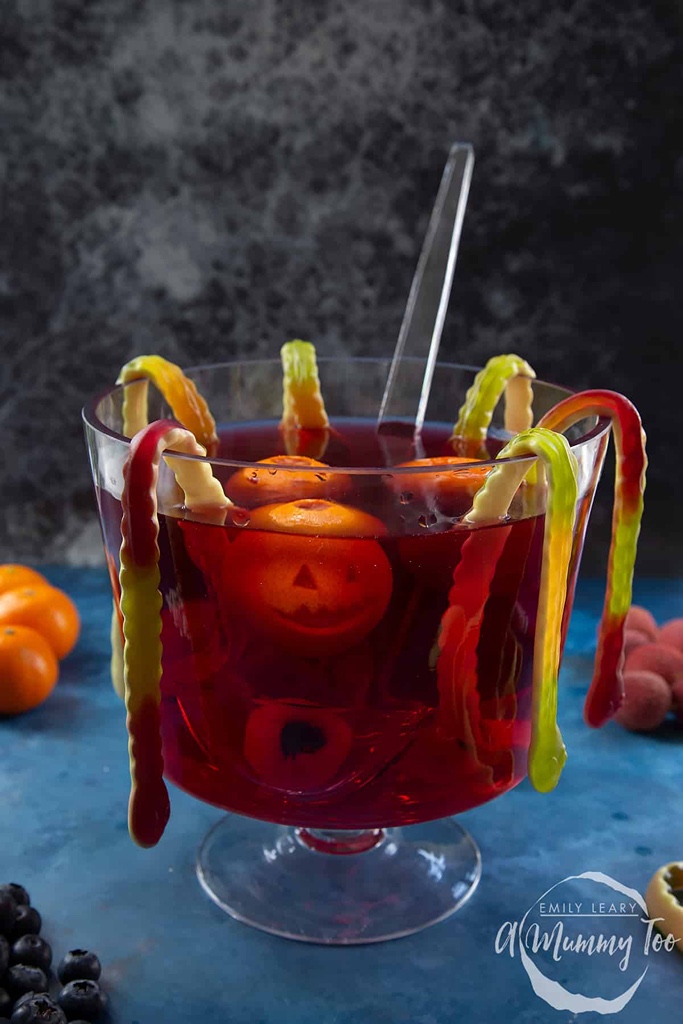 This kid-friendly, alcohol-free Halloween punch is so easy and looks so effective it'll be the talking point of this year's spooky celebrations.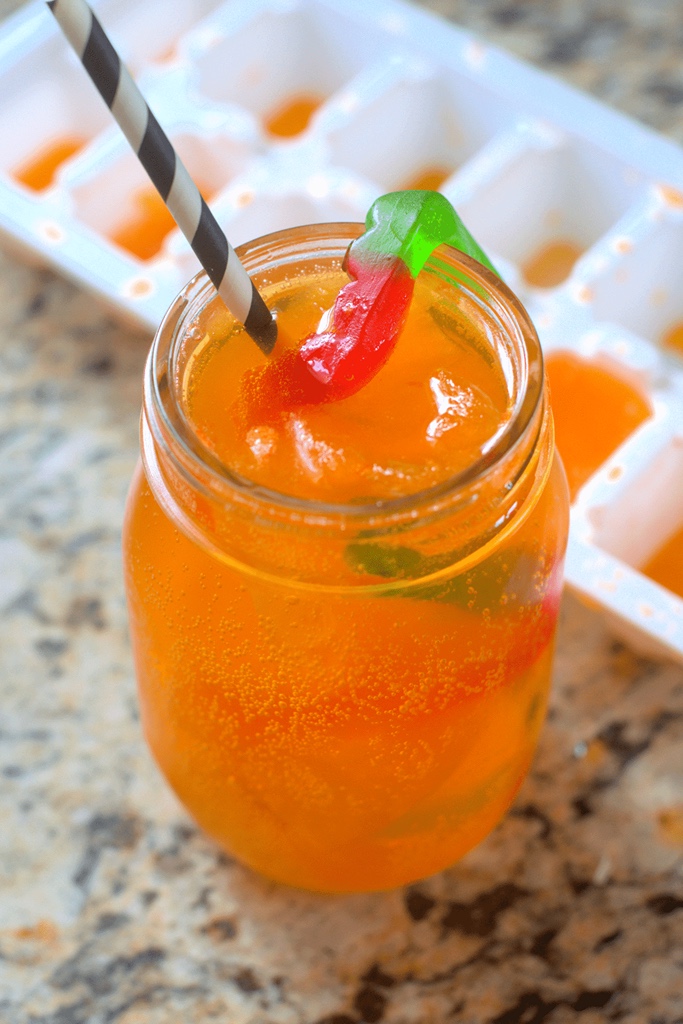 This Halloween Witch's Brew Punch will delight you with only two ingredients.
It's so easy to make and fun to serve!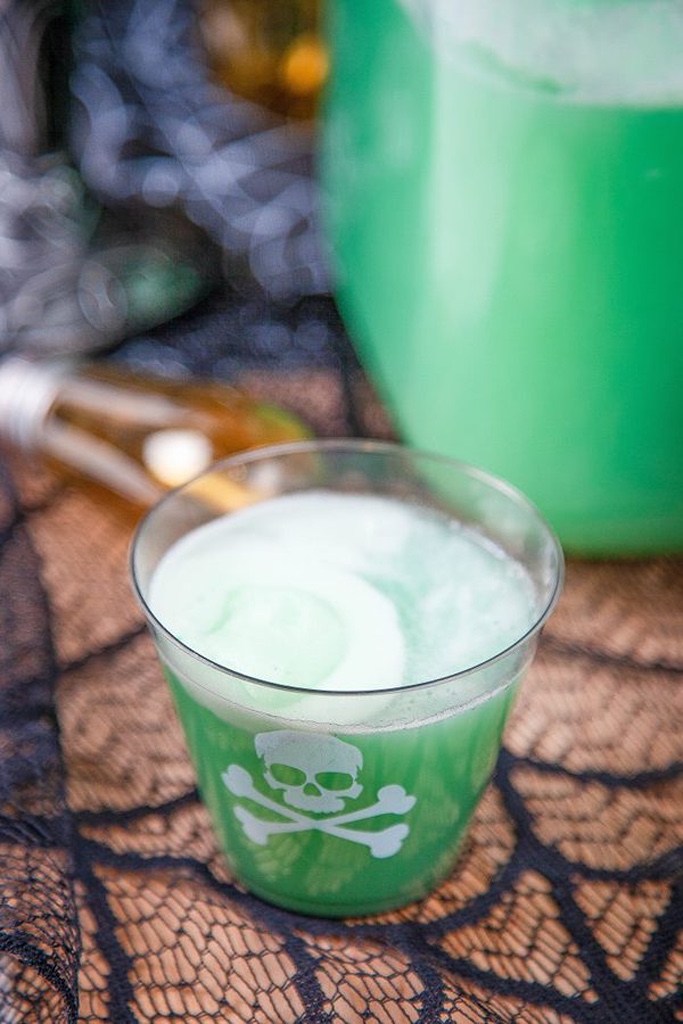 This refreshing bubbly beverage will transport you into the Wizarding World.
Polyjuice potion is super easy to make and requires only five ingredients!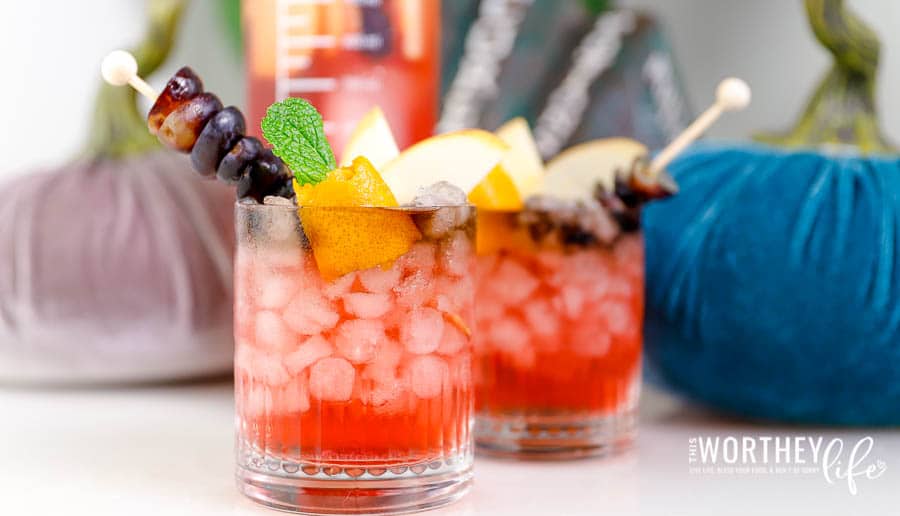 Sparkling Apple Cider Potion Mocktail
Here's another potion drink idea that is one everyone at the party can enjoy!
We created this easy and delicious sparkling apple cider mocktail for all the ghosts, ghouls, and goblins!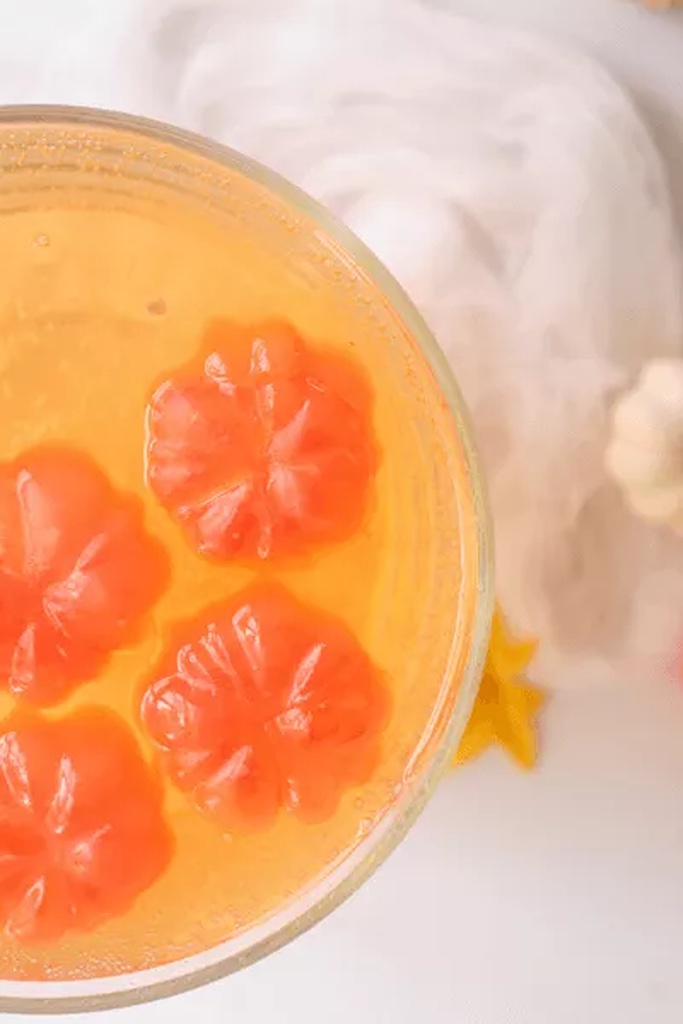 This Halloween punch is so easy to make and fun to serve!
Make the ice cubes the night before, and you can put this together in minutes!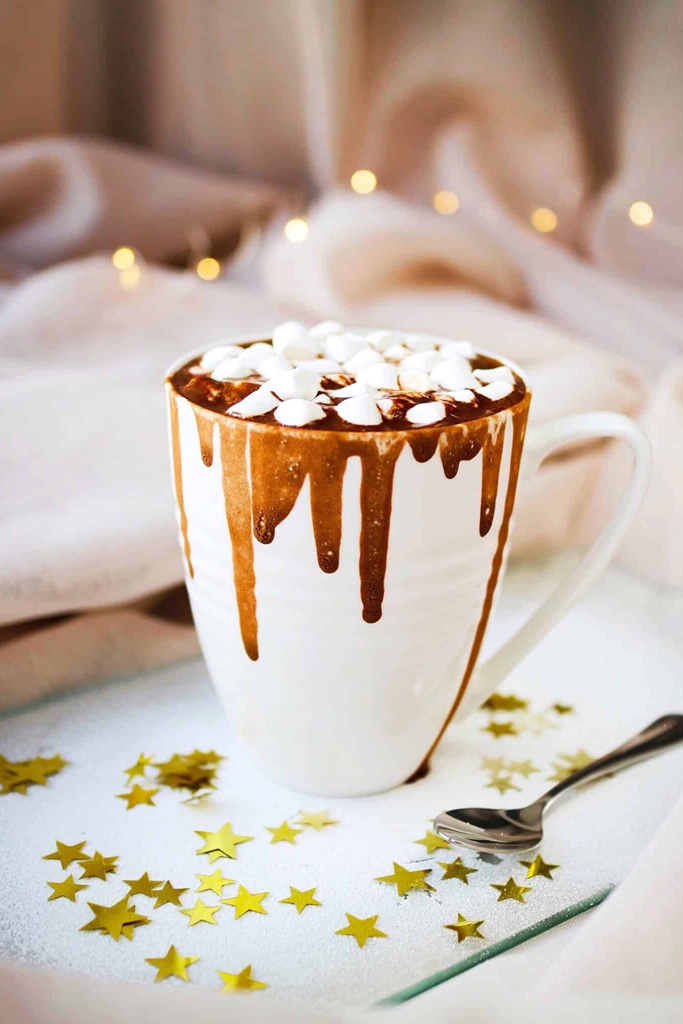 This slow-cooker hot chocolate recipe goes perfectly with a Halloween potluck!
It's just the treat you need to warm up after a chilly night of trick-or-treating.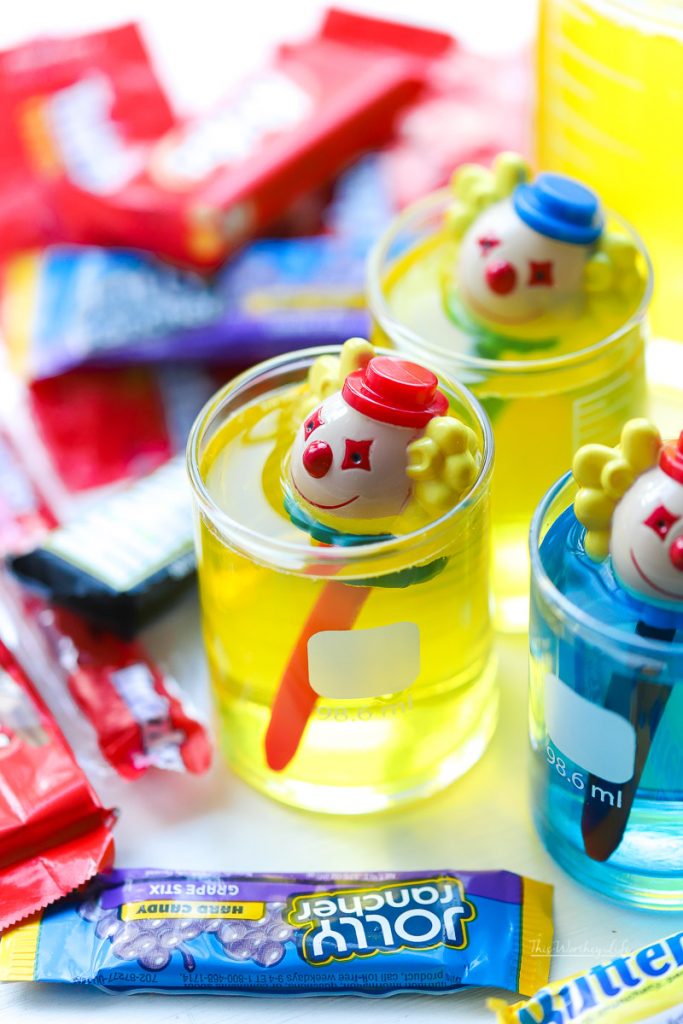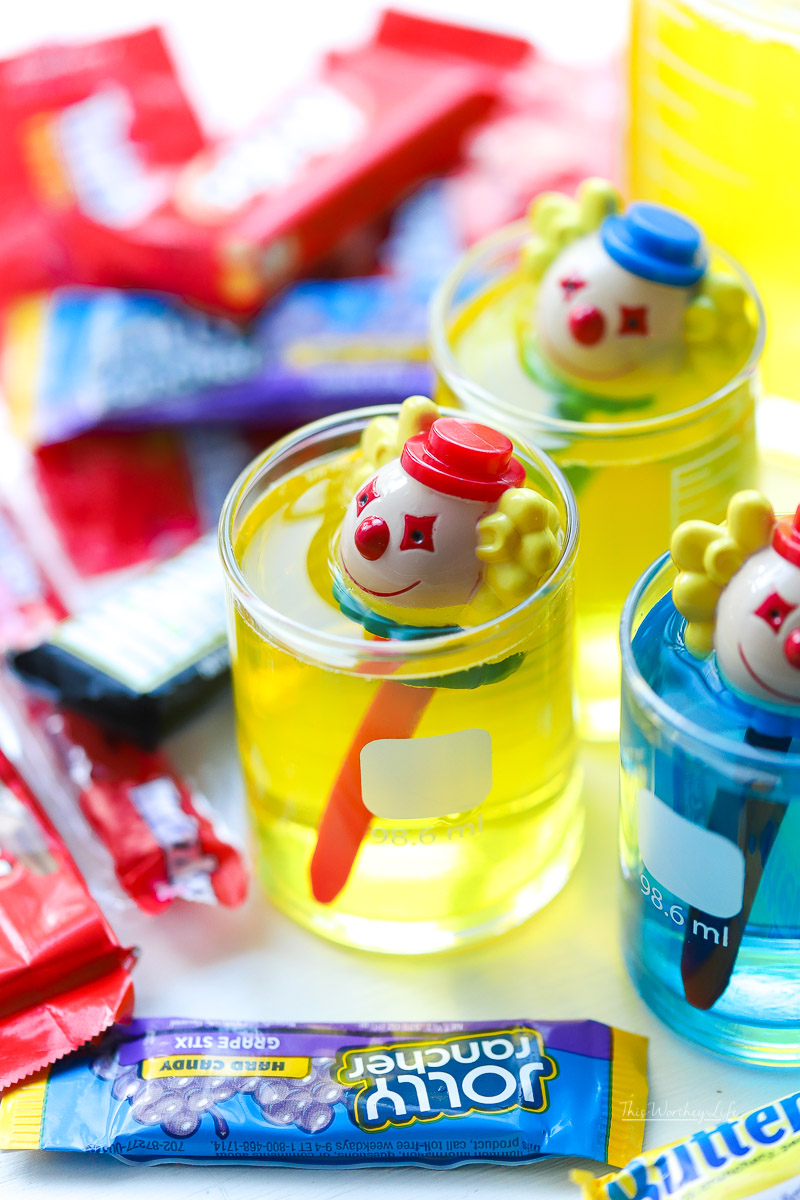 Halloween calls for all things creepy and fun! We've created some pretty cool but creepy clown Jell-O shots.
Frightening Fudge & Bark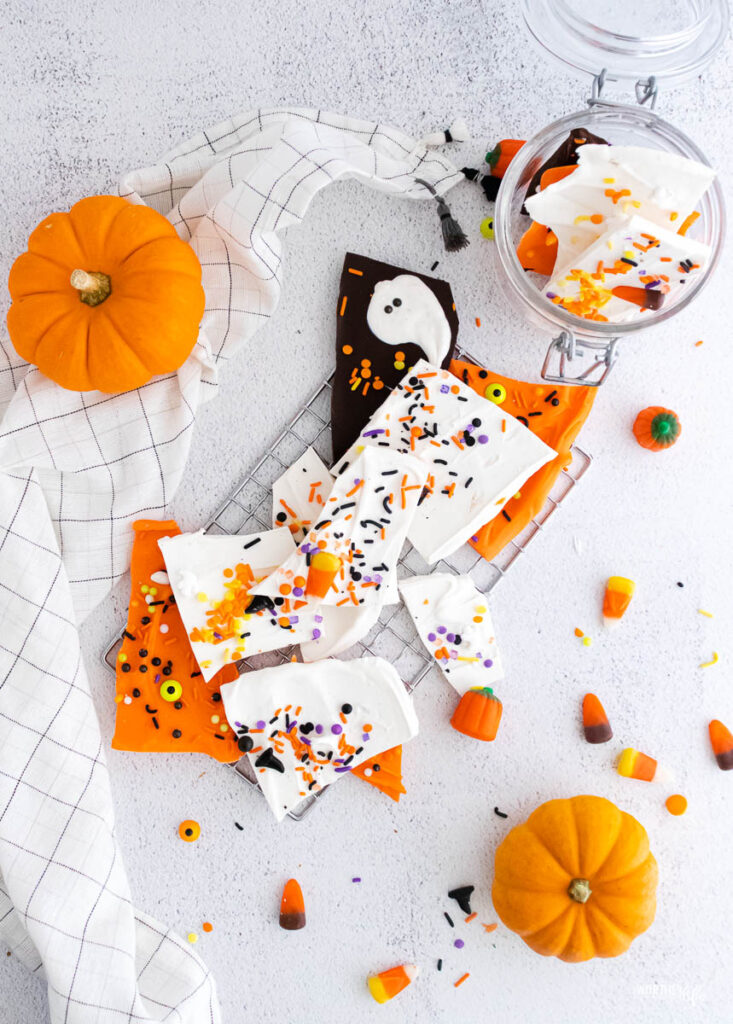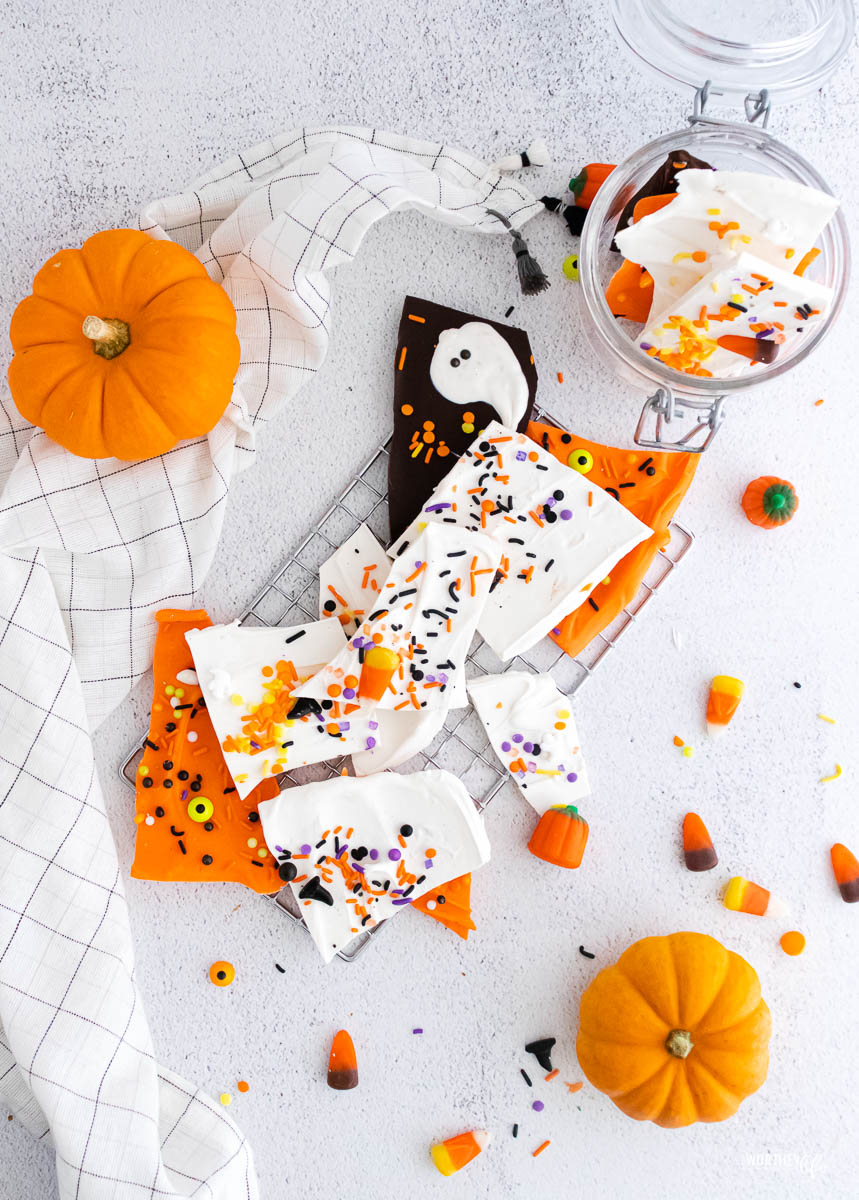 Halloween Chocolate Bark is a brightly colored chocolate bark with bold Halloween vibes.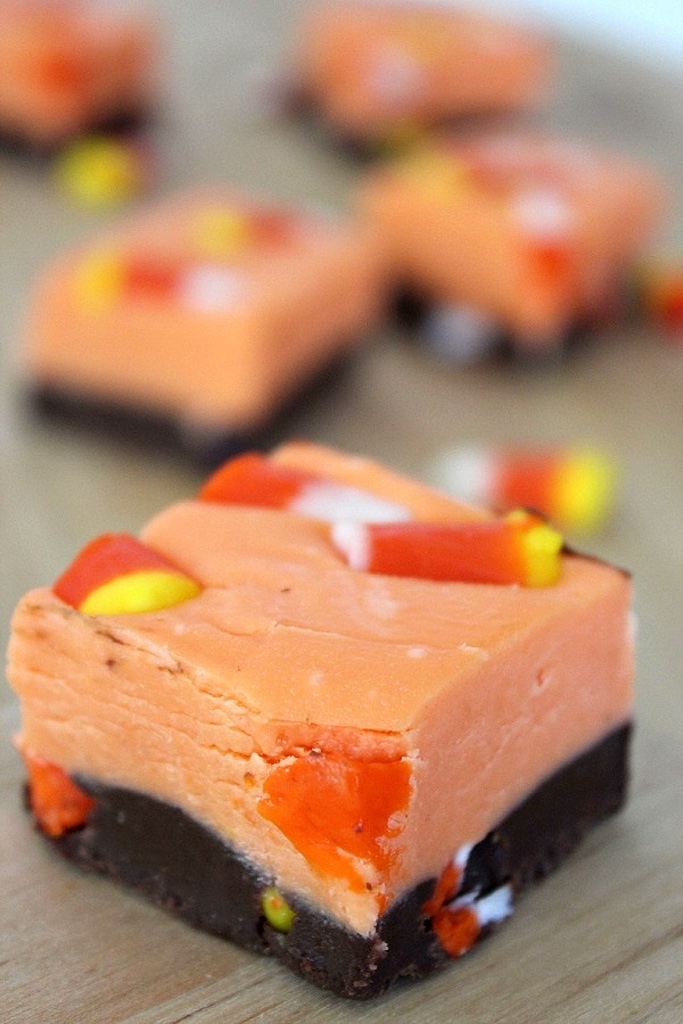 Layers of creamy chocolate and smooth vanilla fudge studded with pieces of candy corn.
A festive Halloween snack idea for a party!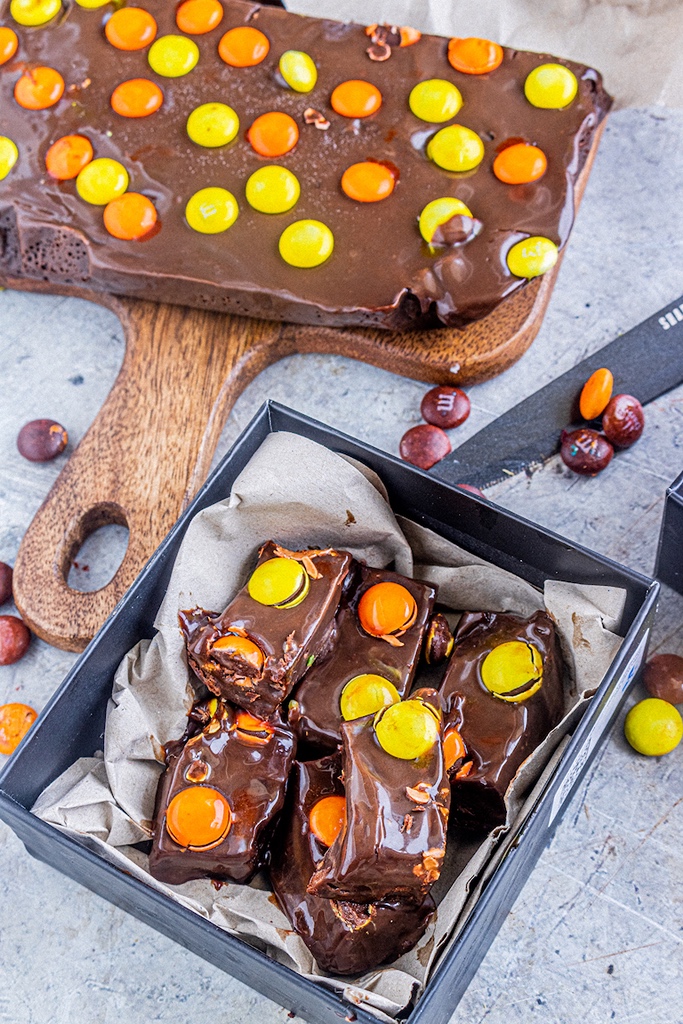 Just in time for Halloween, this decadent chocolate fudge is all decked out with orange and yellow candy.
It's so tasty and easy to make you'll want to keep a batch on hand all year round.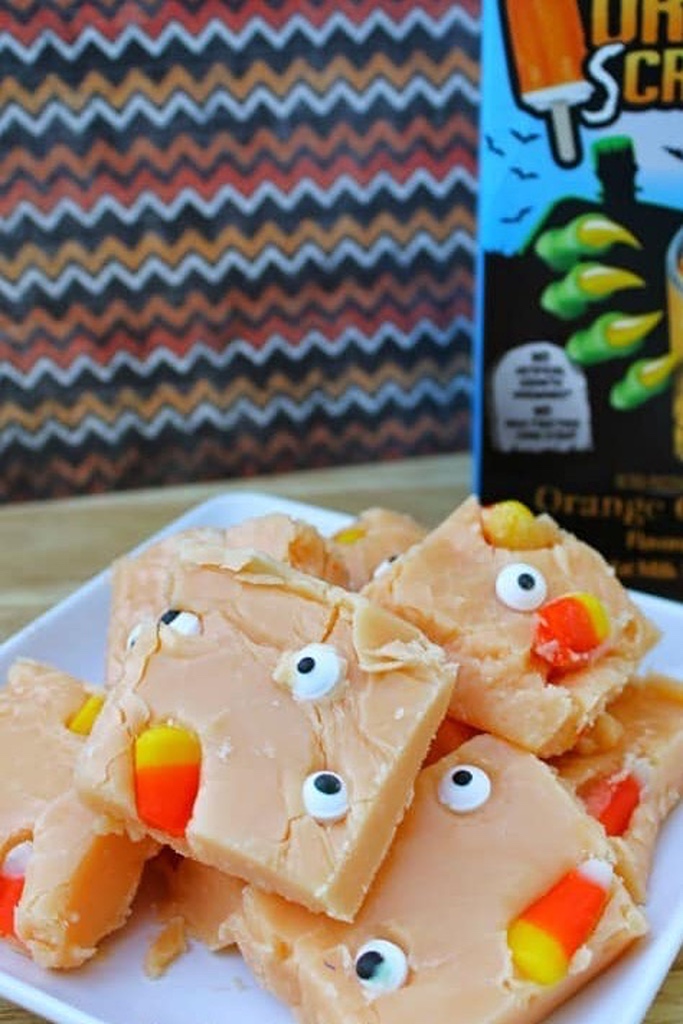 This Microwave Fudge recipe is full of sprinkles and candy corn and is so easy to make!
It only needs five ingredients and is the perfect simple appetizer for Halloween or Thanksgiving!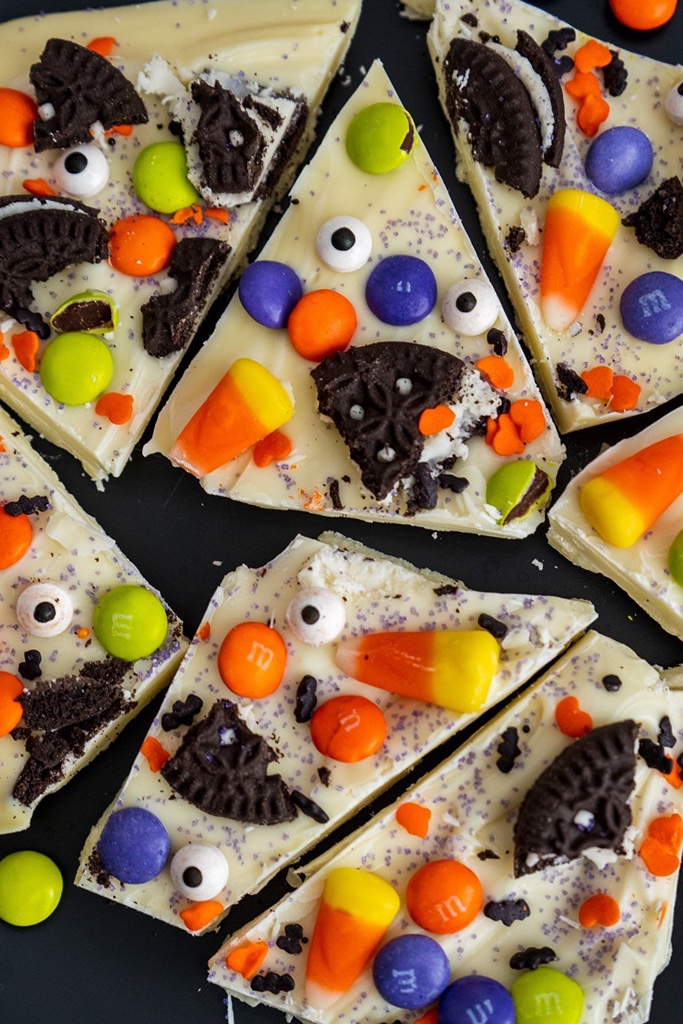 So easy to make and absolutely delicious, this candy bark will spook up any party or get-together.
The best part is that it's one that the kids can help make.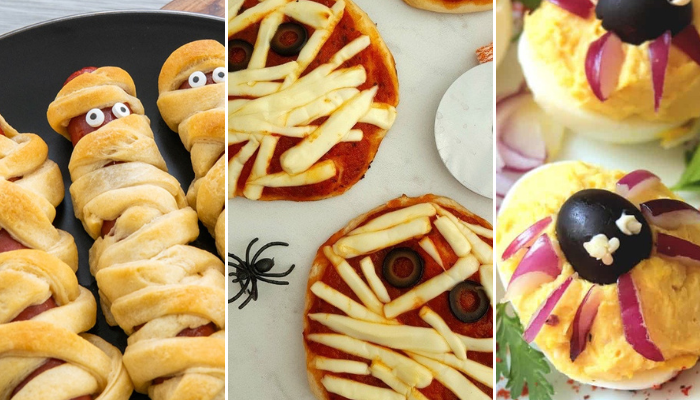 What's the easiest appetizer to make for Halloween?
The easiest appetizer to make on Halloween would have to be a no-bake treat.
For example, fudge or candied apples!
You're surely in the spooky spirit if you finish the entire list of tasty Halloween party food snacks and appetizers.
These undead ideas will impress a crowd on All Hallows' Eve!
Find more Halloween ideas below:
20 Creative Cricut Halloween Ideas
Orange and Black Halloween Party Idea