Get inspired with our Hocus Pocus Themed Party Idea.
We're sharing tips on how to create a Halloween-themed party and watch party.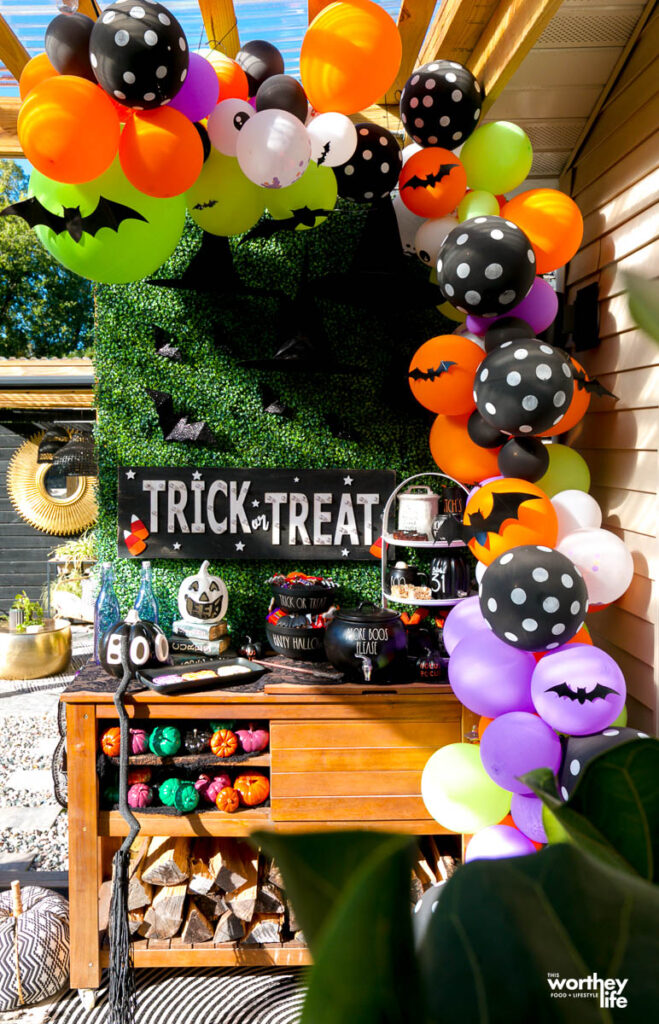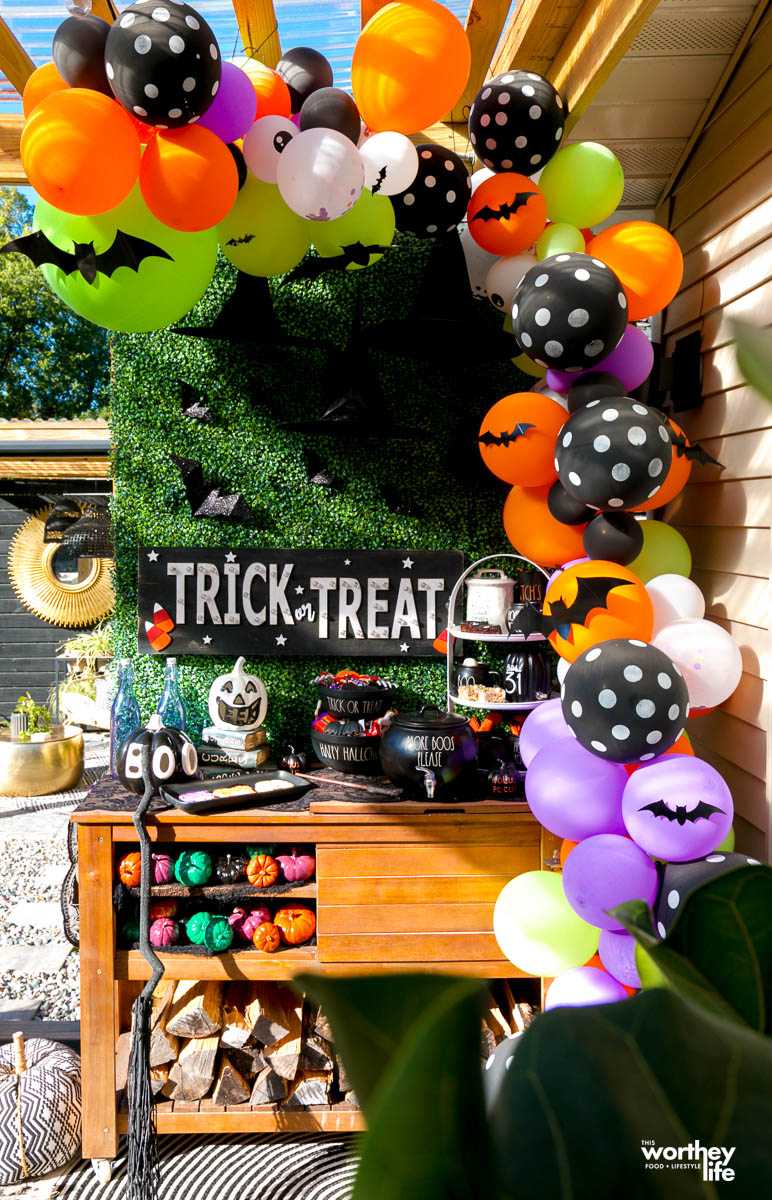 Hocus Pocus 2 is currently streaming on Disney Plus, so this party idea is great for a movie night or a themed party idea.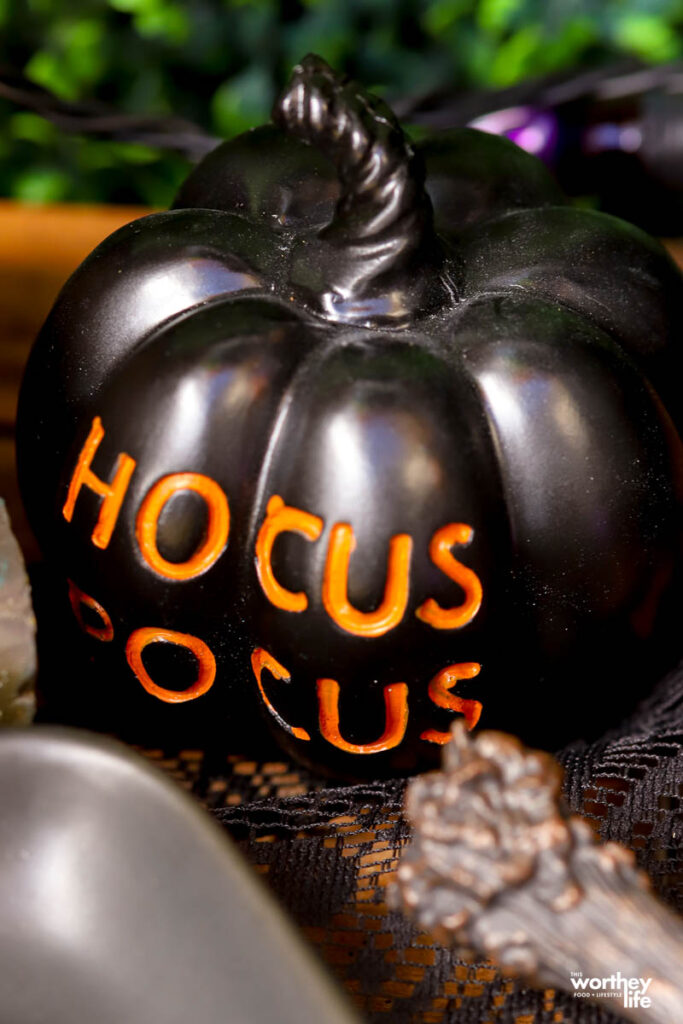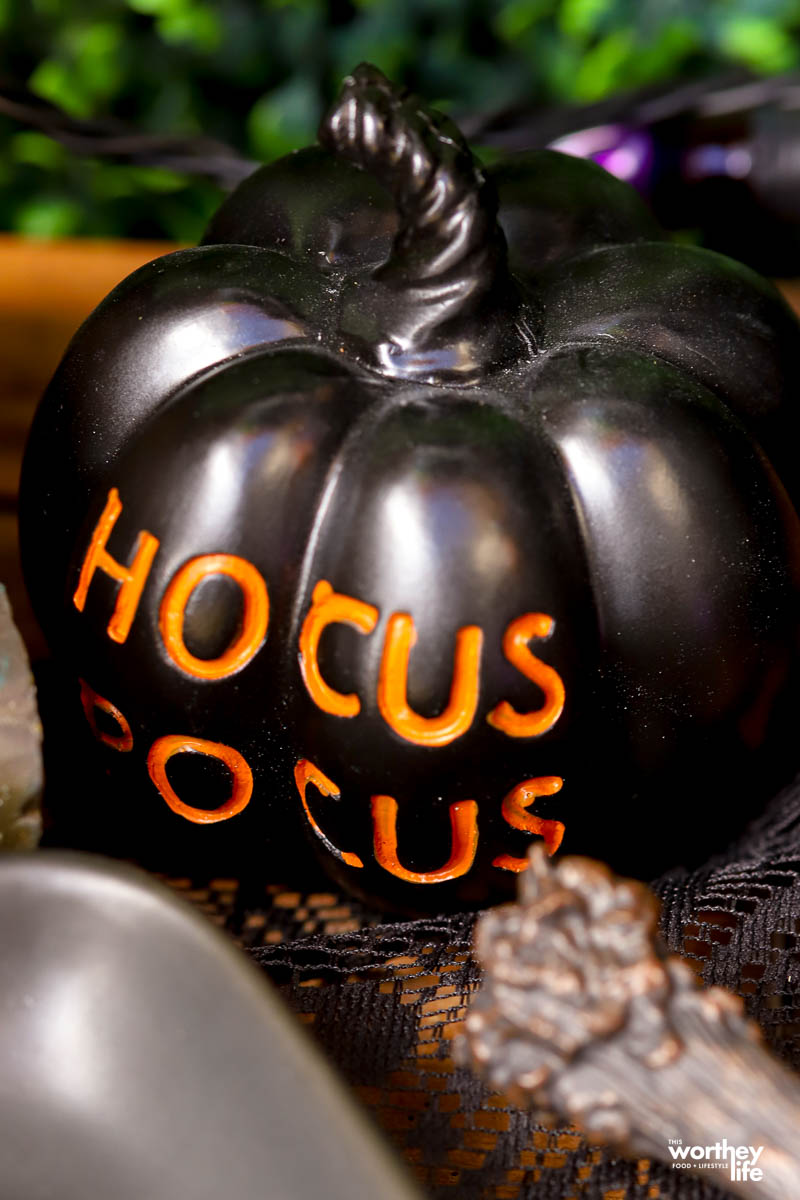 What is the Hocus Pocus movie about?
Hocus Pocus is a 1993 American fantasy comedy film that follows a villainous comedic trio of witches (Bette Midler, Sarah Jessica Parker, and Kathy Najimy) who are inadvertently resurrected by a virgin teenage boy (Omri Katz) in Salem, Massachusetts, on Halloween night. [source]
When did Hocus Pocus first come out?
The first movie came out on July 16th, 1993. You can currently stream it on Disney Plus. It also airs on Freeform (formerly ABC Family) during the month of October.
What is Hocus Pocus 2 about?
It's been 29 years since someone lit the Black Flame Candle and resurrected the 17th-century sisters, and they are looking for revenge.
Now it is up to three high-school students to stop the ravenous witches from wreaking a new kind of havoc on Salem before dawn on All Hallow's Eve.
When does Hocus Pocus 2 come out?
Hocus Pocus 2 is currently streaming on Disney+ original film. The release date was September 30th, 2022.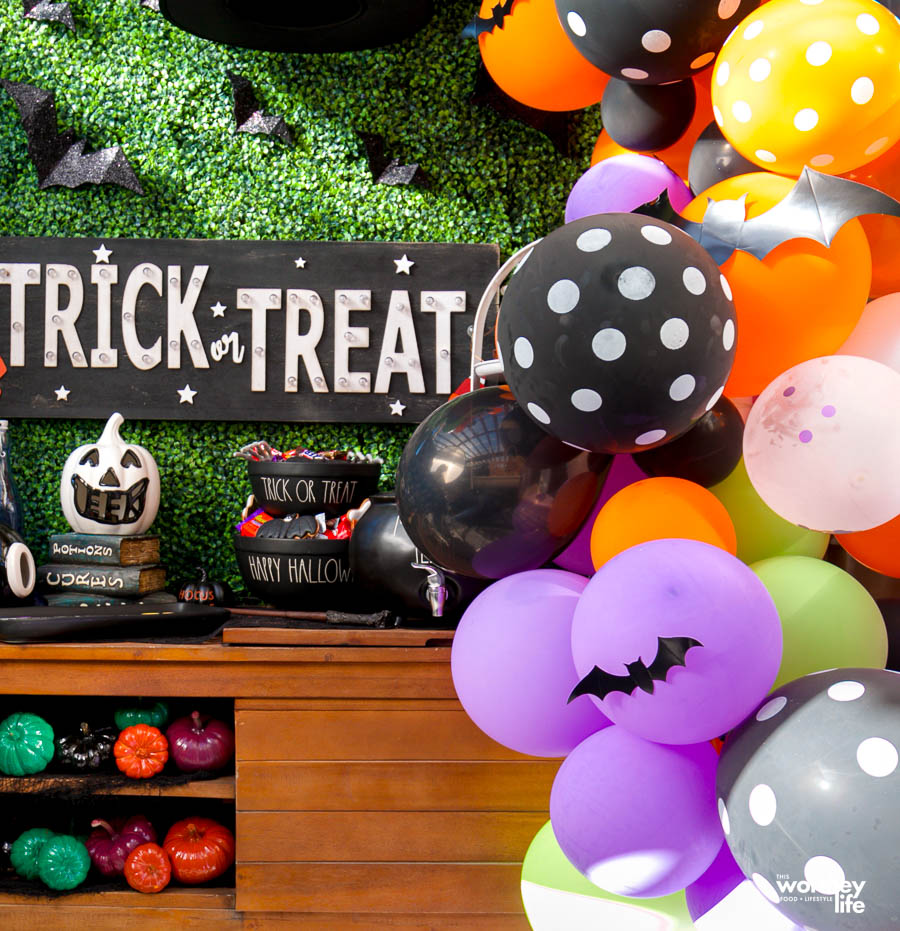 Here's how we put our party idea together.
We're sharing how we put together our party idea.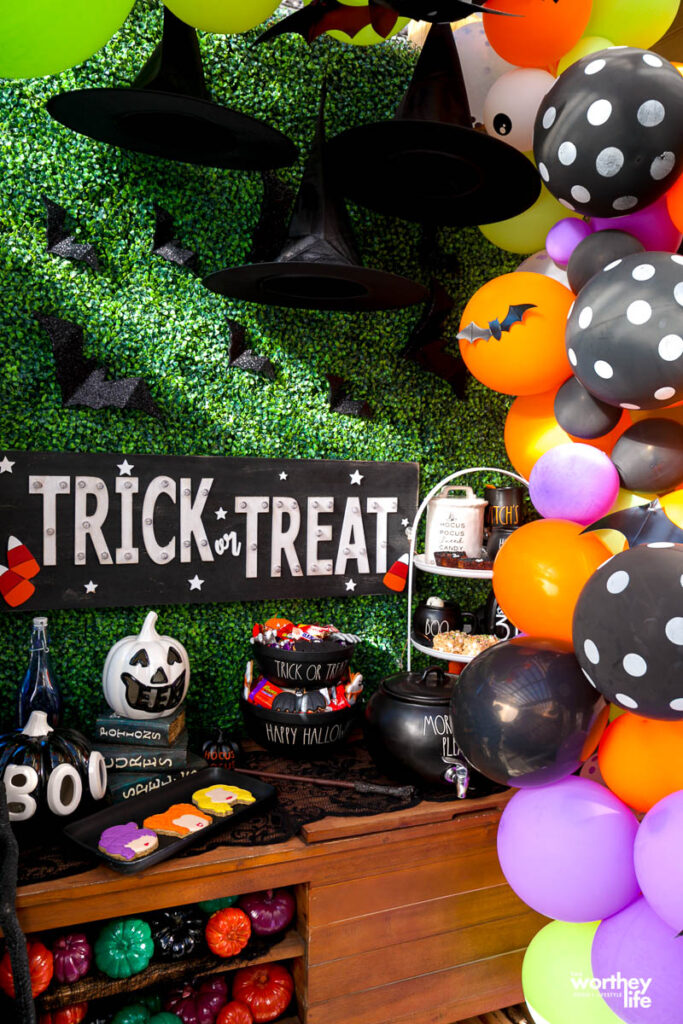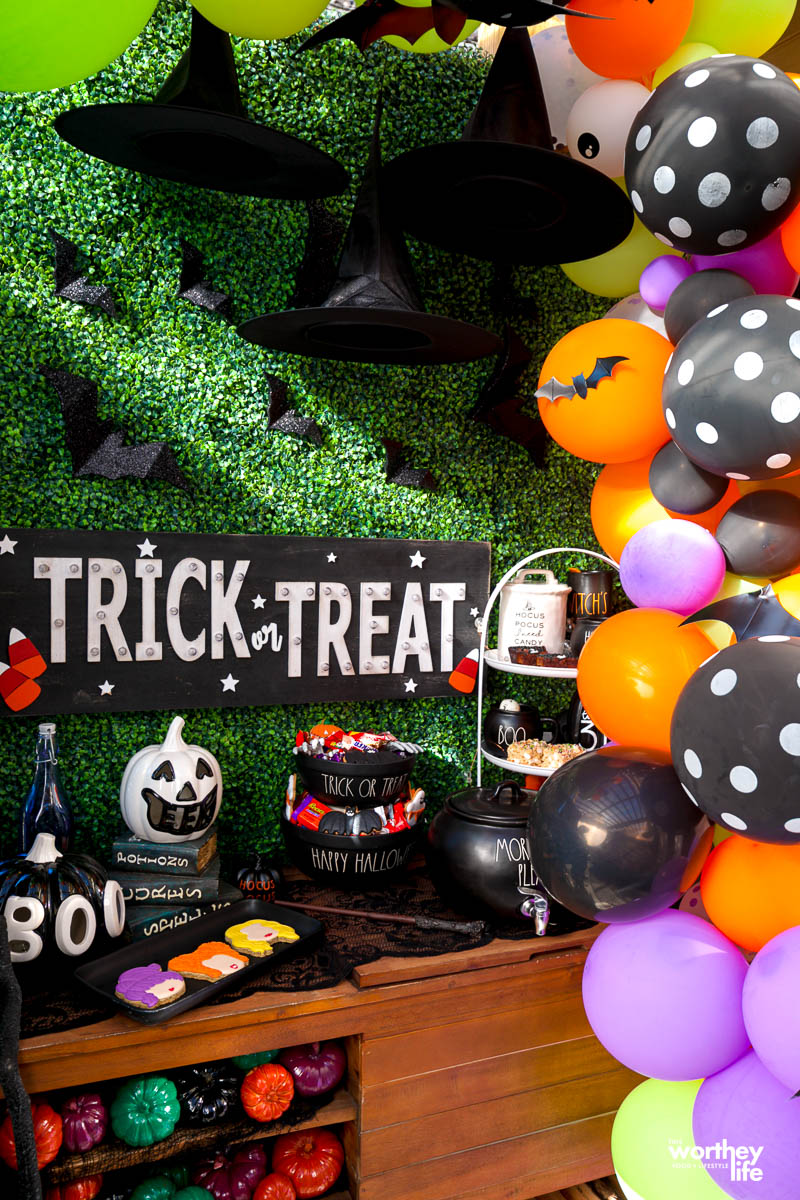 Ideas on creating a Hocus Pocus party:
Start with the colors of the Sanderson sisters. We're using the colors of their robes and hair for our color inspiration.
Decorate with mini pumpkins. We spray painted several mini pumpkins green, orange, purple and black.
Balloon garland. If an instant pop and decor idea, having a balloon garland is essential. I love using balloon garlands for our party set-ups. This specific balloon kit included the pictured balloons, mini bats, a boo balloon, and a larger bat balloon. You will also need a balloon pump.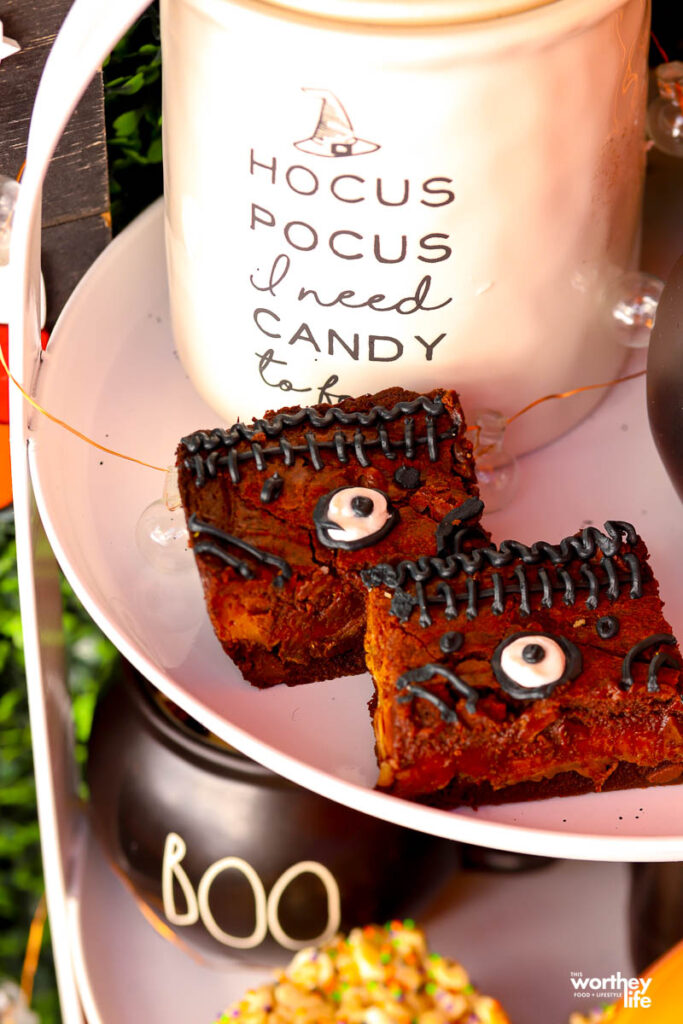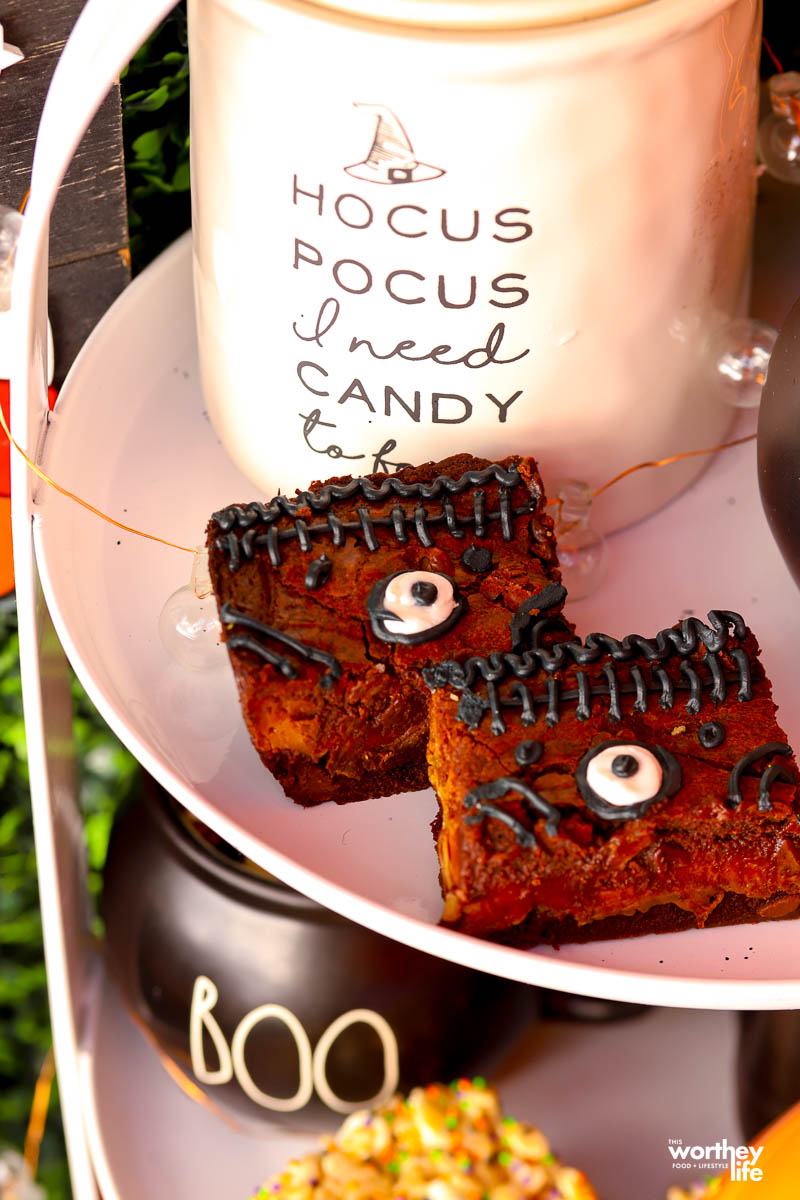 Themed food. For a Hocus Pocus party, having themed food is fun and can also be a decor element.
You can create a Hocus Pocus charcuterie board, have Sanderson Sister-shaped cookies, book brownies, and more.

Here are some Halloween food ideas to serve:
How To Make Halloween Witch Fingers
Halloween Witch's Broomstick Treat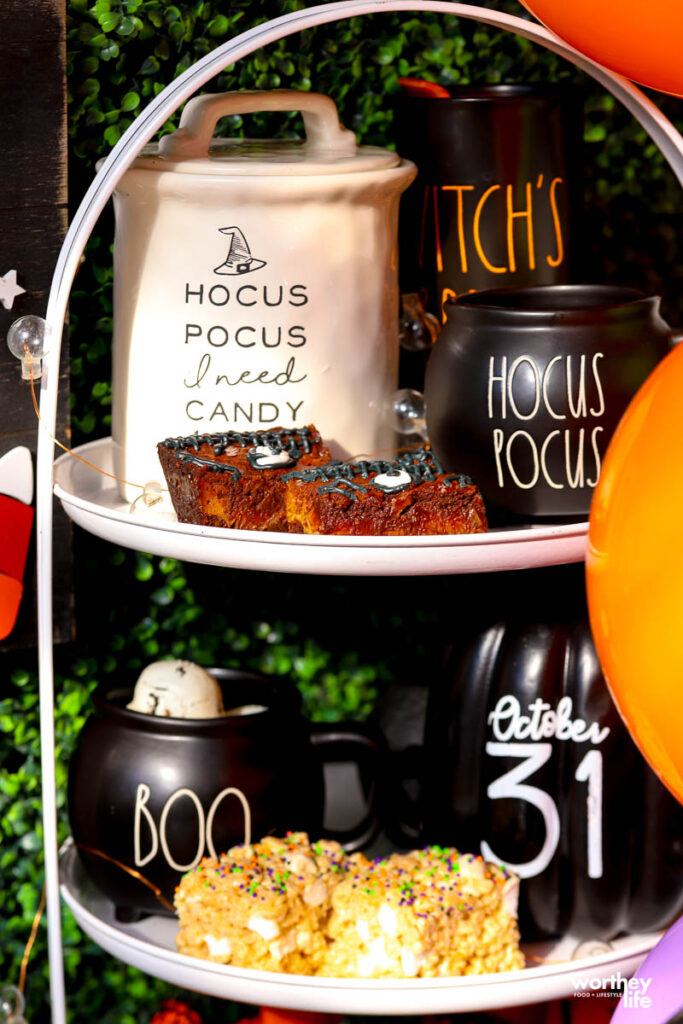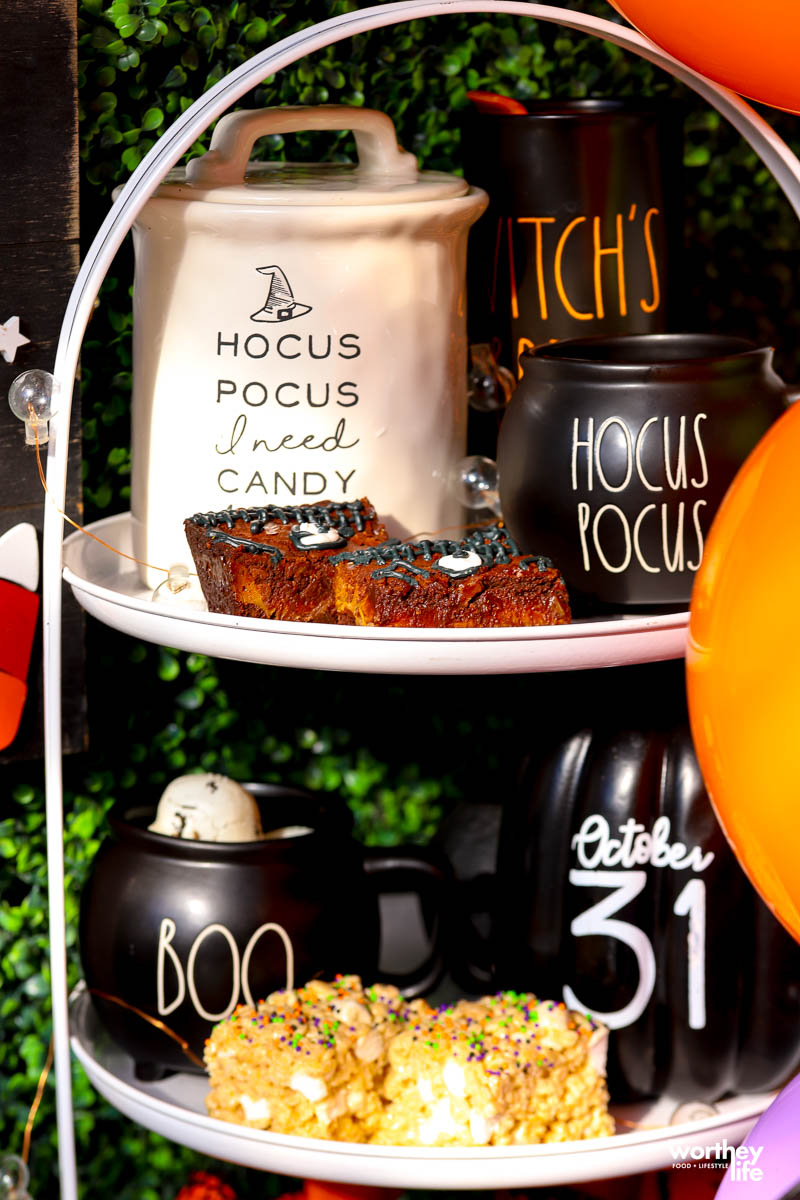 Halloween decor. We preferred to use various Halloween decor itemset-up for any type of Halloween get-together.
black Rae Dunn Halloween bowls
Rae Dunn Drink Cauldron + mugs
Glass black + white pumpkins (Home Goods)
Spell Book (Home Goods)
Trick or Treat sign (Home Goods)
3d Bats (Kirkland's)
Hocus Pocus I Need To Focus candy jar (Pier 1)
Glass Purple Bottles (Michael's)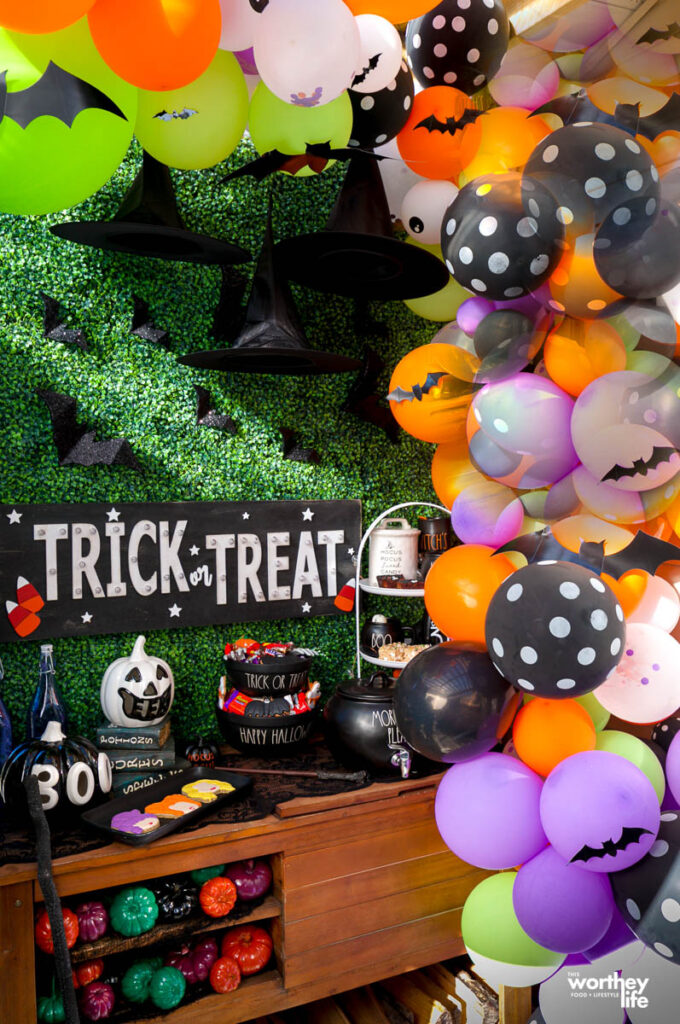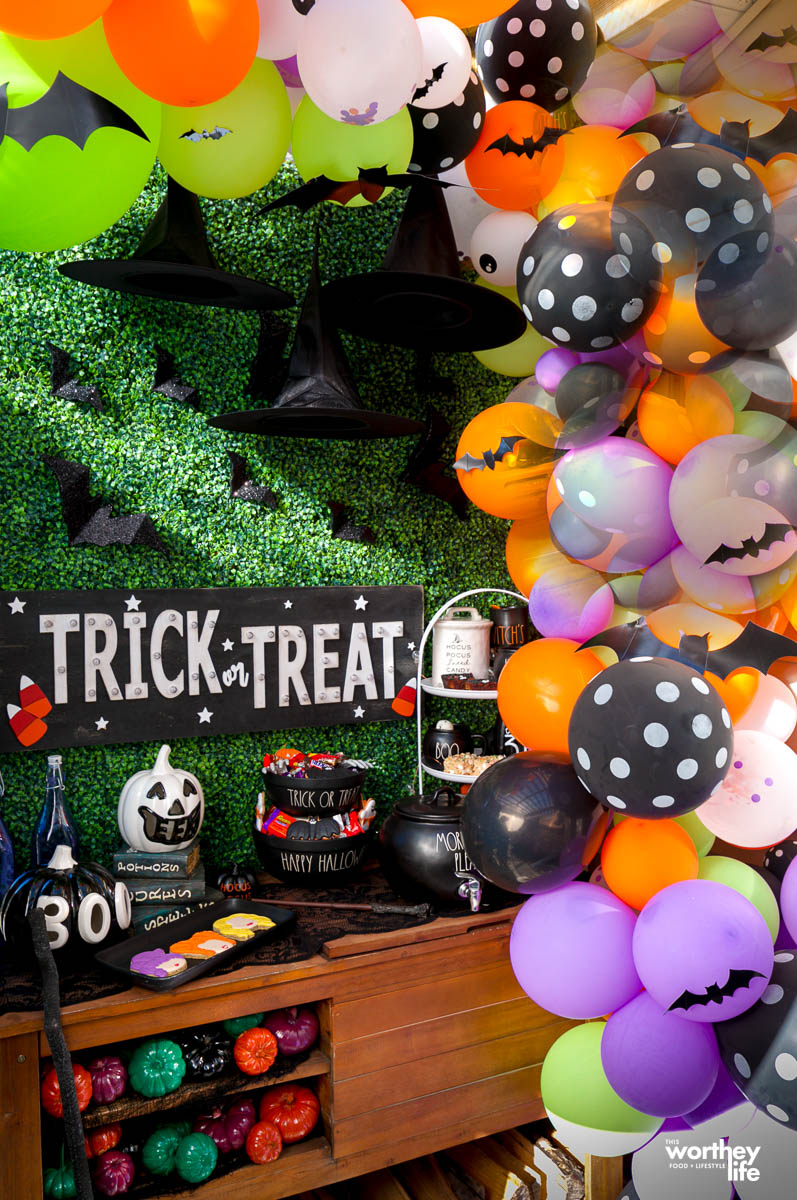 We included a broomstick, hung three black witches' hats from the ceiling, a wand (Harry Potter), and Sanderson sister-shaped cookies to bring in thetheme. The witches' hats and broomstick are from Party City.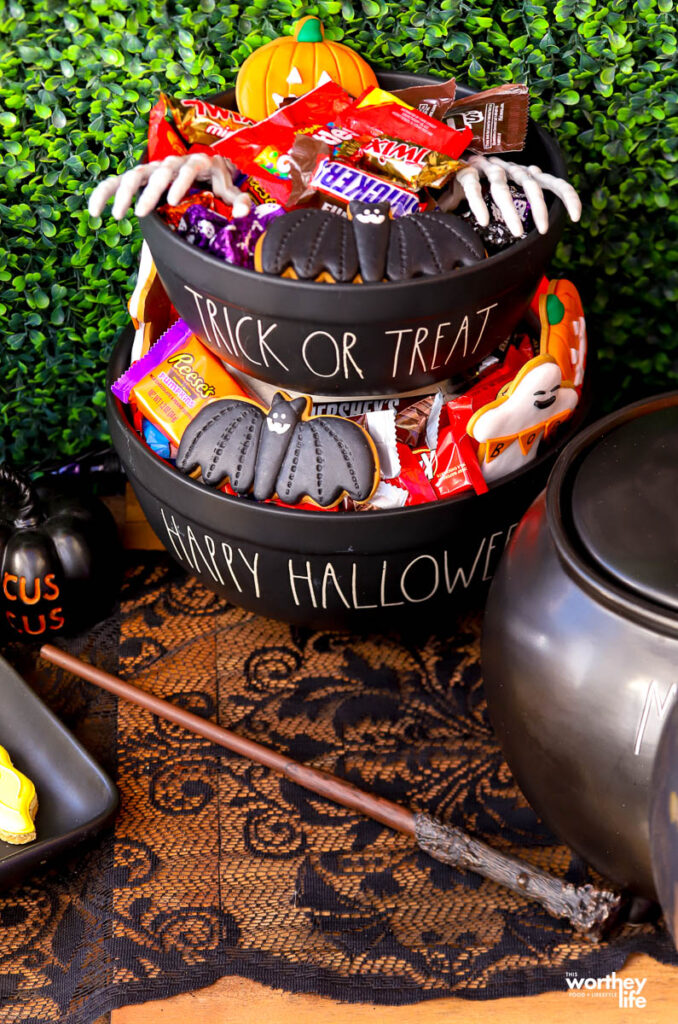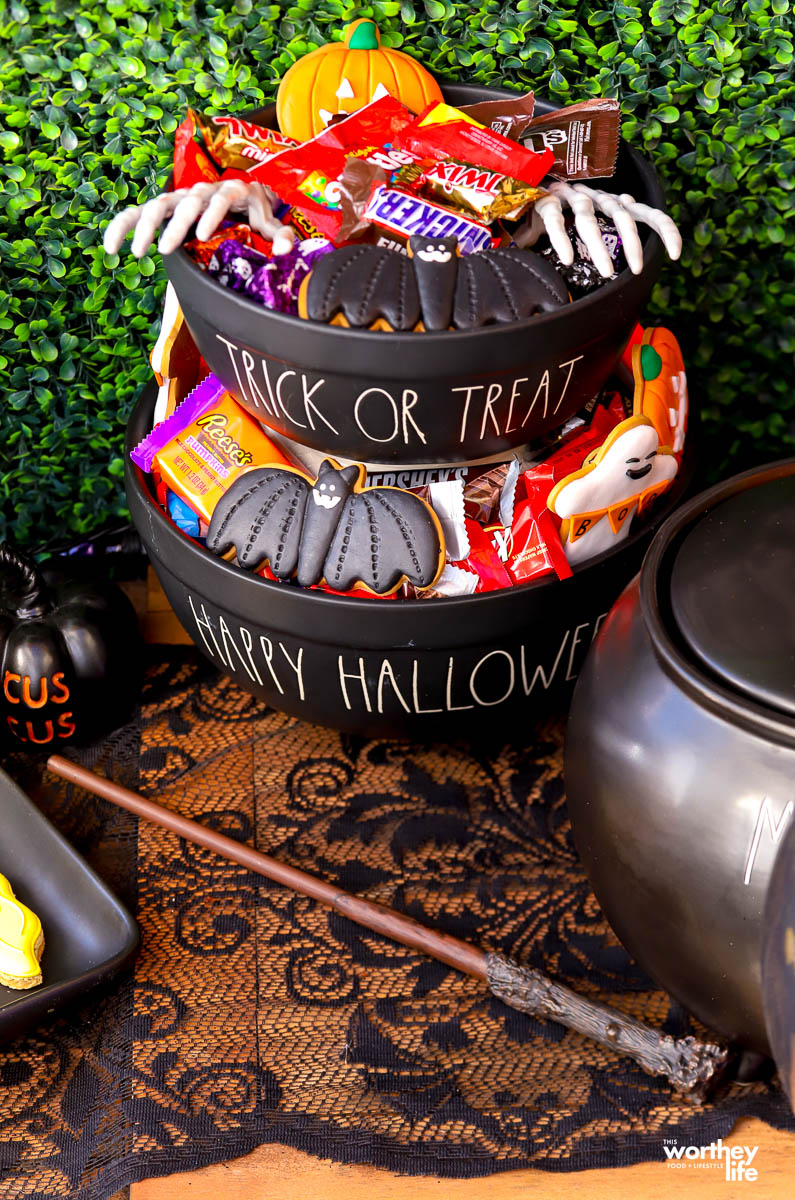 The Rae Dunn Halloween bowls are stacked to create a tiered look filled with pieces of Halloween candy.
We added a pair of skeleton hands in the top bowl for extra Halloween fun.
Additional decor ideas: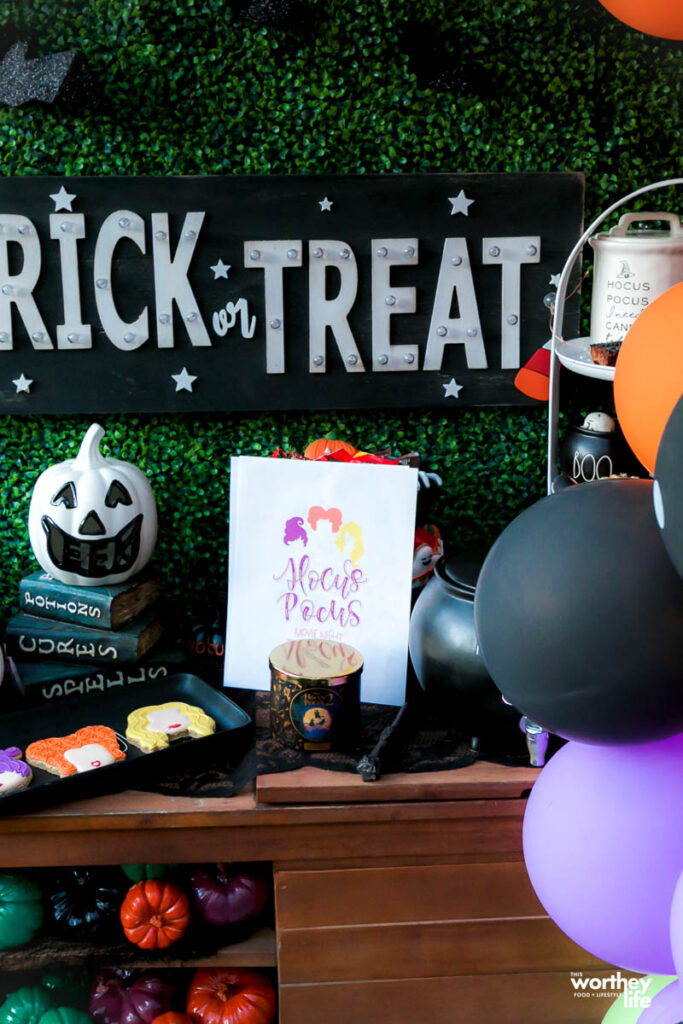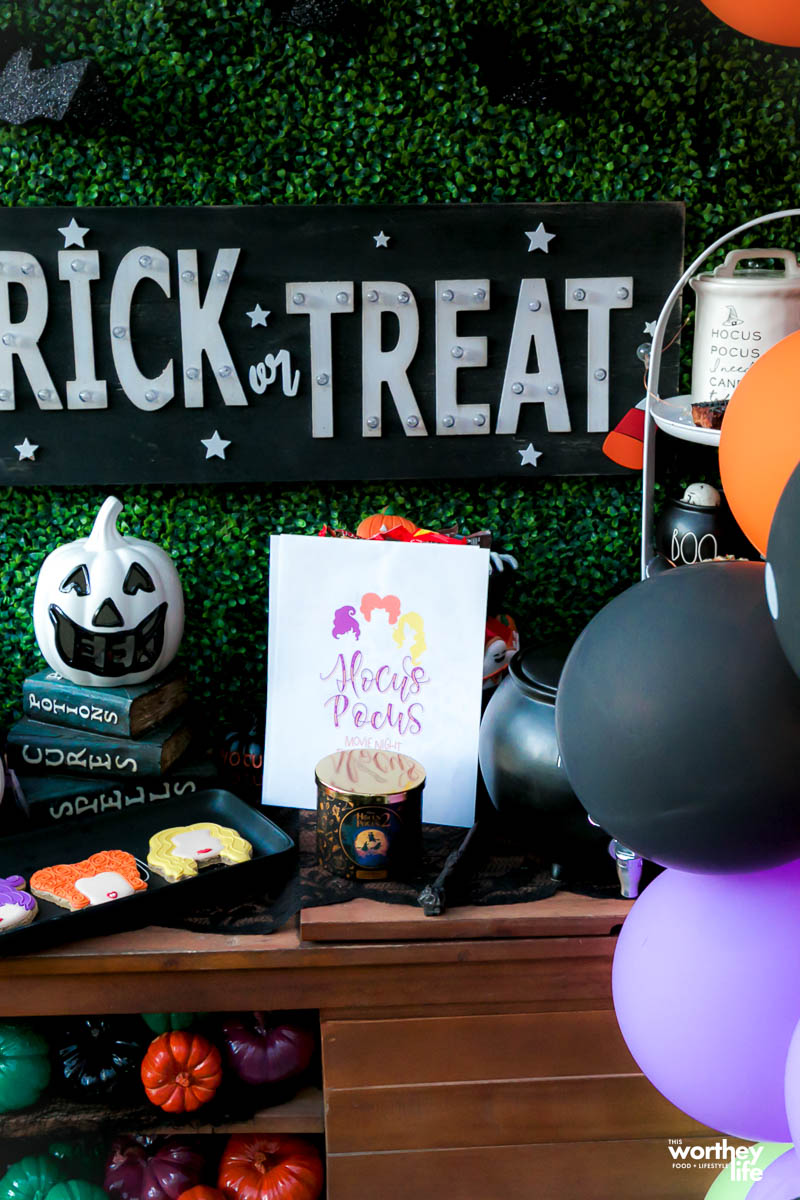 This idea is easy to put together. Be sure to grab our free Hocus Pocus movie night printables!
If you're planning a watch party this weekend, this would be a fun idea to set up as a snack station.
We created this set-up outside for an outdoor watch party, but it will also work indoors.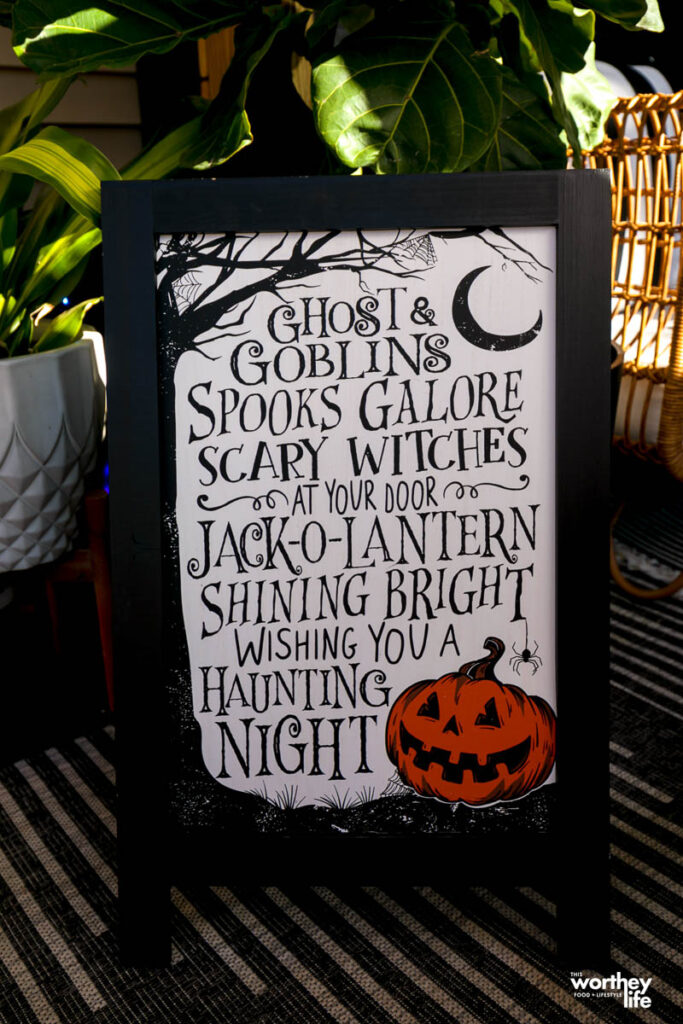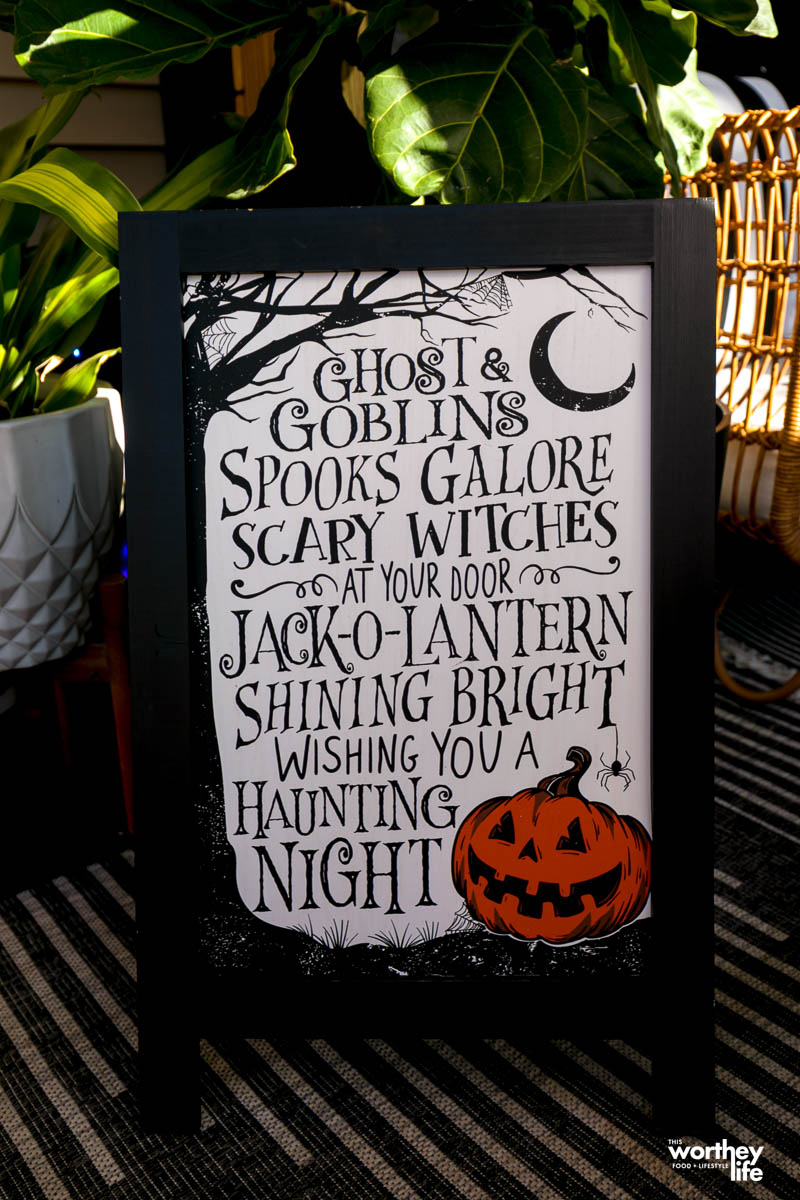 If you are having your Hocus Pocus movie night outdoors, be sure to get our tips on an outdoor movie set-up.
We hope this Halloween party idea gives you ideas and inspiration for your party.