This easy Gumball Machine Ornament might be the cutest DIY holiday decor in ornament history! Why decorate your tree with storebought ornaments when you can easily make your own instead?
Make sure to check out my Christmas Tree Wine Cork Ornaments for another super fun holiday DIY craft idea!

Christmas DIY Idea – Gumball Machine Ornament
Decorating the Christmas tree is such a fun family activity but making the ornaments to put on the tree- literally the best!
Making homemade Christmas tree ornaments is a great activity if you're ready to start making fun holiday crafts. You can start early, and you might have enough to cover your entire tree by the time Christmas rolls around!
The best part about making this Gumball Machine Christmas Tree Ornament is that it's straightforward to make.
Gather the list of simple supplies needed below and get started on creating fun holiday memories and traditions.
Christmas DIY Ornament Ideas:
Edible Red Chocolate Candy Ornaments
Frozen Inspired White Chocolate Candy Ornaments ­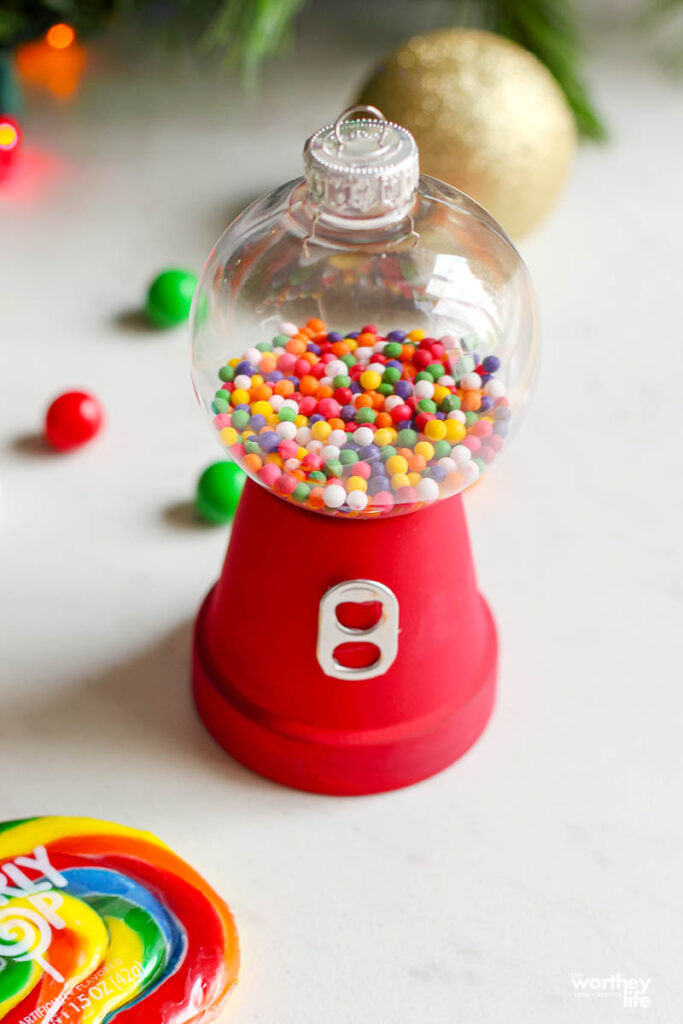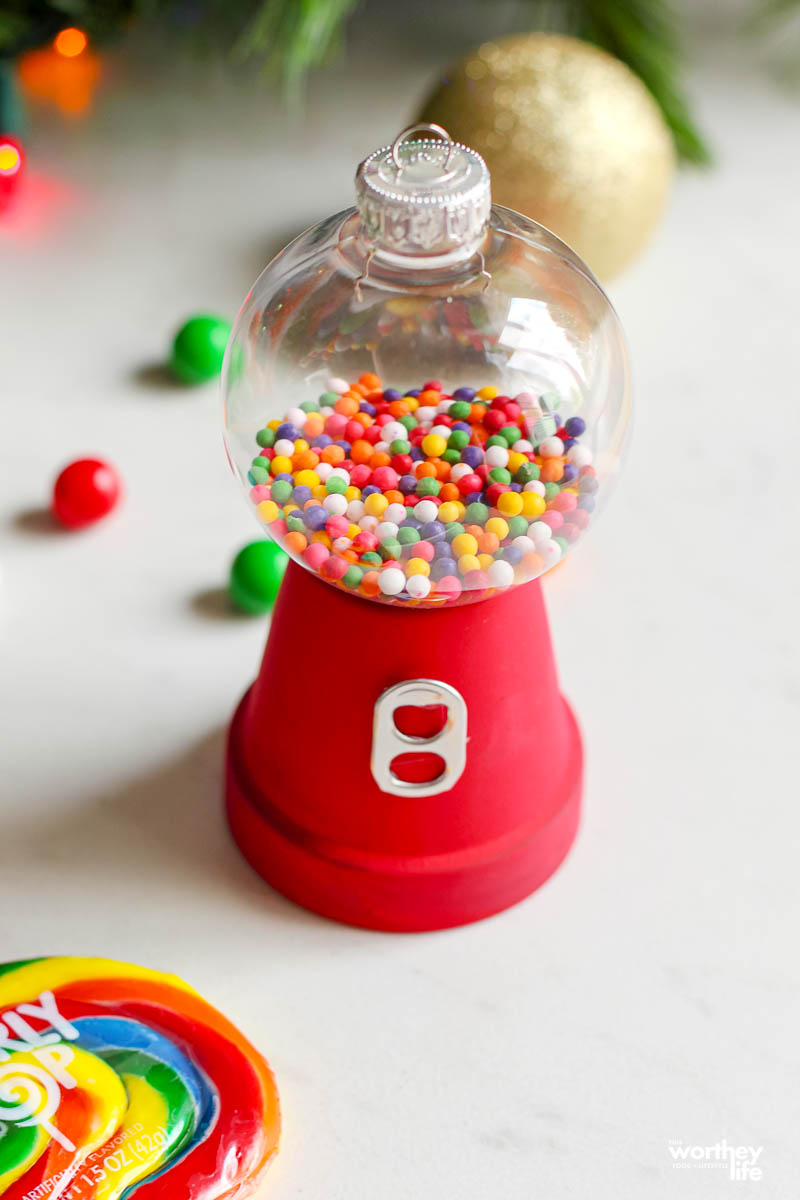 If you're nostalgic for gumball machines, check out this idea for an Upcycled DIY Gumball Machine.
Supplies Needed To Make A Gumball Machine Christmas Tree Ornament
Jumbo multi-colored nonpareils sprinkles
Red acrylic paint
Paintbrush
Soda can tab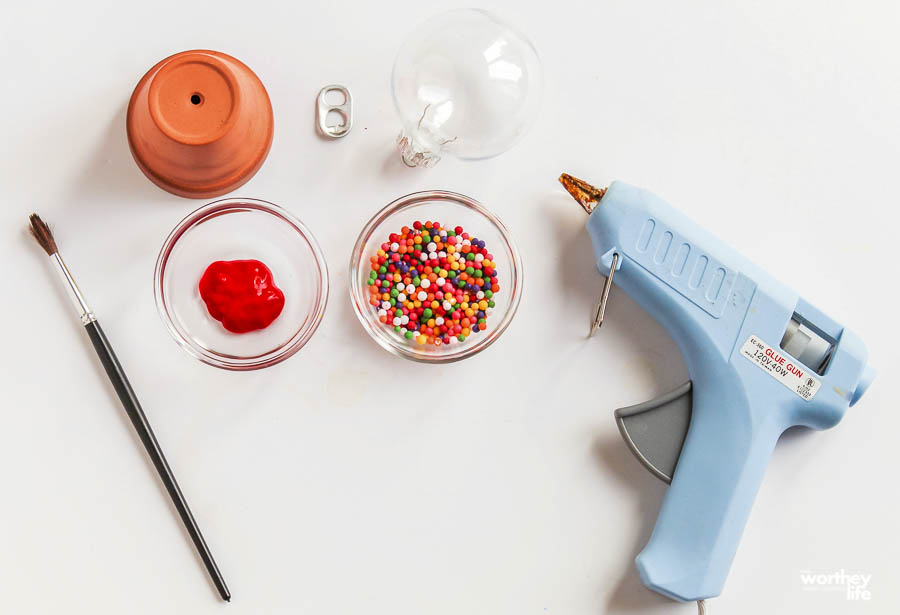 How To Make A DIY Christmas Tree Ornament
Paint the terracotta pot red and allow it to dry completely.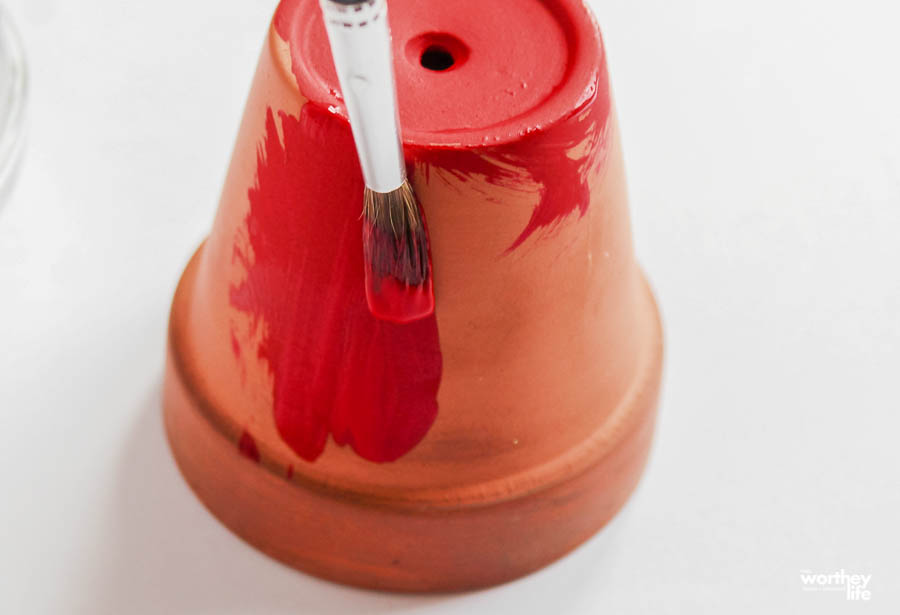 Remove the top from the plastic ornament. Place the ornament in a bowl to catch any extra sprinkles. Pour the sprinkles inside, then place the top back on and set aside.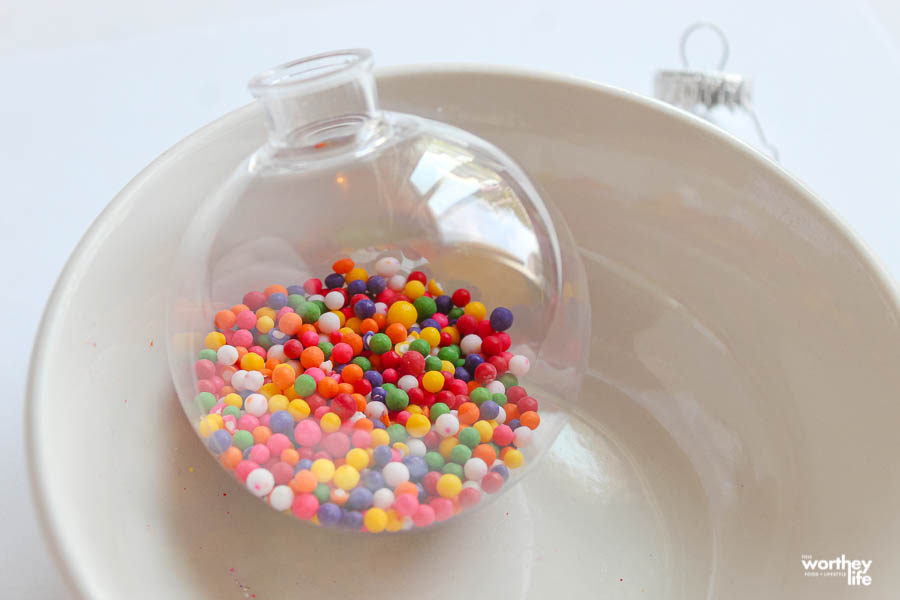 Once the red-painted pot is dry, place it face-down and use a hot glue gun to add a thick circle of glue in the center. Immediately place the bottom of the filled ornament on the glue.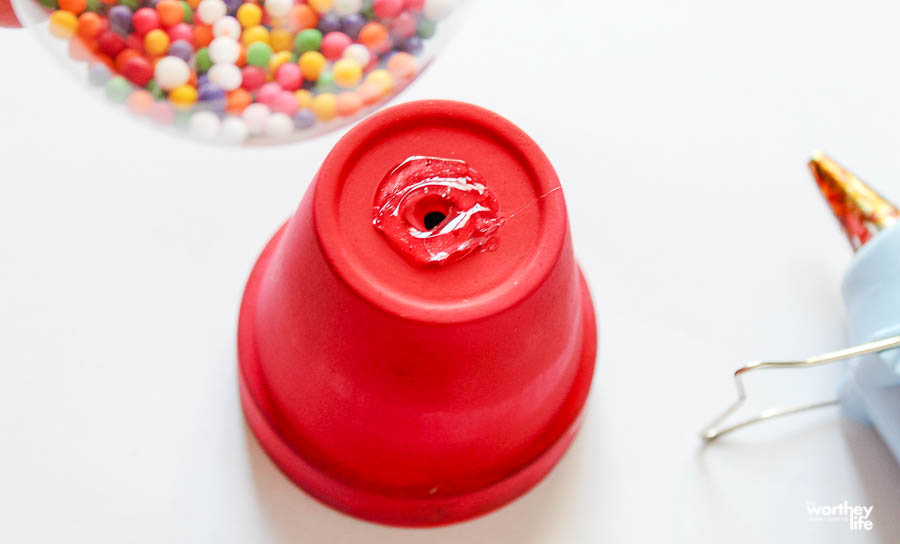 Add a thin layer of hot glue on the back of the soda can tab and place it centered on the side of the pot.
After the glue is set, add a ribbon or ornament hook to the top and hang it on your Christmas tree or give it as a beautiful handmade gift!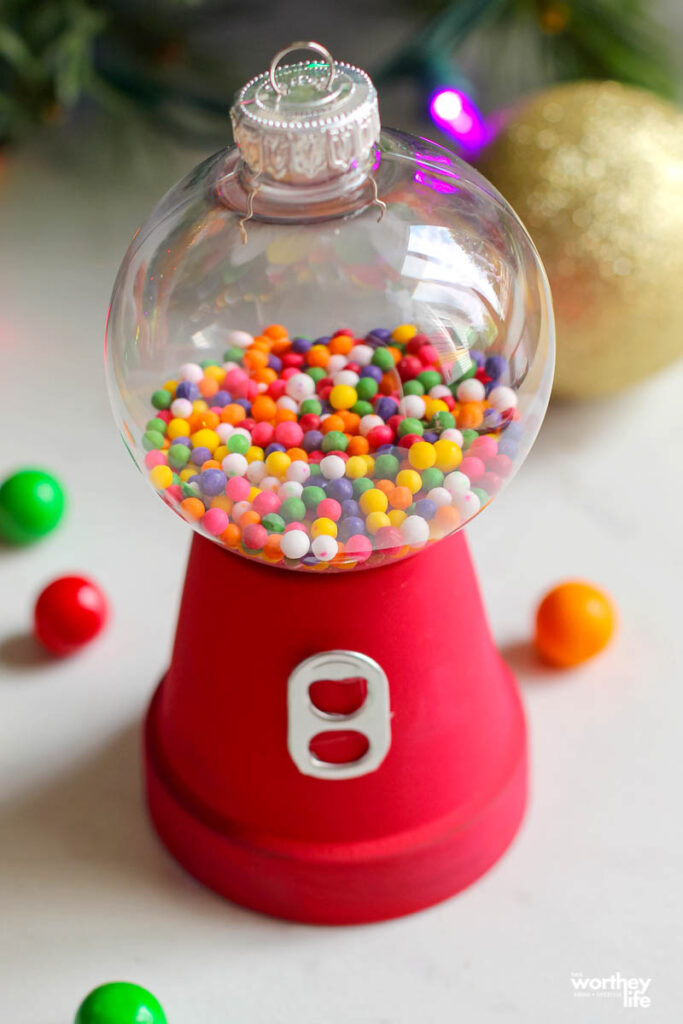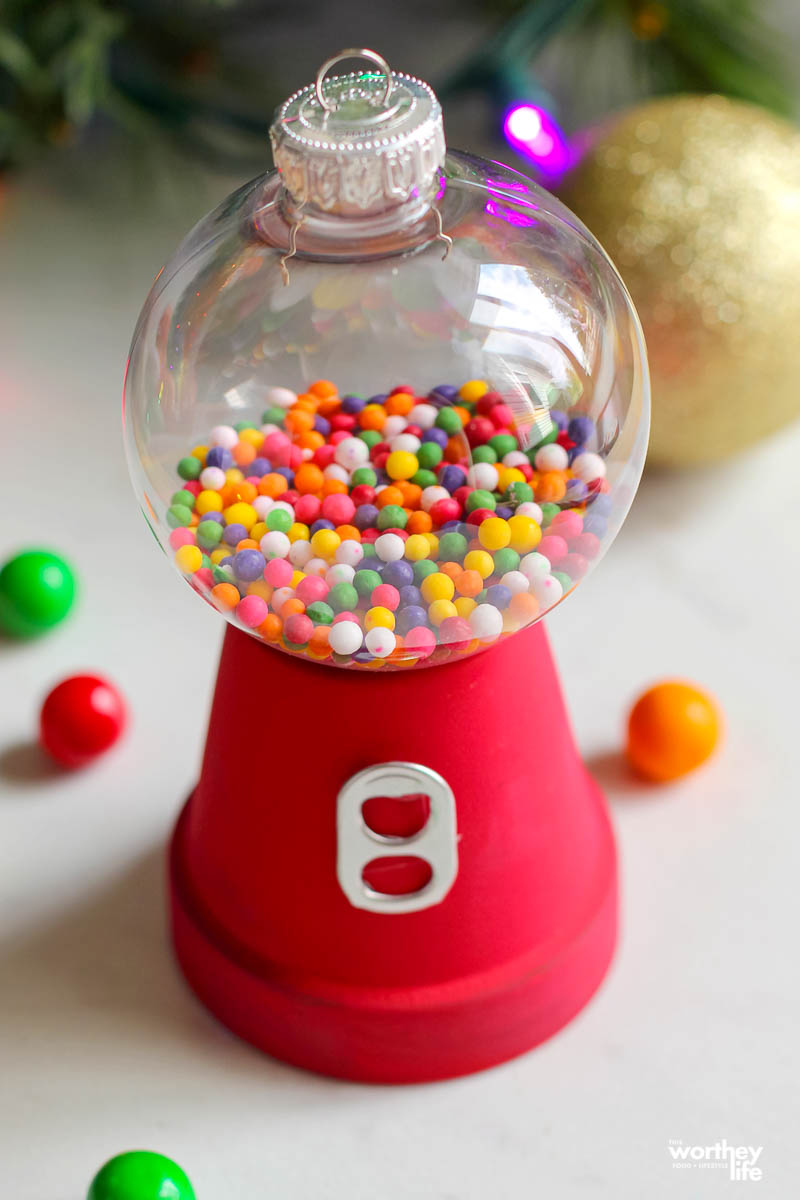 Would this make a great homemade holiday gift?
Absolutely! There are family members and friends who would cherish this gift idea. Giving the gift of anything homemade shows love and thought were put into it – and that makes for the best gift ideas ever! I remember when the boys were little, and they would bring home ornaments made at school. They were tacky, but I loved them because my kids made them for me.
If you're looking for a simple DIY ornament that will give your holiday tree a fun and funky look, why not make this easy gumball craft? Hanging this homemade ornament on your tree is sure to draw the eyes directly to it and have everyone loving the creativity!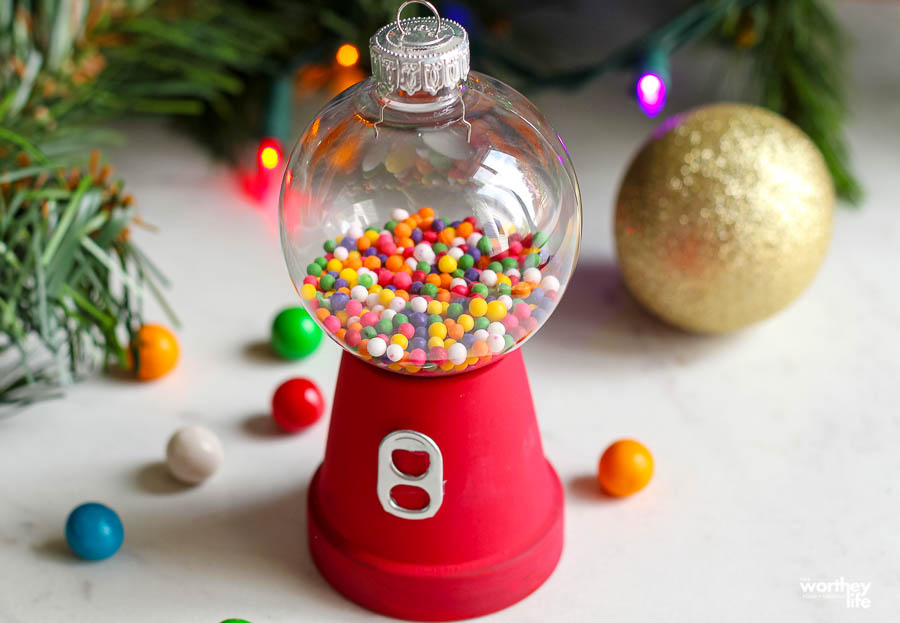 When you're ready for a family fun activity for the holiday season, sit down and create this ornament. Get enough supplies for everyone to join in, and you might have a tree full of gumball machines!
More Holiday Fun