This holiday season, bring extra flavor to your holiday dinner by trying our Grilled Honey Salmon. Along with Smoky Cranberry + Apple Sauce, grilled red skin potatoes and asparagus, this is a recipe perfect for your holiday dinner or any time of the year. So, let's get grilling!

Holiday Recipe | Grilled Honey Salmon
When it comes to grilling, a true grillmaster doesn't let the rain, snow, or below freezing temperatures stop the feelin' of grillin'! And with Kingsford® Original Charcoal as my wingman, it's going down every day of the year. Recently, I got a taste for my Grilled Honey Salmon (which is a great holiday dish), and I knew I would have to bundle up and fire up the grill and prepare a delicious smoke-infused meal any serious griller would be proud to serve up.
Just because it's cold outside doesn't mean the grilling has to stop. We have a snowstorm on the horizon, and the temps are dropping but that's okay, grilling is going down!
A bit of honey, extra virgin olive oil, green onion, lemon juice, sea salt, and lots of love make for the perfect marinade for this slab of salmon.
I grabbed a 10-pound bag of Kingsford Original charcoal, lighter fluid, and my lighter and fired up my grill. I am cooking salmon, so I used an indirect heat technique which positions the charcoal one side of the grill and leaves the opposite side empty.
While the coals are getting hot, I marinated the salmon in extra virgin olive oil, fresh lemon juice, honey, sea salt, freshly cracked black peppercorns, and green onion for fifteen minutes. When the coals are nice and hot, I brushed the grill rack with canola oil.
I laid the salmon skin-side down and lowered the lid, and cooked it for 8 minutes. Picking up a large spatula, I brushed the grill rack with additional canola oil to prevent the salmon from sticking to the grill.
Pro-tip: If you don't use oil, your salmon will stick to the grill.
Placing the salmon flesh-side down, I closed the lid again and allowed the salmon to grill for another 8-10 minutes.
I paired my salmon with grilled red skin potatoes and asparagus. And if you're a fan of cranberry sauce, you will love my Smoky Cranberry + Apple Sauce. I started it on the stovetop but finished on the grill to get a delicious smoky flavor.
How to grill Salmon
Ingredients:
2 pounds salmon
2 tablespoons extra virgin olive oil
2 tablespoons melted unsalted butter
2 tablespoons fresh lemon juice
2 stalks green onion, sliced
4 tablespoons honey
1 teaspoon sea salt
1/2 teaspoon freshly cracked black peppercorns
2 tablespoons canola oil
1 lemon, cut into thin slices and grilled over the hot charcoals
Equipment:
Charcoal Grill
Large spatula
Brush
Directions:
Prep: Start the charcoal in the grill and allow the briquettes to get hot, between 450-500 degrees.
Rinse and pat dry salmon and allow it to come to room temperature.
Place the salmon in a shallow dish with high sides.
Into a separate bowl add olive oil, lemon juice, green onion, honey, sea salt, and freshly cracked black peppercorns. Mix well.
Pour the marinade mixture over the salmon, use the bottom of a tablespoon to spread the mixture all over the flesh side of the salmon.
Allow the salmon to marinade for 10-15 minutes.
Brush the grill rack with canola oil about 6-8 inches away from the hot coals.
Place the salmon skin-side down on the grill and brush the flesh-side up with one tablespoon of melted butter.
Let the salmon cook for 4-5 minutes, then using a large spatula turn the salmon over and brush the skin-side with a tablespoon of melted butter.
Allow the salmon to cook for an additional 4-5 minutes.
Use the spatula to remove the spatula from the hot grill and onto a larger platter. Let the salmon rest for 3-5 minutes.
Serve with cranberry applesauce.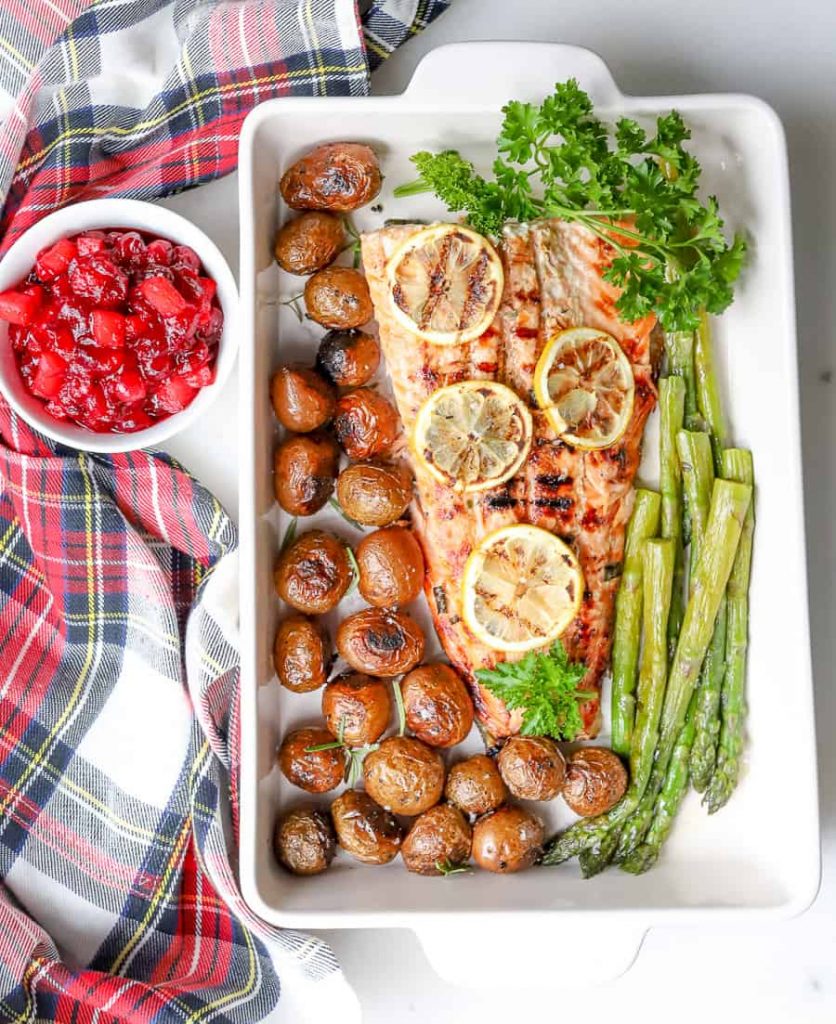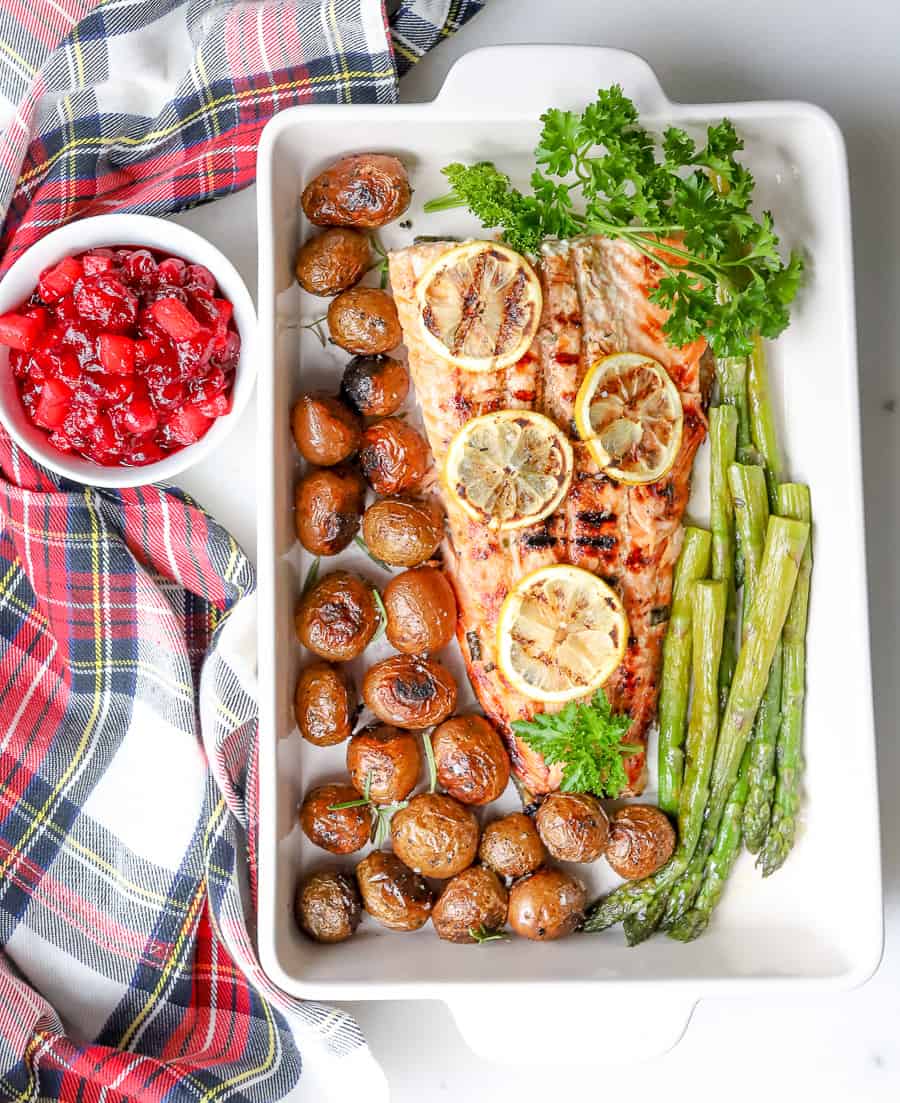 As you start prepping your menu for the holidays, don't discount the grill. This holiday season, spice up the flavor by grabbing a bag of Kingsford® Original Charcoal and let the grill do its thang. Also, if you have a ton of turkey leftovers toss them on the grill for a smokey flavor and try grilled turkey with our turkey collard green wraps.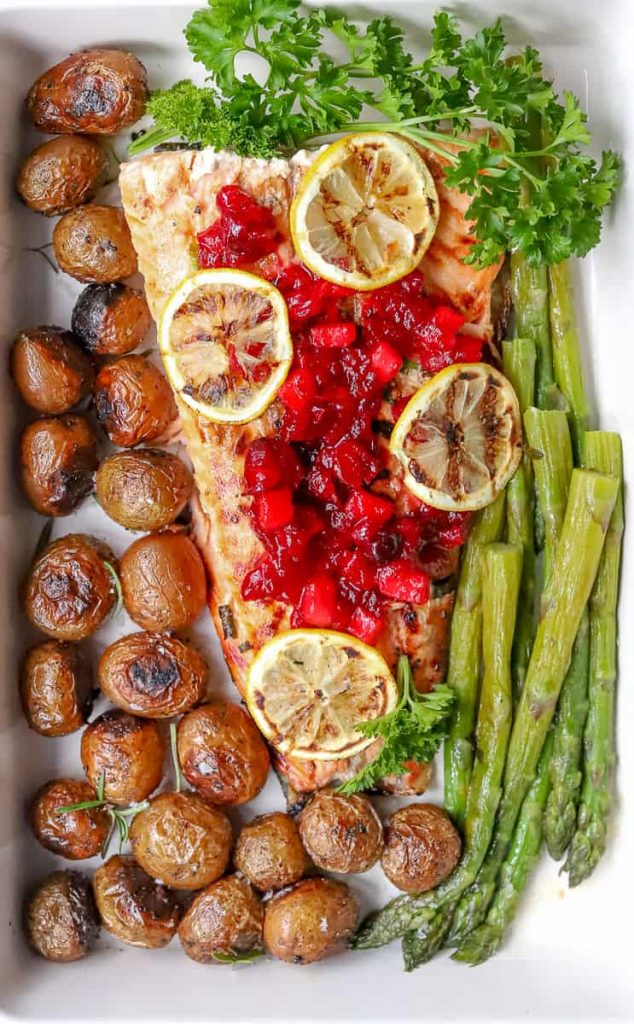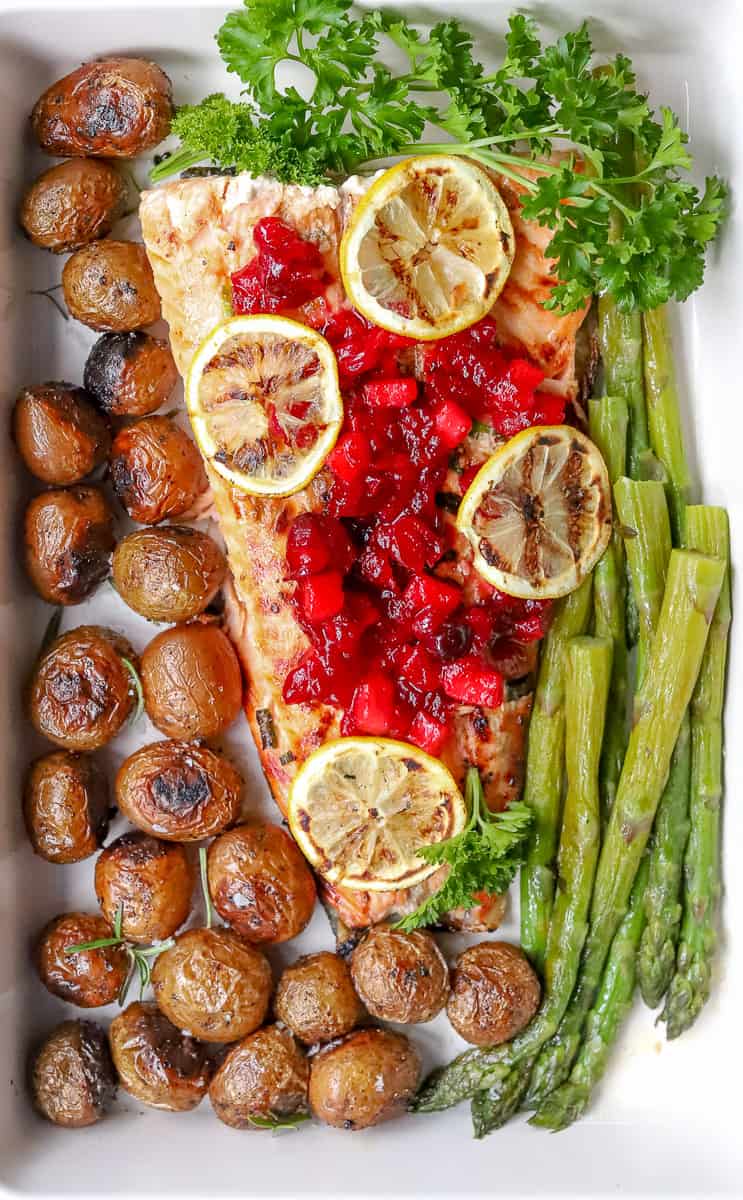 Happy Holidays!
Get more grilling holiday recipes by going here.
This is a sponsored conversation written by me on behalf of Kingsford. The opinions and text are all mine.