I love making easy appetizers for game day and get-togethers. Our Instant Pot Chicken Wings are not only simply delicious; they are ready to eat in a matter of minutes! See why we love using our Instant Pot to make chicken wings, as well as how we put together this grazing board with chicken wings, sweet corn on the cob, and homemade French fries. It sounds like a party to me!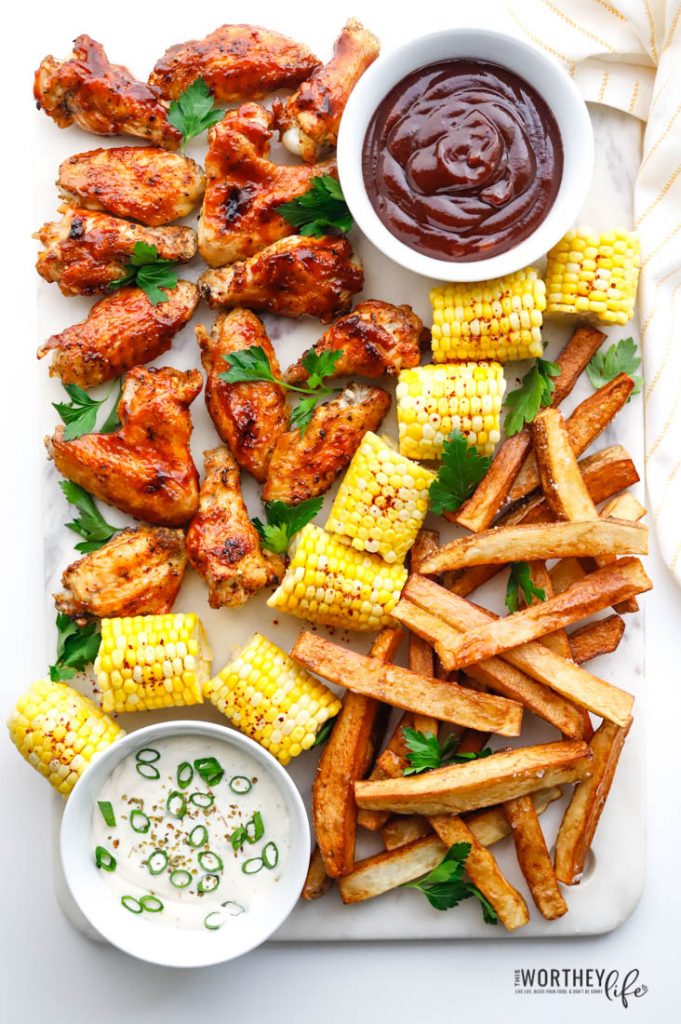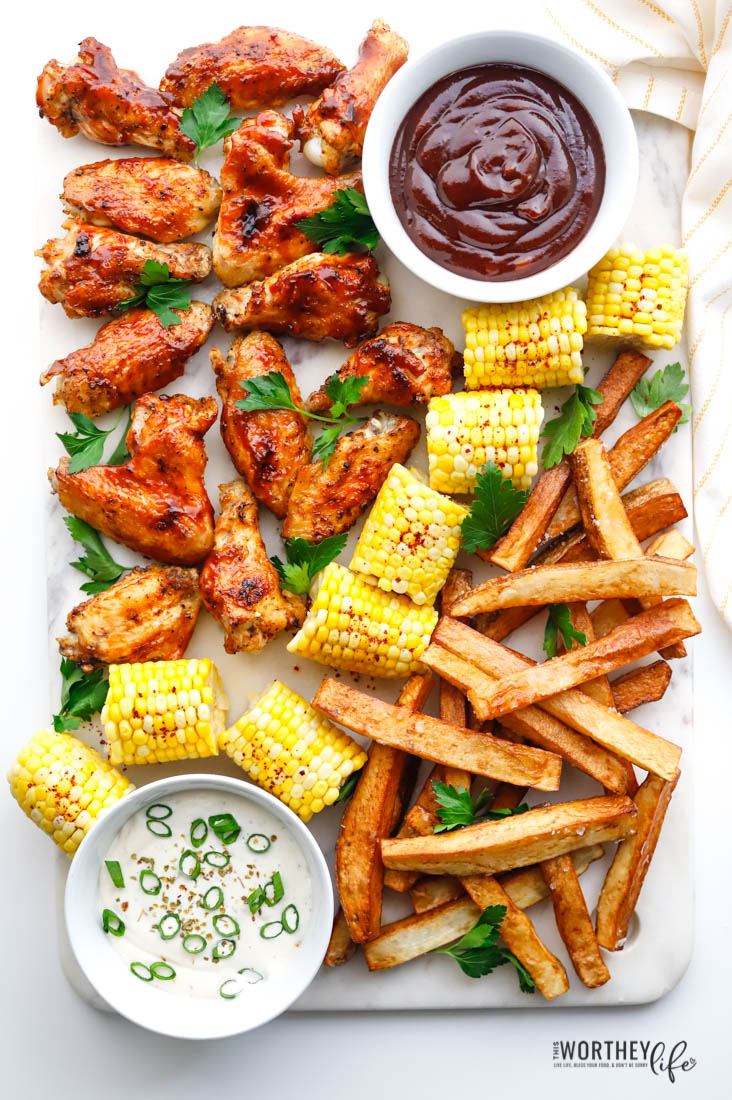 We're serious about entertaining and sharing tips on how to make hosting easy. One of the ways you can do this is by owning an Instant Pot. We use our Instant Pot several times per week to get dinner on the table quickly, but it's also great when we're hosting game day parties, get-together, the holidays, and for those just because of occasions. Another thing we love to do when it comes to hosting and putting a lot of food together is to create a grazing board. Planning a grazing board doesn't have to be super fancy. I think the best grazing boards are boards filled with the foods you and your guests love to eat.
Check out our other grazing board ideas:
Supersized Grazing Board For Game Day
Game Day Chicken Wings Grazing Board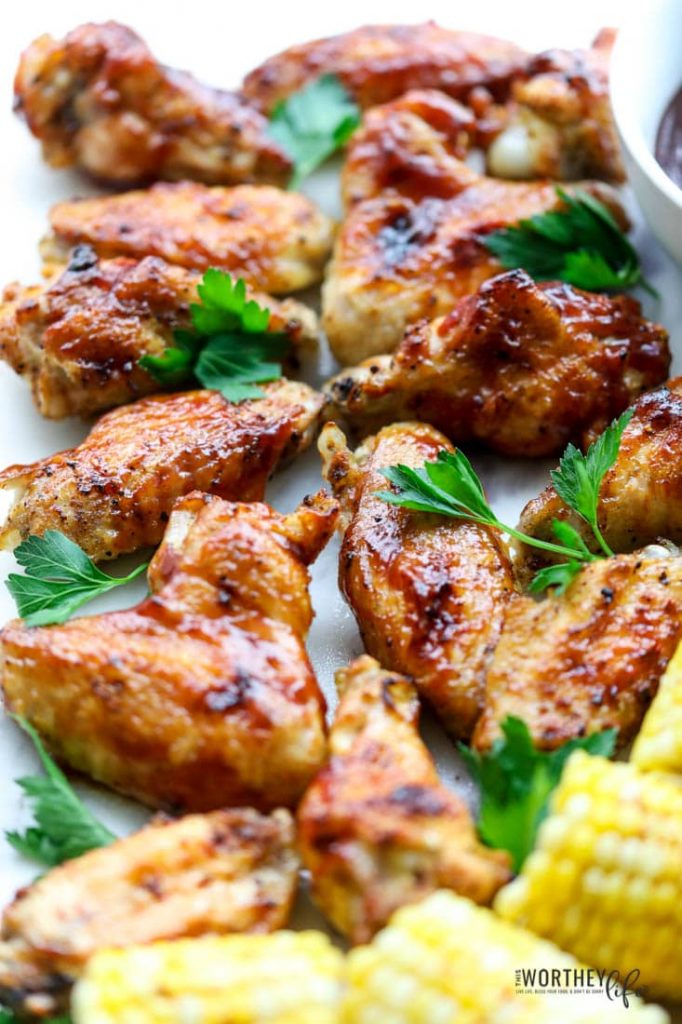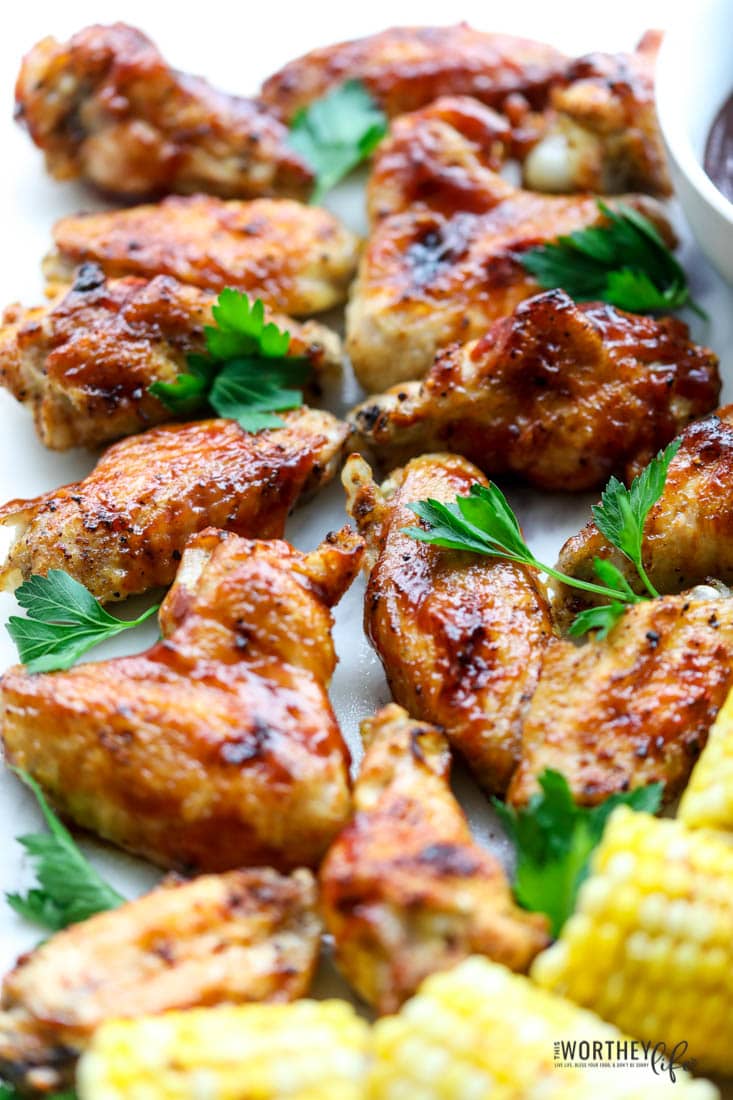 And can you believe these savory chicken wings are done in just four minutes in the Instant Pot? Afterward, put them in the oven on high broil for a few minutes until they were golden brown, take them and brush on the barbecue sauce and they're ready to go!
Pro-tip: If you own the Instant Pot Air Fryer (or have the Air Fryer lid), you can also achieve the browning look without using the oven.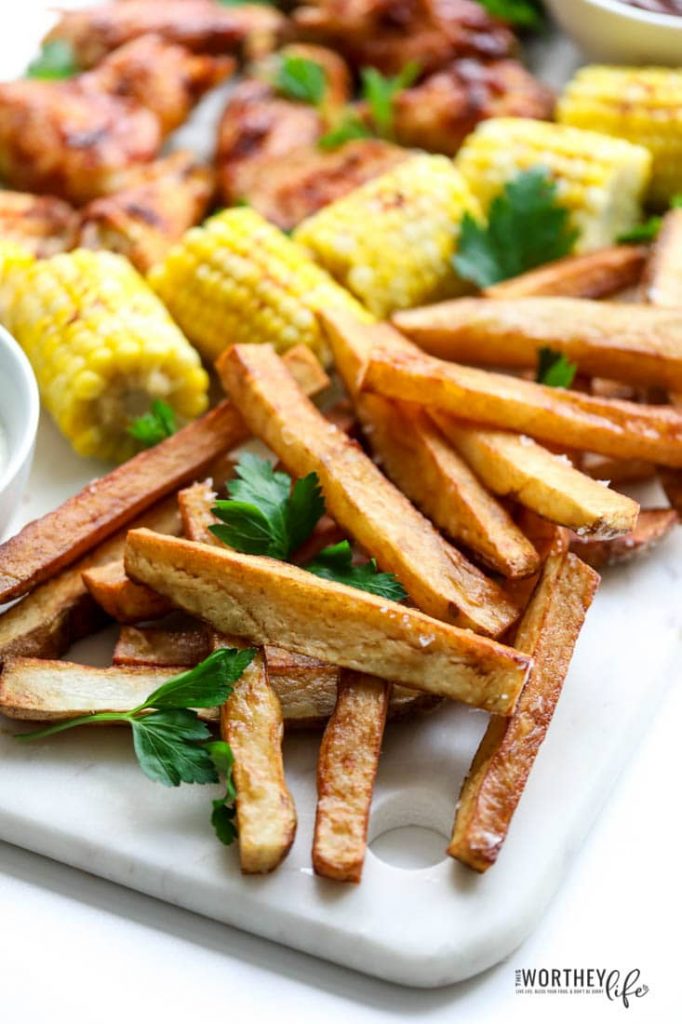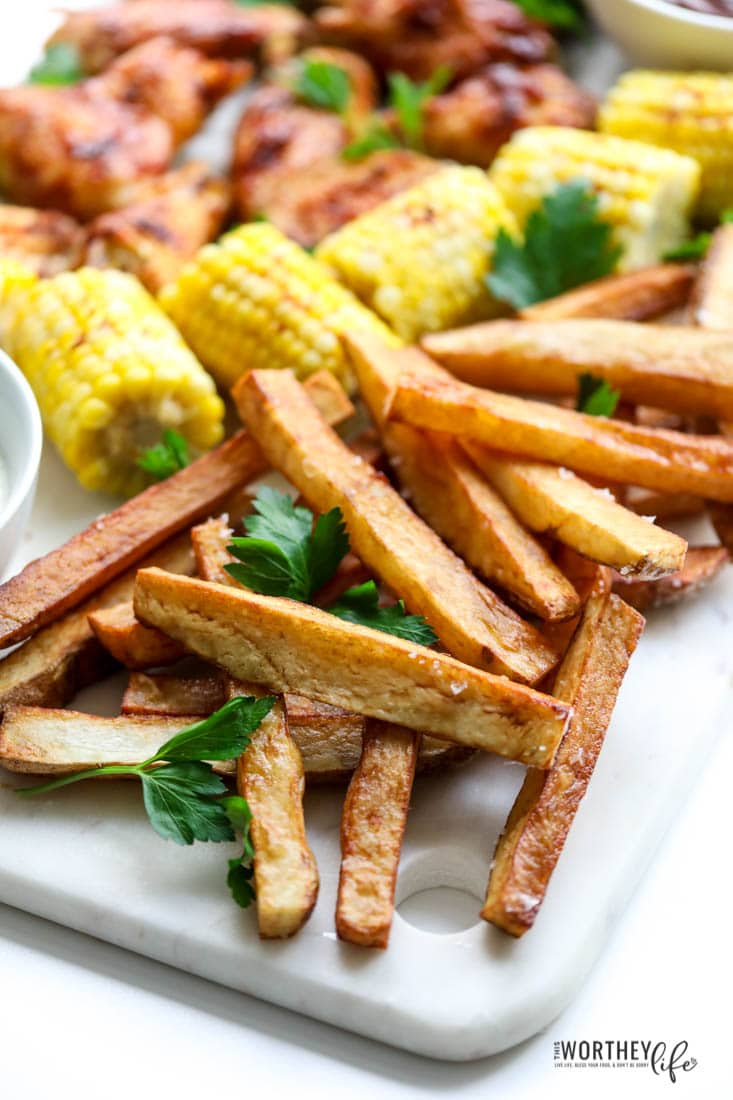 There's nothing like homemade fries. Crispy on the outside, tender in the middle, sprinkle with sea salt, and it's a party in your mouth! The best thing about grazing boards is you got to make them visually appealing, we eat with our eyes, and when you put foods on your grazing board that looks as appealing as it tastes, foods with contrasting colors look great together.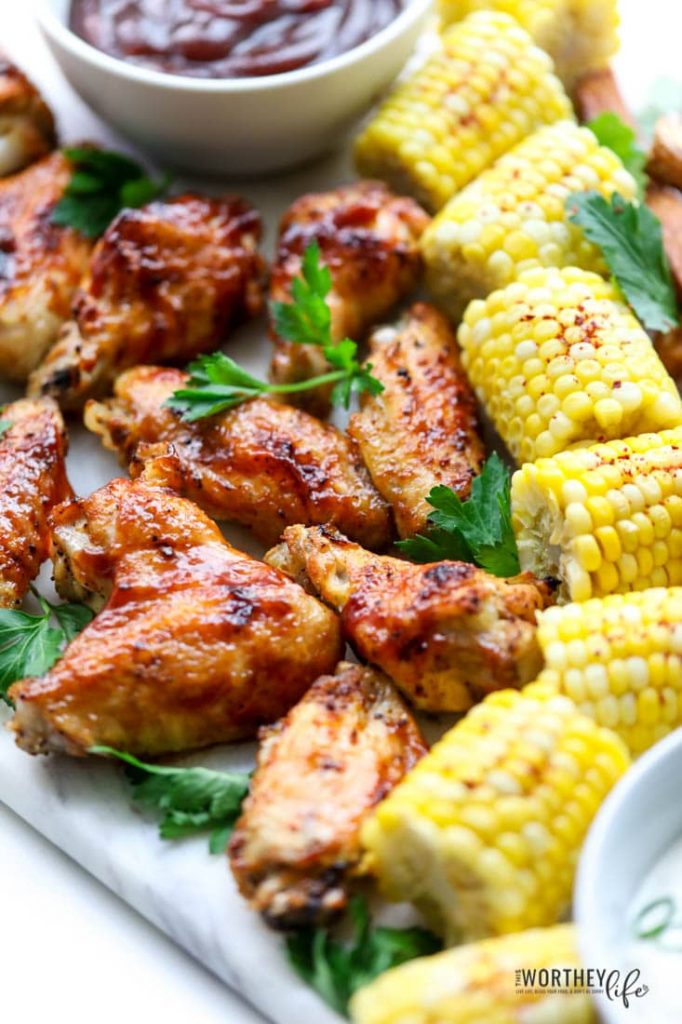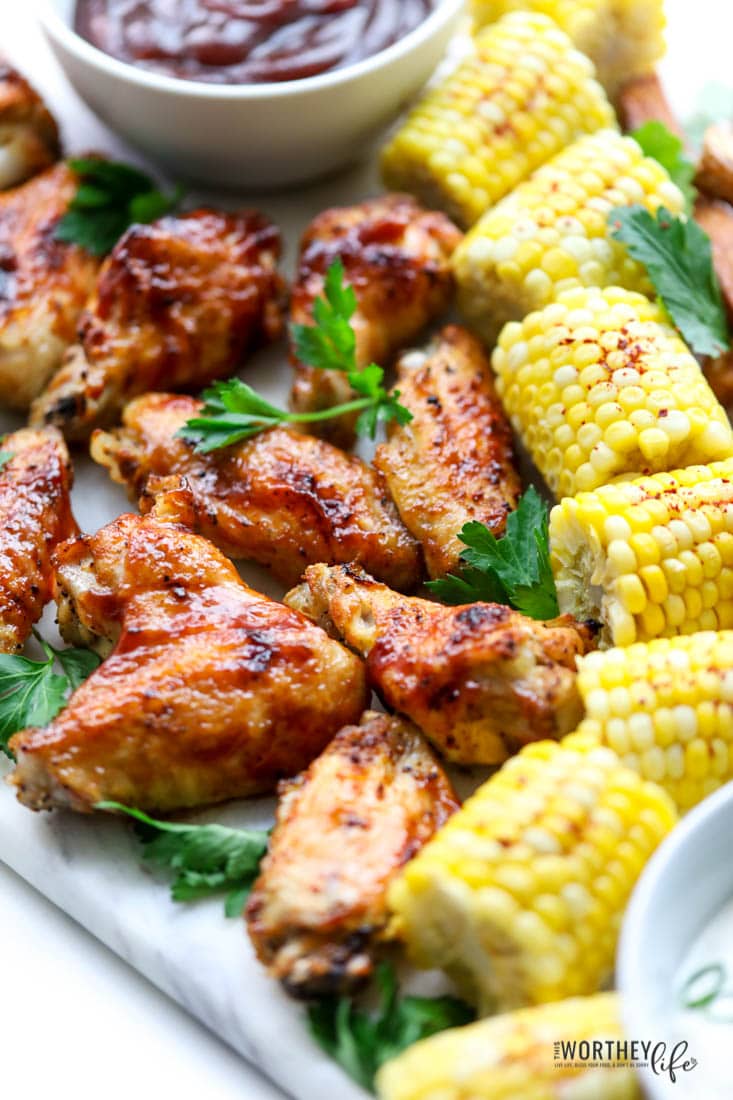 If your food is artfully displayed and looks appetizing, chances are you're going to impress and delight your guests.
What You'll Need To Create This Grazing Board:
Chicken Wings. For this recipe, I used a pound and a half of chicken cooked them on high pressure for four minutes, then broiled them for several minutes until they were golden brown.
Sweet Corn. There is nothing in this world like fresh sweet corn on the cob, and when you add a little butter and a hint of sea salt, forget about it!
Hand-Cut Fries. Let's give it up for homemade hand-cut russet potato fries! Baked or fried are the bomb! Want a cool twist? Make sweet potato fries.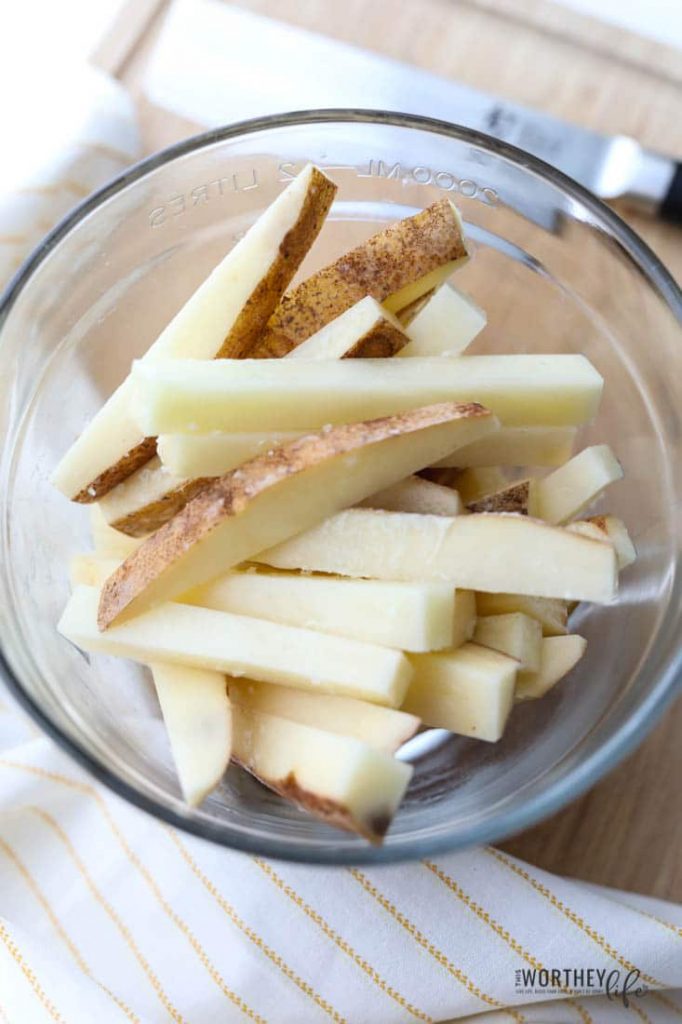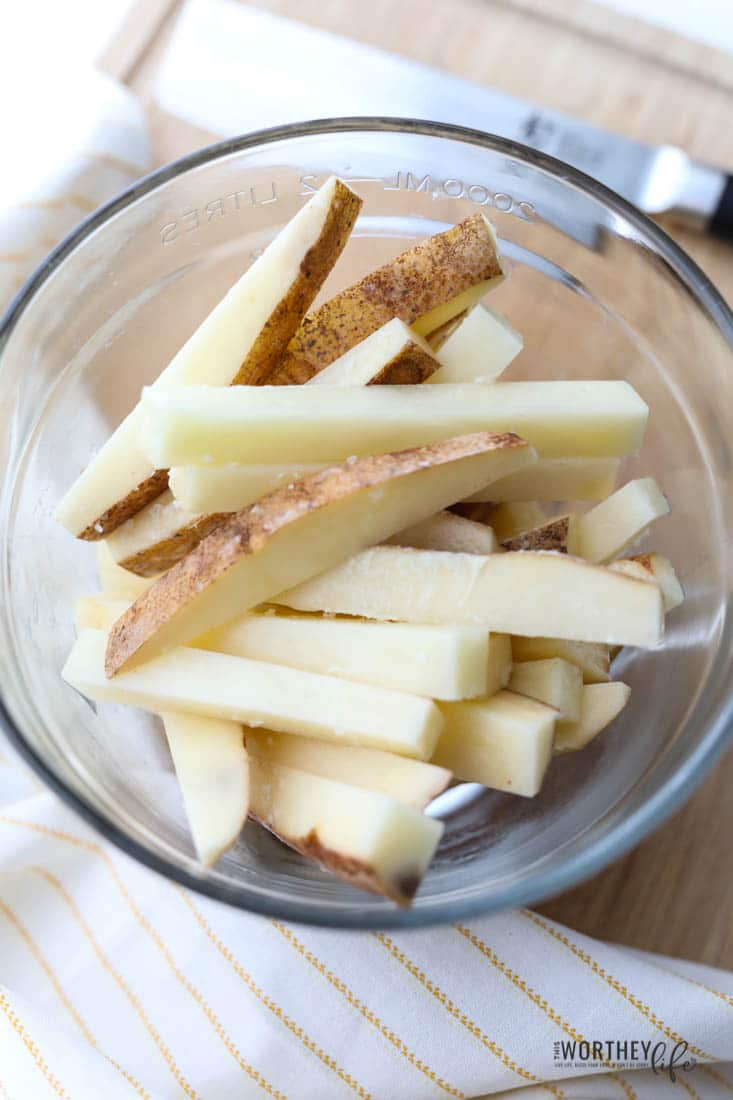 Hand-Cut fries made with Russet potatoes are the best!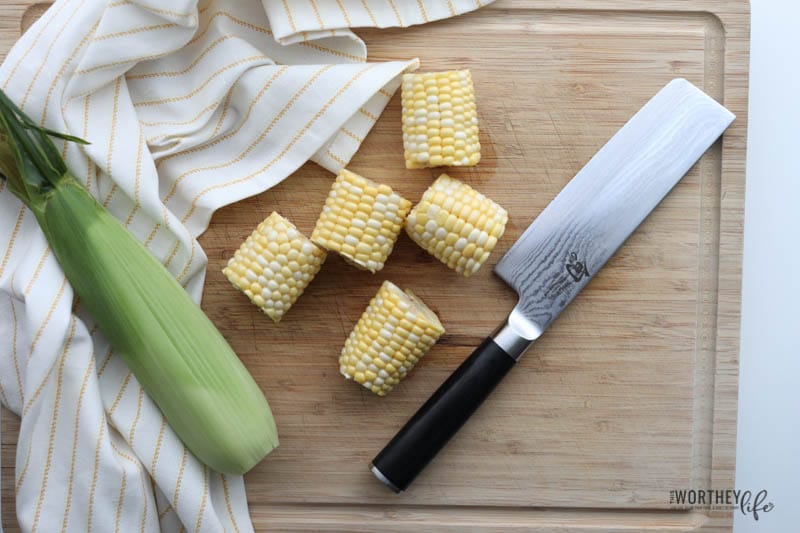 Fresh sweet corn on the cob is my jam. Slather on melted butter and sprinkle on some flakey sea salt and I'm good to go!
How To Make Chicken Drummies From Chicken Wings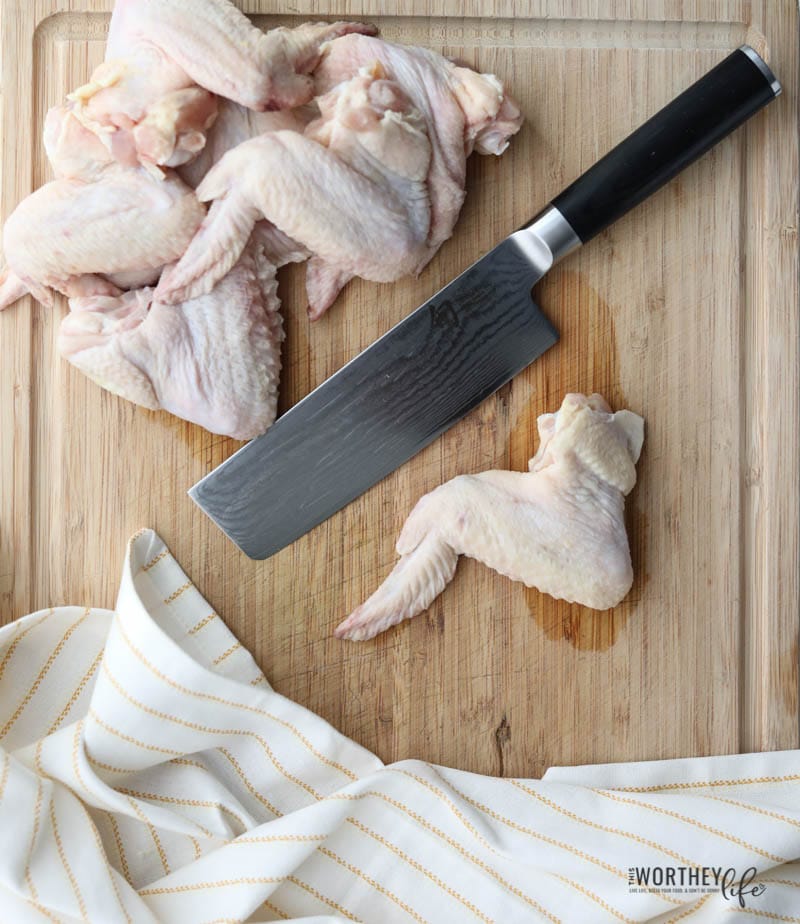 To cut a chicken cut along the joints and discard the tip of the chicken wing.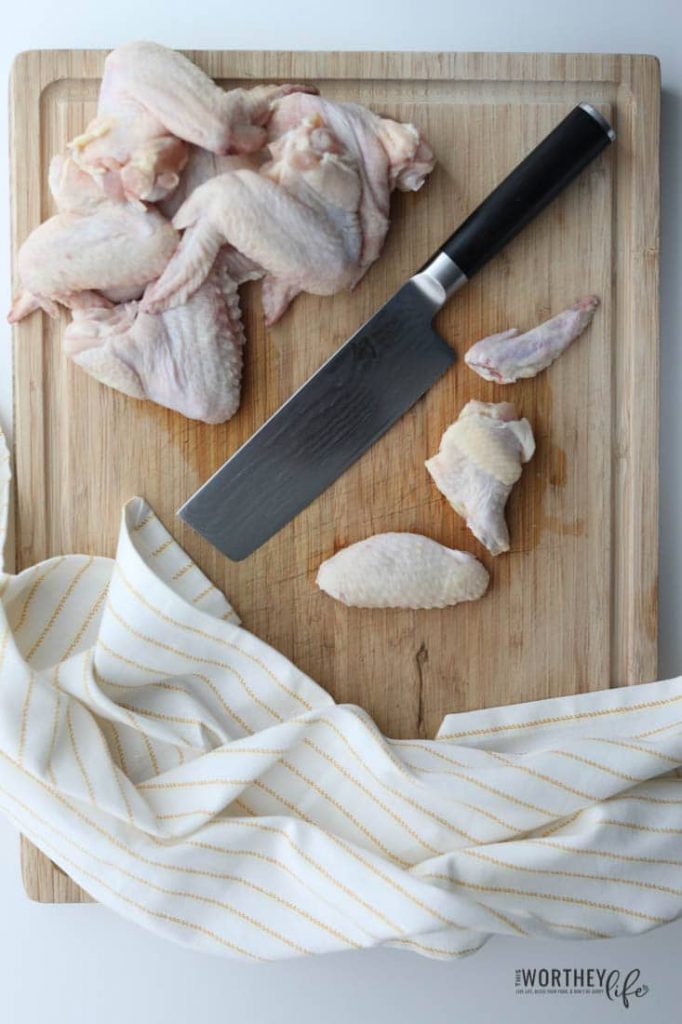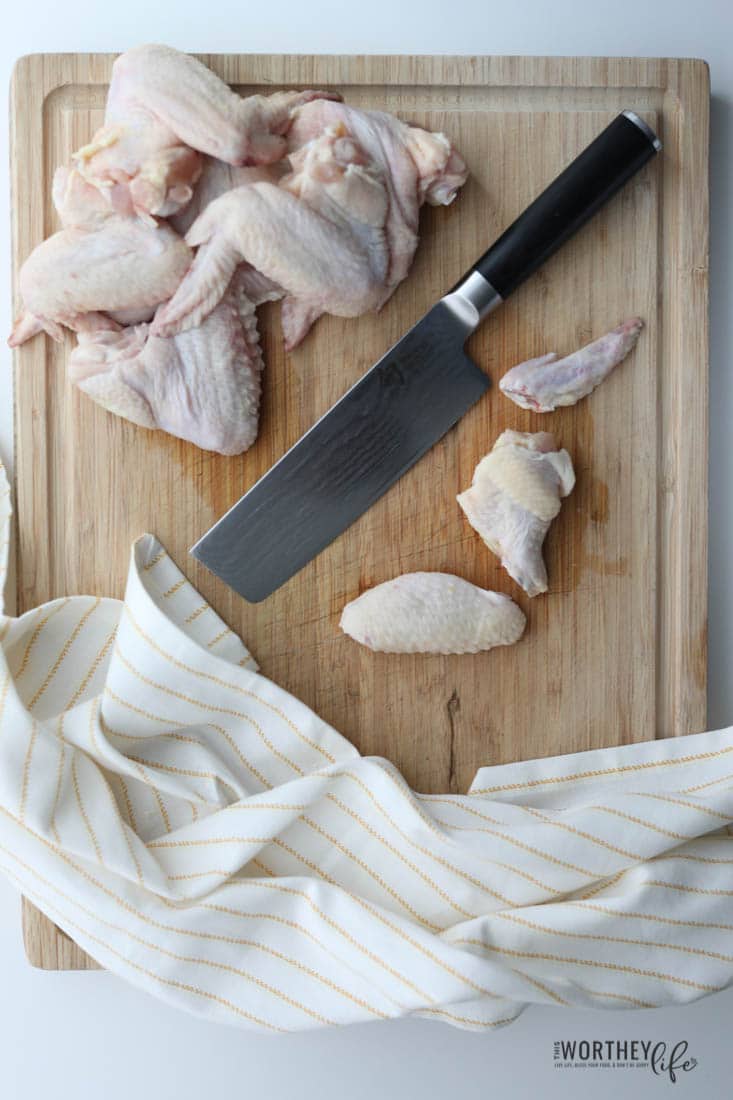 After the chicken wing is cut, you should have three pieces, throw out the tip of the wing, or freeze them to make chicken stock for soups.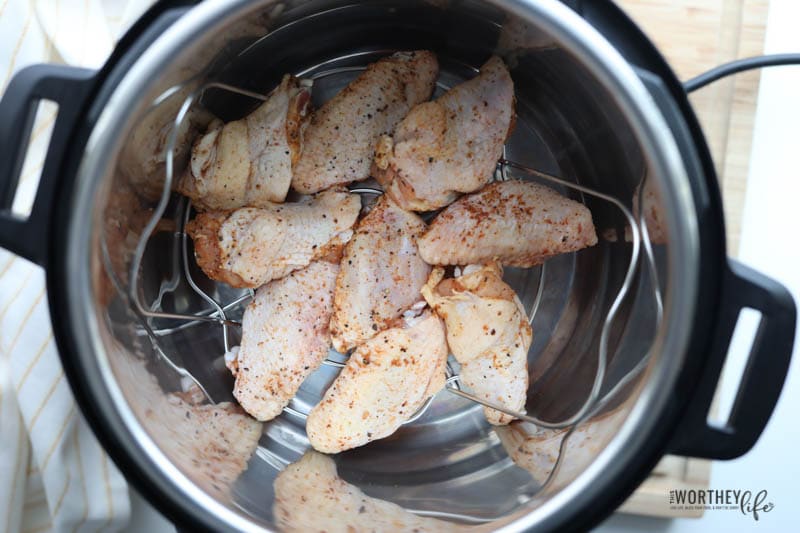 Season the chicken wings and place them on a removable rack in the Instant Pot and cook with high-pressure for four minutes.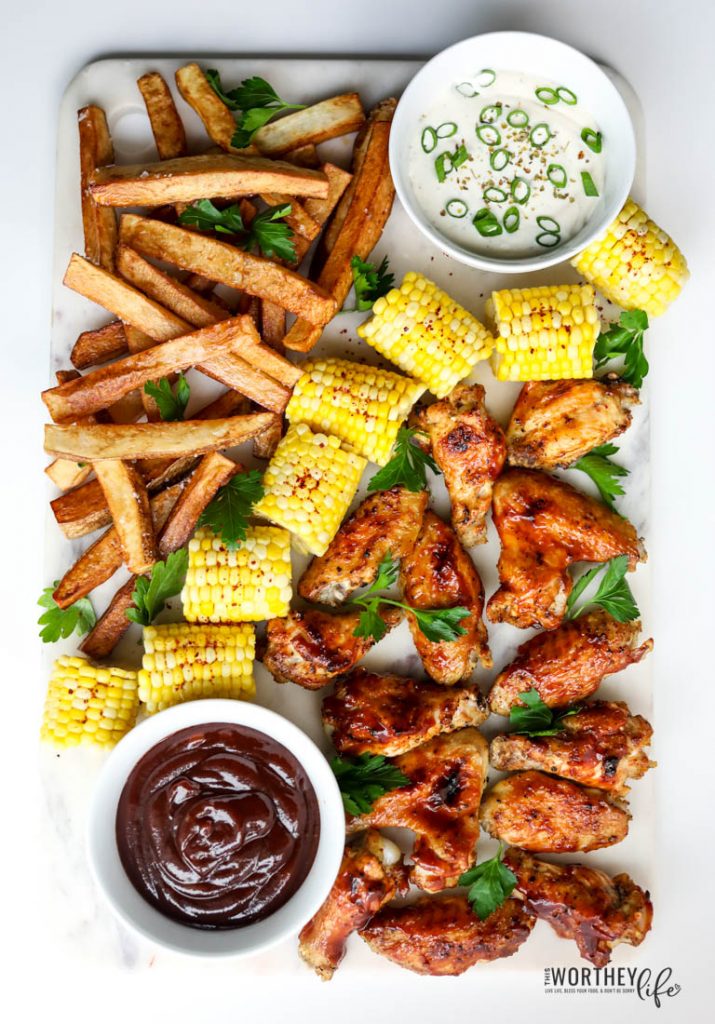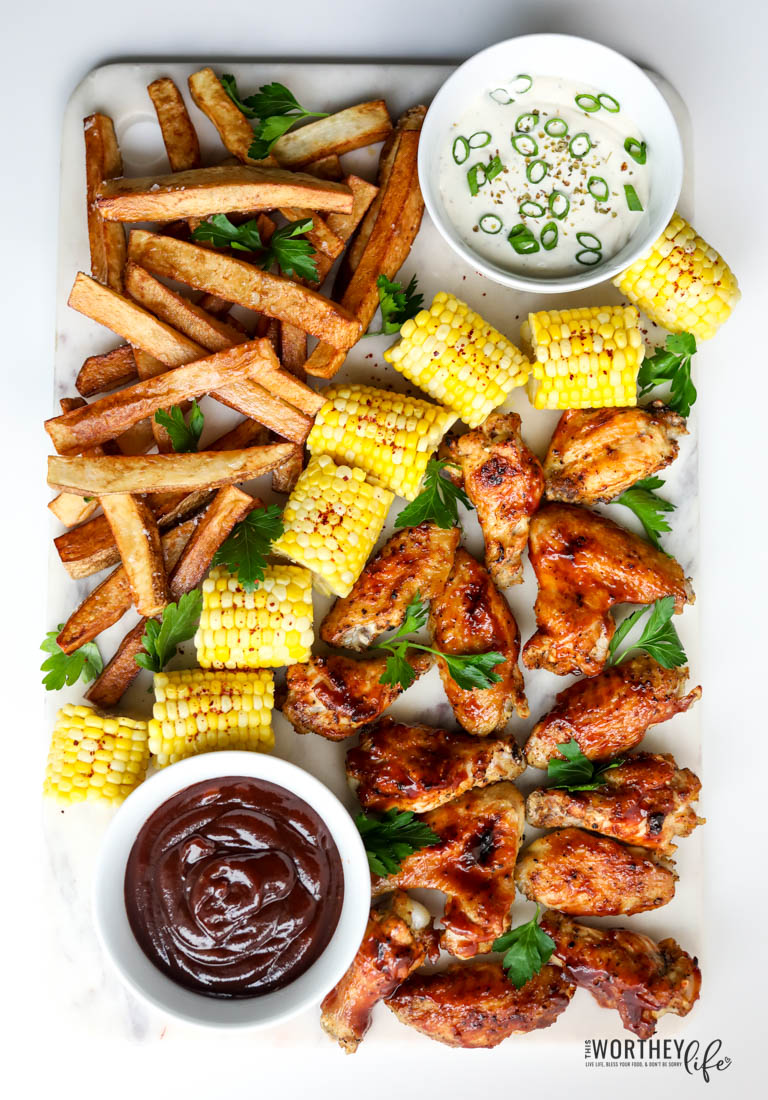 You'll Like Our Instant Pot Chicken Wings Because They're:
Easy
Tangy
Yummy
Sticky Sweet
Mouthwatering
Done In No Time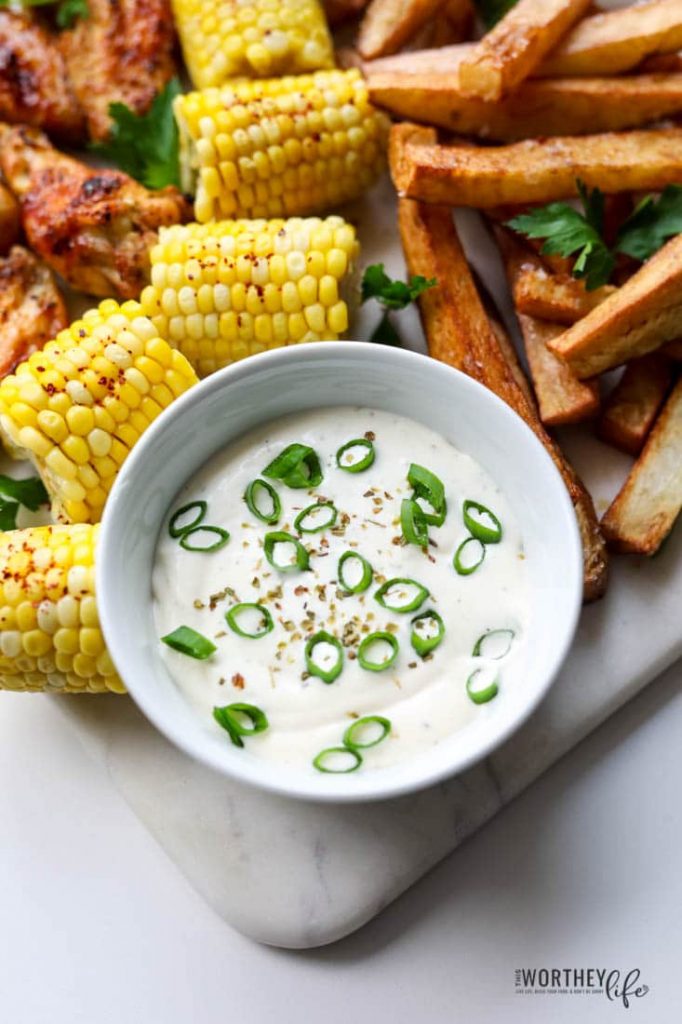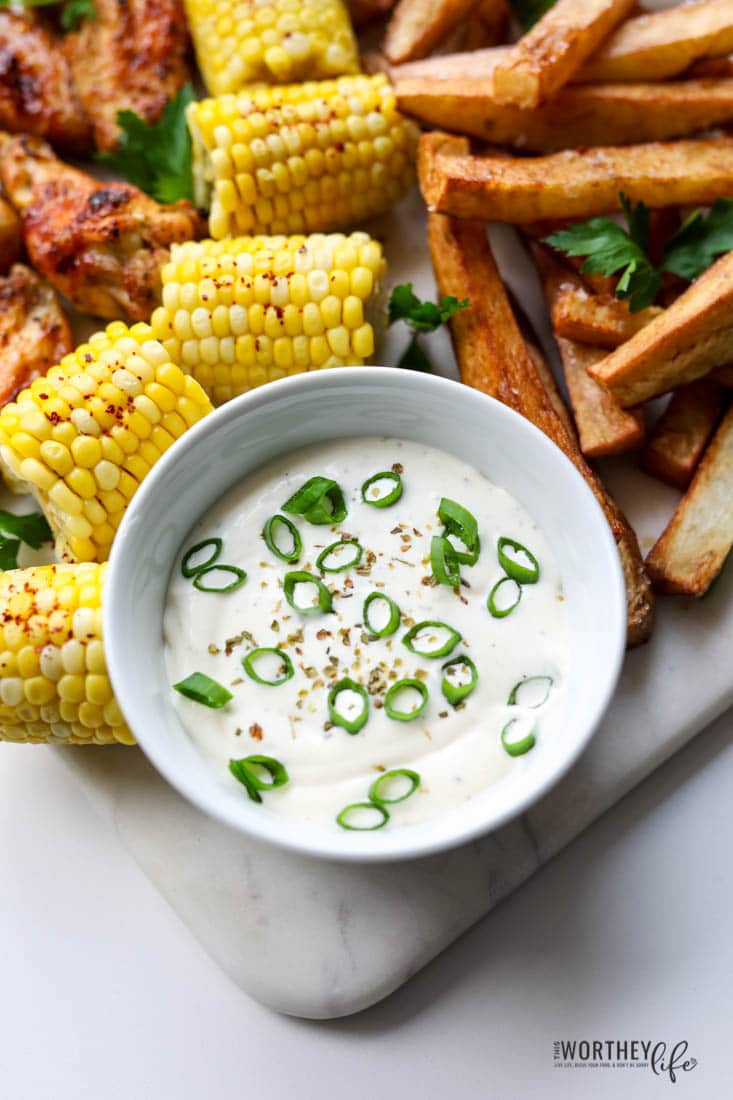 Can you stack chicken in instant pot?
You can stack your chicken in the Instant Pot. The biggest thing is making sure your chicken is seasoned all over to make sure that you get an even flavor of your chicken.
How Many Wings Are In A Pound?
On average you will find that for a pound of chicken wings you will have 4-5 chicken wings. There isn't a ton of wings per pound, so buy as many as you think you need to serve up family, friends, or for game day snacking.
What is the trivet for instant pot?
The trivet comes with a lot of Instant Pot packages. It is a metal round ring that sits at the bottom of the Instant Pot. This helps food sit on the trivet so it is not being soaked in the liquid below. You can use a metal or silicone sling.
Can I cook frozen chicken wings in Instant Pot?
You can cook your chicken wings in the Instant Pot from frozen. The seasoning will not stick as well to the chicken, but it will work just as well. Keep the cooking time the same. You will find it just takes the chicken longer to come to pressure, as it will thaw the chicken before it begins to pressure cook.
Can I double this recipe?
Go right ahead and make as many wings as you would like. The biggest thing is making sure to not go over the max fill line on the side of the pressure cooker.
How to get crispy skin-on chicken wings?
Once your chicken is cooked in the Instant Pot, you will remove and finish prepping the chicken. Then you will finish off the chicken in the oven. Now, if you have an air fryer or air fryer lid, you can easily do it in the air fryer.
Just make sure your chicken is in an even layer, so the skin on the chicken can fully cook and crisp up the way you want.
Instant Pot Chicken Wings Recipe
5-10 Servings
Ingredients:
1-2 pounds chicken wings
2 tablespoons extra virgin olive oil
1 tablespoon sea salt or Kosher salt
1 teaspoon freshly cracked black peppercorns
1 tablespoon Old Bay seasoning
1 tablespoon chili lime seasoning
1 /2 cup honey
1 tablespoon light brown sugar
1 cup barbecue sauce
Directions:
In a small bowl, mix together sea salt, freshly cracked black peppercorns, Old Bay seasoning, and chili lime seasoning.
Trim, rinse, and pat dry the chicken wings. Lay the chicken wings on a sheet pan and using half of the seasoning, coat with the seasoning mixture coat the top and bottom of the chicken wings.
Arrange the chicken wings on the Instant Pot steamer rack trivet or in a stackable steamer, select the Chicken option cook with-pressure. Adjust the time to four minutes.
As the chicken is cooking, preheat the oven to high-broil, and into a bowl combine your favorite barbecue sauce, with light brown sugar, and honey. Mix thoroughly.
When the chicken is finished, vent the Instant Pot, then remove the lid. Place parchment paper on a sheet pan. Arrange the chicken wings in even rows, sprinkle the chicken wings with the remaining seasoning (or add as little or as much as you want). Place the sheet pan on the center rack and broil until the chicken is golden brown, watch the wings closely because under a high broil the wings will quickly brown.
Remove the chicken wings and brush with the barbecue sauce mixture.
Serve with corn on the cob and homemade fries.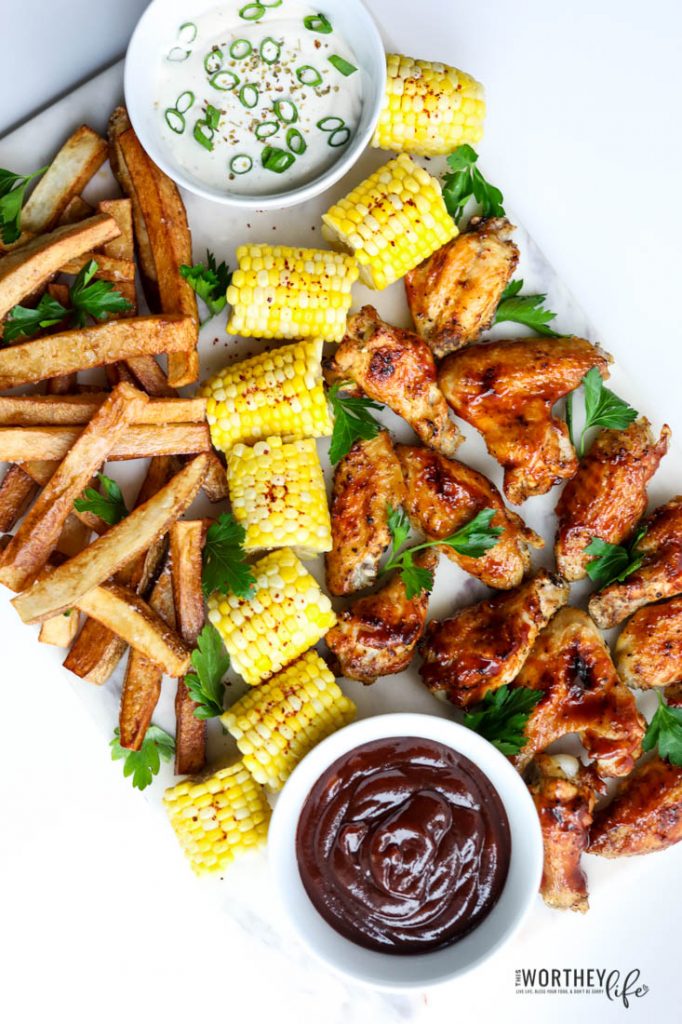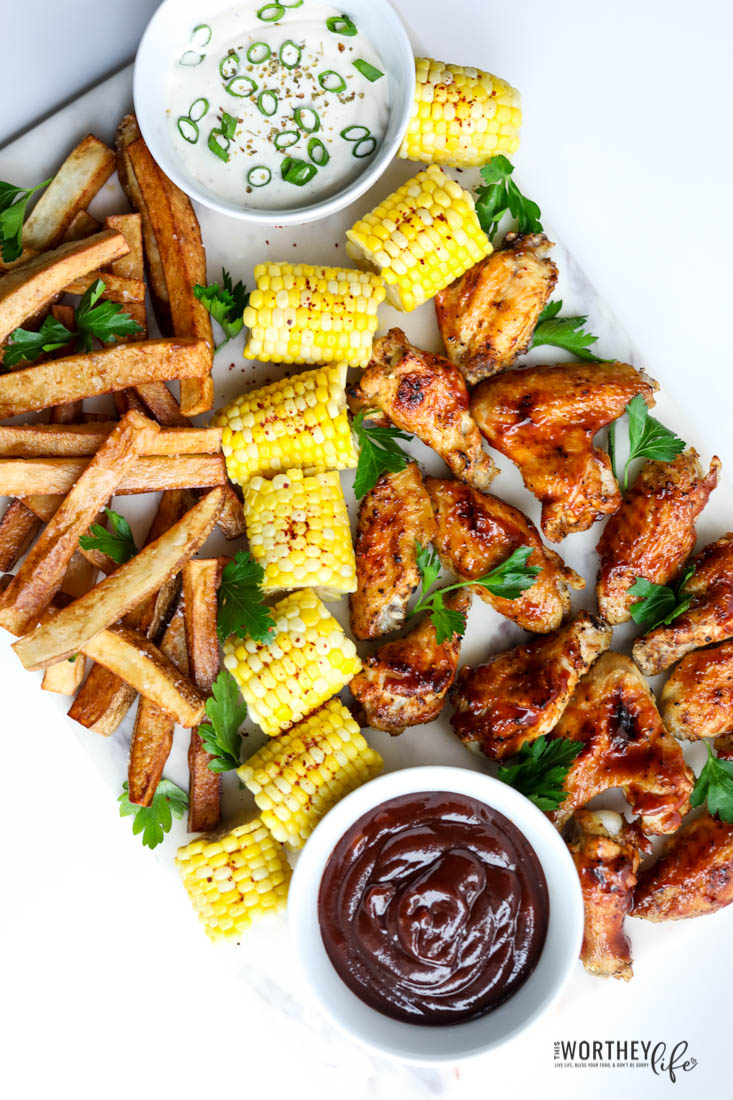 Now that you have the recipe, you're ready for the big game on Sunday! If you need a few more game day ideas, be sure to check our Game Day Chicken Wings Grazing Board, as well as this roundup of 20+ Incredible Chicken Wing Recipes For Game Day. And no party is complete with a few drink ideas, such as Black Cherry + Peach Party Punch or our Bourbon Michelada Cocktail.
Dips are always great for a party and game day events, and our Hot Spinach & Sweet Corn Dip is one of my favorite hot dips. And for an easy, quick-throw-together dip with chips recipe, our Sweet Corn Pico de Gallo should be on the menu!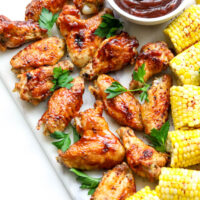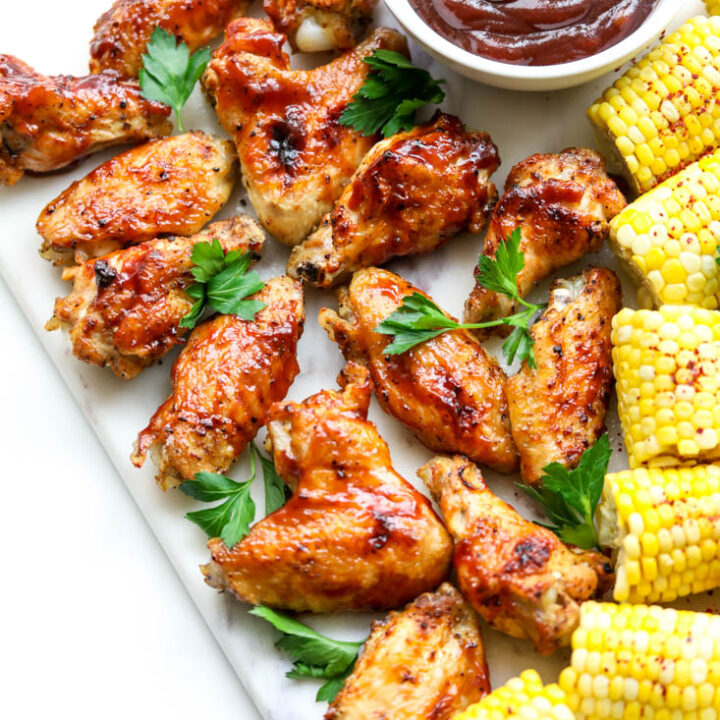 Ingredients
1-2

pounds

chicken wings

2

tablespoons

extra virgin olive oil

1

tablespoon

sea salt or Kosher salt

1

teaspoon

freshly cracked black peppercorns

1

tablespoon

Old Bay seasoning

1

tablespoon

chili lime seasoning

1 /2

cup

honey

1

tablespoon

light brown sugar

1

cup

barbecue sauce
Instructions
In a small bowl, mix together sea salt, freshly cracked black peppercorns, Old Bay seasoning, and chili lime seasoning.


Trim, rinse, and pat dry the chicken wings. Lay the chicken wings on a sheet pan and using half of the seasoning, coat with the seasoning mixture coat the top and bottom of the chicken wings.


Arrange the chicken wings on the Instant Pot steamer rack trivet or in a stackable steamer, select the Chicken option cook with-pressure.

Adjust the time to four minutes.


As the chicken is cooking, preheat the oven to high-broil, and into a bowl combine your favorite barbecue sauce, with light brown sugar, and honey. Mix thoroughly.


When the chicken is finished, vent the Instant Pot, then remove the lid. Place parchment paper on a sheet pan. Arrange the chicken wings in even rows, sprinkle the chicken wings with the remaining seasoning (or add as little or as much as you want). Place the sheet pan on the center rack and broil until the chicken is golden brown, watch the wings closely because under a high broil the wings will quickly brown. 


Remove the chicken wings and brush with the barbecue sauce mixture.


Serve with corn on the cob and homemade fries. (or other items that may go great with chicken wings)