Get ready for game day by serving chicken wings. We're sharing over 20 incredibly, delicious chicken wing recipes that are perfect for game day! From buffalo wings, instant pot chicken wing recipes and more, you'll find the perfect wing recipe for watching the big game!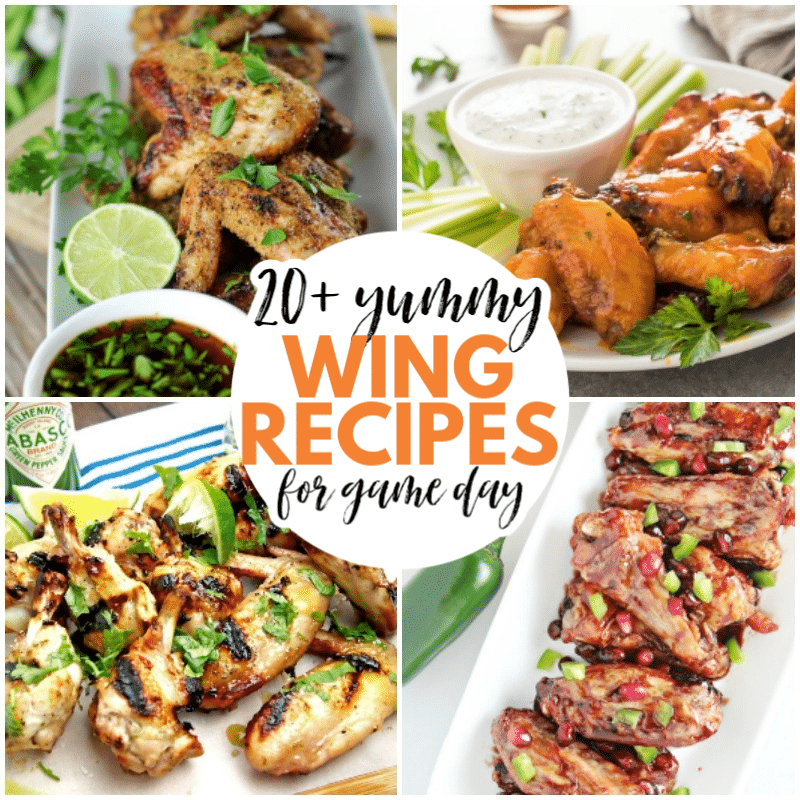 20+ Incredible Chicken Wing Recipes For Game Day
Is there a more classic, iconic appetizer for game day than chicken wings? We don't think so! They're small, portable, delicious, and they're great for crowds because everyone seems to love them. So when game day comes around, you need to be prepared with pans and plates of wings to feed your hungry friends and family.
But you don't have to settle for ordinary wings. We've rounded up delicious, delectable chicken wing recipes for game day with some fantastic flavor combinations. Lemon pepper wings, sweet and spicy wings, parmesan garlic wings, and even potato chip-coated wings are among the delicious recipes in our list.
Whether you like your wings sweet, spicy, crunchy, or somewhere in between, you're going to find a fantastic wings recipe here. And you'll also find plenty of options no matter what cooking method you use. From the grill to the oven, to the air fryer, we've got you covered!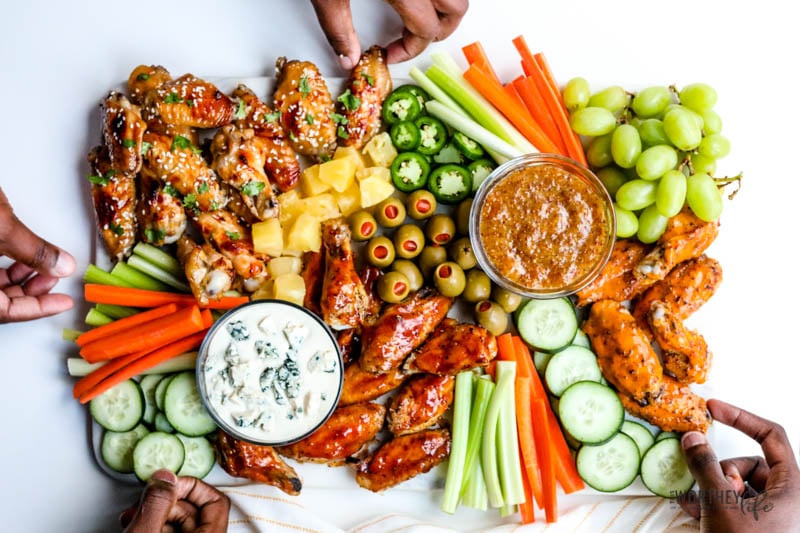 When you can't decide which type of chicken wing recipe to serve for game day, make a big platter with a variety of recipes. We're sharing three different wing recipes for a game day wing grazing board!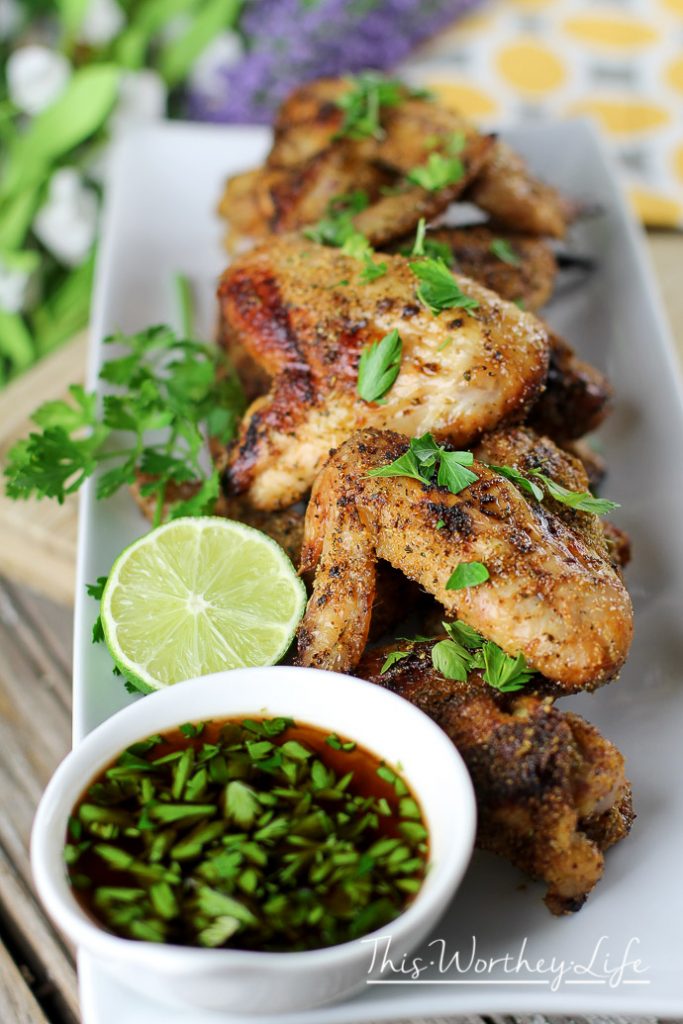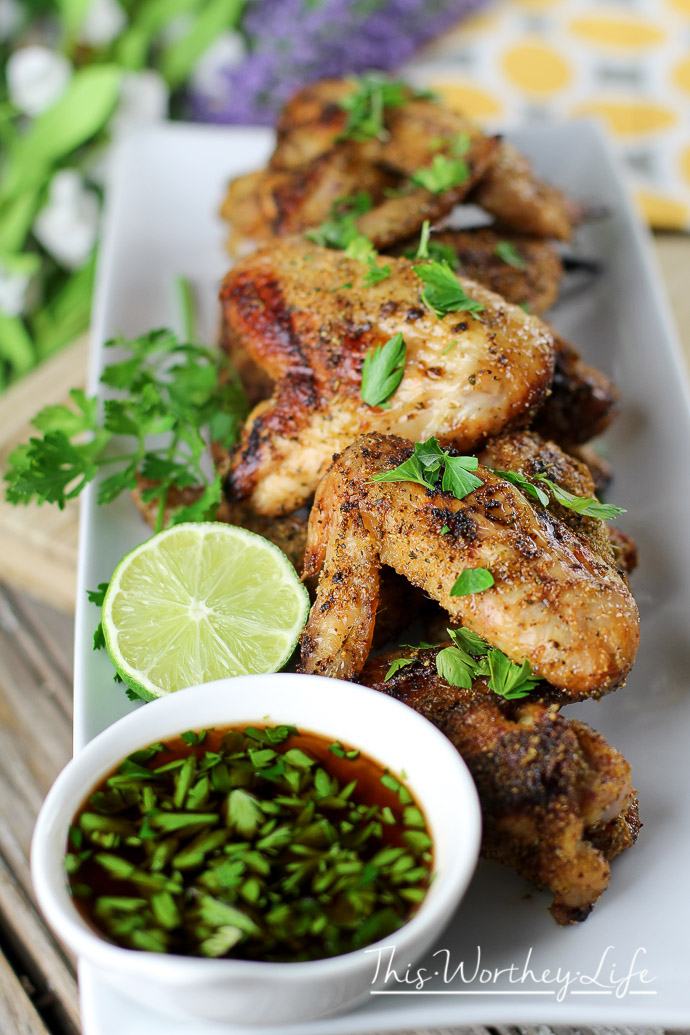 Grilled Chicken Wings: Our ultimate grilled chicken wings are perfect for game day. The charcoal grill and our secret ingredients give a nice flavor to the meat.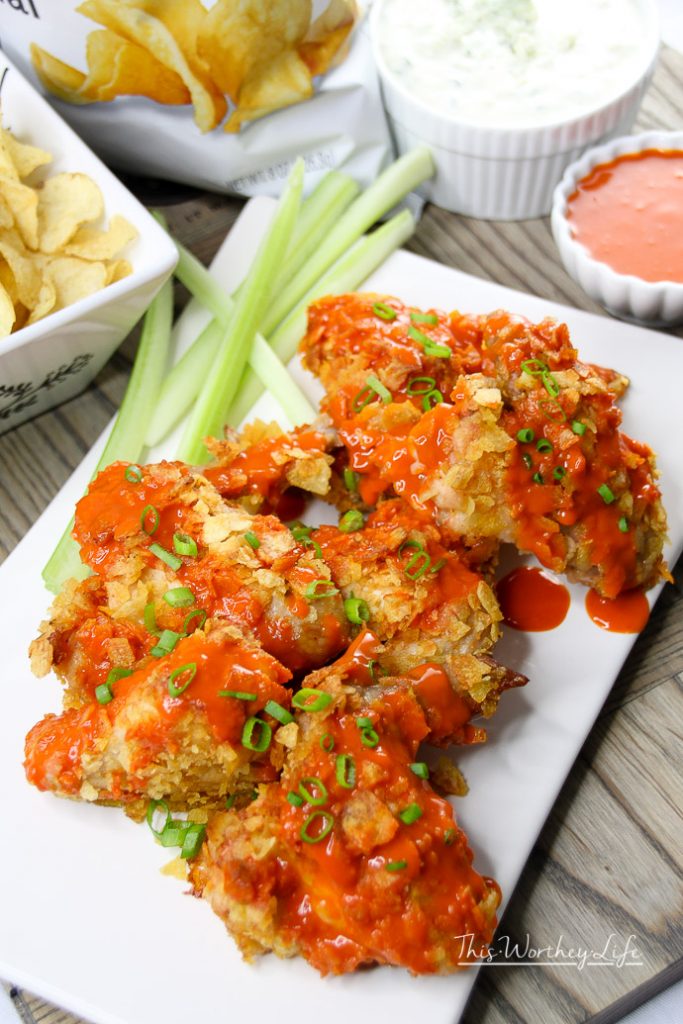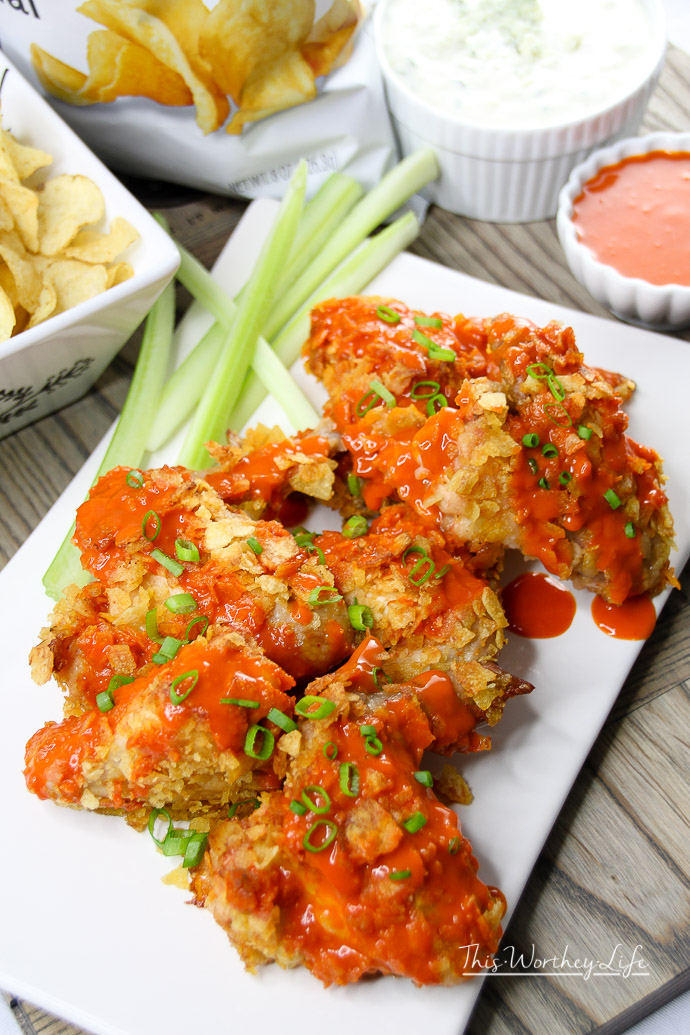 Potato Chip Buffalo Wings: These buffalo wings have a potato chip coating to make them super crunchy (and super tasty). They're a little spicy, too, so they're perfect if you like wings with a bit of heat.
Irresistible Wing Recipes for Game Day
Lemon Pepper Wings: These lemon pepper wings are juicy on the inside, crispy on the outside, and flavored with real lemon zest and cracked black pepper. The oven makes them seriously crispy without the need for lots of oil.
Dill Pickle Smoked Wings: Chicken wings are brined in dill pickle juice and smoked for tons of flavor. They're crispy, delicious, and easy to make on the Traeger or smoker. You can also deep-fry or oven-bake them, too.
Instant Pot Garlic Parmesan Chicken Wings: These chicken wings are made in the Instant Pot and are loaded with garlic and parmesan. The IP cooks them to perfection, and you can finish them up in the oven or with a crisp lid to get the skin super crispy.
Sweet Sriracha Baked Chicken Wings: These sweet Sriracha baked chicken wings have just the right amount of heat, thanks to the amazing sauce. You can adjust the sweetness and heat to your liking, so it's a versatile recipe that can work for the whole family.
Baked Teriyaki Chicken Wings: Sweet, slightly sticky, and packed with flavor, these baked teriyaki chicken wings will become a family favorite. They're low-prep, easy to make, and easy to clean up after!
Chipotle Dry Rub Smoked Chicken Wings: Spicy, hot, and smoked to perfection, these wings are absolutely covered in the dry rub for a mouthful of flavor in every bite.
Nandos Chicken Wings in the Air Fryer: Enjoy these crispy wings made with Piri Piri chicken marinade for a bit of Portuguese flavor! They're a little spicy and crisped to perfection in the air fryer.
Skinny Valentina Hot Wings: These wings are made "skinny" by removing the skin. So, while they're a little more labor-intensive than your typical wings, you'll save on calories and fat. You can still make them crispy, though, using the cooking method mentioned here.
Honey Garlic Wings: Make these wings in the Instant Pot or slow cooker. They're sticky, saucy, fall-off-the-bone, finger-licking good!
Crispy Parmesan Wings: These crispy Parmesan wings are the perfect game day appetizer if you're on a low carb diet. These wings have the texture of breaded chicken wings thanks to the Parmesan crust, but without the carbs from traditional breading.
Pomegranate Jalapeno Chicken Wings: These 5-ingredient wings are packed with the delicious flavors of pomegranate juice, jalapeno peppers, and honey. Sweet and spicy, they're going to be a real crowd-pleaser. Garnish with pomegranate arils and chopped jalapeno to really make them pop.
Orange and Ginger Chicken Wings: You won't be able to stop with just one wing. These sweet, sticky, tangy, crunchy orange ginger chicken wings are irresistible. Make more than you think you'll need because they'll go quickly!
Grilled Margarita Wings: Vary the heat on these grilled margarita wings according to your liking. Green Tabasco sauce, tequila, limes, honey, and salt add tremendous flavor to basic chicken wings.
Keto Air Fryer Korean Chicken Wings: Gochujang is the star flavor in this wing recipe. They're tangy, sweet, and spicy all at the same time. They get messy—have lots of napkins on hand—but they're totally worth it.
Instant Pot Honey Buffalo Chicken Wings: These chicken wings can be made in the Instant Pot or slow cooker, and they're finished off under the broiler to get the skin extra crispy. The buttery, spicy sauce on these classic wings is a must-try.
Spicy Dry Rub Chicken Wings: Learn how to make this amazing dry rub to use on any of your chicken recipes. It makes delicious, crispy wings that you can prepare in the air fryer, oven, or on the grill.
Oven-Baked Sweet and Spicy Chicken Wings: These oven-baked chicken wings are coated in a sweet and spicy Hoisin and Sriracha sauce, making them sticky and finger-licking good. A little honey is thrown in to add some sweetness to the heat.
Tikka Chicken Wings: This easy chicken wing recipe incorporates Indian spices in a subtle, yet flavorful, way. Serve them with a bright citrus-cilantro sauce to balance out the flavors.
Which of these wing recipes are you going to make for the big game?

Need more game day ideas? Check these out:
Supersized Grazing Board For Game Day
Mocktail + Cold Appetizer Idea for Game Day