Keep the sweet taste of summer going with our mouthwatering appetizer, Sweet Corn Pico de Gallo. A great dish for game day, tailgating, or a fresh snack! Mixed with sweet corn, tomatoes, avocado, and other fresh veggies, this pico de gallo recipe is one you will want to make again and again!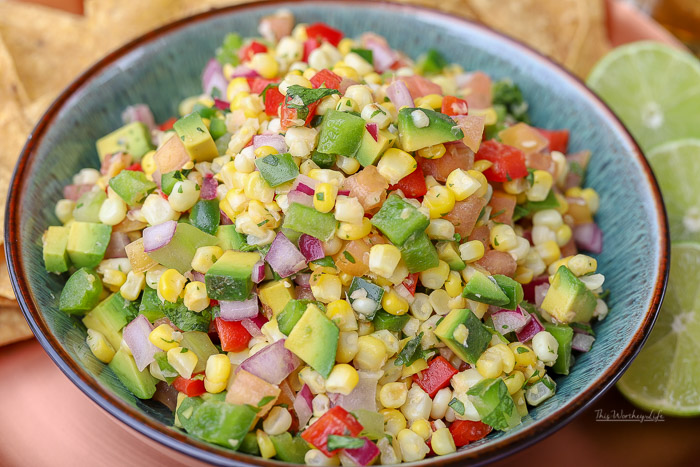 Sweet Corn Pico de Gallo
There is something so good about the bounty of later summer, but mostly what's on and poppin' is having tons of sweet corn on the cob available at just about every farmer's market. And it is precisely the key ingredient in our super duper delicious Maíz Pico de Gallo or Sweet Corn Pico de Gallo. No matter how you say it, the wholesome and nearly irresistible taste will get ya'.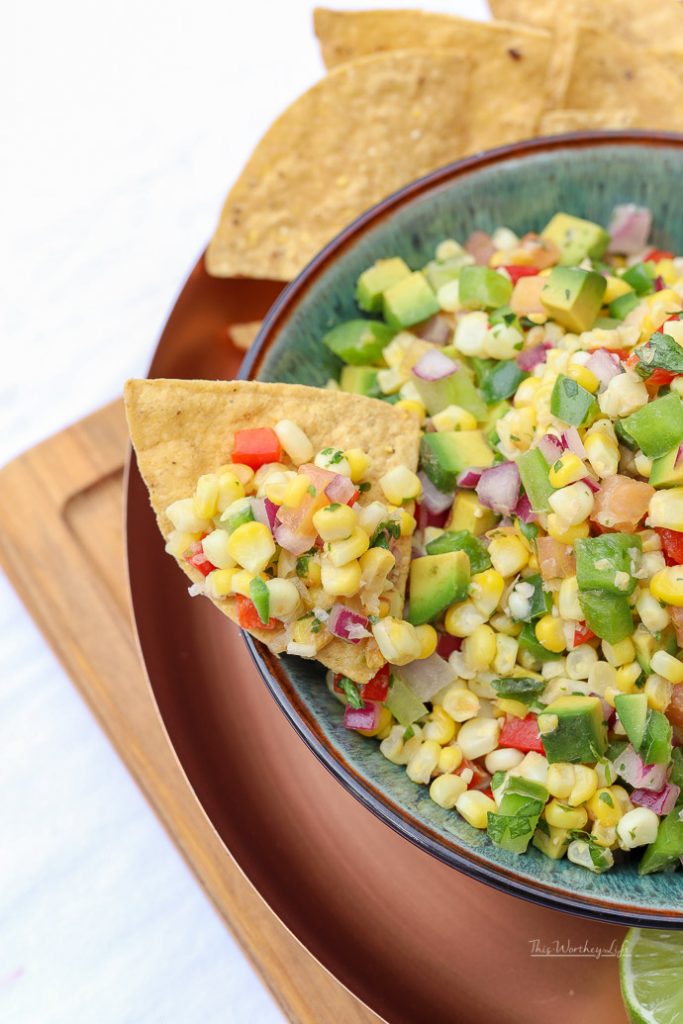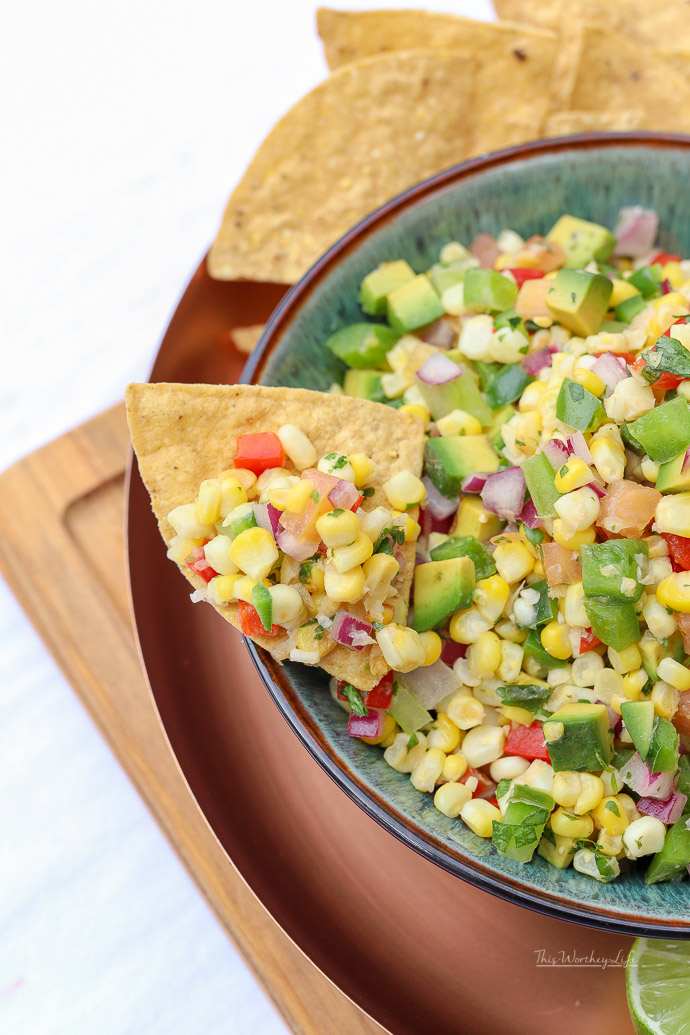 Yes, it's sweet corn but it is also the perfectly ripe avocado, the red and green peppers, the hint of heat from the diced jalapeño (seeds removed), the earthiness of fresh cilantro, the red onions and minced garlic, and we can't forgo the tang of the freshly squeezed lime juice. It all works together to create an appetizer that tastes even better than it looks. There is no excuse for not making yourself a big bowl of this, but a word of warning, you may not be able to stop yourself from eating it all up!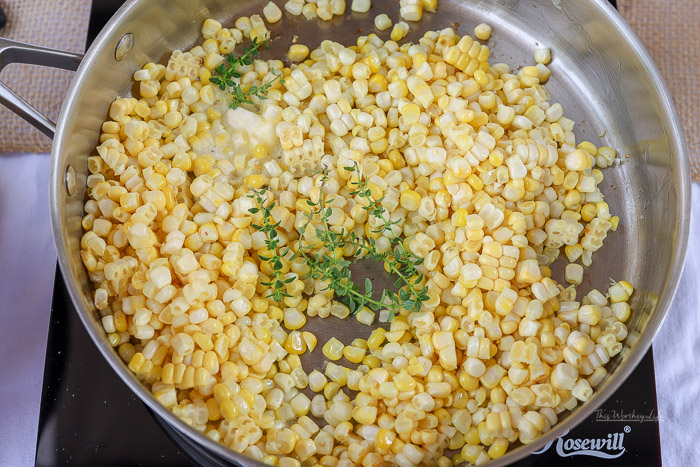 I started this incredible flavor bomb off with three cobs of sweet corn, I cut the kernels off with my chef's knife and pan-roasted the corn with a tablespoon of unsalted sweet cream butter and several sprigs of fresh lemon thyme. The smell alone will make you weak in the knees and want to call the whole thing off, grab and spoon and just eat all of the corn, but please resist.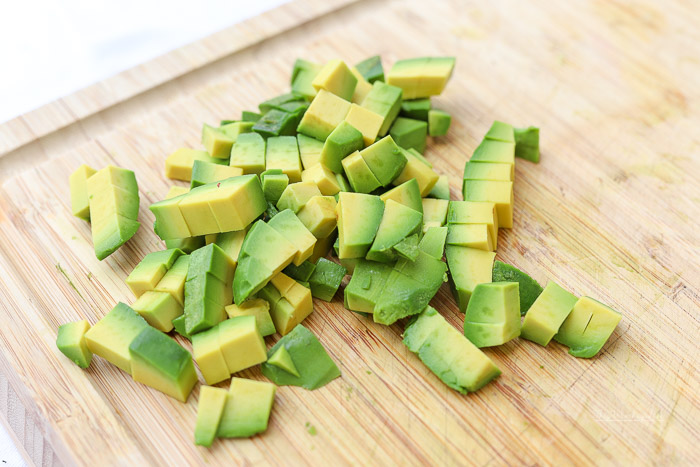 A perfectly ripe avocado helps this recipe shine like nobody's business, not too soft, firm in all of the right places, and creamy texture makes me go just a lil' cray cray because when all things are said and done, I am an avocado head through and through. So adding a whole avocado was a no-brainer when it came to shaking the traditional pico de gallo up and taking it to new heights.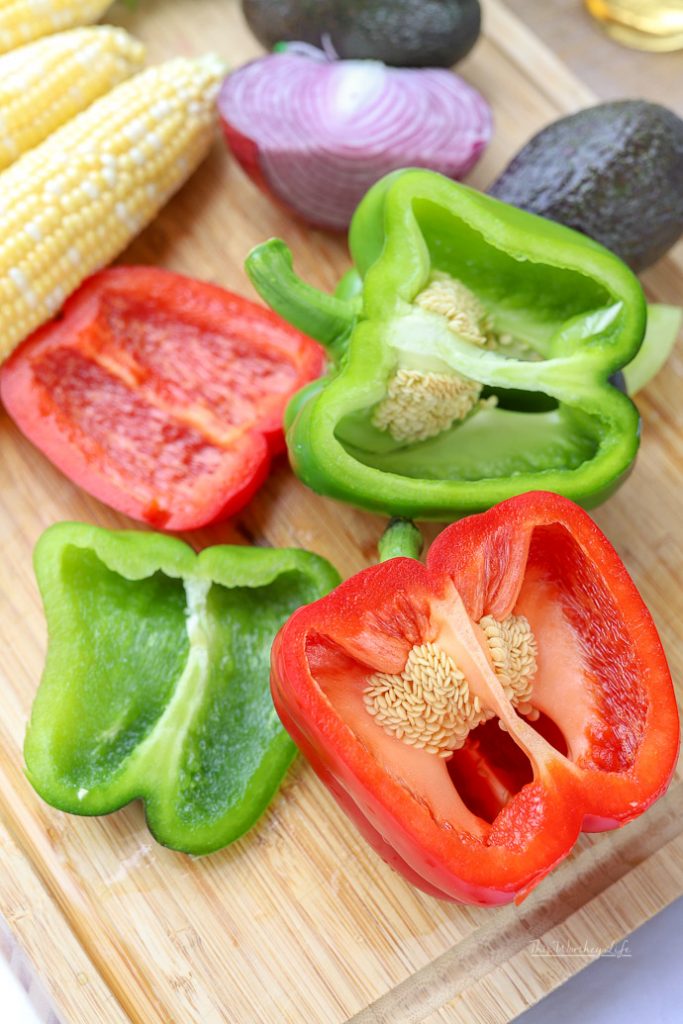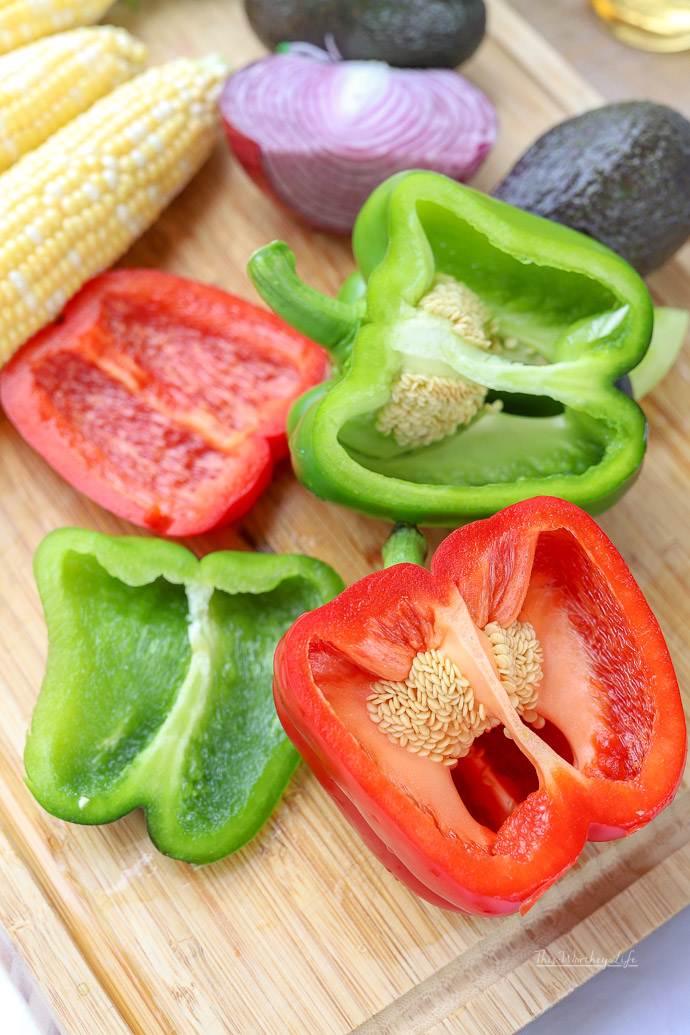 Do you see all of this freshness? It's not hard to make something so good when you start with some of the best fresh ingredients this side of summer. And it isn't hard to find because farmers markets are poppin' up all over the place this time of year. So, grab the kiddies and the dog (or leave them at home with mom or dad) and head over to a farmers market near you can find the best of the best produce and save this recipe. I'll say this, after one taste this may just become your new favorite pico de Gallo recipe ever. I mean, have I ever lied to you? Well, there was that one time, but still.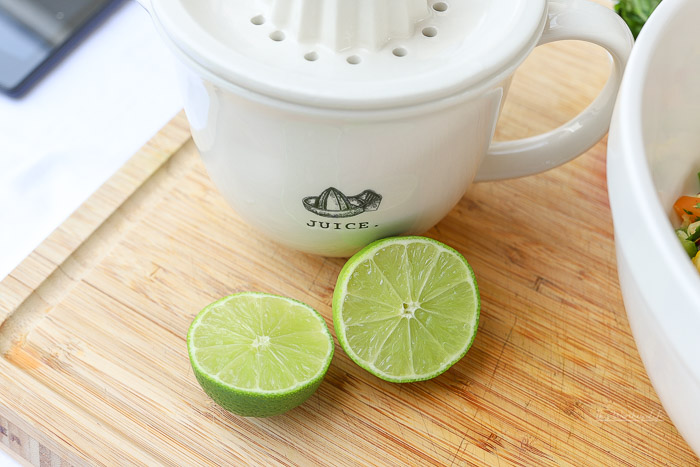 The juice of one ripe lime is all that's needed to add a bit of tangy citrusy flavor; it is like something took the smiling sun and juiced it just for you, doesn't that make you so happy?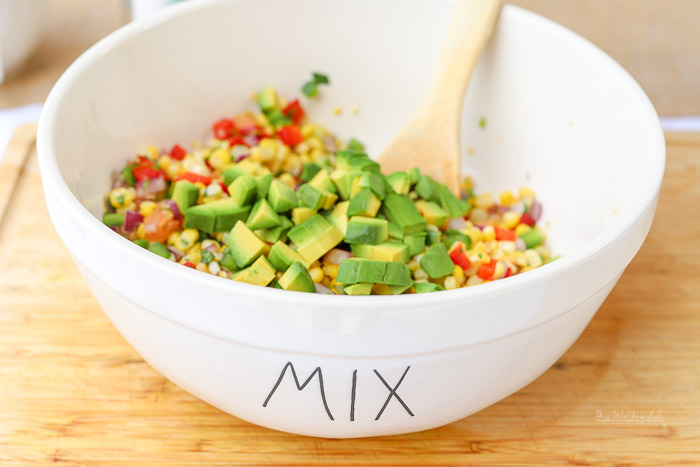 Gently mix all of these wonderful and flavor-packed ingredients, afterward it's like taking a big delicious bite out of a summertime rainbow!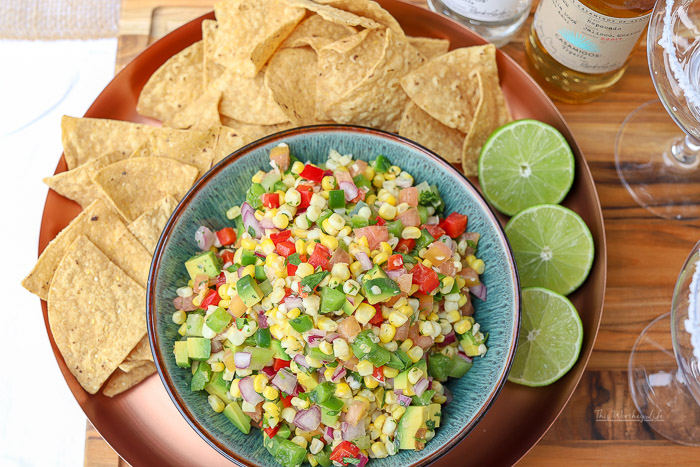 I don't know about you, but this looks so good, doesn't? Yes, the colors are great as is the presentation, because most of us eat with our eyes first, and if the eyes approve the taste buds will follow.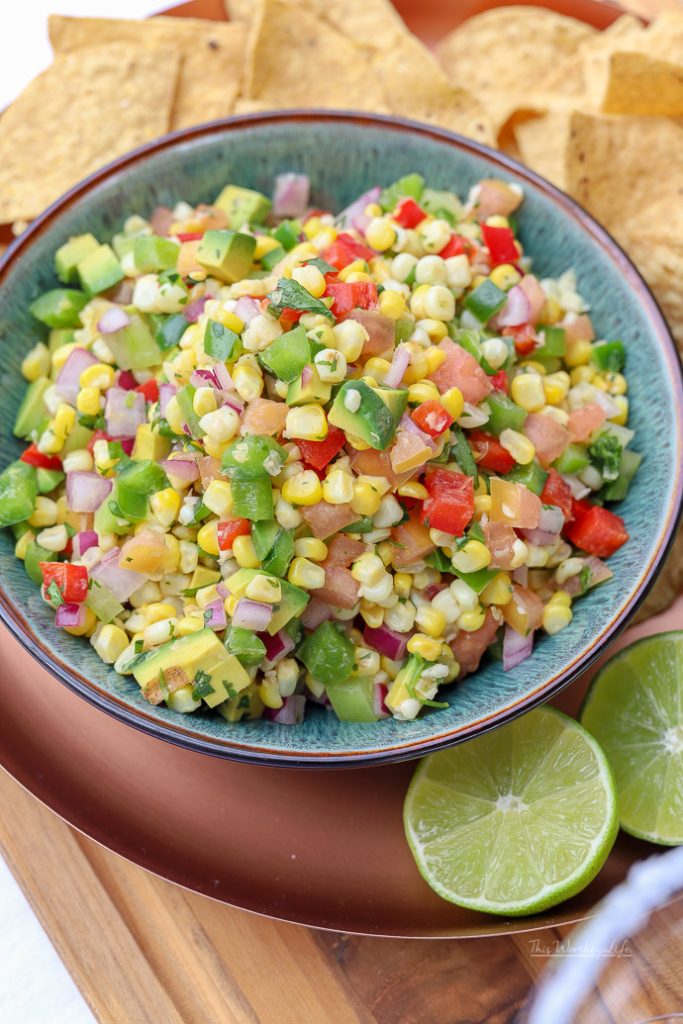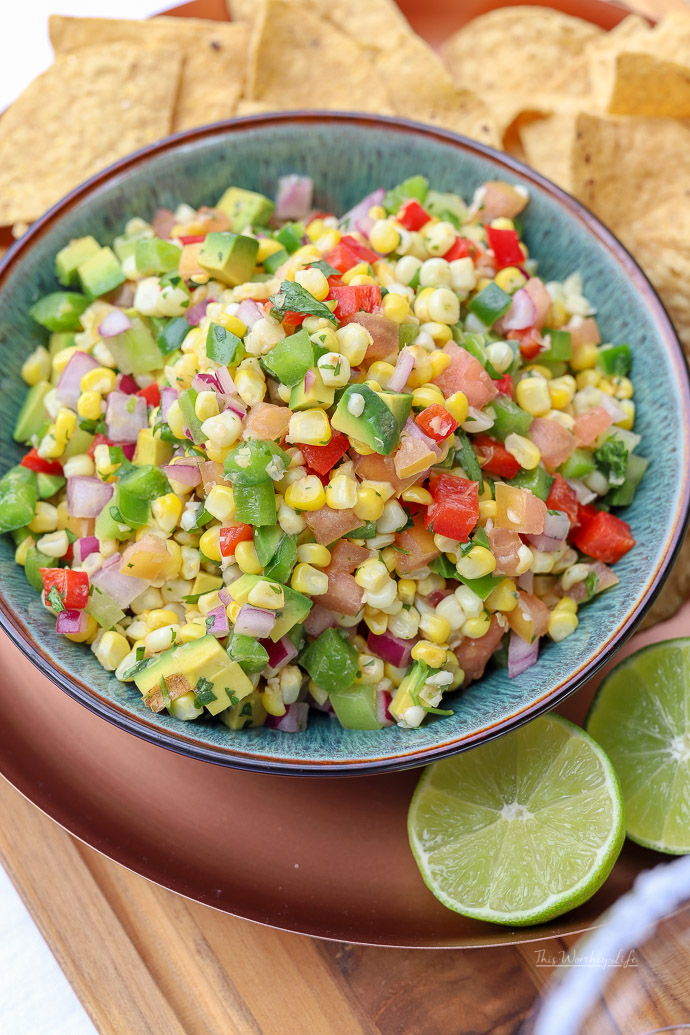 How to make the best Sweet Corn Pico de Gallo
Ingredients:
3 cobs sweet corn, kernels removed
2 cloves garlic, minced
1 green tomato, seeds removed and diced
1 red heirloom tomato, seeds removed and diced
1 small red onion, diced
1 small red bell pepper, diced
1 small green bell pepper, diced
1 medium

jalapeño, seeds removed and diced

1 juice of a freshly squeezed lime
1 tablespoon unsalted sweet cream butter
pinch of sea salt
Directions:
ProTip: Prep all of the ingredients ahead of time. Cut, dice, mince, all of the veggies, garlic, and avocado and place into the fridge to chill.
Using a sharp chef's knife cut the ends off the bottom of each ear of corn, stand the cob vertical on the cut end, and using a downward motion cut the kernels from the cob.
Place a medium skillet over medium-high heat and a single tablespoon of sweet cream butter, and a pinch of sea salt,

sauté sweet corn for five (5) minutes. Remove from heat and allow the corn to cool.

Remove the tomato, red onion, red and green bell pepper,

jalapeño

, and the avocado mixture from the fridge, and gently fold the corn kernels into the mixture.
Squeeze the juice of one ripe lime over the mixture and serve.
Serve with tortilla chips. Pairs well with our Apple Cider Margarita.