Chocolate never goes out of style and this No Bake Chocolate Cream Pie + Toasted Meringue, adapted from the Bon Appetit recipe, is packed with chocolate flavor bombs galore. If you love chocolate, this easy chocolate pie is for you.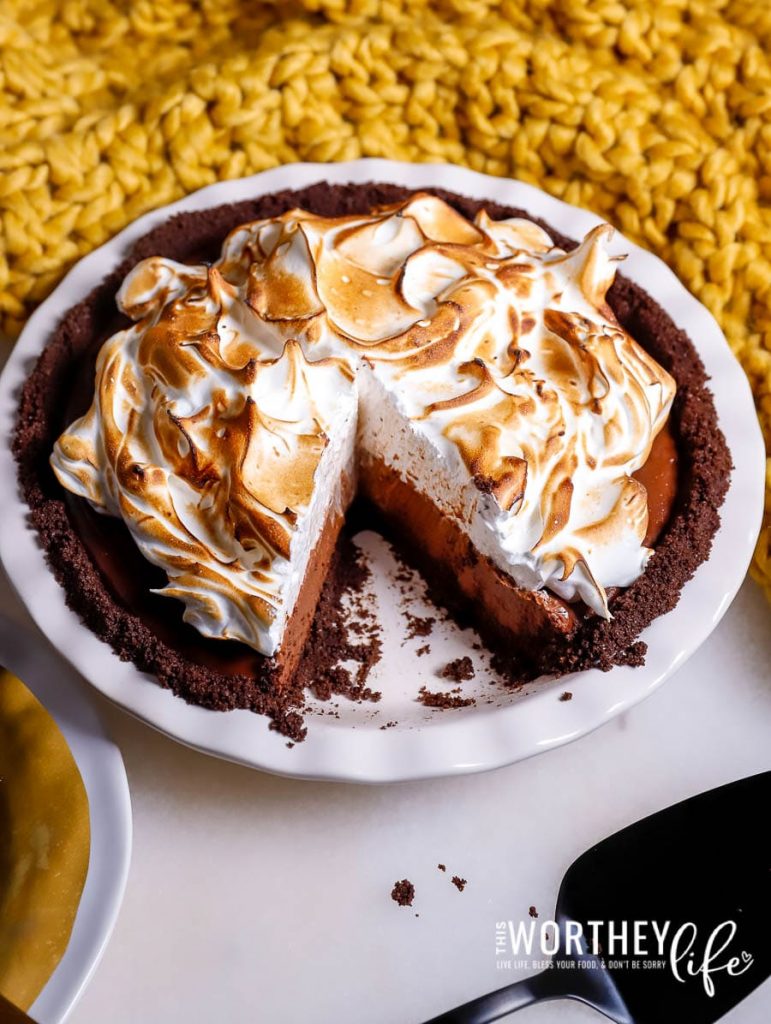 No Bake Chocolate Pie With Toasted Meringue
Without a doubt, this is one of my favorite desserts ever! Mainly, because it's a whole lot of chocolate and if you're a chocolate lover like me you will agree. Before I go on, this is a recipe I adapted from Bon Appetit, and although I made a couple of adjustments, it's still pretty close to the original. That being said, after making this recipe, you will want to make it again and again.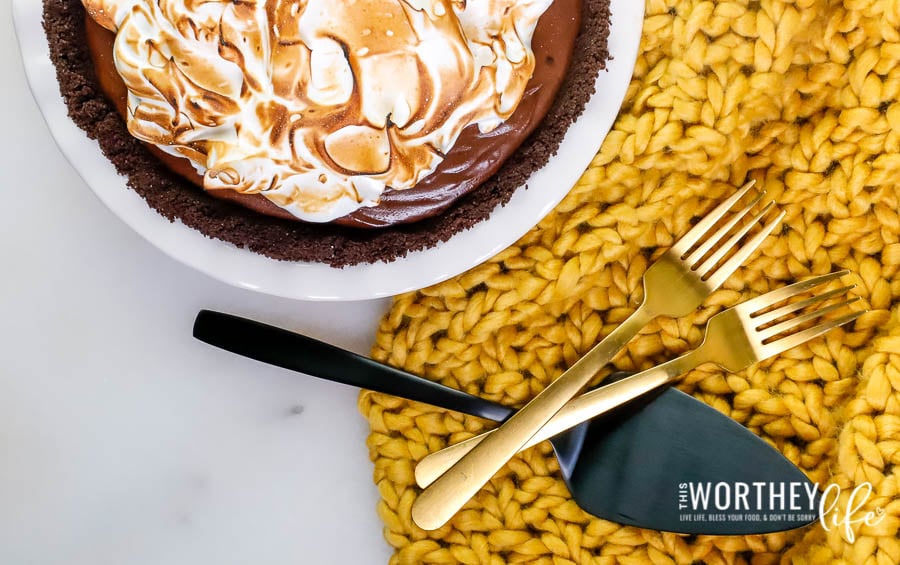 What do you use for a no-bake chocolate pie crust?
The Bon Appetit recipe calls for chocolate wafers, as in vanilla wafers. However, I couldn't find them after searching several stores. If I had thought about it sooner, I would have ordered the chocolate wafers from Amazon. So, I opted for chocolate Graham crackers, and I think I nailed it. This chocolate Graham cracker pie crust it 100% legitimate!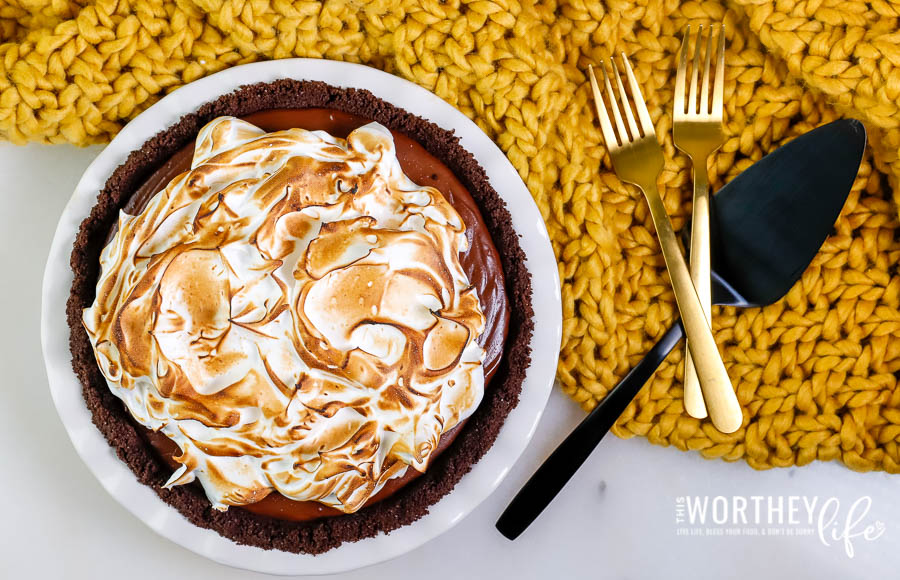 Cooking tips on making a no-bake chocolate cream pie
The second adjustment I made, after mixing the cornstarch and the egg yolks, I added the warm chocolate into the bowl with the cornstarch and egg mixture. Doing it this way ensures that all of the cornstarch and egg mixture gets incorporated into the chocolate pie filling. This is one decadent pie, the use of cornstarch and eggs yolks ensures a firm chocolate texture.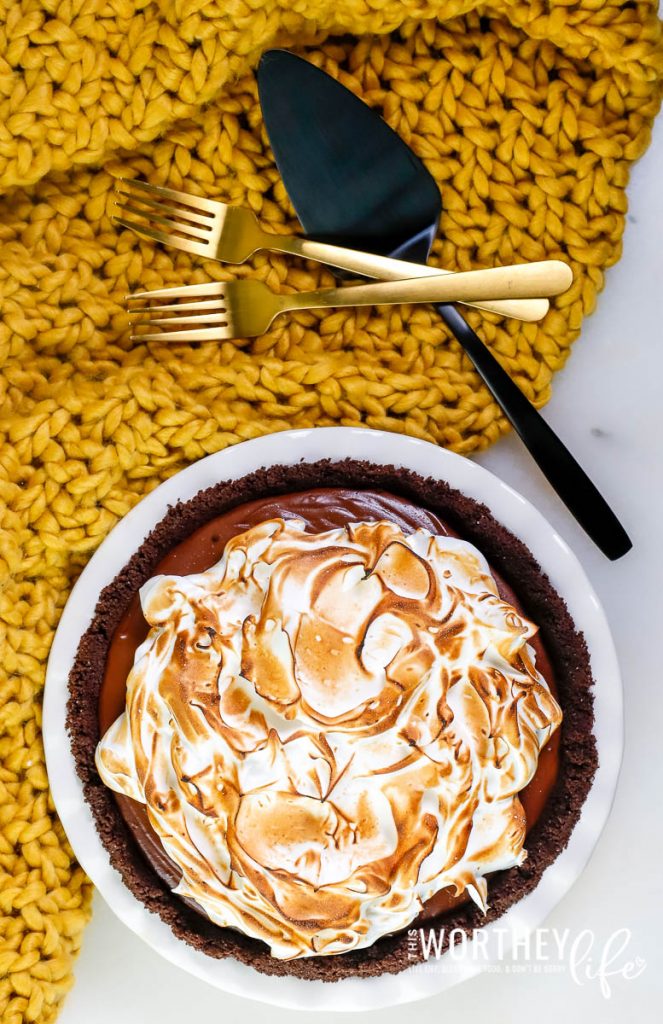 The third adjustment, instead of using 1 1/2 cups of whole milk, I used a 3/4 cup of heavy whipping cream and an equal measure( 3/4 cup) of whole milk. I'm convinced this made for a more luxurious and creamier chocolate pie filling.
The next thing I did, as the chocolate pie filling was thickening up, I added ten semi-sweet chocolate chips. This step ensures you will get the recommended daily allowance of 'vitamin too much' delicious chocolate.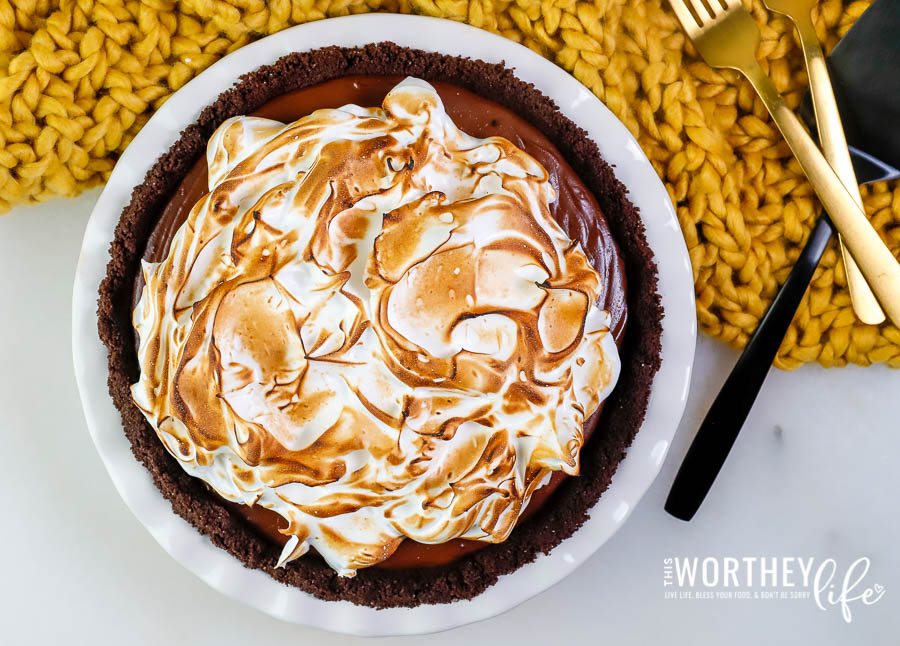 Do you use eggs in a no-bake chocolate pie recipe?
The final adjustment I made was making sure I used pasteurized eggs. Not that the original recipe didn't, but then again it didn't specify. And since this is a no-bake recipe that uses egg whites to make the meringue, it makes good sense to use pasteurized eggs. When you eat raw eggs, there is always the risk of salmonella contamination. Children, older folks, and those with compromised immunes systems should take every precaution against getting sick when eating raw eggs.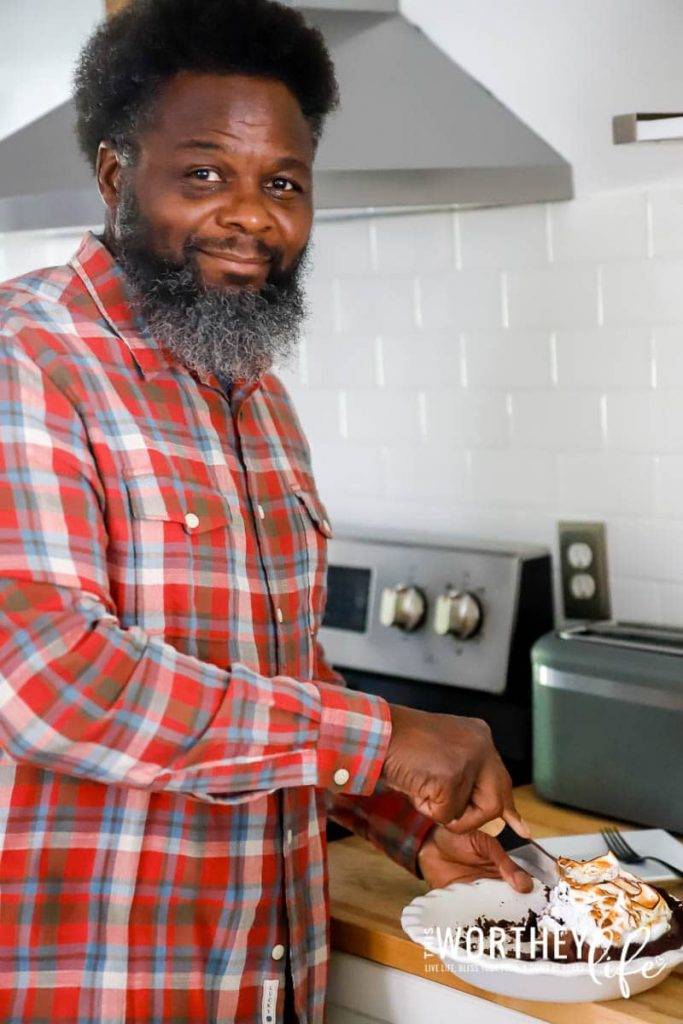 Best baking tips for a no-bake chocolate pie
Also, make sure you use a digital food scale to guarantee you have the required 10 ounces of unsalted butter, 8 ounces of chocolate, and 6 ounces of chocolate Graham crackers. One last note. Instead of risking burn the meringue by toasting it in the oven set on high or low broil use a Pastry Torch. Those little butane torches come in handy and give you better control when it comes to toasting the meringue, and there's less chance of burning the meringue.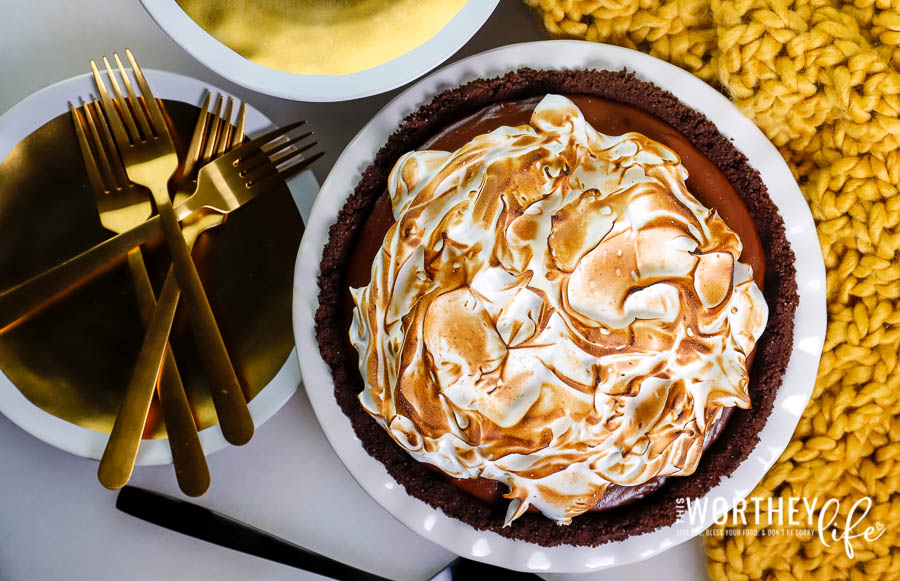 You Will Love This No-Bake Chocolate Cream Pie + Toasted Meringue Because It Is:
Chocolatey
Decadent
Not Too Sweet
Beautiful
Rich
A Labor Of Love
Satisfying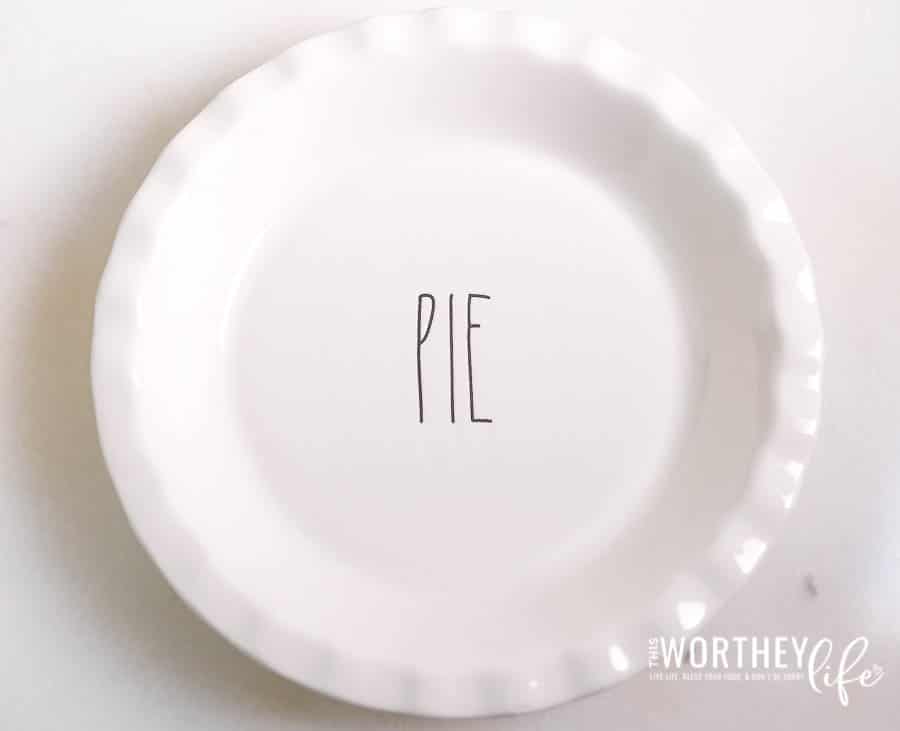 To Make This Recipe You Will Need These Items
YOU WILL NEED:
We love our Kitchen Aid Stand-Mixer
We measured out our ingredients using these Le Creuset measuring spoons.
Ensure you are using the Best Kitchen Scale to weigh ingredients by using an OXO Food Scale.
Your pies will look all kinds of shabby chic in these wonderfully semi-rustic Rae Dunn pie pans.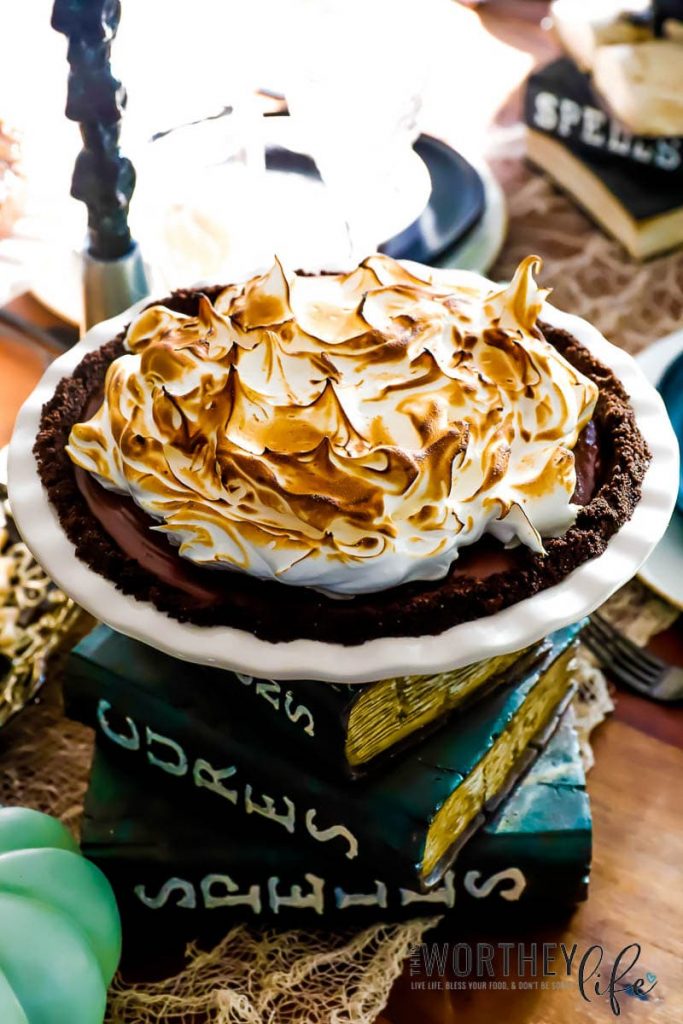 How to make No-Bake Chocolate Cream Pie + Toasted Meringue
Ingredients:
10 tablespoons unsalted butter
6 ounces chocolate Graham crackers
flaky sea salt
8 ounces bittersweet chocolate, melted, + 3 ounces for the pie crust
4 egg yolks room temperature
3 tablespoons cornstarch
1 1/2 cups heavy cream
2 tablespoons unsweetened cocoa powder
1 1/2 cups whole milk
3/4 cup sweetened condensed milk
Directions:
Weigh 6-ounces of chocolate Graham crackers and break them apart into the bowl of a food processor, pulse until the chocolate crackers are finely ground without any large pieces, set aside.
Melt five tablespoons of butter in the microwave then add a pinch of flaky sea salt and the melted butter a little at a time into the processed chocolate Graham crackers and mix well until it resembles wet sand.
Evenly spread and press firmly the pulverized chocolate Graham crackers and the butter mixture into the pie pan and up along the sides to the edge of the 9-inch pie pan.
Place the chocolate Graham cracker pie shell into the fridge to chill for 20-25 minutes.
Melt three ounces of semi-chocolate chips and spread the chocolate evenly on the bottom of the chilled chocolate Graham cracker pie shell.
Into a large bowl, add the room temperature egg yolks and corn starch. Set aside.
Place a medium saucepan over medium heat, add the heavy whipping cream and unsweetened cocoa powder and whisk until there are no lumps, whisk in the whole milk and sweetened and condensed milk and heat until the mixture begins to simmer but not bubble.
Pour the warm mixture into the large bowl containing the mixture of egg yolks and corn starch and whisk gradually until the egg yolks and corn starch are thoroughly dissolved.
Place the saucepan over medium heat and pour the mixture back into the saucepan slowly. Continue to cook over medium heat, keep whisking, until the mixture thickens with slow bubbles rising to the top.
Add the ten (10) semi-sweet chocolate chips and the remaining five (5) tablespoons of melted butter and continue to whisk for two (20) minutes. Remove from heat.
Place the chilled pie shell on a flat surface and spoon the chocolate custard mixture into the pie shell, spreading it evenly.
Place the no-bake chocolate pie into the fridge for a minimum of two (2) hours until the custard has set.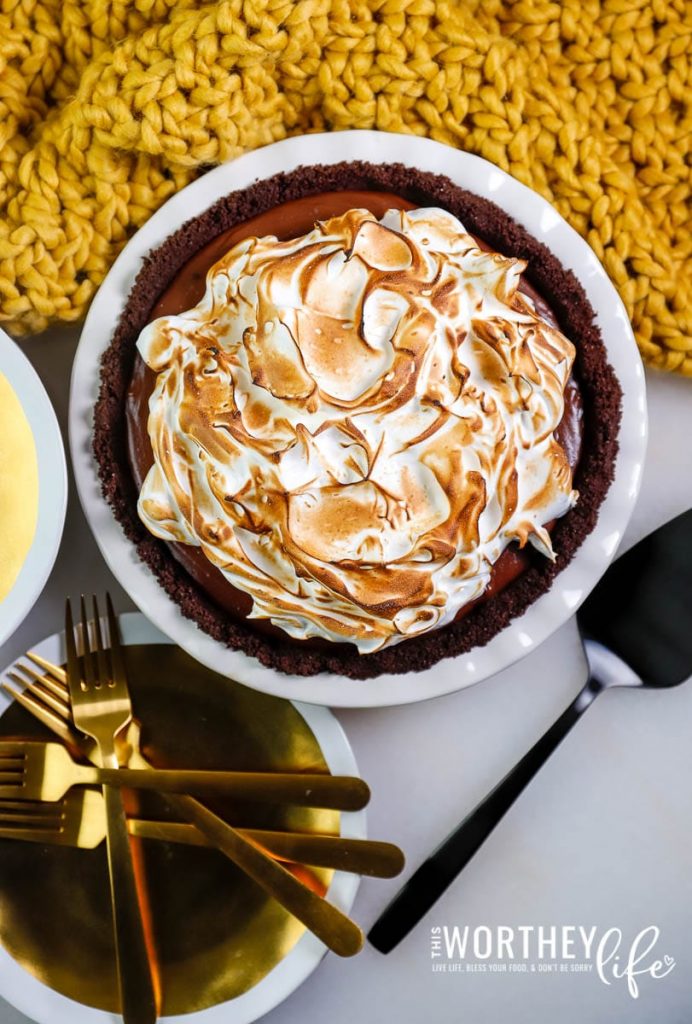 How to make an Easy Meringue
Ingredients:
4 large egg whites

½ cup granulated sugar

¾ cup powdered or confectioner's sugar sifted

1/8 teaspoon cream of tater
2 tablespoons pure vanilla extract
Directions:
Into the bowl of a stand mixer combine the egg whites, granulated sugar, powdered sugar, cream of tater, and pure vanilla extract.
Using the wire whisk attachment select the highest setting and beat the mixture until stiff billowing peaks appear in about 10-15 minutes.
After two hours remove in the fridge, remove the no-bake chocolate pie and spoon the meringue over the pie and swirl with the back of a tablespoon lifting the spoon straight up to form peaks.
Using a baker's torch toast the meringue until it is a deep golden brown all over.
Return the no-bake chocolate pie to fridge for fifteen (15) minutes.
Serve.
Find more no bake recipes below:
Pecan Sugar Cookie Sandwiches with No Bake Lemony Cheesecake Filling
Oreo Overload No Bake Cheesecake
Peppermint Cheesecake Parfait No Bake Recipe
Pumpkin No-Bake Cheesecake Oatmeal Crisp