As the year comes to a close, we here at This Worthey Life would like to share a few of our favorite things for 2021 – items that we've been using and loving in our family.
Whether you're looking for gift-giving ideas or are in the market for products that bring joy and convenience, this list offers ideas for upgrades to your existing appliances or products that we think you'll enjoy giving a try.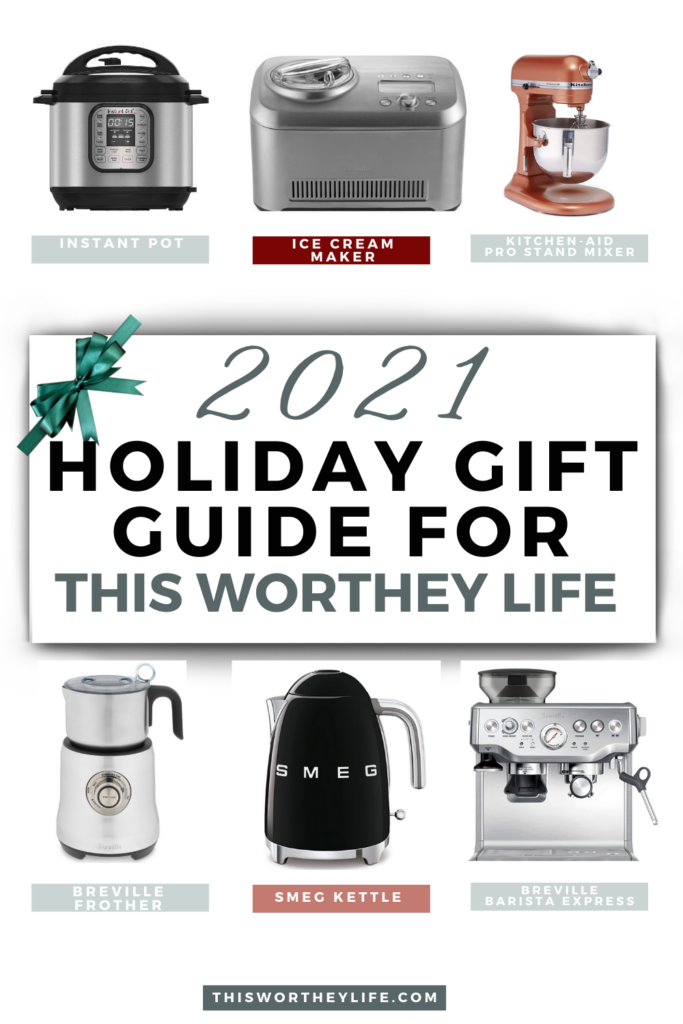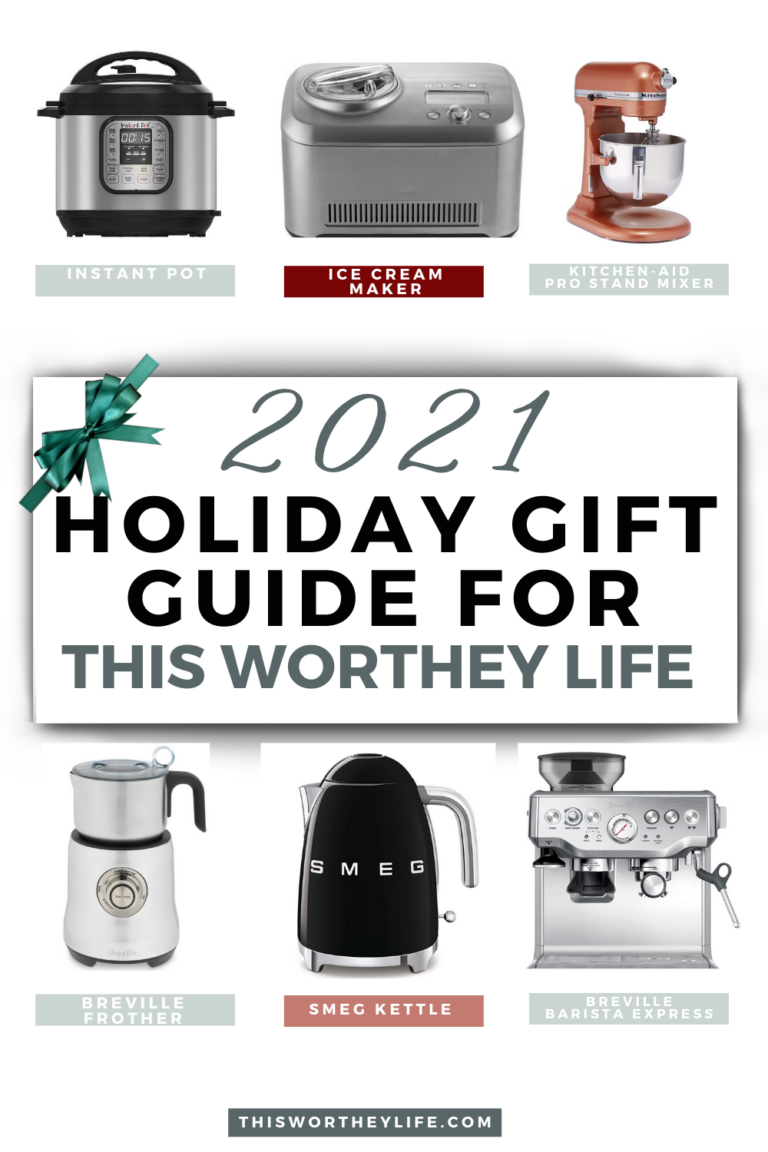 Our Favorite Things for the Kitchen and Home
I really like this company because they make high-end cookware without a big price tag.
I love this wok because it is well-made, has great heat distribution, and looks better than good!
Take your stir-fry to the next level with this carbon steel wok, perfectly designed for the home chef. Once you grab one, be sure to give our Cauliflower Rice Stir-fry with Shrimp a try.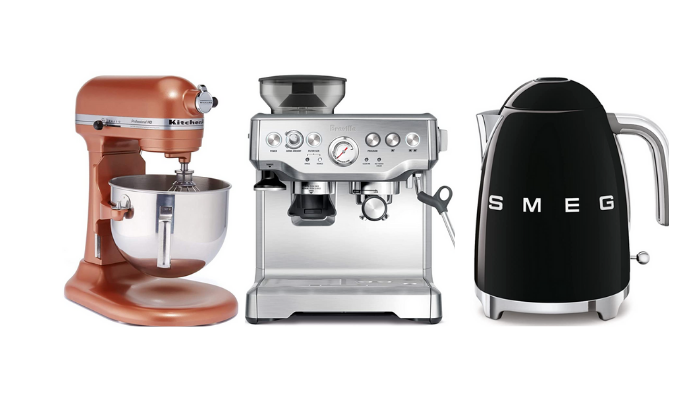 One of our best pandemic purchases was this espresso machine. With coffee shops and limited runs to Starbucks, this machine was much needed.
It took a little bit to learn, but I highly recommend the Breville Barista Express.
You'll feel like a savvy barista with the Breville Barista Express, making macchiatos, lattes, and personalized drinks for friends and family.
This mixer is so versatile and there are plenty of cooking hacks you can do with a Kitchen-aid Stand Mixer, like pulling pork, shredding chicken, and even making playdoh for the kids.
I love my Kitchen-Aid Pro Mixer because it's a workhorse. I used it to make all the delicious baked things.
From cookies to cakes and everything in-between!
If you're looking for a kettle that will add a significant sense of style to your kitchen countertop, the Italian-based SMEG brand is the perfect addition.
Carve out some precious me-time with a delicious cup of tea prepared with this 50's retro-style kitchen appliance.
One of my most cherished childhood food memories is of my mom making ice cream. I remember hand-cranking the ice cream maker until my arm was about to fall off!
Fast forward to adulthood and making ice cream in my Breville Ice Cream Maker! It's a dream and your arms will thank you!
Once you've mastered ice-cream making at home, try your hand at these Nutella milkshakes.
Breville's 'Smart Scoop' technology makes it the first of its kind to automatically sense the texture of your creation based on your predetermined selections.
With 12 hardness settings, you can make ice cream of course, as well as sorbet, frozen yogurt, and gelato – and keep it at temperature for up to three hours.
We purchase our Breville Ice Cream Maker from Williams-Sonoma.
We love our Ninja Air Fryer. The kids use it to make their snacks and easy meals like these loaded air fryer potatoes.
We've given one as a Christmas gift because we love it so much.
Ninja makes several variations of the air fryer, including a basket style, as well as an oven and grill style.
The brand also makes a pressure cooker/ air fryer combination appliance.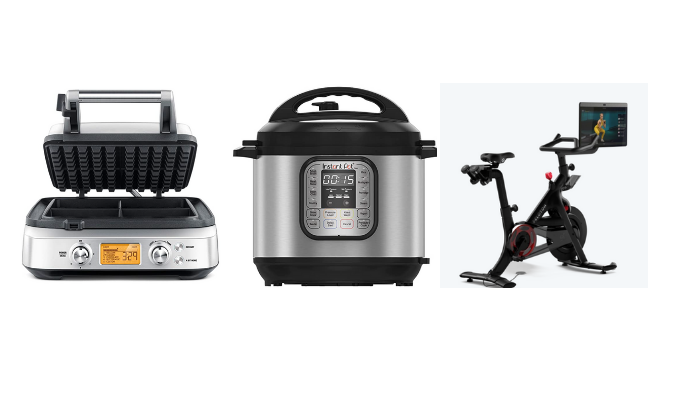 This 4-slice waffle maker includes an LCD display to help you cook up waffles to perfection; you choose the waffle style and doneness level and the machine does the work for you.
You'll have perfect waffles every time because once you close the lid the timer and progress indicator counts down, making it one of our favorite things for 2021: it takes all the guesswork out of breakfast.
I have had waffle irons in the past, but the Breville Smart Waffle Pro is all about making waffles on a whole new level.
Use it to make our Waffle and Pancake Berry Breakfast or try out these Savory Tater Tot Buttermilk Waffles and let us know what your family thinks of them – these were met with mixed reviews in our family but they're delicious and worth a try!
We use the Instant Pot for a variety of recipes, like everyone's favorite Olive Garden dupe, Zuppa Toscana, and this Mulled Sangria Mocktail you can make right in your Instant Pot.
This is another food machine we love so much, we have two.
Instant Pot sizes vary; the most popular one being the 6-quart which feeds three to six people.
Instant Pot is also available in 3-quart, 8, and 10-quart sizes as well.
I love our Peloton! Period.
It sits in our home and its presence alone gets me off my butt on the bike! This is the best fitness investment I have ever made.
And for me, it's all about the instructors and the music! Plus, I love digging into the ever-growing archive of workouts that are always there 24/7 without fail.
Fitness has never been so easy!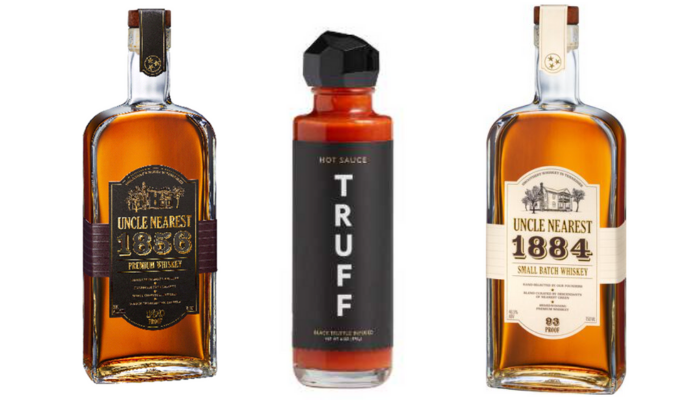 Our Favorite Things for 2021: Food and Beverage
The only thing that tops the taste of this Tennessee whiskey is its origin story. Uncle Nearest was the ex-slave who taught Jack Daniels how to make whiskey.
Plus, the 1884 bottle hits all the right notes! Cheers!
Uncle Nearest is the perfect addition to our refreshing Guava Berry Whiskey Smash.
The 1856 is also a good one to get. As well as the hard-to-get 1820.
Derrick started using this particular hot sauce earlier this year. We spotted it at World Market. Since then, we've tried a variety of their products, and now highly recommend their products.
One of Truff's bestselling products is its truffle-infused hot sauces. Try a sampling of the Original, Hotter, and 'White Truffel' flavors, and we're sure you'll be just as hooked as we are. They carry a three-pack which is a great gift idea or stocking stuffer.
Adjourn Tea is one of our places to tea, not only that but it's also a Black-Owned Business which you know we love to support!
If you like organic loose-leaf tea, this is a woman-owned business you need to try.
Choose a blend that speaks to you, and indulge in the warmth and richness that only a cup of steaming, hot tea can provide.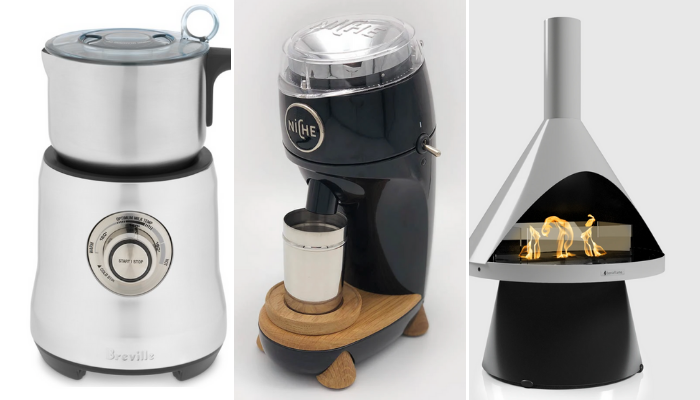 This Worthey Life Family Wish List
An 'our favorite things for 2021' post wouldn't be complete if we didn't let you know a few of the items we have our eyes on for the new year. Here are some of the products we can't wait to get our hands on in the coming months:
This grinder comes highly recommended for espresso users by many coffee experts. It's pricey, but I have it on my wish list for 2022.
It ships from the UK and is a highly coveted machine.
The Niche Zero allows you to select a custom desired brew and essentially leaves no grind behind in the container; so you know none of your precious coffee beans are going to waste.
This handy frother from Breville is also on our wish list. We plan to use the frother for making hot chocolate, coffee, and more.
The easy-to-use design allows you to create creamy-frothed milk for your favorite beverages.
It's dishwasher-safe and includes attachments for cappuccinos and lattes. As an added bonus, it even comes with a removable lid so you can add mix-ins like shaved chocolate to your froth!
This beautiful fireplace is on our wish list for 2022. A few months ago, I started searching for a modern fire pit.
This one came up, and I instantly fell in love with the modern look. Plus, you can use it inside or outside with no hassles of cords or having to hook up to other pieces of equipment.
The mid-century modern-inspired design will bring a sense of elegance to your space, whether you want to jazz up a corner of your living room or create an inviting outdoor living space.
With 2022 on the horizon, we hope this list of our favorite things for 2021 inspires you to try something new or offers you a few gift-giving ideas.
We wish you the best for a new year ahead, from our family to yours.
Happy Holidays!