The holiday season is here, and our Chocolate Glazed Toffee Bits Cookies are little bundles of joy that'll make your taste buds smile. Made with toffee bits and chocolate, this holiday cookie recipe can be enjoyed at any time of the year.
Chocolate Glazed Toffee Bits Cookies
Yes! Here in the Midwest, when the temperatures dip into the thirties, cold weather means comfort foods and lots of delicious food and treats that'll make us forget about what's going on outside. Basically, it's non-stop cooking making going on in The Worthey House. And we're starting with our Chocolate Glazed Toffee Bits Cookies. We're also sharing this recipe as part of the Houseful of Cookies blog hop. You can find more information about it at the bottom of this post, but basically, it's a way for you to find a ton of Christmas cookies to bake this year!
I love this recipe because the cookies are thin and crispy, and the presence of toffee bits is a nice surprise, but it's the milk chocolate glaze on top dotted with even more toffee bits that steal the show.
Plus, these cookies are a cinch to make, and most of the ingredients are things you more than likely already have in your pantry.
I have a secret; I added a bit of spicy chai tea latter mix to the cookie batter for a subtle hint of spice. Trader Joe's rocks!
And when you use quality ingredients like Land O' Lakes Extra Creamy European Style Salted butter, your already off to a great start.
Then when you add a tsunami of toffee bits, it's game over; you already know these cookies are going to be absolutely YUM!
You Will Love Our Chocolate Glazed Toffee Bits Cookies Because:
Light Easy to make Toffee Bits Crispy Spice Chocolaty All Day Yummy
How To Make Toffee Bits Cookies with Chocolate Glaze
Ingredients:
2 cups sifted all-purpose or cake flour
1/2 teaspoon baking powder
1/2 teaspoon flaky sea salt or Kosher salt
1 3/4 sticks unsalted butter at room temperature
1 large egg
1 cup granulated or superfine sugar
1 tablespoon pure vanilla extract
1 cup toffee bits
After the cookie dough has chilled for a few hours, its time to cut them into individual cookies and pop them into the oven.
Directions:
Add the all-purpose flour, baking powder, sea salt into a bowl and mix well. Set aside.
Into the bowl of a stand mixer cream, the butter, and sugar together.
Add the egg and pure vanilla extract to the creamed butter and sugar mixture.
With the stand mixer set on low, add the dry ingredients to the wet ingredients until the mixture is just combined.
Sprinkle a bit of flour and a clean working surface and roll the cookie dough out into a 12-inch tube with a 2-inch diameter.
Wrap the cookie dough in plastic wrap and chill for up to three (3) hours.
Preheat oven to 375 degrees.
Place parchment paper or a non-stick baking surface onto a cookie sheet, cut out your cookies into

1/4 inch to 3/8

of an inch thick. Place cookies about an inch apart.
Place cookies onto the center rack of the preheated oven and bake for 5-8 minutes or until the edges begin to brown.
Remove the cookies from the oven to cool.
While the cookies are cooling, place a saucepan over medium-low heat, add the vegetable or canola oil, then add the chocolate. Stir until the chocolate begins to melt. Keep stirring until the chocolate is thin. Remove the chocolate from heat.
Turn a cookie upside down and dip into the chocolate glaze and place the cookie on a cooling rack and sprinkle on more toffee bits. Place the cookies on a cooling rack to allow the chocolate to set. About 15-20 minutes.
Serve.
Chocolate Glaze recipe
Ingredients:
16-ounces bittersweet or semi-sweet chopped baker's chocolate or morsels
1 tablespoon vegetable or canola oil
Are you ready to make these crispy and utterly delicious cookies? Now that you have the recipe, there's no stopping you now! Read? Set! BAKE!
What is Houseful Of Cookies?
Houseful of Cookies is an annual, virtual cookie hop, hosted by Natasha Nicholes of Houseful of Nicholes. She really likes playing on the "Houseful" theme when there is more than one of something, and since there's more than one cookie…here we are. Each year, she gathers a bunch of us from the internet to bake up our epic cookie creations and share them with all of you! It's a fun time, and we all have dealt with butter, flour, and various flavorings to bring you our goodies each year. This year, we present to you, our cookie hop. #housefulofcookies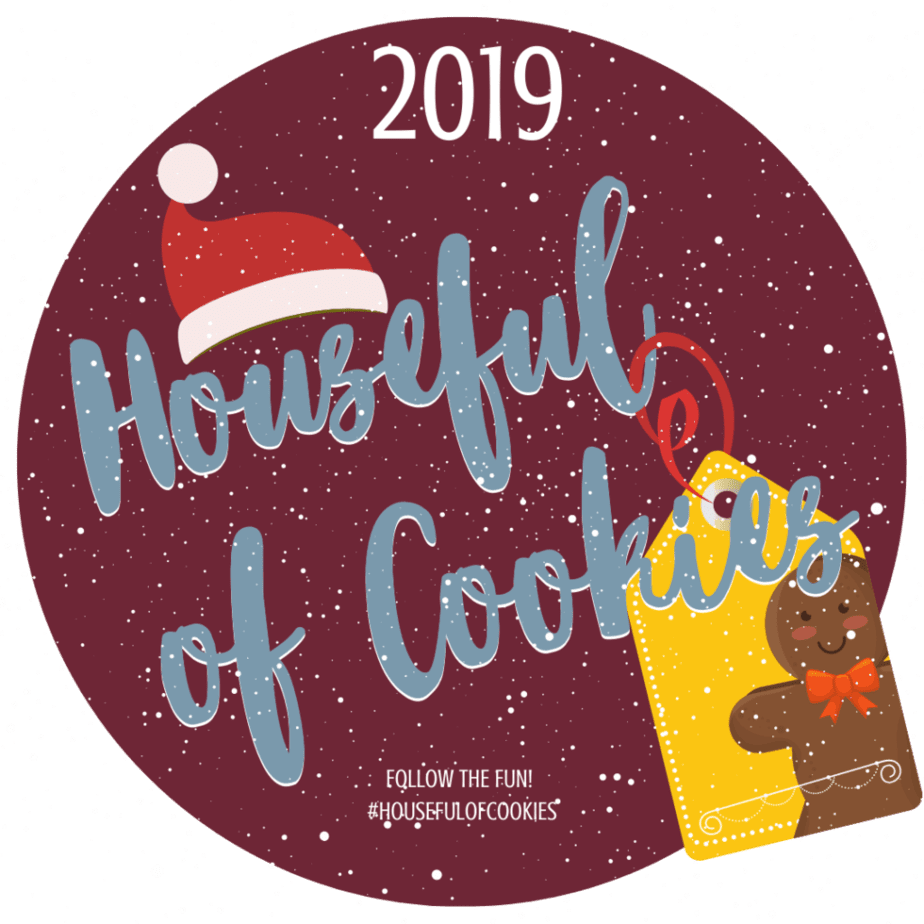 Houseful Of Cookies Participants
Brownie Cookies – Houseful of Nicholes
Chocolate Rolo Surprise Cookies – Good Girl Gone Redneck
The Perfect Christmas Sugar Cookies – Love, Jaime
Cake Mix Santa Cookies – Dairy Carrie
Candy Cane Cookies – Brooklyn Active Mama
Chocolate Dipped Peppermint Shortbread Cookies – Honest & Truly
Gingersnap Cookies – Divas With A Purpose
Decorated Ugly Sweater Cookies – 1000 Directions
Minnie Christmas Headband Cookies – Cutefetti
Birds Nest Cookies – My Crafty Life
Cranberry White Chocolate Chip Cookies – Kenya Rae
Gluten-Free Russian Tea Cakes – Day by Day in Our World
Not His Mamma's Tassies – Heather Spins a Yarn
Molded Peanut Butter Cookies – This Mamas Life
Not Your Mama's Milk & Cookies – Life of a Ginger
Peanut Butter Marshmallow Chocolate Chunk Cookies – Mama Harris' Kitchen
Coffee Sandwich Cookies with Browned Buttercream Filling – How Was Your Day?
Butterscotch Cornflake Cookies – Omadarling
Coffee Cookies – Someday I'll Learn
Toffee Bits Cookies – This Worthey Life
Fruitcake Cookies – Sugar, Spice, & Glitter
Keto Almond Joy Cookies – The Crunchy Mommy
Find more cookie recipes below:
Pretzel Crunchers White Chocolate Chip Cookies
Loaded Oatmeal Raisin Cookies Recipe
Honey Orange Mimosa Cocktail + Honey Walnut Cookies