As we prepare for the Thanksgiving holiday, we're taking the popular butter board trend to make a Turkey Buttercream Board!
Check out how we're using homemade buttercream to make a chocolate buttercream frosting designed to look like a turkey for a fun Thanksgiving treat.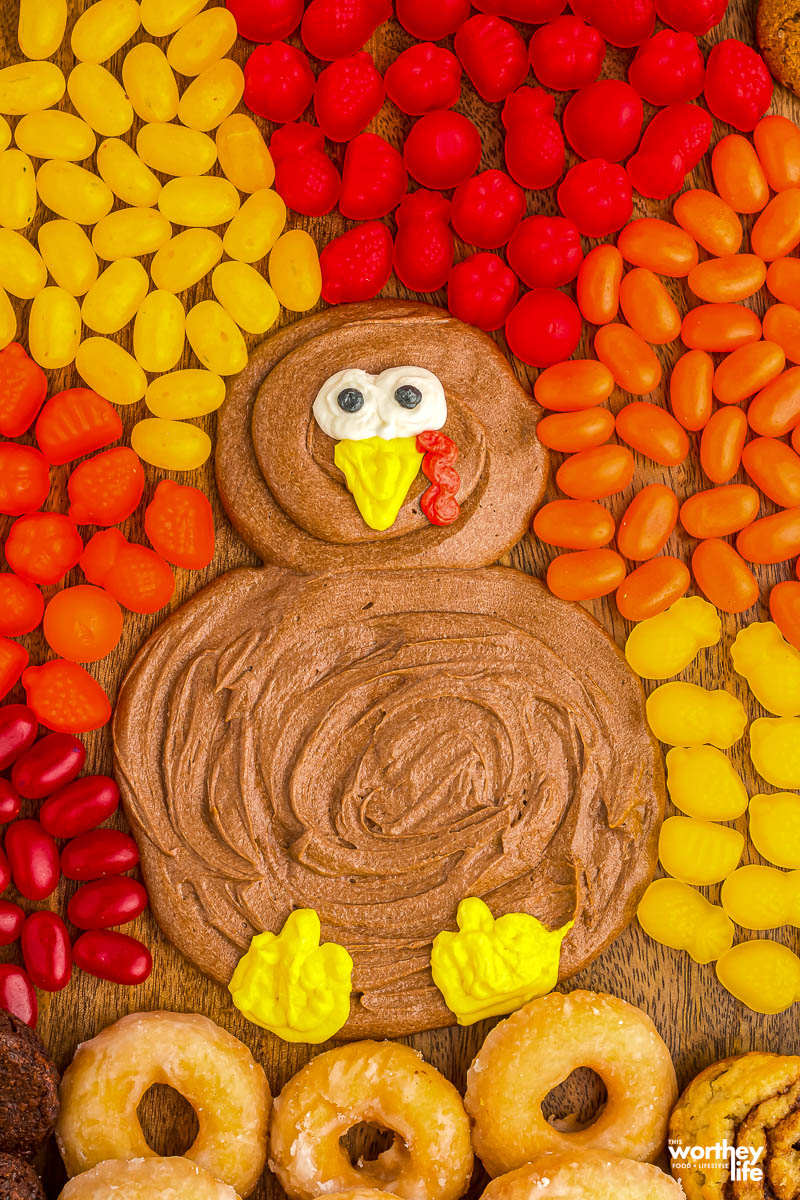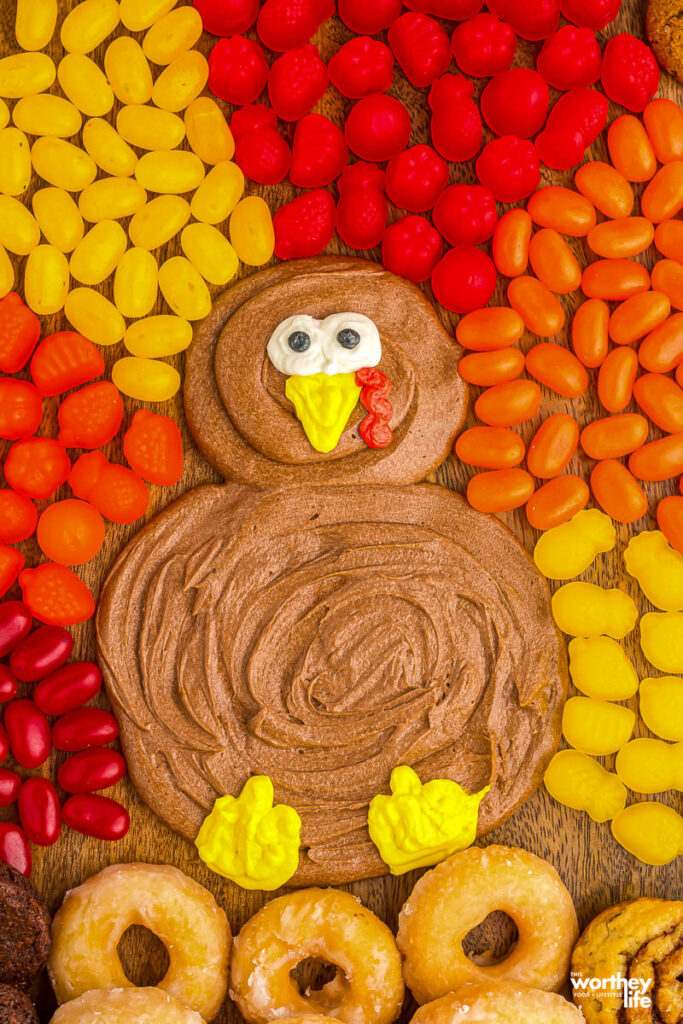 How to make a Turkey Buttercream Board
Butter boards are so popular right now in the TikTok world. We took this trend and made our version with herb cream butter.
And now, with the holidays just around the corner, we're going to flip the switch to make buttercream boards with fun holiday designs, starting with a turkey.
This easy recipe for a dessert turkey buttercream board is a chocolate frosting and colorful candies to mimic the rainbow of feathers.
This buttercream frosting board is great for parties, potlucks, and even a movie night at home. Cute, festive, and even more delicious than it looks.
Check out these fun Thanksgiving dessert ideas:
Recipe for Carrot Cake Cupcakes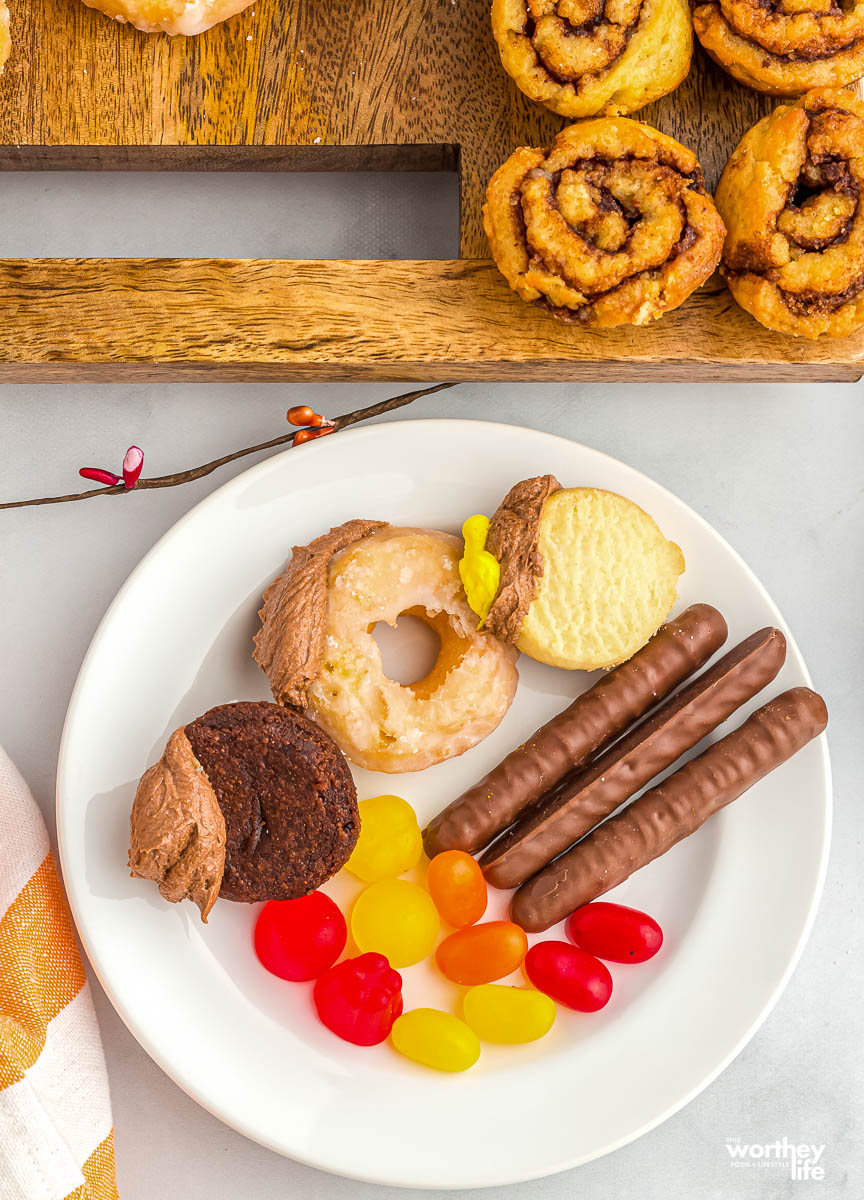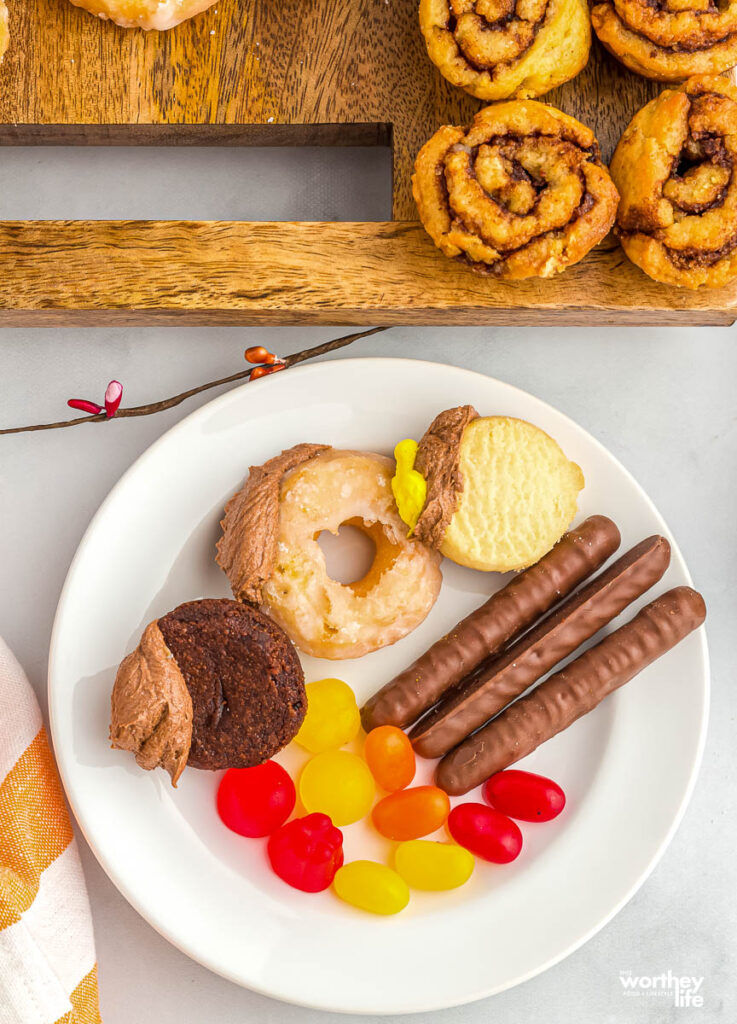 What You Will Need
To make this turkey buttercream board, you will need the following ingredients:
Confectioners' sugar. If your powdered sugar is lumpy, try running through a strainer to help remove the clumps and create a creamier texture.
Vanilla extract. Gel food coloring. Unsalted butter. Reach for softened butter. This will be the base of your buttercream, and softened butter is a must-have item. You will also need vanilla extract to help with the flavor.
Gel food coloring. The gel food coloring will be used to get the colors needed to create the turkey.
Red, orange, and yellow jelly beans. The jelly beans I used to make parts of the feathers. It is going to help give this dessert board that bright feather look.
Red, orange, and yellow gumdrops. It helps enhance the look. The gum drops are also used for feathers and add an extra layer of texture.
Variety of cookies and sweets for dipping. Pair with any of your favorite dippers. Do all sweet items or use pretzels for a sweet and salty pairing.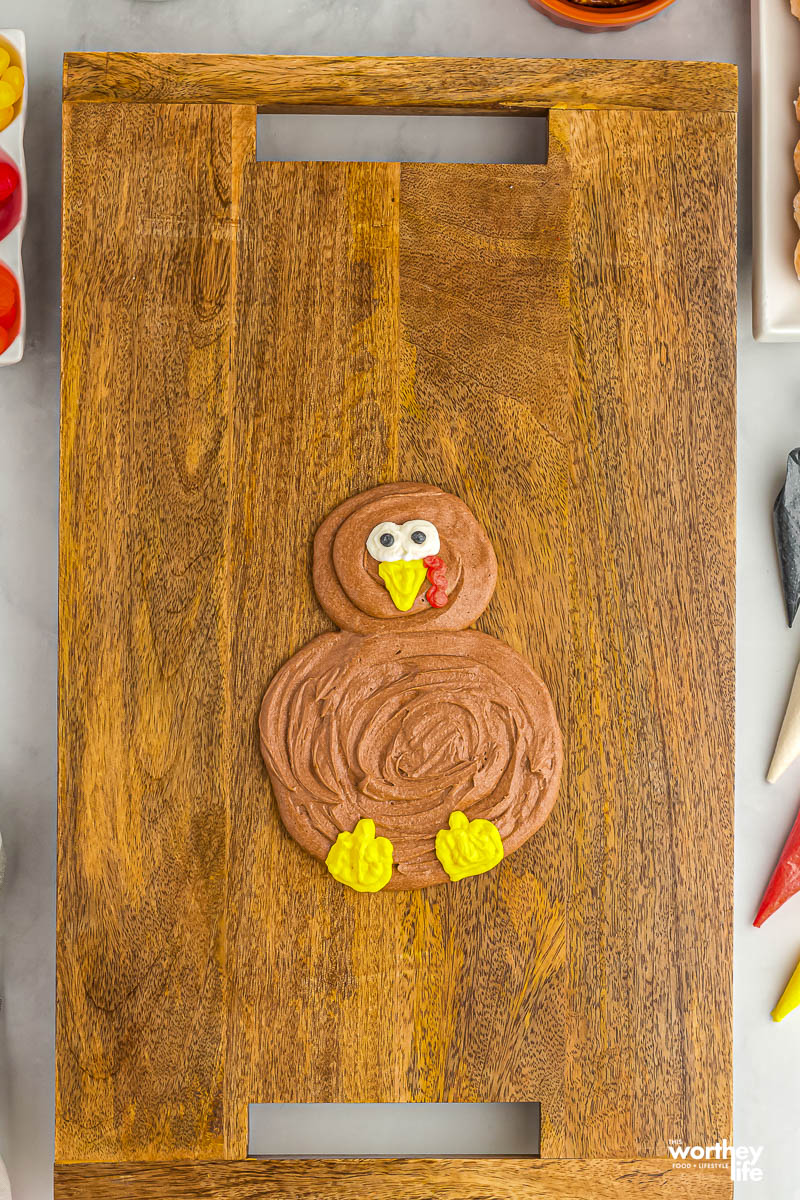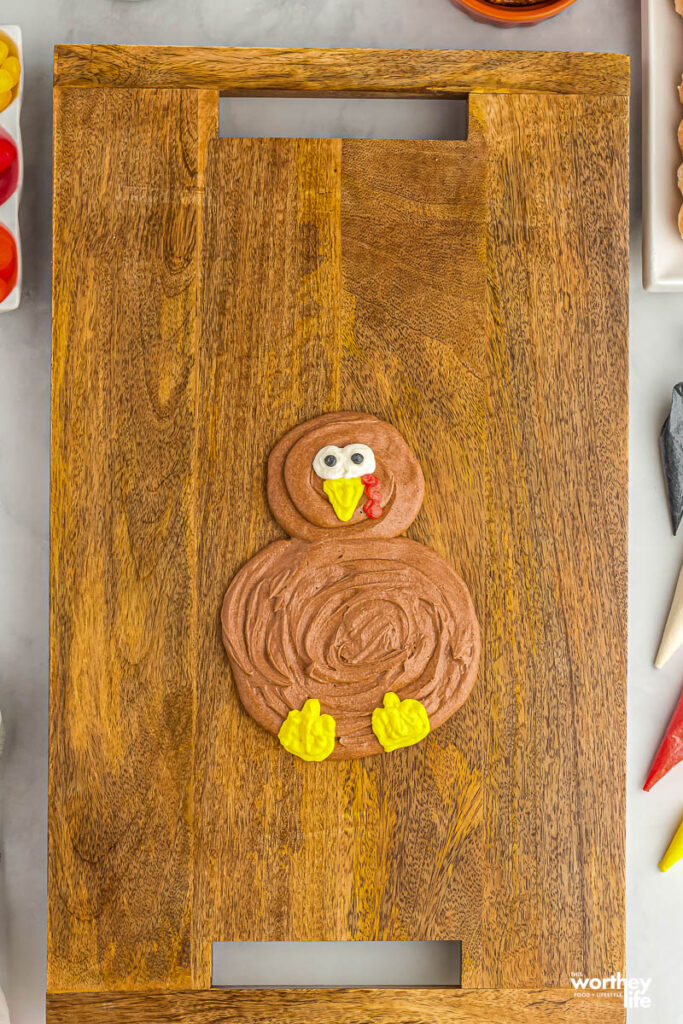 Prep Time: 10 minutes
Servings: 12
Ingredients:
How to make Buttercream Frosting:
3 cups (360 grams) confectioners' sugar
1 cup unsalted butter (227 grams), slightly melted*
2 teaspoons vanilla extract
gel food coloring**
In a medium bowl, beat confectioners' sugar, butter, and vanilla extract on high until light and fluffy (about 5 minutes).
Directions on creating the turkey:
Separate the buttercream frosting into five individual bowls. You'll need about one tablespoon of frosting to color black, two tablespoons to the color yellow, one tablespoon to the color red, and one tablespoon of white, then the remainder of the frosting can be colored brown.
Place all frostings into tipless piping or icing bags – one color per piping bag.
On a large charcuterie board (pictured here is a 12″ x 20″ board), start by placing a medium circle of brown frosting on the board with a larger circle of brown frosting below it. This will be for the turkey head and body.
Then take the yellow frosting and make little feet at the bottom of the larger brown circle, then a small triangle beak in the middle of the smaller brown circle.
Take the red and frost a small wiggly line beside the beak. This is the turkey's wattle.
Above the beak, frost two small white circles for eyes with small black circles in the middle for pupils.
Take the red, orange, and yellow candies and create the turkey's feathers to look like they are coming from his back.
Fill the rest of the board with the cookies and other sweets you have to dip into the buttercream.
Equipment:
measuring cups and spoons of various sizes
medium mixing bowl
spatula
electric mixer
charcuterie board (suggested size 12″ x 20″)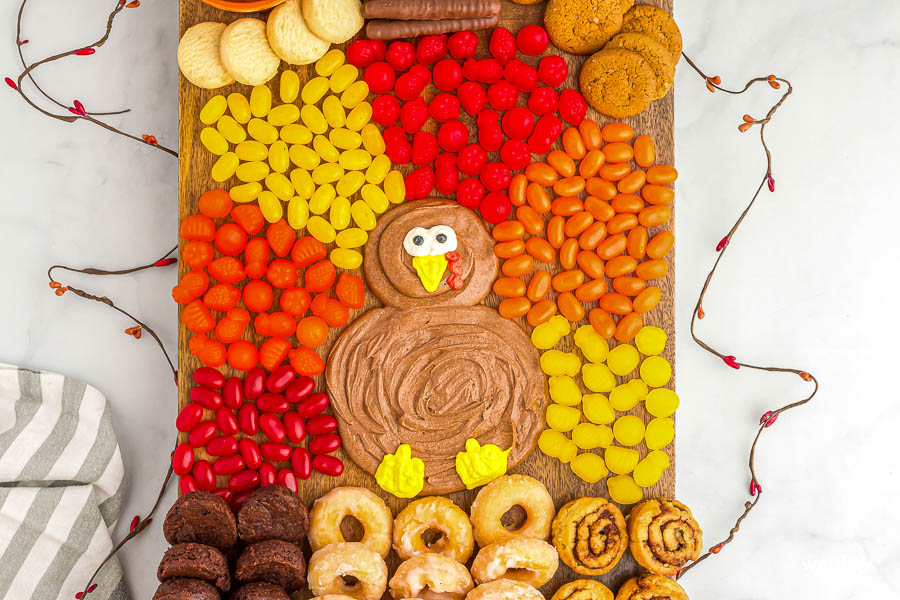 Candies, Cookies & Other Treats for the Thanksgiving dessert charcuterie board:
jelly beans in red, orange, and yellow
jujubes or gumdrops in red, orange, and yellow
mini chocolate chips
Optional (choose your favorites): mini donuts, mini brownies, mini cinnamon buns, shortbread cookies, chocolate dipped cookies, ginger cookies, pretzels, chocolate covered pretzel rods, Oreos, pound cake, fresh fruits for dipping like strawberries
candy corn is another option to place on this board
mini cute turkey cupcakes are another fun treat to add to the outer edge of the board
healthier options to include could be small carrot sticks, celery, and apple slices
Expert Tips:
When we created our first butter board, we found it was easier to place down parchment paper first to allow for easy clean-up. Use a paper towel to wipe away any excess buttercream.
Buttercream can stay at room temperature for about three days, but it should be wrapped well in food-safe plastic wrap.
The best way to store these leftovers is to scoop the buttercream into a food-safe container. Then keep the candies and other sweets stored separately in food-safe containers at room temperature.
Heat on high in the microwave for about 45 seconds when using cold butter from the fridge.
If you don't want to use white frosting to make the eyes, you can use candy eyes.
For the food coloring, I used Chefmaster Liqua-gel: Super Red, Lemon Yellow, and Super Black. Plus, the brand AmeriColor Soft Gel Paste in Chocolate Brown. You could also use the McCormick brand or your favorite food coloring brand.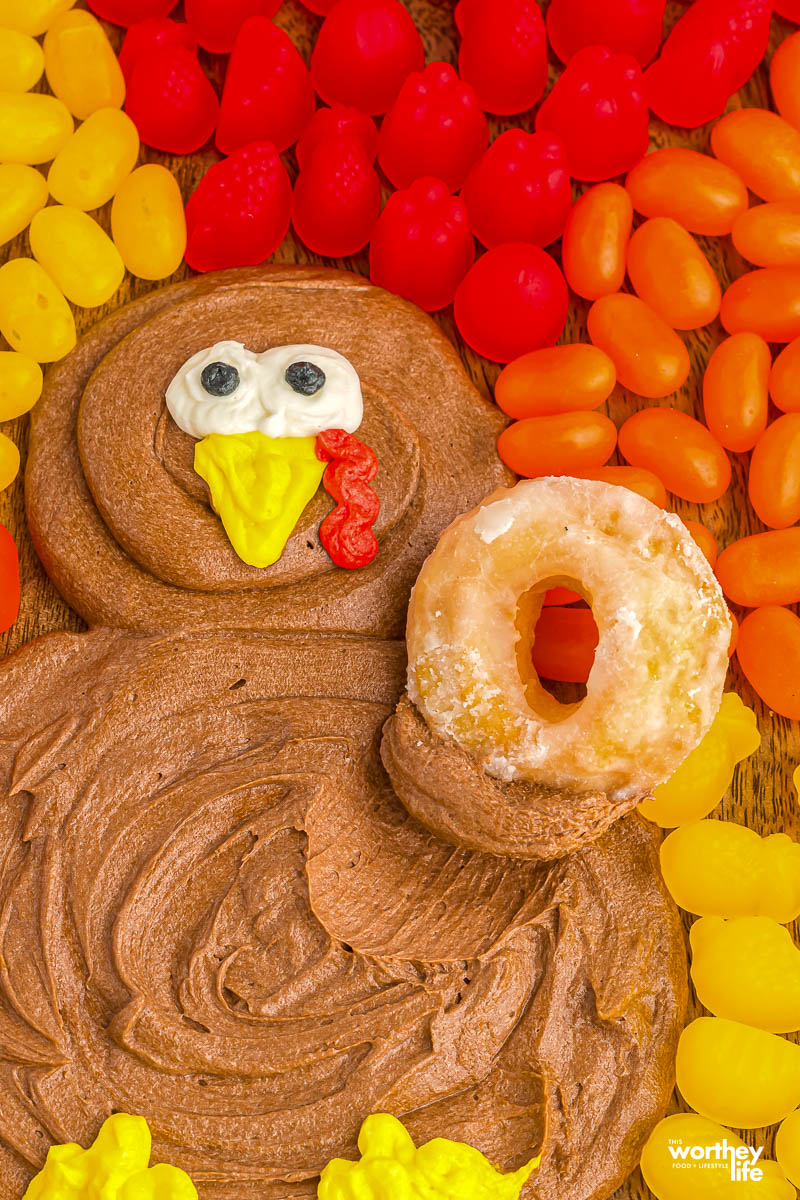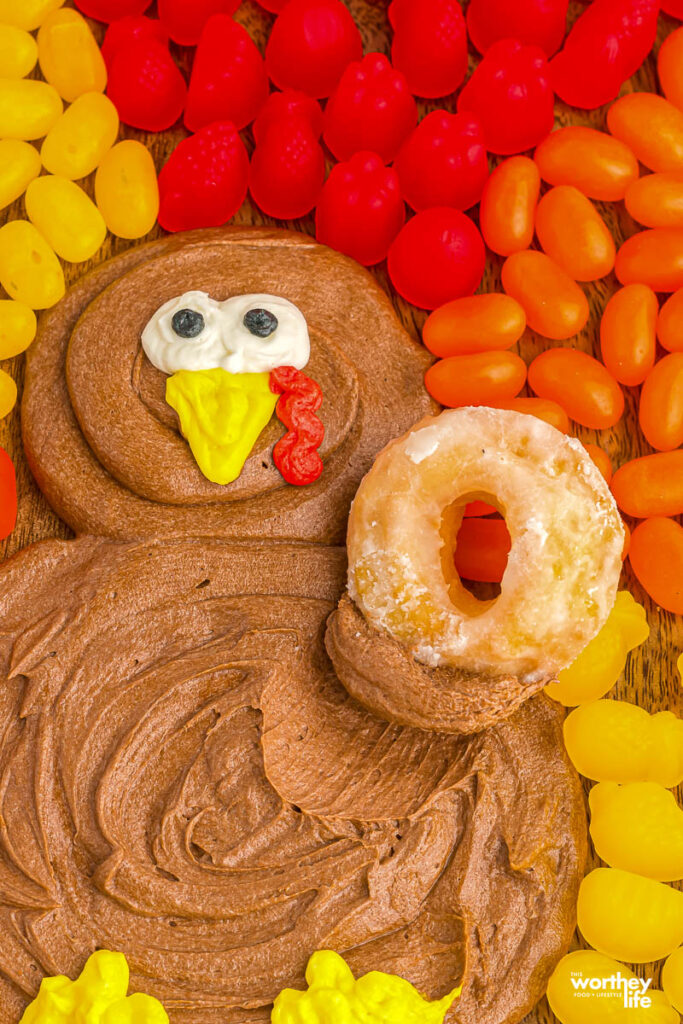 What cookies and sweets work best for dipping into the buttercream?
The best cookies and sweets for dipping into the buttercream are firm enough not to fall apart in the dip.
Any cookies or brownies would work. Homemade cookies are also another option for this board.
A way to stay with the theme is to use a cookie cutter to make homemade little turkeys out of cookie dough.
For cake pieces, a regular cake probably isn't firm enough (it would crumble on the board), but something firmer, like a pound cake, cut into small cubes, would work well.
You could even use a turkey mold to make turkey cake pieces to place on this board.
Choose items that won't dry out quickly once they are cut up and placed on the board.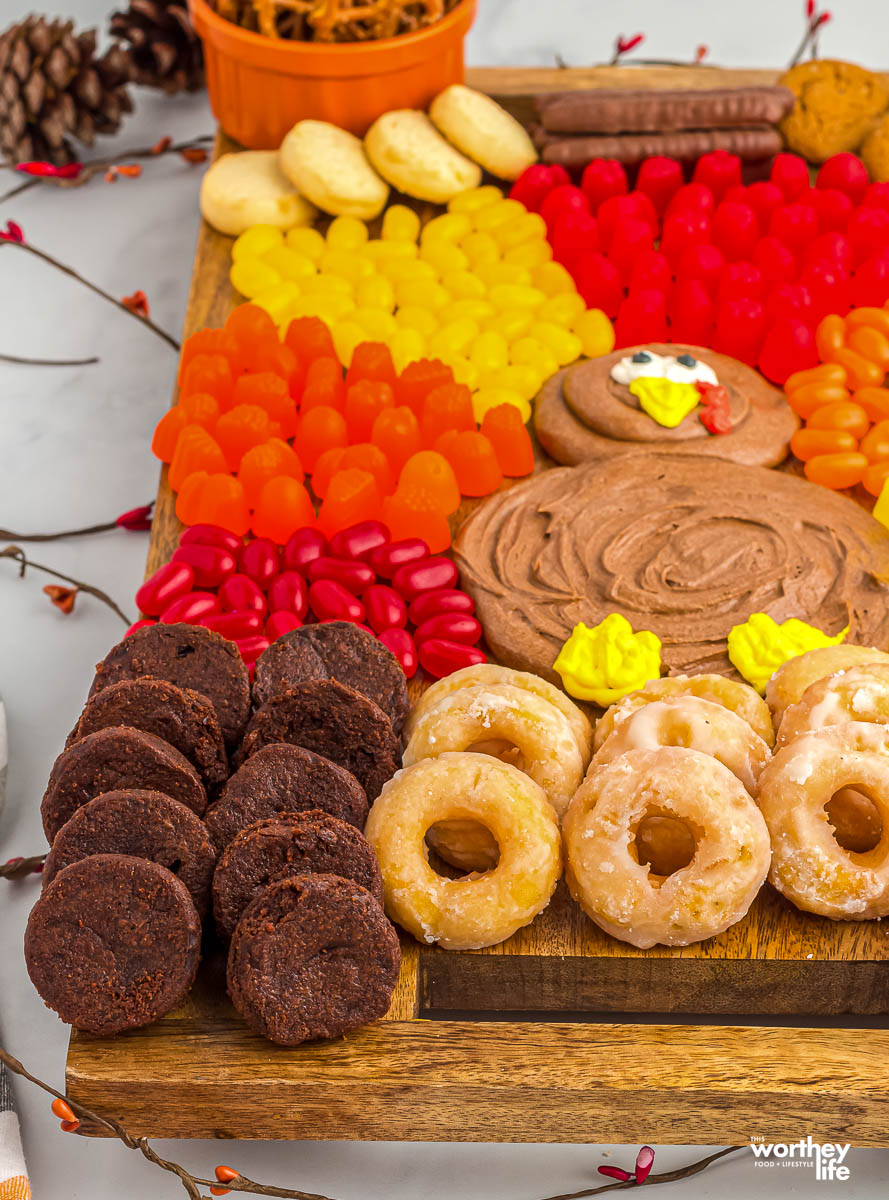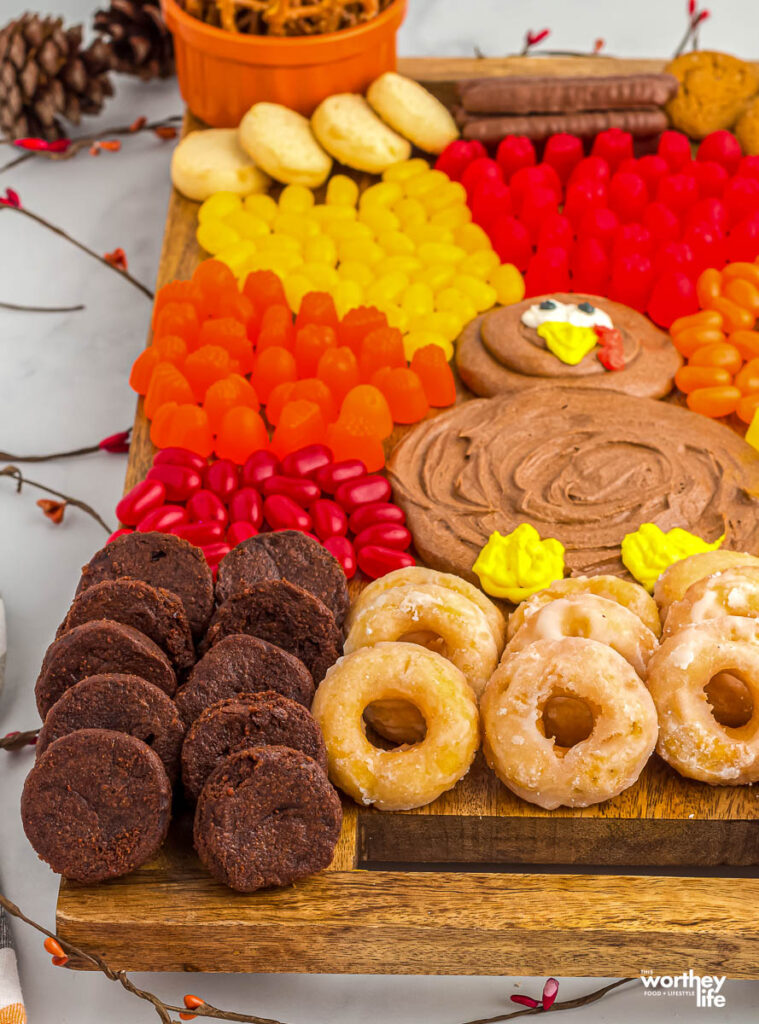 Any other tips for making a dessert charcuterie board?
Always start with the most oversized items first.
For example, the buttercream design should go on first, then the largest cookies should be placed on the board, and last should be the smallest items (used to fill in any gaps).
Also, alternate colors in the layout (for example, don't put two dark items beside each other, like brownies and chocolate cookies).
Can I use a different type of frosting?
Of course. You can even use premade frosting if you do not want to make homemade frosting.
I find that homemade frosting takes minimal effort and has more of a stand-out flavor.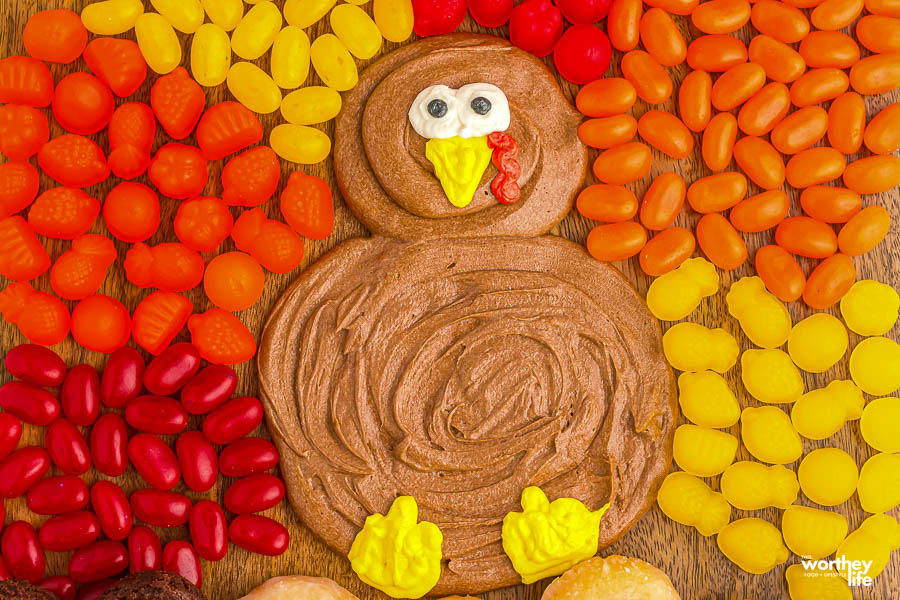 What if my frosting is not thick enough?
Add more powdered sugar if your frosting is not thick enough for your preference.
Then whip it up and see if it reaches the desired consistency.
Can I use different items for the feathers?
Go ahead and use whatever you want to make the turkey's feathers.
You might even find cookies can replace candy for dipping.
Look around and get creative with what works for you.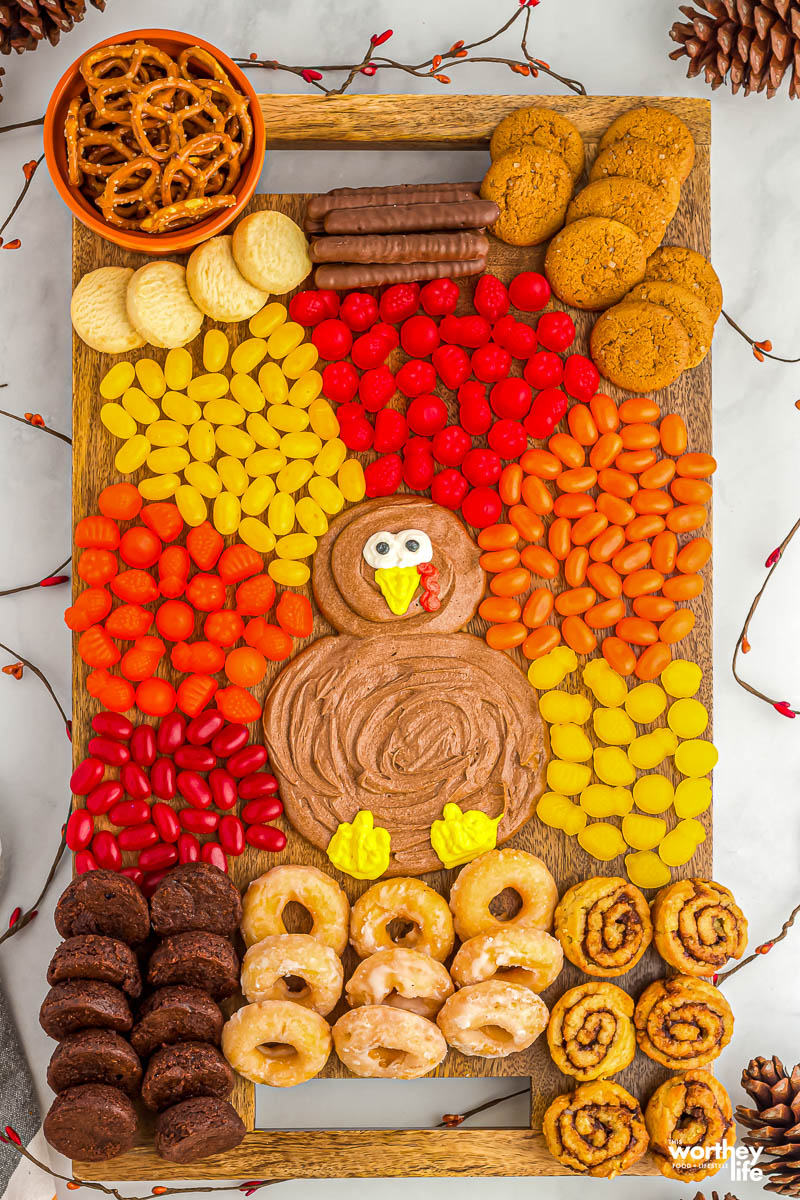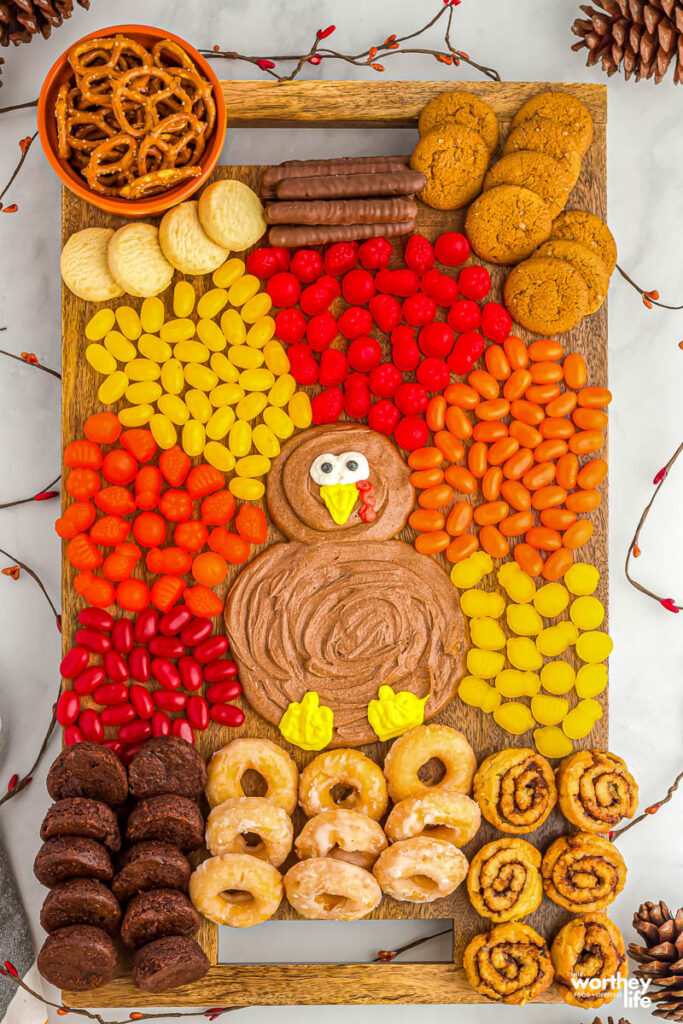 What if I don't have a charcuterie board?
If you do not have a charcuterie board, you are more than welcome to use any tray style.
The biggest thing is to use a large enough tray to fit the turkey and the feathers.
Our favorite places to find boards are Target, Home Goods, TJ Maxx, and even on Amazon.
Can I make this in advance?
Yes, you sure can make these cookies and frosting platters.
Just whip it up and then cover the turkey so it doesn't dry out.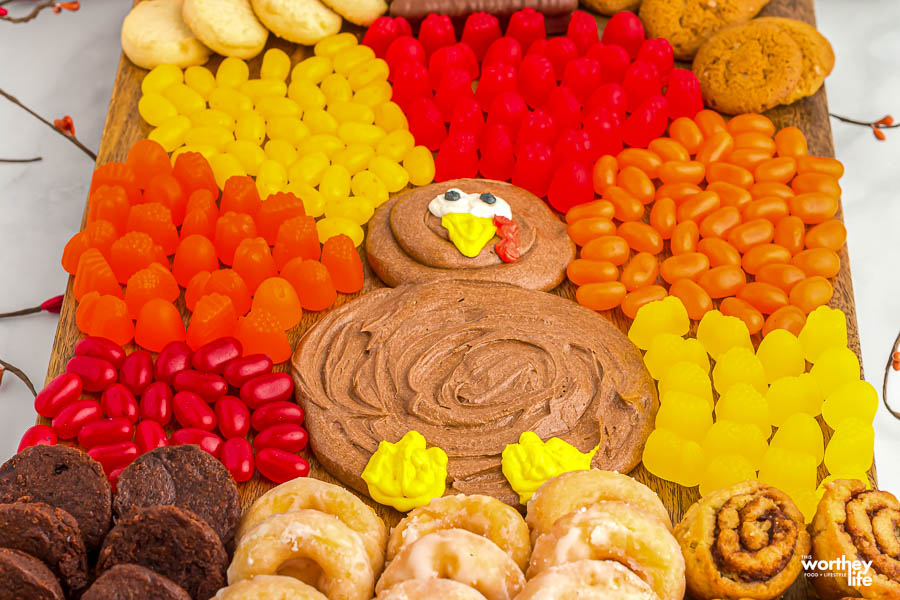 This turkey butter board will be a big hit at your Thanksgiving holiday gathering. Now that you have the recipe and directions print the recipe and grab all the supplies at your local grocery store.
More Thanksgiving Ideas + Recipes
40+ Basic Thanksgiving Recipes For A Simple Thanksgiving Menu
Thanksgiving Kid Activities Printables
Leftover Turkey Idea | Instant Pot Stir-Fry with Turkey + Brown Rice
This post may contain affiliate links, meaning I may receive a small commission if you purchase using these links.
As an Amazon Associate, I earn from qualifying purchases.