The vegetarian and vegan sides for Thanksgiving are here to stay! So, if you're looking for an easy vegan stuffing recipe using sourdough and cornbread dressing, this is it!
It's 100% meatless and possibly the only dressing recipe you'll need this Thanksgiving.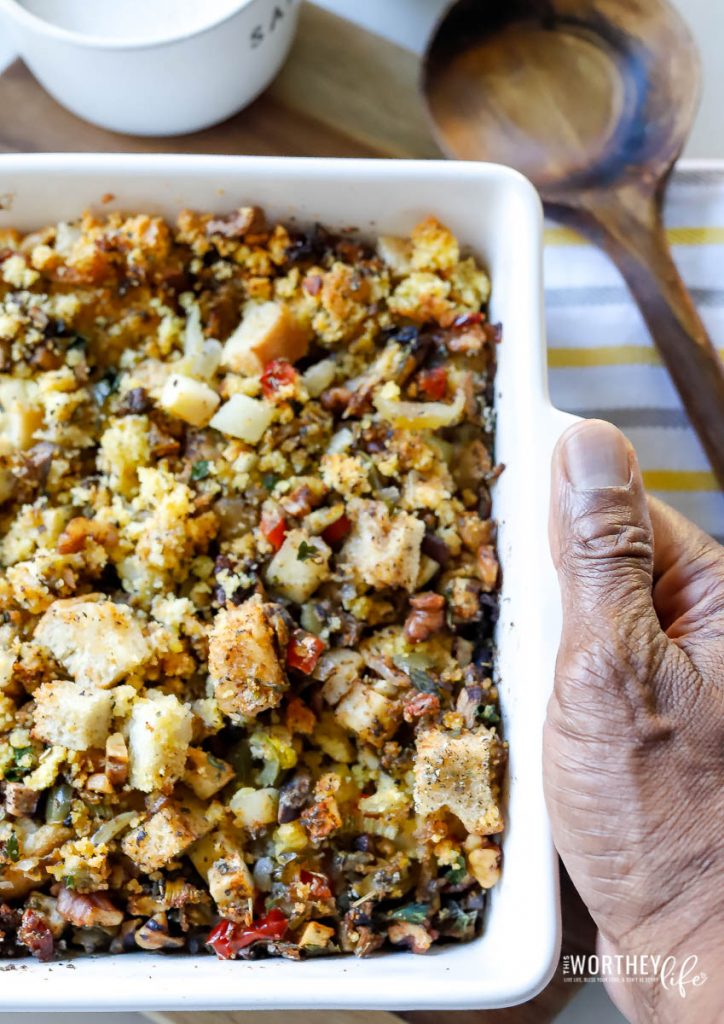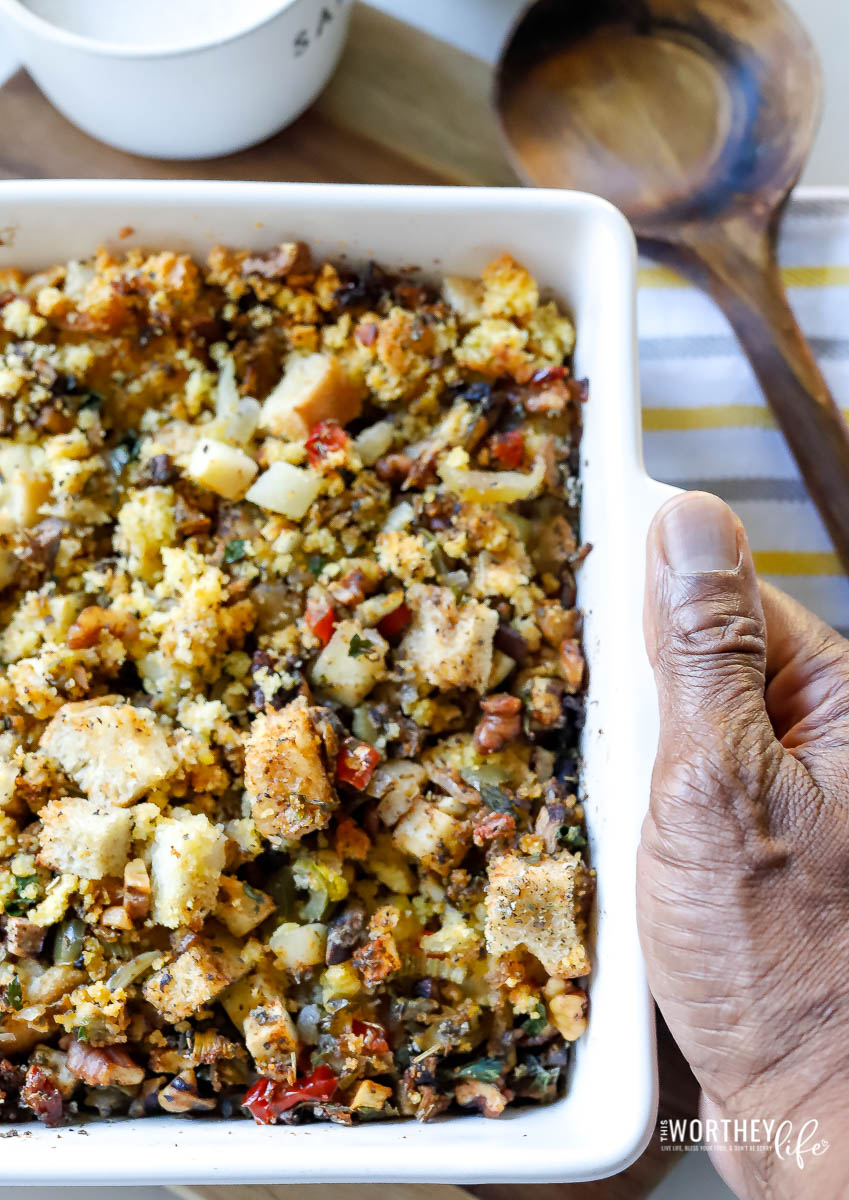 Vegan Stuffing Recipe using Sourdough + Cornbread Dressing
I am pretty sure we outdid ourselves with this dressing recipe simply because it's so freaking good.
Imagine the semi-homemade vegan black pepper and sage cornbread combined with the cubed sourdough bread seasoned with Herbes De Provence, and this is an excellent start to a fantastic vegetarian/vegan dressing recipe.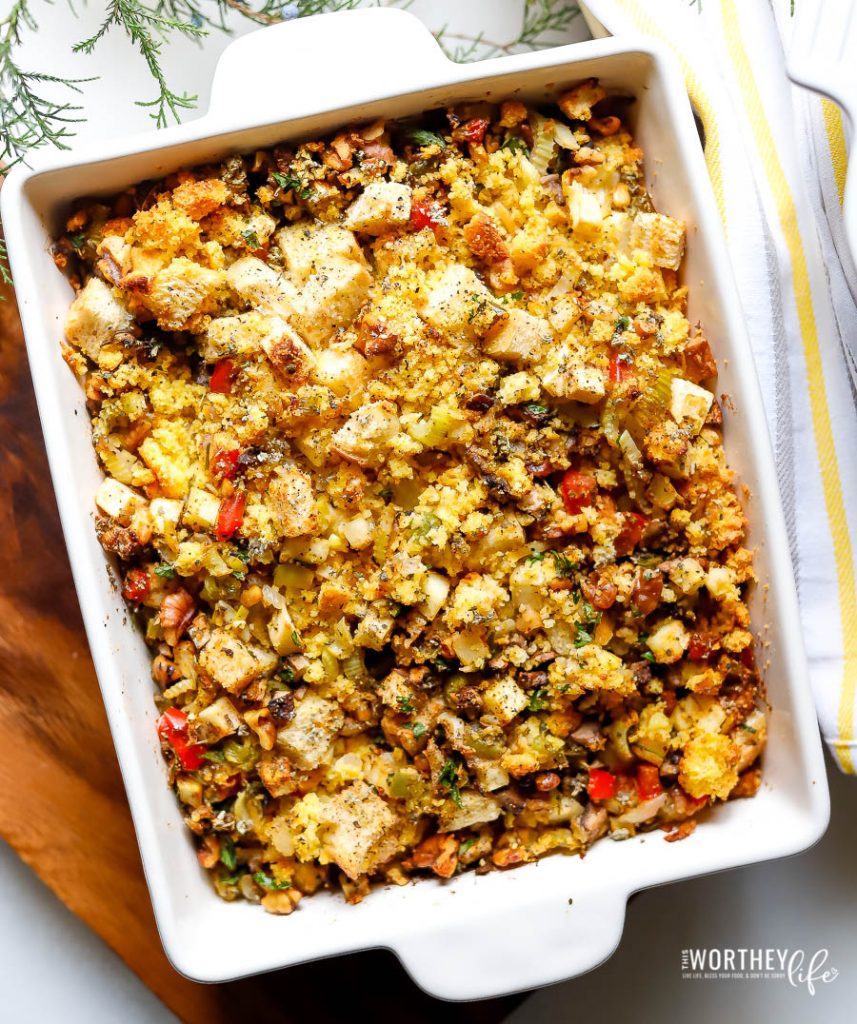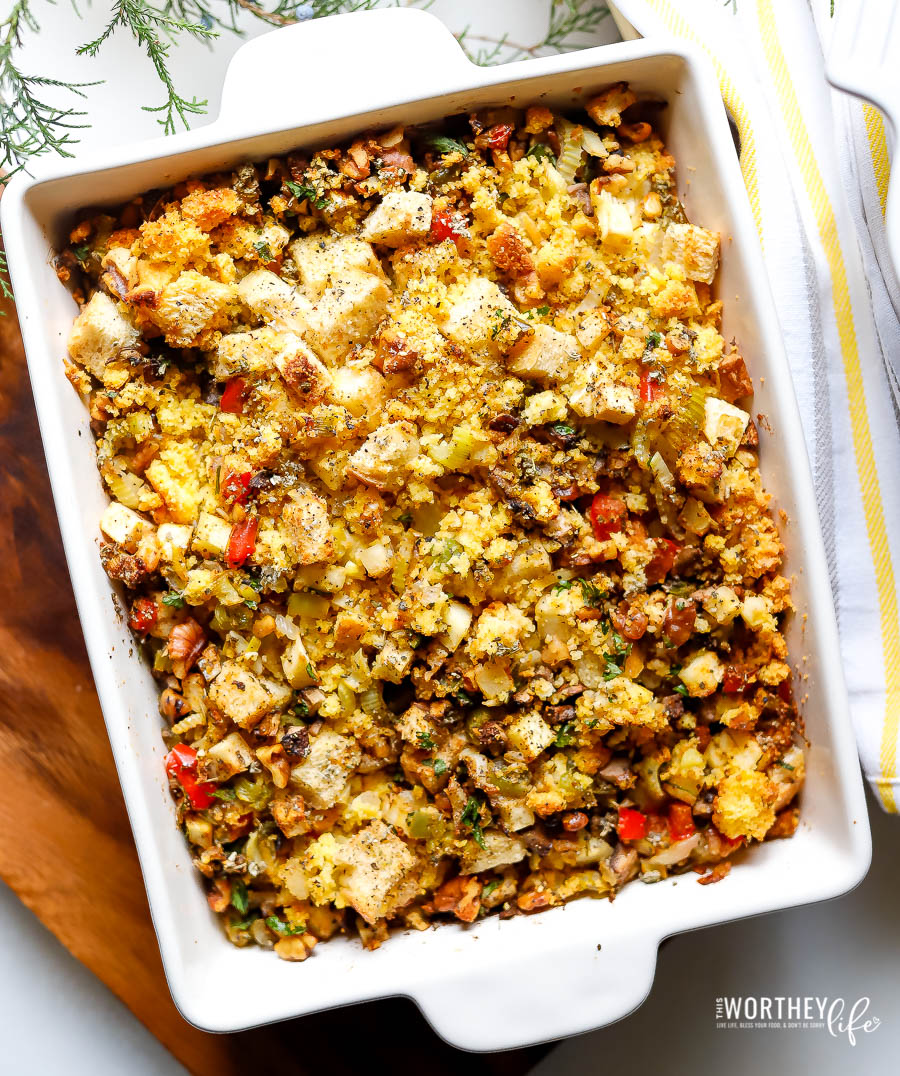 But our dressing is more than a delicious recipe because it is also super easy to put together.
No lie. I'll be the first to admit that even though a lot is happening here, it isn't complicated or impossible to make.
Plus, I have a cheat for the cornbread that will make it even easier for you to put this mouthwatering dressing in the oven and on your Thanksgiving table as soon as possible.
To save even more time, this is a recipe you can make a day ahead.
The benefits of making it a day or two before are obvious because making dressing ahead will be one less thing you'll have to do on Thanksgiving day.
Sounds like a plan to me.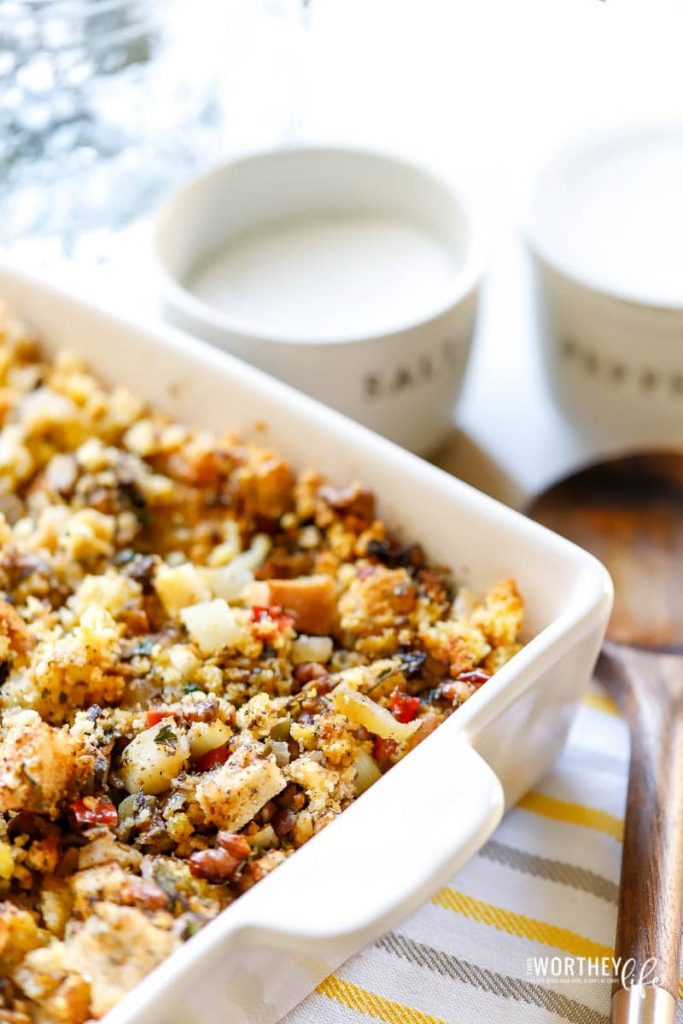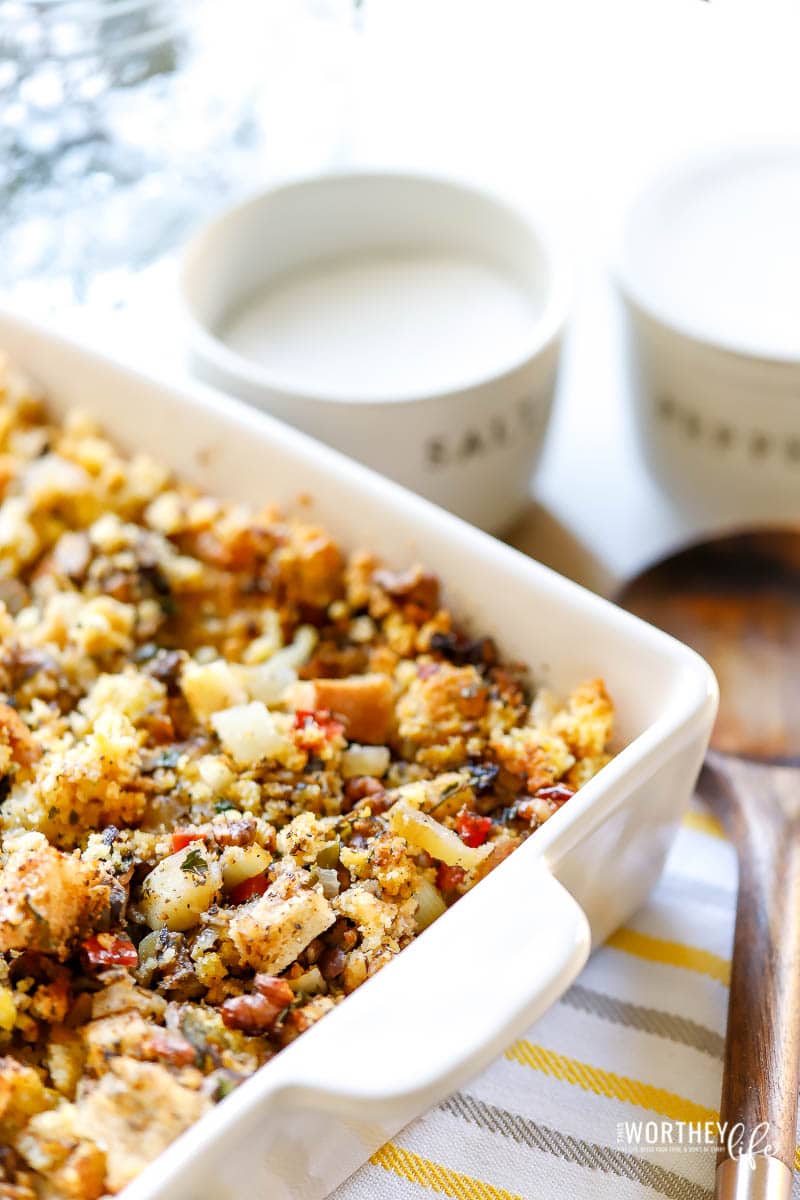 This recipe makes good use of day-old sourdough bread and homemade cornbread with a hint of rubbed sage and freshly cracked black pepper.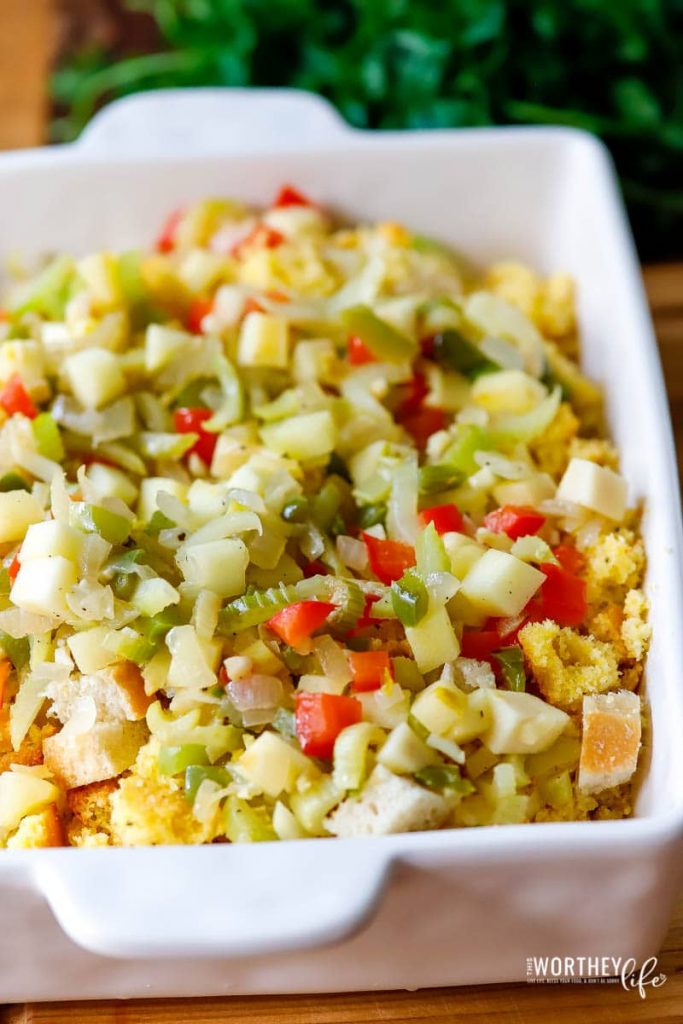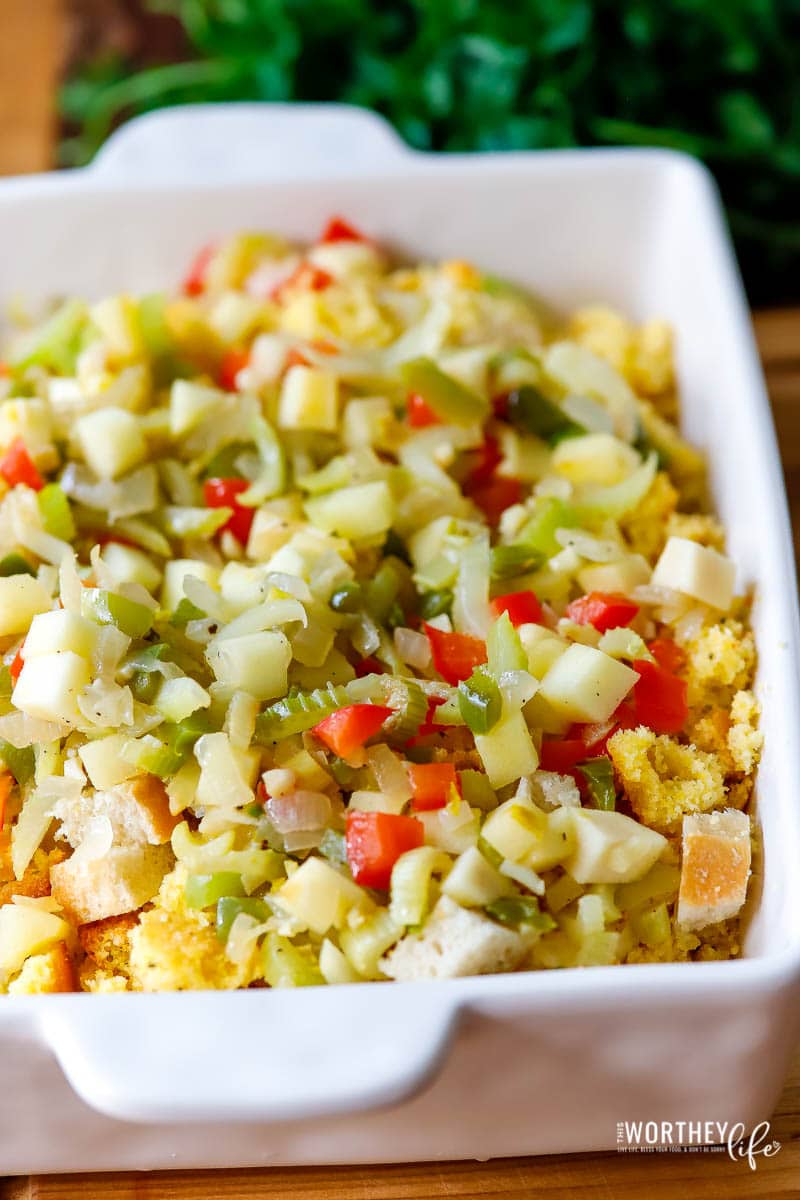 What You Will Need To Make Our Vegan Sourdough + Cornbread Dressing:
Sourdough Bread & Cornbread. Grab a loaf of your favorite artisan sourdough, or use homemade sourdough that is a few days old. Then make cornbread using a box mix or if you're feeling extra crunchy, go ahead and whip up a pan of your favorite cornbread.
Vegan Vegetable Stock. As mentioned above, you can use store-bought or make homemade vegetable stock.
Celery, Dried Cranberries, Onions, Garlic. Granny Smith Apples. Yes! Bring on all of the layers of both sweet and savory flavors! Here you will see some traditional dressing ingredients like celery, onions, and garlic. But we're throwing in dried cranberries and apples for a tangy sweetness.
Green & Red Bell Peppers. Same with the bell peppers. I wouldn't disrespect the memory of my mama's dressing by omitting the green and red bell pepper.
Toasted Walnuts & Flat-Leaf Parsley. I love the nuttiness that toasted walnuts bring to the Thanksgiving day party. I also love the pop of color from adding the chopped flat-leaf parsley and the fresh flavor on this dressing side.
Freshly Ground Black Peppercorns & Sea Salt. As always, add as much or as little as you want!
Extra Virgin Olive Oil. Rubbed Sage & Old Bay Seasoning. When it comes to traditional dressing or stuffing, these three ingredients aren't strangers to all things dressing. Add them according to your particular palette.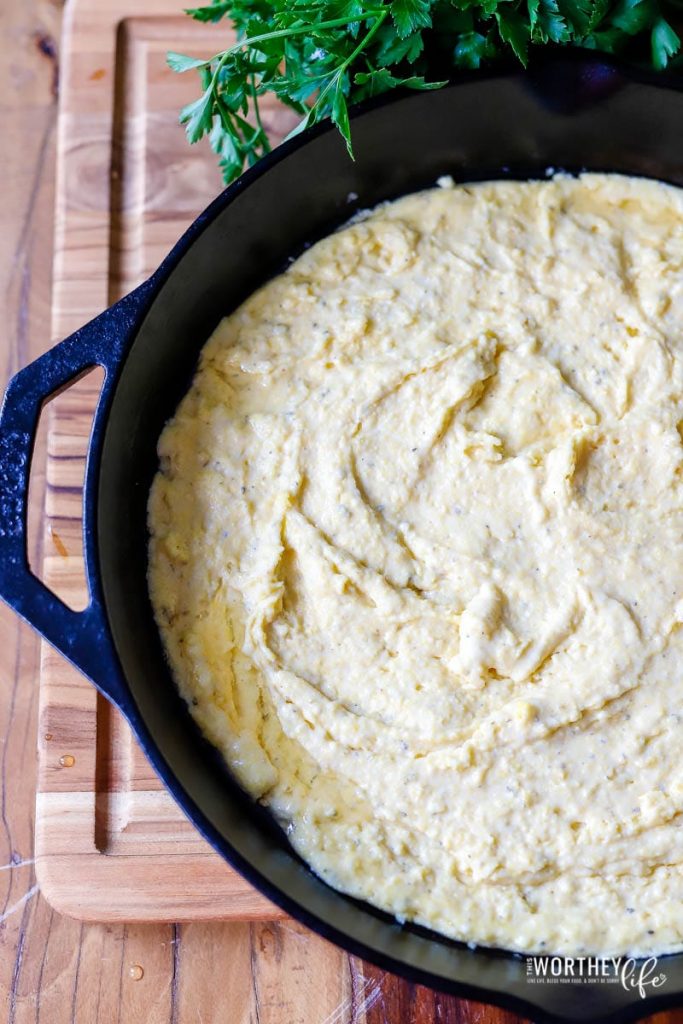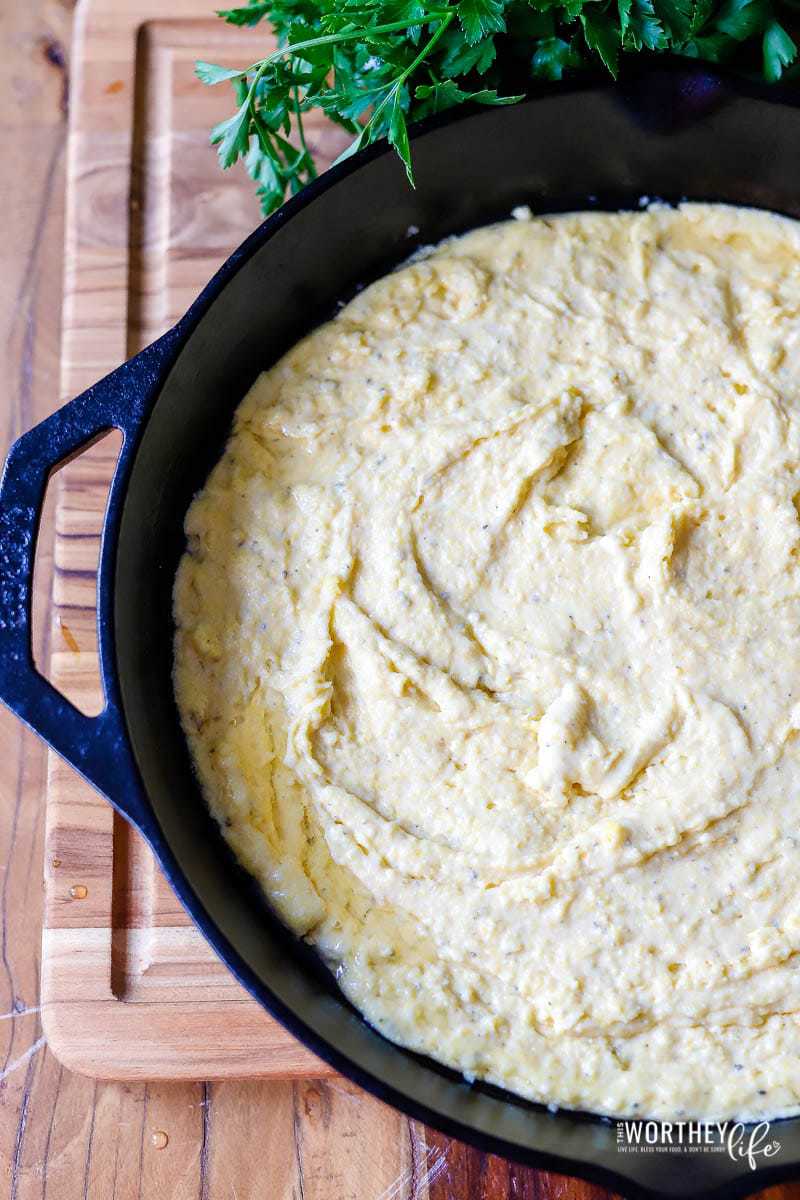 Make The Cornbread
Ingredients:
2 boxes Jiffy Cornbread Mix
1/2 cup yellow cornmeal
2 eggs (or 2 tablespoons whole flaxseeds + 4 tablespoons vegetable stock processed together until blended well)
2/3 cup coconut milk
2/3 cup soy or almond milk
1 1/2 tablespoons rubbed sage
1 tablespoon Old Bay seasoning
1 tablespoon freshly cracked black peppercorns
2 tablespoons extra virgin olive oil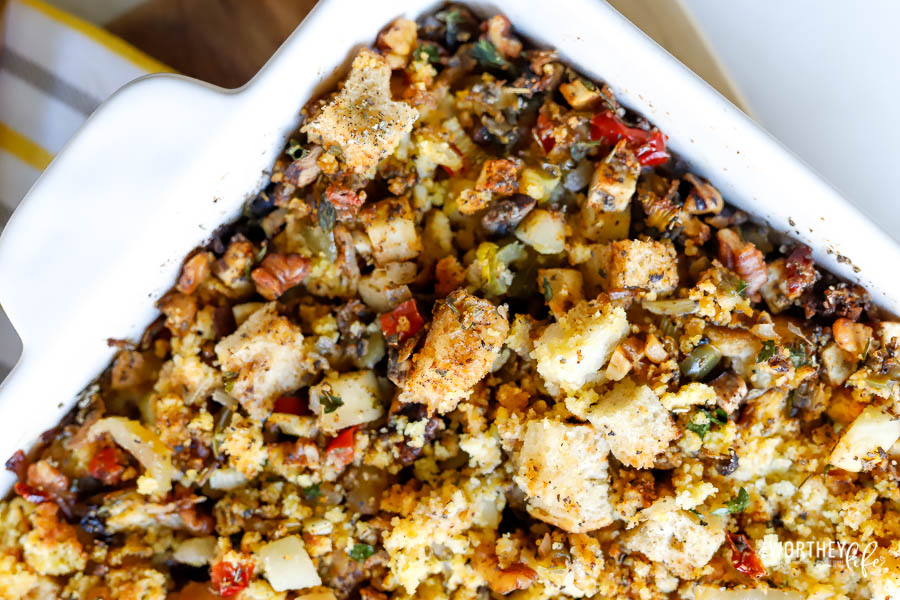 Directions:
Preheat oven to 400 degrees
Place the cast iron in the oven to get hot.
Into a large bowl, add Jiffy cornbread mix, yellow cornmeal, coconut milk, soy (or almond) milk, one tablespoon of extra virgin olive oil, Old Bay seasoning, rubbed sage, and freshly cracked black peppercorns.
Mix the ingredients thoroughly.
Remove the cast iron from the oven and add the remaining extra virgin olive oil tablespoons.
Use a brush and ensure the bottom and sides of the skillet are coated with olive oil.
Spoon the cornbread batter into the skillet and spread it out evenly.
Place the skillet into the center rack of the preheated oven and bake for 12 minutes or until the top of the cornbread is golden brown.
Remove the cornbread from the oven and allow it to cool. Set aside.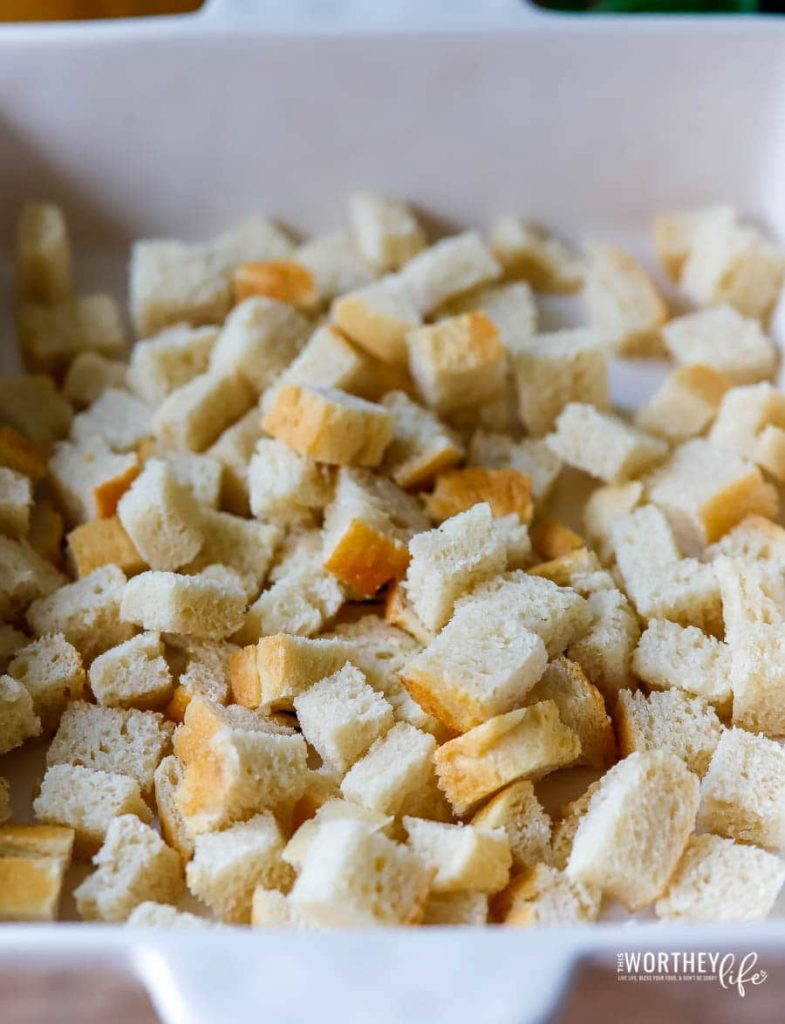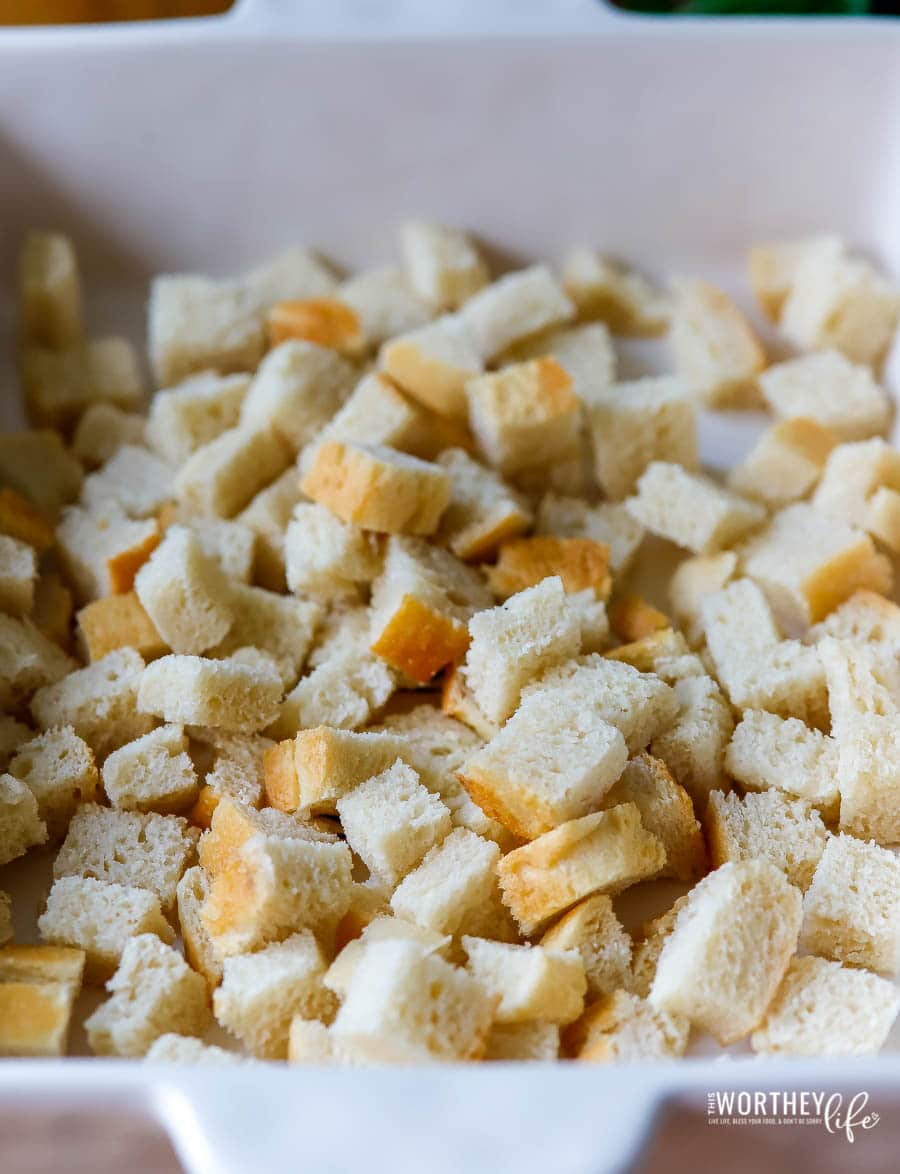 Sourdough Bread
Cut 2 1/2 cups of day-old sourdough bread into half-inch cubes, place them into a bowl and toss with 1 1/2 tablespoons of Herbes De Provence and a tablespoon of rubbed sage. Set it aside.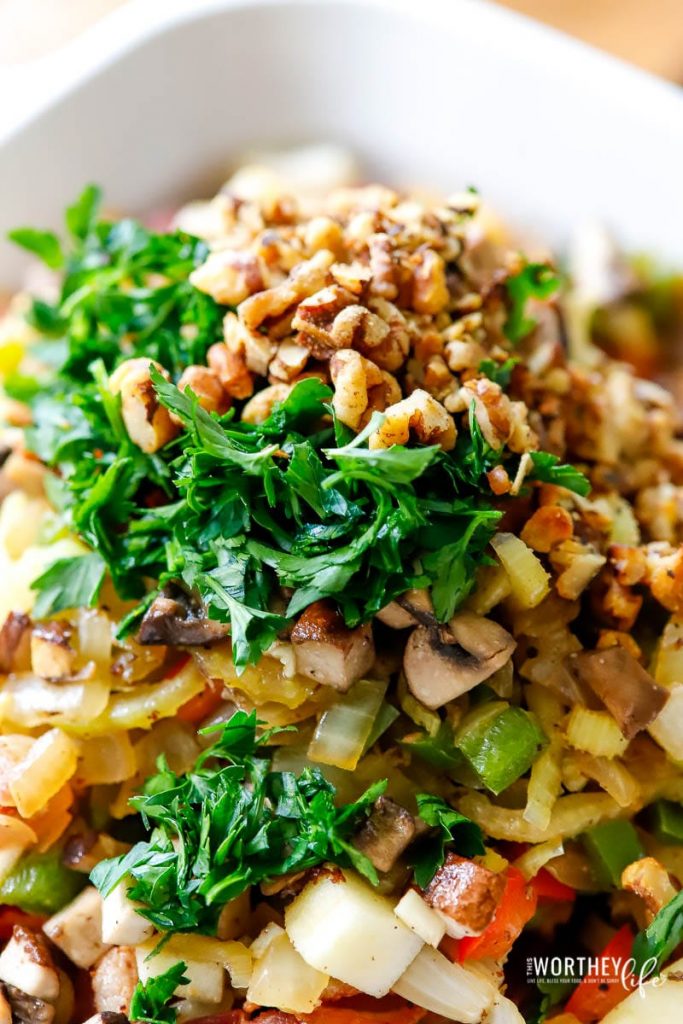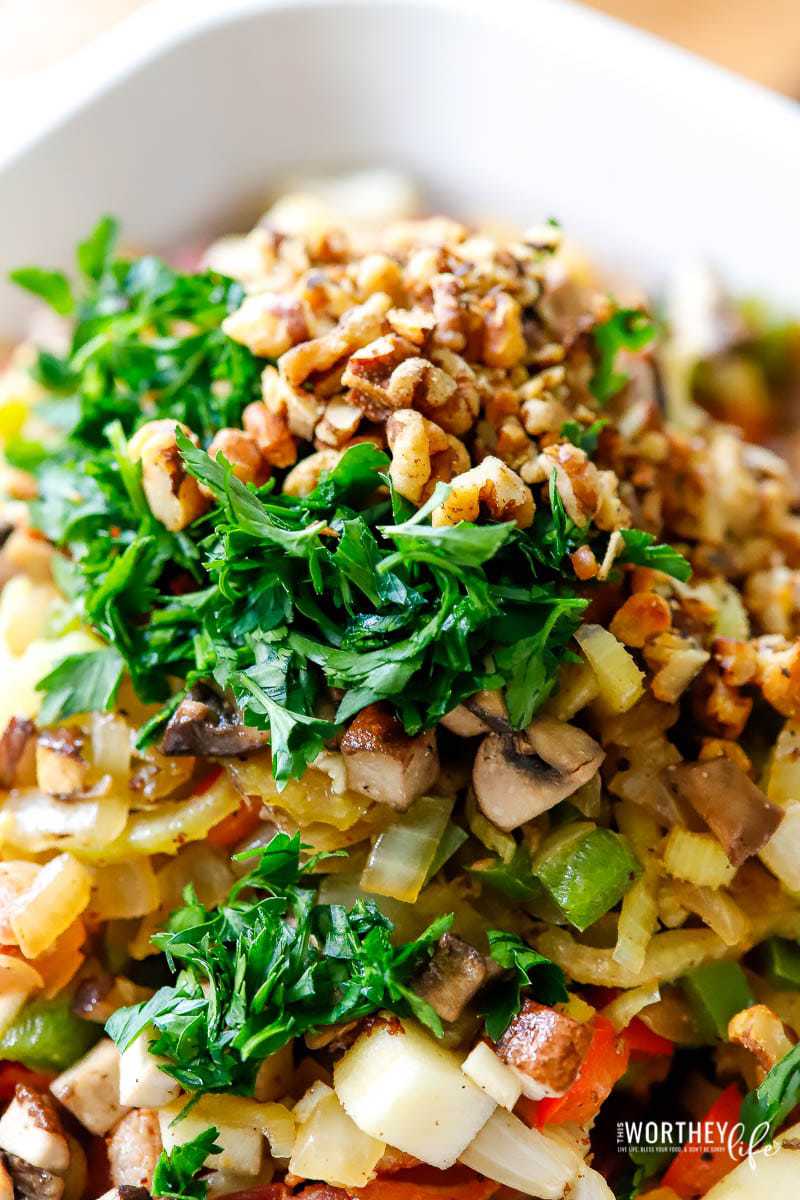 How to make Vegan Sourdough Stuffing
Ingredients:
Prep: 15 minutes
Cook Time: 45 minutes
Servings: 8-10
2 1/2 cups sourdough cubes
3 cups slightly crumbled vegan cornbread
3 1/2 – 4 cups vegetable stock
1 cup sliced celery
1/2 cup dried cranberries
1 cup sweet onion chopped
3 garlic large cloves minced
1 granny smith apple peeled and diced
1 medium red bell pepper, seeds, pith, and core removed and chopped
1 medium green bell pepper, pepper, seeds, pith, and core removed and chopped
1/2 cup chopped toasted walnuts
1/4 cup chopped flat-leaf parsley
1 tablespoon freshly ground black peppercorns
1 tablespoon sea salt or Kosher salt to taste
3 tablespoons extra virgin olive oil
3 tablespoons rubbed sage
2 tablespoons Old Bay seasoning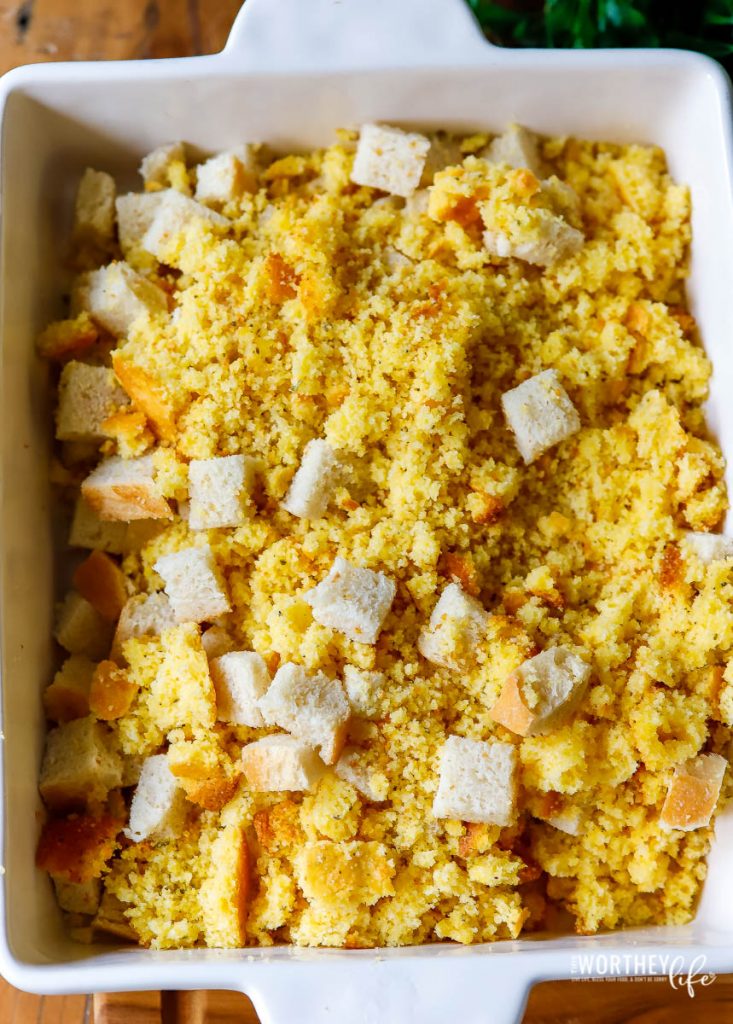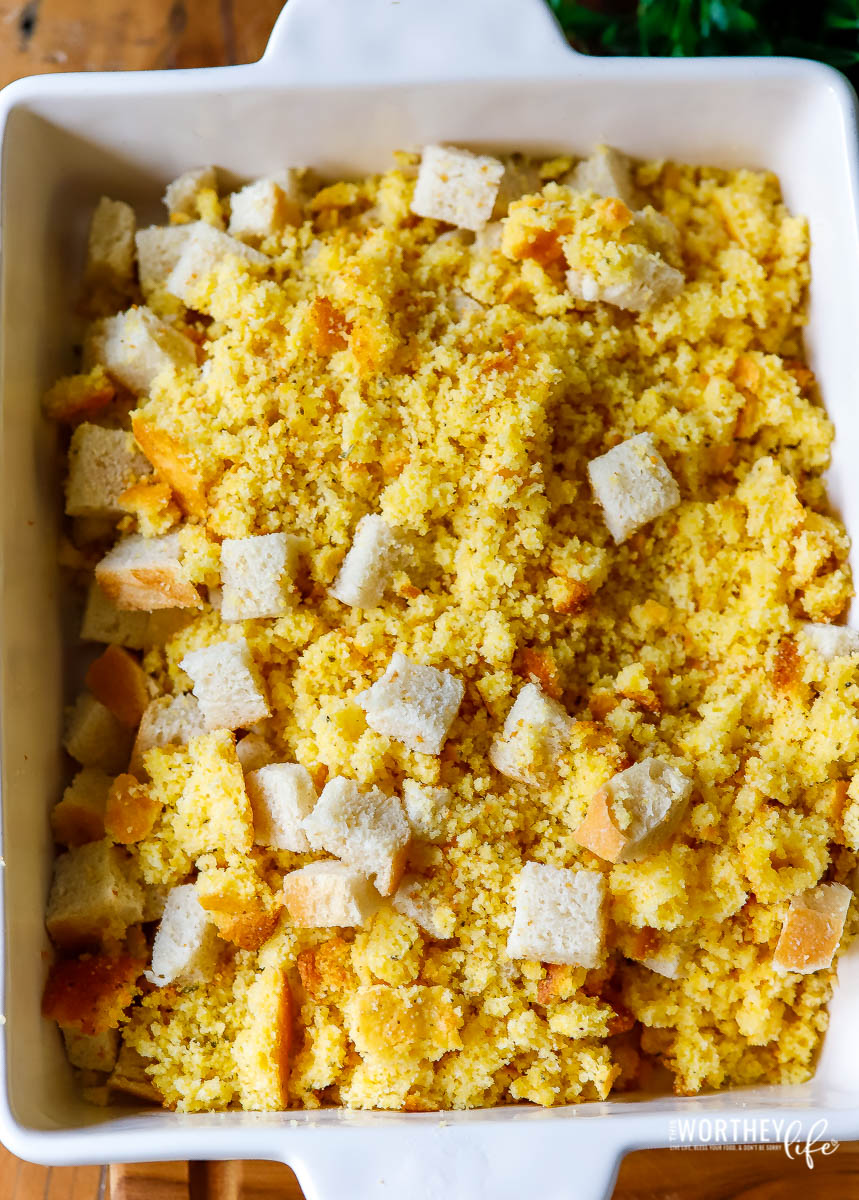 Directions:
Preheat oven to 350 degrees.
Place a skillet over medium/high heat and toast the walnuts for 1-2 minutes. Transfer the walnuts to a small bowl and set aside.
Add the tablespoon of extra virgin olive oil to the skillet and place it over medium/high heat.
When the skillet is hot, add the onions, apples, celery, garlic, and red and green bell peppers, and sauté for 7-8 minutes. Remove the mixture from the skillet, transfer it into a bowl, and set aside.
Add 2 1/2 cups of the sourdough cubes and 3 cups of the crumbled cornbread into a large bowl. Fold in the onions, apples, celery, garlic, red and green bell peppers mixture, toasted walnuts, and chopped flat-leaf parsley, and add in the seasonings.
Gently fold all ingredients together, and add the vegetable stock one cup at a time. Gently fold the mixture after you add each cup of vegetable stock. The key to great dressing, it shouldn't be soggy or too dry. However, adjust to your preference. I like my dressing to be moist in the middle but firm and browned on top; it will lose a bit of its moisture while baking in the oven. After all the ingredients are mixed, give it a taste, and adjust the seasoning to your liking.
Spoon the dressing into your preferred baking dish; this should be a high-walled dish about 2 to 4 inches deep.
Drizzle the remaining extra virgin olive oil over the top of your dressing.
Place the dressing onto the center rack of a preheated 350-degree oven and cook for an hour.
Remove from the oven and serve with cranberry sauce or your favorite vegan gravy.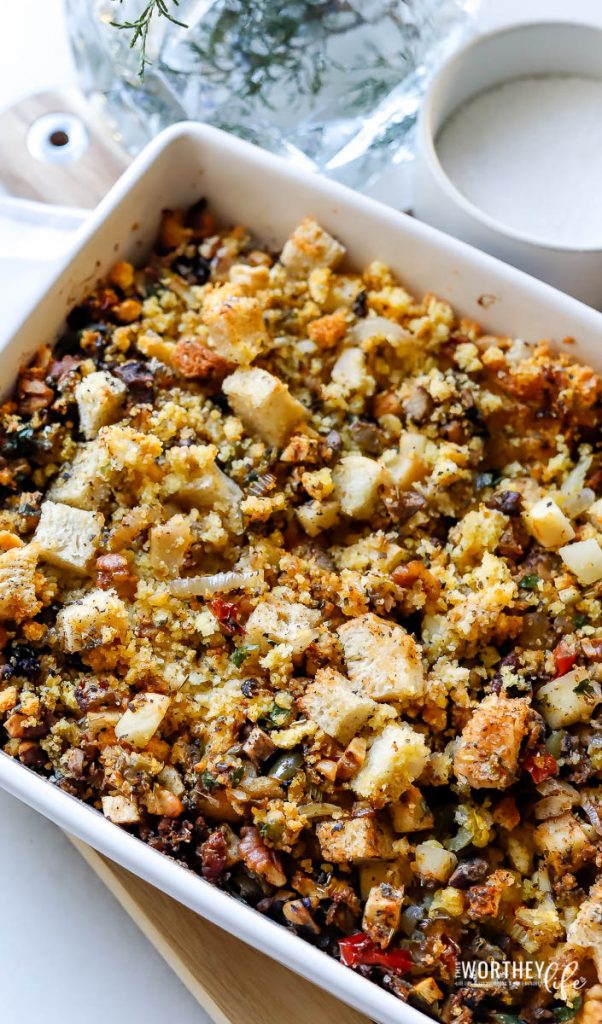 There are lots of families and friends who are opting for meatless entrees and sides over the holidays.
And that's okay, even if your family are all carnivores; being a good host also means preparing some meatless options.
Don't sweat it. Serve our Vegetarian Sourdough + Cornbread Dressing, and we're pretty darn sure you are going to nail it.
Be the hostess with the vegan dressing. That's a good thing!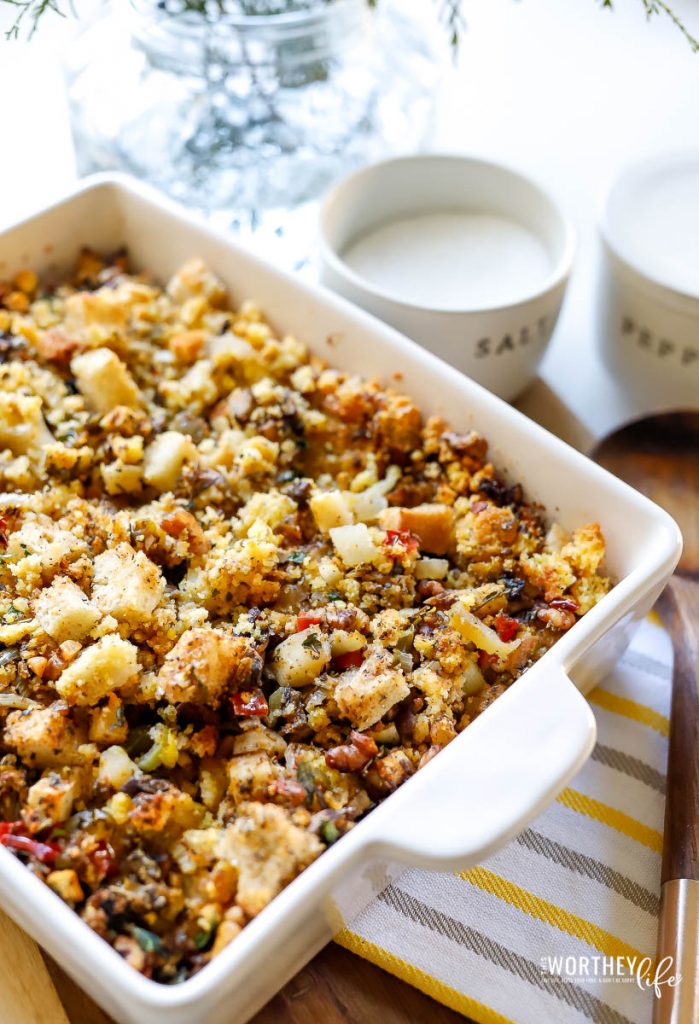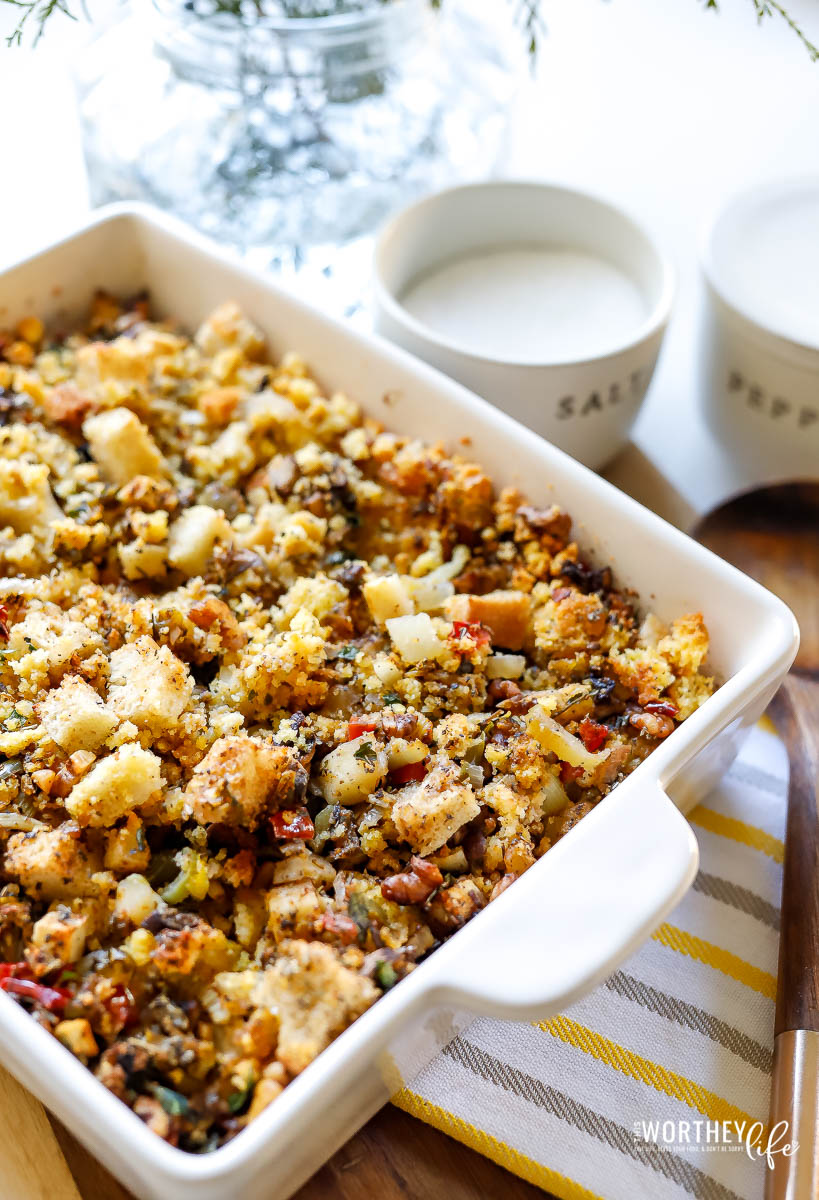 You got the recipe, now make your list and check it twice, then get in the kitchen and make this delicious Loaded Sourdough + Cornbread Dressing!
Can I all use only cornbread or sourdough?
Yes, absolutely! All you will need to do is add the amount of the cornbread or sourdough bread you are omitting.
You can also use croissants, Hawaiian rolls, or just about any day-old homemade or bakery bread you have on hand.
Can I add meat to this dressing?
Of course, you can add browned Italian or andouille sausage.
A little spicy chorizo goes a long way. Or use chopped chicken, turkey, or beef brisket.
Can I make this dressing recipe a day ahead?
Absolutely! Making major dishes like this is a game-changer; you have one less thing you have to worry about the day of!
Make sure you refrigerate properly and reheat by heating the dressing.
Can I freeze stuffing or dressing?
Store any leftover stuffing in smaller 1-2 servings in an airtight freezer bag or container.
Properly stored dressing or the stuffing will keep in the freezer for up to three months.
Reheat by placing the dressing stuffing in a microwave-safe dish and reheat for 3 minutes.
Or preheat the oven to 325°F and place the stuffing dressing in a covered dish and warm through for 10-15 minutes.
Love cornbread dressing? Check out these other recipes:
Croissant Cornbread Dressing with Chicken
Easy Cornbread Dressing Recipe