Cornbread Dressing is the only way we make our dressing during the holidays. We're sharing a new dressing recipe made with chicken, croissants and caramelized onions. Chicken + Croissant Cornbread Dressing with Caramelized Onions calls for a lot of ingredients, but the outcome is absolutely delicious! Grab the recipe down below!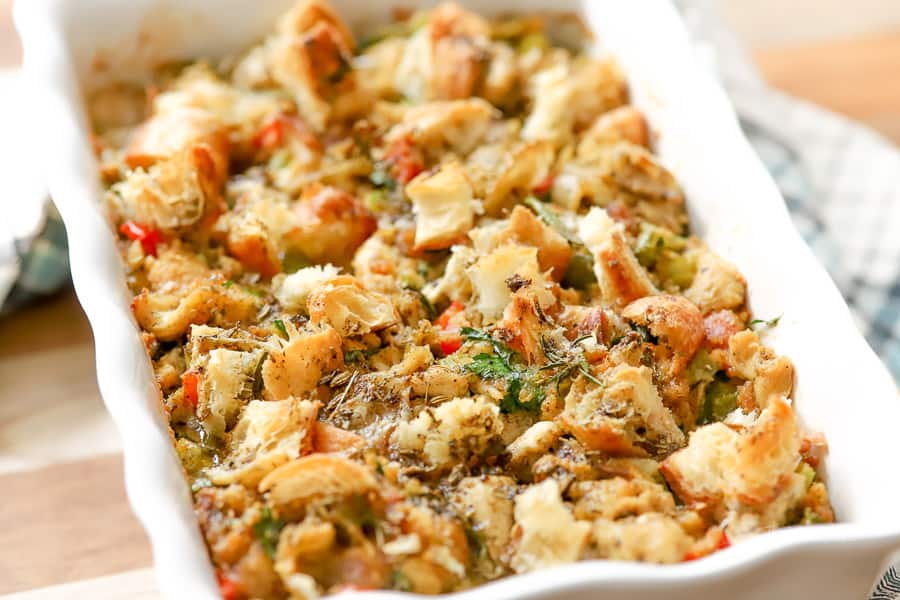 Chicken + Croissant Cornbread Dressing with Caramelized Onions
The holidays are all about good food, am I right? And if your family tradition included chicken dressing, then you can't get much better than our homemade chicken dressing with sagey cornbread and toasted butter croissants. Oh, we threw in some caramelized onions. No summer squash and peaches in this one Karen! Wait, did I say that out loud. My bad. Sorry? Let's dig in!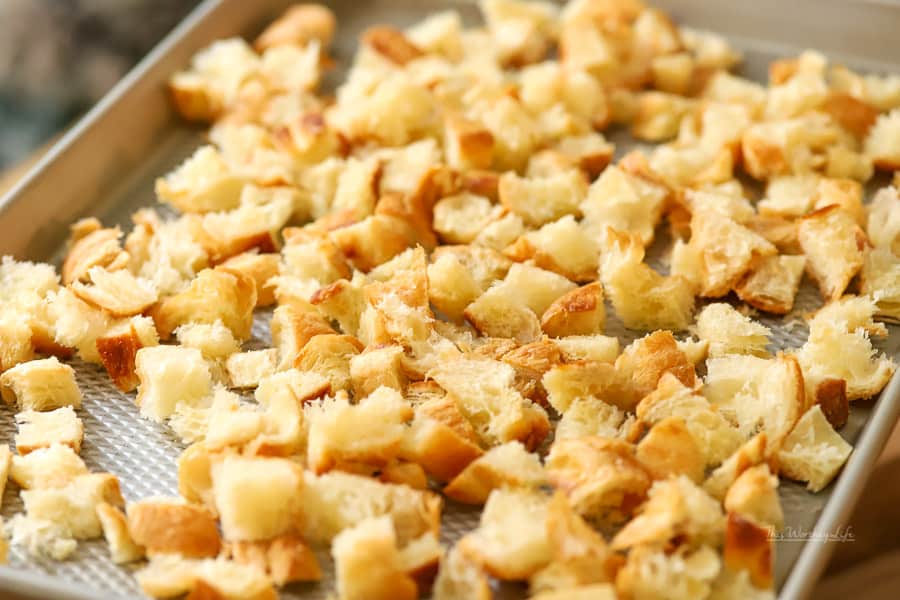 Toasting the croissant cubes is a good move, and by doing so, it ensures the bread won't break apart or become soggy.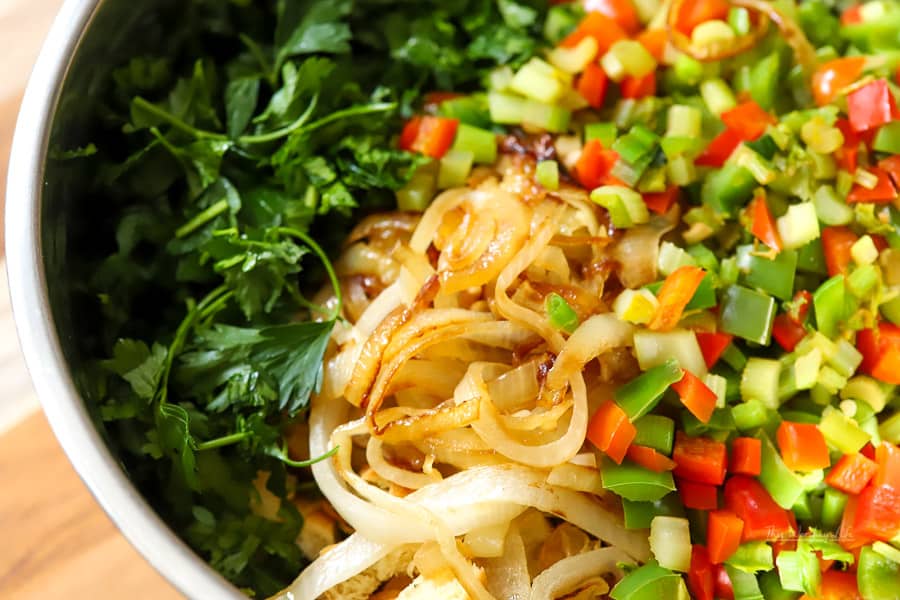 Good homemade food is all about the freshest veggies, a good recipe, patience, and lots of tender loving care. We got them all!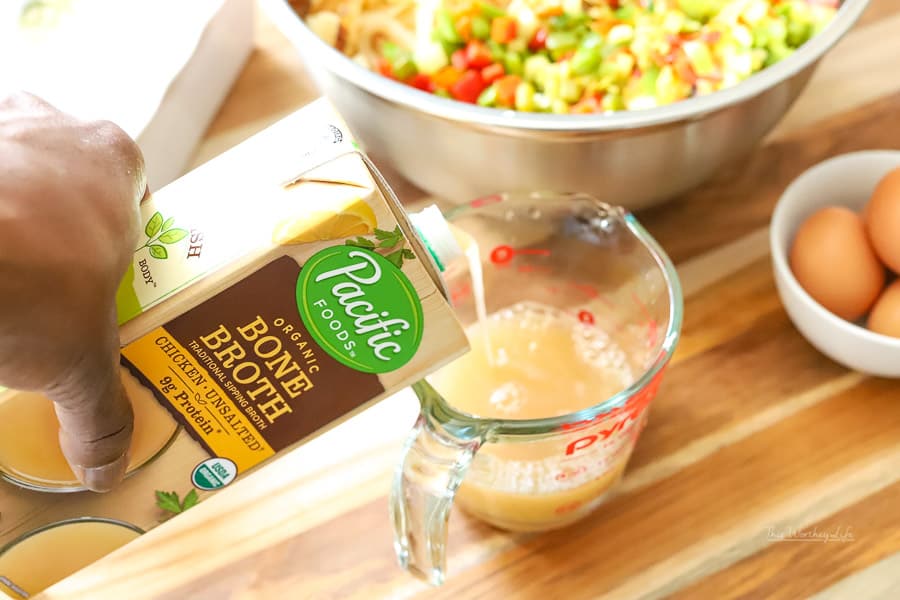 Using chicken bone broth in your dressing is the way to go because the intense flavor of bone broth adds deep flavor regular stock cannot match.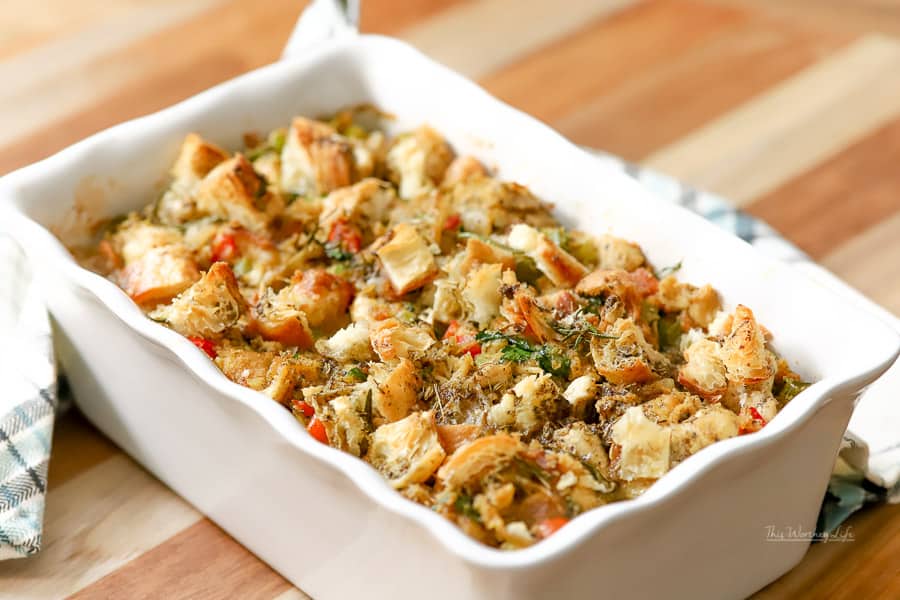 This is soul food at its most delicious finest!
How to make cornbread dressing with croissants
Prep: Place a rinsed and thawed whole chicken into a large stock pot, add a quarter onion, 2 bay leaves, 1 tablespoon of whole black peppercorns, 3 tablespoons of extra virgin olive oil, 2 celery stalks chopped, 1 large carrot peeled and chopped, and 3 garlic cloves, chopped.
Fill the pot with water until it is just over the chicken. Cook on the stove top for 1 hour and 30 minutes or until the chicken is cooked through.
Remove the pot from the stove, and place the chicken into a large platter. Allow the chicken to cool.
When the chicken to cool enough to safely handle cut away to cups of chicken, chopped up the chicken. Set aside.
Prep: Make cornbread from scratch using your favorite cornbread recipe, I add two tablespoons of sage and poultry seasoning to my cornbread when using it to make the dressing. When finished allow bread to cool and break into crumbles.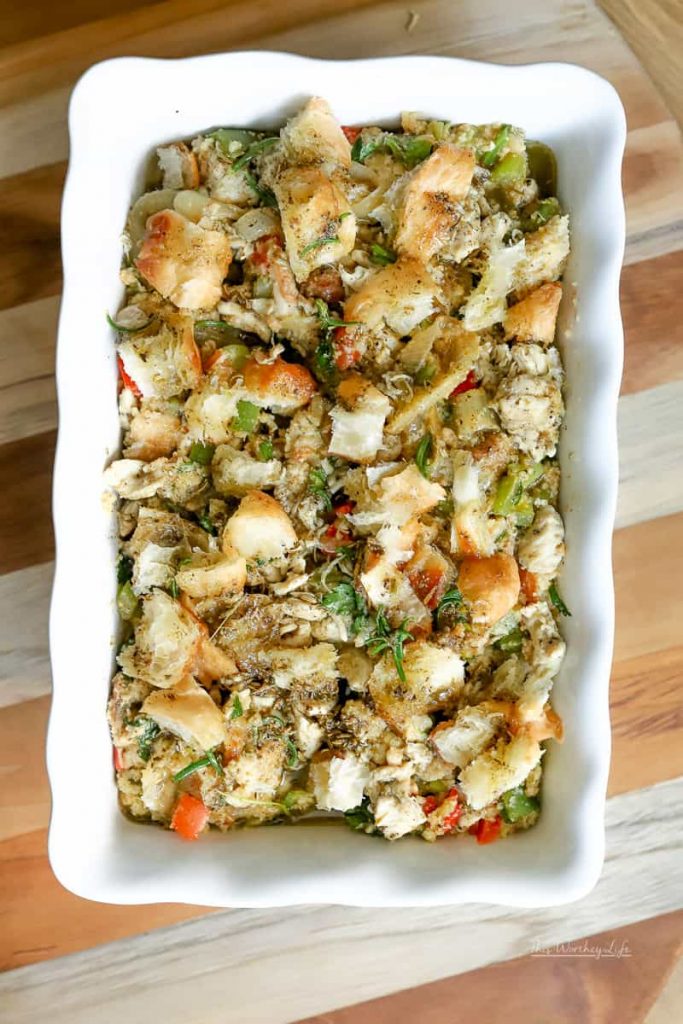 Ingredients:
4 cups Croissant, cut into 1″ cubes
4 cups cornbread, crumbled
1 large sweet onion, sliced thin
1 large red bell pepper, diced
1 large green bell pepper, diced
4 large garlic cloves
small bunch of washed and drained flat-leaf parsley, chopped
2 celery stalks with leaves, sliced thin
3 stalks green onion, sliced thin
2 cups chicken bone broth
2 1/2 tablespoons rubbed sage
2 tablespoons Cajun seasoning
1 1/2 tablespoons Old Bay Seasoning
1 tablespoon dried oregano
1 tablespoon sea salt
1/2 tablespoon freshly cracked black peppercorns
1 cup melted herb butter
More prep work:
Preheat oven to 190 degrees. Cut croissants into one-inch cubes and spread them evenly onto a cookie sheet and place into the oven for ten minutes.
To make the herb butter add two sticks of butter into a measuring cup, add 1 tablespoon of each: fresh minced rosemary, fresh minced thyme, rubbed sage, poultry seasoning, and Cajun seasoning. Place a loose-fitting lid or a damp paper towel over the measuring cup and heat until the mixture is melted.  Set aside.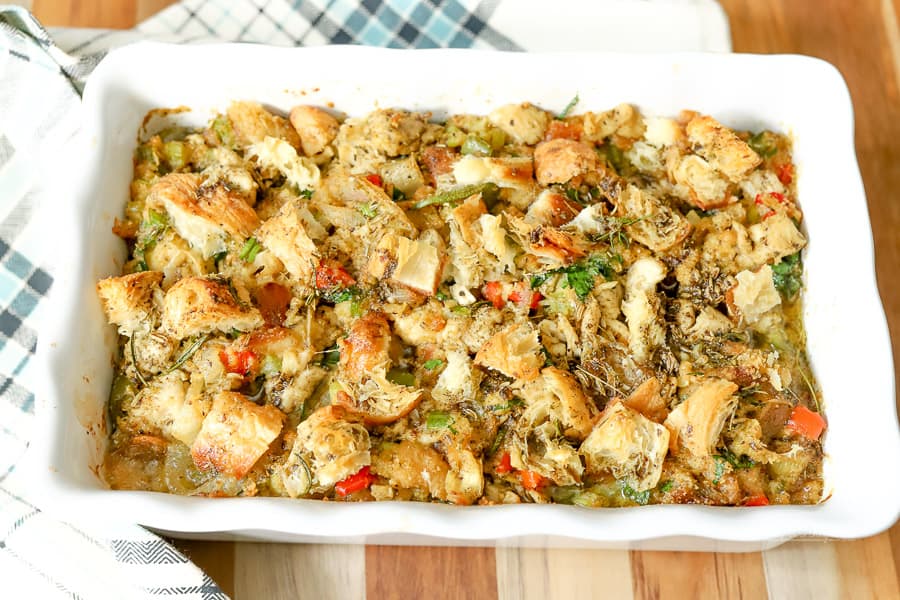 Directions on making cornbread dressing
Place a skillet over medium heat, add a tablespoon of extra virgin olive oil, when the oil is hot add the diced red peppers, green peppers, celery, and green onion. Sauté the vegetable mixture for 3-4 minutes, then remove from the veggies from the skillet and set aside.

Add two (2) tablespoons of unsalted butter, when the butter is melted, brown the thinly sliced onions, and continue to stir occasionally until the onions are just starting to brown. Adjust the heat to its lowest setting and continue to cook until the onions are caramelized about 15-20 minutes. Set aside.
Into a large bowl add crumbled cornbread, chopped chicken, seasonings, s

autéed vegetables, chopped parsley, add one cup of chicken bone broth or stock.

Gently combine the mixture, add in half of the croissants, and the remaining cup of chicken bone broth or stock and continue to gently mix together.
Top with the remaining croissants and press them gently into the mixture, drizzle the melted butter on top and cook in a preheated oven for an hour. Tip: If the top is browning too quickly place loose foil on top and continue to bake. For the last five minutes remove the foil and continue, the top of the dressing should be golden brown.
Remove dressing from the oven and allow to cool for 10-15 minutes.
Serve.