Win the Thanksgiving MVP award with our Sourdough Cornbread Stuffing recipe. Regardless of if you call this recipe cornbread stuffing or cornbread dressing, the addition of the loaded sourdough makes it savory and delicious.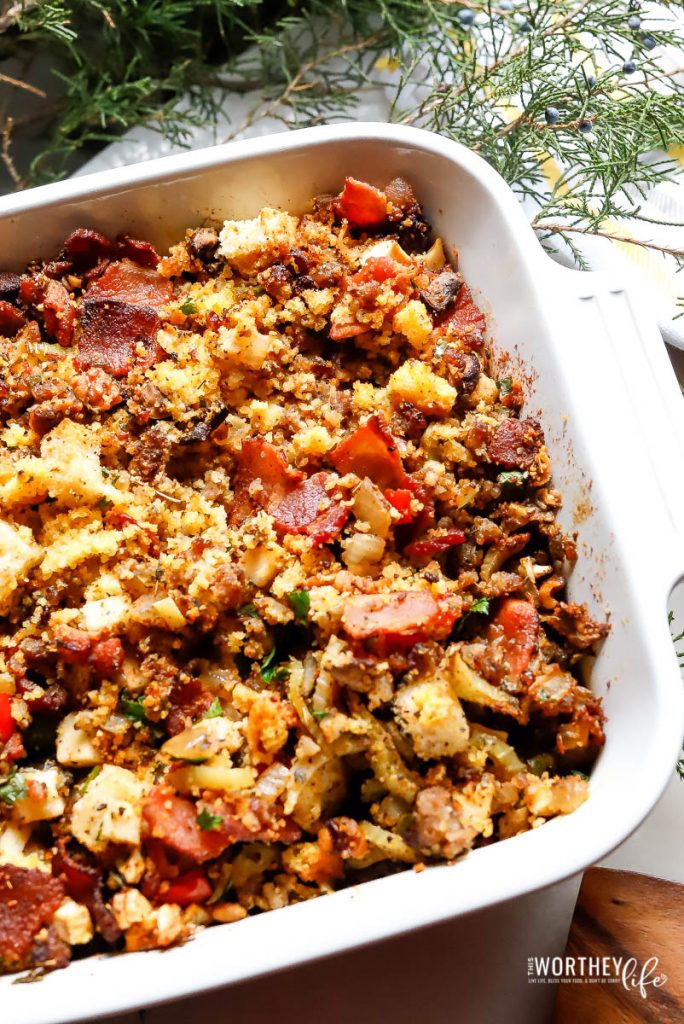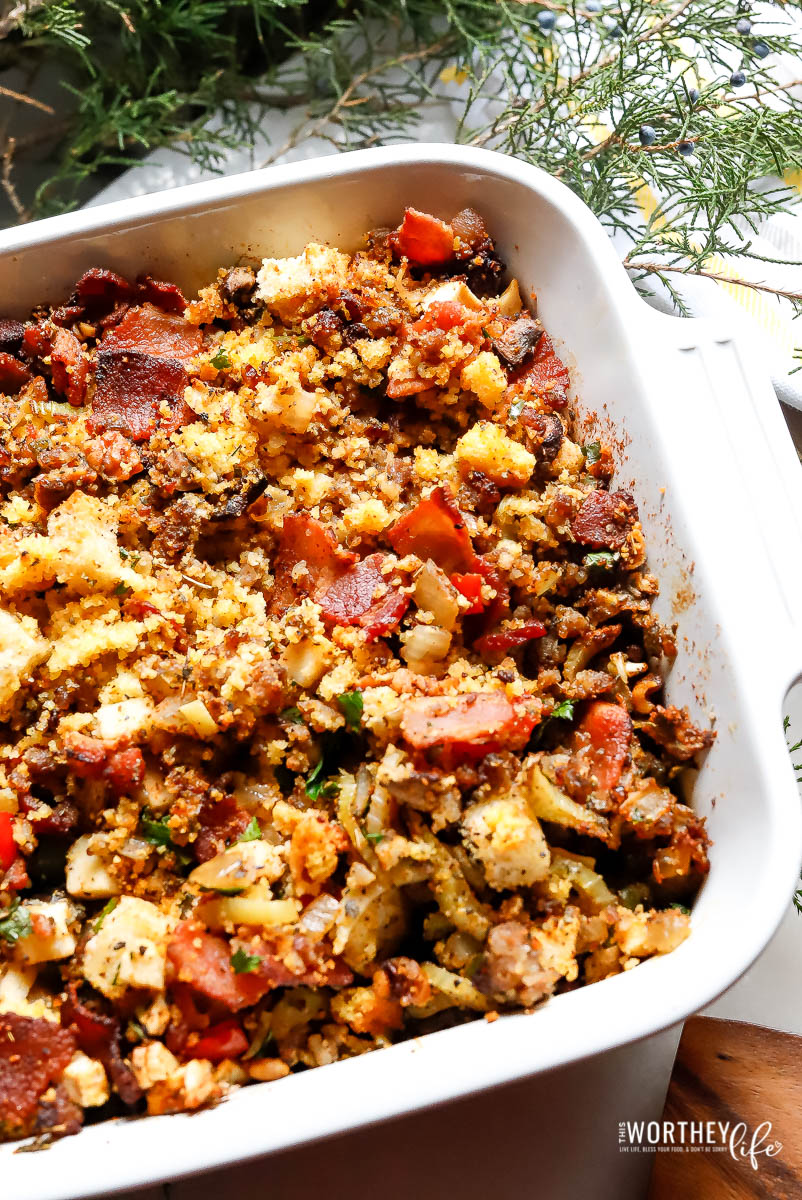 Loaded Sourdough Cornbread Stuffing Recipe
I am pretty sure we outdid ourselves with this dressing recipe simply because it's so freaking good. Imagine the semi-homemade black pepper and sage cornbread combined with the cubed sourdough bread seasoned with Herbes De Provence, and this is just the start to a fantastic dressing recipe.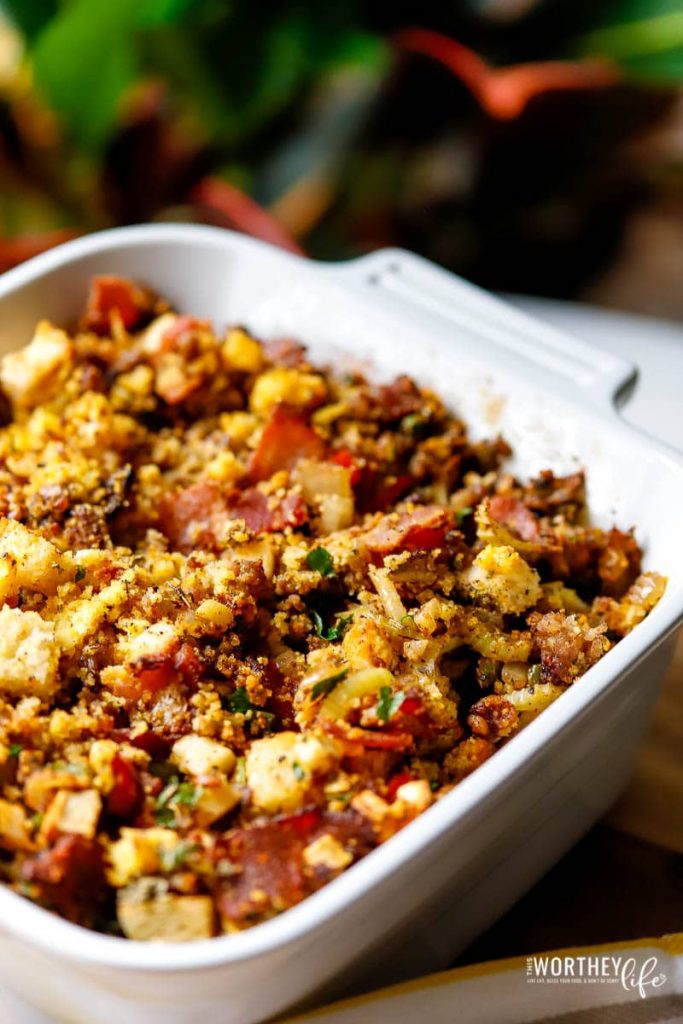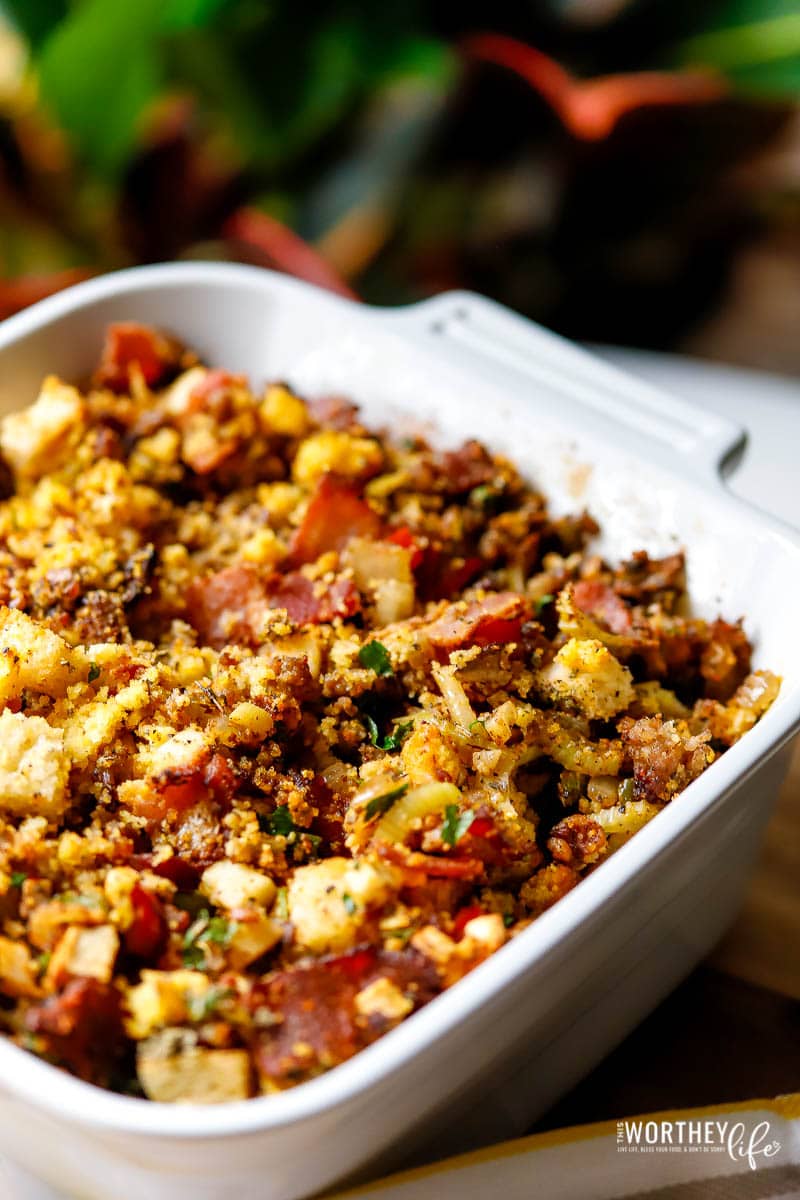 But our dressing or stuffing is more than a delicious recipe because it is also super easy to put together. No lie. I'll be the first one to admit that even though a lot is going on here, it isn't complicated or impossible to make. Plus, I have a cheat for the cornbread that will make it even easier for you to get this mouthwatering dressing in the oven, and on your Thanksgiving table as soon as possible. To save even more time, this is a recipe you can make a day ahead, a great benefit of having one less thing to make on Thanksgiving Day.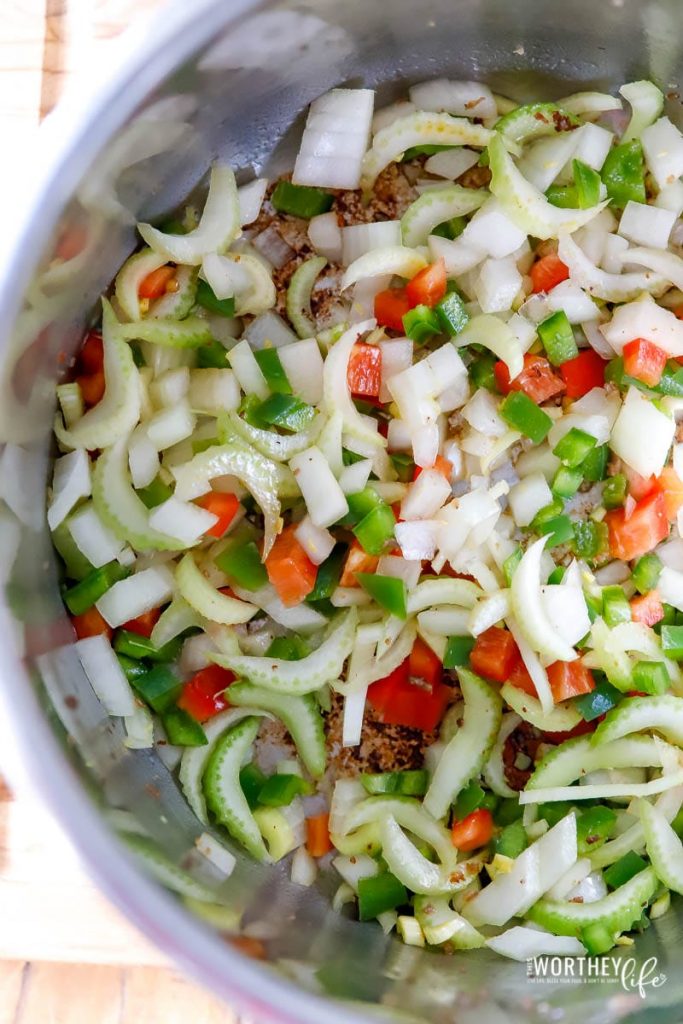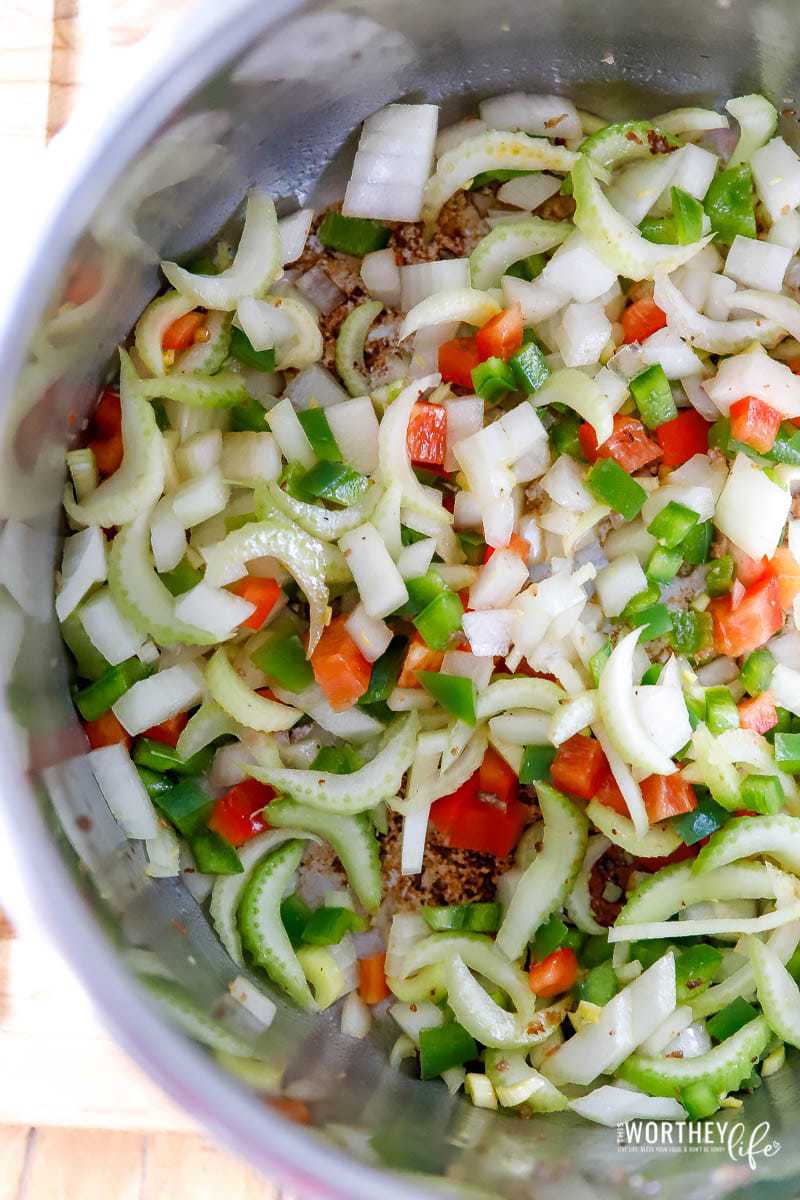 Save that day-old sourdough bread
This recipe makes good use of day-old sourdough bread and homemade cornbread with a hint of rubbed sage and freshly cracked black pepper. You got the recipe, now make your list and check it twice, then get in the kitchen and make this delicious Loaded Sourdough + Cornbread Dressing!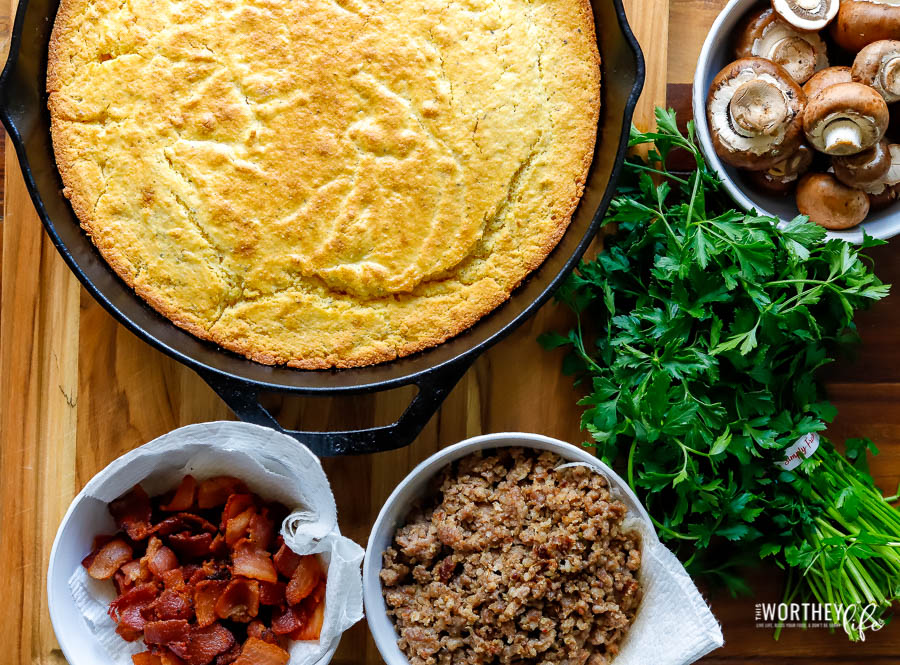 Make The Jiffy Mix Cornbread For Your Dressing
Ingredients:
2 boxes Jiffy Mix Cornbread
1/2 cup yellow cornmeal
2 eggs
2/3 cup heavy cream
2/3 cup whole milk
1 1/2 tablespoons rubbed sage
1 tablespoon freshly cracked black peppercorns
1 tablespoon extra virgin olive oil
1 tablespoon melted unsalted butter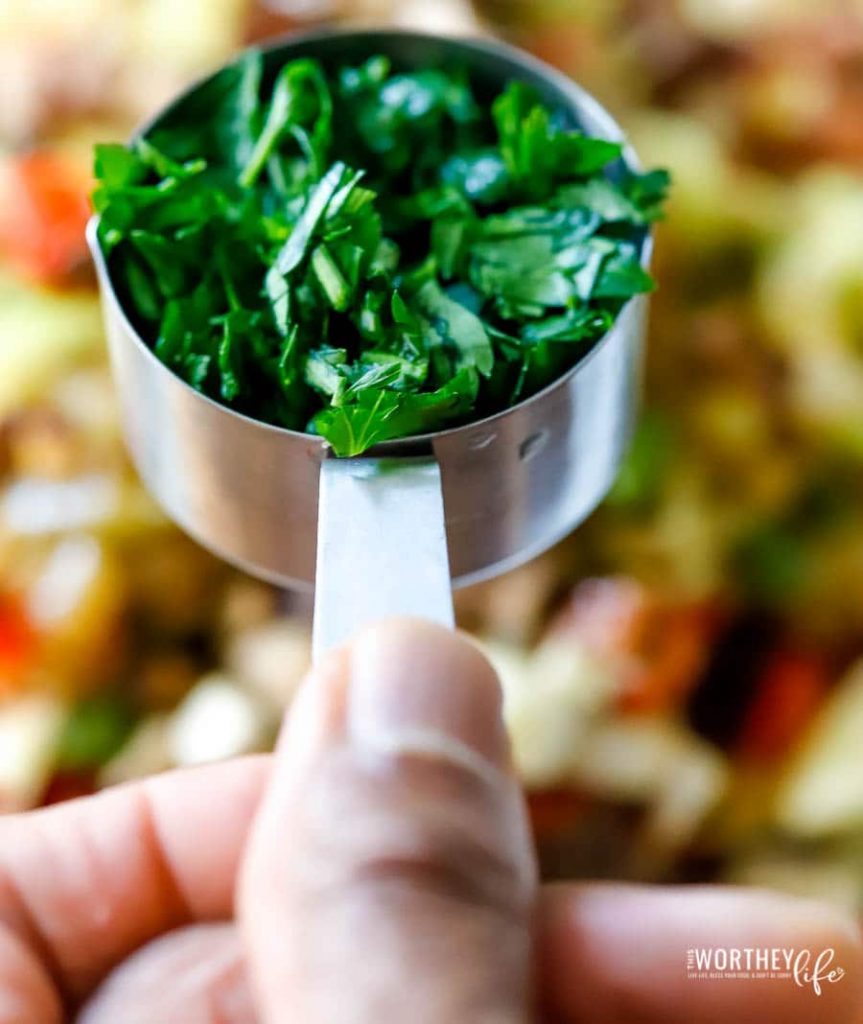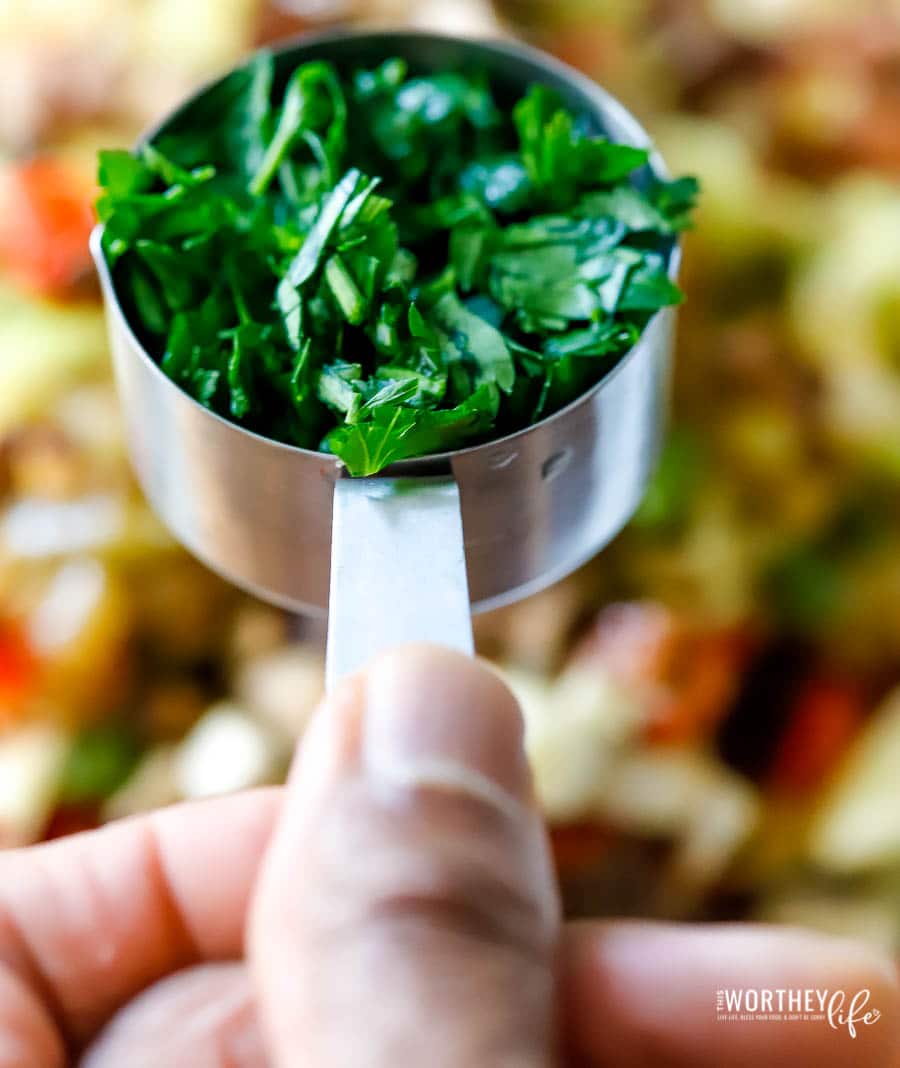 Directions:
Preheat oven to 400 degrees
Place the cast iron in the oven to get hot.
Into a large bowl, add Jiffy cornbread mix, yellow cornmeal, heavy cream, whole milk, rubbed sage, and freshly cracked black peppercorns.
Mix the ingredients thoroughly.
Remove the cast iron from the oven and add the extra virgin olive oil and the melted butter.
Use a brush and ensure the bottom and side of the skillet is coated.
Spoon the cornbread batter into the skillet and spread it out evenly.
Place the skillet into the center rack of the preheated oven and bake for 12 minutes or until the top of the cornbread is golden brown.
Remove the cornbread from the oven and allow it to cool. Set aside.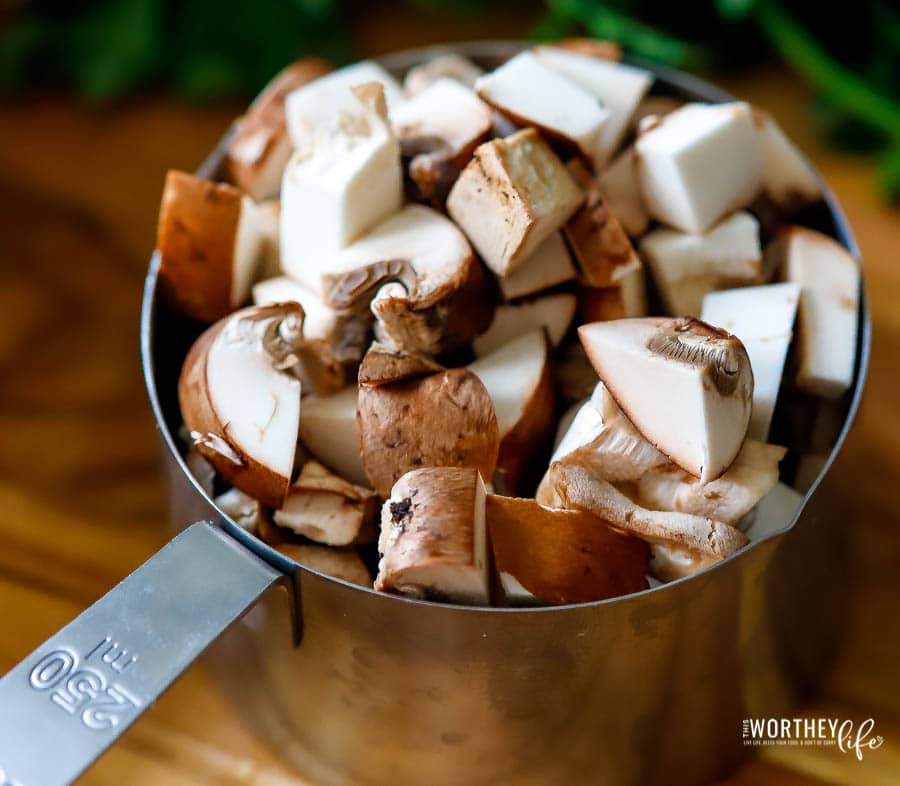 How To Make Sourdough Bread For Your Stuffing Recipe
Cut 2 1/2 cups of day-old sourdough bread in half-inch cubes, place them into a bowl and toss with 1 1/2 tablespoons of Herbes De Provence and a tablespoon of rubbed sage. Set it aside.
Now, after the bread has been made, you're ready to put this recipe together.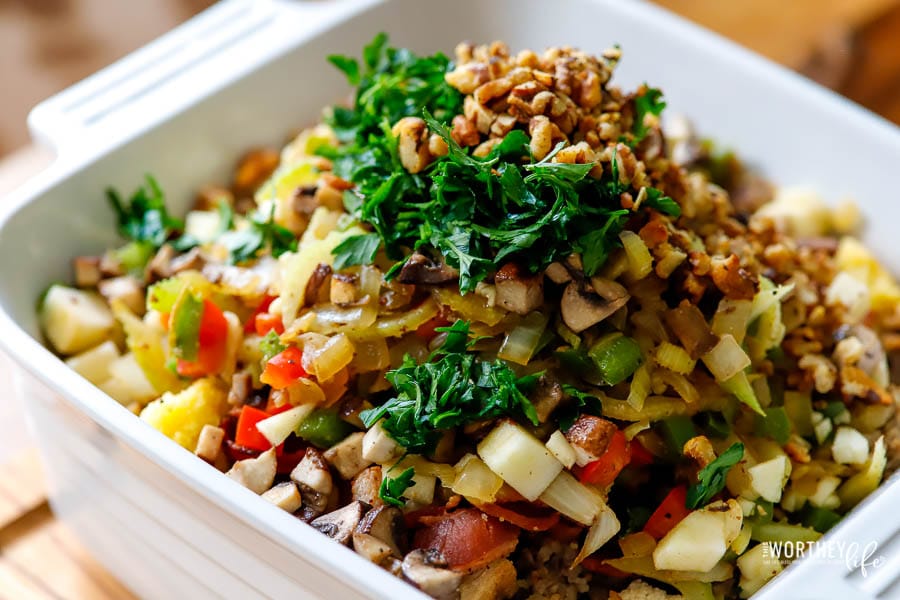 How to make Loaded Sourdough Cornbread Dressing
Prep: 25 minutes
Cook Time: 50 minutes
Servings: 20-24
Ingredients:
1 pound ground sausage
6 strips thick-cut bacon
2 1/2 cups sourdough cubes
3 cups slightly crumbled cornbread
4 cups chicken stock
1/2 cup sliced celery
1 cup sweet onion
3 garlic large cloves
1 granny smith apple
1 medium red bell pepper, chopped
1 medium green bell pepper, chopped
1/2 cup chopped toasted walnuts
1/4 cup chopped flat-leaf parsley
1 tablespoon freshly ground black peppercorns
1 tablespoon sea salt or Kosher salt to taste
1/2 stick unsalted butter cut into cubes
3 tablespoons + 1 tablespoon extra virgin olive oil
3 tablespoons rubbed sage
2 tablespoons Old Bay seasoning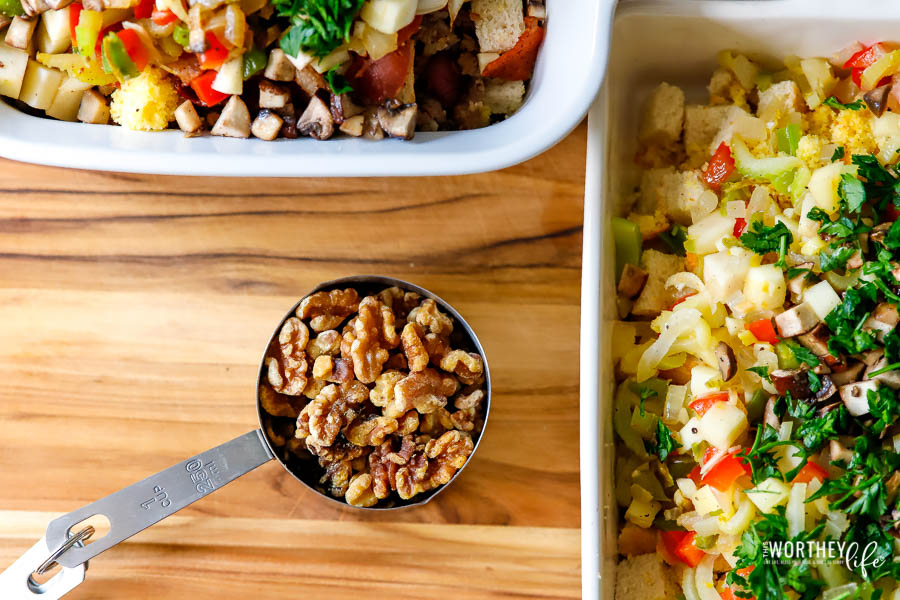 Directions:
Preheat oven to 400 degrees.
Line a sheet pan with parchment paper, then place a wire rack onto the sheet pan, place the strips of thick-cut bacon on the wire rack, make sure the bacon is laying flat, and the pieces of bacon do not overlap.
Place the sheet pan on the center rack of the preheated 400 degrees oven.
Cook the bacon until it is crispy in 18-20 minutes.
Reduce to oven temperature to 350 degrees to bake the dressing.
Remove the bacon after it is crispy. Transfer the bacon to a plate or bowl lined with paper towels. Reserve a tablespoon of bacon drippings.
Place a skillet over med-high heat and add a single tablespoon of extra virgin olive oil.
When the oil is hot, add the Italian sausage and break it apart with a spoon, brown the sausage, then transfer the sausage onto a plate or bowl lined with paper towels.
Wipe the skillet clean and place it over medium/high heat and toast the walnuts for 1-2 minutes. Transfer the walnuts to a small bowl and set aside.
Add the tablespoon of bacon drippings to the skillet and place it over the medium/high heat.
When the pan is hot, add the onions, apples, celery, red and green bell peppers, and sauté for five minutes. Remove the mixture from the skillet into a bowl and set aside.
Into a large bowl add 2 1/2 cups of the sourdough cubes and 3 cups of the crumbled cornbread, fold in the crumbled thick-cut bacon, Italian sausage, and the onions, apples, celery, red and green bell peppers mixture, toasted walnuts, chopped flat-leaf parsley, add in the seasonings.
Gently fold all of the ingredients together, and begin adding the chicken stock a cup at a time. Fold the mixture after you add each cup of chicken stock. The key to great dressing, it shouldn't be soggy or too dry. However, adjust to your preference. I like my dressing to be moist; it will lose a bit of its moisture while it is cooking in the oven. After all of the ingredients are mixed, give it a taste, and adjust the seasoning. You won't need to add salt because you will get salt from the thick-cut bacon and Italian sausage.
Spoon the dressing into your preferred baking dish; this should be a high-walled dish about 2 to 4 inches deep.
Cut pieces of the half-stick of unsalted butter all over the top of your dressing, I always make sure to tuck a few pieces into the corners.
Place the dressing onto the center rack of a preheated 350-degree oven and cook for an hour.
Remove from the oven and serve with cranberry sauce, turkey, or sausage gravy.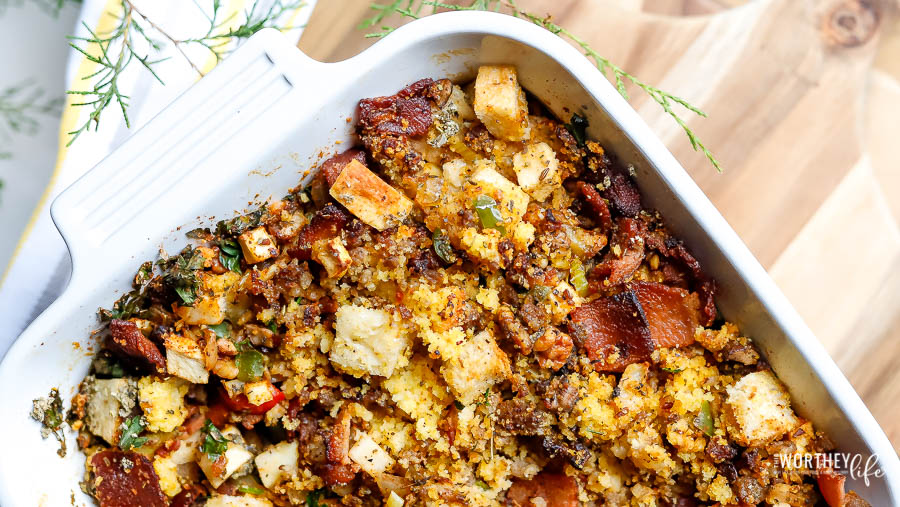 Pro-tip: If you're making cornbread stuffing for the first time, be sure to allow yourself extra time to prep all the ingredients, including making the cornbread and sourdough bread ahead of time. While this recipe calls for a lot of ingredients and steps, the final result is worth it.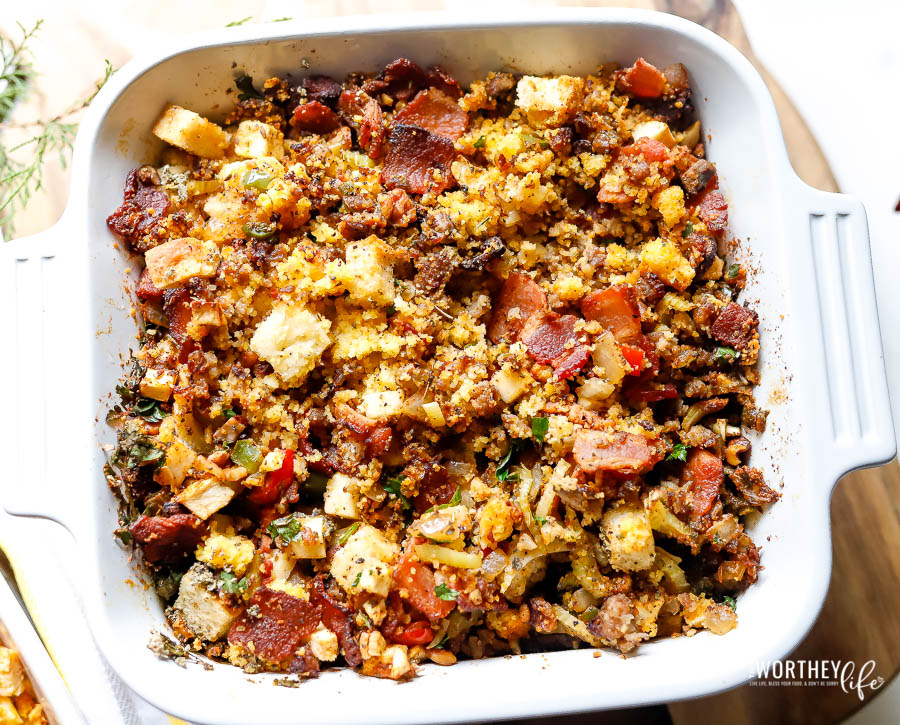 And if you have non-meat eating friends + family coming to holiday dinner, you can try our vegan sourdough cornbread stuffing recipe.
Find more Thanksgiving recipes to try this year:
Thanksgiving Side Dish Idea | Baked Butternut Squash Potatoes
Sparkling Apple Cider Ginger Rosé
Croissant Cornbread Dressing with Chicken
Cornbread & Italian Sausage Stuffing Recipe
Spinach & Bacon Smashed Potatoes