Looking for a fun new Halloween tradition? You'll love these You've Been Booed Tags Free Printable ideas!
These tags are all the rage, and we're here with our free printable tags for making your own!
Download and print this pdf file below, and have fun dropping off Halloween goodies to your neighbors and friends.
Check out my Outdoor Halloween Movie Night Idea for another fun family tradition to start.
You've Been Booed – Free Printable Tags
It's October, which means one thing: Halloween and all things fall!
We all know how much fun it can be to go around the neighborhood with treats, but what about when you're on the receiving end?
Wouldn't you love a new way to get in on some trick-or-treating action?
Well, we've got just the thing for you.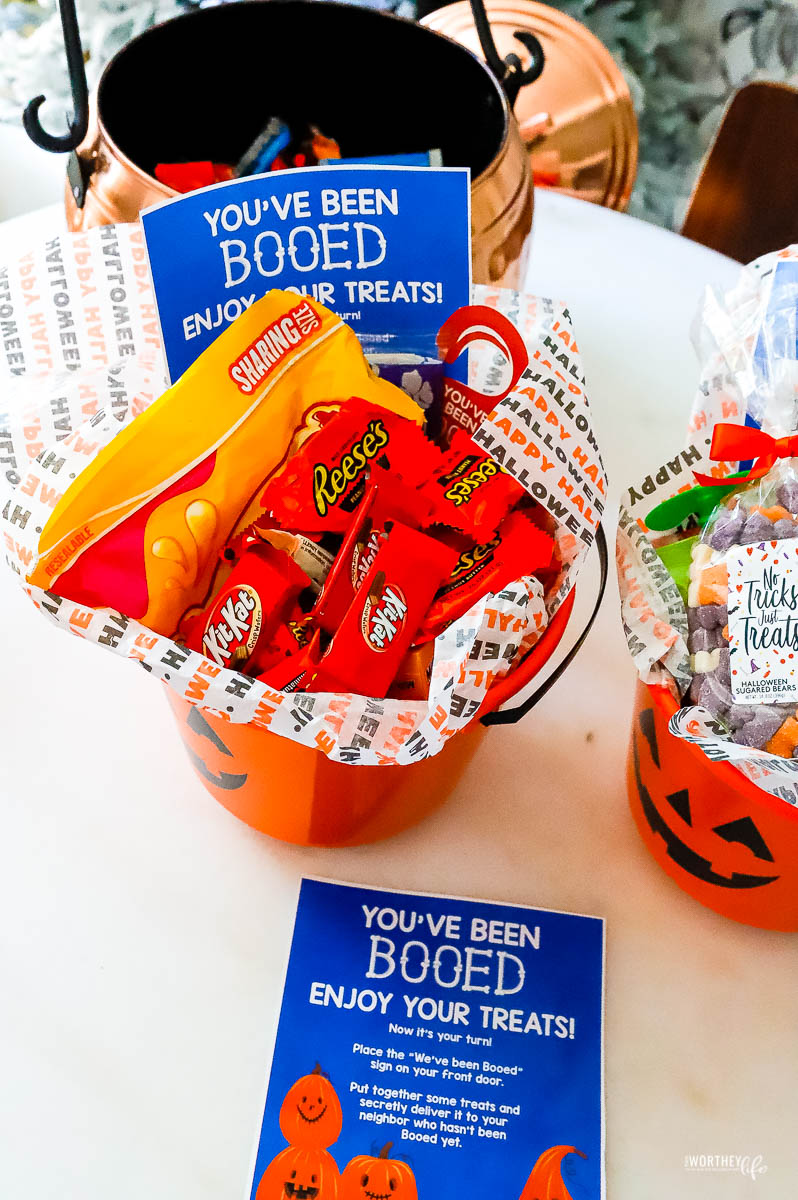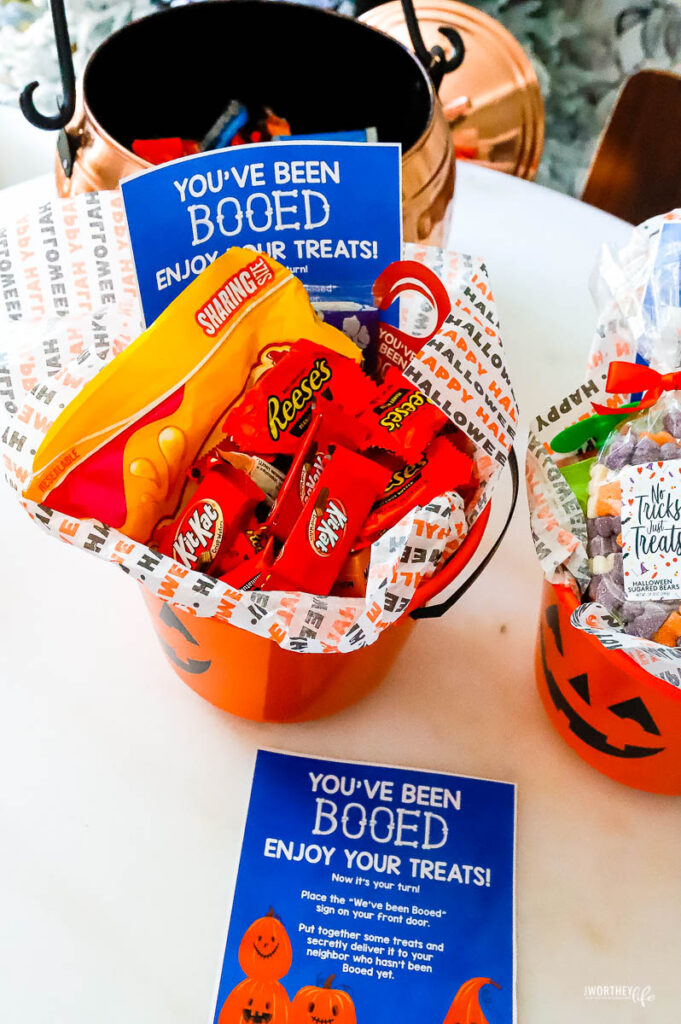 Our Free Printable will allow you to make your own "got booed" tags – perfect for handing out wrapped candies or goodies from home.
This is a great idea for kids who want to help pass out candy without going door-to-door themselves and an even better idea if you don't have time this year!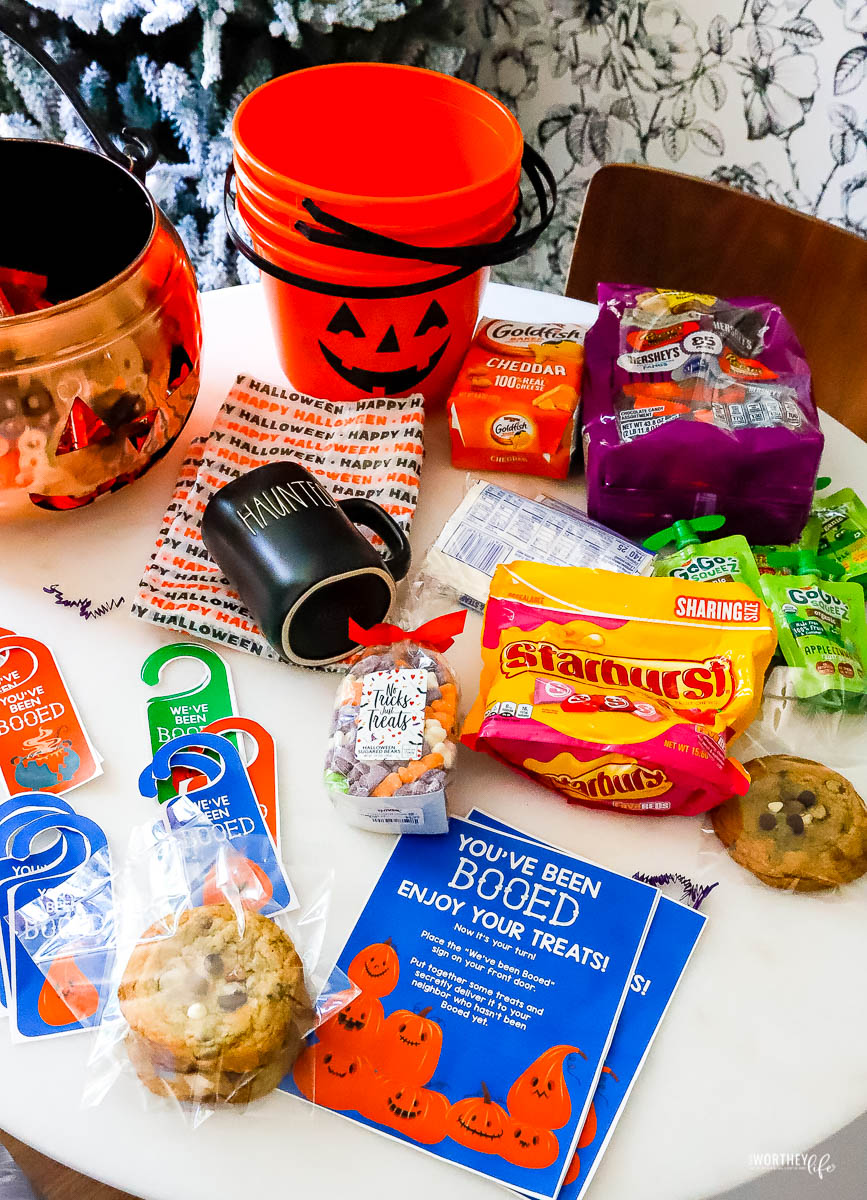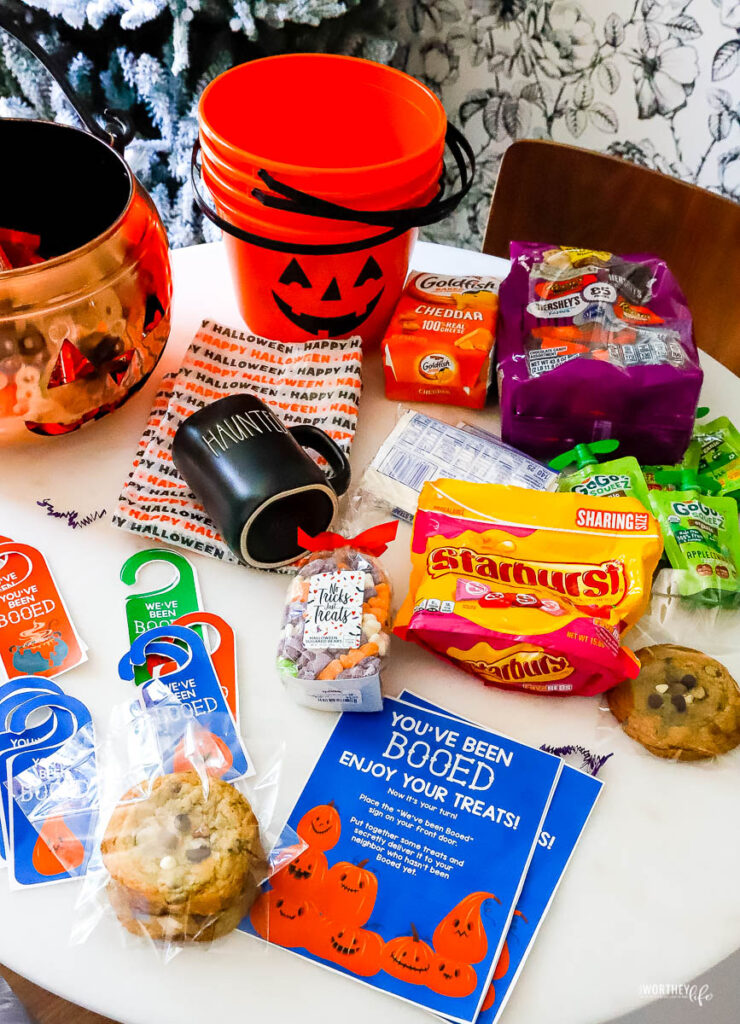 If you've been booed before and have ever woken up and yelled out to the kids, "we've been booed!" then you know how much fun it is!
Booing others during Halloween is just a simple way to extend and create even more Halloween fun.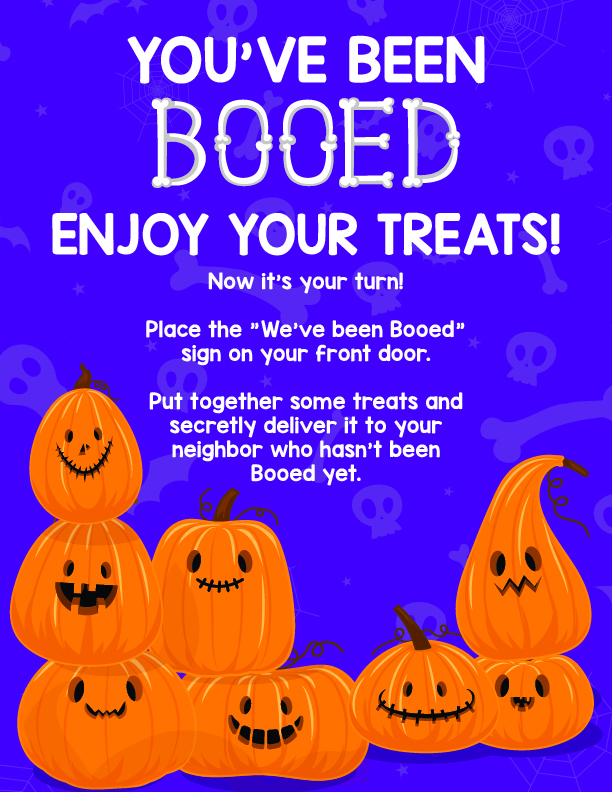 What does it mean to "get booed?"
Great question! Getting booed isn't just a tag or sign that you hang on the door.
It's also a fun type of Halloween prank.
While that is a huge part of getting pranked, there is more to it.
What does it mean to you?
Getting "booed" means that you have a thoughtful gift or treat waiting there on their porch when they get home from trick-or-treating!
It doesn't need to be too complicated, just something cute and thoughtful.
And if you're feeling particularly ambitious, you can make one of our DIY gifts below.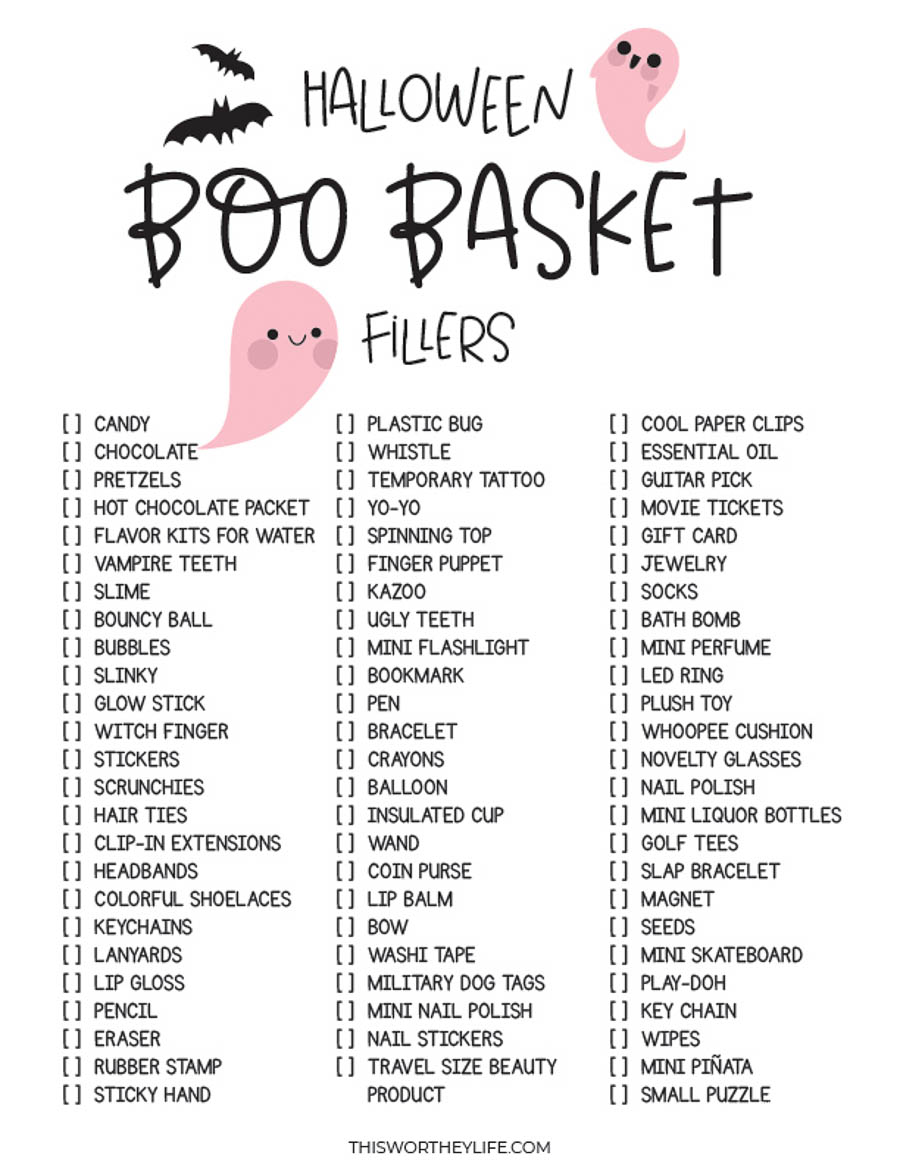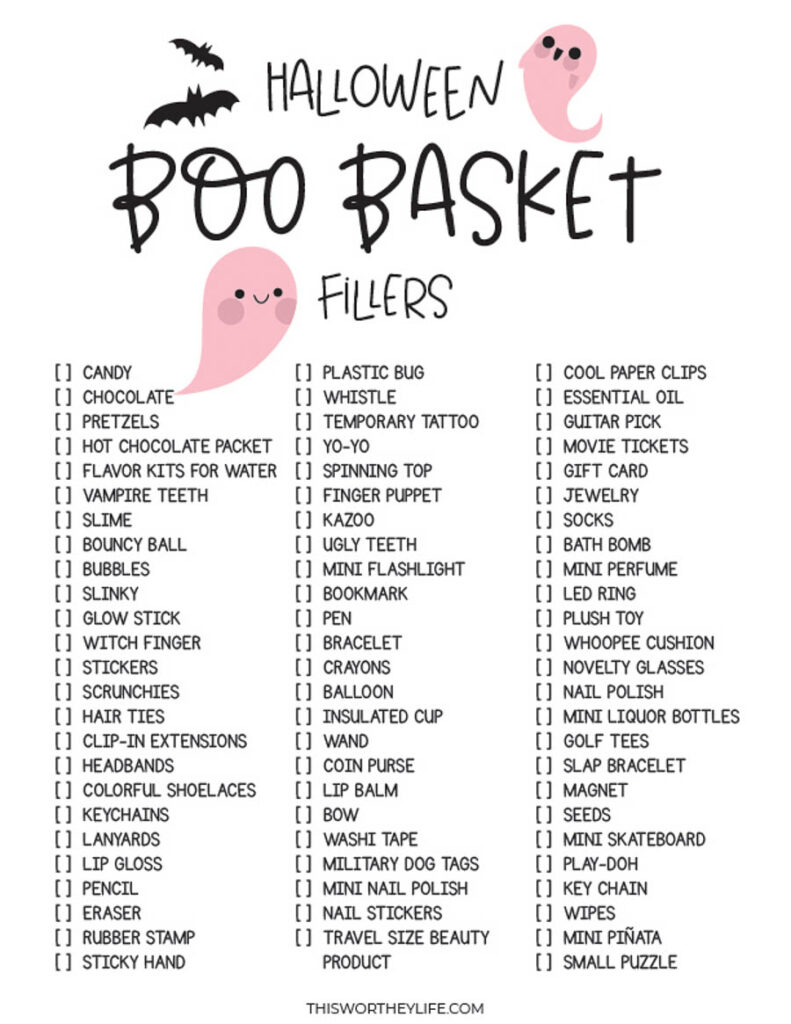 Some simple ideas could be:
Pumpkin Pie in a Jar Recipe
Homemade Halloween Witch Fingers
Cocoa Mix – you can make this as a gift or include it in your boo-dorable treat bag!
or even just a bucket full of Halloween sweets and treats
Keychains
Mini Flashlight (great idea if they plan to go out TOT after dark)
Gift Card
Bath Bombs
Play-Doh
Insulated Cup
Hot Chocolate Packets
Print out the full list of Halloween Boo Basket Fillers.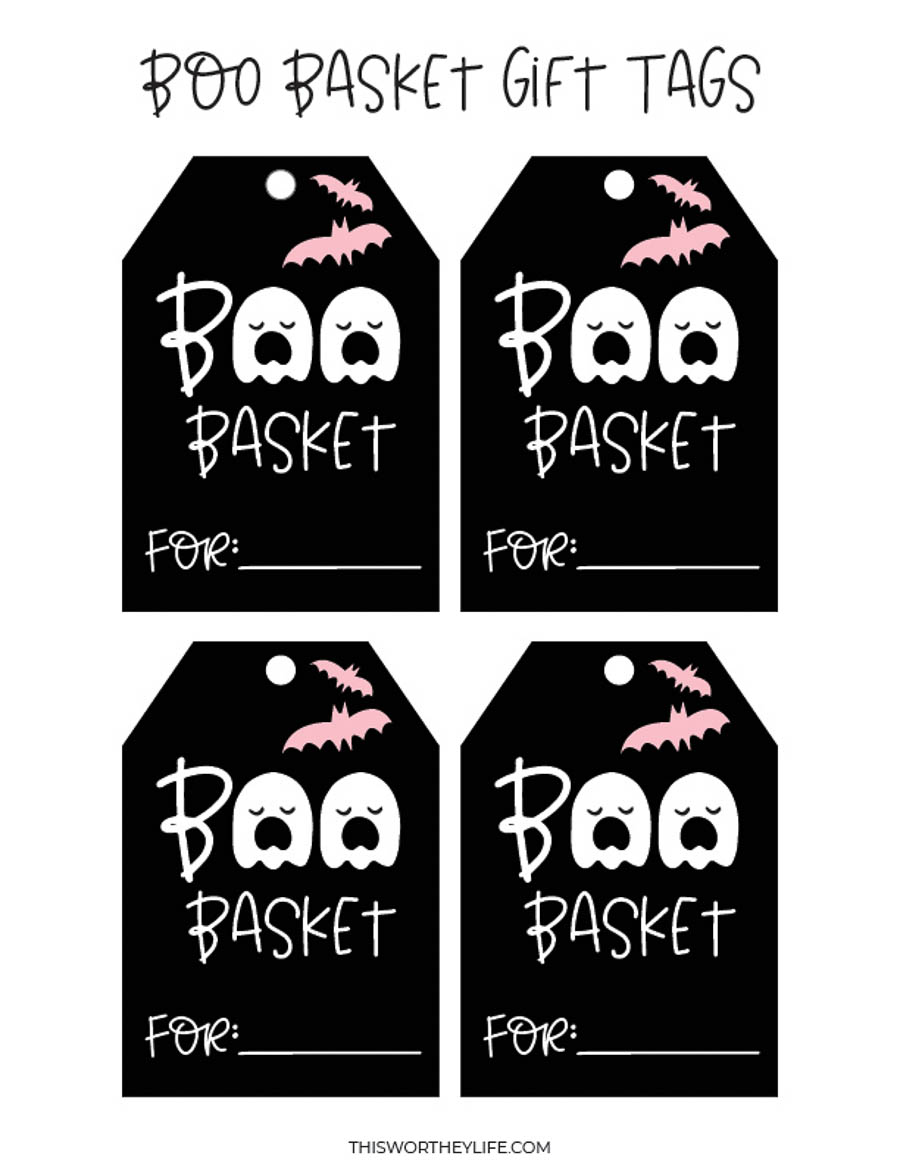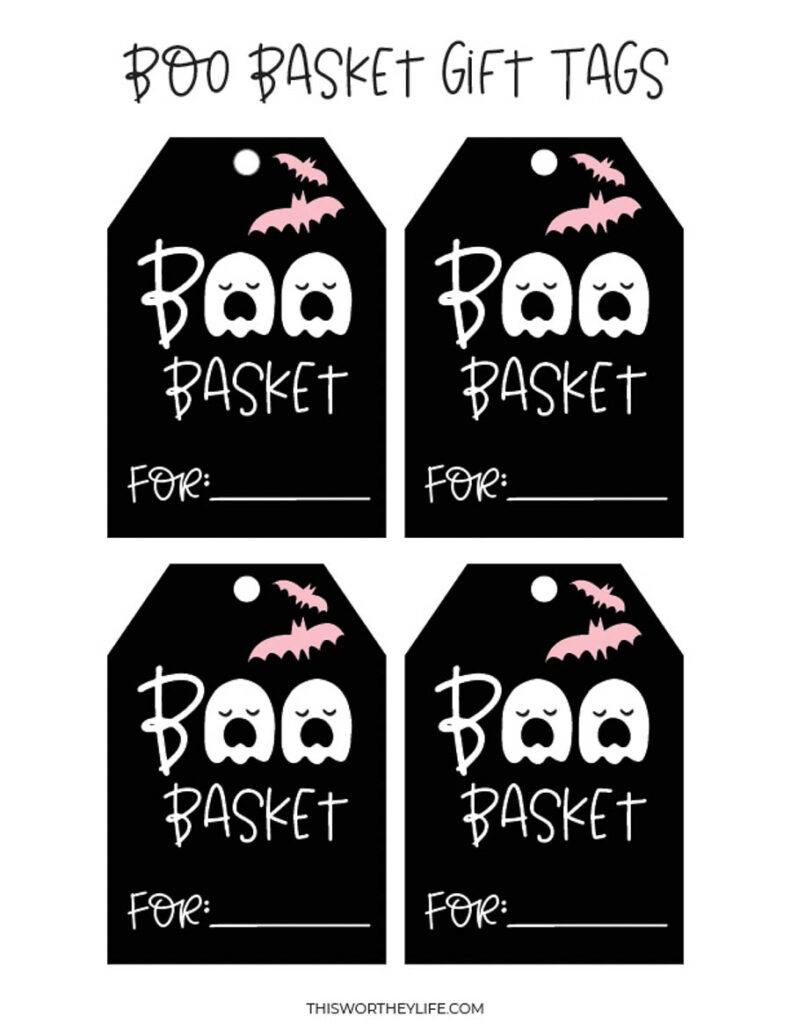 Boo Baskets Gift Tags
If you are making a Boo Basket, print out these gift tags for a fun addition to your basket filled with goodies.
You can print out the filler list with ideas on what to put in your bag and these free tags.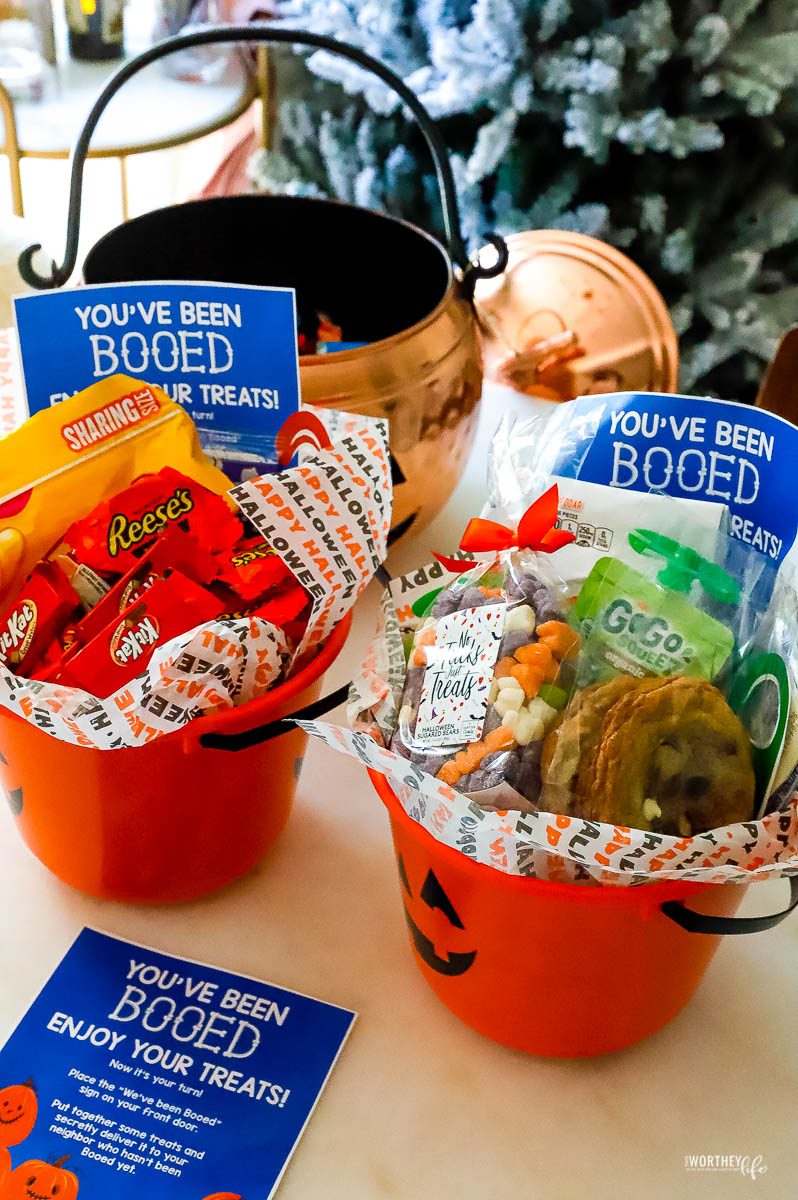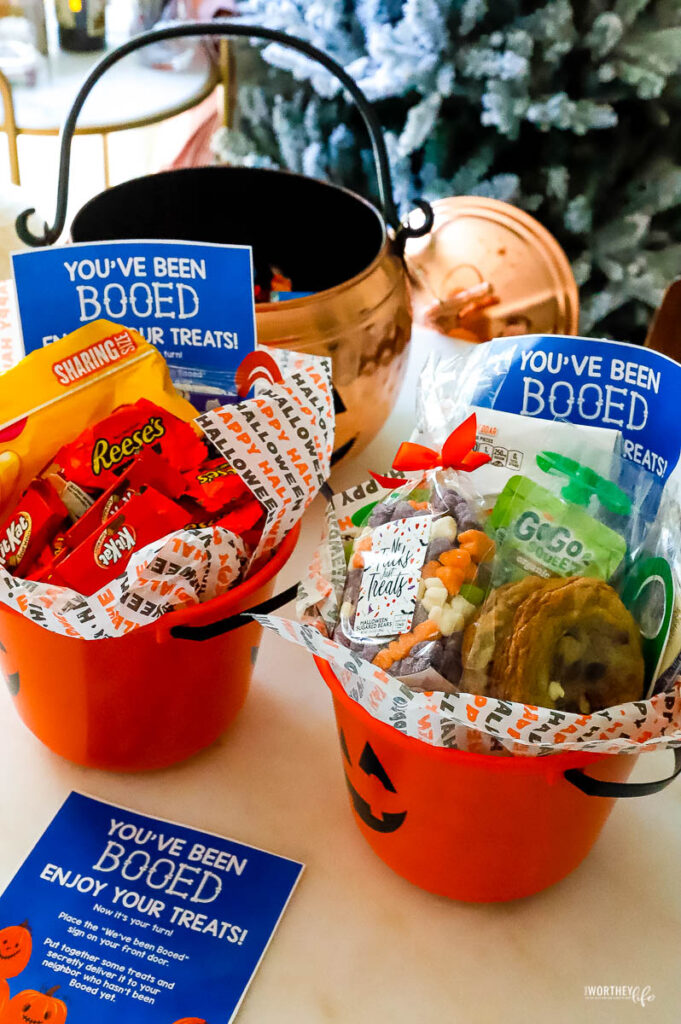 What type of basket to use for a Boo basket?
For our basket, I used a reusable, plastic Halloween treats tote.
They work great for this idea.
I lined the treat tote with Halloween paper tissue and filled the totes with a mix of goodies.
The great part about being booed or booing someone else is that you make up the rules.
All that needs to be done first is to get started – and these "We've Been Booed" printables are perfect.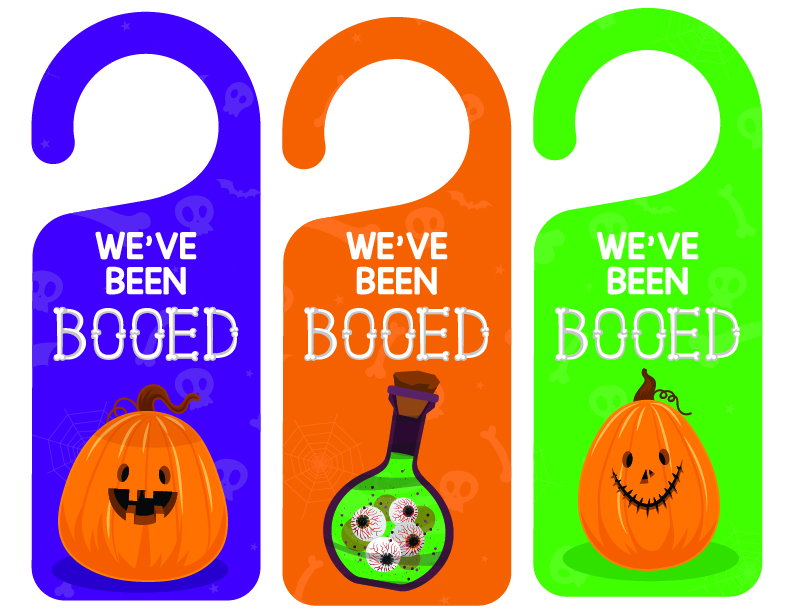 After you've been pranked with many great goodies, it's your turn.
Put together some goodies and the free printable tag listed below, and drop them off at your neighbor's, family's, or friend's front porch.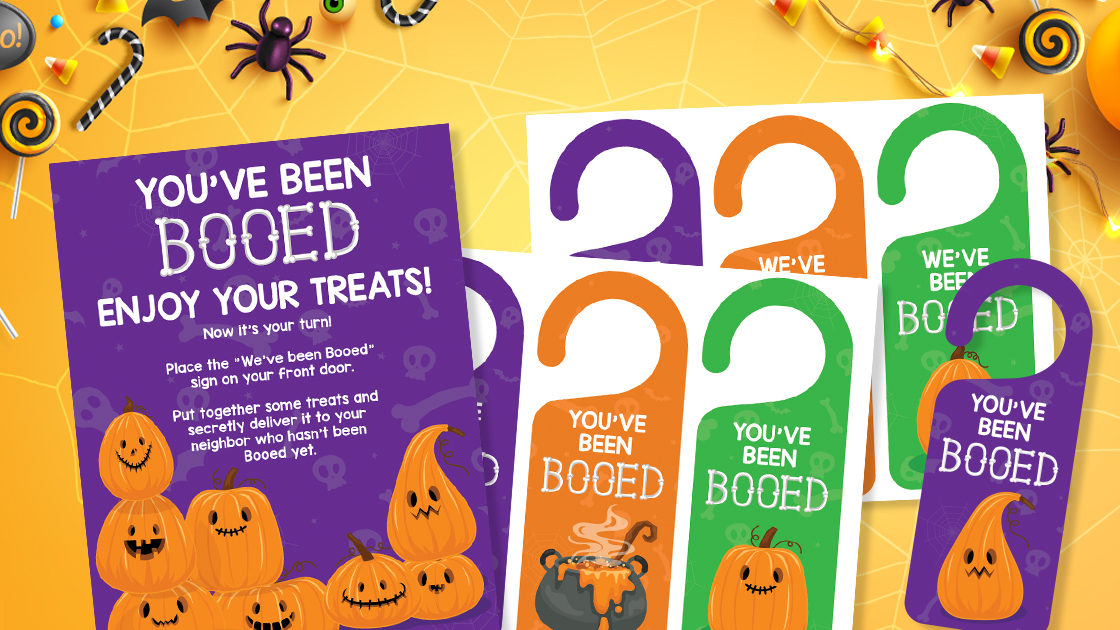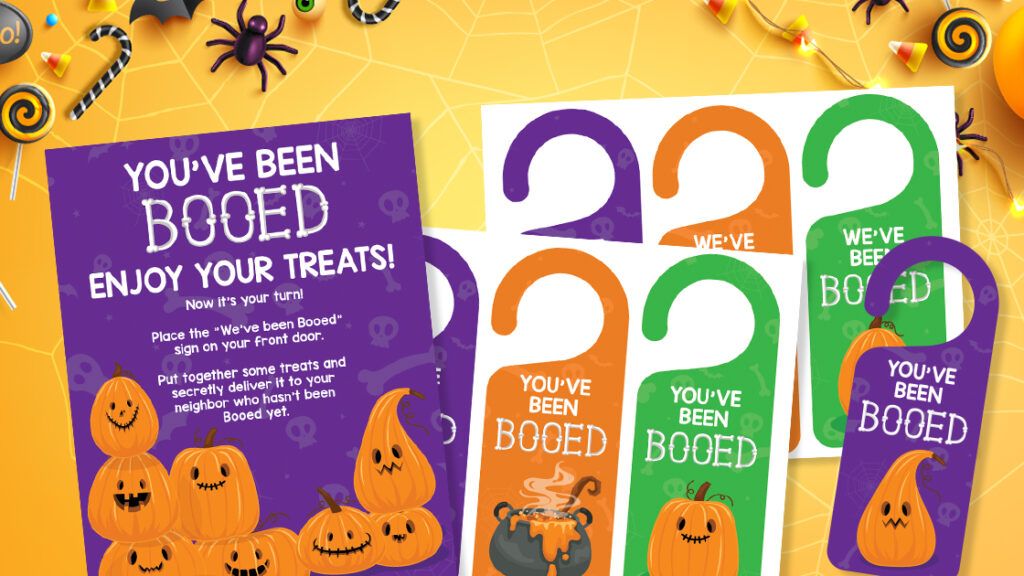 Don't forget to grab your Halloween Printable below!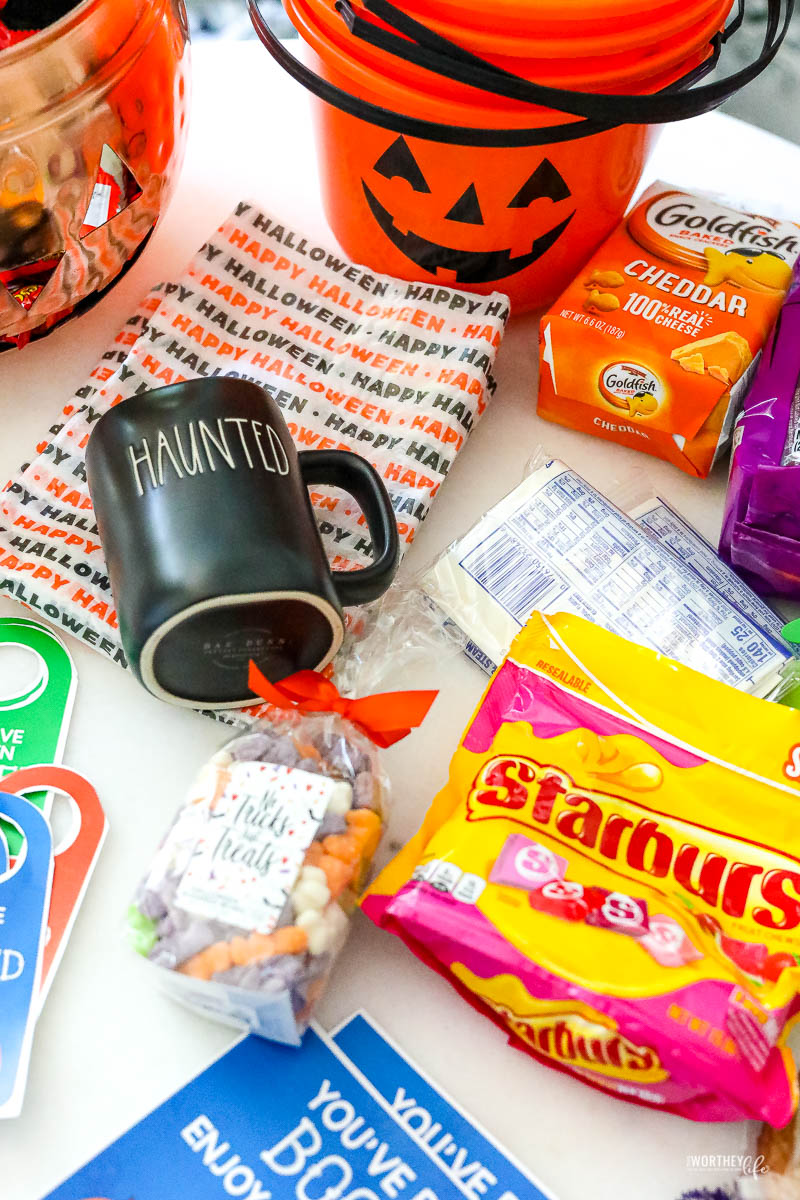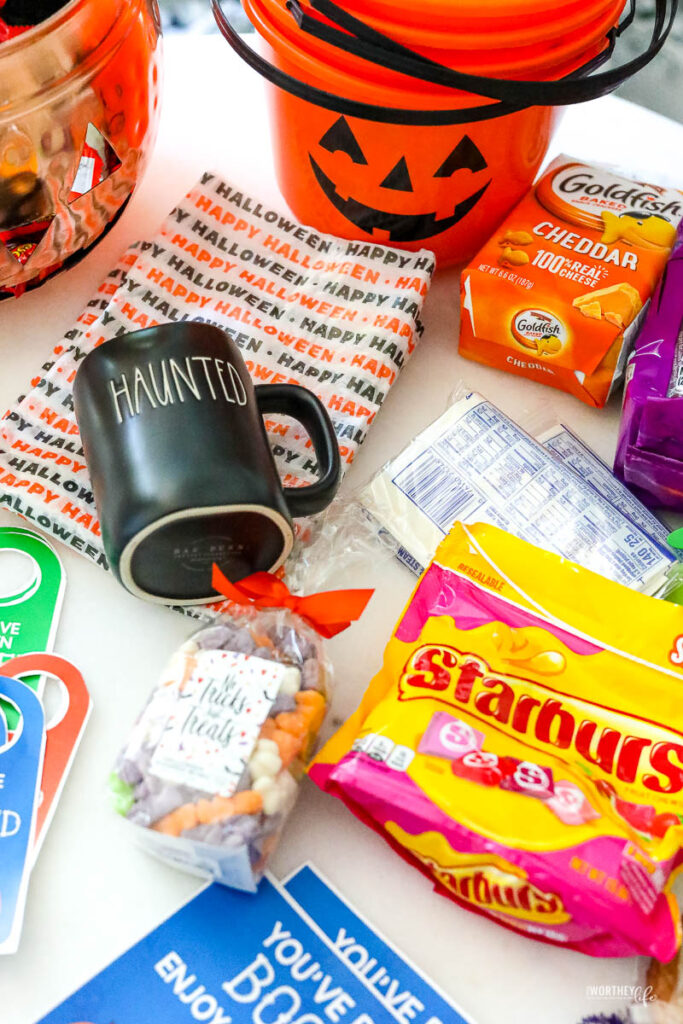 The fun part about these free printables is that they give you options to "boo" more than one person at a time.
You can easily surprise all the neighbors, friends, or family by printing these tags multiple times.
The kids also treat this like a secret mission, so we are sure we're sneaky about it as we're running around the neighborhood and putting these on people's doorknobs.
This is a fun family tradition your family will not outgrow and something you can check off on your family's fall bucket list.
More Halloween Fun Ideas
Free printables:
You Make My Heart Pop Free Printable Valentines Tags