Let's celebrate all things Angry Birds! If you're a fan of these colorful characters, here's a fun way to have a themed movie night with an Angry Birds Party Board. You can also put an Angry Birds Party Board together for a themed birthday party. Get details below, as well as other Angry Birds party ideas. Angry Birds Party Board
Are you a fan of those funny and quirky Angry Birds? I remember playing this game non-stop when it came out; Derrick did as well. We've seen the movies and even had a birthday party around one of the theater releases. Angry Birds 3 is scheduled for release in May 2021, but we don't have to wait until then to get our Angry Birds party on! If you're planning a birthday party or movie night with an Angry Birds theme, us our party board for inspiration. We've shared previous party and candy boards, and they are a fun way to have a party, watch a movie series, and for entertaining. With the current status of our country, we're spending more time at home- s0 why not have some fun! Instead of making a party board fun of candy, we're making this one a little on the healthier side. We've shared a Toy Story themed snack board with an assortment of food, as well as a Toy-Story candy board. For parents looking for party ideas with less candy on it, this type of party board gives you popcorn (for watching the movie), small amounts of candy, cookies, and fruit. I use a local baker to create my cookies, and she always does a great job. However, if you want to make Angry Birds inspired cookies, check out some of the ideas I shared below. You can also find some recipe ideas on Pinterest. You can also look for a local baker in your city if you don't want to make your own cookies. I don't have the skills to create cookies like this, so being able to purchase themed cookies is perfect for me. Tips On Creating This Party Board
Use a neutral board. We like to use a white marble platter for most of our boards.
Give it a ton of color. The more color your board has, the better the pop.
Use different textures and styles.
Don't leave any space untouched. The biggest tip we can share is making sure you leave no area untouched on the board.
Don't be afraid to go outside the box and do something different.
You can use sites like OrientalTrading.com and PartyCity.com to find themed decorations. I also find a lot of creators on Etsy who can make themed treats. What's On Our Angry Birds Party Board:
Green Grapes
An Assortment of Gummy Bears
Popcorn
Fresh Watermelon Slices
Fresh Raspberries
Oreo Cookies
An assortment of Mixed Nuts
Fresh Pineapple Slices
Themed Angry Birds Cookies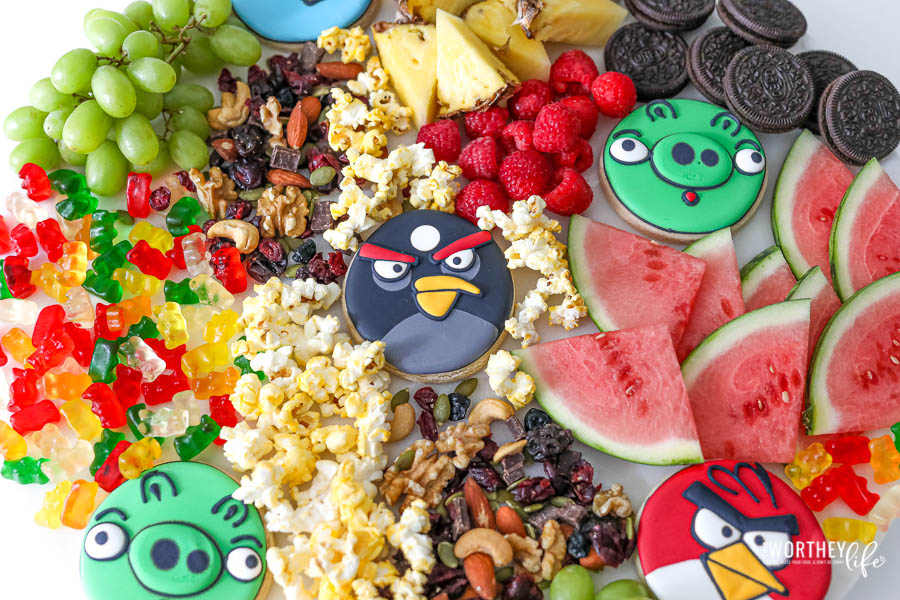 Angry Birds Party Ideas
There are so many fun ways to celebrate the release of Angry Birds 3, as well as planning a themed movie night. Use our party board to plan a movie night with the family or for an upcoming birthday party!
Get more birthday ideas below:
Smurf Birthday Party Food Ideas & Smurf Theme