Are you looking for fun Easter egg filler ideas that aren't candy? This Bunny Bucks printable is perfect! Forget about the sugar this year, and load those plastic Easter eggs with these!
Just in case you want some more Easter fun, check out these Easter Egg Fillers, which are also great ideas.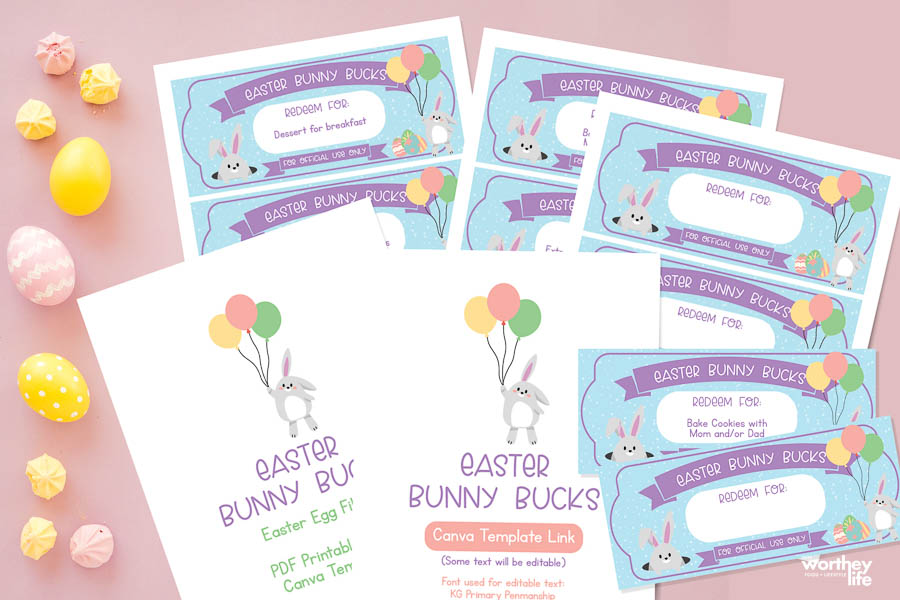 Bunny Bucks Printable + Free Template
Deciding what to fill inside Easter eggs can be a stressful task. The decision can be overwhelming with so many options like candy, coins, and money.
Make Easter a time to hunt for opportunities to create memories together as a family. This is a wonderful way to extend the fun beyond the holiday and bond with your loved ones. However, this year, consider trying something new and unique.
Bunny Bucks can also be a fun and creative way to incorporate the Easter holiday into gift-giving or treat-giving traditions. In this context, Bunny Bucks is an Easter-themed currency that can be used to buy treats or prizes.
What are Bunny Bucks?
They're a creative idea to make Easter different. They're not "real" money, but they are something that the kids can "spend" and get fun activities and rewards.
You'll find that I've created some Bunny Bucks that can be filled to customize with activities, ideas, and more.
Here's how Bunny Bucks as an Easter treat might work:
Create your own Bunny Bucks by designing and printing out small bills or vouchers with cute Easter-themed designs, such as bunnies, eggs, or flowers.
Set up a "store" or "marketplace" where Bunny Bucks can be used to "buy" Easter treats or prizes. You could use small baskets, bowls, or even plastic eggs to display the items that can be purchased with Bunny Bucks.
Decide on the value of each Bunny Buck and assign it to each item in the store. For example, a small chocolate bunny might cost 5 Bunny Bucks, while a bigger prize like a stuffed animal could cost 20 Bunny Bucks.
Give Bunny Bucks to your friends or family members as an Easter gift or treat. You could hide them around the house or yard for a fun Easter egg hunt or distribute them as a gift.
Allow your recipients to use their Bunny Bucks to "buy" treats or prizes from the store you've set up.
Using Bunny Bucks as an Easter treat is a fun and interactive way to celebrate the holiday while incorporating elements of creativity, design, and imagination.
It can be a great way to get kids involved in the festivities and to create a memorable and engaging Easter experience for everyone involved.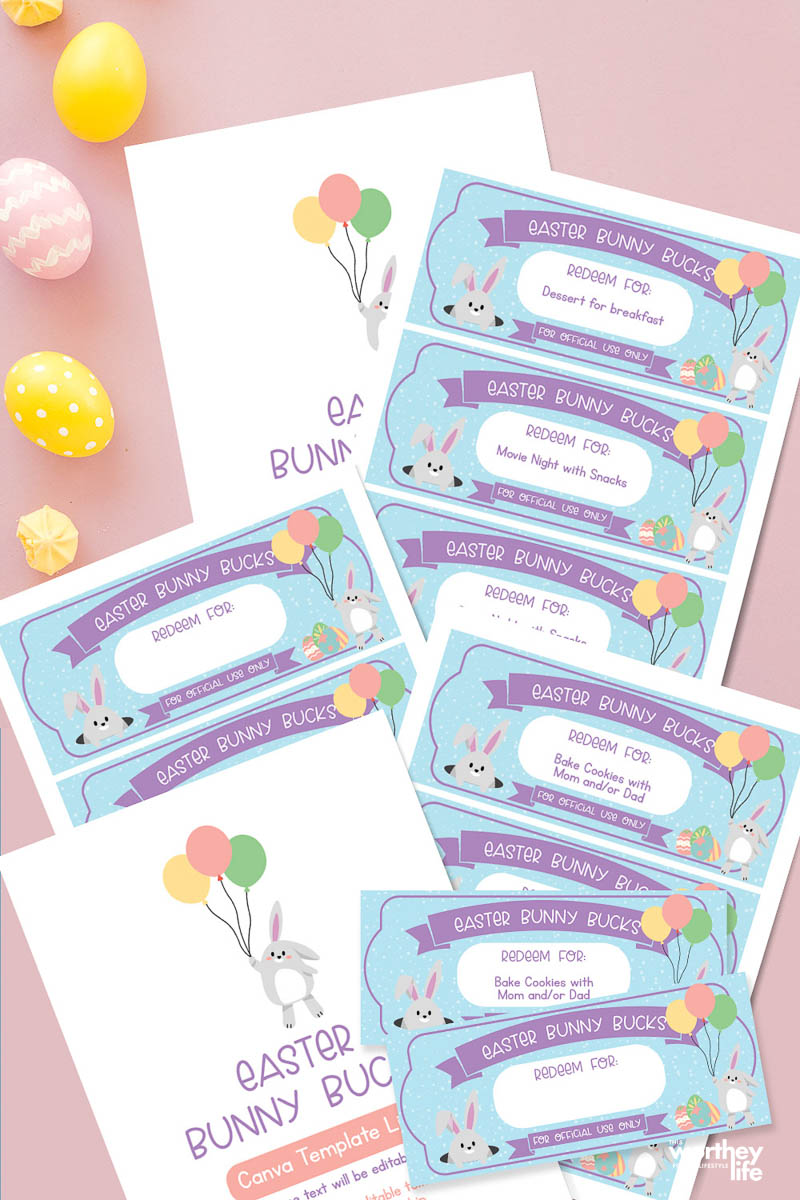 How do bunny bucks work?
Once you have downloaded the template, you can customize the bunny bucks to say whatever you want. This is where you can have fun and add some great ideas!
Some simple ideas to have could be:
Extra 30 minutes of screen time
Dessert date with Mom and Dad
$5 to spend at the mall
Pick the movie for the next movie night
Breakfast of choice
And those are just a few options! The entire point of the bucks is to add some fun ideas and activities to them and then put the papers into the eggs.
Then, when the kids find the eggs, they open them up and see what it says on the bucks!
This doesn't mean that you still can't add candy to the eggs or have a mix-and-match option, but it's just a fun and unique way to have fun hunting Easter Eggs.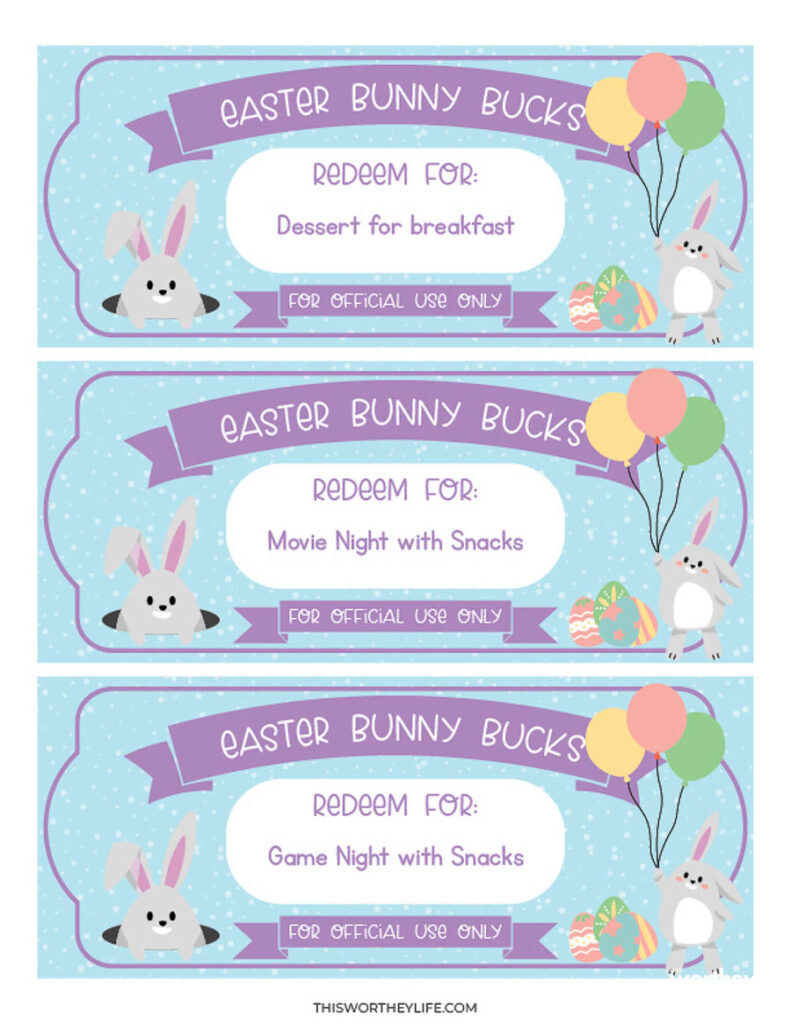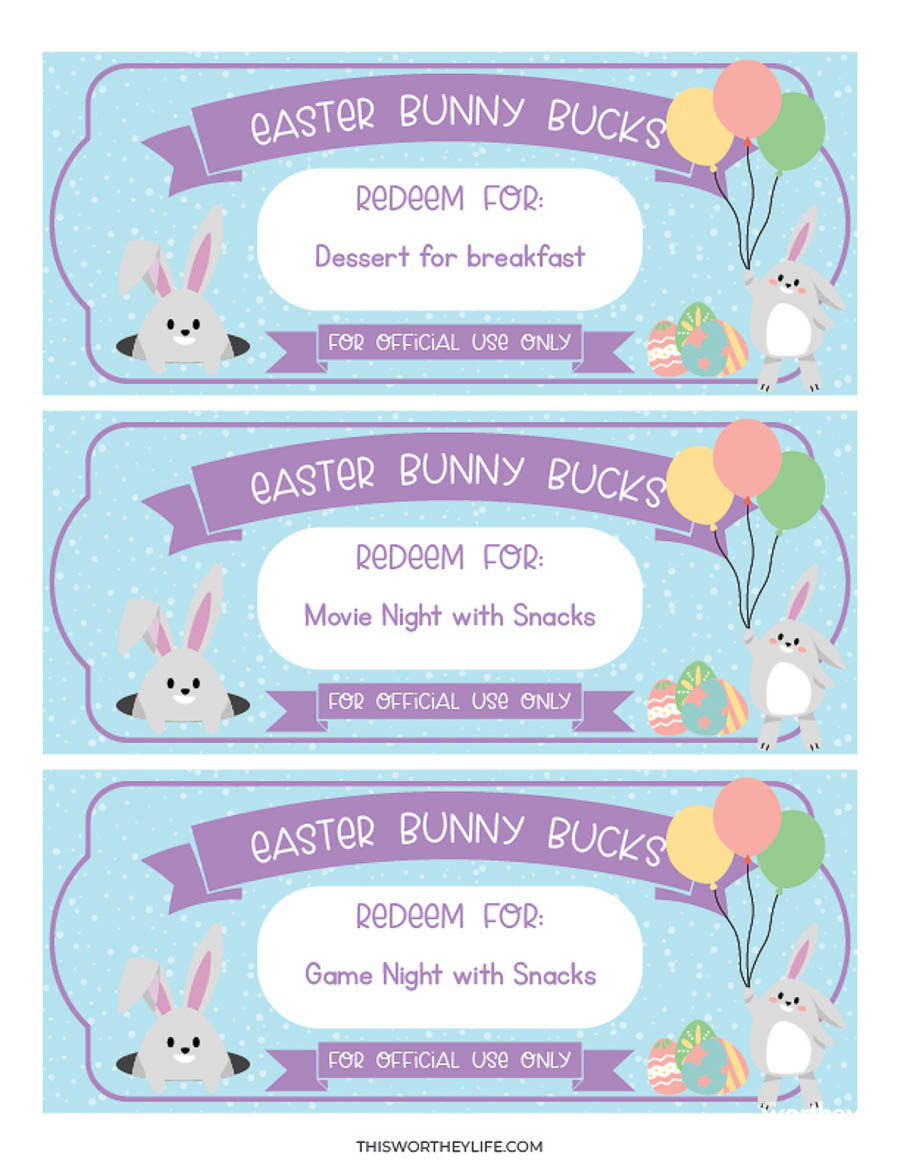 Can I change what the bunny bucks have on them?
You bet! The template can be edited, so you can type in whatever you want! That's part of the fun.
And if you don't want to type it in, print them blank and then write it in.
There's no wrong way to use them.
You can also print the bucks in black and white to save on color printing.
I like printing them in color because it adds to the festive fun, but that doesn't mean you have to!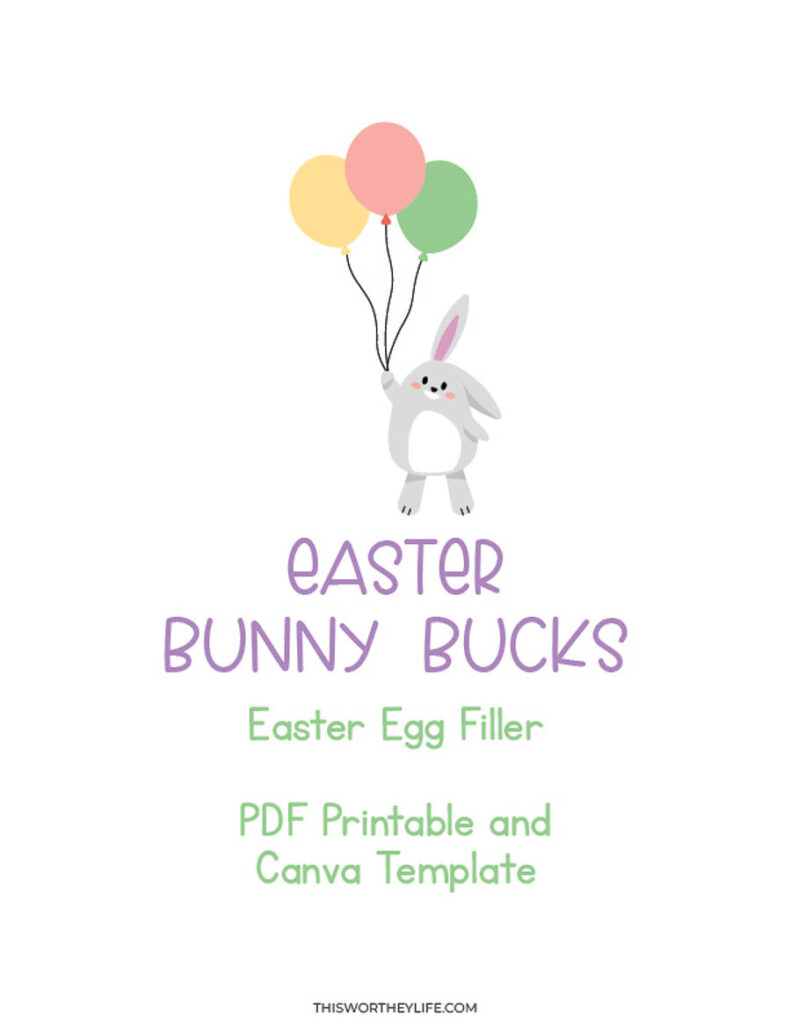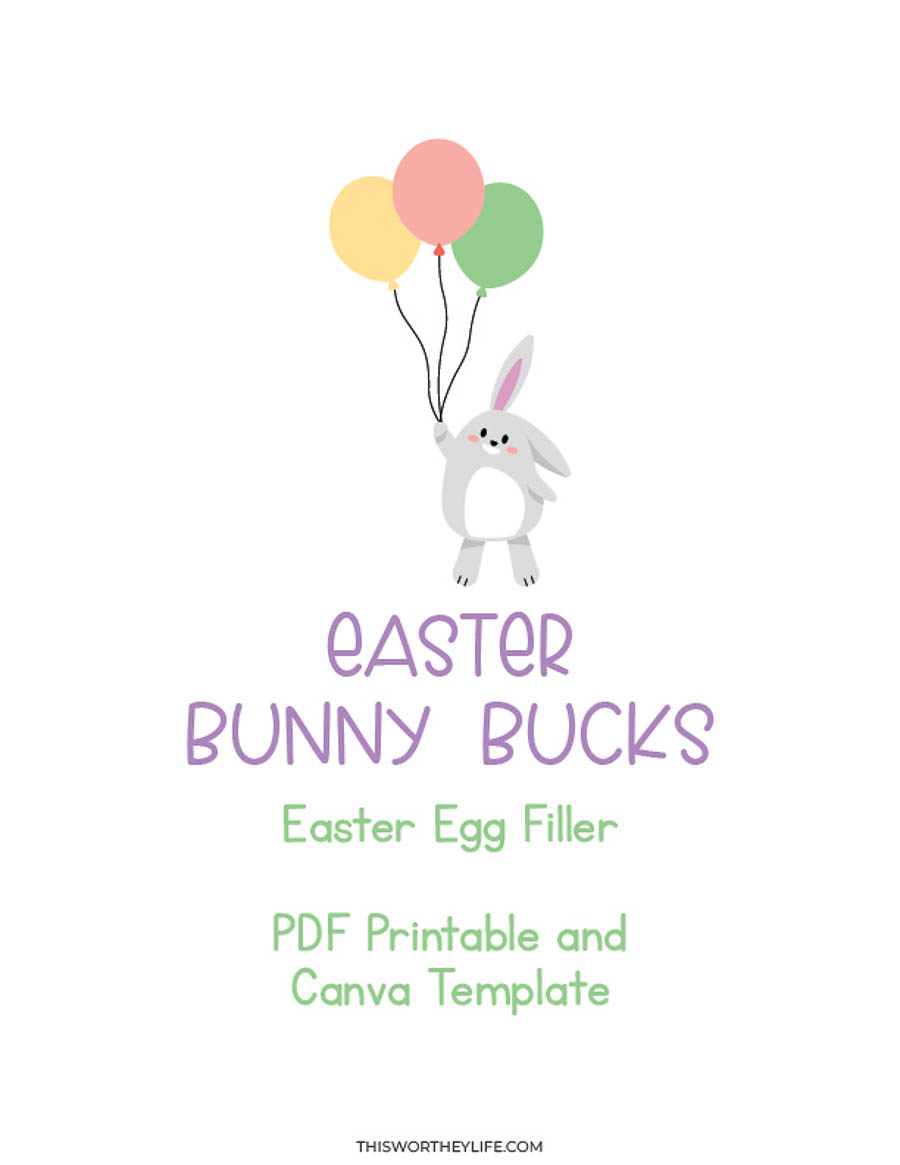 Get your free bunny bucks printables
These would be perfect for a family gathering and an Easter egg hunt.
Print them, fold and stuff them into the eggs, and let the kids have a blast searching for and then getting excited over what the bunny bucks say!
These are great ways to try something new and unique for the Easter holiday!
More Fun Easter Ideas: