If you've been to Houlihan's, then you know they have the BEST Thai Chicken Wings. This copycat recipe fills that same desire. Now you can make them at home!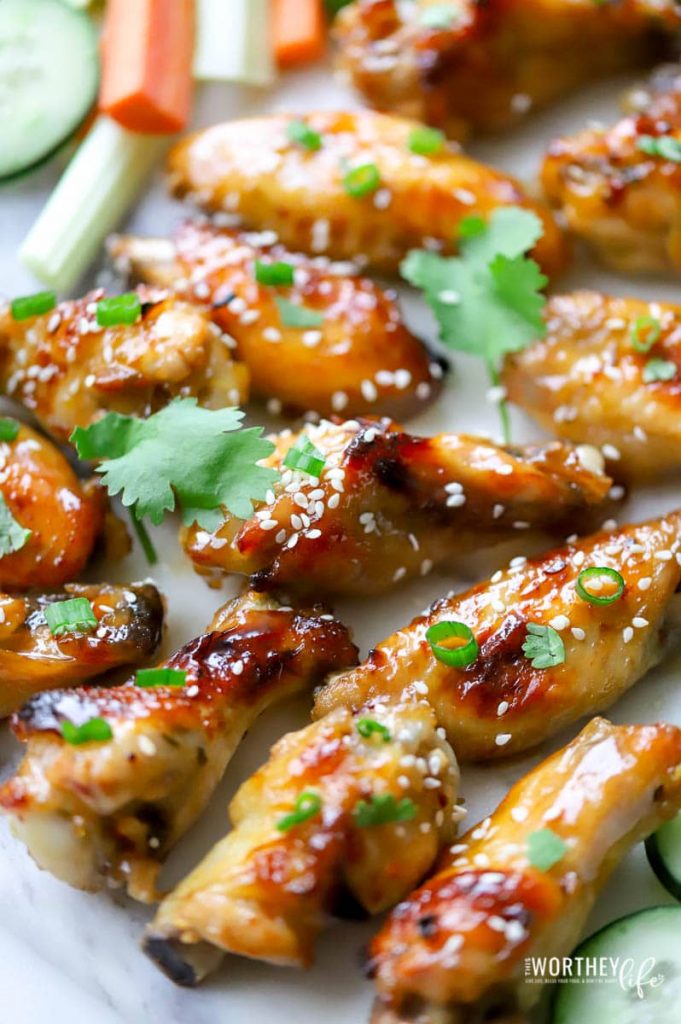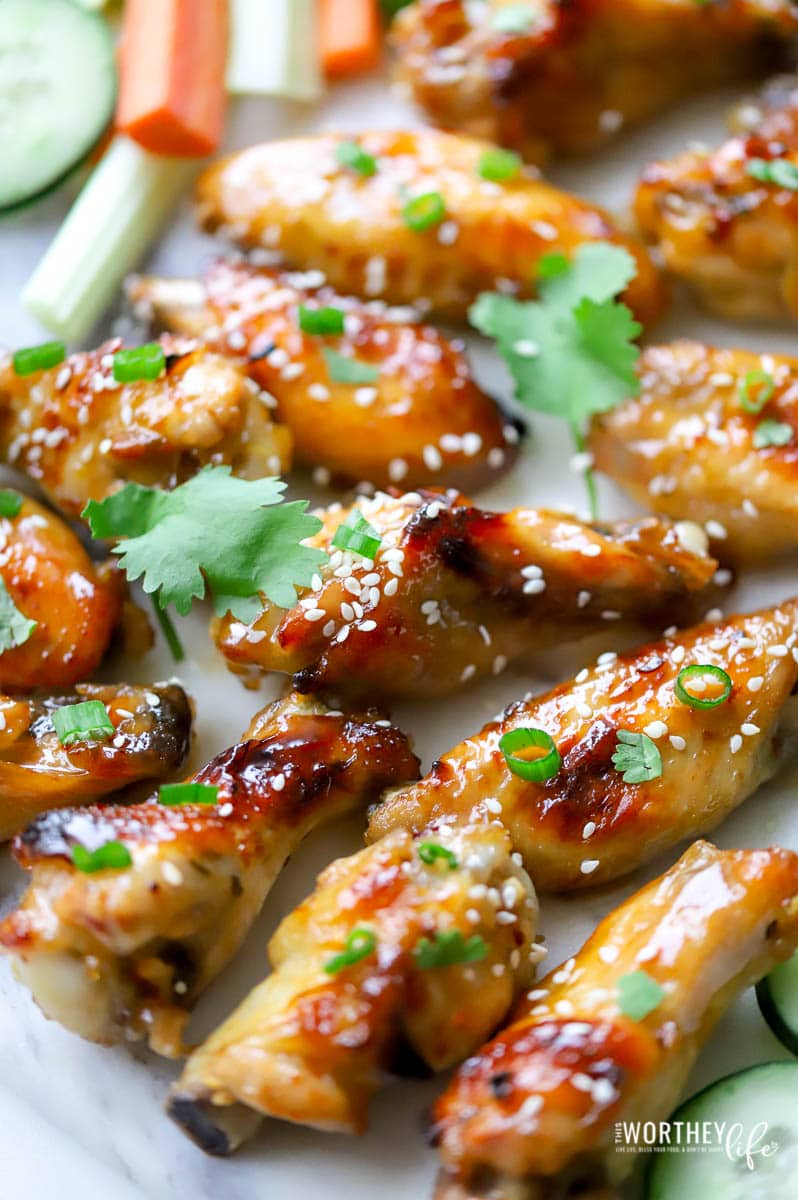 Copy Cat Thai Chicken Wings From Houlihan's
*Published 2014 – updated 2020.
Have you been to Houlihan's? They have a really good chicken wing entree. Their Thai Wings is what I order almost every time I go to this restaurant. At the end of 2019, the Houlihan's restaurant in my city closed down, and I was devastated to hear that news. Thankfully, I can rely on this delicious chicken wing recipe recreated by Derrick to get my Thai wings fix!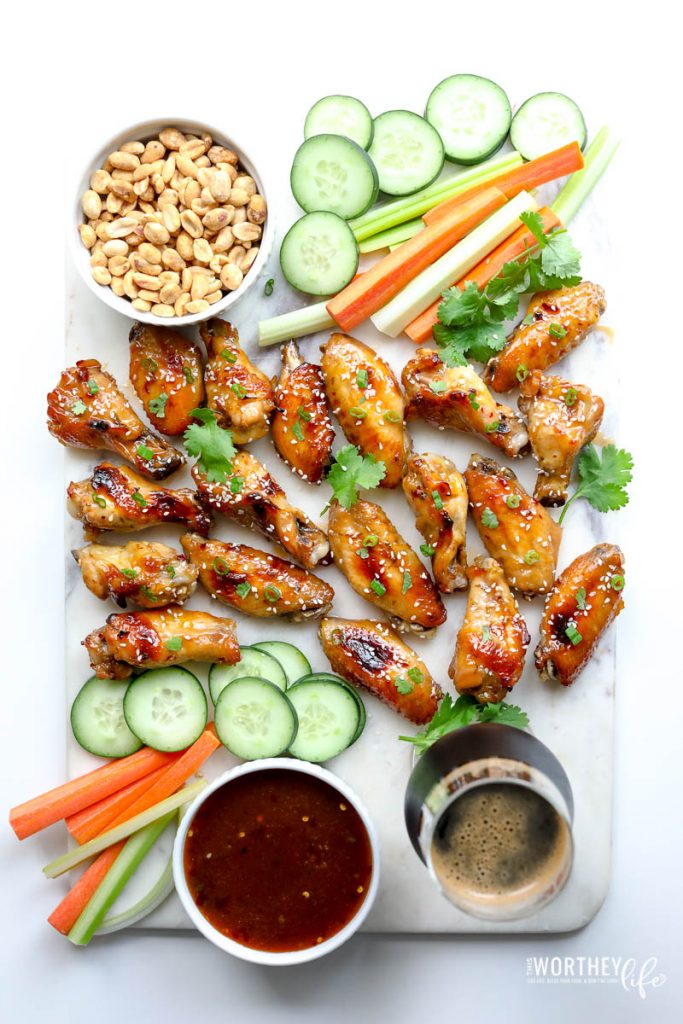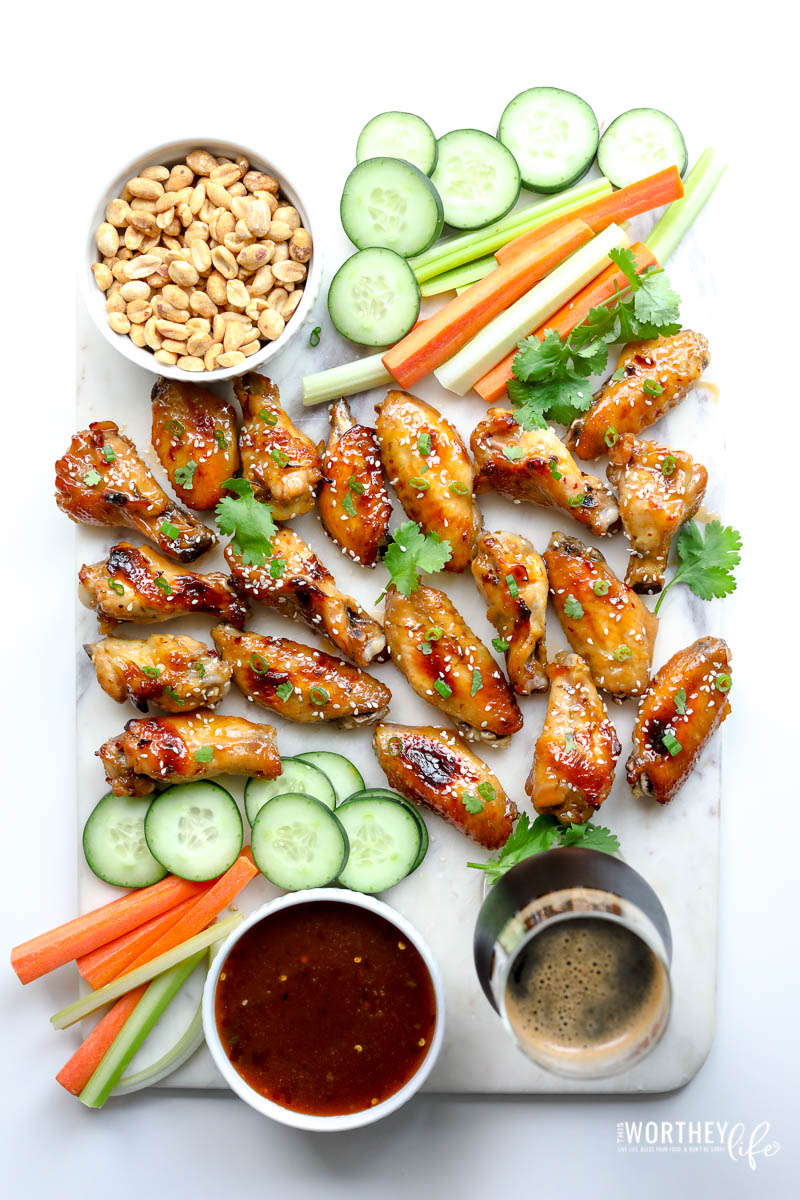 These wings are always a huge hit at every dinner party, picnic, BBQ, and game day party, so why don't you try them for the upcoming Super Bowl party? Let me know if you try them, I guarantee you that it will be a BIG hit at your party! There are several ingredients for this recipe, but you may be surprised that you already have many of these staple ingredients in your pantry!
Other Chicken Wings Recipes To Try: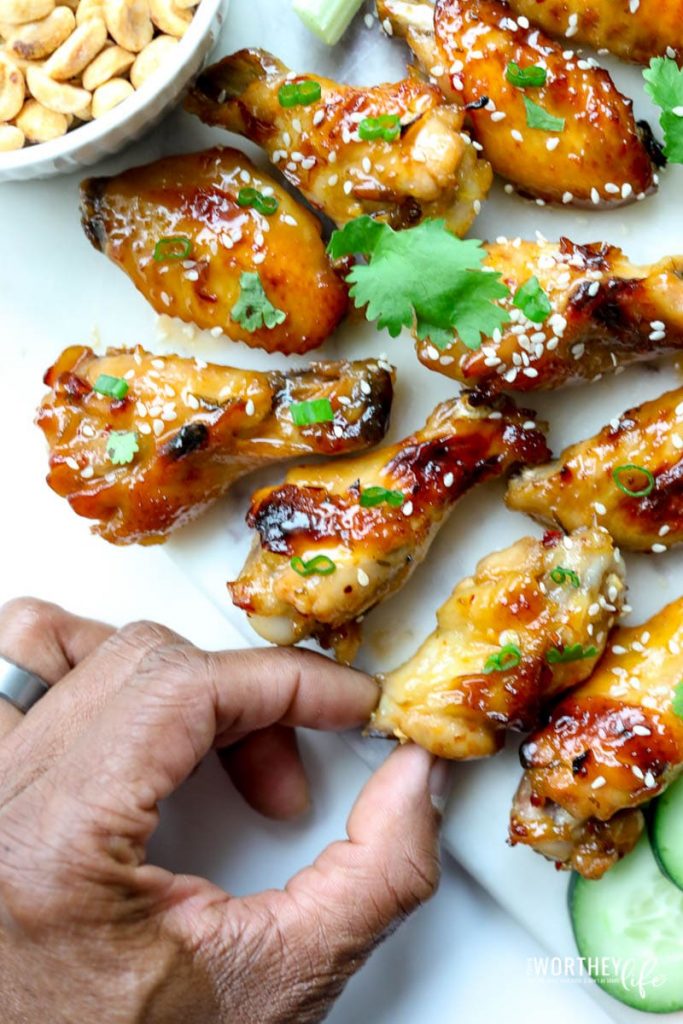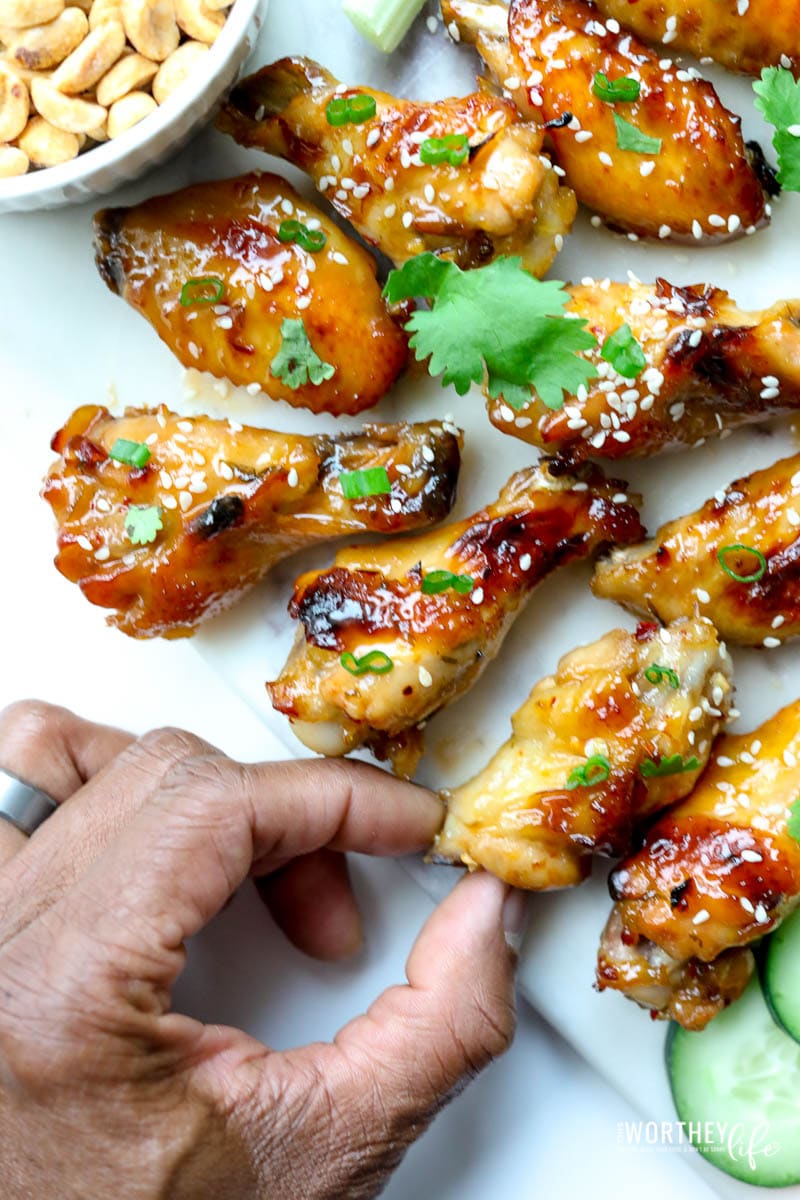 Thai Chicken Wings
Ingredients:
2 pounds of chicken wings
1/4 cup peanut oil
3 tablespoons finely chopped fresh cilantro
¼ cup light brown sugar
3 tablespoons soy sauce
2 1/2 tablespoons fresh minced garlic
2 tablespoons ground ginger divided or two tablespoons of freshly grated ginger root
2 teaspoons dried crushed red pepper
1 cup of rice vinegar
1 ½ teaspoon of fish sauce
1 teaspoon sesame oil
3/4 cup sugar
1/2 coconut milk
1 tablespoon chili­ garlic sauce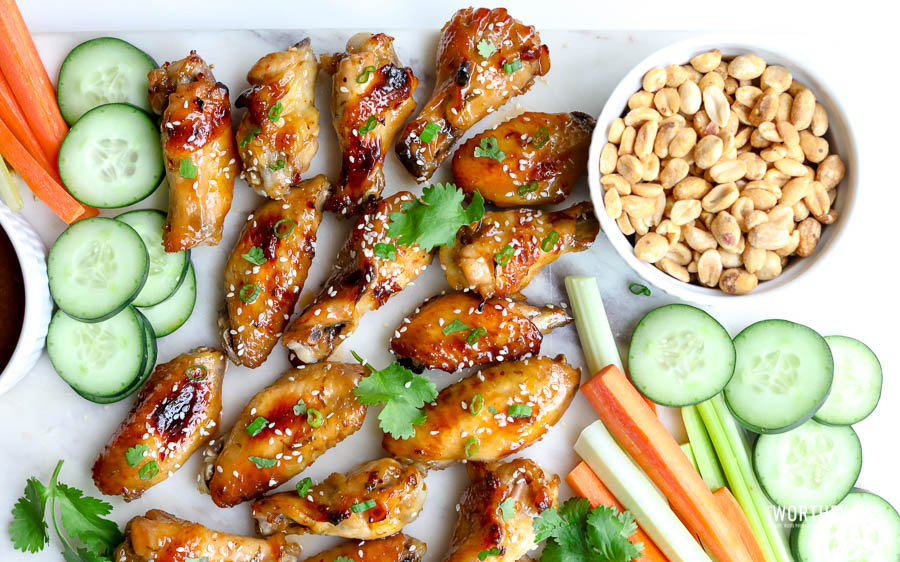 Directions:
Rinse, trim excess fat and skin, and pat dry the chicken wings.
Cut each chicken wing at the middle joint and cut and discard the tip of the chicken wing.
Mix oil, 1 1/2 tablespoons of the cilantro, soy sauce, 1 tablespoon of garlic, 1 tablespoon ground ginger, 1 teaspoon crushed red pepper flake into a large bowl and mix well. Add chicken wings then toss until the chicken wings are evenly coated. Cover with plastic wrap and place in the fridge for up to 2 hours or for a deeper flavor, overnight.
Preheat oven to 400°F.
Arrange the chicken wings onto a large sheet pan lined with parchment paper or aluminum foil and brush with the marinade, discard any remaining marinade.
Place the sheet pan on the center rack of a 400 degree preheated oven and bake until the chicken wings are cooked through and golden brown, about 30 minutes.
While the chicken wings are baking, combine vinegar, sesame oil, fish sauce, brown sugar, coconut milk, chili ­garlic sauce, and remaining garlic, ginger, and crushed red pepper flakes into a medium saucepan.
Bring to boil; then reduce heat and simmer until glaze mixture thickens to syrup consistency, about 15­-20 minutes.
When the chicken wings have finished baking brush the chicken wings with the Thai glaze.
Finish the wings with chopped cilantro, and sesame seeds.
Serve.
Adapted from Epicurious.com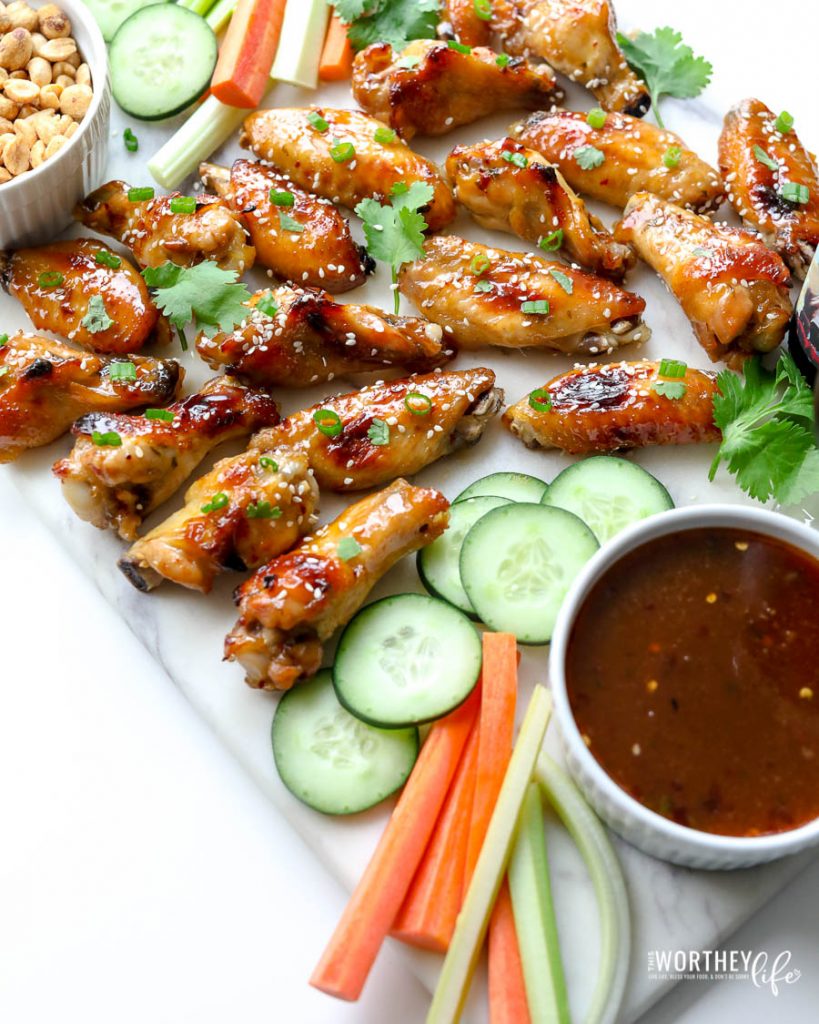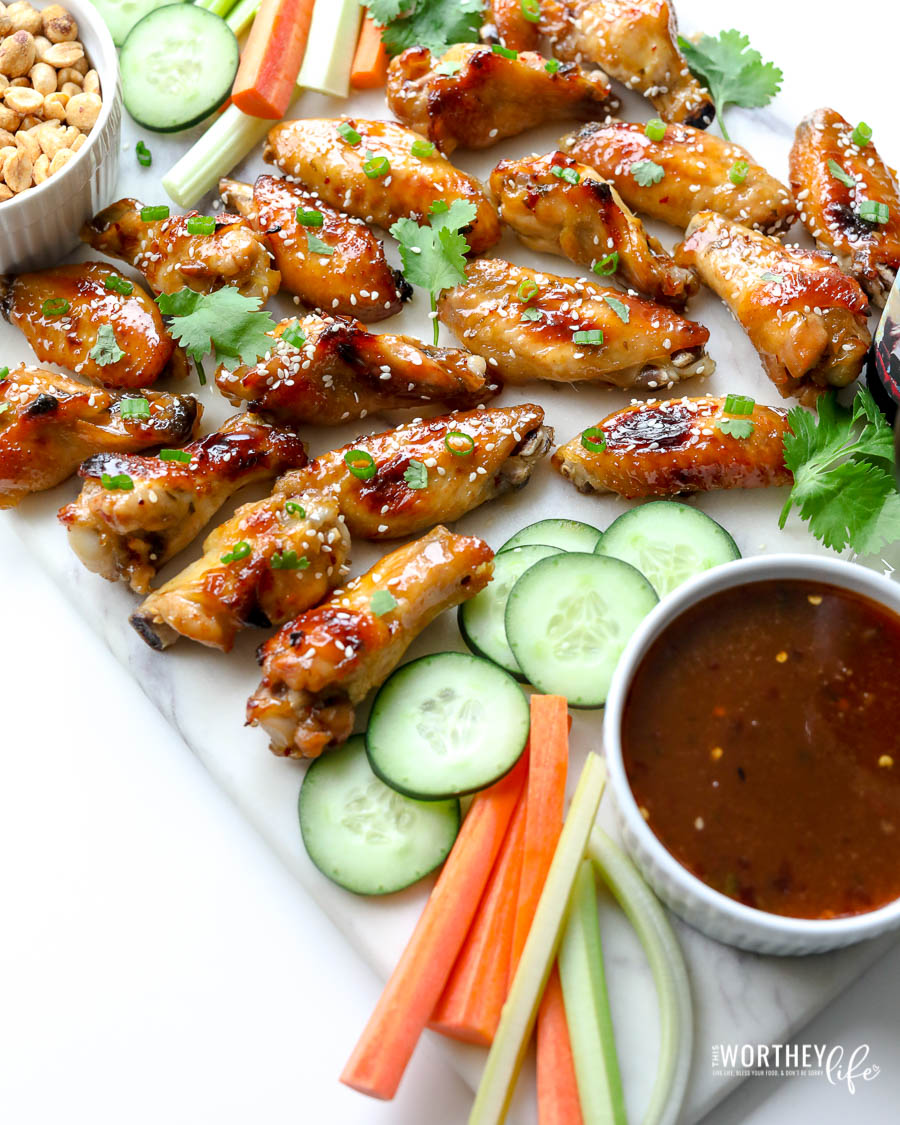 As we get ready for the big game on Sunday, why don't you whip up a batch of these wings? Here's the thing, you can make in the Instant Pot or your Air Fryer if you want to save time. We recently started using both small kitchen appliances to make our chicken wing recipes, and it's been a game-changer. Plus, if you're looking to put together a big spread for game day, be sure to check out how we put together a game day chicken wing grazing board!
You can find more Appetizers to try below: