We're entering the season of Elf on the Shelf. And if you need some new ideas to get you through the month, we're sharing a Free Elf on the Shelf Calendar for the next 25 days.

Free Elf on the Shelf Calendar
Do you need some fun ideas for your elf this year? This Elf on the Shelf Calendar is one of the best ways to think of a new place to hide your elf daily!
You will have 25 days of ideas on what you can do with your child's red and white doll each night. Following this calendar makes it easy to participate in this holiday tradition.
Check out my Elf on the Shelf Hot Cocoa Board for another super cute idea for your adorably pesky elf!
The great part about having a calendar full of ideas for the elf is that you won't ever run out of ideas.
This is a great stress reliever keeping you on your toes.
If you've ever woken up last minute and realized that you don't know where to move your elf and can't think of anywhere quickly, this printable is for you!
All you have to do is print out this free elf printable and have fun this season.
Do you move your elf every day?
Yep, you sure do! This is all part of the holiday fun!
You have to wake up or plan ahead of everyone else and have the elf hiding somewhere new every morning.
And if you think the kids won't notice – trust me, they will. They will probably ask you why the elf didn't move last night.
And if that happens, I have some ideas on what you can say when you don't move the elf.
Once you make this a holiday tradition, this will be a fun holiday moment your kids will enjoy.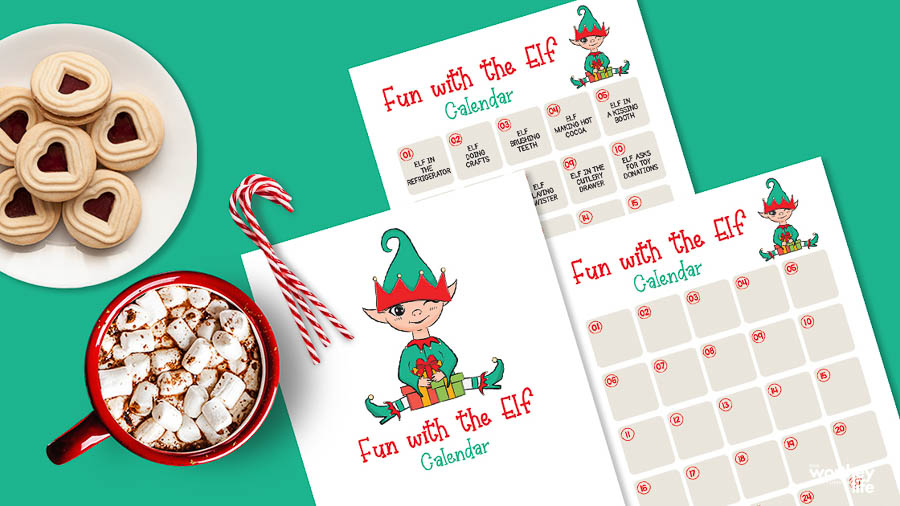 How do you use this printable Elf on the shelf calendar?
It's as easy as putting paper in your paper and printing!
Seriously! It doesn't matter if you print this out on December 1st or December 15th – you can hop in and start using the ideas on that day or pick out any days you want on the list.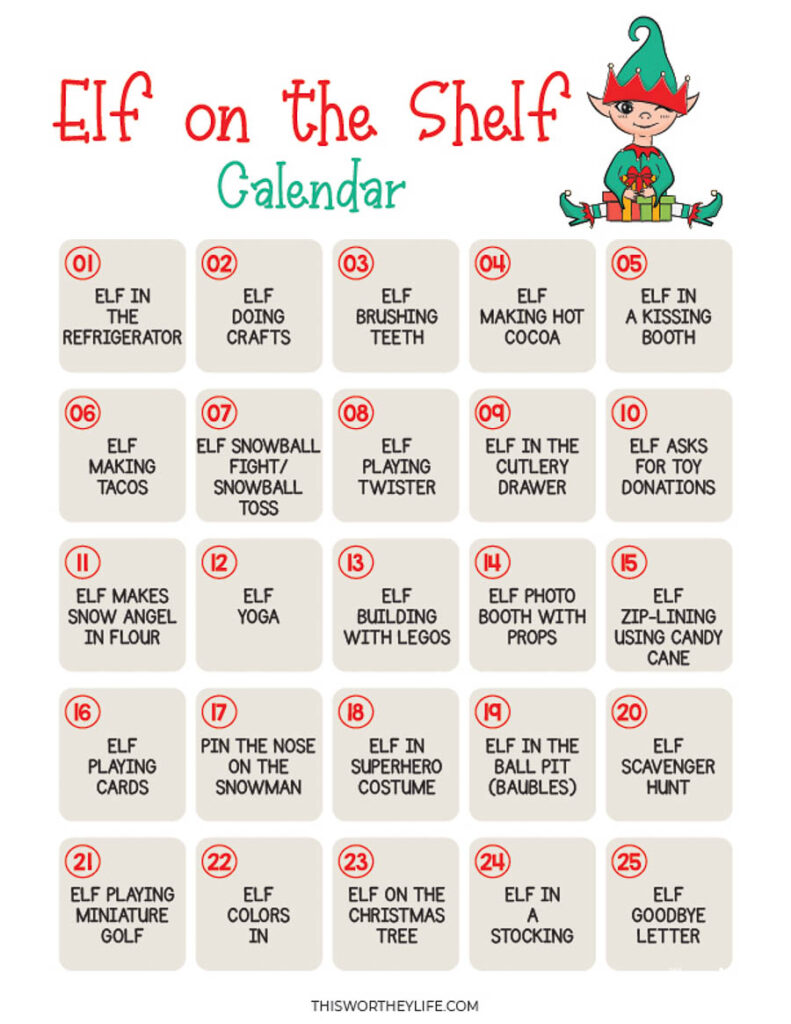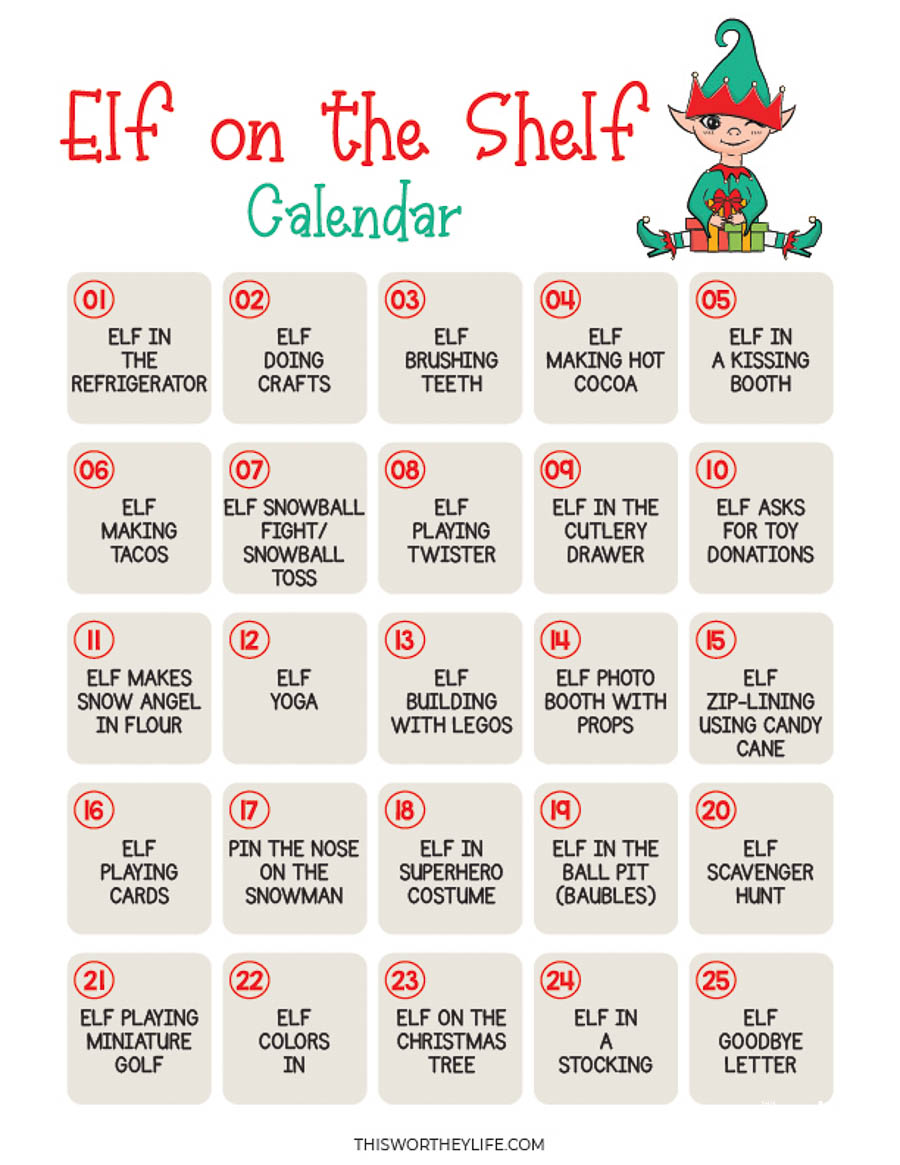 25 Days of Elf on the Shelf Ideas
Here are some ideas you can do with your elf for 25 days, starting on December 1st.
yoga
playing cards
playing miniature golf
on the Christmas tree
in a stocking
scavenger hunt
play in the ball pit (or bubbles)
pin the nose on the snowman
photo booth
building with legos
making snow angels
playing twister
zip-lining using candy canes
kissing booth
making hot cocoa (see how your Elf can make their DIY mug).
making crafts
What you'll find here are 25 ideas that you can mix and match, use or not use, or get inspiration from to hide your elf.
Have fun with the process – and let the holiday memory-making begin!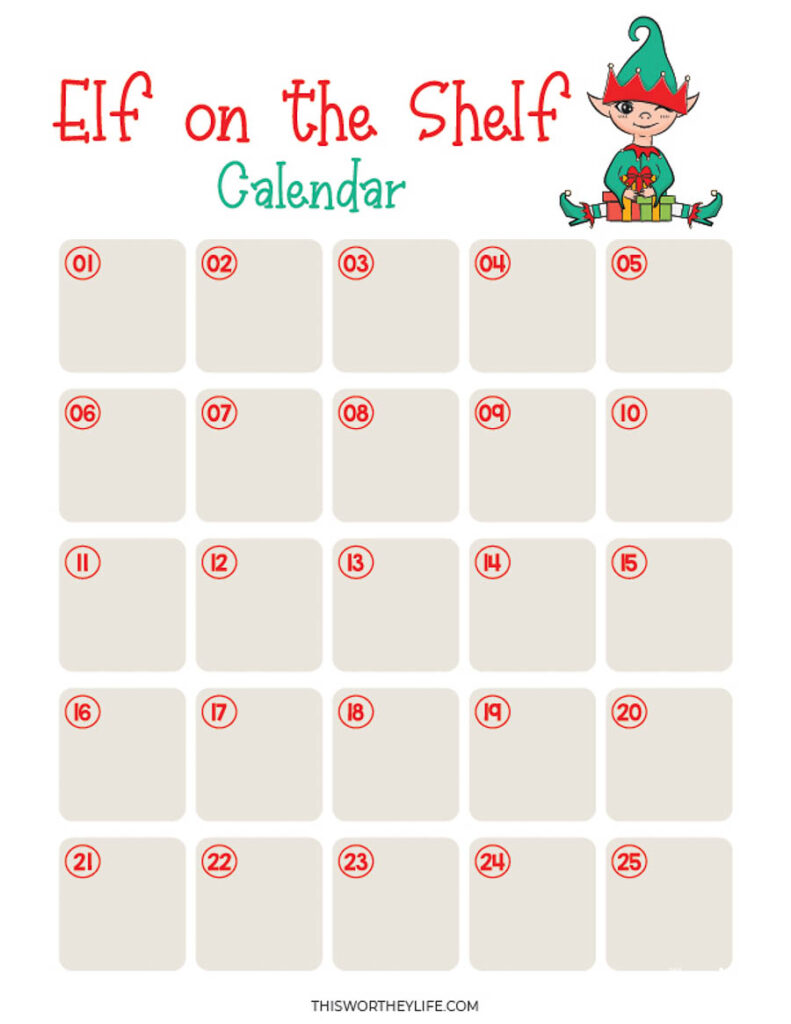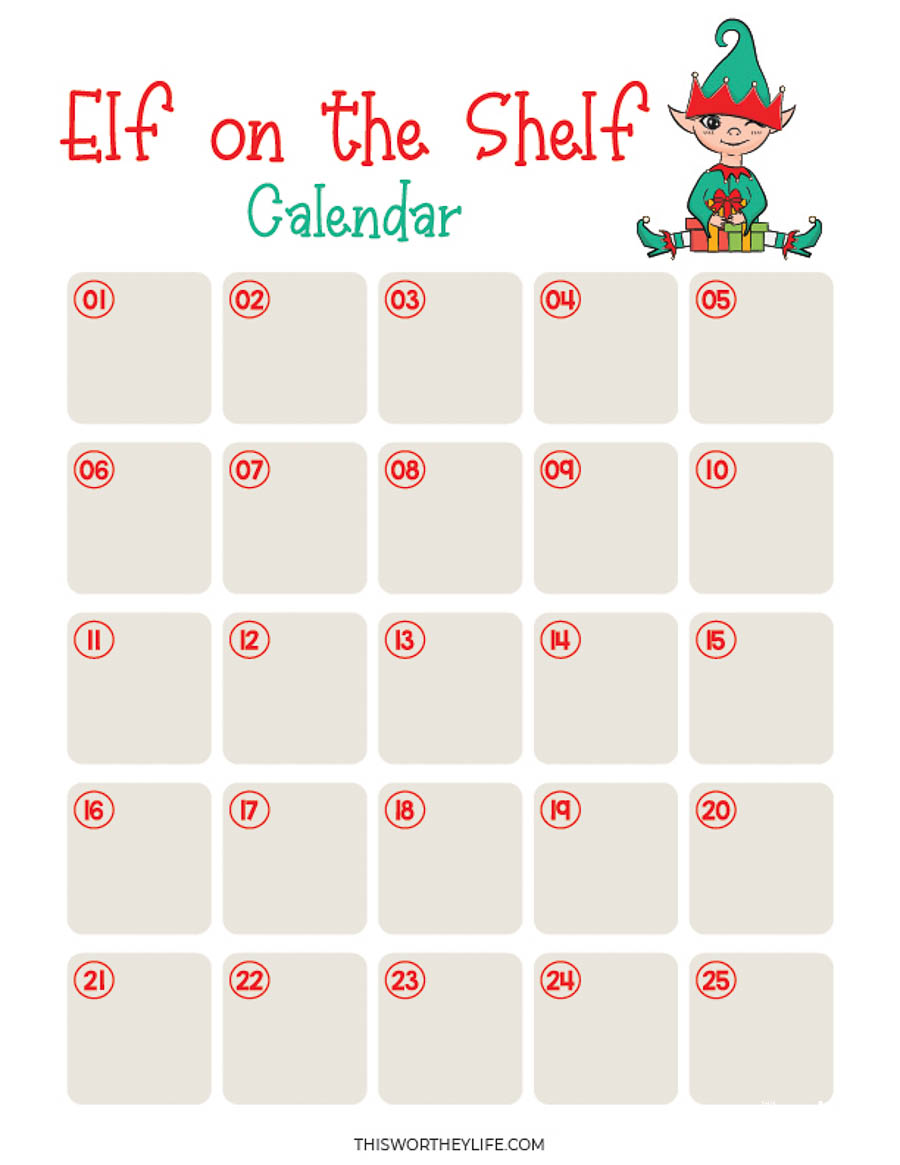 And if you want to make up your ideas, you can use the blank copy of this printable to create your ideas.
Be sure also to check out the rest of these fun holiday ideas!
It's always a good idea to do more fun family activities.
More Elf on the Shelf Activities and Ideas