Are you looking for something to prepare for Easter dinner? Our Grilled Leg of Lamb with Honey Mustard marinade sounds just about perfect. It's also great for Sunday dinner, or when you're tired of the same meat and want something different. Get the full recipe down below. This post was sponsored by True Aussie Beef and Lamb. Grilled Lamb Of Leg With Honey Mustard Marinade
It's easy to make any dinner memorable by serving lamb, and cooking an Aussie boneless leg of lamb is one of our favorite Sunday dinner ideas. We've partnered with Aussie Beef & Lamb to raise awareness about the quality and simplicity lamb offers and it is perfect for special occasions and endless everyday meals. Easter may look different from previous years. However, it's still important to create those special memories with the people right in your home, your family! See how we put together this simple Easter menu with Australian Leg of Lamb and two side dishes. What You'll Need To Make Our Grilled Lamb Of Leg:
Lamb. 100% Aussie Boneless Leg of Lamb. [Find a retailer near you]
Extra Virgin Olive Oil. I love making marinade using extra virgin olive oil because it contains a lot of good fat to help keep the meat juicy, and because we're cooking lamb, which is very lean, adding olive oil makes an excellent choice for this marinade.
Honey. Adding some sweetness to the marinade is a great way to add balance to the savory ingredients. If you don't have honey, go ahead and use light brown sugar or pure maple syrup.
Dijon Mustard. Mustard pairs very well with lamb, and when mixed with the honey, it makes a fantastic marinade.
Garlic. If you're like me, there's nothing wrong with adding a little garlic to almost recipe involving meat, and this recipe is no exception.
Ramps, Leeks, or Shallots. Adding ramps, leeks or shallots is basically adding a whole lot of savory goodness.
Crack Black Peppercorns & Sea Salt. You can't go wrong with adding freshly cracked black peppercorns and sea salt.
Onions. Rest your Boneless leg of lamb and cooking; it is the right move after the lamb is cooked through; you'll have those savory onions to eat with your lamb. So good!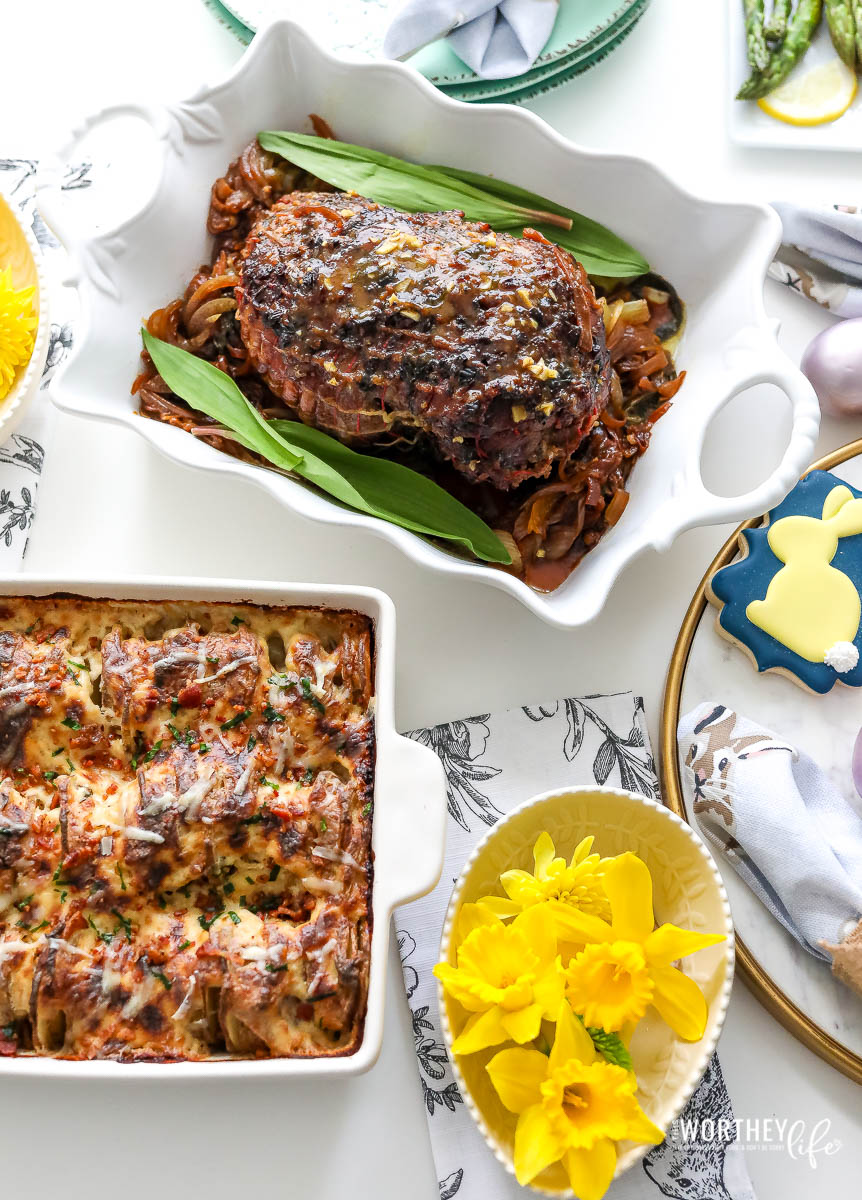 You Will Love Our Grilled Honey Mustard Lamb Recipe Because It's:
Easy
Smoky
Tender
Delicious
Perfect For Sunday Supper
Will Feed A Crowd Easter Dinner Menu:
Grilled Honey Mustard Boneless Leg of Lamb
Chessy Bacon Scalloped Potatoes (See our Au Gratin Potato recipe)
Lemon Butter Asparagus (See our Bacon Wrapped Asparagus recipe) Grilled Honey Mustard Australian Lamb
Ingredients:
5-pound Aussie boneless leg of lamb
3/4 cup extra virgin olive oil
2 tablespoons honey
2 tablespoons Dijon or spicy brown mustard
2 large garlic cloves
3 ramps with leaves diced or use shallots or leeks
1 teaspoon freshly cracked black peppercorn
1 tablespoon coarse salt, flaky sea salt or Kosher salt
1 large onion Equipment Etc.
Charcoal Grill
Charcoal Briquettes
Dutch Oven
Hickory or Pecan Wood
Directions:
Rinse with cold water and pat the boneless leg of lamb dry with paper towels.
Combine the ingredients for the marinade and coat the entire leg of lamb, marinate the meat for an hour or overnight.
Get the charcoal grill started; you want to cook with indirect heat, which means we're putting the charcoal briquets off to one side of the grill or use a horseshoe shape.
The grill temperature should be maintained between 375 F and 400 F.
Place the sliced onions on the bottom of a cast-iron Dutch oven, and place the marinated leg of lamb on top.
Brush on additional marinade one every hour.
Position the Dutch oven away from the hot coals and close the lid, and cook for 2 hours or until an instant-read thermometer reads 120°F for rare, 125°F medium-rare, 135 °F medium, 145°F for medium-well, and 155 °F for well-done.
Remove the Dutch oven from the grill and allow the leg of lamb to rest for fifteen (15) minutes.
Serve. Allow the boneless leg of lamb to marinate for at least 30 minutes, but feel free to allow it to overnight for intense flavor. Now that you have the recipe, it's time to make your Easter dinner one to remember, visit Aussie Beef and Lamb to learn more! Cheers and Happy Easter!
Easter Recipe Ideas
Baked Butternut Squash Potatoes
Creamy Potato Recipe With Alfredo Sauce
Creamy Collard Greens with Caramelized Onions & Bacon
Easter Cocktail Idea | Blue Sunday Cocktail
Kid-Friendly Drink | Easter Mocktail