With the holidays right around the corner and to-do lists still a mile long, chances are you're looking for easy ways to take care of the last few people on your holiday list. Here are last-minute digital gift ideas that don't require shipping and will help you finish up your holiday tasks so you can sit back and enjoy the season.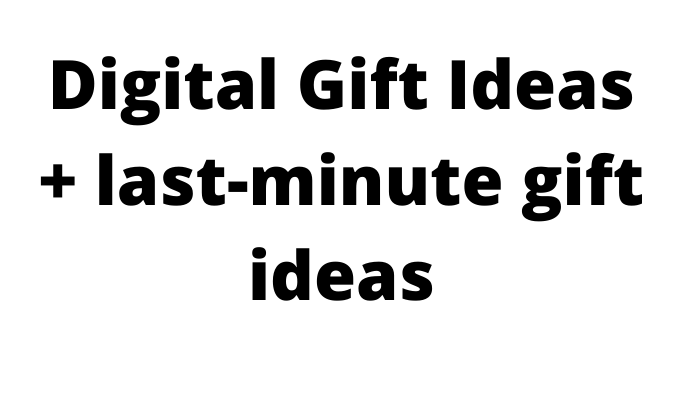 Digital Gift Ideas | Last-Minute Gift Ideas
It's the week of Christmas, and just in case you feel like your to-do list is a mile long, we're here to help! If you need some last-minute gift ideas or a gift idea for someone who has everything, this list has a little bit of everything. No one wants to be like Clark Griswold and get a gift card to the jelly of the month club, so be sure to scroll through this list for some great ideas! The gift of audio!
Activities like creating art or reading for pleasure often go by the wayside as we get older due to work obligations or familial responsibilities. The gift of an audiobook service like Audible is an excellent option for the person on your list who doesn't have time to sit down and read. Audiobooks can be enjoyed while cooking dinner or finishing up a work project. Audible offers a variety of gift membership options to choose from. Streaming Services is a great gift idea for the entertainment lover!
Over the past few years, streaming services have become a primary source of entertainment, especially in 2020, with everyone home more often and movie theaters closed much of the year. If your gift recipient has been wanting to begin watching The Mandalorian, a Disney Plus membership is a perfect choice. Head to the Disney Plus website, purchase a gift subscription, and enter a delivery date and gift recipient email. Once the day arrives, they'll get an email telling them how to redeem their membership. Several other streaming services offer similar options for the binge-watcher in your life; from Hulu to Netflix and Peacock, there's a streaming service for everyone. Digital Music and Video Game Gifts
You can't go wrong with free music, and a Spotify gift card is a great last-minute digital gift idea when you know your recipient loves music, but you're not sure what to buy them. Gift cards purchased on Amazon generally ship the next day, so you've got a little bit of time. You can include a personalized message in the package, enter their address, pay, and then quickly move on to the next thing in your ever-growing holiday preparation to-do list. And if you're on Spotify, be sure to check out the playlist for The W.
If you know someone is getting that coveted PS5 this year, or they're looking for new games for their Nintendo Switch or Xbox One, a digital version of a video game is the perfect gift. You can purchase directly from the Nintendo website or use a service like Steam. If you know the player's info, you can send the digital gift membership directly to them or purchase a set amount on a gift card and send it to their email.
Other gaming digital ideas:
Gaming membership (example: a digital subscription to 12-month membership for PlayStation Plus)
Digital gift codes from Playstation, Xbox, Nintendo, etc., are a great gift idea. The user can add it to their account quickly without waiting to receive it in the mail. Give the Gift of Creativity with This Digital Subscription Membership for Crafters
If you have a Cricut user on your holiday list who let their Cricut Design Space software trial run out, consider gifting a monthly or annual membership. Cricut Design Space provides various templates, cut files, and project ideas that subscribers can use to their heart's content. A Cricut Design Space membership will have your favorite crafter churning out fun projects one after another with this helpful and easy-to-use software. Head to the Design Space Access Subscription page and choose a gift subscription option. Consider Something a Bit More Personal With These Last-Minute Digital Gift Ideas
Most gyms and yoga studios across the nation had to go to a virtual model earlier in 2020. Some continue to do so. Google will tell you whether or not your gift recipient's favorite studio or gym is offering Zoom classes. From there, you can purchase a digital gift membership online. If you're not sure where to even start or you want it to be a surprise, there are countless online fitness options. For example, Yogaia offers a one-year membership for $99 and includes a variety of online classes. Help out a friend with a digital gift subscription or therapy session from Talkspace for a gift that shows you're thinking of them and their true well-being. The concept is quite neat. You send a virtual card, they fill out some information and choose their therapist based on a matching assessment. Upon getting a match, they're able to begin therapy sessions when they're ready. Technology is truly changing the world in some amazing ways right now.
Give the gift of self-care with an indulgent spa session. Much like the workout and fitness studios, locating a salon that offers e-gift cards should be simple enough. If you're crunched for time and would rather click and go, head over to Spa Finder, choose the salon you'd like to gift, and send an e-card to your gift recipient's email. Digital Gift Ideas for the Journey No Matter if its Near or Far
While many of us just aren't looking to travel any time soon, there are still safe ways to do so. In the coming weeks and months, it will likely become easier and more common. If you want to give the gift of travel, even if it's just for a weekend staycation or short stay after a road trip, Airbnb will let you purchase a gift card that your recipient can redeem for a stay of their choosing, wherever they want when they're ready to travel again.
Exploring a passion project or starting a side hustle has been a common theme in 2020. What better way to support someone's dreams than to provide them with access to an online business coach or mentor. You could choose to fund a coaching membership or pay for an online course or workshop for a budding entrepreneur. You could also provide a gift card to help them get their website or blog up and running. One thing is sure; they'll appreciate your belief in them and their dreams and goals. Electronic Gift Cards Will Always Work When You're Stumped for Ideas
If you're still not quite sure the best last-minute digital gift idea to choose, know that any electronic gift card is always a good choice. Whether you prefer Amazon, Best Buy, or another online specialty shop, you can never go wrong with cold, hard cash, digital, or otherwise. Finally, if your gift recipient isn't too concerned about instant gratification, any themed subscription box is a great choice. Consider their interests and look into a subscription box around that interest. With options like the fruit-of-the-month or book-of-the-month clubs, a subscription box is truly the gift that keeps on giving throughout the year. Or for as long as you're willing to pay for it. Clutter-Free Christmas Gifts For 2020
When you stop and think about it, most of us already have all the things that we need in life. So this means when Christmas rolls around, we're just buying and adding more "stuff" to the pile. Why not do something different this year? Instead of spending money on items that might never get used and take up space, consider these options for great clutter-free gifts instead. What are some great clutter-free Christmas gift ideas?
You know I've got you covered! Not only have I made you an awesome printable that you can use to get ideas from, but I even put them in categories so that you can find them easily as well!
Below you'll find some examples from the printable about some genuinely awesome clutter-free gifts.
Giving Experiences
Movie Passes
Music Festival
Sporting Tickets
The gift of travel
Services
House Cleaner
Pet Sitter
Babysitting
Gift Cards
Spa Package
DIY Voucher for your time
A gift card to their favorite coffee shop
Digital gift card to their favorite store
Memberships
Zoo
Museums
Theme Park
YMCA or another gym in their local area
Virtual Gym/Yoga classes/membership
Grab this free printable: Clutter-free gift ideas for Christmas
This list is full of great ideas that are perfect to give without mailing something or worrying about if the gift will arrive on time. Plus, these gift ideas take up no space, giving the gift idea of clutter-free and a minimalistic gift idea.