Get ready for the holidays by getting your matching family pajamas for Christmas! We rounded up a big list of a variety of matching pajamas for the whole family! From plaid to blue, Star Wars and Disney, you'll easily find a matching set of Christmas pajamas for the entire family!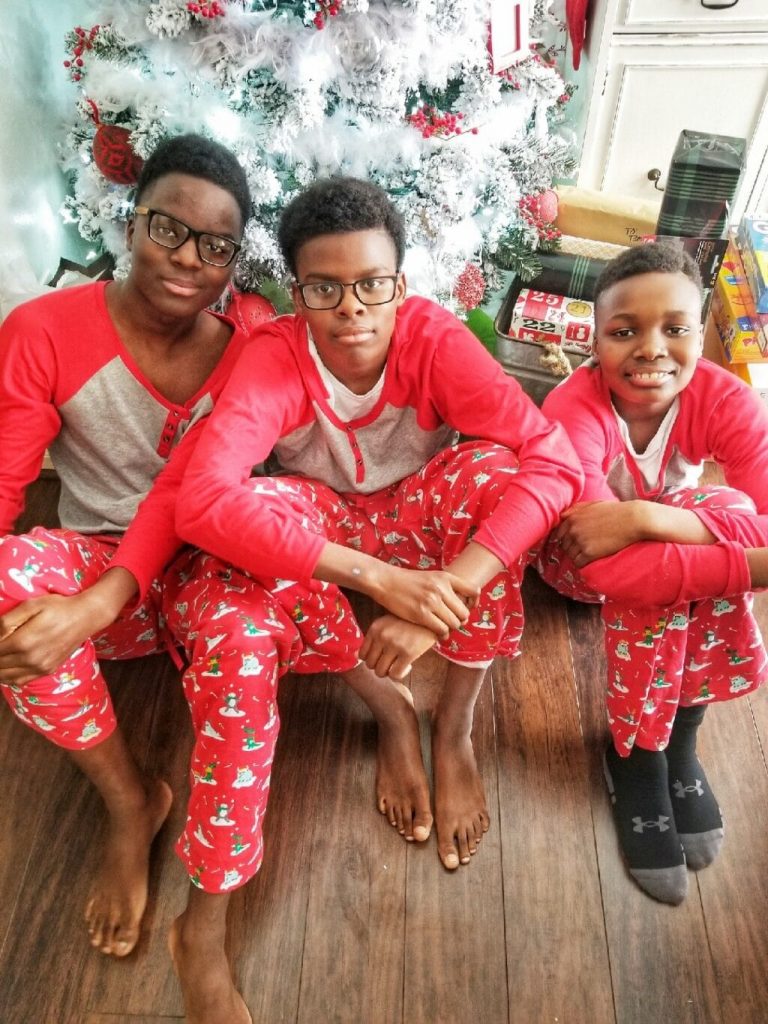 Matching Family Pajamas for Christmas
Christmas is one of my most favorite times of the year! I love being able to put out my Elf on the Shelf around the house for my kids (maybe a little bit for me), the music, the planning for holiday meals, and the fact that I get to find a fabulous set of family Christmas pajamas for us to wear! This trend has been in our family for several years, starting with just matching pajamas for the kids. Last year, Derrick and I joined in on the matching jammies and it was a big hit!
I love to live for the feeling of Christmas, and my family knows. They deal with it. They live with it. I kind of don't give them a choice of having anything different, but they're amazing with me and my love for the holidays. Sometimes, I feel like my family just likes to play it off that they don't enjoy it as much as I do. Deep down inside, they love it!
I'm already on the hunt for an amazing set of family Christmas pajamas, and I said to myself, "Self, you need to share your finds with the world!"
So here I am…with you reading this…looking at these fabulous family Christmas pajamas sets with me! WARNING: Cuteness overload and some include pajama sets for your canine family member.*
And once you've decided on a set of pajamas, be sure to check out our holiday bucket list of fun things to do for the whole family.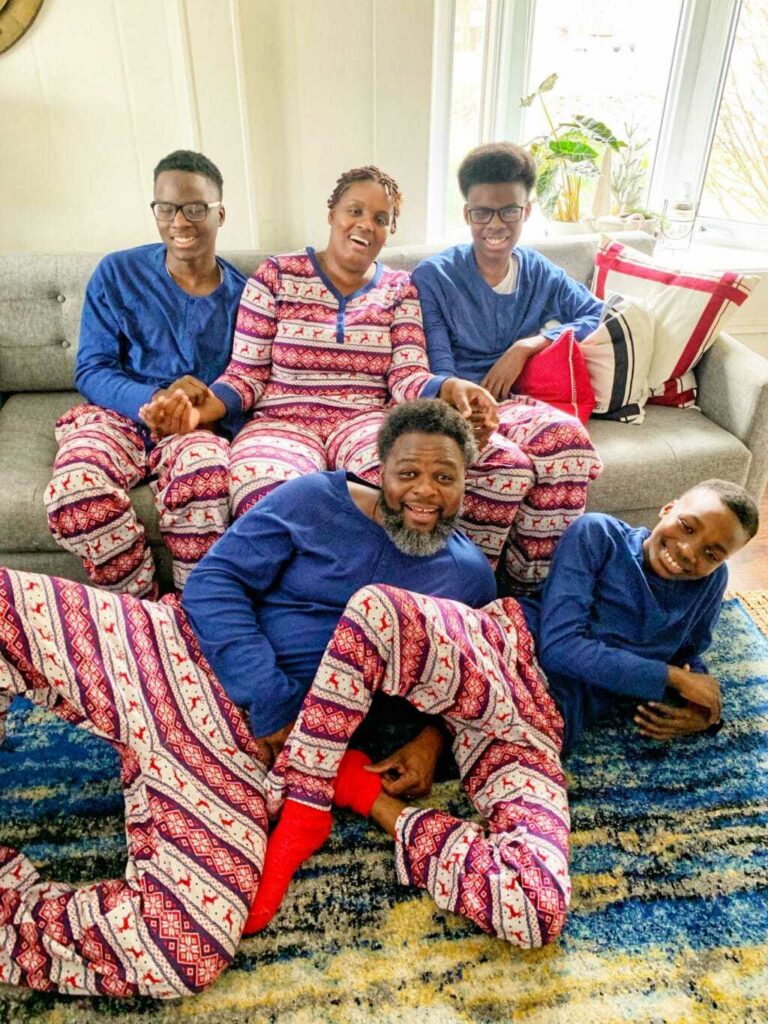 Christmas Jammies For The Whole Family, Even the Dog! Mix up the red and green with this fun collection! And if you have a pet, you can find a matching set of jammies for your favorite furbaby! These pajamas are so adorable, and perfect for the whole family, including a fur baby or two (maybe three?). They're super comfy and lightweight. That makes them awesome for Christmas morning pictures, lounging on movie night, gift-giving traditions, and breakfast with Santa. If someone wants to be a little different, they can choose different colors and keep the same pattern! Not only do I love the colors in these PJ's, but I'm in love with the Yeti on them! How adorable is he? It's a perfect set to watch the Polar Express or maybe the move, SmallFoot in! This pajama set makes me so happy. How fun is this? It has all of the traditional Christmas colors and plaid print to finish this ensemble. From dad, all the way down to baby…this has you covered with festive cheer. Your family will look un-bear-ably cute when cozied up in PJs from the Holiday Bear Family Pajamas Collection from Wondershop™. This family sleepwear collection includes coordinating family pajamas for mama bears, papa bears, the cubs, and even pets. Do you want to build a snowman? Of course, you do! Who doesn't? Snowmen are adorable to look at, and they're especially more adorable in these pajamas. Bring some magic to your family's holiday season with the Holiday Harry Potter Family Pajamas Collection. Perfect for any family of Potterheads, this family sleepwear collection includes coordinating Harry Potter pajamas for the whole family. Life doesn't get much better with this cute polar bear pajamas set! I love the addition of the snowflakes on the pants. This set comes with the option of including your fur baby into the mix! Can't you just see yourself staring outside at the snow while listening to Christmas music, and wearing these fabulous pajamas set? Just thinking about it throws a big smile on my face. I love the simplicity of them and the small hints of the happy red accent color. These will make anyone happy staring at them. Christmas isn't truly decorated until you've put up the bright and colorful lights! The best part about these pajamas? You don't have to worry about testing the bulbs to see if they work! If you're not looking for something so bright and out there with colors and designs, then take a look at these amazing and simple set. It screams holiday cheer while keeping it subtle with the blue plaid design.

The cold never bothered Elsa anyway, and it won't bother your family either when they're cozied up in PJs from the Holiday Frozen Family Pajamas Collection. Yes, you read that right. A Justice League PJ set, all ready for you and your other family of do-gooders to get their comic book spell on. You don't have to wear traditional Christmas colors when your whole family can be a superhero. Forget about reindeer! Llamas will be your new favorite holiday animal when you deck out your family in the Holiday Llama Family Pajamas Collection from Wondershop™. These llama holiday pajamas pop in a bright red hue with a festive pattern of snowflakes and white llamas toting Christmas trees and gift boxes on their backs. The force is definitely strong in these Christmas pajamas! These are something that I know my family will wear every day, and not just for Christmas. So basically, my wish for every day being Christmas…comes true. If your family is a Disney loving one, then these Mickey Mouse holiday pajamas will be perfect for you! You get the magical world of Disney and Christmas all wrapped up into one beautiful gift for your family, including your fur babies.

Put a Disney spin on the magic of the holiday season when you outfit your family in PJ pants from the Holiday Mickey Mouse Fleece Pant Family Pajamas Collection. This family sleepwear collection consists of coordinating Mickey Mouse pajama pants for the whole family. I love snow globes, and the charm they bring to a scene. These pajama sets are so adorable because they remind of old fashioned gift tags. The little red truck with the Christmas tree in the back is simply too precious for words! These penguins are so incredibly sweet to look at on these pajama sets! These will be sure to warm up your heart on a chilly Christmas morning when you wake up one of these with your family. My heart grew right out of my chest when I found these! What can make Christmas any better than a family of Grinches that found the reason for the season and holiday cheer? I just know my family will "love" me so much for making them wear these! What the Elf and Elf Pajama Sets
When in doubt, bring out the elves! As you know, I'm infatuated with all things "Elf on the Shelf", so this might be just what I need for my family. No one will even question me, as they already know why they would have to wear them.

These are super cute! Whether you're having family holiday photos taken or getting messy making holiday treats in the kitchen, outfit your family in the coziness of the Holiday Green Stripe Family Pajamas Collection from Wondershop™. From dreaming of sugar plum fairies to lazy mornings sipping hot cocoa to evenings playing your favorite board games, your family will be comfy-cozy in PJ pants from the Holiday Buffalo Check Fleece Pant Family Pajamas Collection from Wondershop™.

Enjoy the holiday season in comfy, cozy and classic style with the Holiday White Tartan Plaid Flannel Family Pajamas Collection from Wondershop™.

Bring comfy, cozy and classic style to your holiday season with the Holiday Blue Tartan Plaid Flannel Family Pajamas Collection from Wondershop™.
No matter if you're trying to relive your nostalgia for Star Wars if you have a love of all things plaid, these family Christmas pajama sets will be right up your alley. Do you and your family wear matching Christmas pajamas? What are some of your favorite ones that you love and can't live without? Or what were your favorite ones that you've all worn?
Let me know in the comments and share photos with me. I would love to see them!
More holiday fun:
11 Kid-Friendly Holiday Drinks To Try This Year
15 Christmas Movies For Teens | Movies They Will Actually Watch With You
Best Christmas Towns In The Midwest
*this post contains affiliate links (read our disclosure here)