Movie night just got a lot more fun with this movie night snack board loaded with all your favorite snacks and perfect for grazing as you watch your movie.
It is loaded with popcorn, Sno caps, Skittles, Dots, Raisinets, and more.
Whether you are watching one of your all-time classic favorites or streaming a new movie with the family.
Snack away with all your favorites on a board.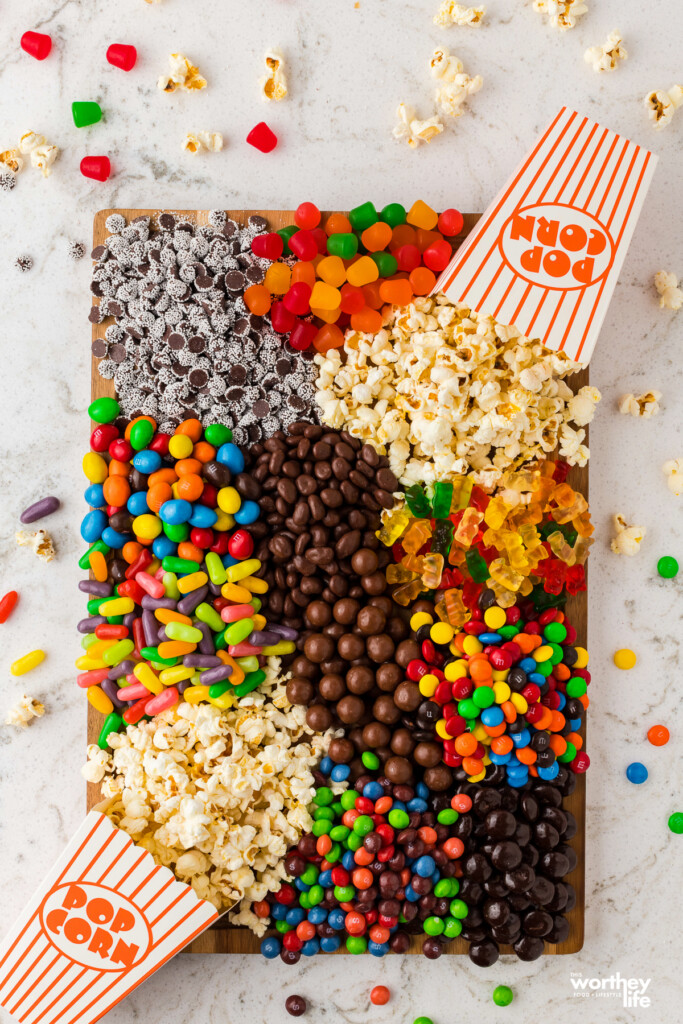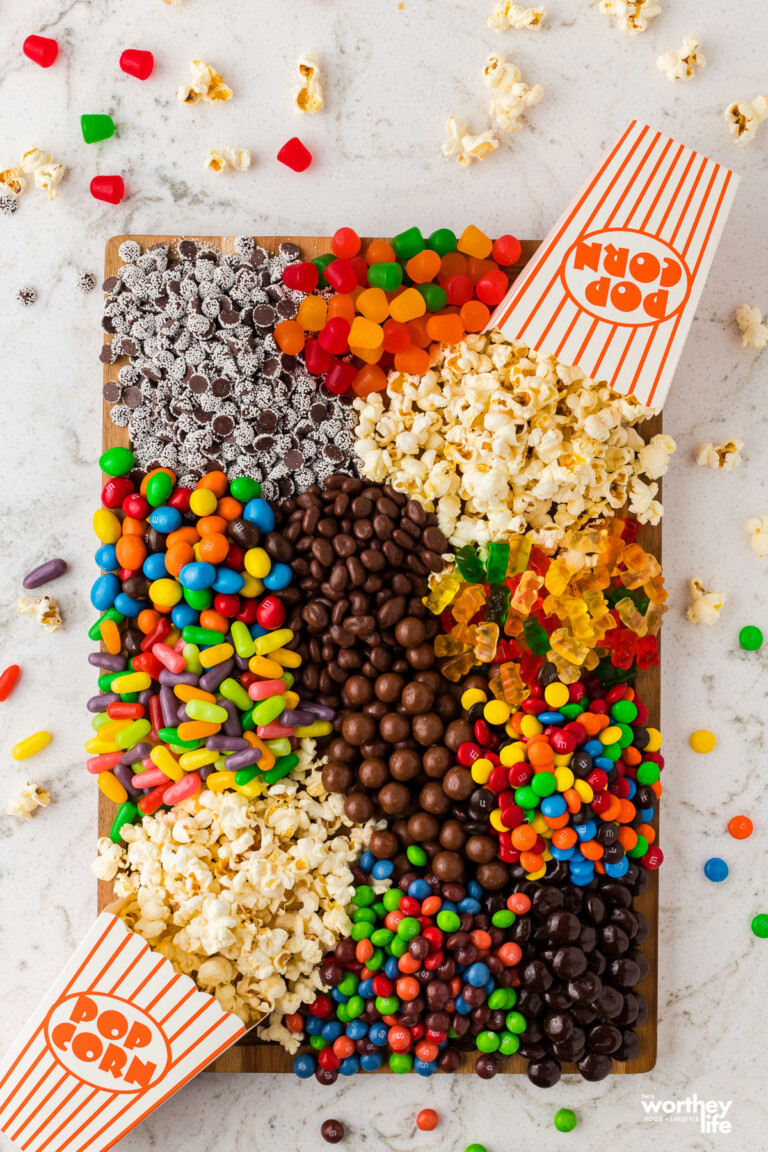 Movie Night Snack Board
Making a snack board for movie night is a fun and easy way to enjoy some delicious treats while watching your favorite flicks.
Or, if you like to do a lot of binge-watching or enjoy a movie marathon on the weekends, having delicious snacks is essential.
Start by choosing a variety of snacks, such as popcorn, pretzels, chips, candy, and fresh fruits.
Arrange them on a large platter or cutting board, and add some dips and spreads like hummus or cheese dip for a tasty touch.
Don't forget to include some drinks like soda, lemonade, or iced tea to wash it all down.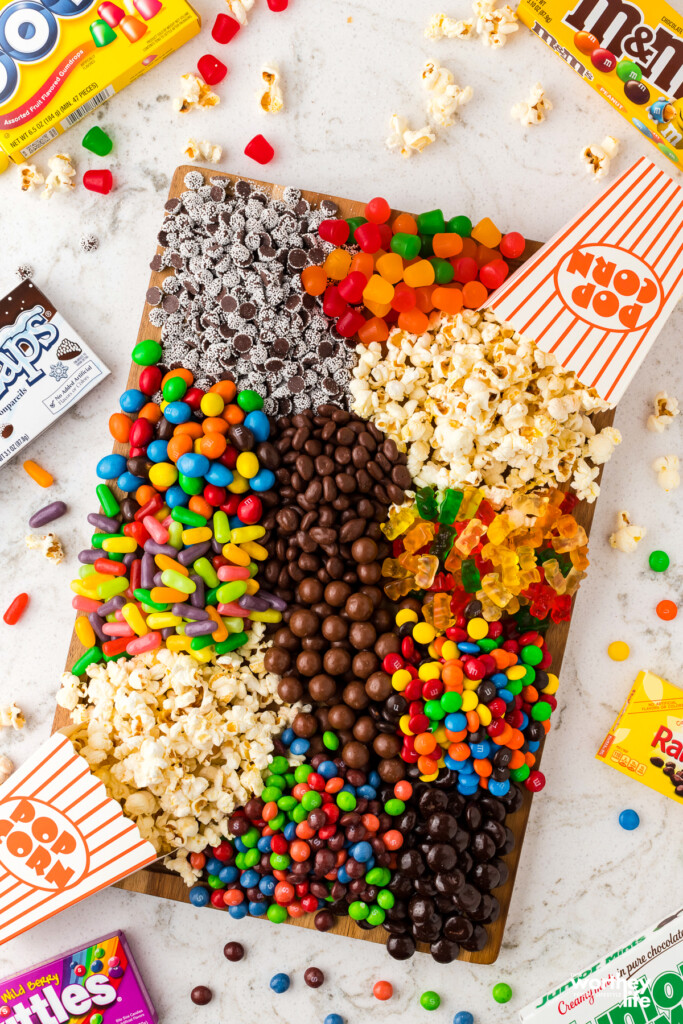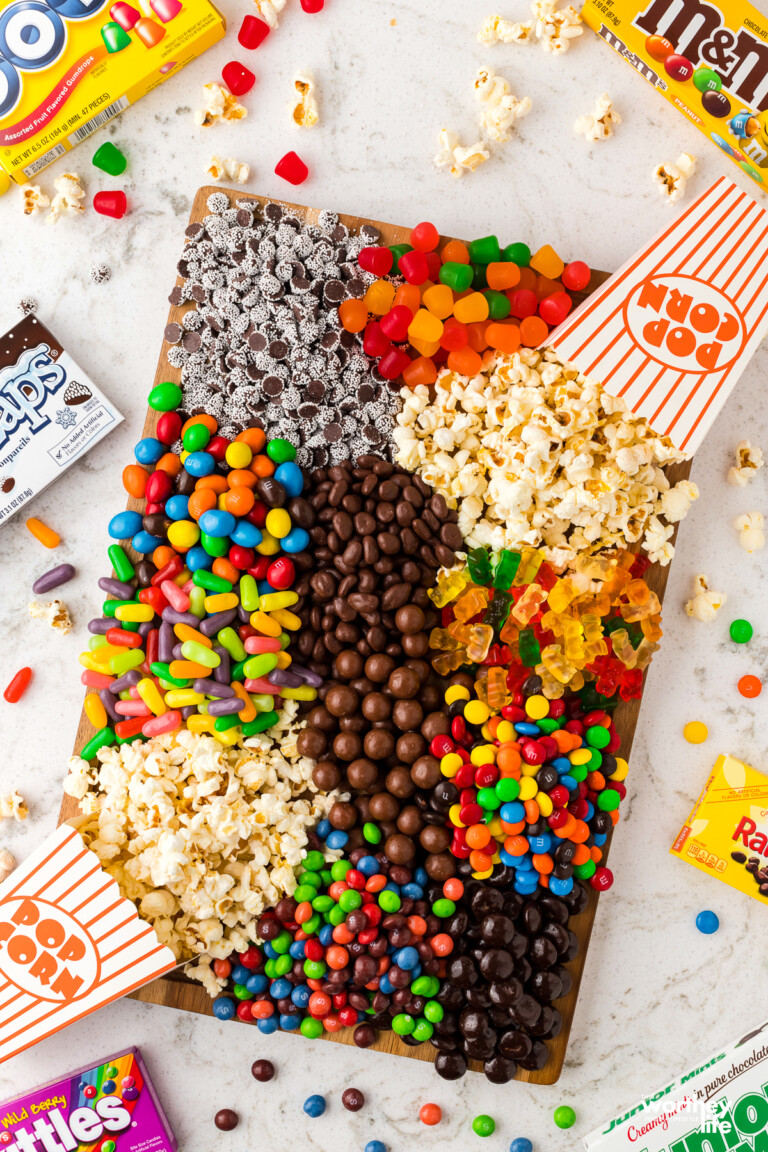 Movie Night-Themed Board
To make your snack board even more exciting, you can add a theme.
For instance, if you're watching a horror movie, you could create a spooky-themed snack board with dark chocolate, gummy worms, and red velvet cupcakes with black frosting.
If you're watching a romantic comedy, you could include heart-shaped cookies, strawberries dipped in chocolate, and pink lemonade.
Another theme idea could be a dessert board with all of your favorite sweet treats, chocolate chip cookies, and of course, the buttery popcorn.
You could also do a holiday movie night based on Christmas movies.
Movie Night Snacks At Home
Another fun way to make your snack board stand out is to add some homemade treats.
You could make your trail mix with nuts, dried fruit, and chocolate chips or whip up a batch of homemade popcorn with unique toppings like parmesan cheese or cinnamon sugar.
Lastly, don't hesitate to get creative with your presentation.
Arrange your snacks in a visually appealing way by using different shapes and sizes of small bowls, and garnish with fresh herbs or flowers.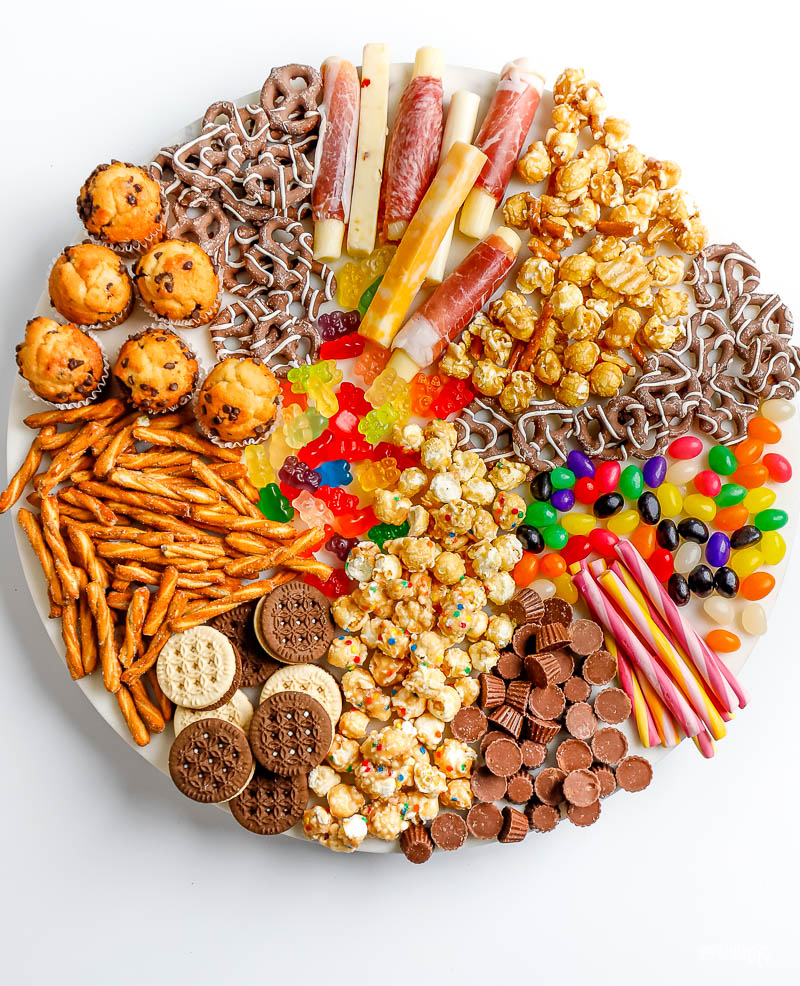 You could also create a charcuterie movie night-themed board by adding your favorite meats and cheeses in addition to snacks.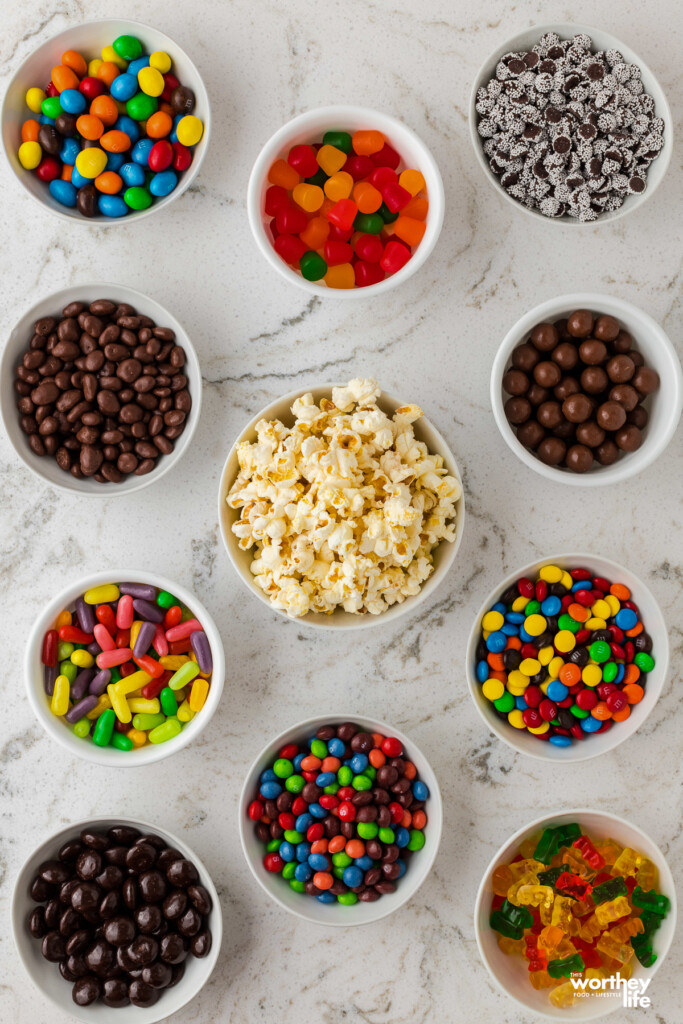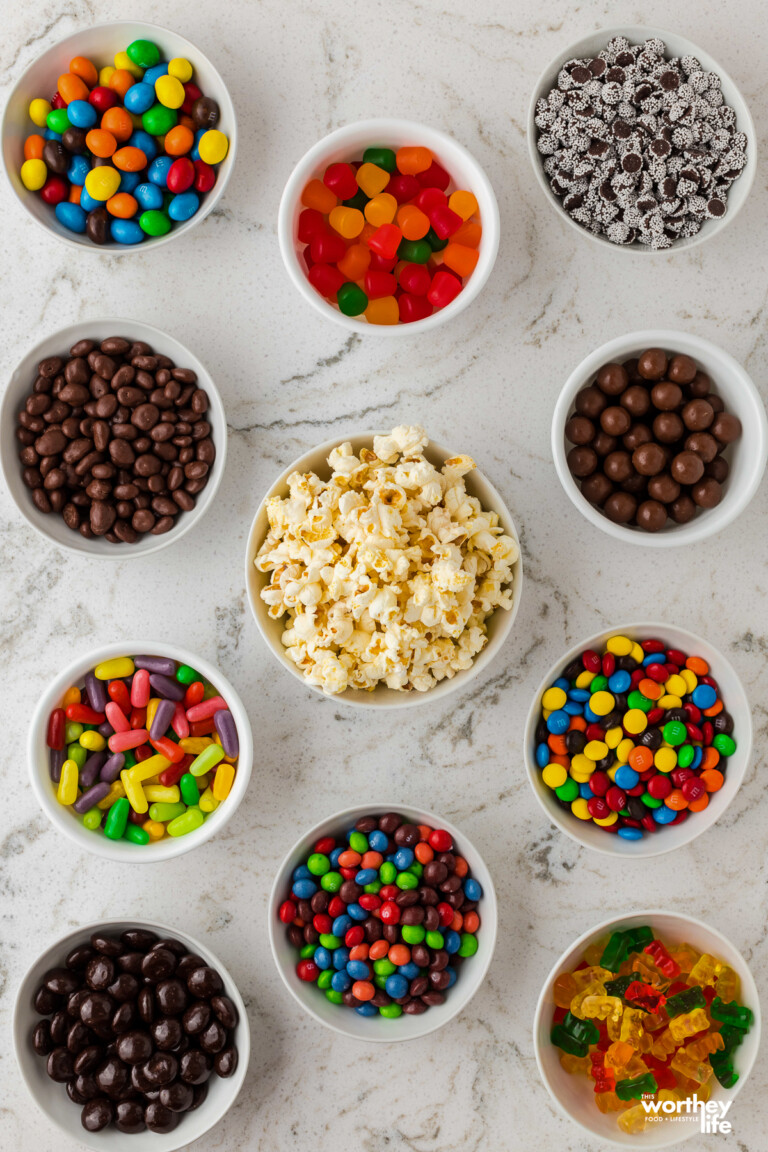 What's On Our Board
Here is what we added to our board. Now if you don't like one or more items or have other favorites, swap them!
Just buy an arrangement of treats to create that perfect snack tray full of options.
The key to a successful snack board is variety. You'll want to include a mix of sweet and savory snacks, as well as different textures and flavors.
Popcorn – Pop up your favorite popcorn. Whether you use a popcorn maker or microwave, the choice is yours.
M&M's – I did peanut M&M's along with classic M&M's.
Sno Caps
Whoppers
Skittles
Mike and Ikes
Dots
Raisinets
Gummy Bears

What Type of Tray to Use For Snack Tray
You'll want to choose a board or platter that's big enough to hold a variety of snacks. A wooden board, slate board, or large baking sheet can all work well.
I used a good charcuterie board, but you can line a cookie sheet with foil or even baker's paper and use it to showcase your favorite movie snacks.
Prep Time: 10 minutes
Assembly Time: 10 minutes
Total Time: 20 minutes
Total servings: 10
15 people
Ingredients:
Popcorn
m&m's
Peanut m&m's
Junior mints
Sno caps
Whoppers
Wildberry skittles
Sour Mike and Ikes
Dots
Raisinets
Gummy bears
Caramel Corn Popcorn
Directions:
Let's start by preparing your favorite popcorn. (link recipe)
Once the popcorn is ready, fill some popcorn boxes and place them on the corners of the board.
Next, add in all of your delicious chocolate candies! Arrange the Snow Caps and Junior Mints on the opposite corners of the board. Fill in the center with the Raisinets and Whoppers to create a diagonal pattern.
Now let's add in all of our colorful candies! Fill in all the empty spaces with Peanut m&m's, Gummy Bears, Mike and Ike's, m&m's, Dots, and Skittles.
Start the movie and enjoy these yummy treats!
How do I store my snack board?
Store all of the candy in separate airtight containers.
You may also save your popcorn in another airtight container, but please note it could get soggy from the butter.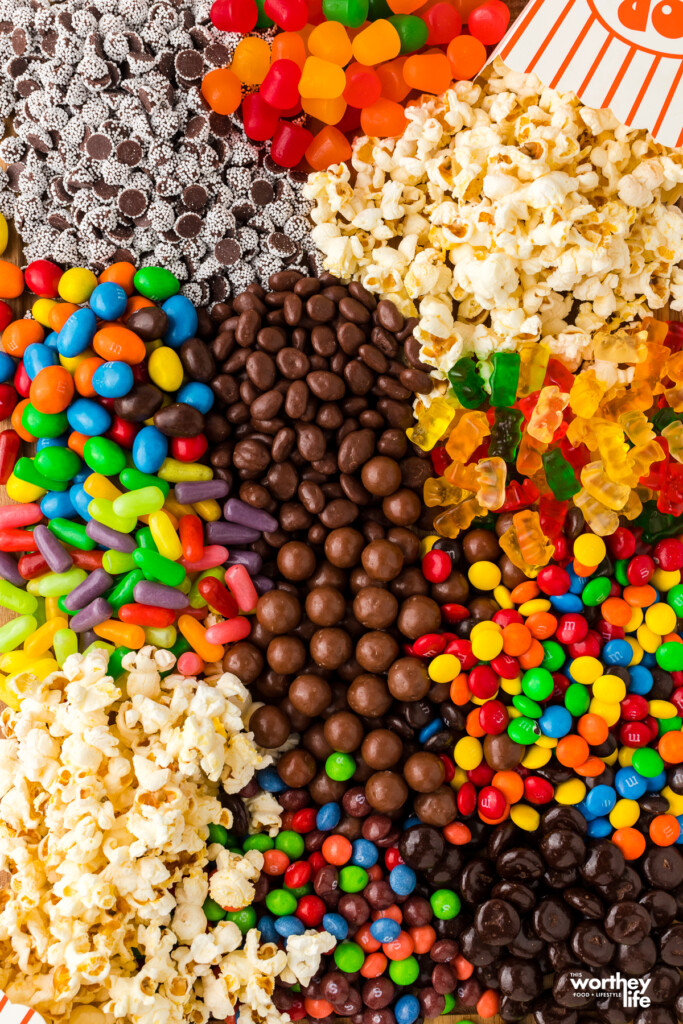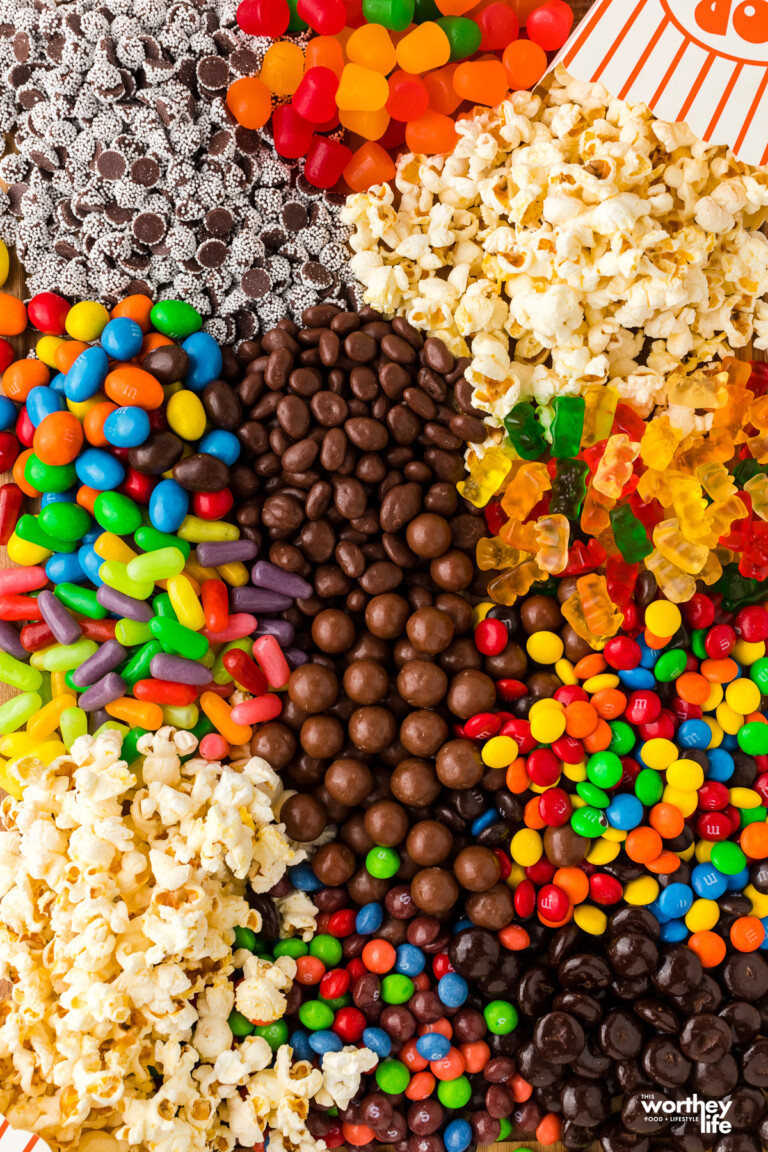 Tips For Making Your Board
Make sure to use all different types of candies and snacks. This will create dimension to the board.
Feel free to use a small bowl or two to hold some of the snacks. This adds layers and textures to the board.
Fill in all the areas of the board with small candies and favorite treats. You want the full look that the whole board is covered in snacks.
Can I make substitutions?
Feel free to substitute any of your favorite candies on this board!
Use your favorite popcorn for this board. Pro tip: if you love real movie theater popcorn from movie theaters, drop by your local theater and grab a bag to go!
Licorice
Cotton Candy
Reese's Peanut Butter Cups
Nachos
Milk Duds
Soft Pretzels or Hard Pretzels with Cheese Dip
Fresh Fruit
Etc.

Why make a family movie night snacks board?
I think it is a fun way to get the whole family excited to watch their favorite movies.
Everyone can pick and choose items they want for snacking as they watch the movie.
Feel free to make a fun, family-friendly drink. Think maybe like a punch, cotton candy, sparkling juice, etc.
Here are a few ideas:

Can we add healthy snack options?
Of course! Feel free to add some fruits and vegetables if you want; I like grapes, strawberries, carrot sticks, cucumber slices, etc.
Just think of veggies and fruits that are prepped so you can grab them and eat right off the board.
Feel free to pair it with a fruit or vegetable dip as well.
A Movie Night Snack Board is a great way to make movie night at home even more special and memorable.
With a bit of planning and creativity, you can create a delicious and fun snack spread that everyone will love.
More Food Board Ideas:
30+ Delicious Grazing Board Ideas
Cheese Boards & Creamy Herb Dip
This post may contain affiliate links, which means I may receive a commission if you make a purchase using these links.
As an Amazon Associate, I earn from qualifying purchases.