Host a beautiful outdoor Spring Brunch in your backyard with these easy-to-follow tips and recipe ideas.
From mouth-watering recipes to simple decor ideas, create a memorable and stylish event while enjoying the fresh air and sunshine.

Outdoor Spring Brunch Idea
One of the best things about warmer weather is taking advantage of hosting events outdoors.
Another benefit of hosting a spring brunch is having access to a garden outside our back door to grab fresh herbs to use in our spring recipes.
Mother's Day is this weekend, and hosting an outdoor Mother's Day brunch is a great way to celebrate this occasion while enjoying this beautiful spring weather.
Our outdoor brunch idea can be used as a Mother's Day idea or inspiration for a weekend spring brunch.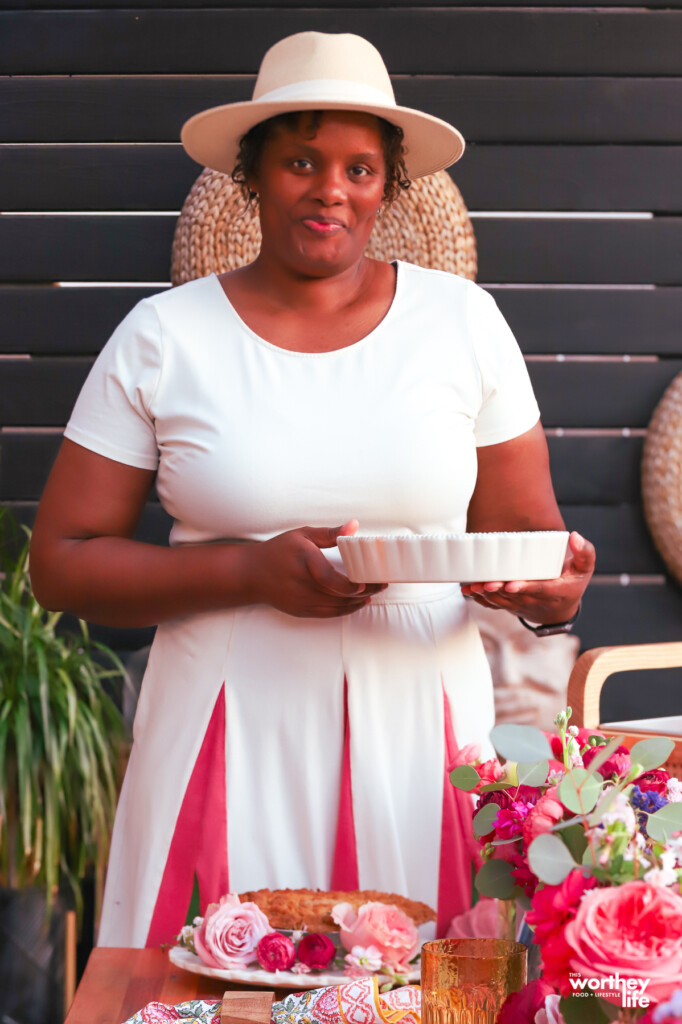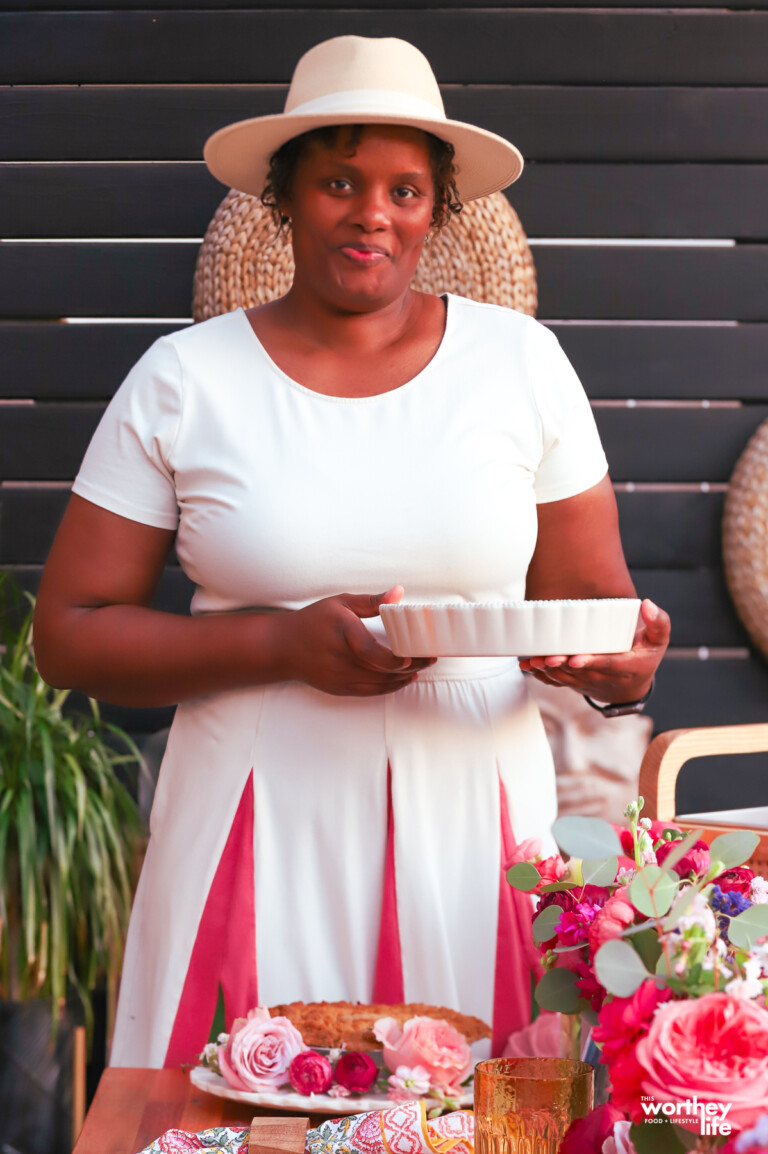 Tips on hosting an outdoor spring brunch
Location. If you plan to host your brunch outdoors, keep these tips in mind.
If possible, you will want a spot with plenty of shade protected from wind.
Your backyard or even the local park are great options for hosting an outdoor brunch.
Be sure you have plenty of seating and tables for your guests.
What's on the menu? When creating a spring brunch menu, it's important to remember the season's flavors and ingredients.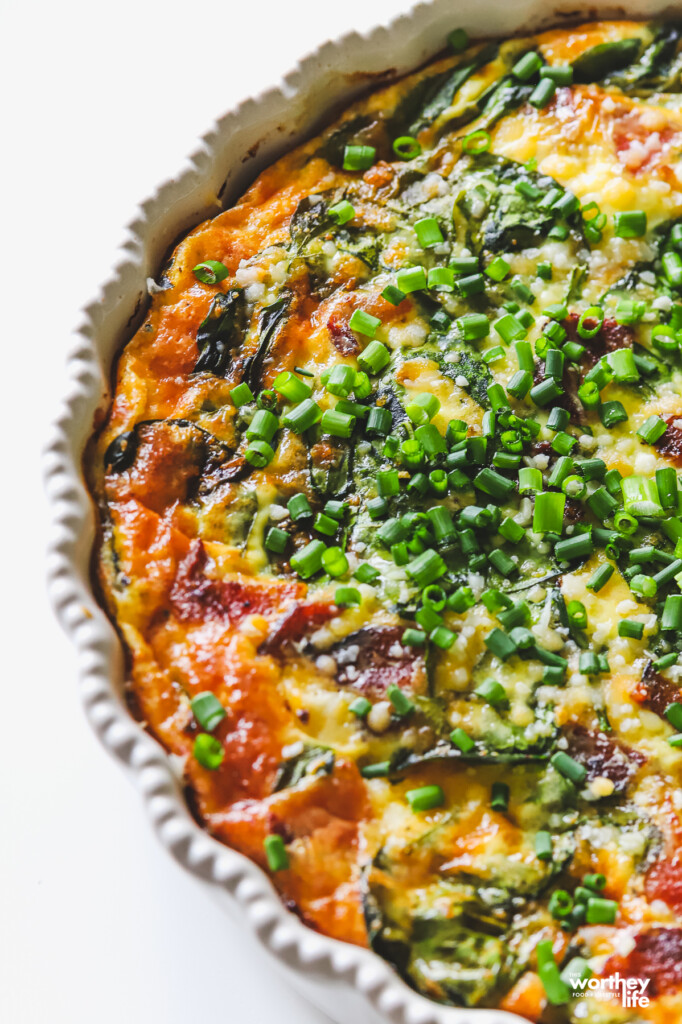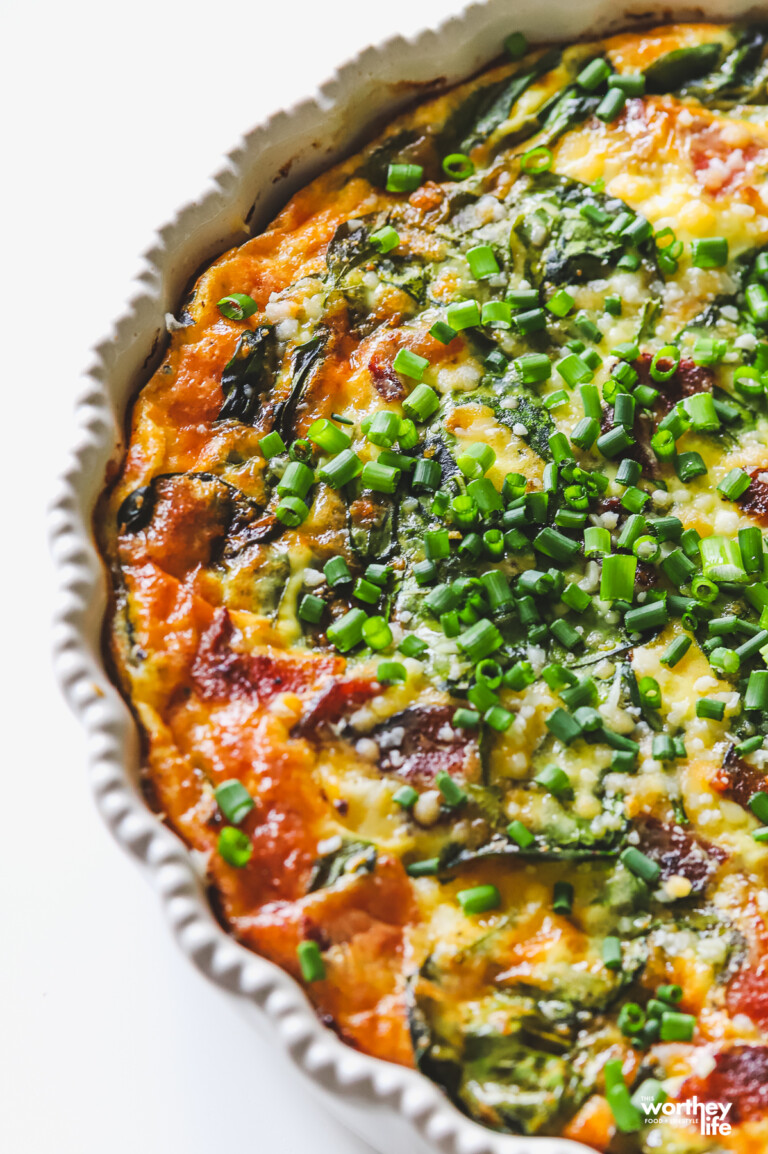 Spring brunch menu:
English Muffin Salmon Sliders: These savory sliders are a great addition to any brunch menu. Toast English muffins with buttery ghee, avocado aioli, eggs, thick-cut bacon, herb-roasted salmon, and a side of cream cheese.
Bacon and Spinach Quiche: A quiche is a classic brunch dish, and this bacon and spinach quiche is a crowd-pleaser. We have a few great quiche recipes to try: Salmon Quiche Recipe | Breakfast Quiche | Chorizo Quiche
Breakfast Strata: A breakfast strata is a savory and comforting dish perfect for feeding a crowd. Oozing with a variety of cheeses, fresh peppers, thick-cut bacon, collard greens, onions, and more, this loaded strata says breakfast is served!
Croissants: Croissants are a classic brunch pastry and go perfectly with the savory dishes on the menu. Serve them warm with butter and jam. To save time, pick up croissants from a local bakery.
Blueberry Lavender Lemonade: For a spring twist, make a blueberry lavender lemonade, a refreshing mocktail everyone can enjoy. We also share a cocktail version of this recipe.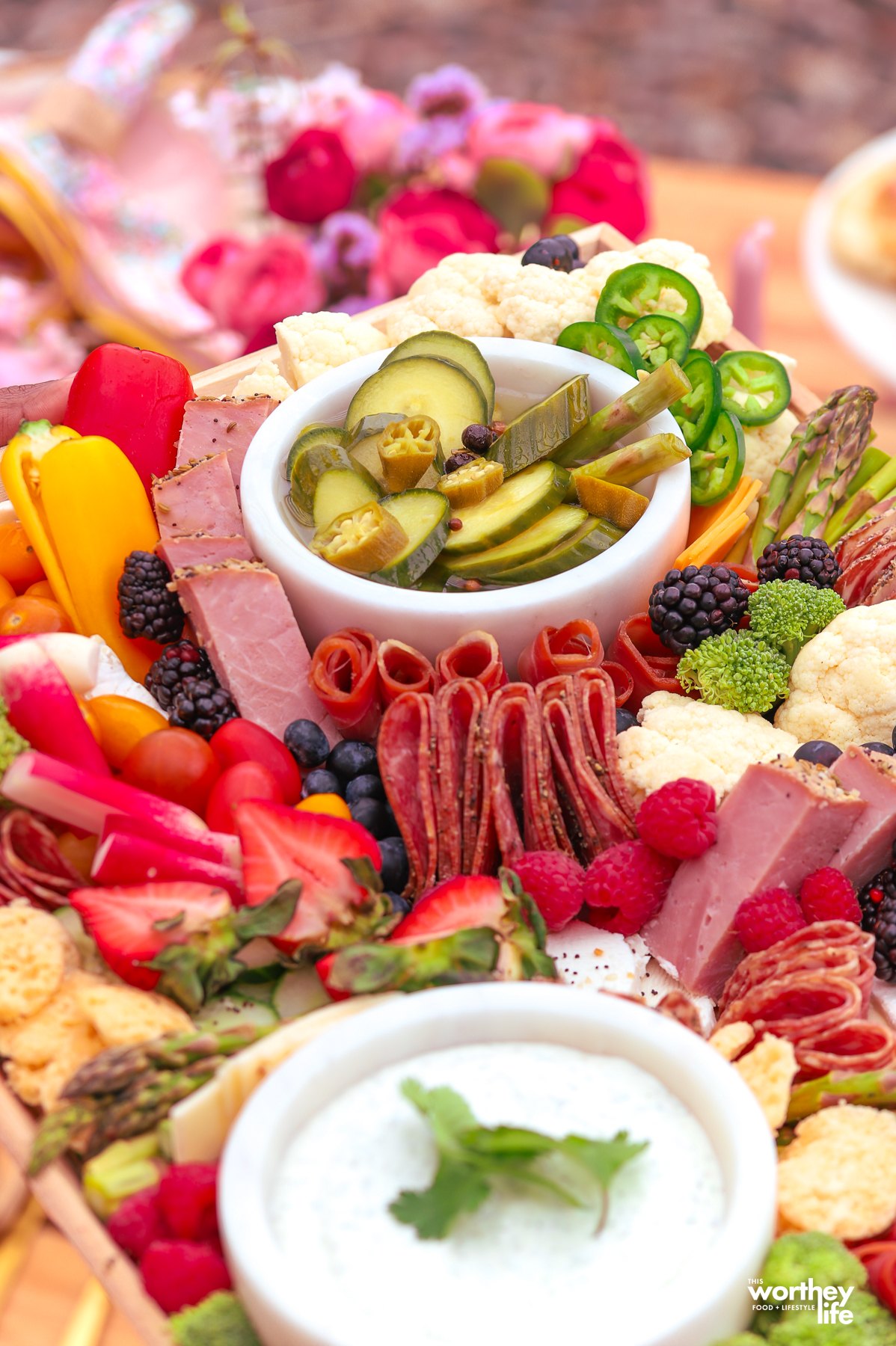 A charcuterie board. Adding a charcuterie board to your spring brunch menu is a great way to offer your guests a variety of flavors and textures.
A well-designed charcuterie board can be beautiful, delicious, and a perfect addition to any brunch spread.
You can make your board using some of our tips or look for places near you that sell charcuterie boards if you're short on time.
We usually make our meat + cheese boards, but since we were short on time, we picked up a medium size food board for a local food grazing board store.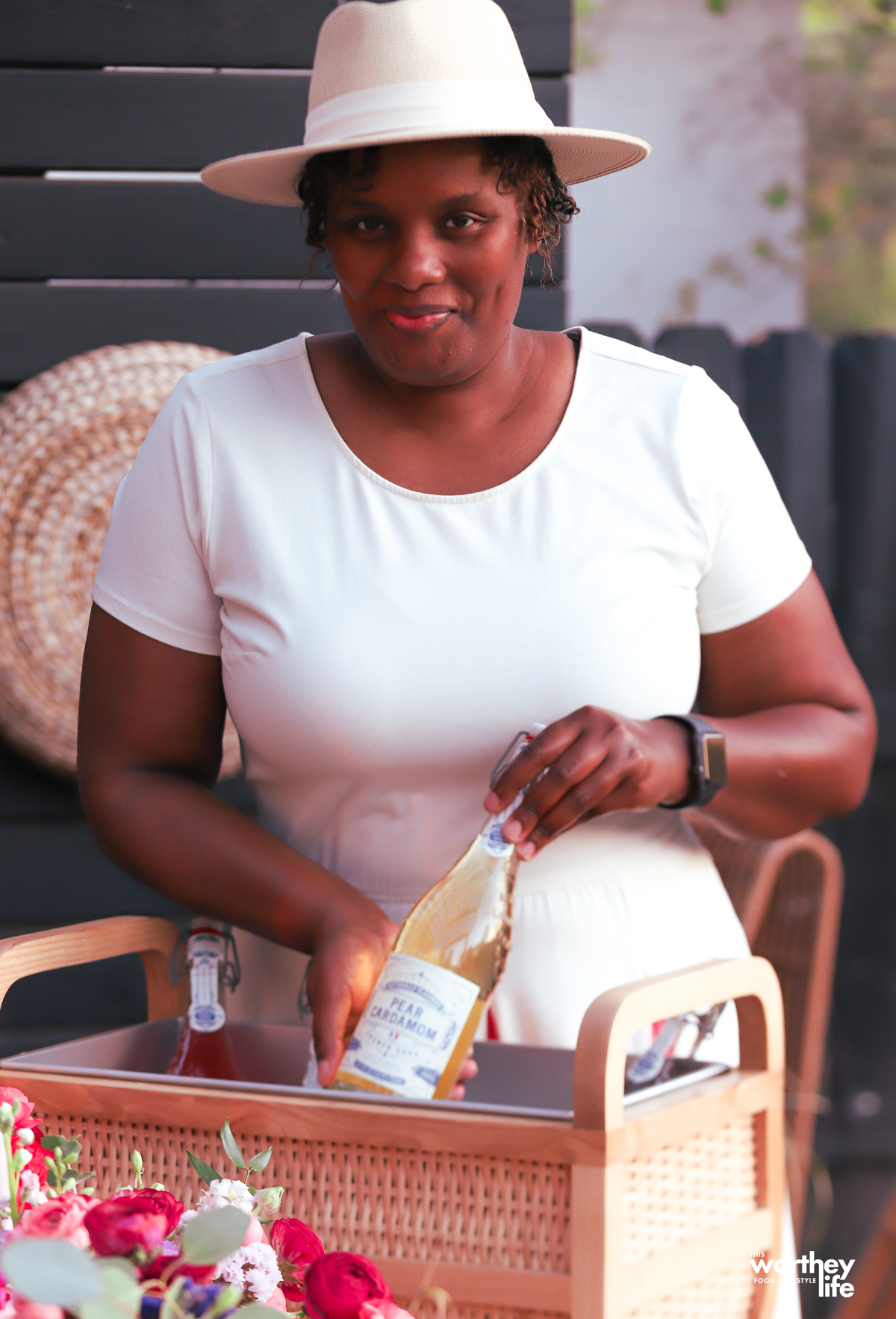 Other spring menu items
Pies, pastries, fruit salad, breakfast sandwiches, brunch pizzas, orange juice, and mimosas.
French toast with maple syrup and fresh fruit is the perfect way to start the day, while cinnamon rolls and eggs benedict are also great brunch recipes.
You can also create a bellini bar with sweet wine and goat cheese or a Bloody Mary bar for a savory option.
Asparagus quiche and egg tarts are easy recipes perfect for a small group.
Ambiance. Set the table with a color scheme that reflects the warmer weather, and use fresh berries as a sweet finish.
One thing I love about a spring theme is the simplicity of it.
You can easily bring your table setting to life with fresh flowers, floral patterns, and light colors. You can get details on how we created our spring tablescape below.
With matching wreaths, floral garlands, and place settings, your spring brunch table can be a fun way to showcase your style and creativity.
Set up some speakers and play some light music in the background.
Check out some of our playlists: Backyard + Chill playlist
The W: An Inspiration to Tranquility playlist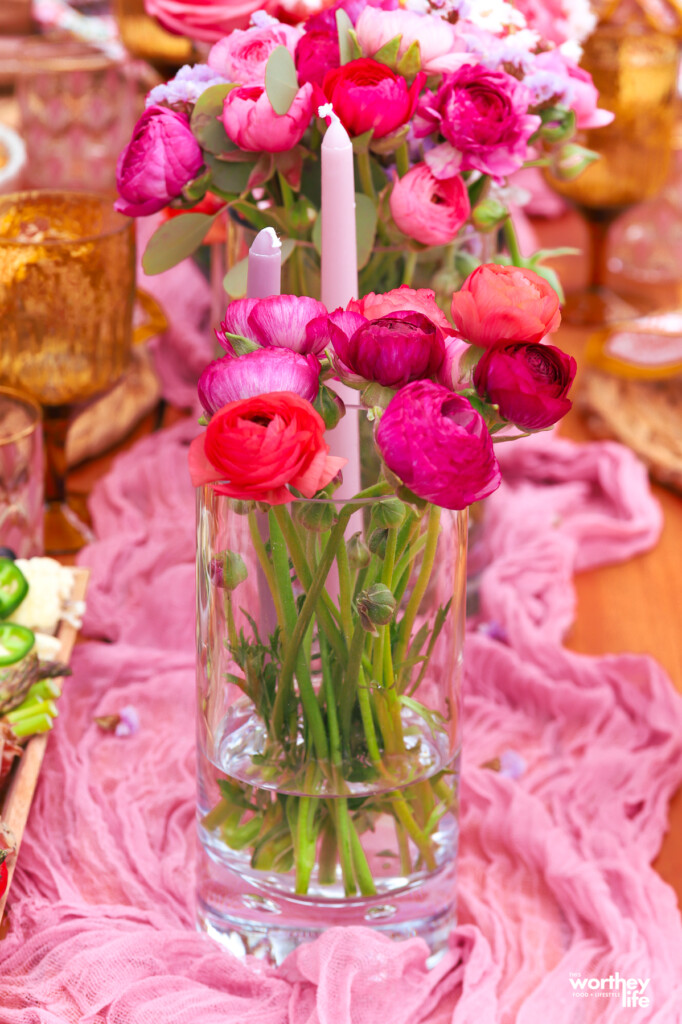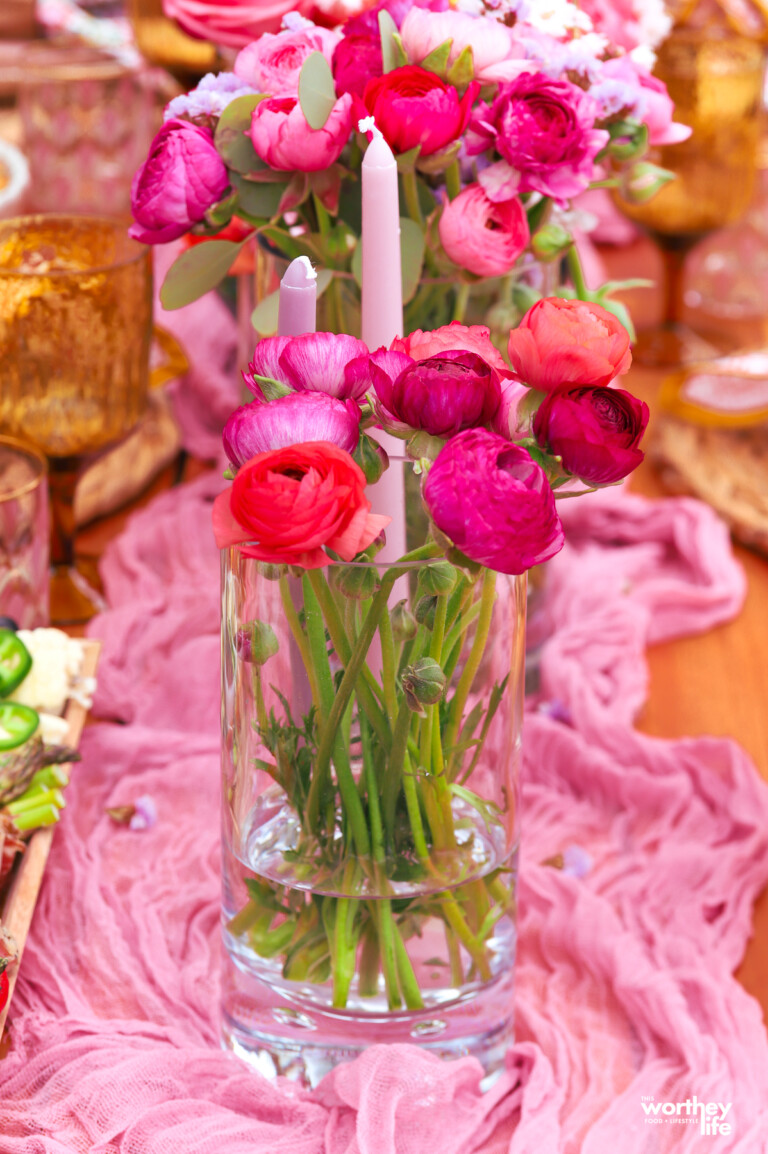 Other tips to remember:
Prepare in advance: Be sure to head to the grocery store a few days before your brunch event to get everything you need.
Prep work can be done ahead of time for less time in the kitchen, allowing you to enjoy the beautiful display of floral arrangements and place settings.
Cook as much as you can the day before to minimize stress on the event day. Set the tables and arrange the seating the night before as well.
Keep it simple: Don't overcomplicate things. The goal is to enjoy the company and the beautiful day, so keep the menu and activities simple and stress-free.
Have fun: Remember, the most essential part of the day is spending time with loved ones and showing appreciation for the mothers in your life. So relax, enjoy the food and conversation, and have fun!

Spring Tablescape Idea
For this tablescape idea, we're keeping it simple by using fresh flowers and pastel colors.
Resource List:
Round Natural Fiber Placemat | World Market
Pink Speckled Scallop Rim Salad Plates | World Market
Speckled Scallop Rim Dinner Plates | World Market
Iona Amber Textured Goblet | World Market
Rose Art Deco Gable Double Old Fashioned Glasses | World Market
Floral Block Print Cloth Napkins | World Market
Gold Silverware | Target
Flowers from Local Farm | Swallow Tail Farm
Glass Vases
Candles | Michael's
Candle Holders | JoAnn's + Michael's
Also featured on our table is a gorgeous rattan beverage tub from Crate and Barrel.

Our spring brunch menu features:
bacon + potato quiche
croissants
charcuterie board
3-berry pie [Grand Traverse Pie Company]
Assortment of Sparkling Drinks [World Market]

Can I make this into an Easter-themed idea?
Spring is the perfect time for an Easter brunch in your backyard.
You can add some Easter decor items [ think little Easter bunnies and egg-themed place settings] to make this spring brunch theme work for the Easter holiday.
Check out our Easter-themed tablescape for more inspiration!
Create a fun focal point with a bar cart and provide sun hats for guests to wear.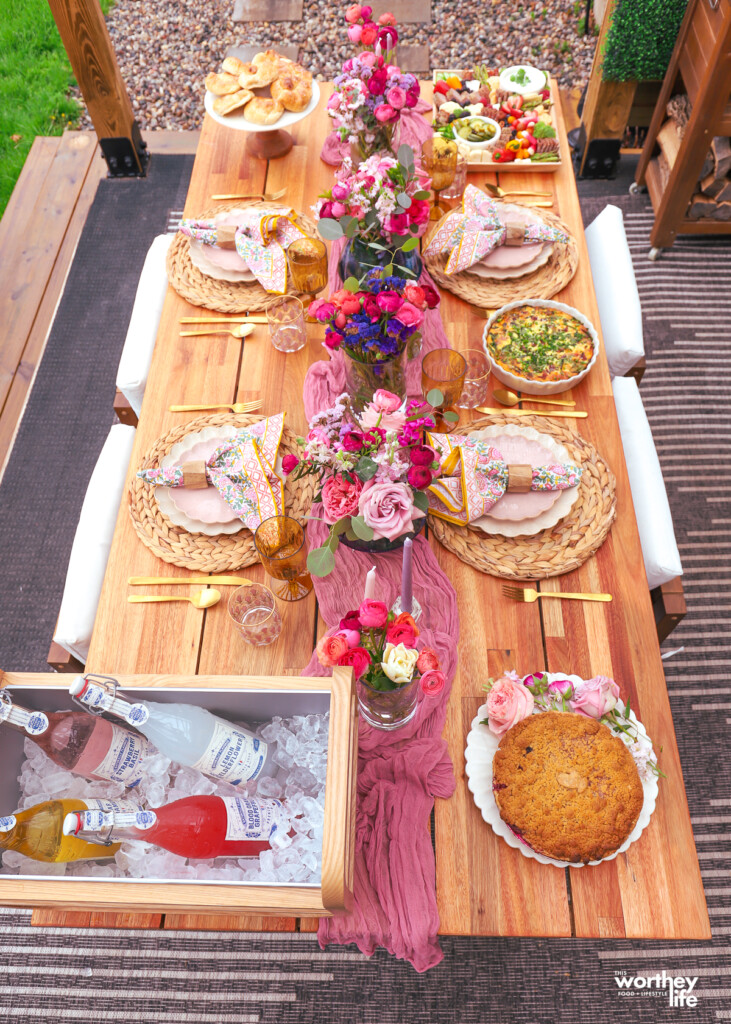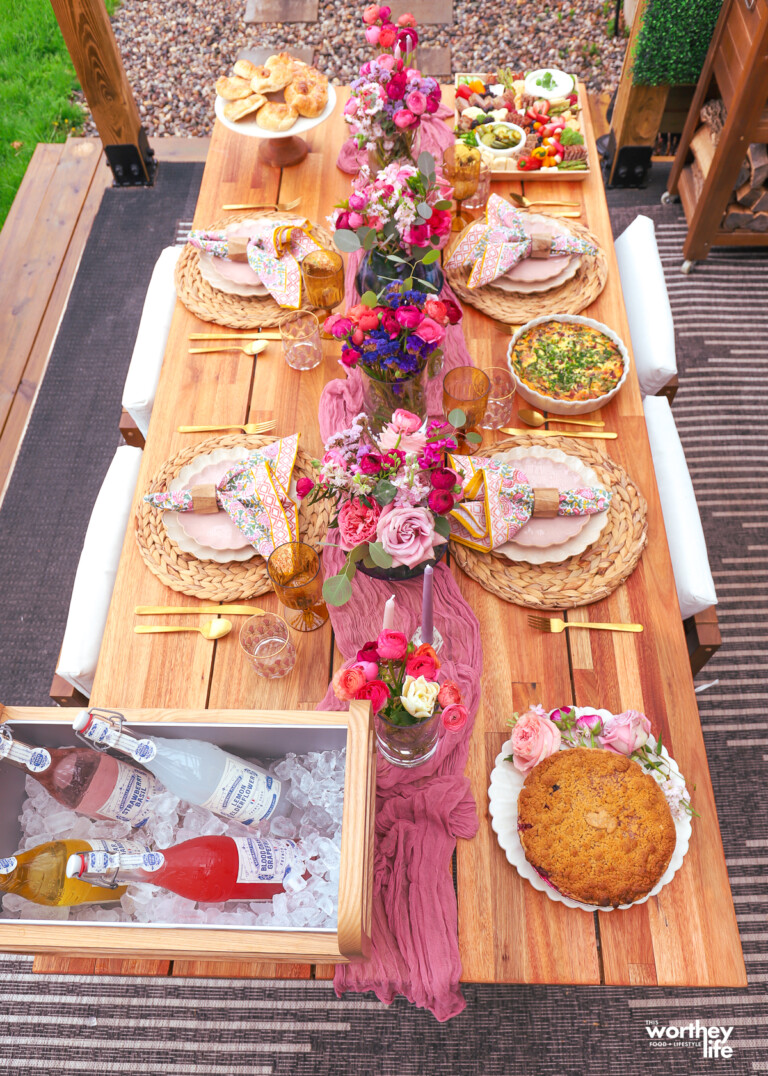 Our outdoor brunch party is a great way to enjoy the fresh ingredients and delicious recipes this time of year offers.
Spring is the perfect time to host a brunch, whether it's an Easter Sunday celebration or a fun way to enjoy the warmer weather.
Room-temperature dishes like asparagus frittata, egg tarts, and mini quiches are the best way to serve simple, easy recipes that everyone will love.
Enjoy!
Find more brunch recipes below: