The kids are going to have so much fun with this Printable Fall Scavenger Hunt! Not only is it great for getting out and enjoying the fall weather but it's also perfect if you are looking or finding all things that come in season. Add this activity on top of any family event like a weekday afternoon, weekend day trip, etc.,
Be sure to check out my Great Fall Sensory Play Activities that the kids are going to have a blast with as well.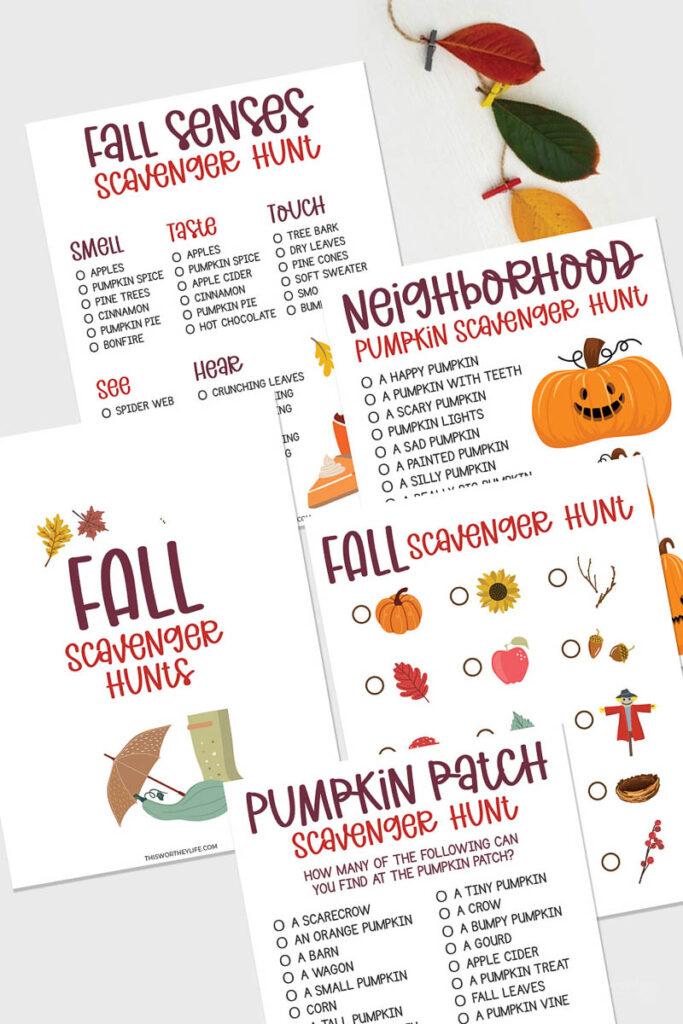 Printable Fall Scavenger Hunt
Fall is such a beautiful time of year. The crispiness in the air, the leaves changing colors, falling off their tree are all signs of fall–it's truly inspirational to see nature at its finest form! While this season is short, it's one of my favorite seasons.
Kids love fall too because it means leaf jumping, pumpkin carving, and let's not forget Halloween and trick or treating!
The fall season is a great time to enjoy the changing leaves, crunching beneath your feet as you walk through them. It's even better when there are scavenger hunts involved! This fun fall scavenger hunt list of items can be found all around town and it might just help families find some fun things together too- like looking for a pumpkin vine or a scarecrow.
Those are just a few reasons why fall is great, and this fall nature scavenger hunt for families is another reason why. It's a blast to walk around and find the objects listed on the sheet – and even add in some of your own.
Be sure to check out our Halloween scavenger hunt for more ideas.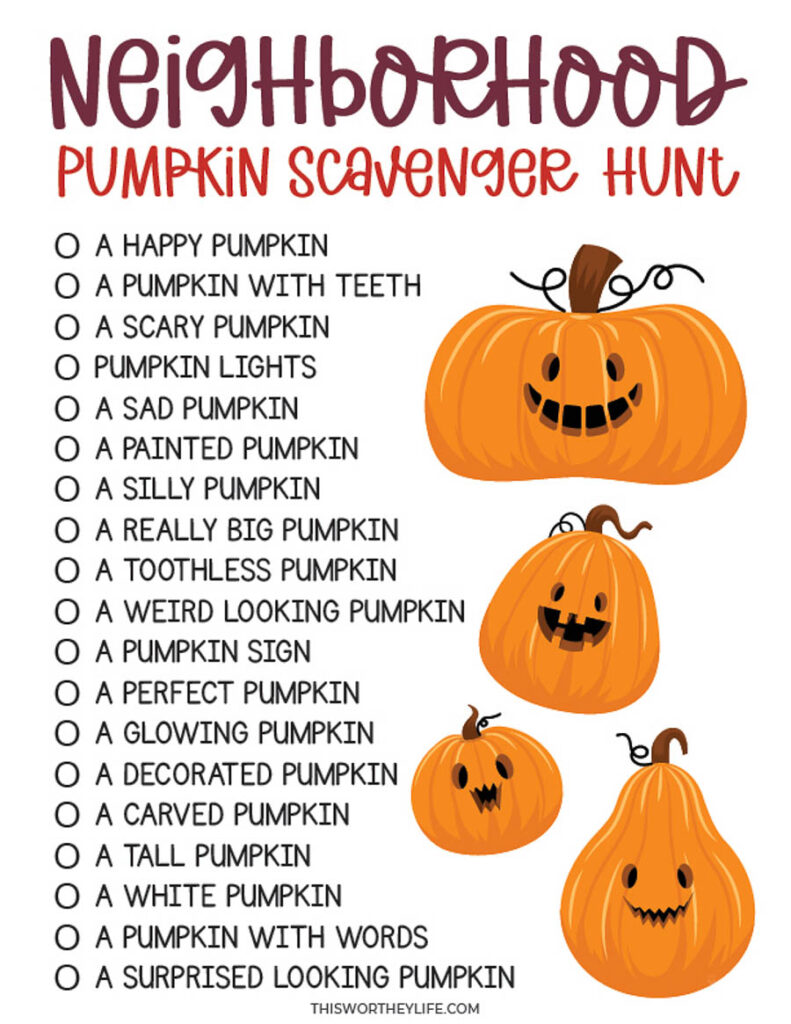 What's included in this neighborhood scavenger hunt?
Printable Fall Scavenger Hunt will help you enjoy your outing even more. This scavenger hunt includes clues that will lead you through trails, parks, or just around your neighborhood looking for things that are in season now. Print out this pdf file list and take it with you on your next adventure!
This printable packet includes pages of family-fun ideas. Included are:
Pumpkin patch scavenger hunt
Neighborhood scavenger hunt
Fall scavenger hunt without words
Fall senses scavenger hunt
As you can tell, this is a fun way for all ages to join in!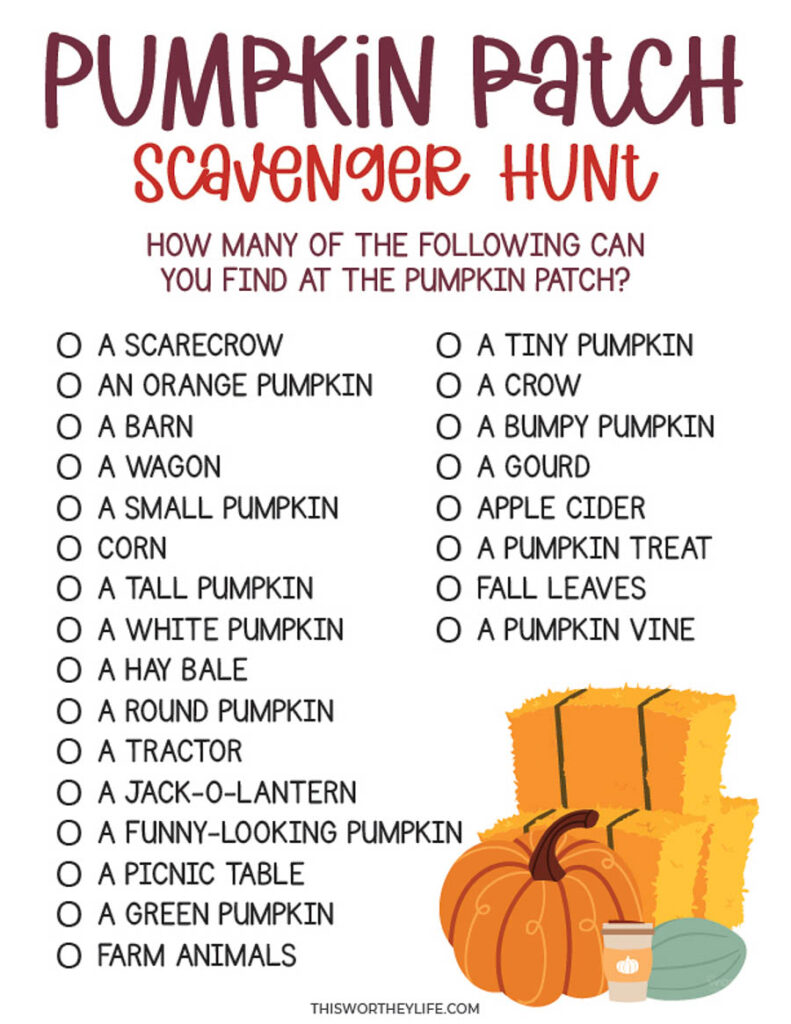 What's included on the Pumpkin Patch Scavenger Hunt
Here are a few items you can find on this pumpkin patch scavenger hunt:
Orange Pumpkin
A Tiny Pumpkin
A Crow
A Bumpy Pumpkin
A Gourd
A Pumpkin Vine
Fall Leaves
A Funny-Looking Pumpkin
A Green Pumpkin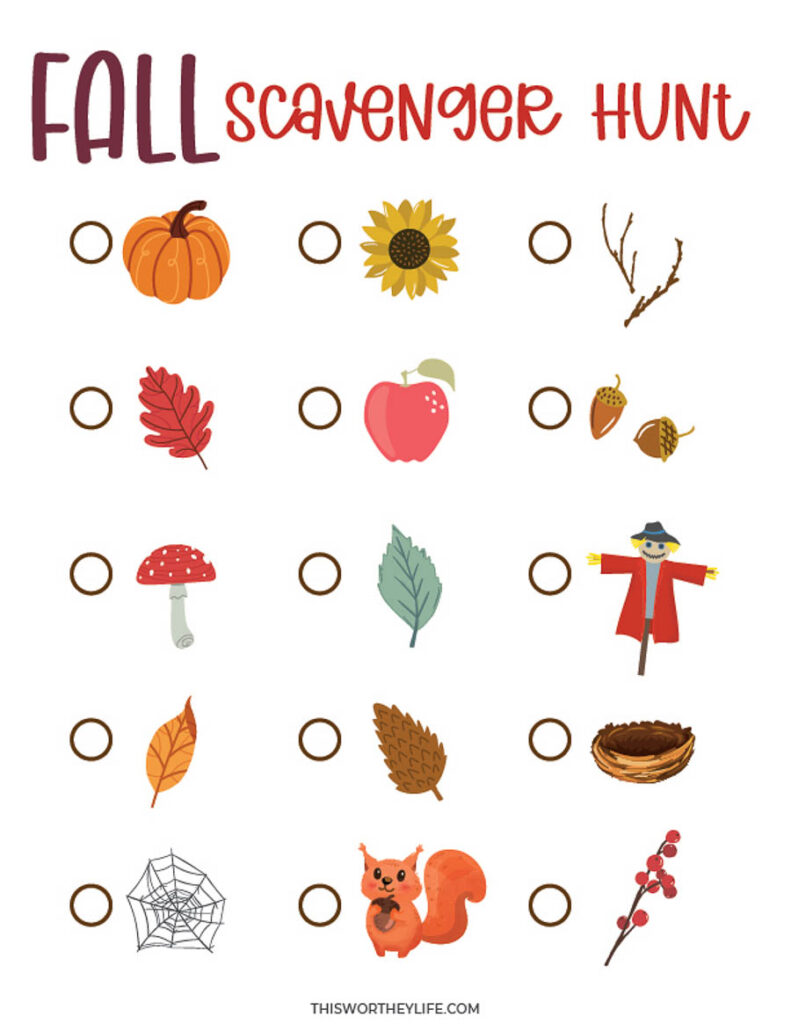 Fall Family Fun Activities and Ideas
The great part about this free printable fall scavenger hunt is that there are pages that have words to read and also a page that is just pictures. This means kids who can't read quite yet can still be independent and join in on the fun.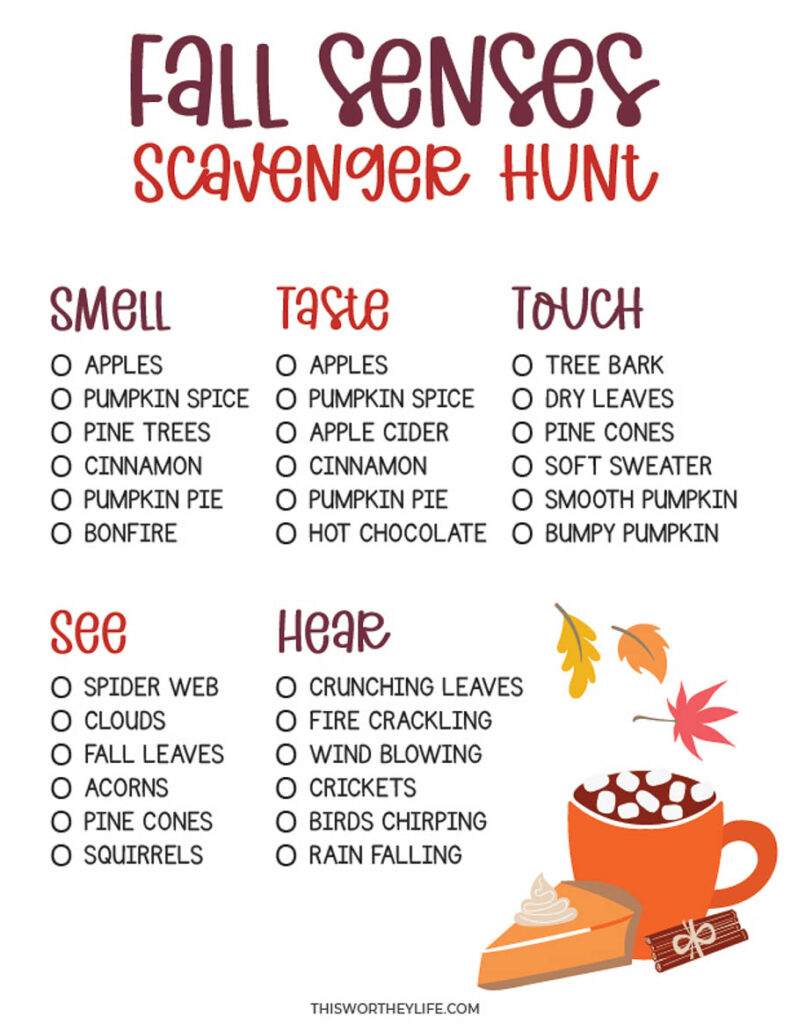 Fall Senses Scavenger Hunt
Let's not forget the importance of little learners using their senses to explore (as well as older kids). There is a printable included in this fall printable pack that has them use their smell, taste, touch, sight, and hearing – which makes for a ton of learning fun!
Getting out and moving their bodies while also using their senses is perfect for building curiosity with the kids. They are going to love the Fall Senses Scavenger Hunt!
Don't forget to get your free fall printable!
Have so much fun doing this fall family activity! End the day with these Halloween Chocolate Covered Oreos for a fun treat!
The changing of the seasons, eating caramel apples, a cup of warm sangria, going on a nature walk, are all fun fall activities that we enjoy together as a family.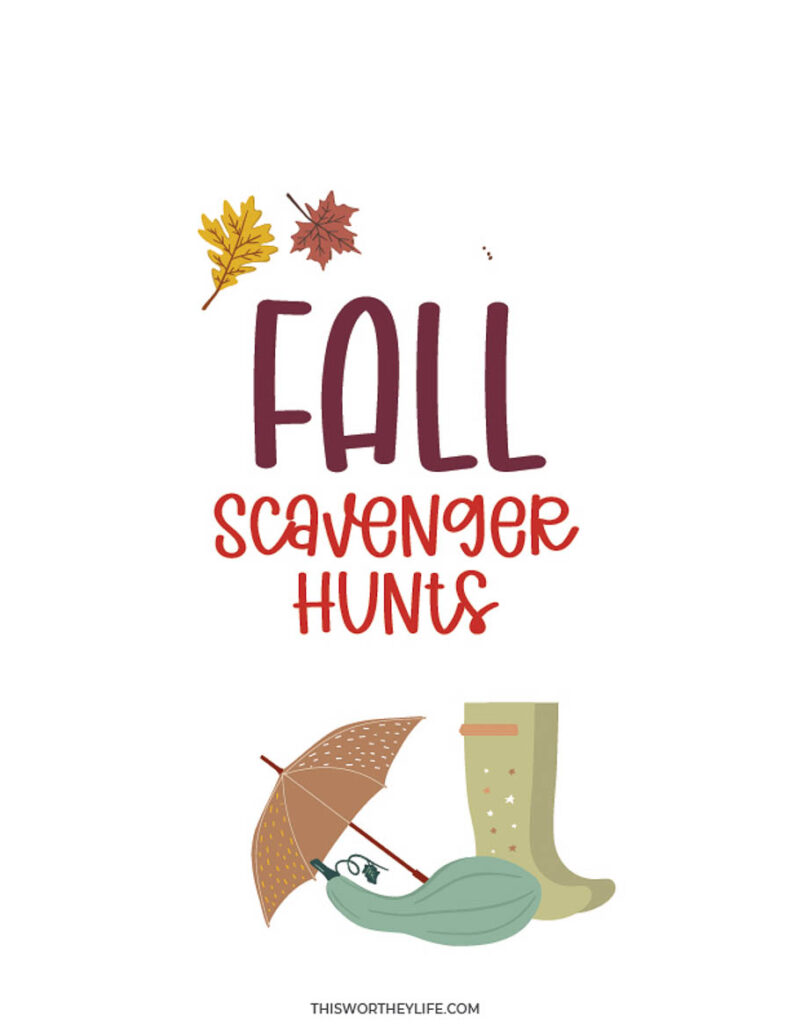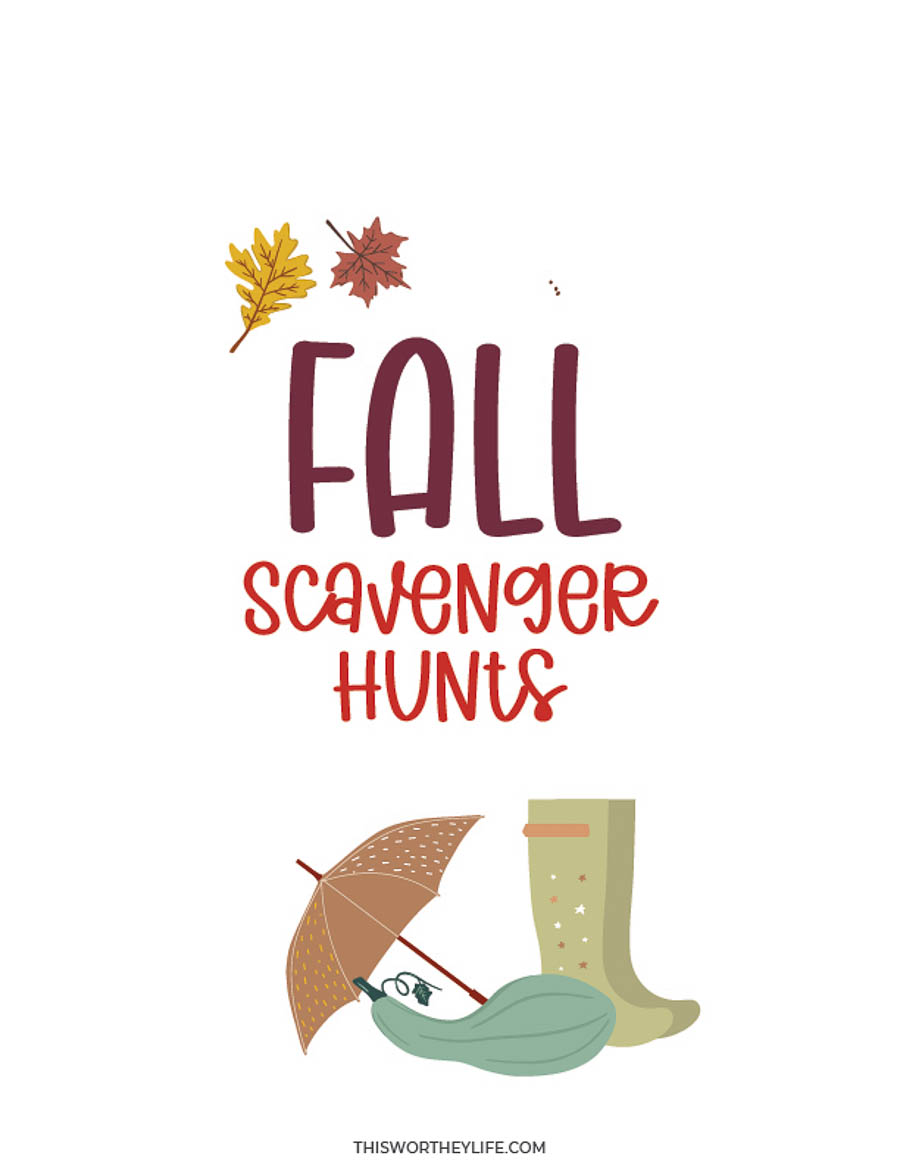 More Fall Family Fun
More Free Printables To Print:
Free Printable Christmas Cards
Camping Activities For Families
I-Spy Christmas Free Printable