Valentine's Day is fast approaching, and you need something fun for the kids to do. If you have kids and want to help celebrate Valentine's Day, then these FREE Valentine's Worksheet Printables, which include an i-Spy printable and Valentine's Activities worksheet, will be great to have on hand.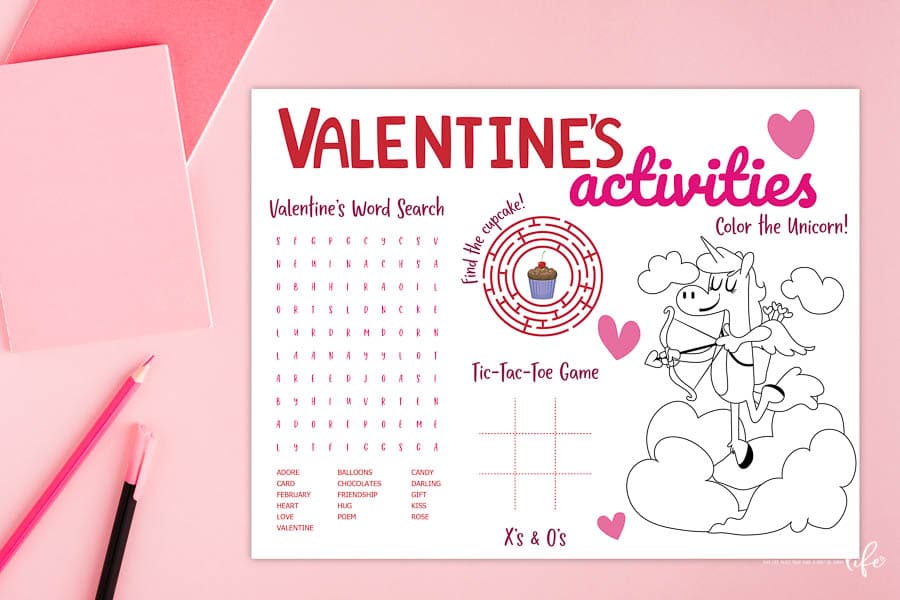 FREE Valentine's Day Worksheet Printables To Use [Activity Worksheet + iSpy]
Whether you are using these worksheets for your classroom or just for fun with the kids, they are free! All you need to do is download them, print them out, and then you can be on your way to enjoying free fun with the kids!
Although these Valentine's Worksheet Printables are for kids, adults can do them too. You get to sit down at the table and exercise your brain a bit. When everyone else is dropping a bunch of money on an expensive dinner, you can be enjoying these free worksheet printables.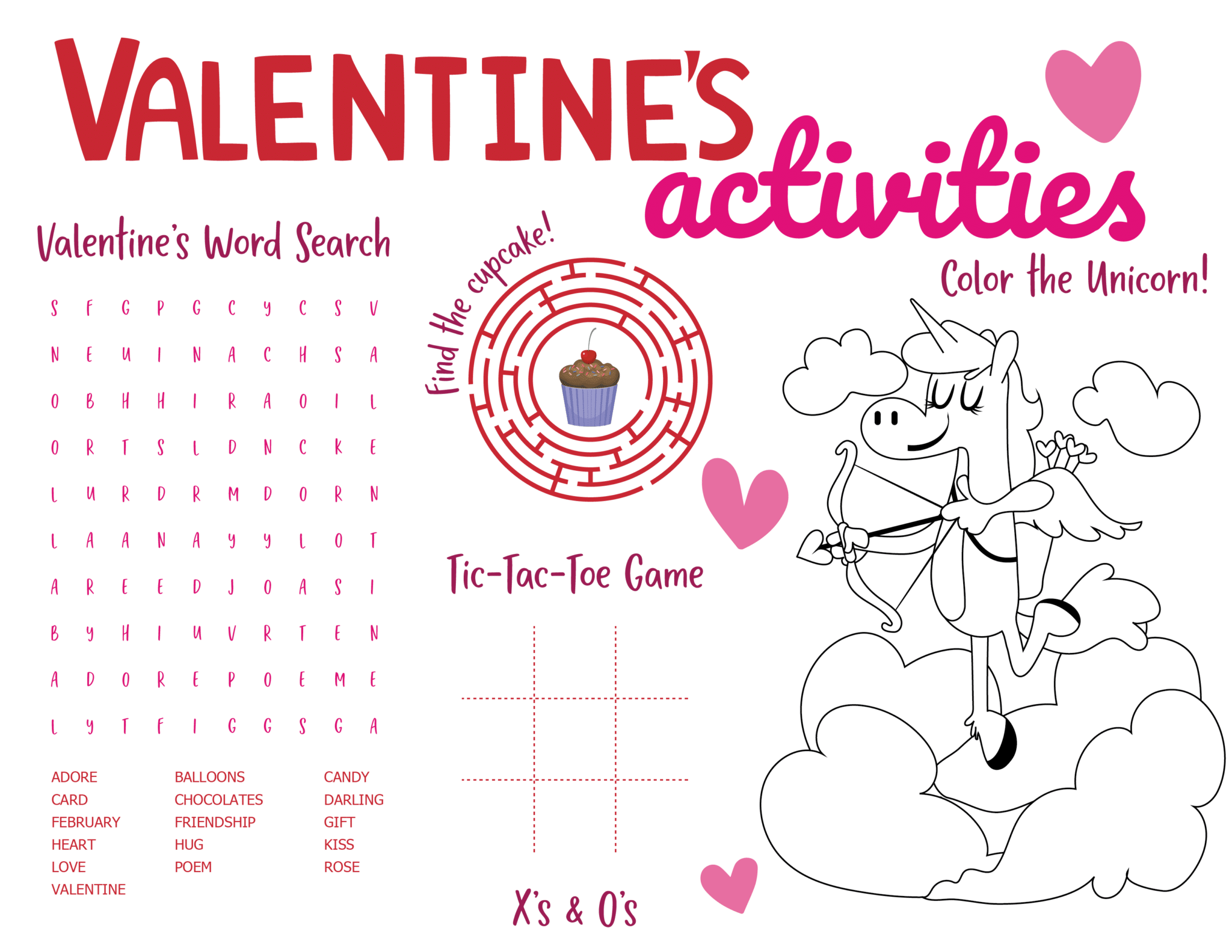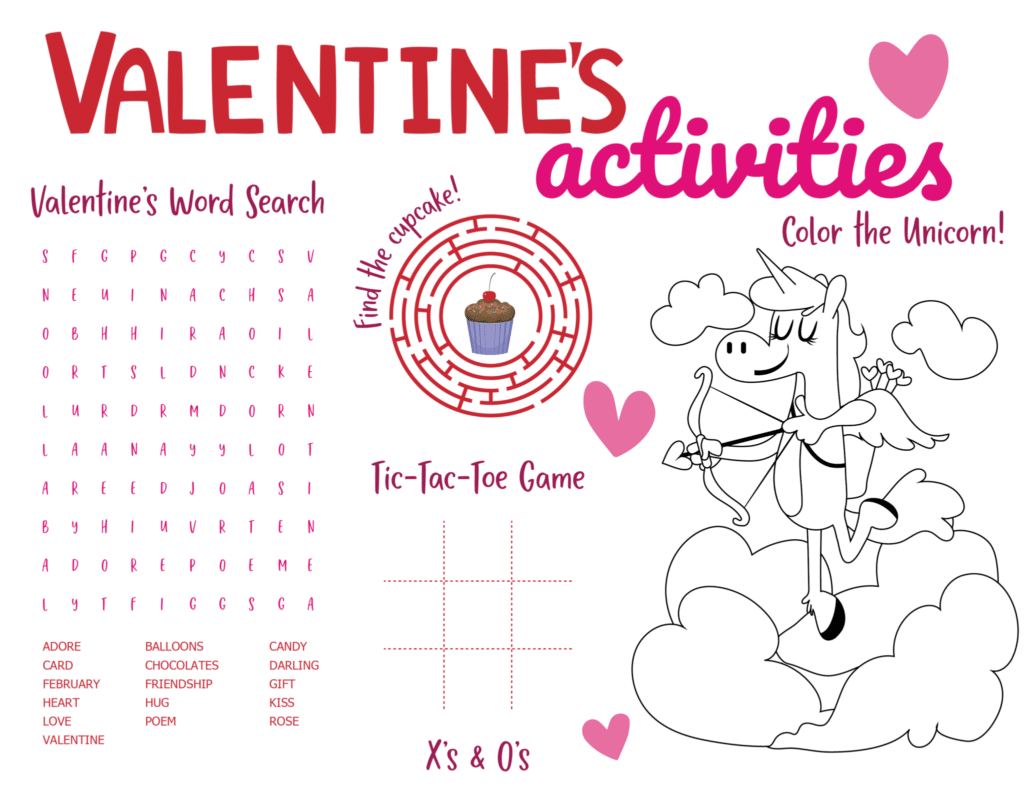 Print this fun activity worksheet!
Valentine's Word Search in this Valentine's Day worksheet packet
How fun is this Valentine's Word Search? Look for the words that pair with Valentine's Day! It's a lot of fun to do word searches, especially when they are themed. Kids are going to love finding words like "February" and "rose." Let your kiddo try and find all the words before you help them!
Find the Cupcake
Another fun part of this FREE Valentine's Worksheet Printables To Use [Activity Worksheet + iSpy] is the Find the Cupcake game. Getting to the cupcake is going to be a challenge, but the victory will be sweet. Anyone who does this Worksheet is going to love this part of the challenge.
Tic-Tac-Toe Game
Yes, Tic-Tac-Toe is still alive and well! You'll find it in this worksheet package that you can download for free. It's been years since I've done a game with the boys, but you better believe we will be doing this one. I love that tic-tac-toe is such a timeless game.
Color the Unicorn
Don't forget about Coloring the Unicorn. A very relaxing activity that will help you and your kids celebrate Valentine's Day. Print it out and enjoy this fun coloring activity, included in this free Valentine's Worksheet printable pack.
If you need more Valentine's Printables, be sure to grab a free copy of Bookmark Printable for Kids Valentine's. We also have a roundup of Free Valentine's Day Printables to check out and use on February 14th!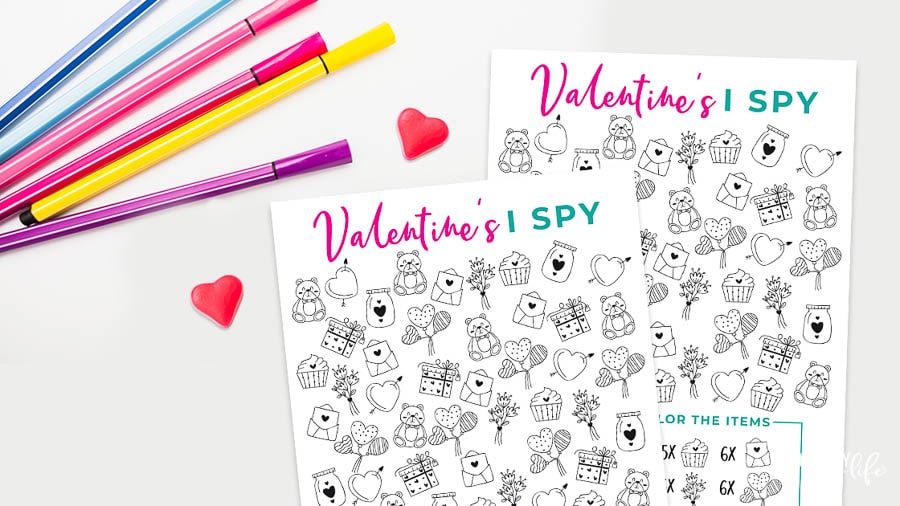 Valentine's iSpy Printable
Not done celebrating Valentine's Day quite yet? This Valentine's I Spy printable is so fun. This would be a great printable to take with you on various road trips or to the doctor's office to keep the kiddos occupied. You can even do it at home on family game night. I Spy has always been a family favorite, now it can be in the #1 spot thanks to this printable! This Valentine's day worksheet is a keeper.
With this Valentine's I Spy printable, you have a goal to find the items listed below. It's nice because you can do this game anywhere, the items are listed right on the sheet. What a fun way to help celebrate this holiday of fun.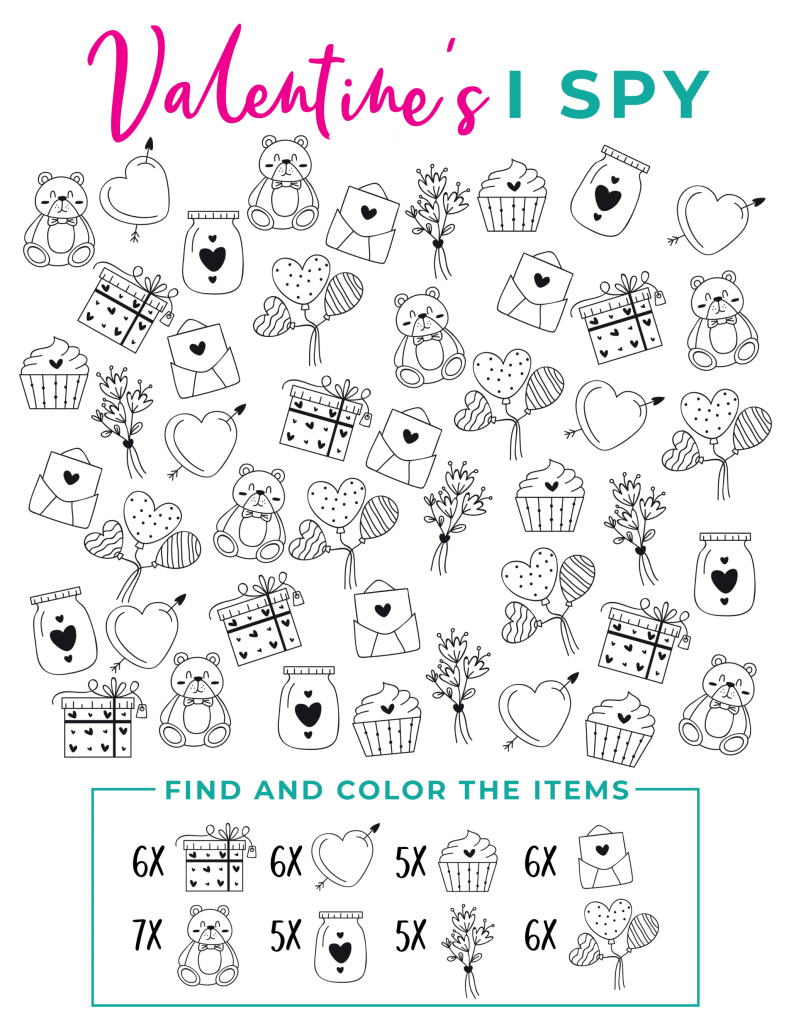 Print your free copy of this iSpy Printable!
Which part of this Valentine's Day printable pack is your favorite? I'd love to hear all about it! Print out these FREE Valentine's Day Worksheet Printables To Use and share it with a friend.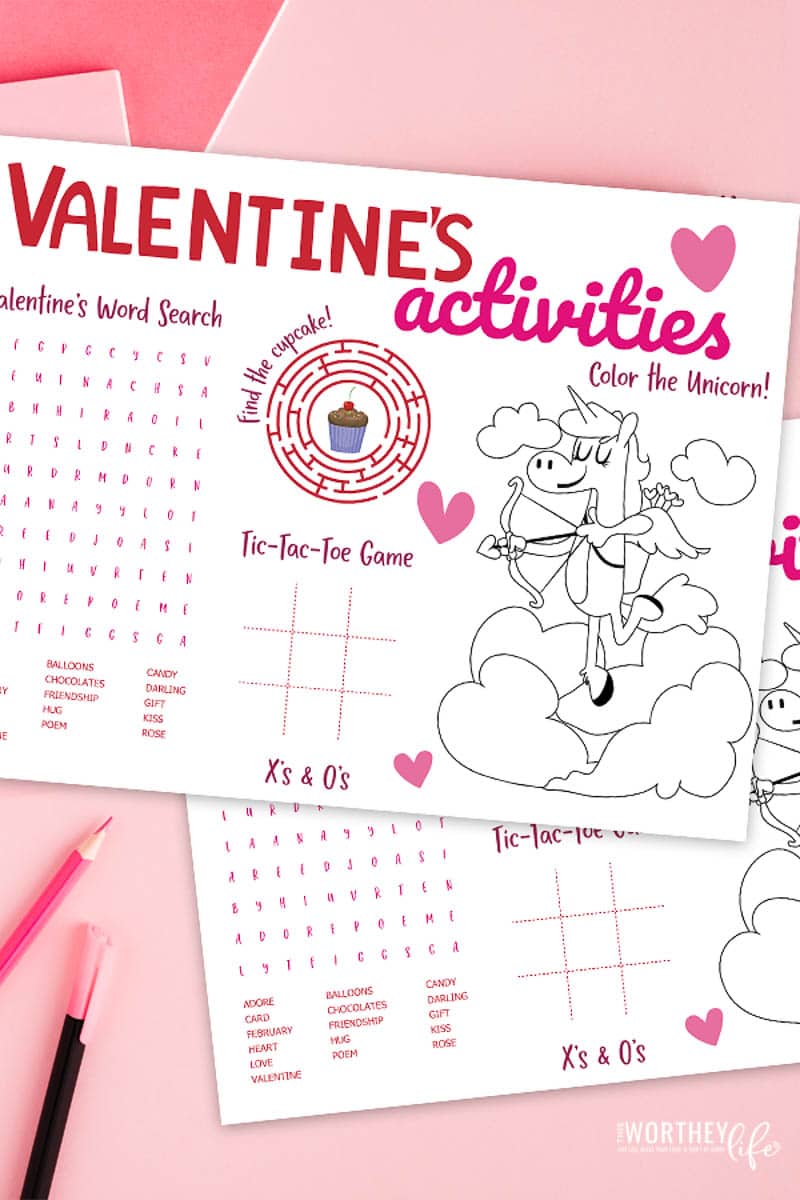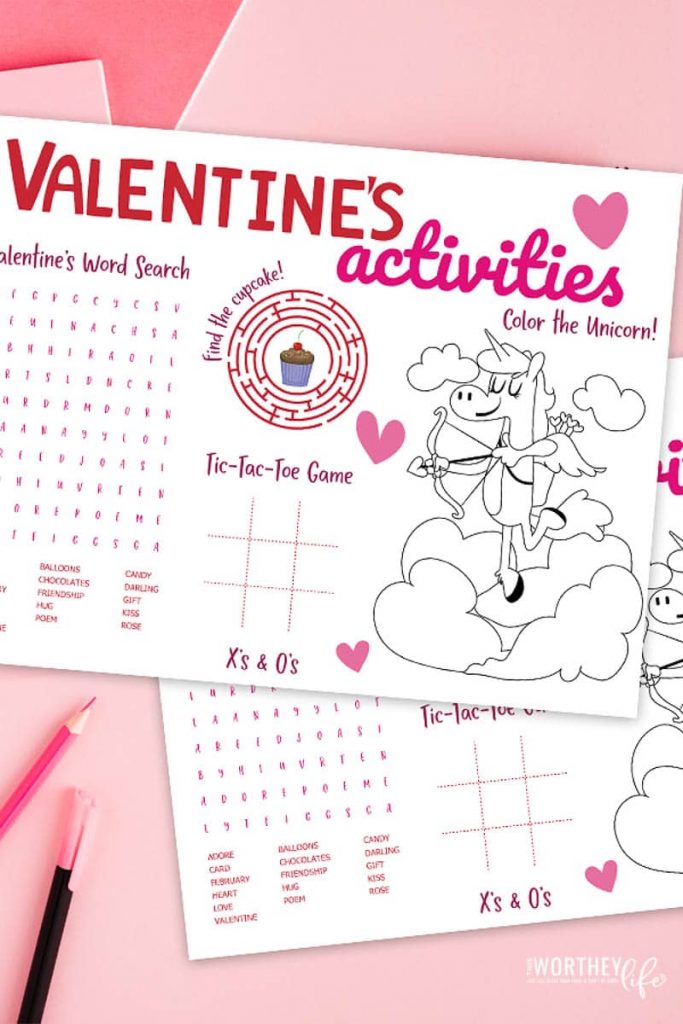 If you need more suggestions on putting Valentine's Day together, here are some treat + decor ideas:
20 Valentine's Day Treats For Kids
Adorable Tic Tac Toe Valentine Printable Game
Valentine's Day Gift Ideas for Teen Boys