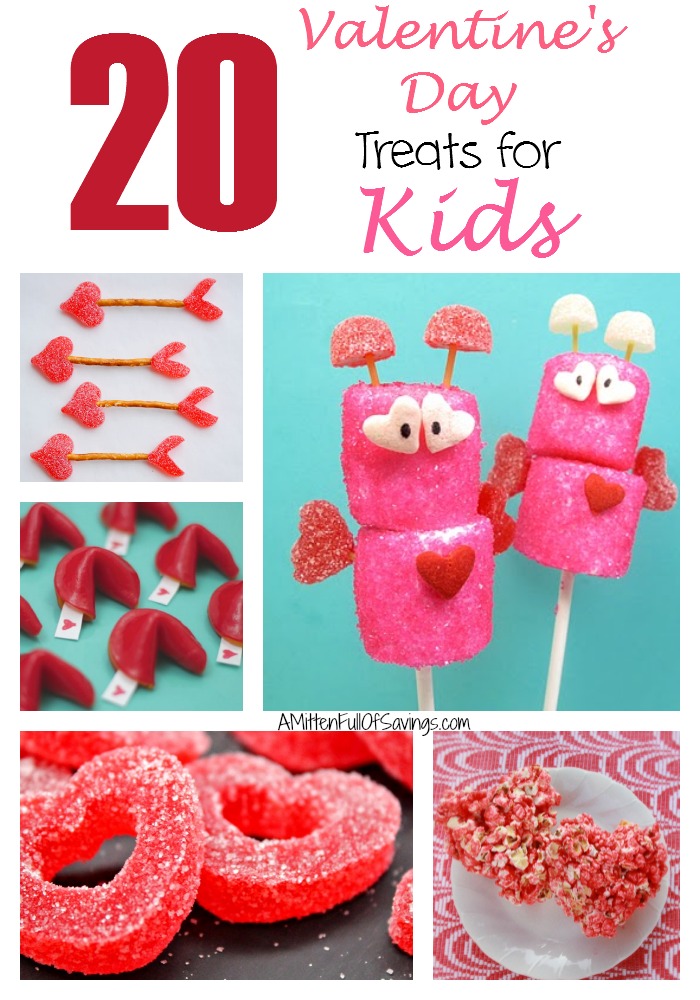 I used to love the Valentine's Day parties we had at school when I was a kid. Of course there was the hope that my kid crush would send me a valentine, but I also enjoyed all the pink, red and white goodies, too. Just like St. Patrick's day and green goodies, it seemed like the moms of the kids in my class worked their magic to turn everything shades of pink. If you have been asked to create a Valentine's day treat to share with your child's class or you are simply wanting to make something for your own kids, here are 20 Valentine's Day Treats for Kids.
20 Valentine's Day Treats for Kids
Strawberry Chocolate Chip Cookies by Sally's Baking Addiction
Gumdrops (Heart Shaped) by A Mitten Full of Savings
Valentine's Fruit Wands by A Few Shortcuts
Sugar Free Heart Shaped Popcorn Balls by Saved By Grace
Fruit Roll-Up Fortune Cookies by She Knows
Easy Cupid's Arrow Pretzels by One Little Project at a Time
Valentine's Day Oreo Pops by Makoodle
Valentine Snack Mix by Cutting Tiny Bites
Valentine's Day Marshmallow Pops by Mommy GAGA
Easy Heart Shaped Lollipops by Bitz n' Giggles
Easy Valentine's Day Cookies by Family Fresh Meals
Red Velvet Whoopie Pies by Annie's Eats
Marshmallow Love Bugs by The Decorated Cookie
Hidden Heart Cupcakes (How-to) by Made with Love by Me
Heart Gummies by No Time for Flash Cards
Conversation Heart Krispie Bark by Lemon Tree Dwelling
Cinnamon Red Heart Popcorn by Juggling Act Mama
Conversation Heart-Filled Cupcakes by She Knows
Valentine's Day Muddy Buddies by The Rebel Chick
Jello Cookie Hearts by Saved By Grace
What is your favorite thing to make for your kids on Valentine's day? Do you plan out a special dinner or breakfast? Do you give your kids valentines on the holiday? Let me know what you do to make the day special in the comments!