Get ready for Valentine's Day with this free you rock my socks printable + craft idea. Give a pair of Valentine's Day socks to a loved one, letting them know how much you love them! You Rock My Socks FREE Valentine's Day Printable is an easy craft idea to try today!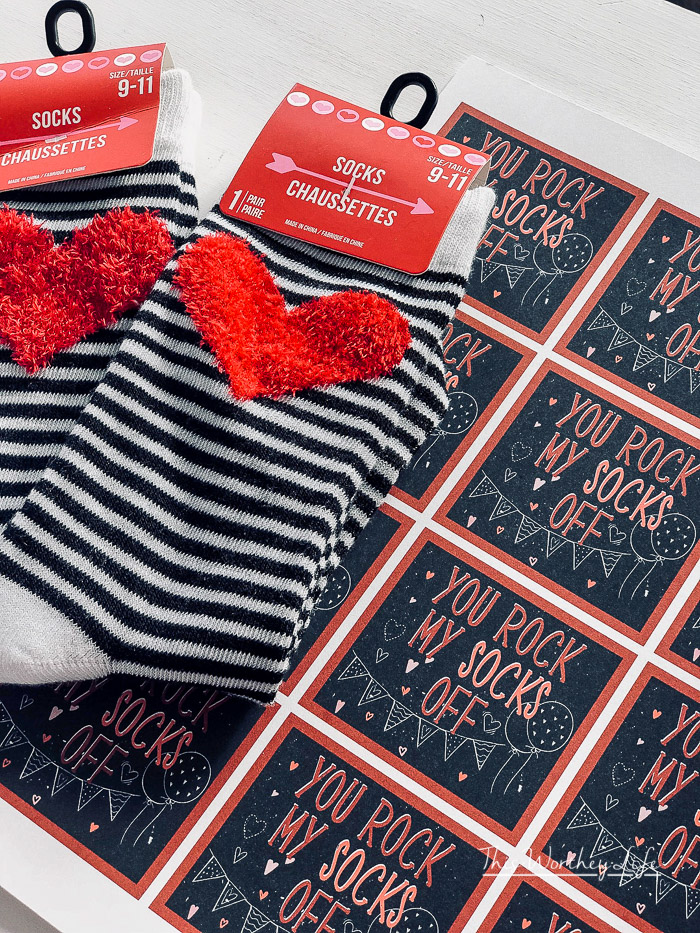 Valentine's Day is just around the corner! We're getting ready with love signs and this you rock my socks printable! The cool thing about this free Valentine's Day printable idea is that it's SUPER easy to do! Y'all know me, I live for easy DIY and craft ideas. Plus, you can pick up these supplies at a dollar store or the dollar spot at Target. But can we pause for a moment and talk about the dollar spot at Target? Target knew they were wrong for putting the dollar spot at the ENTRANCE. So, even if you want to avoid this area, you have no choice but to walk past it and do your best not to stop.
But it's hard to overlook the dollar spot, am I right?!
Anyhoo, here's how you can put together a simple Valentine's Day craft idea + printable.
More free Valentine's Day printables:
Adorable Tic Tac Toe Valentine Printable Game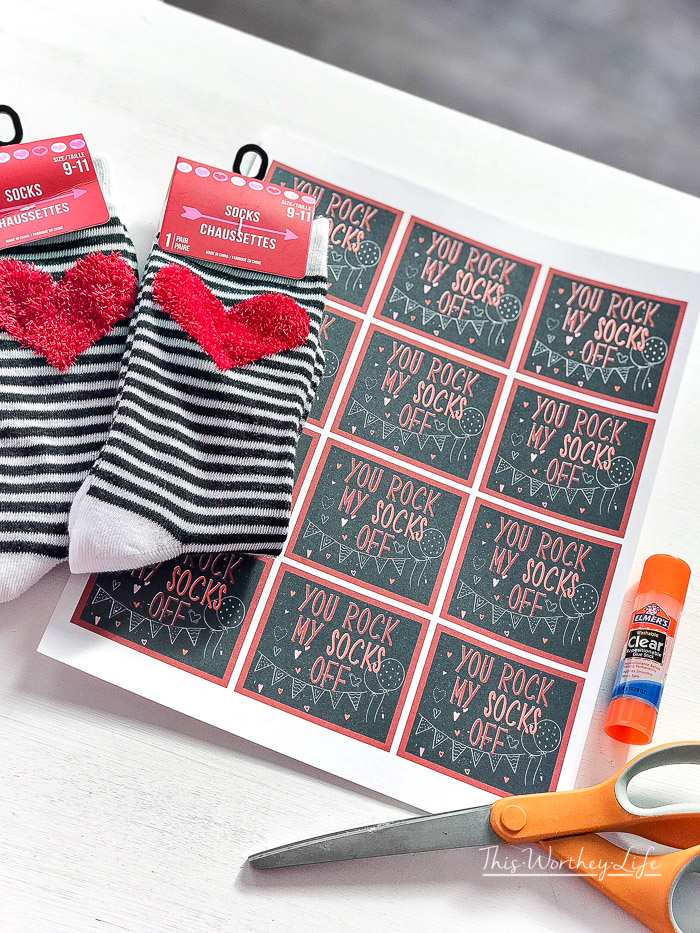 Supplies:
Valentine's Socks from the dollar store/dollar spot
Cardstock
Scissors
Glue Stick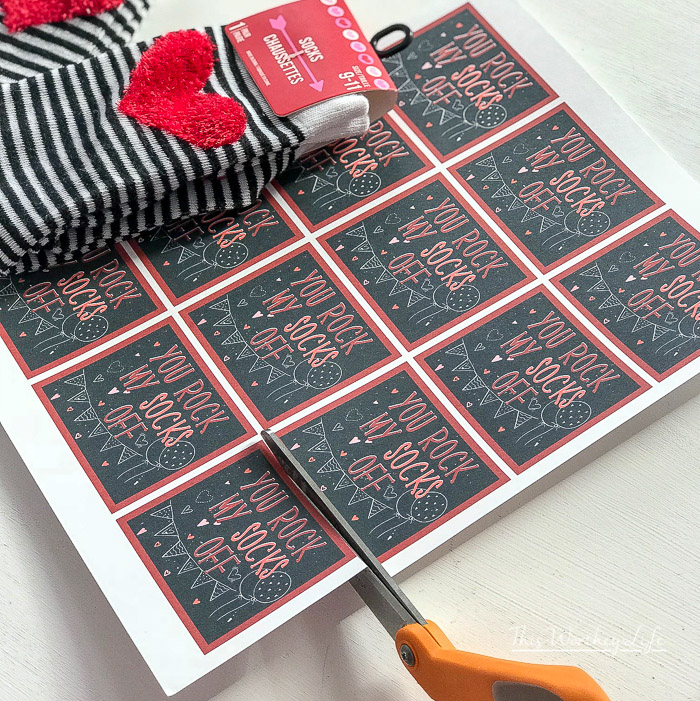 Directions:
First, print out the FREE You Rock My Sock's Printable PDF file.
Then cut the files (there are twelve on a cardstock piece of paper)
Apply a small dab of glue on the back of each piece of cardstock and apply it to the packaging of the socks.
Now, give this small gesture of love to the one you love. You can also put it in a gift basket to give to your neighbor, leave it at the breakfast table for the kids, etc.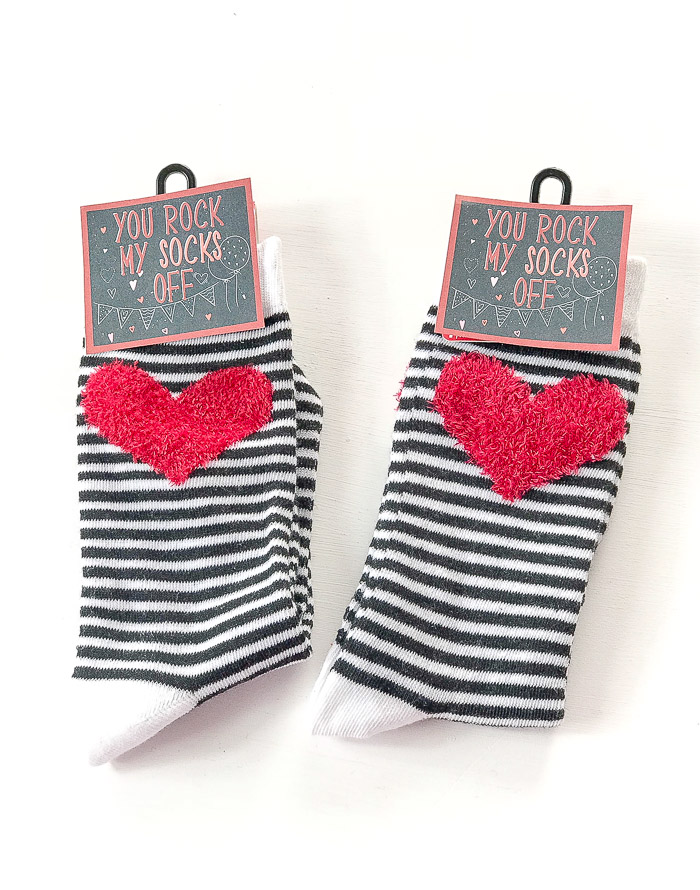 You can get this free Valentine's Day printable down below: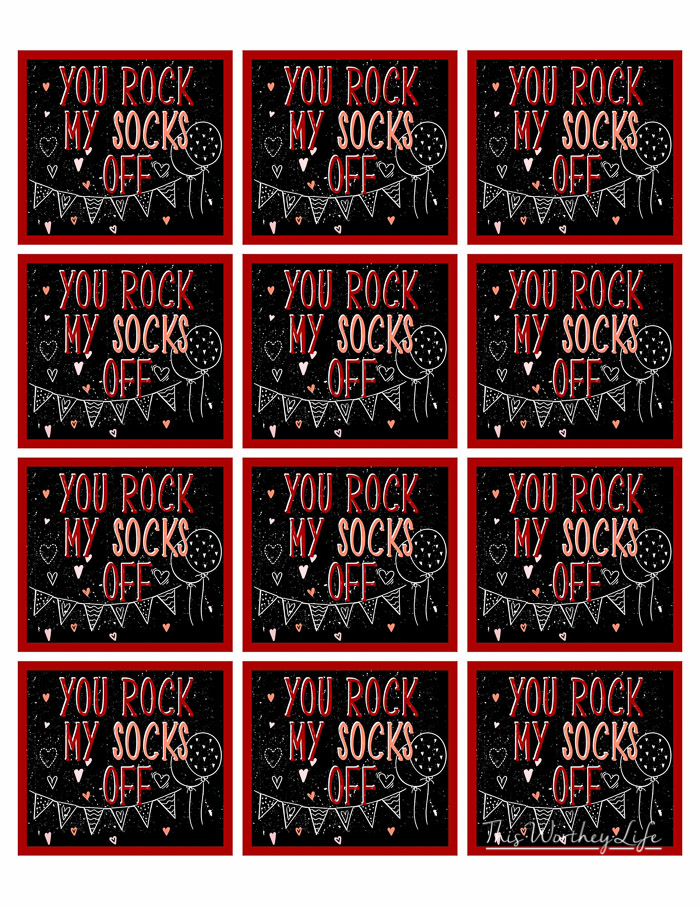 You ROCK my SOCKS free printable
Find more Valentine's Day ideas below:
Valentine's Candy Punch Cocktail
Be Mine Mocktail Valentine's Drink
Piece of My Heart Valentine's Day Craft
20 Kid's Valentine's Day Treats
Easy Jell-O Hearts Recipe {great for valentine's day}
Be Mine Valentine's Moscow Mule
Valentine Table Decor Idea & Owl Be Your Valentine