Get ready for Super Bowl Sunday by having a little fun. Use our free Super Bowl Bingo printable to have an interactive way to watch the big game, especially if you're only watching the game for the commercials.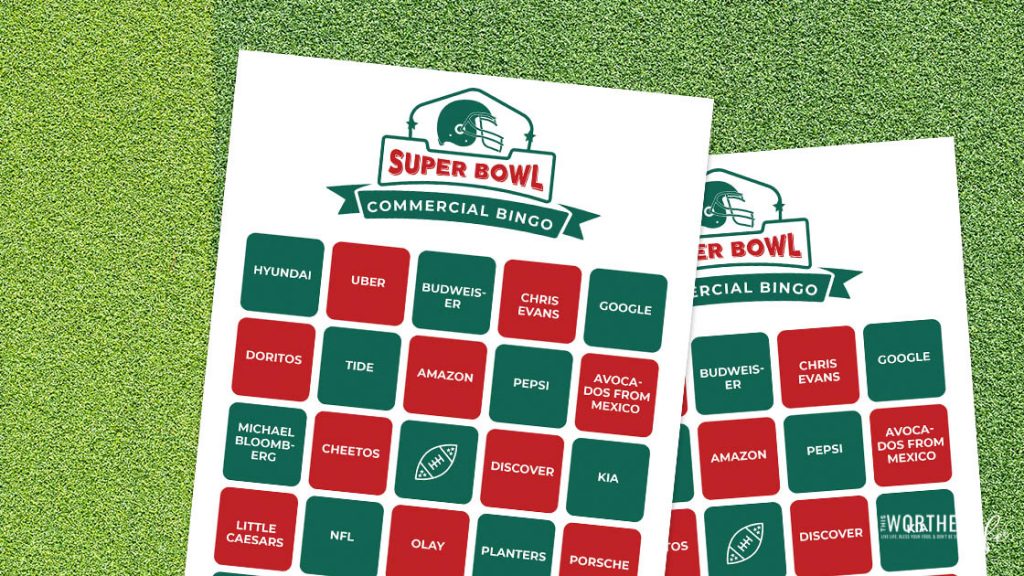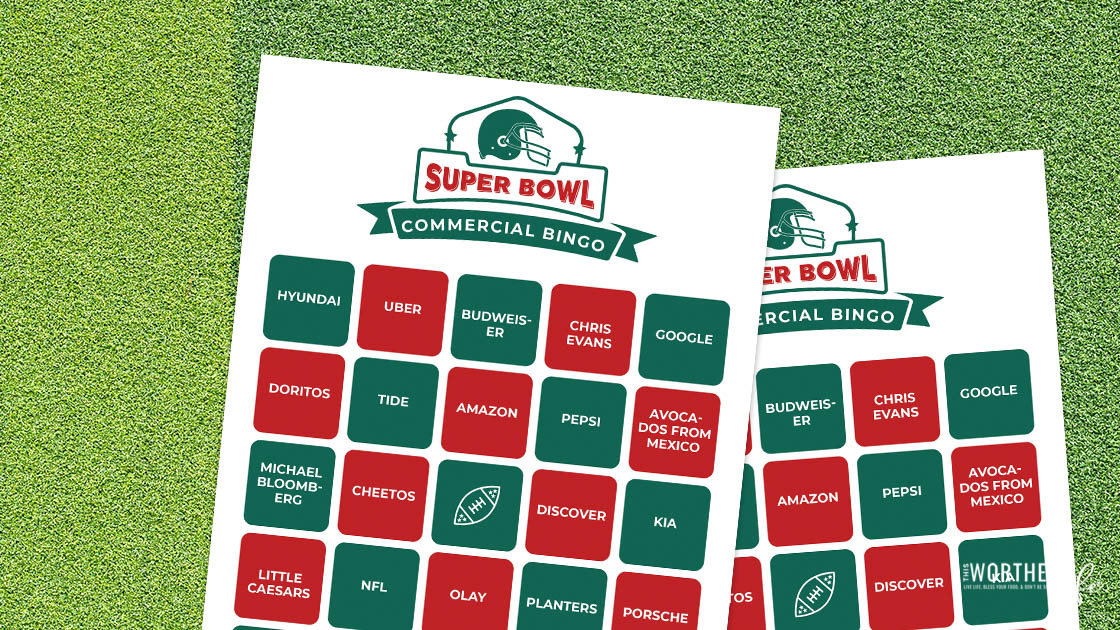 Super Bowl Bingo Printable For Commercials
The Super Bowl is on Sunday, and the only things I care about is the food and hilarious, but also heartfelt commercials. Regardless of who is playing in the Super Bowl, our family loves to watch the commercials and half-time show. This half-show is a hit or miss when it comes to who does it best, but every year we find a commercial we love.
If you love the Super Bowl for the commercials as well, then you'll want to print off your free copy of this commercial bingo game. This is a fun way to get the family involved in the Super Bowl (especially if they are not big on watching the game).
Every year we're sure to see some of the same brands, such as Doritos, Budweiser, Amazon, Google, and car companies, such as Kia and Hyundai. I've already seen the Hyundai commercial with Chris Evans, and I love it. I am not going to share how many times I've watched the Hyundai "smaht pahk" commercial. If you haven't seen it yet, watch it or wait and see it on Sunday!
I also see the Property Brothers are going to be in a commercial, and I'm a huge fan of their popular HGTV show(s).
Free Super Bowl Printable Bingo Game
This bingo printable set has the brands and celebrities expected to make a commercial appearance during the Super Bowl. And since this is an election year, you're bound to see politic ads. I included one 2020 contender who is bound to run some super bowl ads, so that will be an easy box to check off.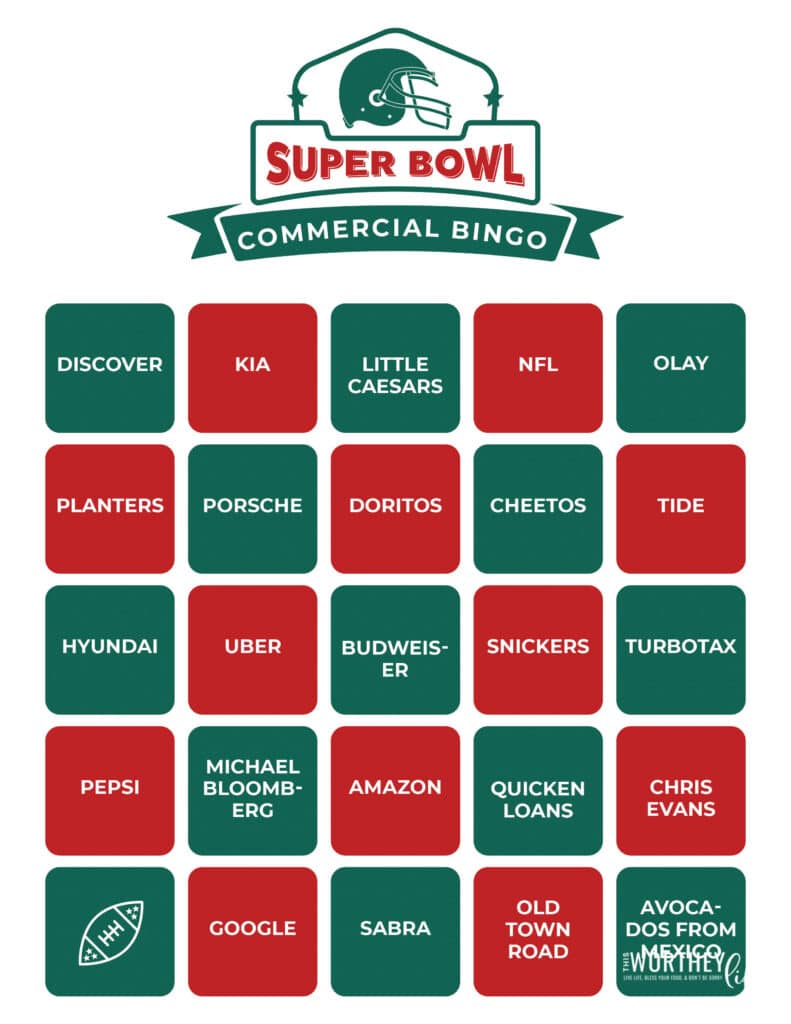 *Note- the printable set will not have a watermark on it when you print it.
The only other thing you need is markers/pens to check off the boxes as you go along and prizes. The prize can be bragging rights, or you can pick up a few small prizes from the store. To make it easier, give a gift card, like an Amazon digital gift card.
As you sit down and watch the Super Bowl, have your bingo printable handy, so you can check off the boxes as the commercials play. Once you have (5) in a row ( vertical, horizontal, or diagonal), announce you have a bingo! In the middle of the board is a freebie. Have a few prizes on hand just in case you have more than one bingo at the same time.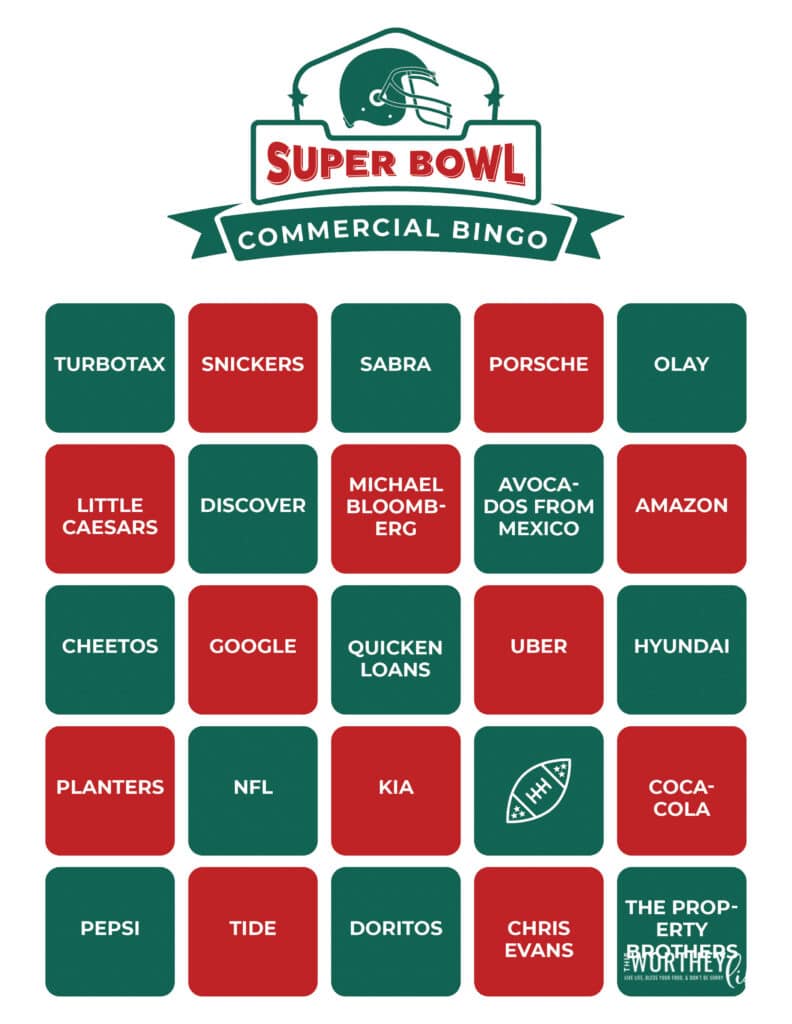 Here are a few tips on having a successful bingo:
You may see celebrities (and branded items) shown on-screen during the game or half-time show, that does not count. The celebrity and/or brand has to be shown in the actual commercial. Also, in a few commercials, like the Hyundai commercial, you will see Chris Evans and Hyundai, which makes you can check off both of those boxes if you bingo printable has both.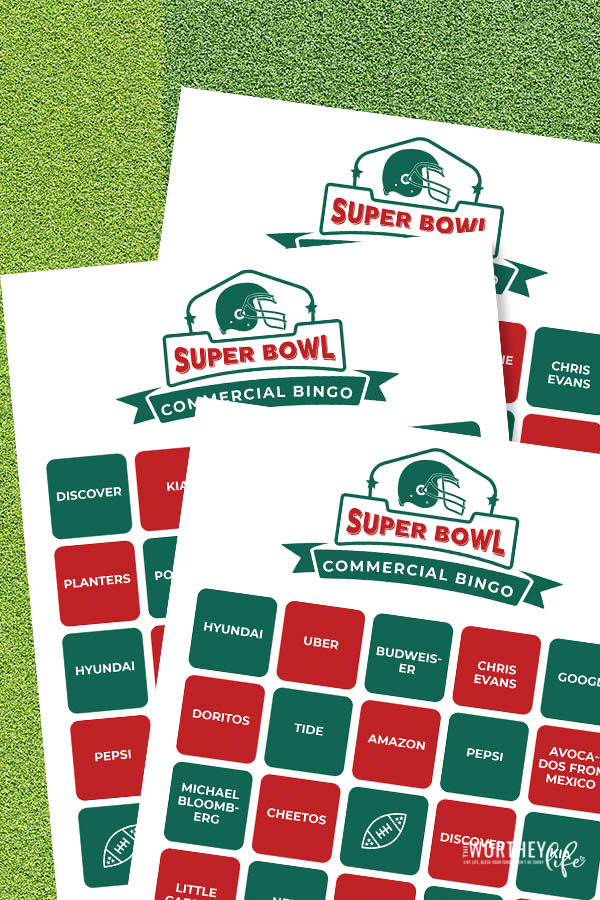 Be sure to grab our other free Super Bowl Printable for score predictions!
Need some food ideas for the big game? Putting together a chicken wing grazing board is the way to go, or make your chicken wings in the Instant Pot to save time! You can also check out our big list of game day food ideas gathered from all over the internet!