We're sharing how we put together our green + gold Thanksgiving Table Setting for this year's 2023 Thanksgiving holiday.
Get all the details on how to put together a Thanksgiving tablescape and a few tips on hosting Thanksgiving.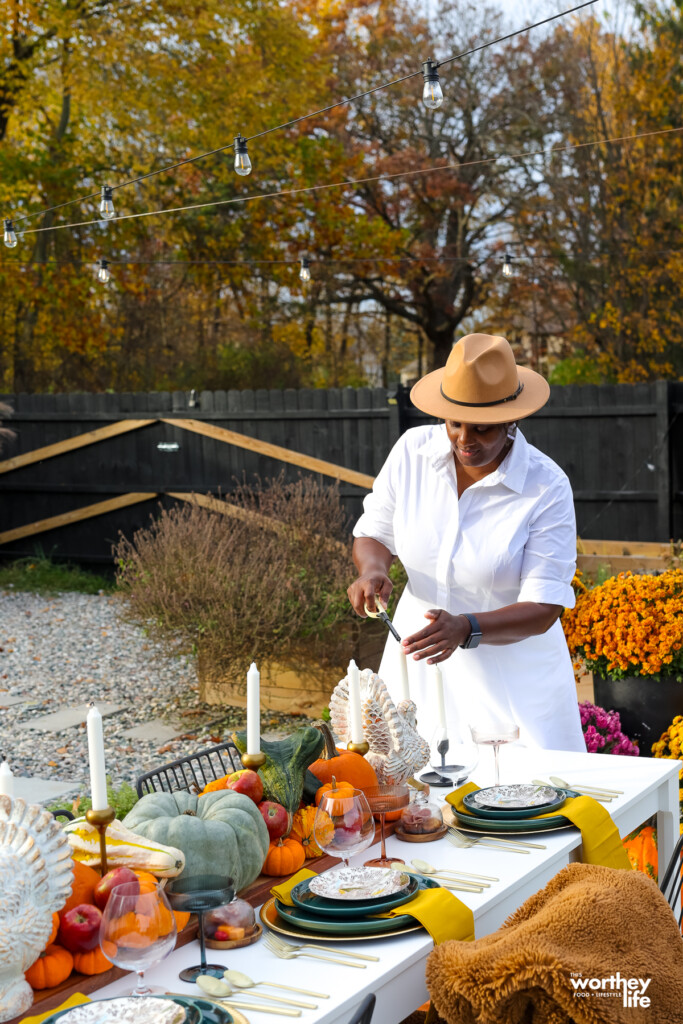 The 2023 Thanksgiving holiday season is just around the corner. And while you may be planning your Thanksgiving menu, don't forget about the table!
In my humble opinion, the table setting is as equally as important as the food. Around here, Derrick is in charge of 90% of the food, while my main task is to create a beautiful tablescape.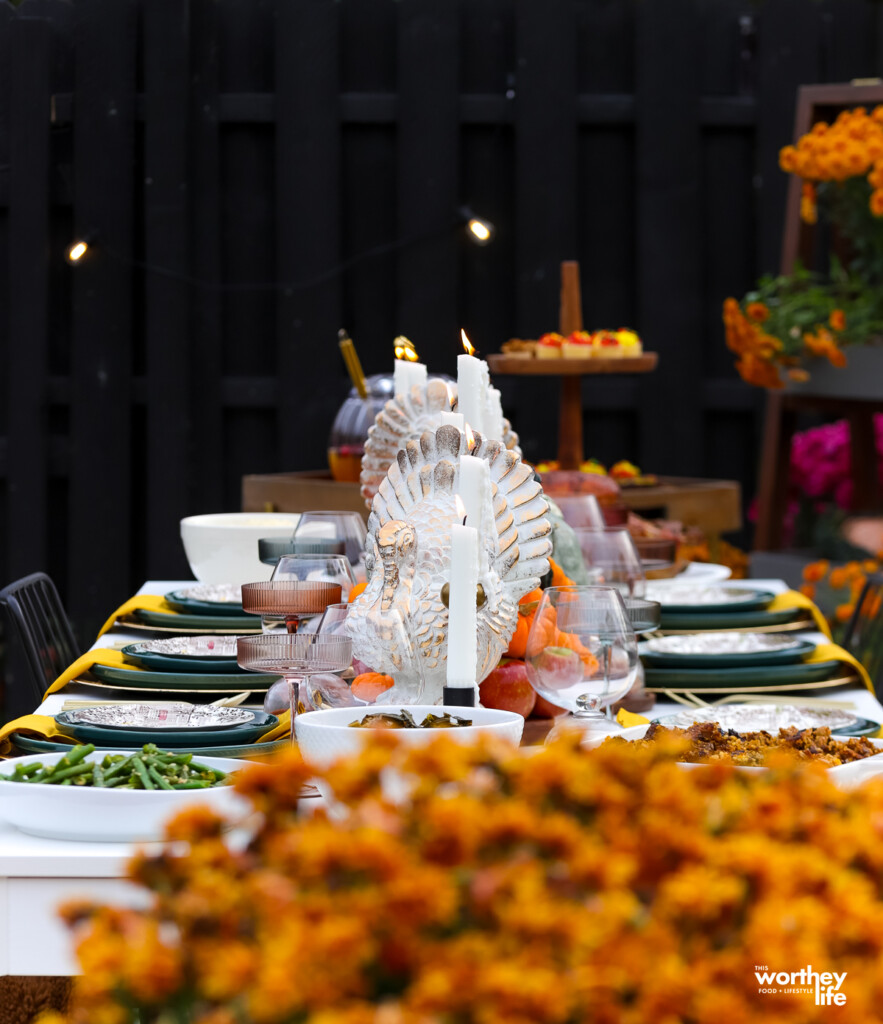 We live in the Midwest, so it's not likely we'll be able to have an outdoor Thanksgiving tablescape. However, if our weather temps keep holding on, just maybe?
Our Thanksgiving table setting will work indoors or outdoors. But know this: I am jealous of everyone who will have warm temps to have Thanksgiving outside this year.
Let's dig into all of the details!

How To Set A Thanksgiving Table
Before creating your tablescape, ask yourself this question- do you plan to include food on the table or have the food on another table/kitchen counter?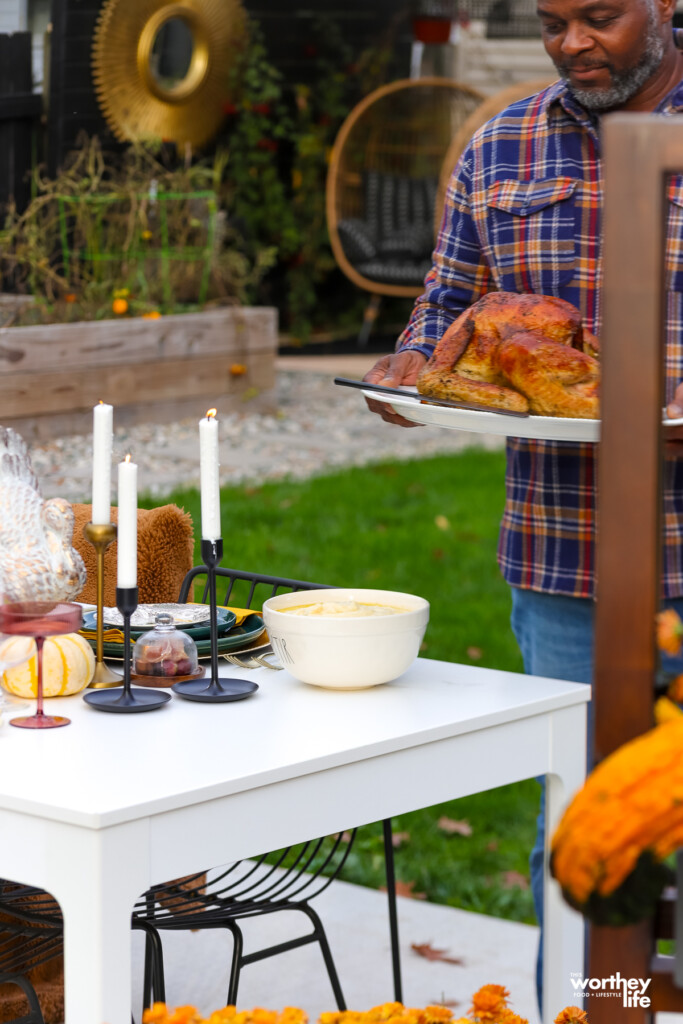 If you plan to place your food on the table, leave room in your table setting design for the food.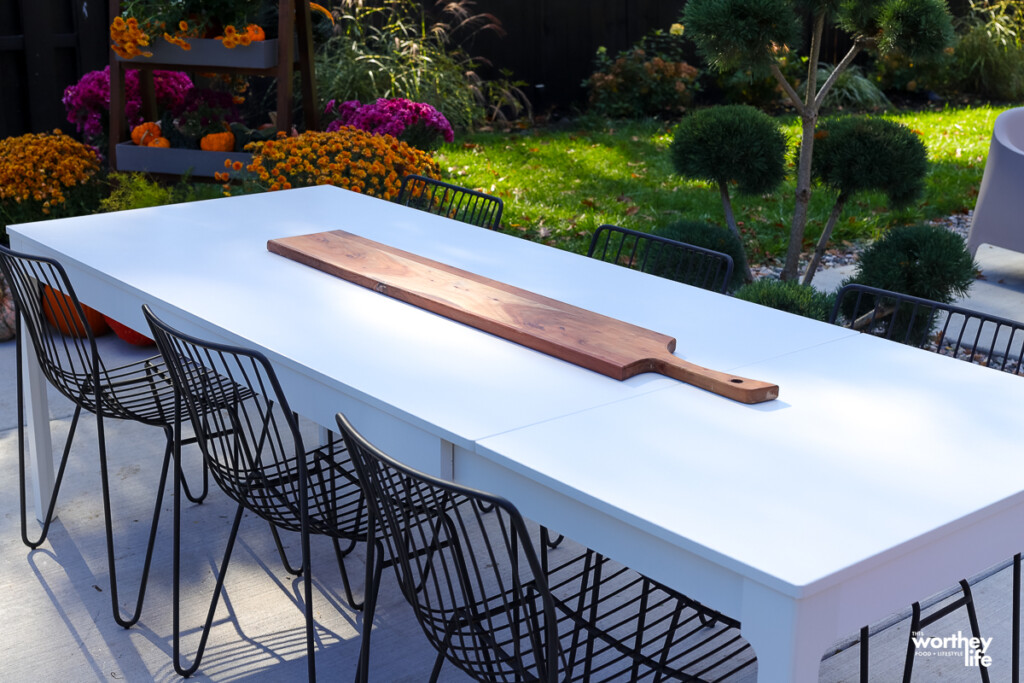 Step 1. We always start with a blank canvas. Clear and clean your table.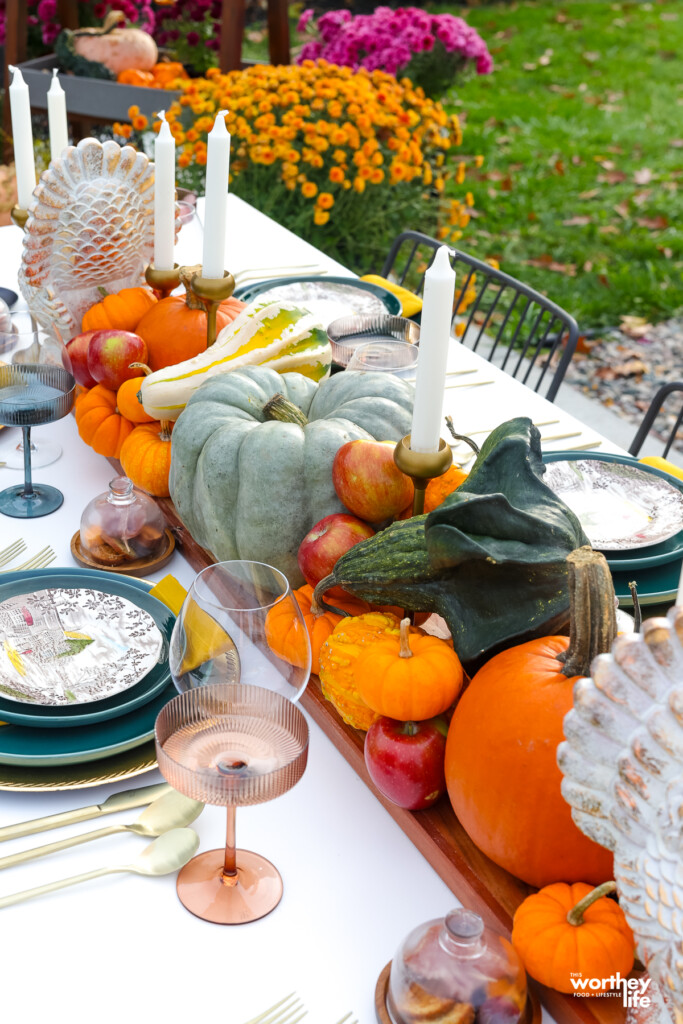 Step 2. For this idea, I started with the center of the table. Instead of using a long runner, I chose a long, narrow charcuterie board. (A long, narrow board will also work).
I am using an assortment of pumpkins and gourds to create this centerpiece. You can use fresh pumpkins and gourds or buy fake ones. It was cheaper to buy real pumpkins.
After we're finished with the pumpkins, we'll take them to a friend who will feed them to their chickens. See, it's a win-win situation!
Buy a variety of colors and sizes.
You will want to ensure the pumpkins and gourds stay on the board.
Place the bigger gourds and pumpkins on the board first, then fill it with the other sizes and varieties.
Before adding the final vegetables, I inserted gold candle holders throughout the centerpiece.
Add turkey statues to either end of the centerpiece. I also added additional candles, plus a few red apples for contrast.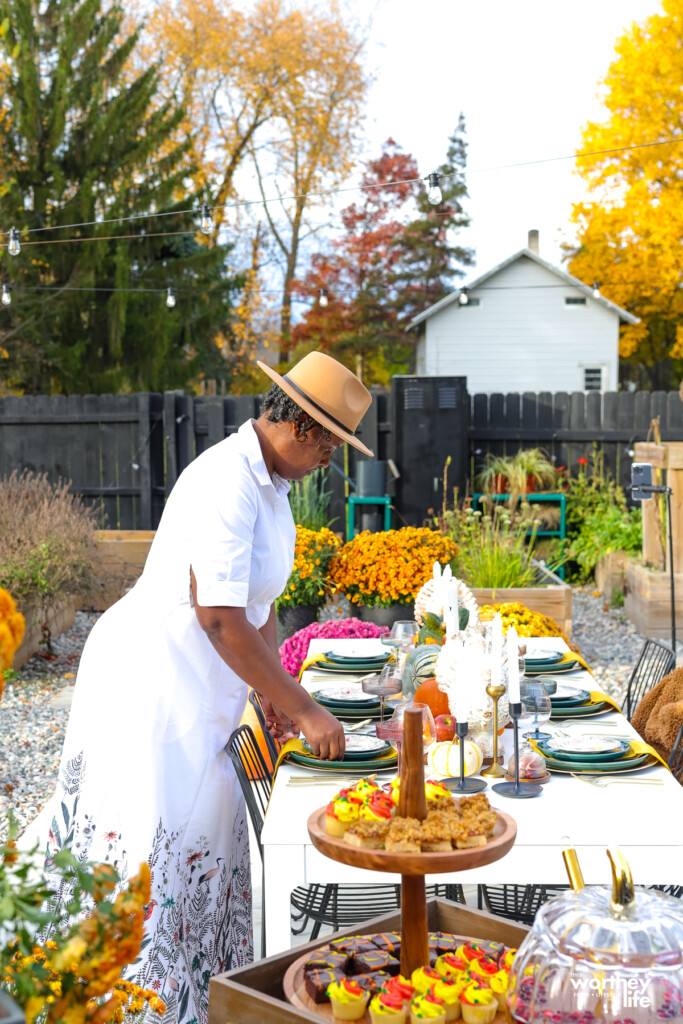 Step 3. Once the centerpiece is finished, let's set the table.
Start with the gold charger.
Then add the green dinner plate.
Next, add the gold cloth napkin.
Add the salad plate next.
I added small vintage plates from a thrift store for a vintage Thanksgiving feel.
Place your gold/brass flatware down. Forks go to the left of the plate. Knives and spoons are placed to the right of the plate [knife first, then spoons.]
Finally, add your glassware. For this idea, we're using wine goblets and a coupe glass.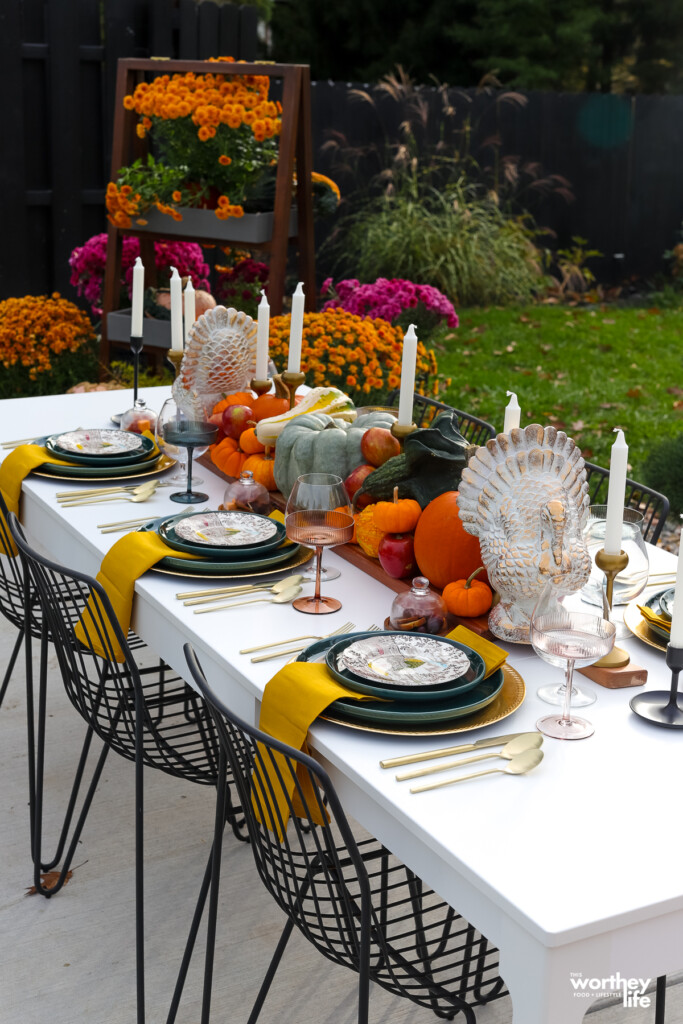 Step 4. Now, the table is set and ready to go. You could go the extra step and make place cards for each setting.
You could also make a printable with your Thanksgiving menu.
If you're hosting Thanksgiving this year, I recommend setting the table the night before the big day.
If you're unable to set your table the night before, plan to set the table right after you pop the turkey in the oven.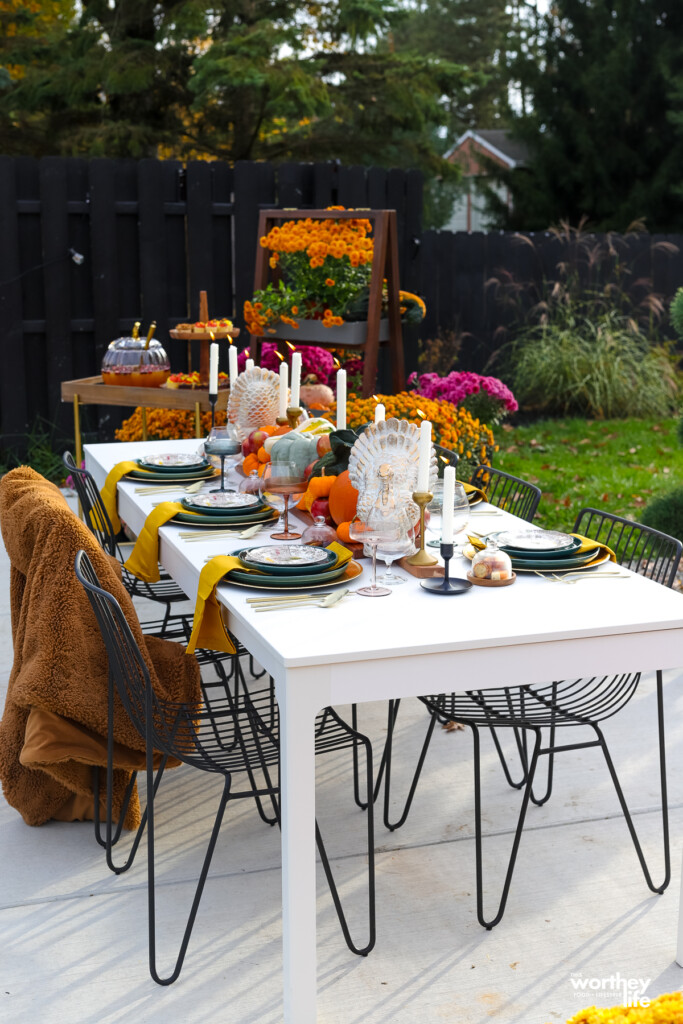 Now is a great time to plan and shop for your Thanksgiving tablescape.
I'm sharing a resource list of where I purchased everything if you want to recreate our Thanksgiving tablescape.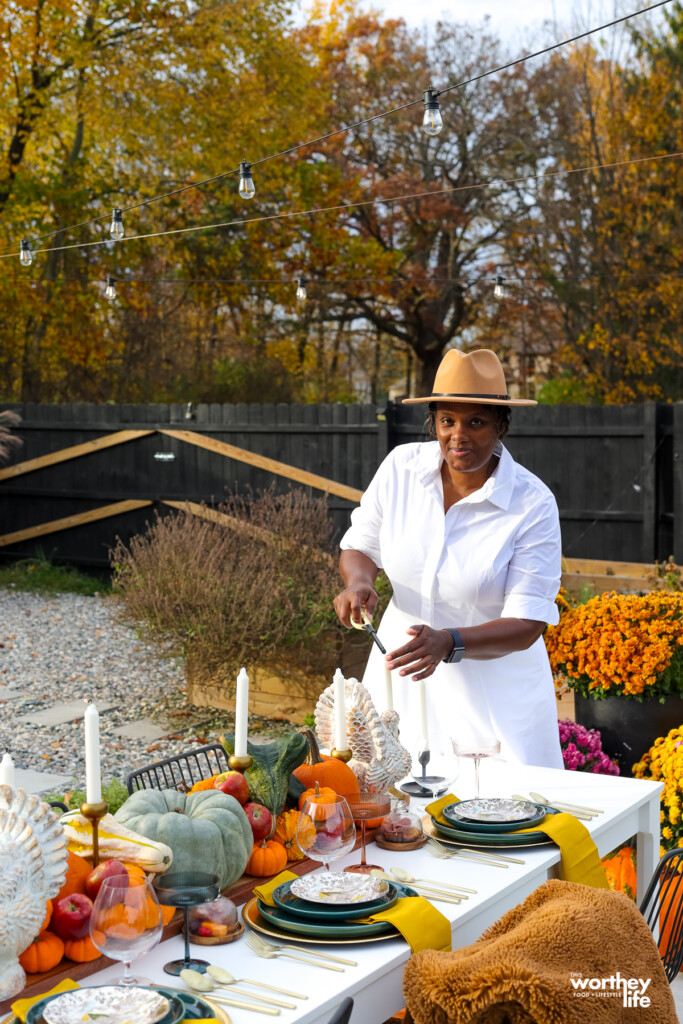 Here are a few other Thanksgiving and Friendsgiving tablescape ideas to check out:
Thanksgiving Simple Table Decor
Fall Tablescape With A Pumpkin Centerpiece
Gold+ Orange Thanksgiving Tablescape

Resource List:

Additional Thanksgiving Hosting Tips:
Make mini charcuterie cups or cloches with small bites your guests can munch on while waiting for the food. [ Glass Domes featured on our table]
Our pumpkin-shaped punch bowl is from Williams-Sonoma. Make a holiday punch everyone can enjoy. [ This is sold out, but a similar pumpkin-shaped punch bowl is here.]
Store-bought fall-themed cupcakes are an easy dessert idea. Or order sweets and desserts from a local bakery. If you want to make a homemade dessert, try our Cranberry + Apple Galette with Puff Pastry.
If kids will be at the Thanksgiving, keep them occupied by printing these free Thanksgiving Kid printables.
Keep the conversation going at the dinner table using our free conversation starters.

Simple Thanksgiving Menu:
If this is your first time cooking and hosting Thanksgiving, here are some simple and basic Thanksgiving recipes to try.
How do you plan to set your table for Thanksgiving?
If our tablescape inspired you, be sure to take a photo and tag us on social media @thiswortheylife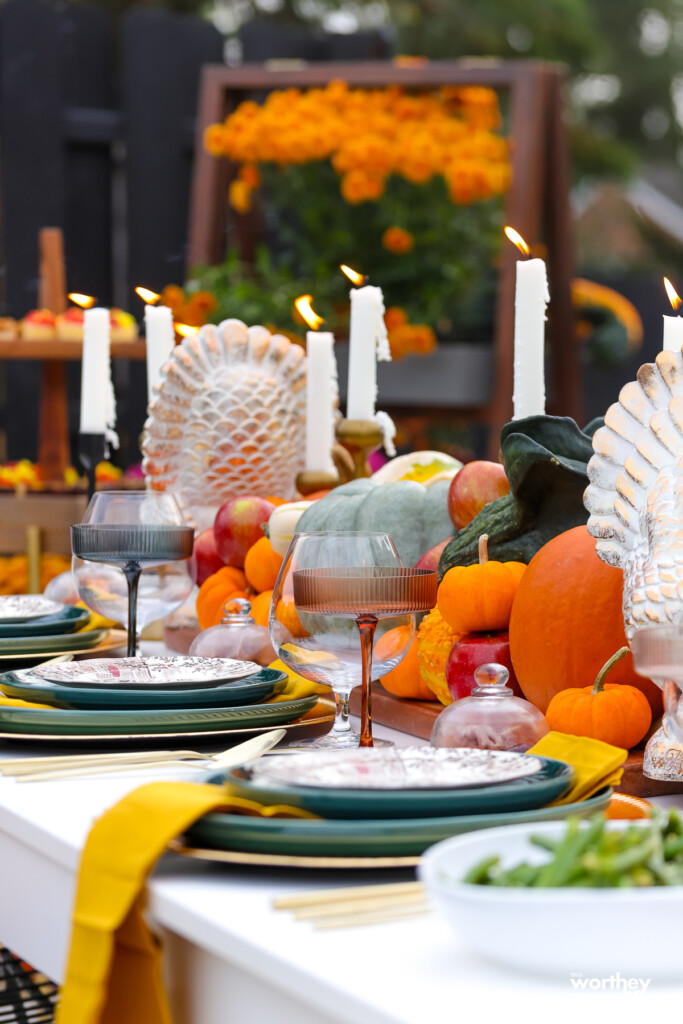 This post may contain affiliate links, which means I may receive a commission if you make a purchase using these links.
As an Amazon Associate, I earn from qualifying purchases.