Don't let the stress of moving the Elf on the Shelf each night get the best of ya! Here are 5 cocktails using the kid's juice you can make after you move the Elf on the Shelf. Don't have an Elf or kids, no worries these cocktails ideas are easy to make using what you have in the fridge because life alone gives you plenty of reasons to turn up and relax. Happy Holidays and cheers!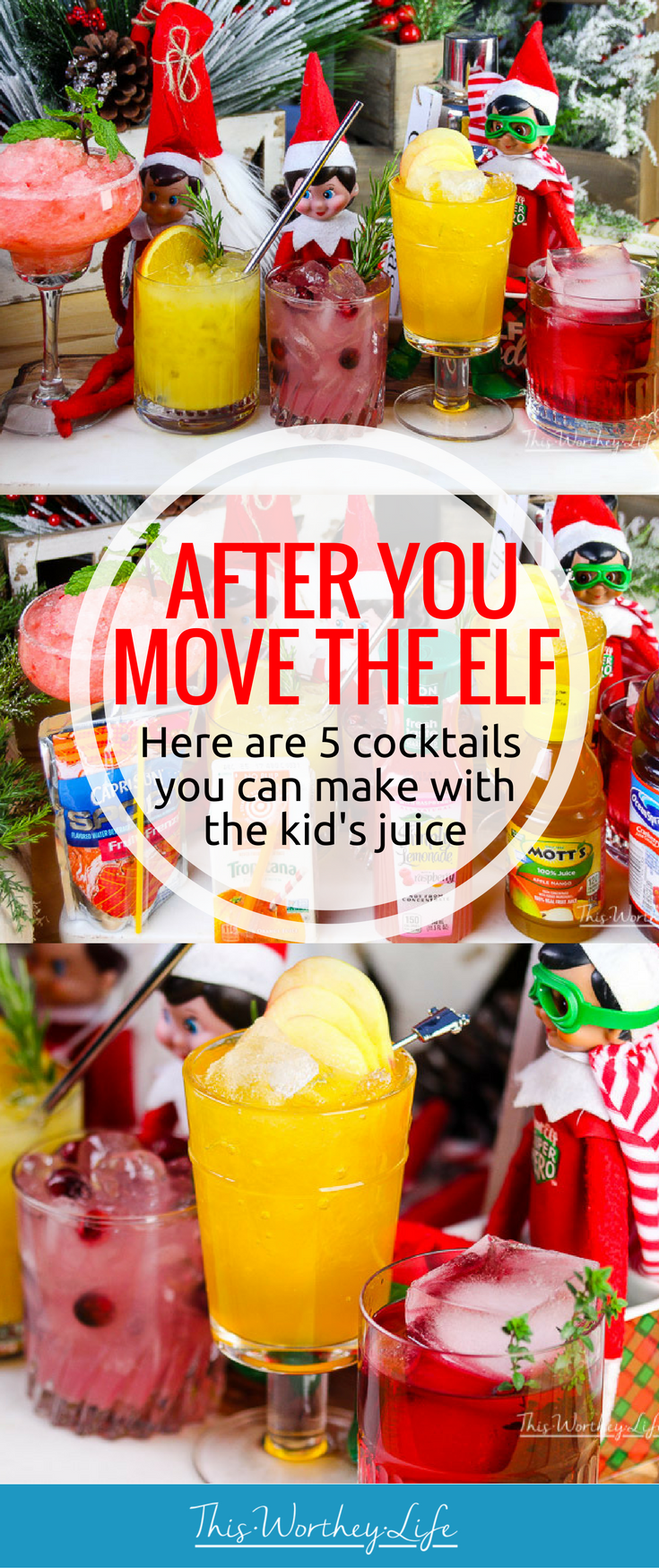 After You Move The Elf on the Shelf, Here are 5 Cocktails using the Kid's Juice
Oh, it's that time of year. The holidays are here, along with the Elf on the Shelf season. If you're not familiar with Elf on the Shelf, we've covered it quite extensively here on the blog! It's something fun to do to bring a little magic to Christmas. Each year, it seems people like to up the ante and go all out on doing really creative Elf on the Shelf ideas. We've done a mixture of both. But to be quite honest, I have forgotten to move the Elf more times than I want to count. And, I've always had the best excuses on why the Elf on the Shelf didn't move.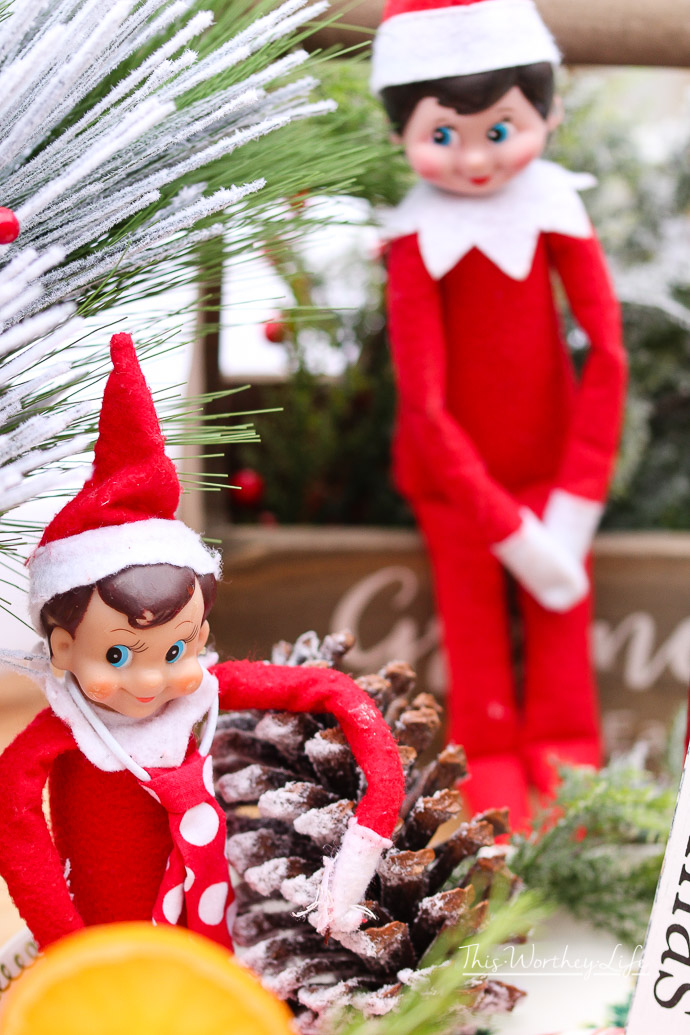 As we enter another Elf on the Shelf season, parents I don't want you to get all stressed and worked up about moving that little red stinker and thinking you have to go above and beyond. I like to keep our Elf ideas simple and straight to the point.
Derrick is here to help calm your stress and the worry of moving the Elf on the Shelf. After you've put the kids to bed, and you're figuring out where to put the Elf, here's a little something to spark your creativity and take the edge off. I've created 5 simple cocktails using items you have on hand. You have kids, so you juice boxes and juice pouches galore. Pull out a Capri Sun juice box, or a Mott's bottle of apple juice, the vodka, rum, tequila or alcohol of your choice and let the good times roll.
Here are 5 Cocktails To Make Using The Kid's Juice Boxes
*These cocktails can be turned into mocktails and kid-friendly drinks by just taking out the alcohol.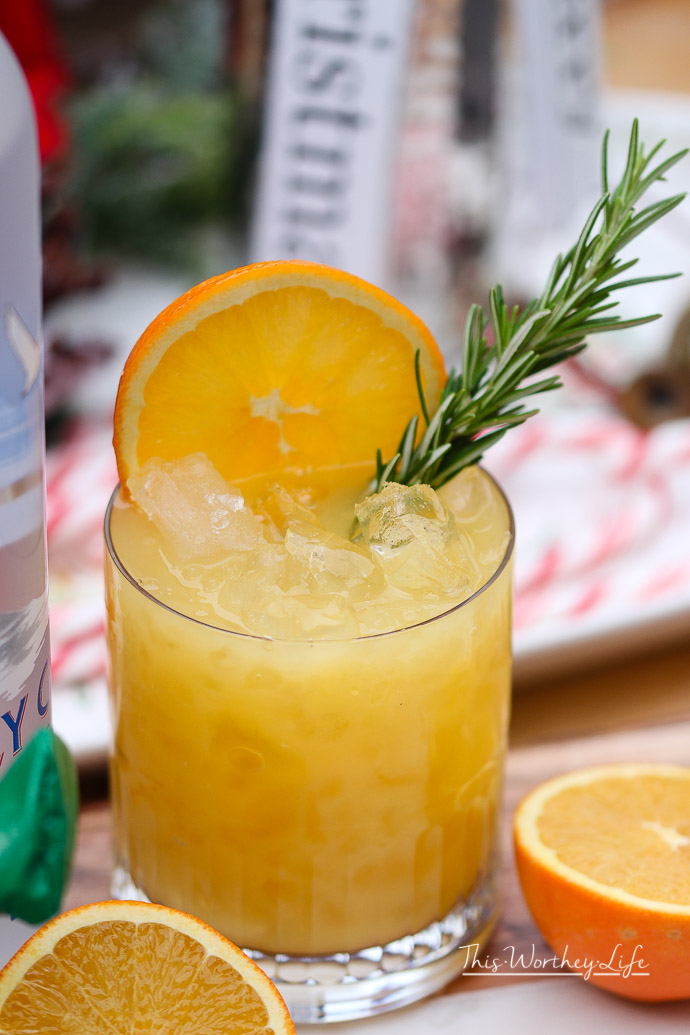 Who doesn't have orange juice on hand? O.J. in pretty much as ubiquitous as having milk, eggs, or cheese in the fridge but you don't want to make a cocktail using milk, eggs, and cheese. The same goes for honey, just about anyone has a honey bear hanging in the kitchen cabinet. This one is really easy to make just combine the orange juice, honey, and vodka into a cocktail shaker along with ice and shake things up a bit. No cocktail shaker no problemo grab a Mason jar fill it with the ingredients, screw on the top and shake, shake, shake and drink it straight from the jar. How's that for simplifying the whole cocktail thing? Enjoy.
Orange Juice & Honey Screwdriver
3 oz of orange juice
1 oz of Grey Goose
1 tbs clove honey
1 1/2 cup crushed ice
orange wheel for garnish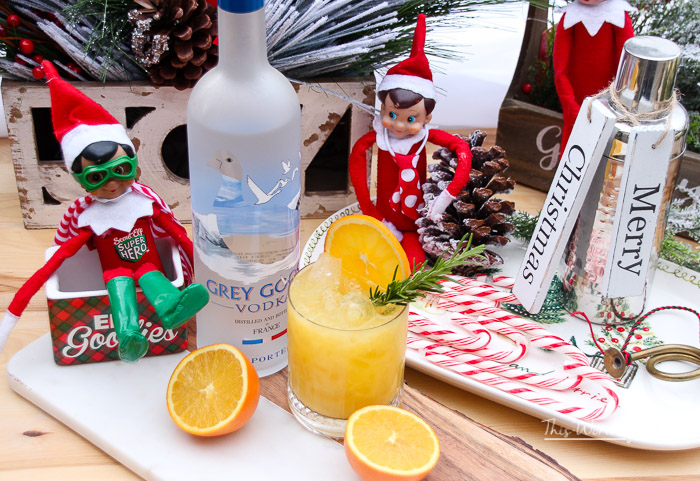 Directions:
Place a 1 1/2 cup of ice into a blender and crush.
In a cocktail shaker, add orange juice, vodka, and honey and a few ice cubes and shake vigorously for 30 seconds.
Fill a glass with crushed ice, strain cocktail into prepared glass and garnish with a wheel of orange.
Enjoy this quick and easy cocktail as your moving Elfie from the Christmas Tree to the Kitchen table.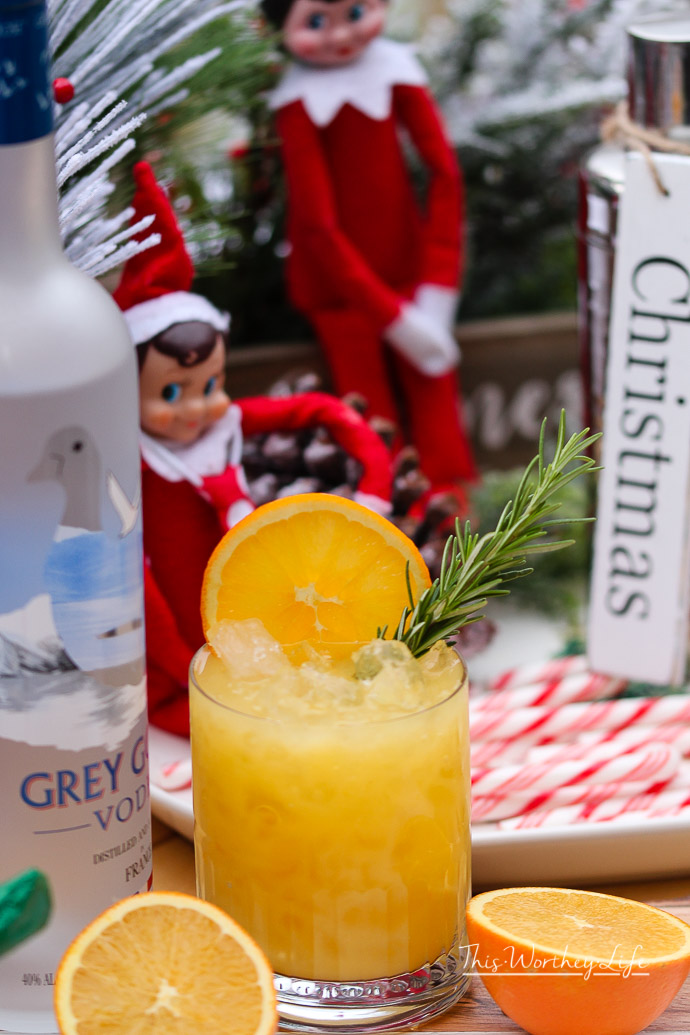 Cocktail Idea #2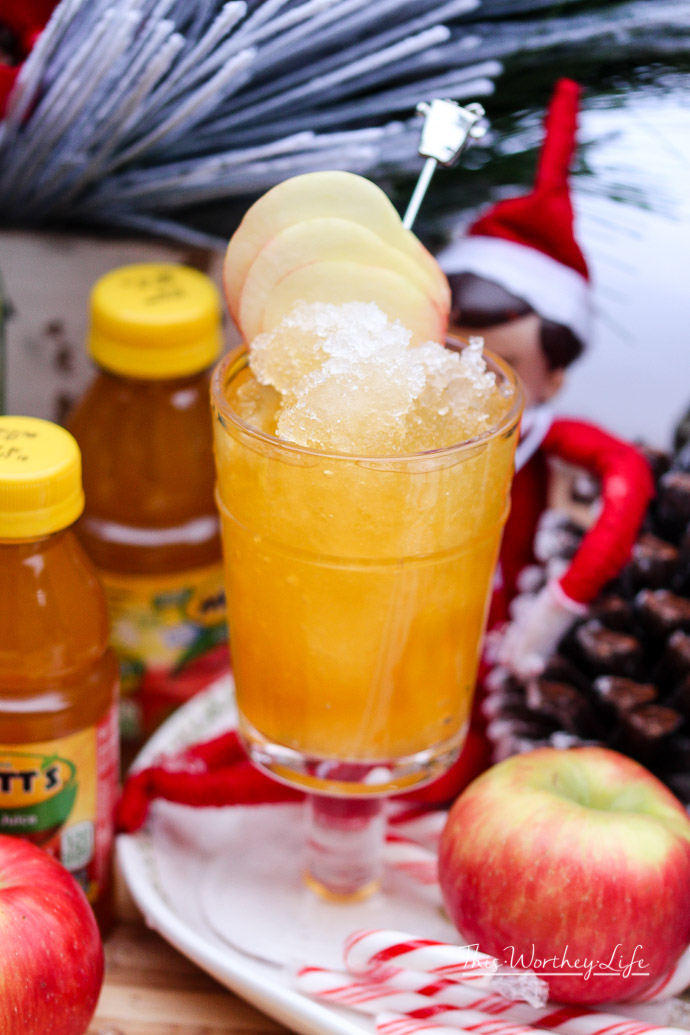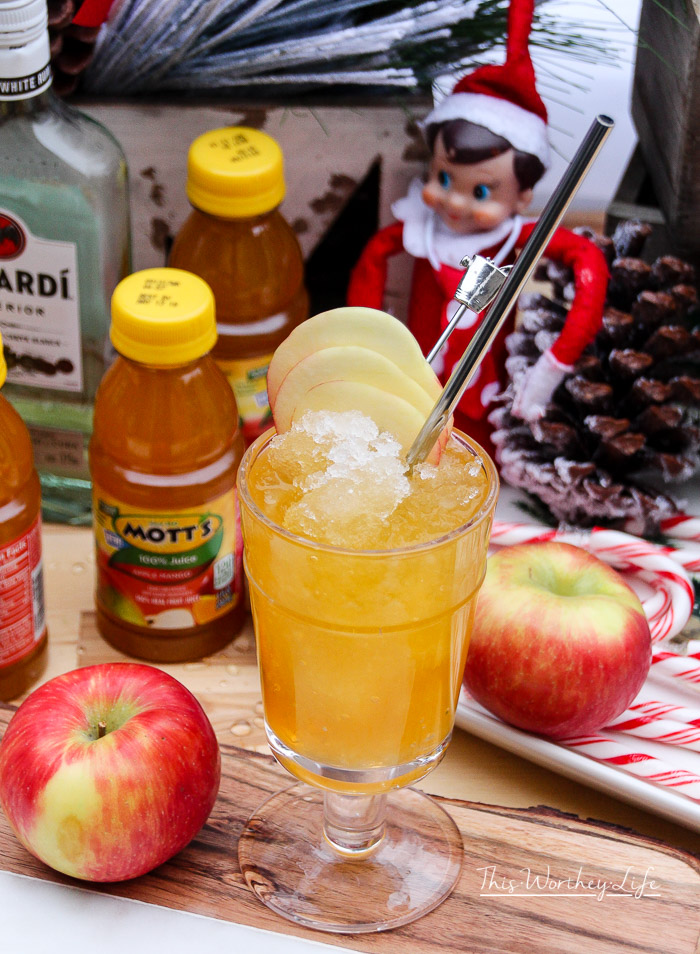 We love Mott's juices (maybe more than our kids do) and they have so many yummy flavors, and guess what? All of those yummy flavors make great cocktails too. Who knew? Here we used Mott's Apple Mango juice to make a delicious cocktail creation. We even used apples we had on hand to conjure up a quick garnish. So maybe it could be said, "A cocktail a day made with an apple garnish will keep the doctor away, and the therapist!" Sounds about right to us. Johnny Appleseed would be so proud. Turn up!
Apple Mango Juice & Rum Slush
Ingredients:
1.5 oz of Bacardi Superior White Rum
3 oz of Apple-Mango juice (we used Mott's)
1 1/2 cup crushed ice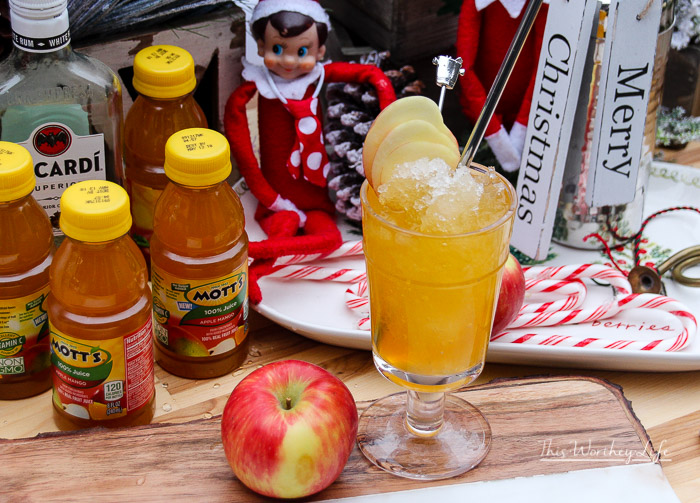 Directions:
Into a blender add ice and apple mango juice and white rum.
Blend until the mixture resembles a slush.
Pour the Apple Mango Juice & Rum Slush into a glass
Add slices of apple for garnish.
Cheers to you!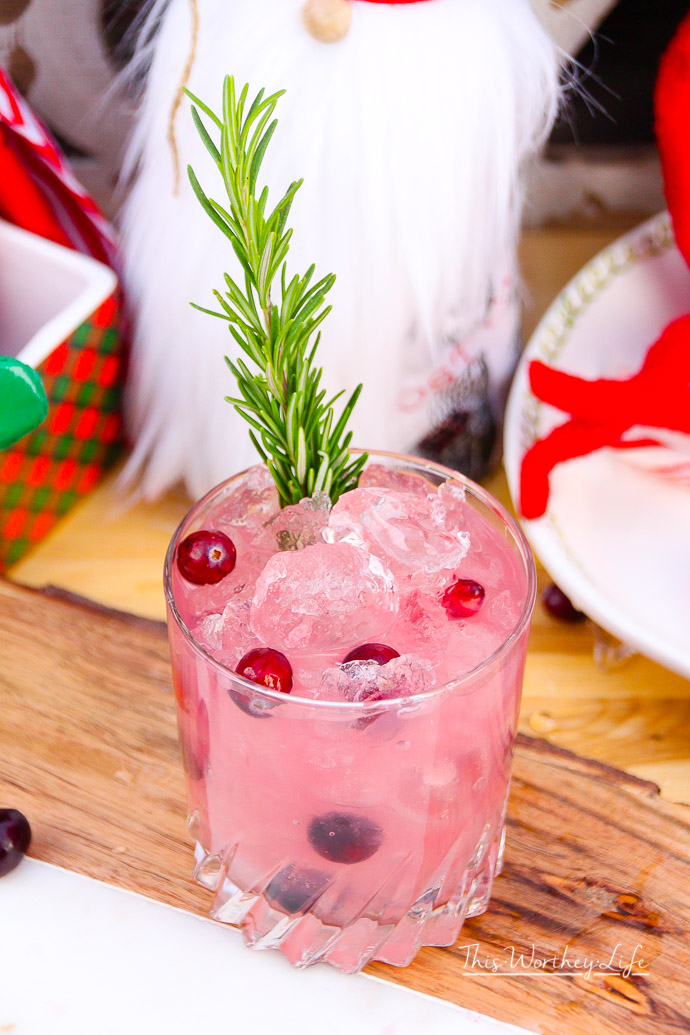 The Simply Lemonade brand is also a family favorite, they're all natural and NO-GMO ingredients makes it an easy choice for our boy's lunch boxes. And we found out these tasty lemonades make a very convincing cocktail. For this one, we used the Simply Raspberry lemonade, Bombay Sapphire gin, a handful of whole cranberries to give it that "WOW" factor, and lots of ice. We normally save the rosemary for the oven-roasted chicken but we figured the chicken wouldn't mind if we used a little to pretty up our glass.
Raspberry Lemonade + Gin with Cranberries & Rosemary

Ingredients:
1 oz of Bombay Sapphire Dry Gin
1.5 oz of Torani Raspberry syrup
3 oz of Simply Raspberry Lemonade
6 whole cranberries and a fresh sprig of rosemary for garnish
crushed ice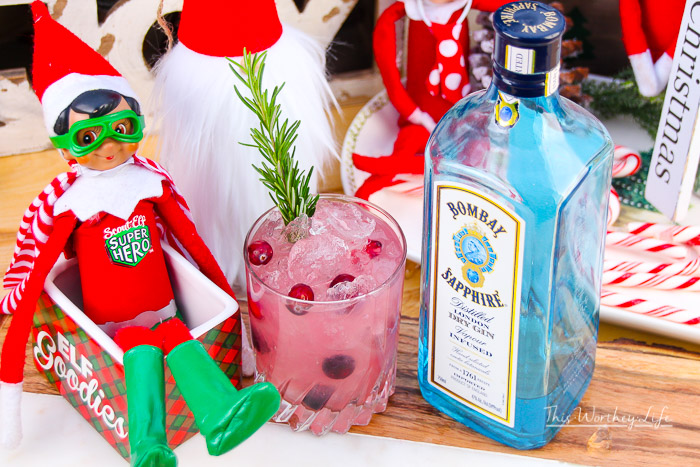 Directions:
Fill a cocktail mixing glass with gin, raspberry syrup, and raspberry lemonade. Give it a quick, but slow stir.
In a serving glass add crushed ice and whole cranberries, strain cocktail over ice.
Add a sprig of fresh rosemary for garnish.
And remember it's five o'clock somewhere!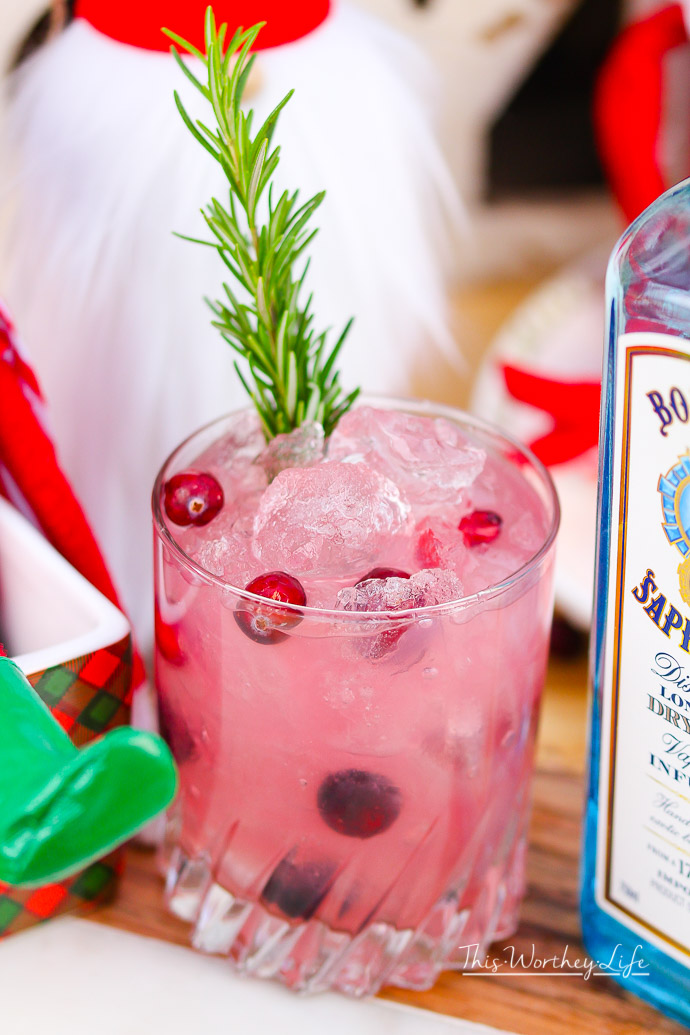 Cocktail Idea #3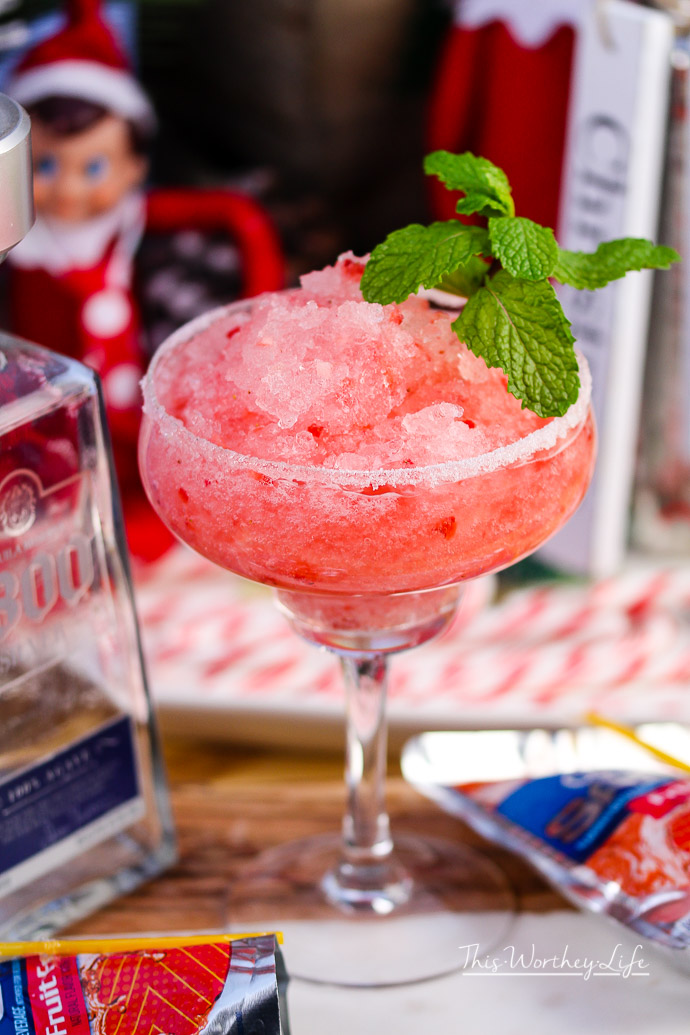 I think this cocktail is our favorite one because who doesn't like a mule-kicking strong and delicious frozen margarita? Is it me or do those Capri Sun juices pouches remind you of something astronauts would drink at the International Space Station? But being an astronaut can't be any harder than being a parent. I am thinking those brave ladies and gentlemen space travelers took to outer space to get away from the trap of parenting. Something to think about init? Anyway, back to this cocktail. You know what the content of a single Capri Sun is perfect for a single serving cocktail of this magnitude. We took lots of ice, seven fresh strawberries, a long drizzle of Torani Strawberry syrup, and the juice from a single juice pouch. We put it all in a blender and gave it several quick pulses and BOO-YAH! Houston, we have lift-off in 5, 4, 3, 2, 1. Salud! These are so yum you'll probably have another!
Oh, and don't forget the sugar rim, no salt here because kids keep our blood pressure nice and high!
Frozen Capri Sun + Strawberry Margarita
1 oz 1800 Blanco Tequila
1 Capri Sun Juice pouch (we used a fruit flavor. If you don't have any Capri Sun's on hand, use Juicy Juice)
7 fresh Strawberries
1.5 oz Strawberry syrup
1.5 cup crushed ice
sprig of fresh mint
Granulated sugar for rim of glass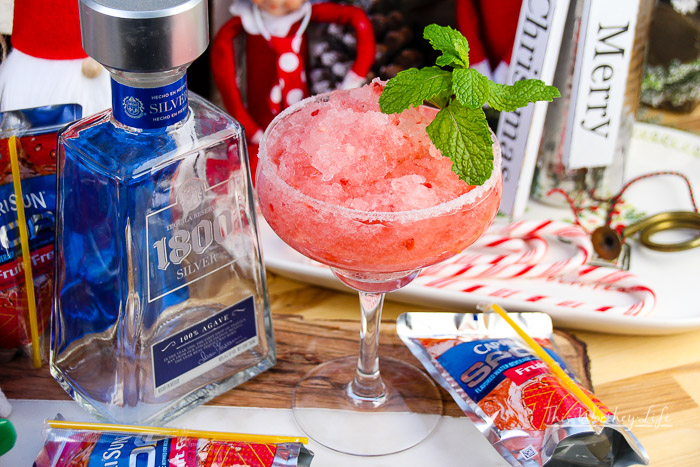 Directions:
In a blender, add ice, strawberries, strawberry simple syrup, the juice from a single Capri Sun Juice pouch, secure the lid and pulse.
Place a small amount of sugar on a plate and run a wedge of strawberry around the rim of the glass, dredge the rim through the sugar.
Pour the Frozen Capri Sun + Strawberry Margarita into the sugar-rimmed Margarita glass.
Self-Serve
Repeat as necessary.
Cocktail Idea #4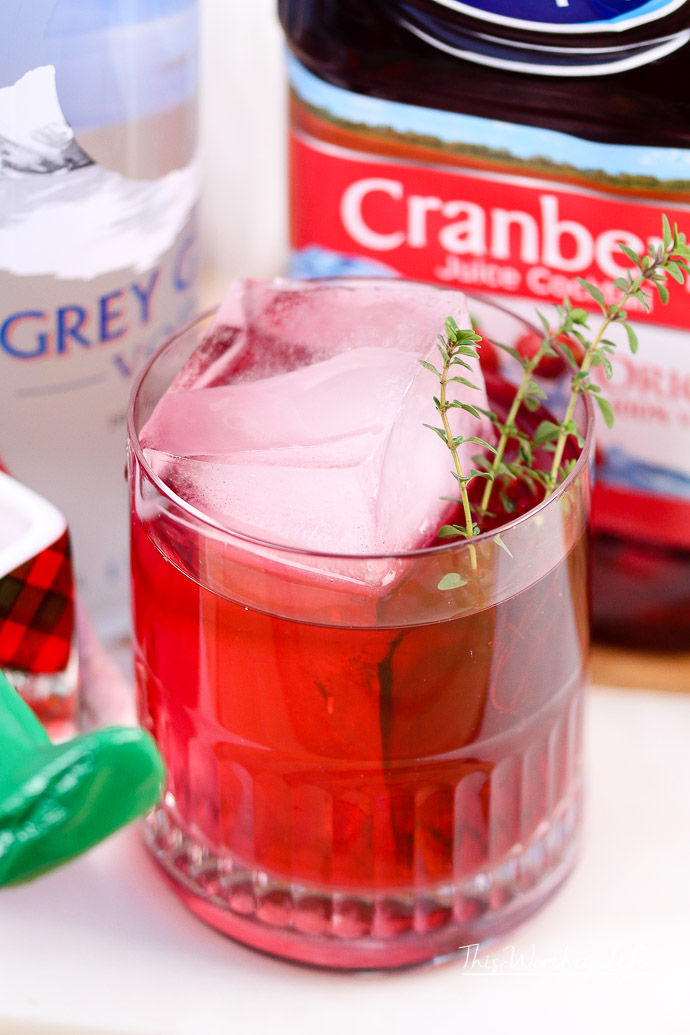 You have probably been drinking cranberry juice for years, but did you know it's not just for keeping your kidneys in fine working order? Yes indeed, cranberry juice makes for a mighty fine cocktail too. And this little red Corvette is the easiest to put together. All you really need is cranberry juice, vodka, and ice! And since our lemon thyme is still producing out in the family garden we grabbed a few super-fresh sprigs for a decorative garnish. But be careful, too many of these and you'll be like, "What the Elf!"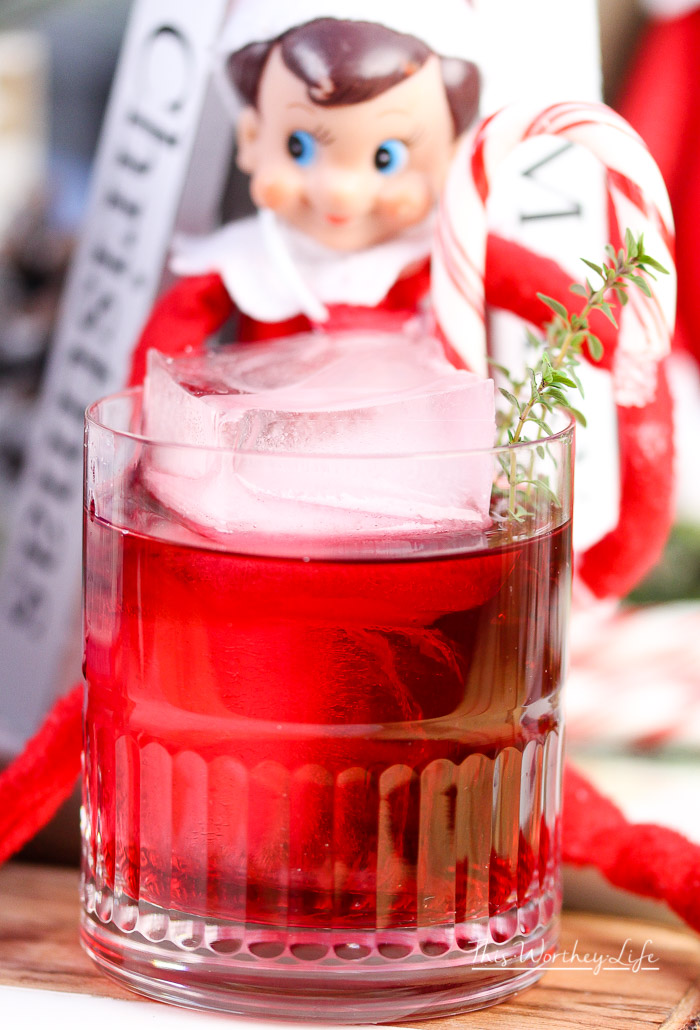 Classic Cranberry & Vodka
Ingredients:
1.5 oz of Grey Goose vodka
3 oz of Oceanspray Cranberry Juice
Sprig of fresh thyme
Directions:
Add a few cubes of ice to a cocktail glass. Don't have a cocktail glass? Find a cup, then add your ice.
Pour in the vodka, then add in the cranberry juice.
If you need to make your drink a little stronger, go ahead. No judgments over here.
Add a sprig of fresh thyme if you want to get fancy.
Bottoms up!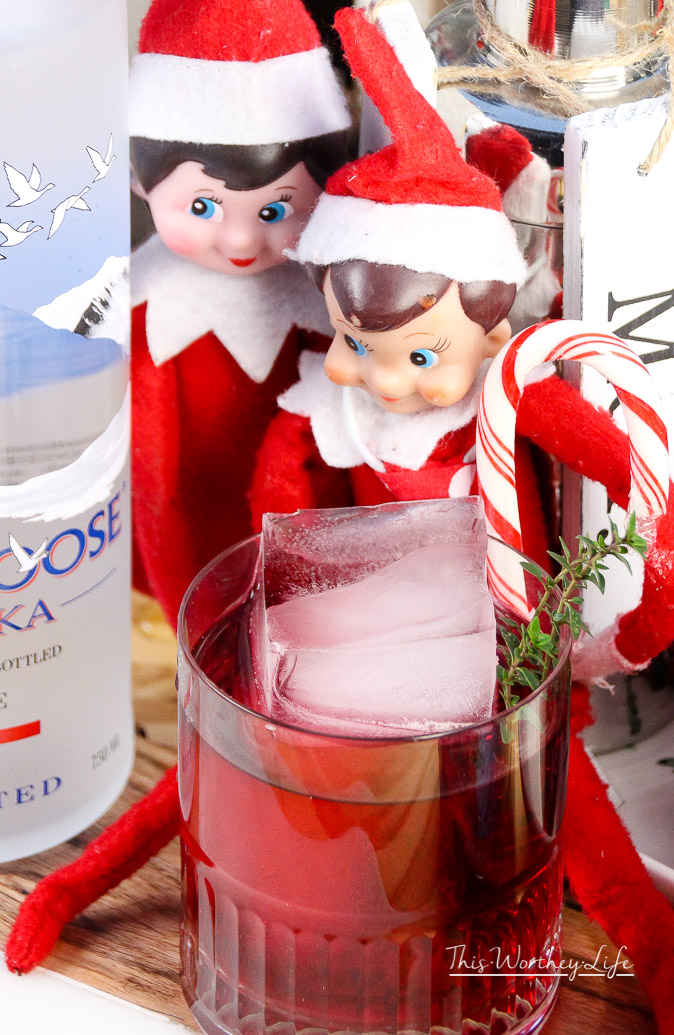 You can pin these fun cocktail ideas to your board for later!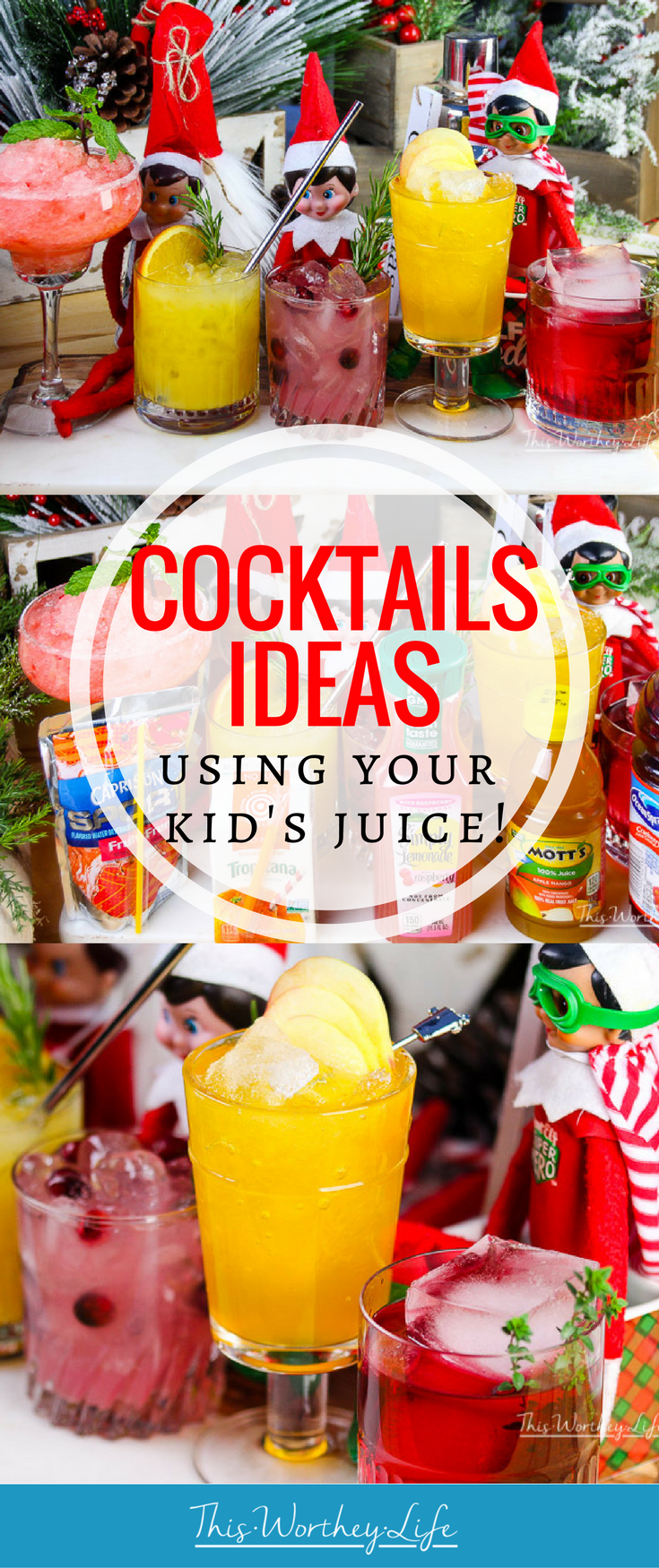 Join in on the Elf Fun with so many ideas posted below- Follow our Elfie on his journey and find other Elf on the Shelf ideas in our Elf on the Shelf section on my blog!
Top Naughty & Slightly Inappropriate Elf On The Shelf Ideas
More Naughty & Slightly Inappropriate Elf On The Shelf Ideas
Do you know what to say to your kids when you forgot to move the Elf? I've got you covered with 15 clever things to say when you forgot to move the Elf!
Did you forget to move your Elf on the Shelf? Here are 10 Quick Last Minute ideas to try!