We are working on Easter dinner ideas with Easter right around the corner.
There are so many ideas for an Easter dinner that it can be overwhelming. We're sharing some of our favorite Easter dishes to try this year.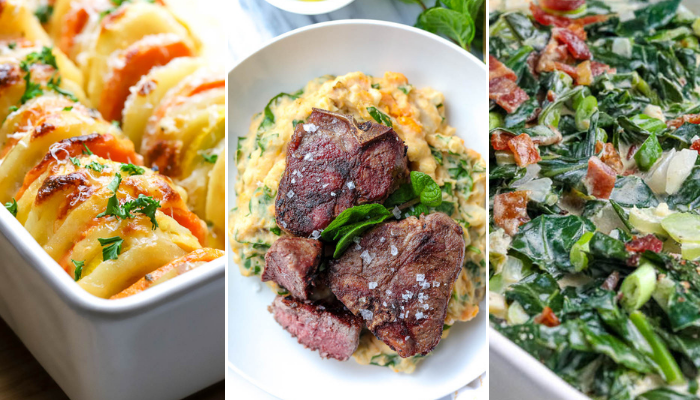 50+ Easter Dinner Ideas
Easter dinner is one of my favorite parts of Easter. It is when the family comes together for a good meal, conversation, and thankfulness.
Is it me, or does it seem every year we forget the date of Easter Sunday? Some years it's early in April (or even the end of March), and other years it's celebrated in the middle of April.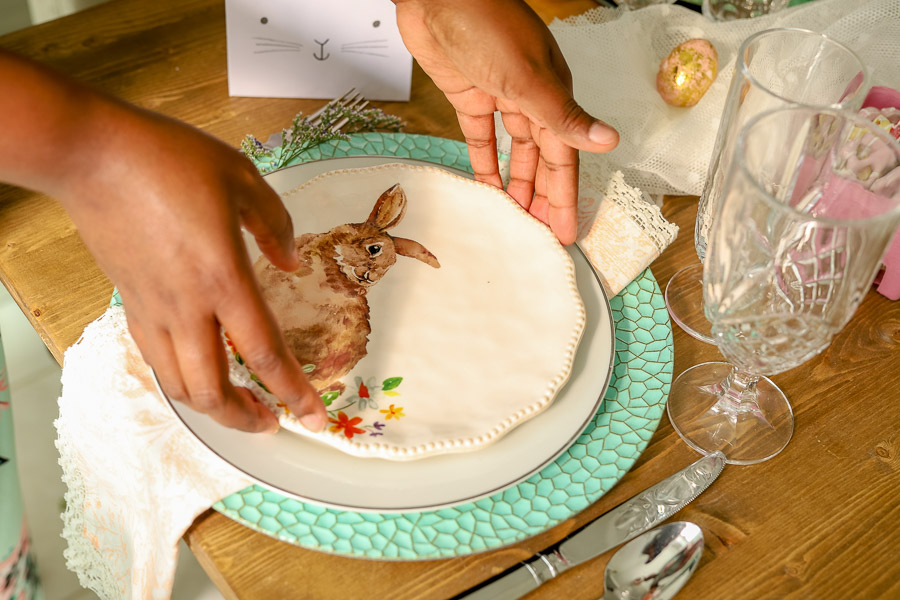 When is Easter this year?
This year, Easter Sunday falls on April 17, 2022.
As you start to down and plan our Easter dinner menu, don't forget to think about how to set your table for Easter.
You can read those tips and check out this other elegant Easter tablescape idea.
We're sharing some of our favorite Easter dinner recipes and a collection of Easter dishes found on the internet.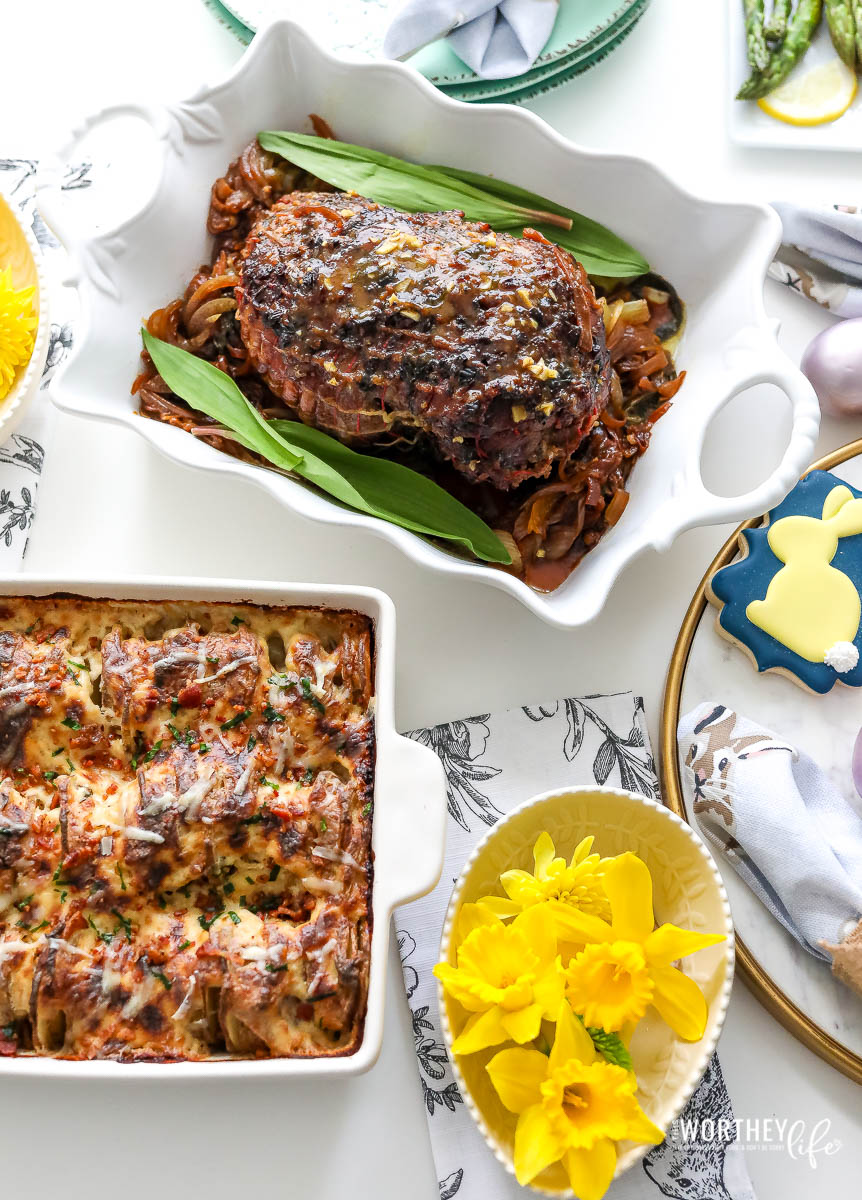 One of our family's favorite Easter dinner main course dishes is our delicious Grilled Leg of Lamb with Honey Mustard marinade!
This delicious lamb offers a smoky flavor and is easy to make. It comes out juicy and oh so tender.
It is the perfect choice for Easter dinner, Sunday supper, or feeding a crowd.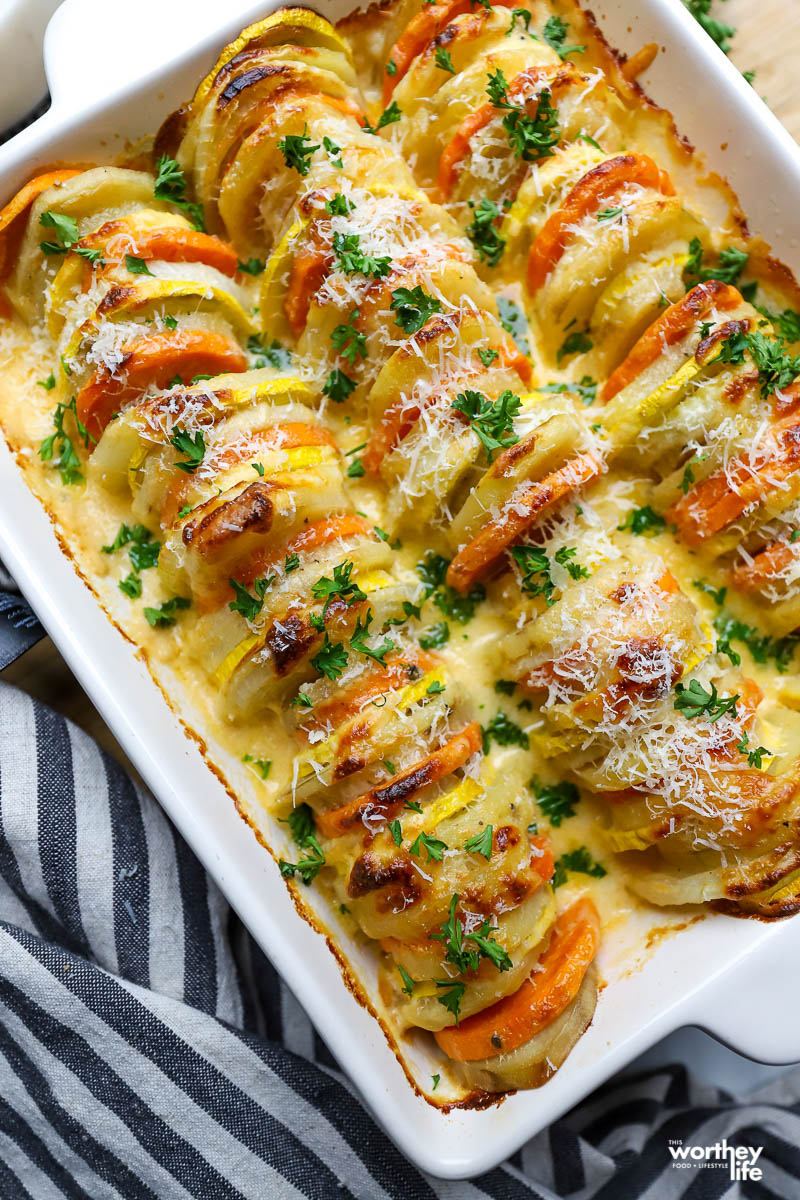 We have you covered with our delicious Potatoes Au Gratin with onion and squash!
This delicious recipe features both russet and sweet potatoes and slices of onion and yellow squash.
However, the cheese sauce makes this veggie combination over the top delicious!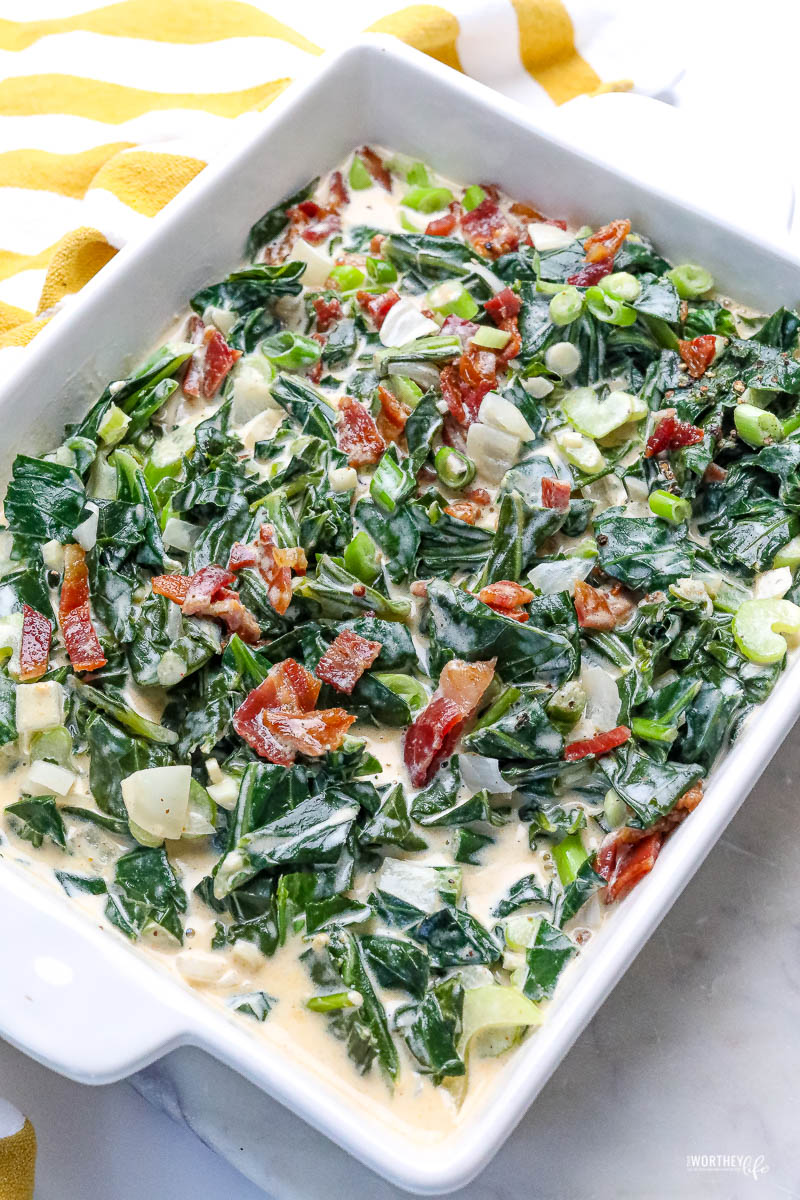 Our Creamy Collard Greens with Bacon should be on your menu if you are looking for the perfect side dish for your Easter meal.
Then, did we mention bacon? Oh, my! This yummy recipe is also made with creamy collard greens flavored with onions, celery, and garlic.
Yup! This delicious collard greens recipe uses a cup of thick-cut bacon to take it over the top on the flavor scale.'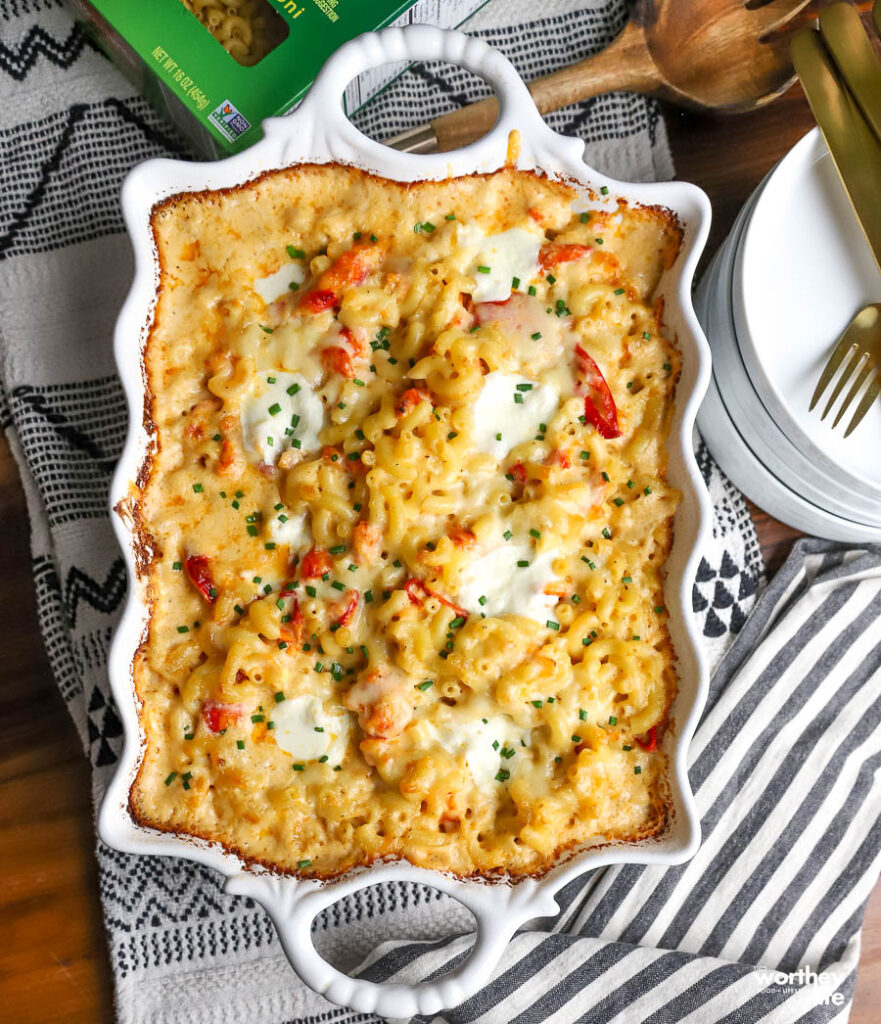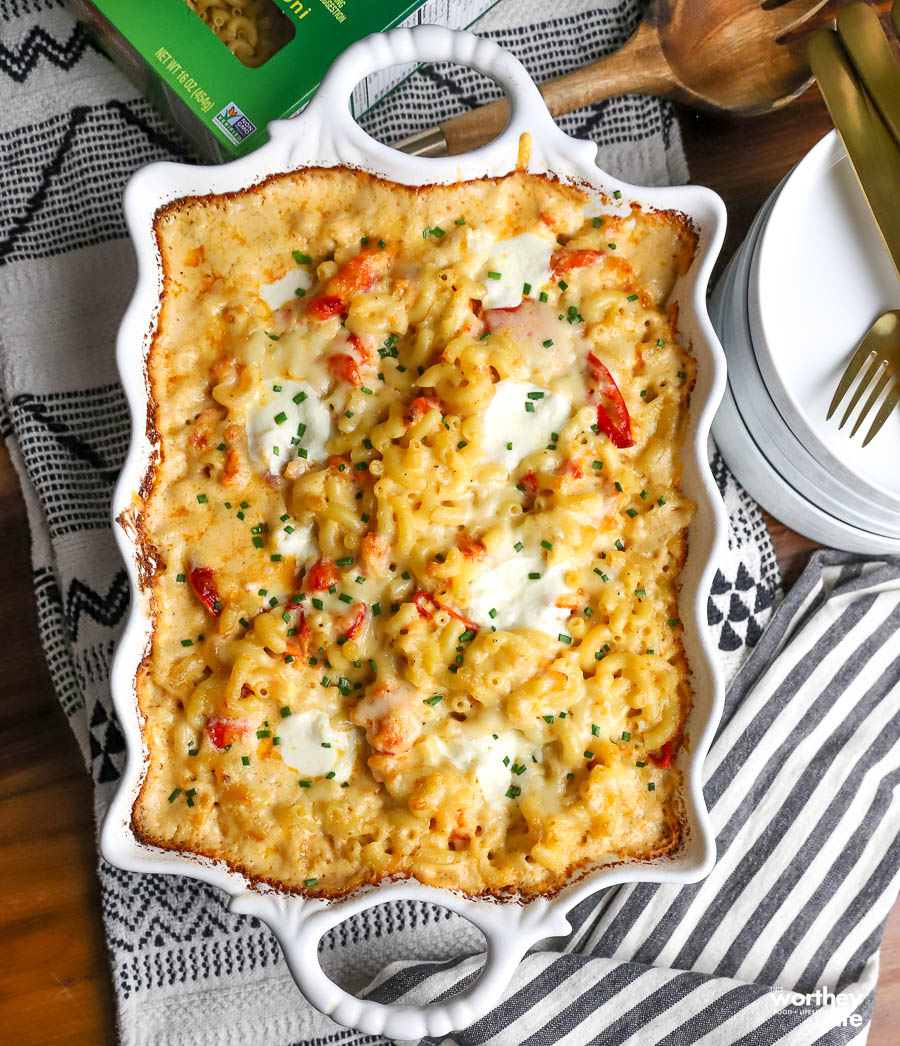 No holiday dinner is complete without mac + cheese, and that's a fact!
Over the years, I've taken my grandmother's recipe and tweaked it by adding a few more ingredients and more cheese!
If you love cheesy mac + cheese, you can see how we make our White Cheddar Mac and Cheese with Lobster.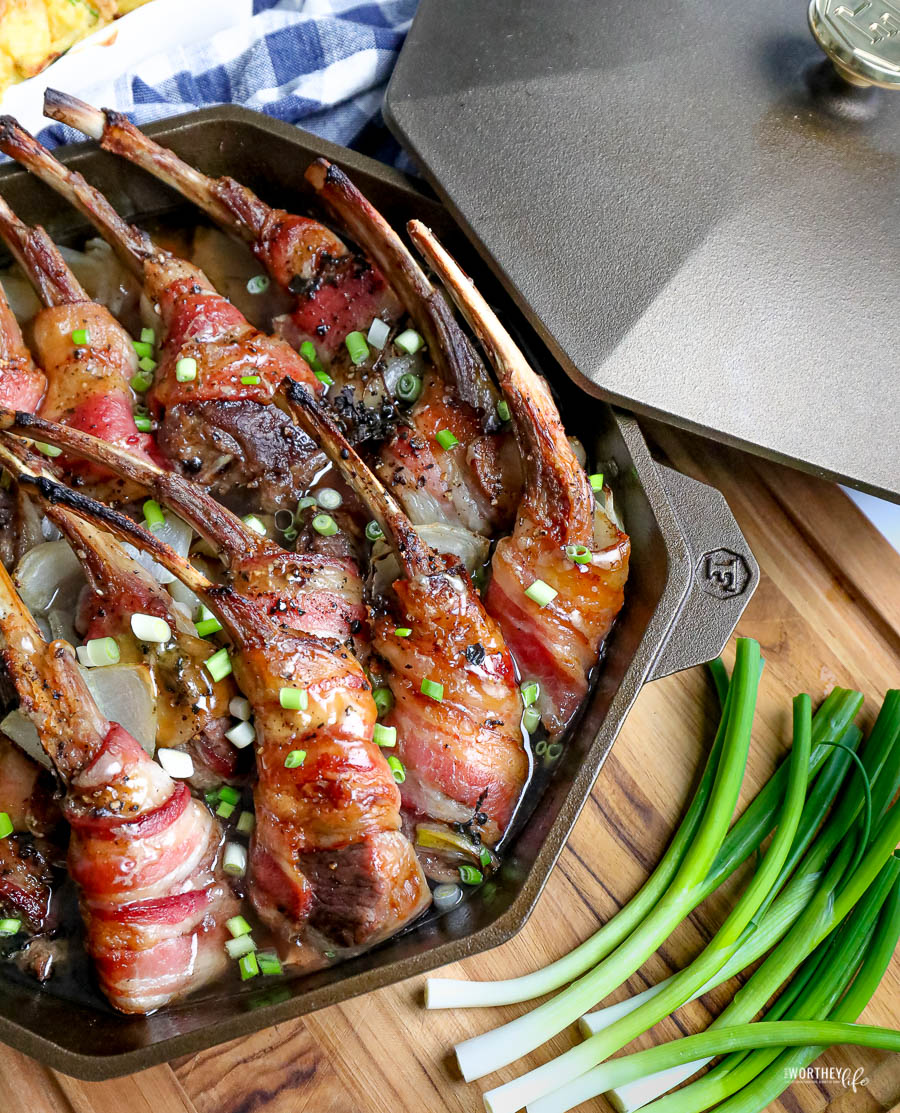 Since we are talking bacon, we wanted to share another favorite lamb recipe. If you love both, you are in for a real treat with our Bacon Wrapped Lamb Chops!
This recipe is all about the freshly cracked black peppercorns and flaky sea salt that brings the delicious flavors out.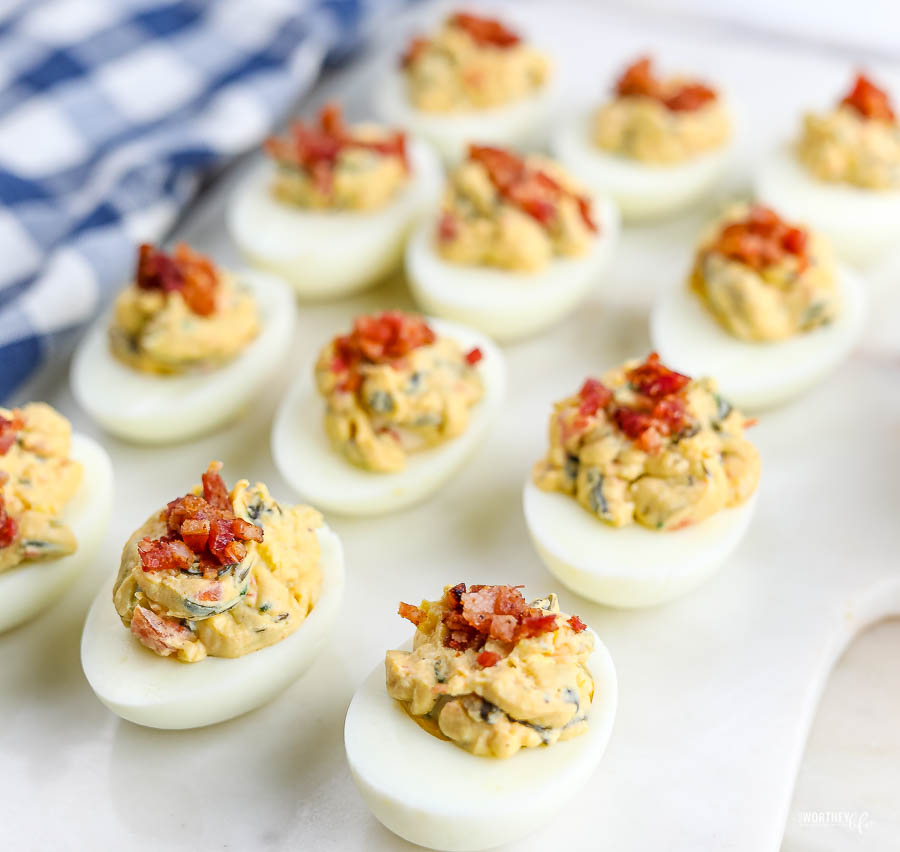 No dinner is complete without deviled eggs.
Our Bacon Deviled Eggs Made with Spinach recipe kicks your regular deviled egg game up a notch.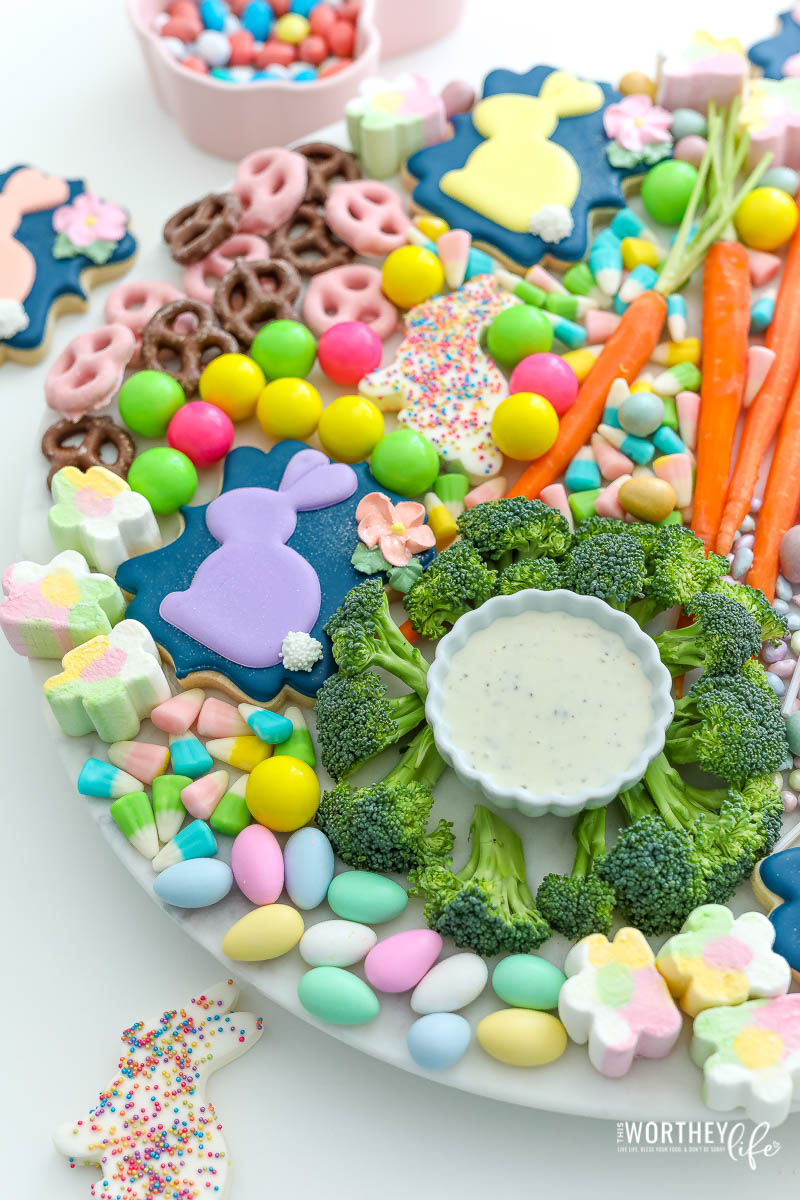 Of course, we cannot have an Easter get-together without mouth-watering Easter Grazing Boards.
For these boards, we are combining yummy Easter candies like Cadbury Eggs, Chocolate eggs, and Peeps, along with fresh fruits and veggies! Sounds intriguing, right?
By adding in fresh fruit and veggies, you have a balanced board.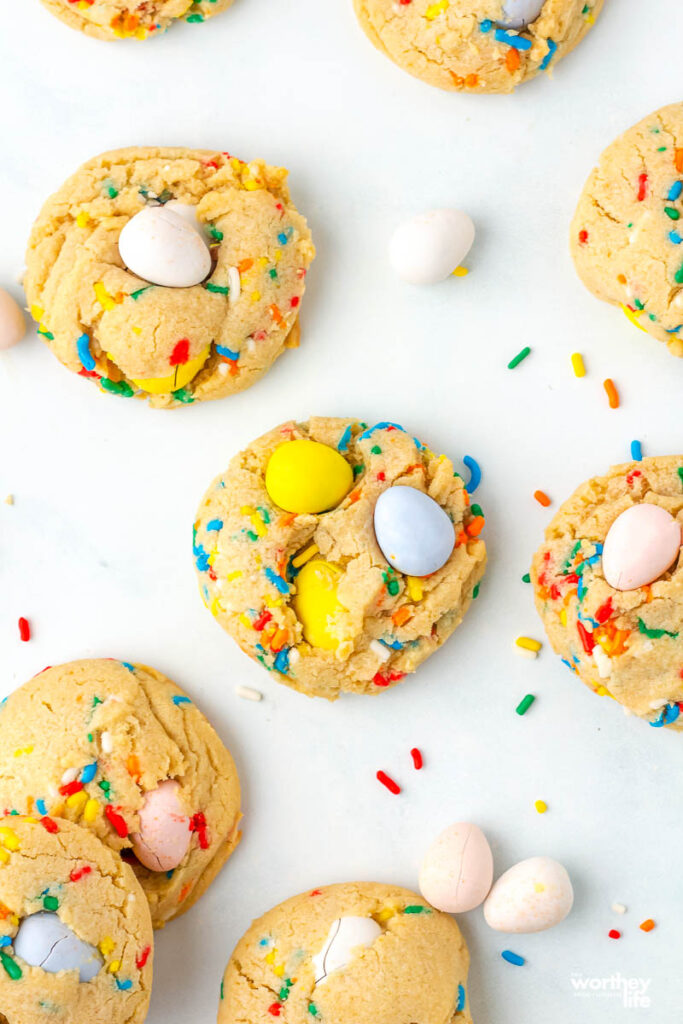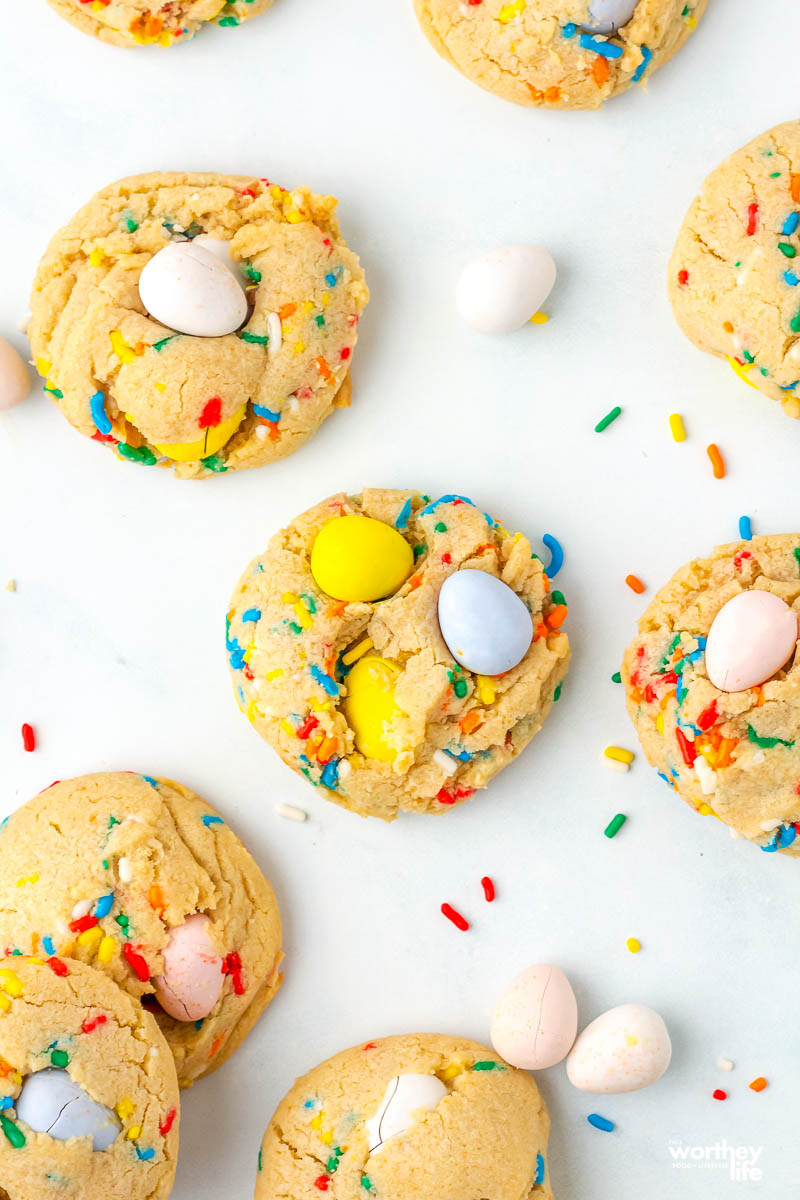 Don't forget about dessert. If you want to go with a non-traditional Easter dessert, try our Easter Chocolate Bark. You could also make these Cadbury Mini Egg Cookies, perfect as your Easter cookie this year.
Another themed dessert would be our Recipe for Carrot Cake Cupcakes.
Keep reading below for more delicious Easter dinner ideas.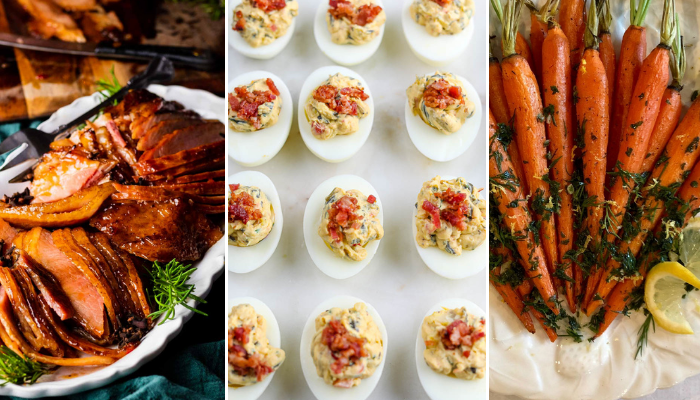 Hopefully, you've found a new recipe idea to try for Easter or a new twist on a classic.
Find more Easter ideas shared below.
Kid-Friendly Drink | Easter Mocktail
45+ Easter Crafts for all Ages