Nothing goes together better than holidays and gatherings, and nothing inspires holiday cheer like these holiday cocktail ideas.
In this collection, you will find a wealth of AMAZING cocktail recipes – sweet, tart, fruity, creamy – you name it. There is a little something for everyone!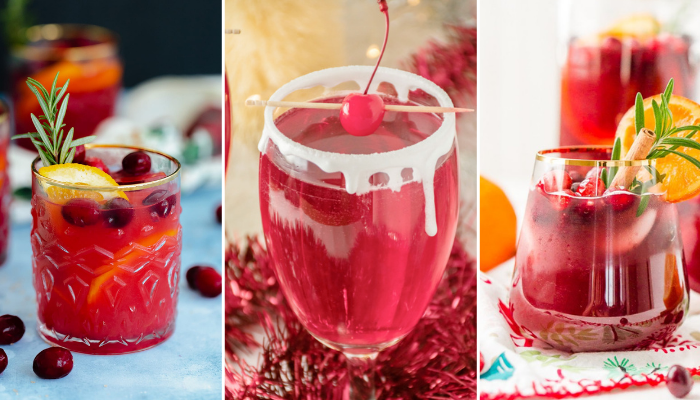 Holiday Cocktail Ideas
The holiday season is upon us, and I believe one of my favorite parts of the season is the fun gatherings. Whether small intimate groups of family and close friends or the more elaborate dinner and office parties, cocktails are always in order.
Anymore, planning the cocktail menu is as important as the food menu! Am I right?
It may sound a little scary to plan out a party with a list of cocktails to serve. After all, you may not be a "full-fledged" bartender.
However, with easy holiday cocktail ideas like the ones in our collection, you don't have to be!
In this collection, you will find an array of oh-so-yummy holiday cocktail drink ideas.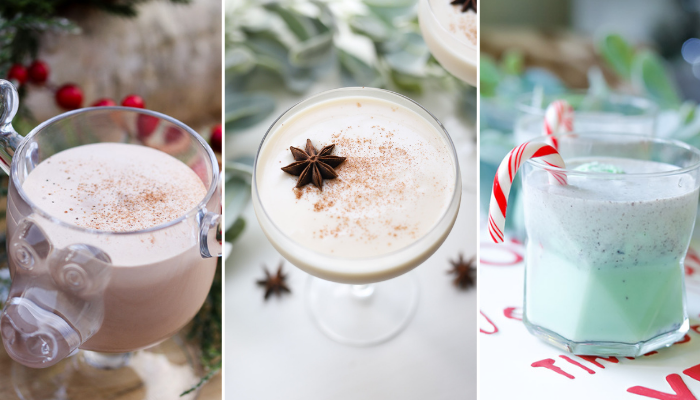 Easy-to-Make Holiday Cocktail Recipes
Whether you are partial to tart drinks, or perhaps you like sweet and fruity or somewhere in between, I am sure you will find several "just right" cocktails in our collection.
We even have a few variations of eggnog you are sure to want to try!
So, go ahead, grab a cup of coffee or maybe even a cocktail, and sit a spell with us. Browse through the list and pick out your favorites.
All our holiday cocktail recipes are easy to make – nothing too elaborate or over the top. So, rest assured, they all would be a perfect addition to your next gathering!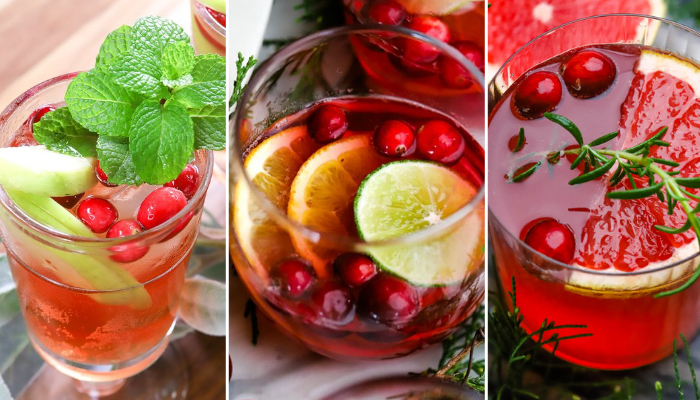 Some of our favorite holiday cocktails are listed below: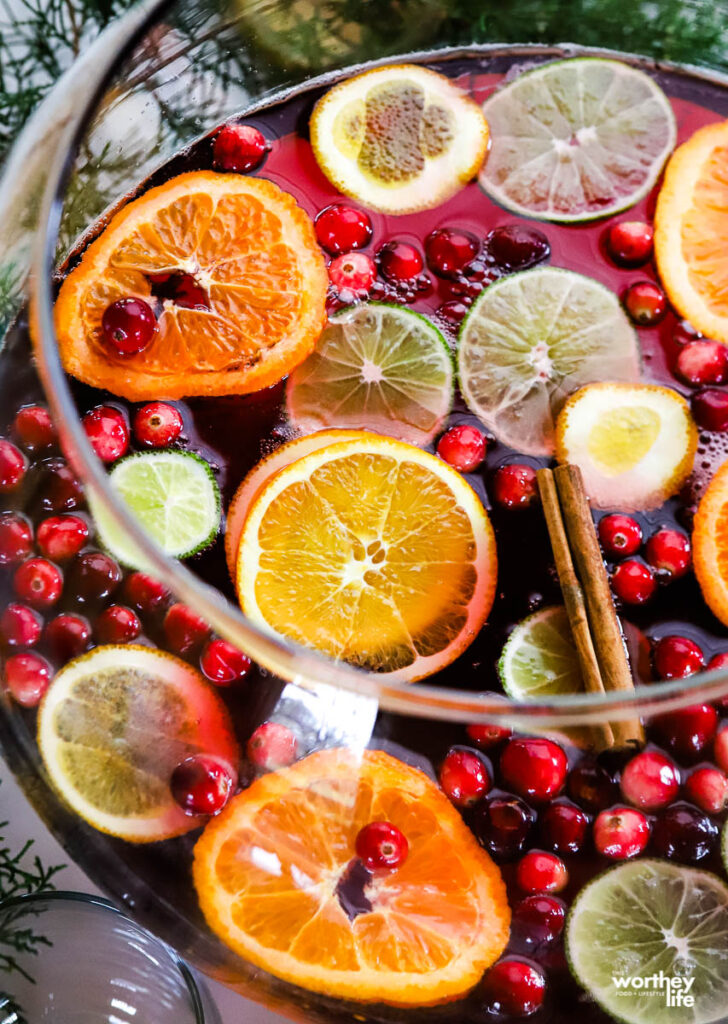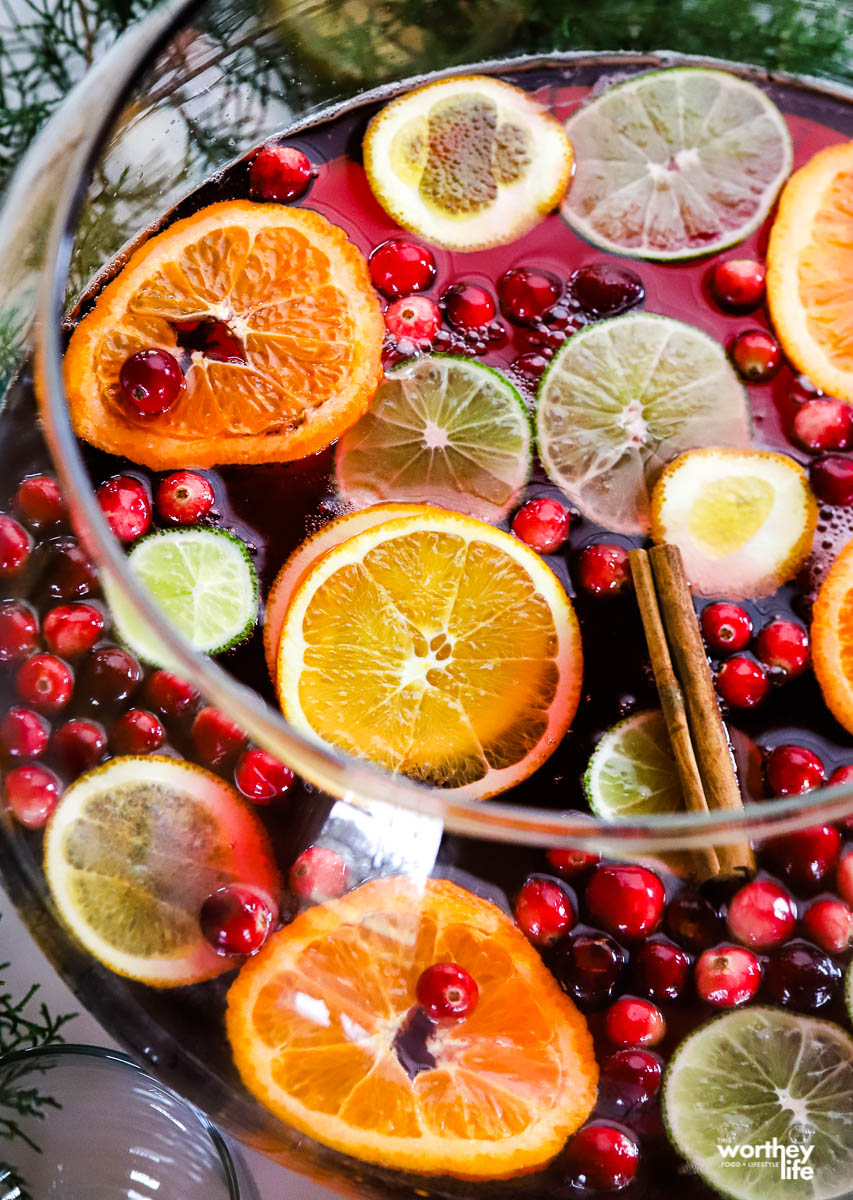 When it comes to the holidays, one of our favorite things is making our Sprite with Cranberry punch.
See how this easy cranberry juice and lemon-lime soda punch combination comes together in no time flat.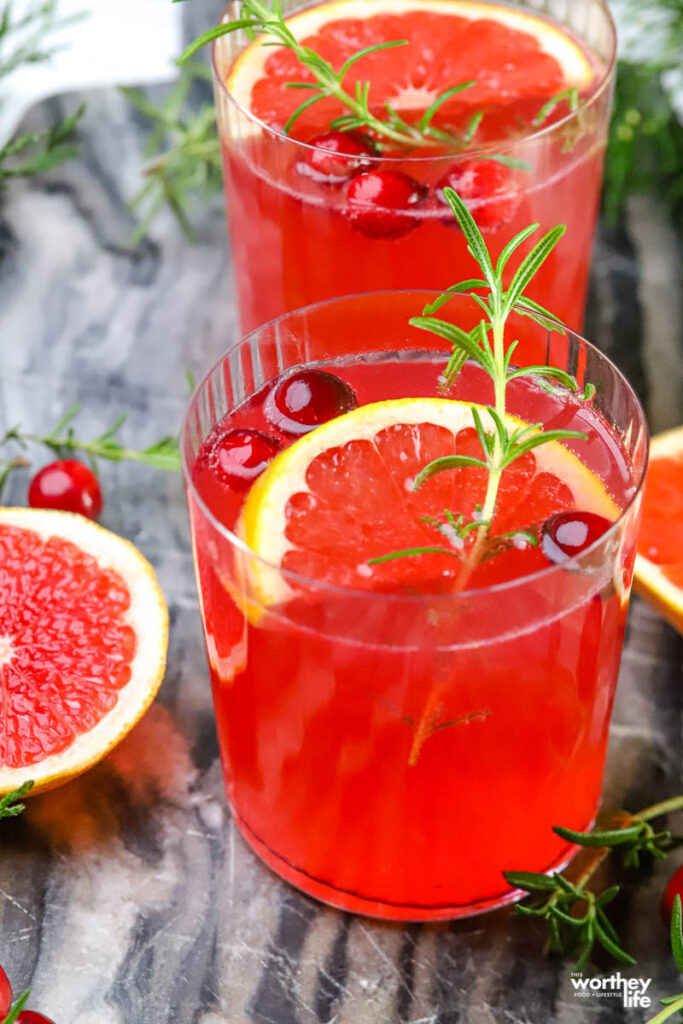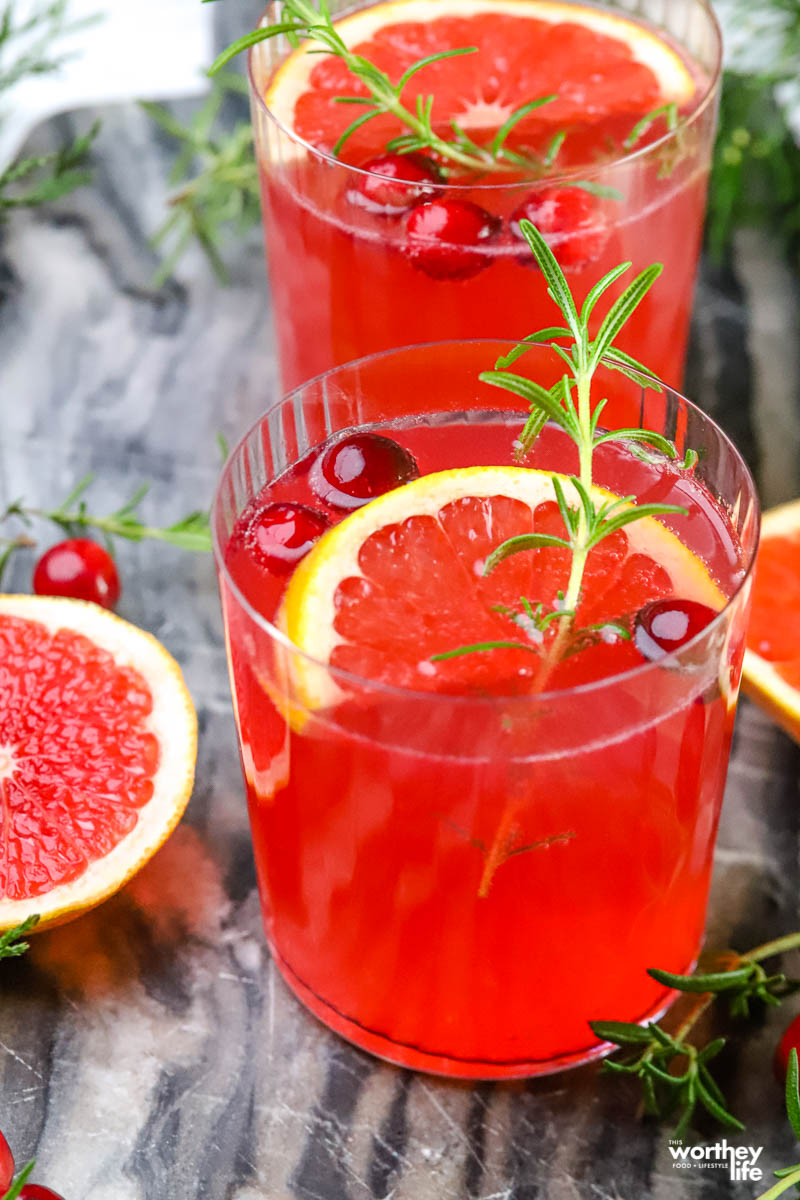 Serve up our easy and yummy Cranberry Paloma for the holidays because it looks pretty and festive, but the taste will have you reaching for another.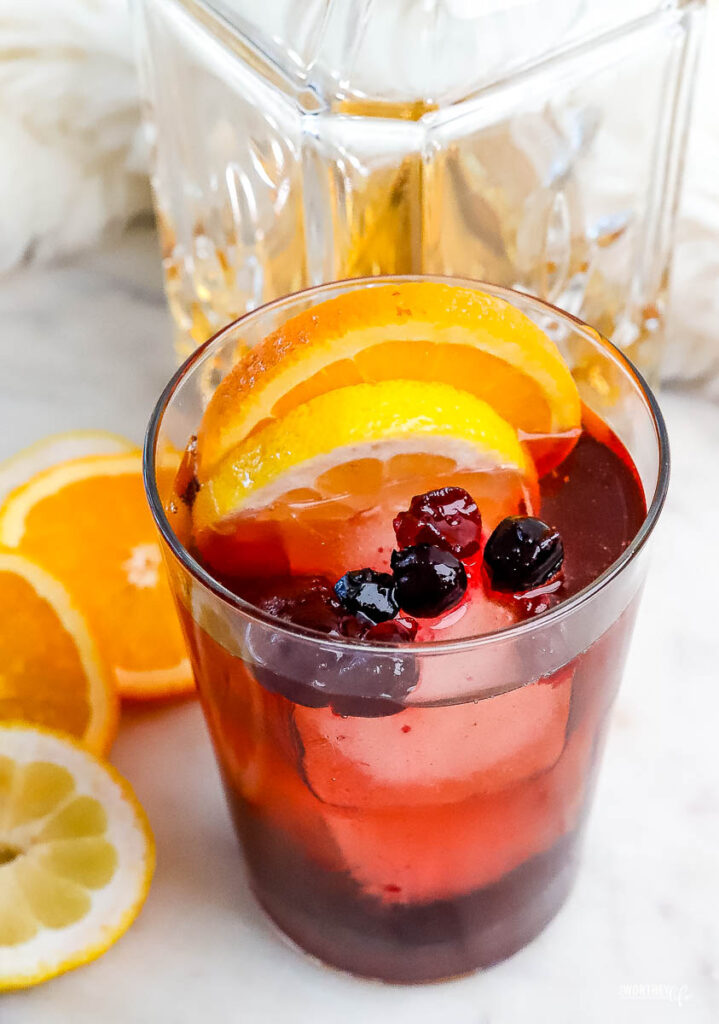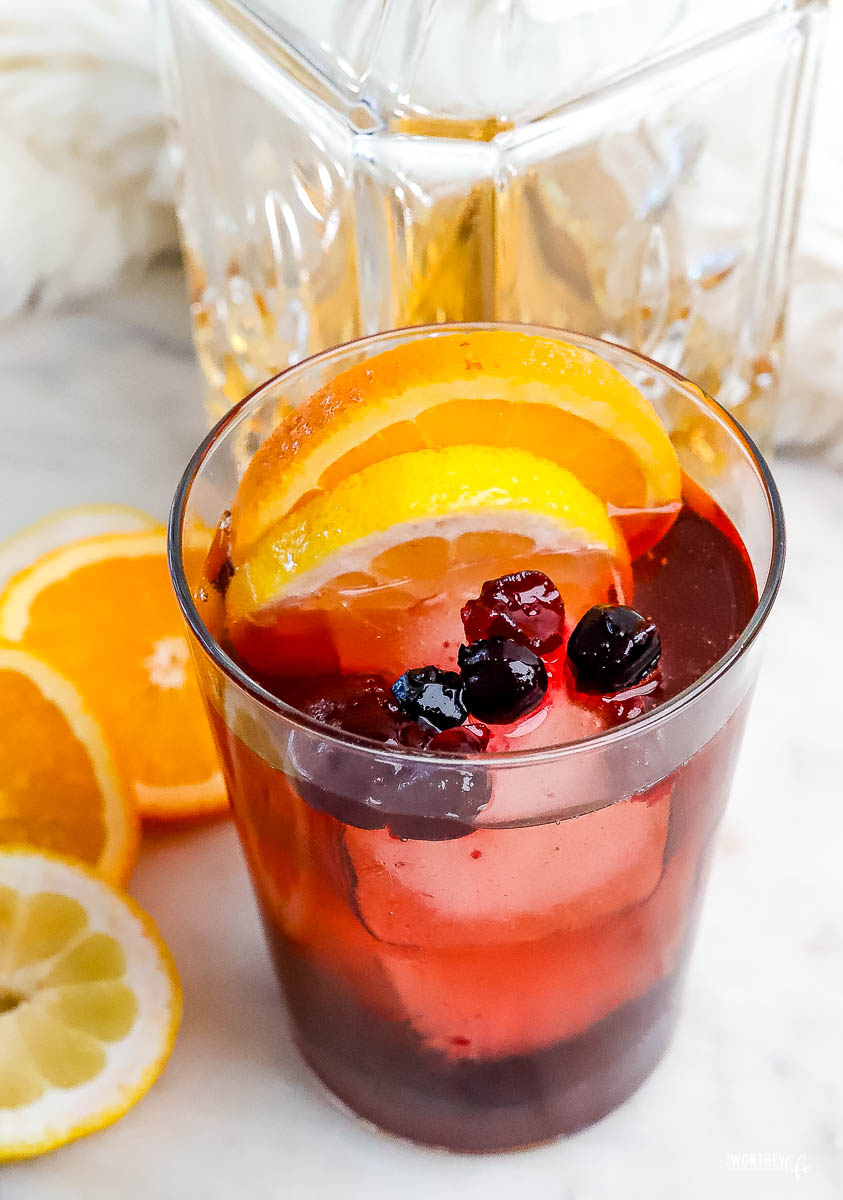 A good holiday cocktail adds a certain air of celebratory feel-good to festivities, which is true for both alcoholic and non-alcoholic libations.
We have created this cocktail with particular tastes in mind. Say hello to our Cranberry Blueberry Whiskey Cocktail.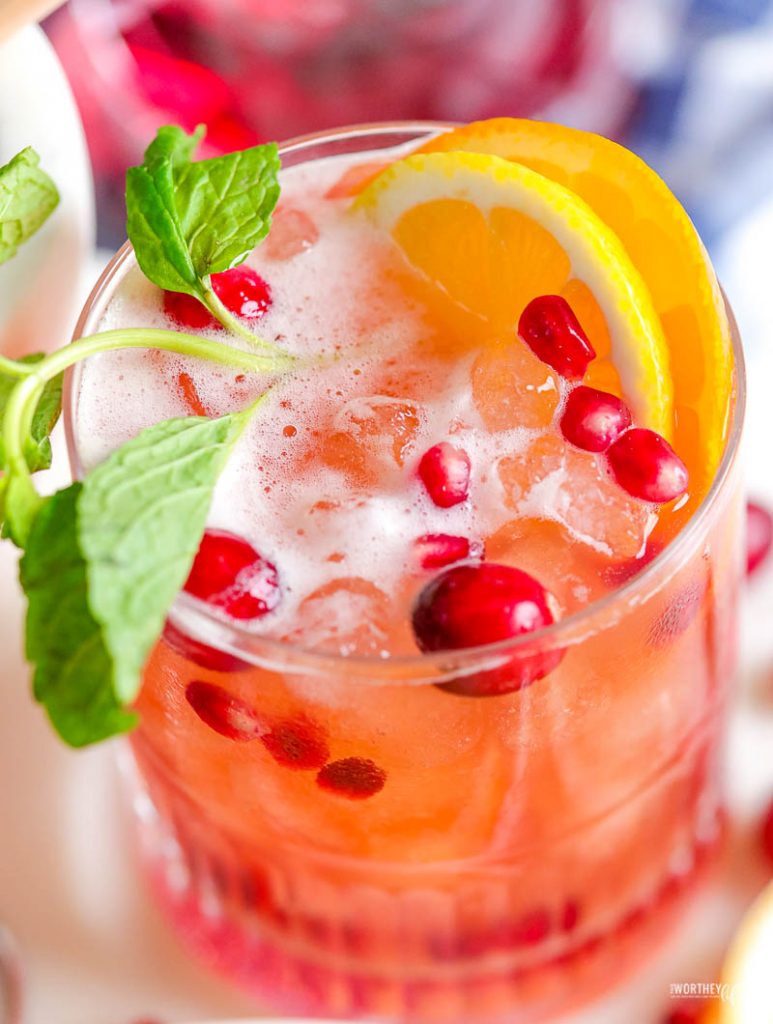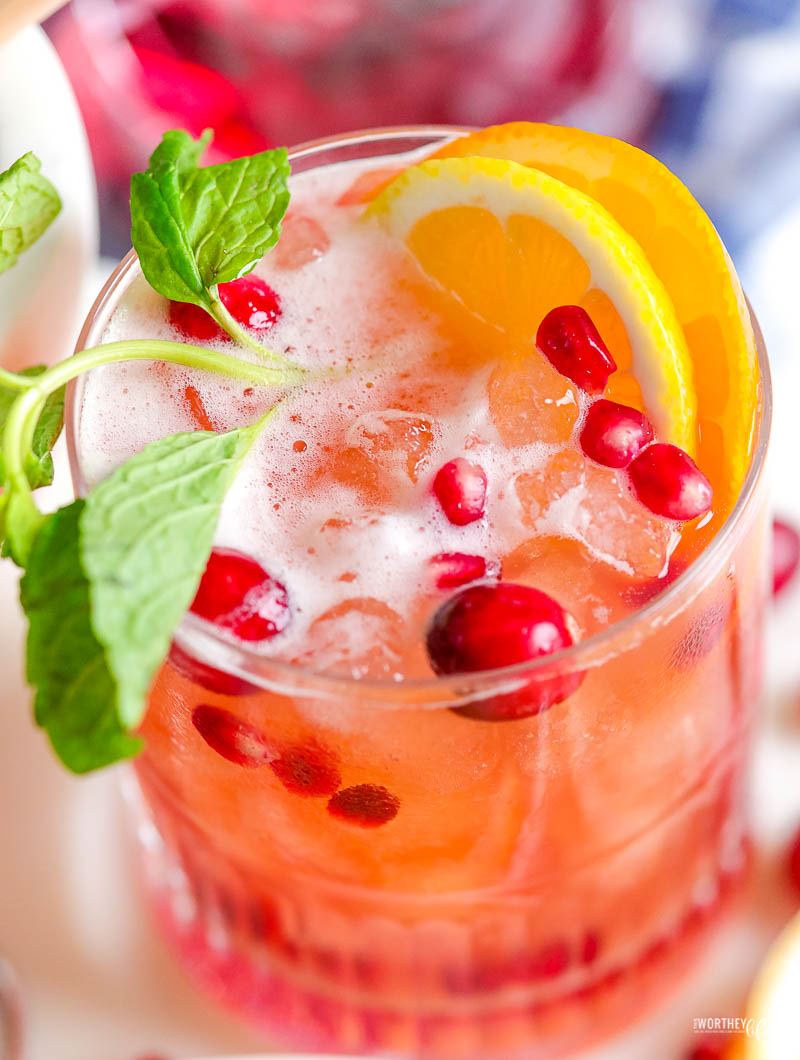 When we think of sangria, we don't typically think of whiskey. Instead, we think of Rioja wine, brandy, and all the fruit.
I'm shaking things up a bit and making a Whiskey Ginger Beer Sangría!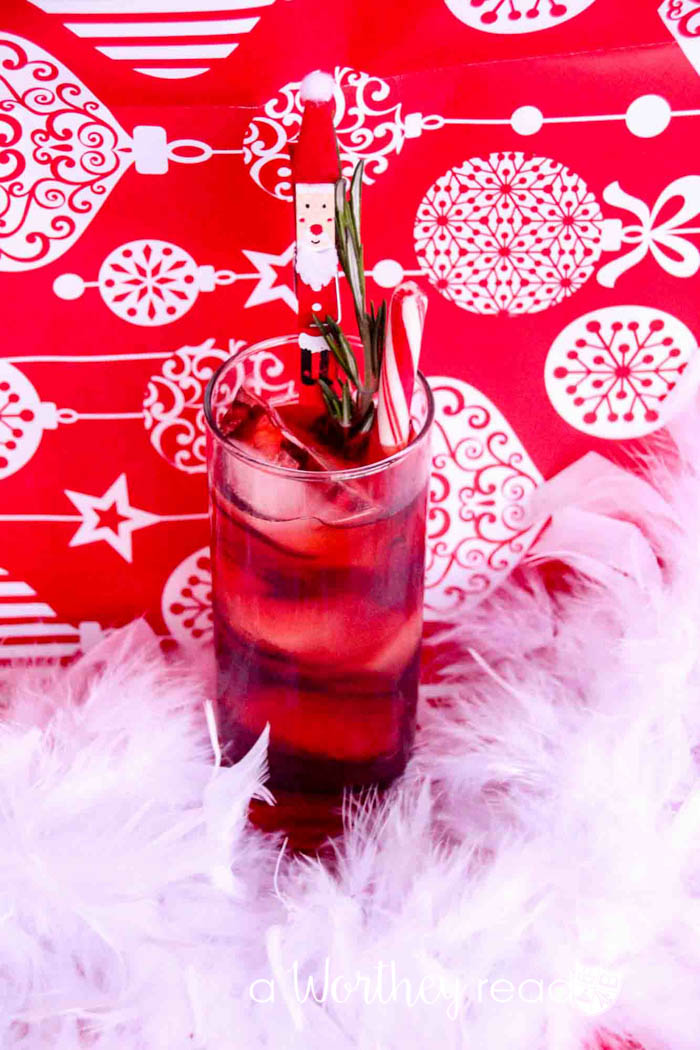 Why not take a little break from wrapping presents this year and enjoy a little Christmas cheer with this Easy Christmas Cocktail – The SANTA!
This easy cocktail features cranberry vodka, sweet vermouth, sparkling red grape juice and is garnished with a peppermint candy cane and rosemary.
It is a delightful taste that will tantalize your taste buds.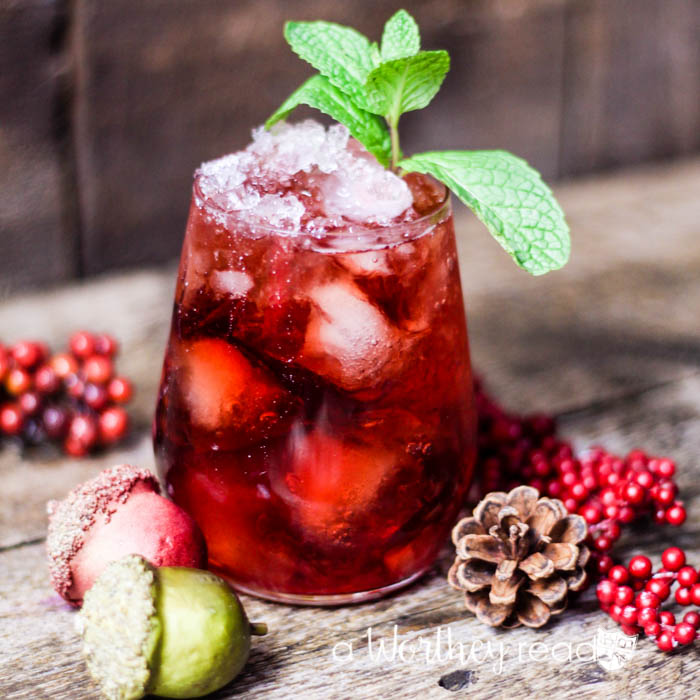 This Cranberry Wine & Hibiscus Mint Cocktail is not your ordinary mulled wine or eggnog!
It is a fun new creation that features a little tart from the cranberries in the cranberry wine with a hint of Kinky Liqueur to smooth out the tartness.
And, we can't forget the deliciousness the Hibiscus & Mint Cocktail Syrup brings to the table. It adds a hint of floral freshness and gives it an exotic twist.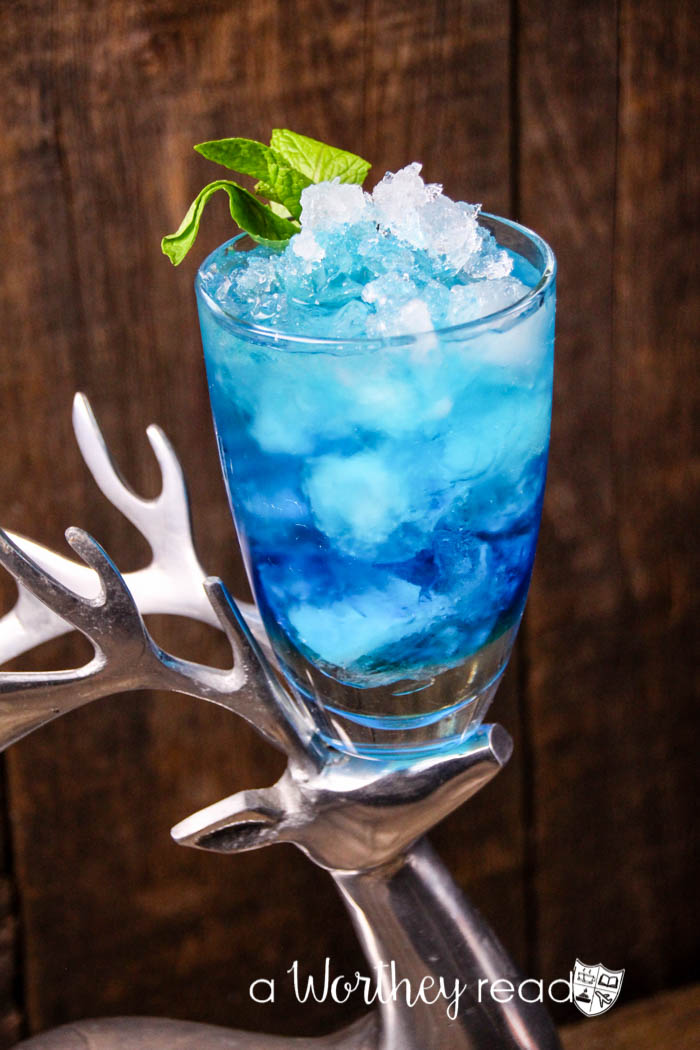 How can you go wrong on a holiday cocktail named The Blitzen? You can't!
Whether you are having an intimate gathering or a large gathering, this delightful cocktail will steal the show as it is as delicious as beautiful.
The Blitzen has an oh-so-yummy minty sweetness and a little heat stemming from peppermint in addition to tons of festive coloring coming from the addition of Blue Curaçao.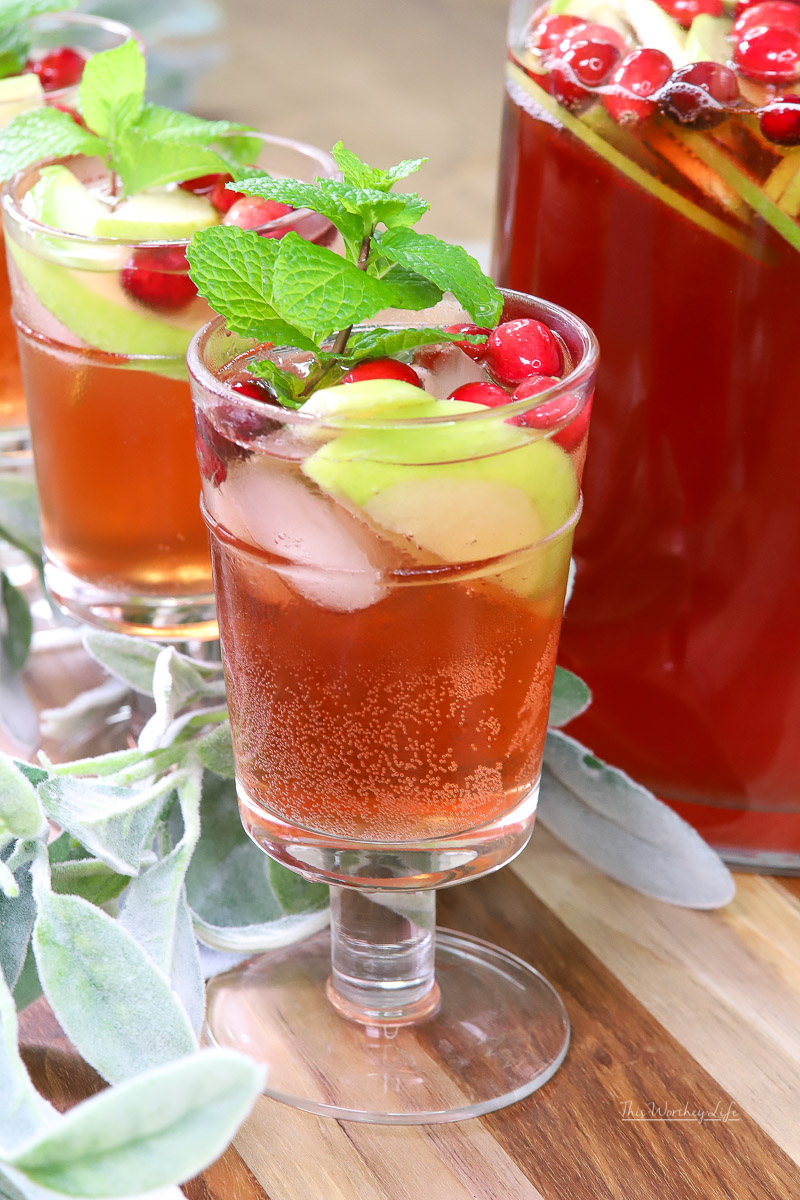 For any holiday gathering, you will want to be sure and include Rosé Sangria Holiday Cocktail on the cocktail menu!
Rose wine is a sweet and festive holiday cocktail that is delicious without overly sweet.
Once you try these delicious cocktails, you will undoubtedly want to include them in any cocktail lineup!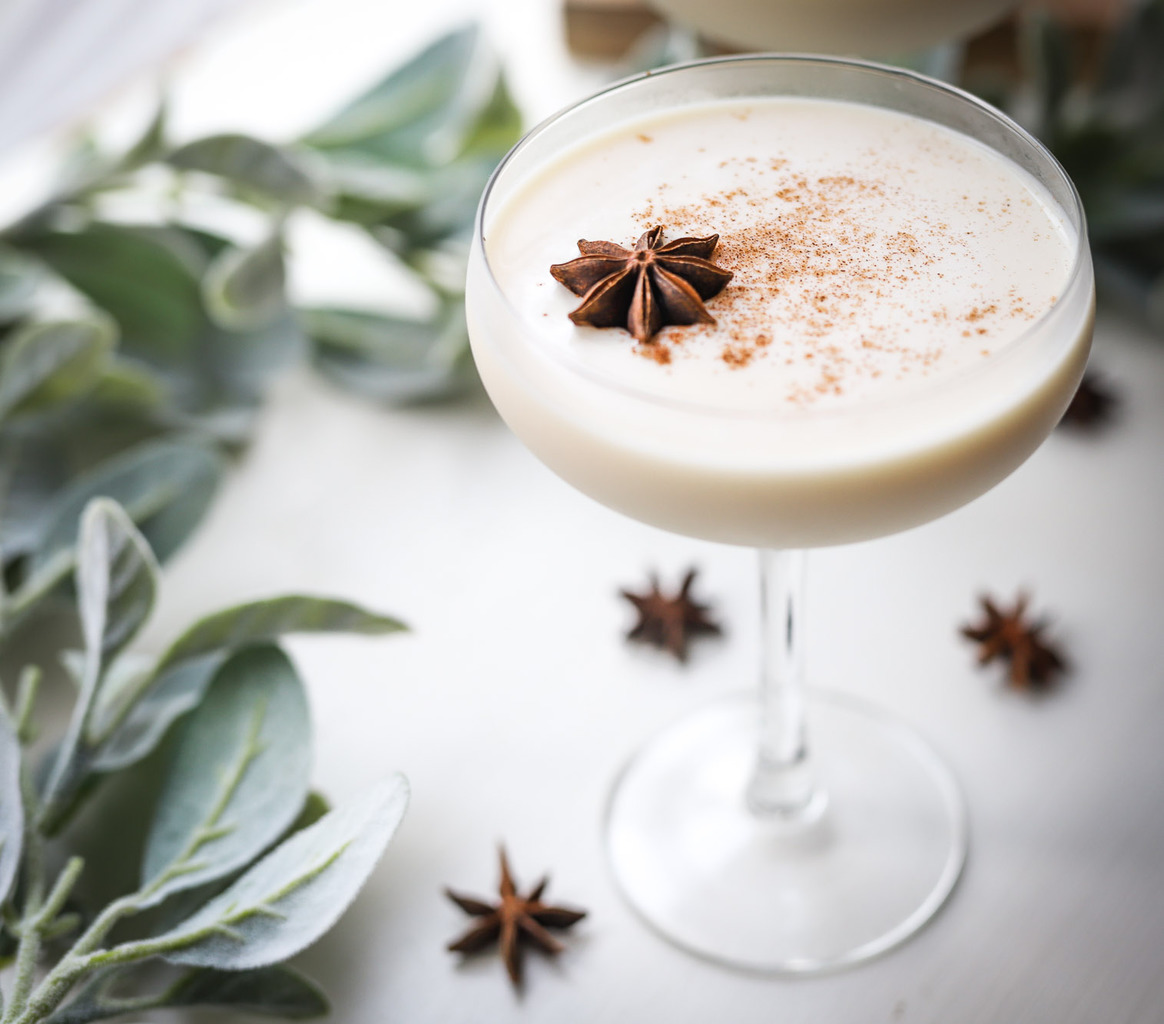 We had to include an eggnog cocktail, and this Bourbon Eggnog With White Chocolate made the list.
It is a rich, creamy all-out festive eggnog mixed drink with lots of Christmassy flavors such as nutmeg, cinnamon, and clove! It's spiked with good bourbon whiskey that lends notes of caramel to the drink.
This cocktail will quickly become a favorite for the holidays! Also, if you have cousins like Cousin Eddie coming for the holidays, you'll definitely need our Cousin Eddie's Boozy Bourbon Eggnog.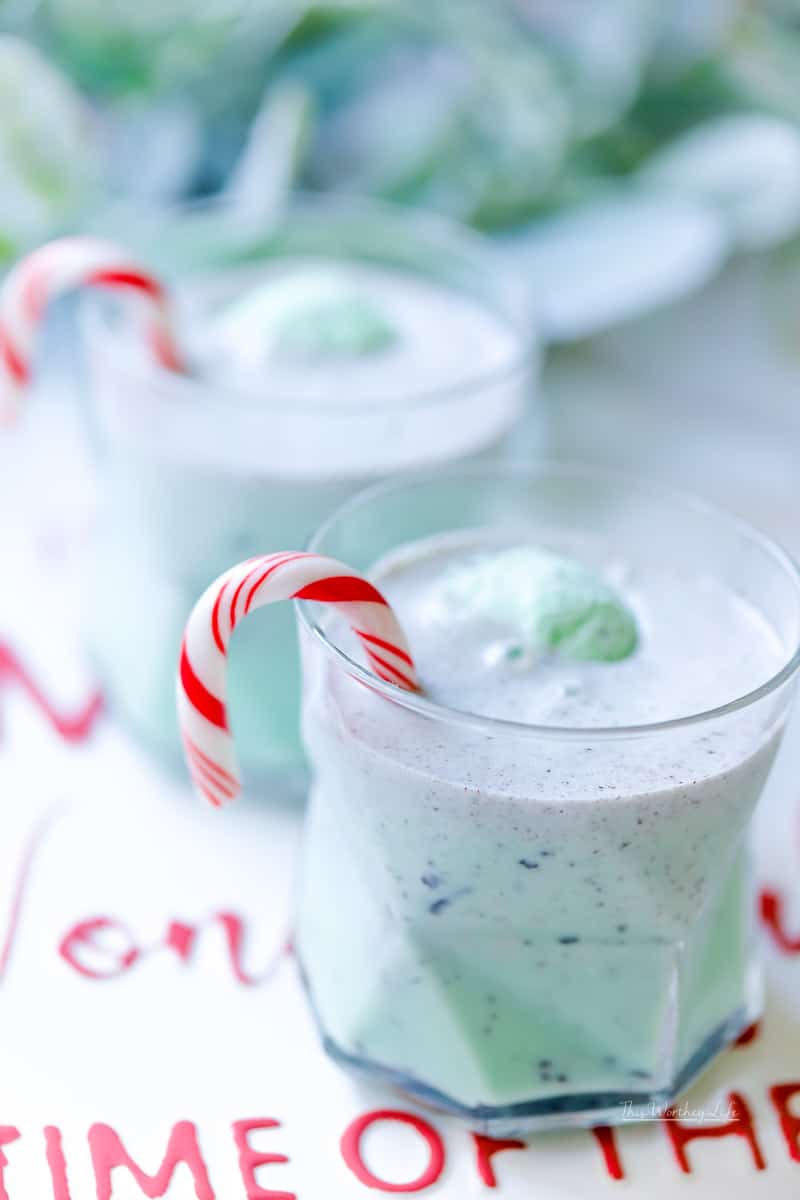 Want another spin on the classic eggnog? Do you love mint chocolate chip ice cream? If so, you must try our Mint Chocolate Chip Eggnog Punch!
This delicious cocktail will tantalize your taste buds as it is extra minty and super frosty.
By mixing a little eggnog, rum, mint chocolate chip ice cream, and some ginger beer, you will have a festive holiday cocktail you and your guests won't soon forget!
This easy cocktail is perfect for any gathering and amazing as an after-dinner!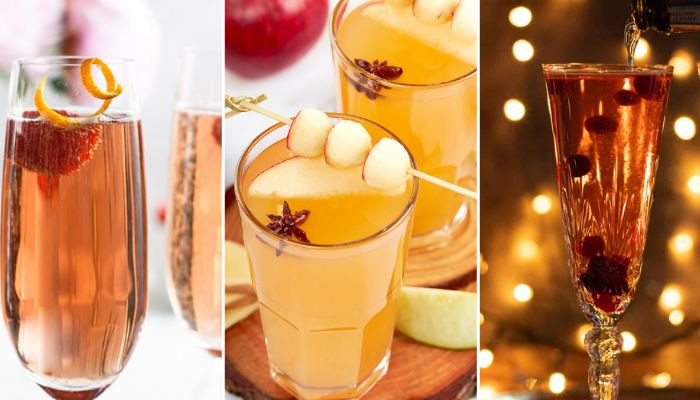 Keep reading below for more Holiday Cocktail Recipes!
Created 2014/12/14 Updated 12/05/2021
Find more Christmas cocktails below:
15+ Boozy Holiday Cocktails To Help You Survive Your Cousin Eddie During The Holidays