Is your family coming for an extended vacation? You may need all the boozy holiday cocktails you can get o help you survive your family's version of Cousin Eddie during Christmas Vacation.
From bourbon, rum, hard cider, and more, we have a variety of holiday cocktails for you to try this year!
So, grab your cocktail shaker because we have a lot of shakin' to do!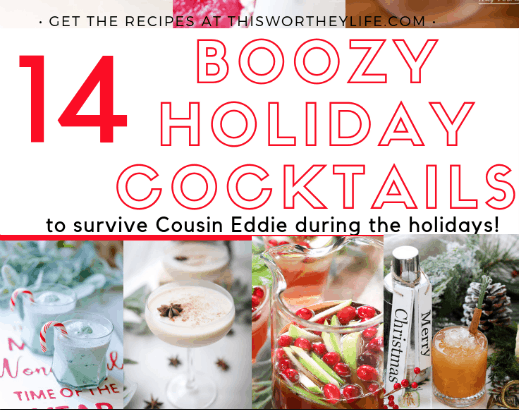 15+ Boozy Holiday Cocktails To Help You Survive Cousin Eddie During The Holidays
Hold onto your elf ears, Santa hat, and Christmas stockings hanging from the chimney mantlepiece because we're showcasing our Essential Holiday Cocktail Roundup
! One thing is for certain, and two things for sure this is the best of our festive cocktails, and they're here to rock the holiday big time.
We're showcasing the cocktails that our viewers have liked and shared on This Worthey Life.
You can't go wrong no matter which one you want to make for your friends and family this holiday season.
So, grab your favorite cocktails, and let's raise a celebratory toast to the happy holidays. Cheers!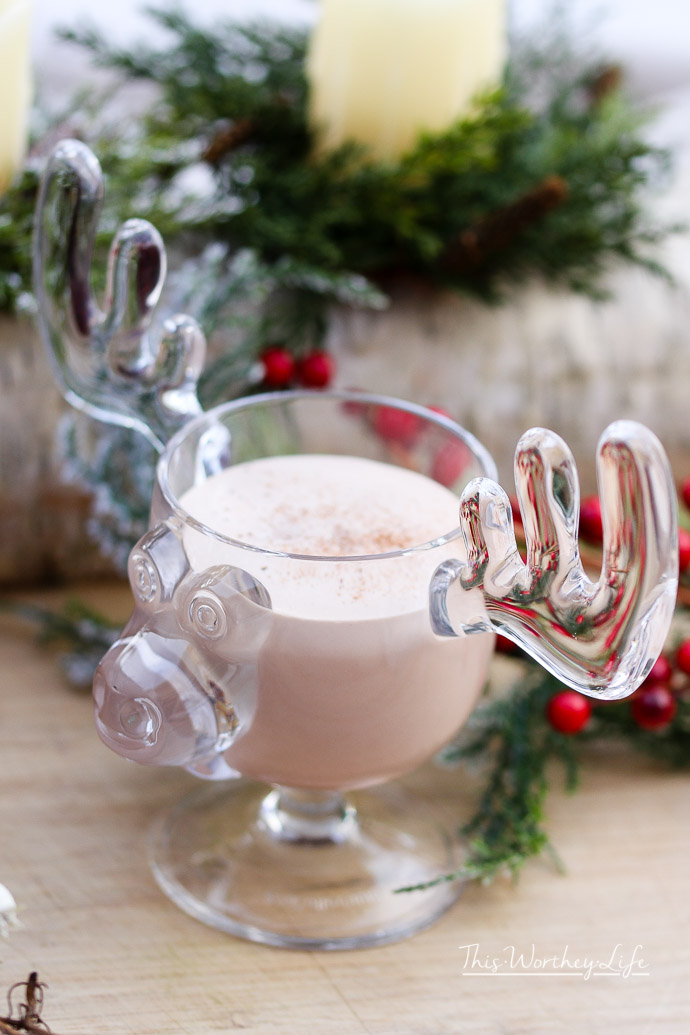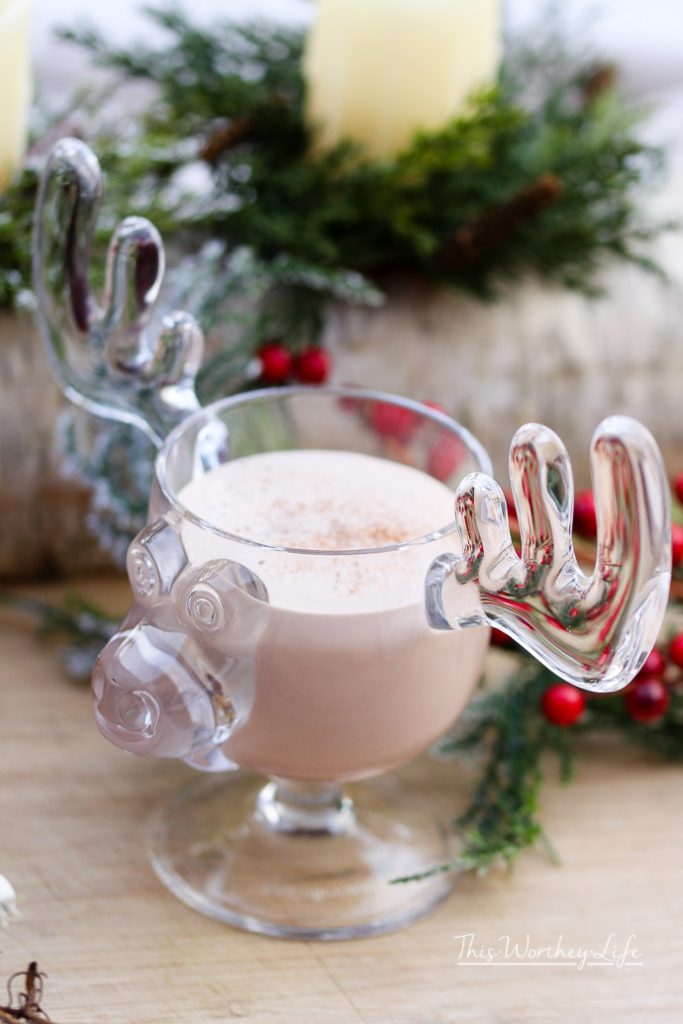 Want an eggnog recipe that doesn't require eggs?
Try our Boozy Bourbon Eggnog inspired by Cousin Eddie from National Lampoon's Christmas Vacation.

Our Pom Cherry Whiskey cocktail is a mix of pomegranate, cherry, and a little whiskey, and it's all swirled with a secret ingredient.
This whimsical drink is great for a nightcap or an impressive way to wow your party guests.
Either way, this refreshing whiskey drink is one to add to your cocktail menu bucket list.
Can you guess what the secret ingredient is?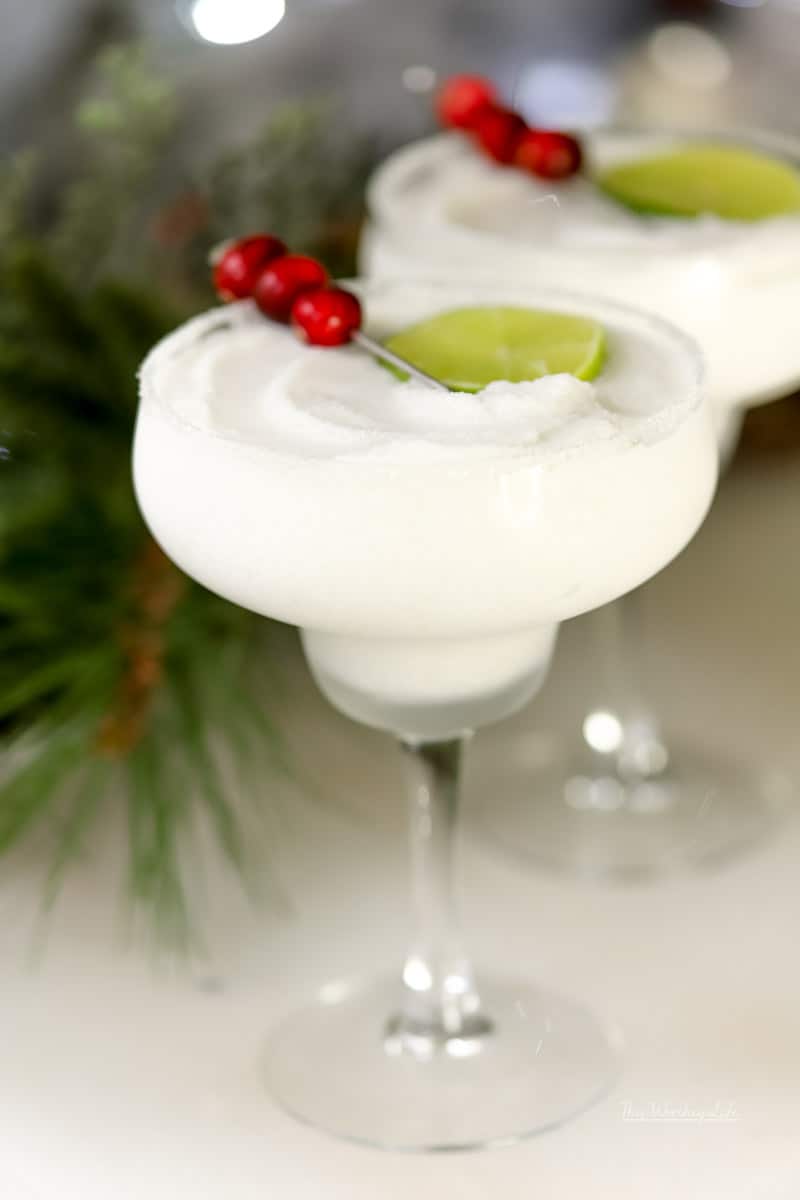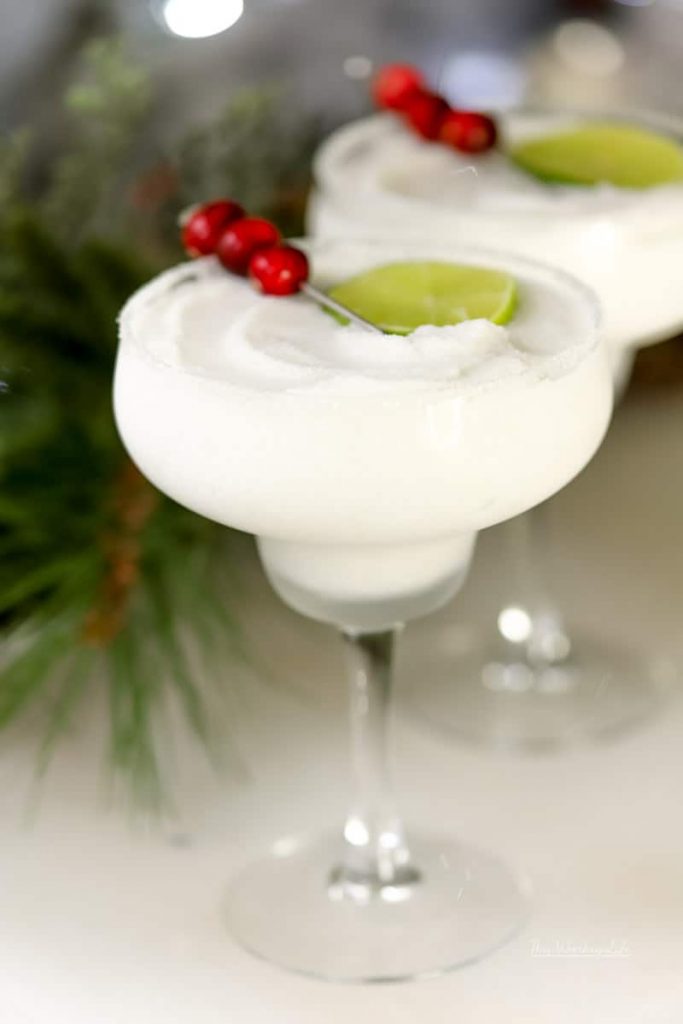 Our deliciously dreamy Frozen Peppermint Coconut Margarita is one of our best holiday cocktails.
And with good reason, because this chilly favorite is filled with so many yummy ingredients!
So what are you waiting for?
Make this cocktail!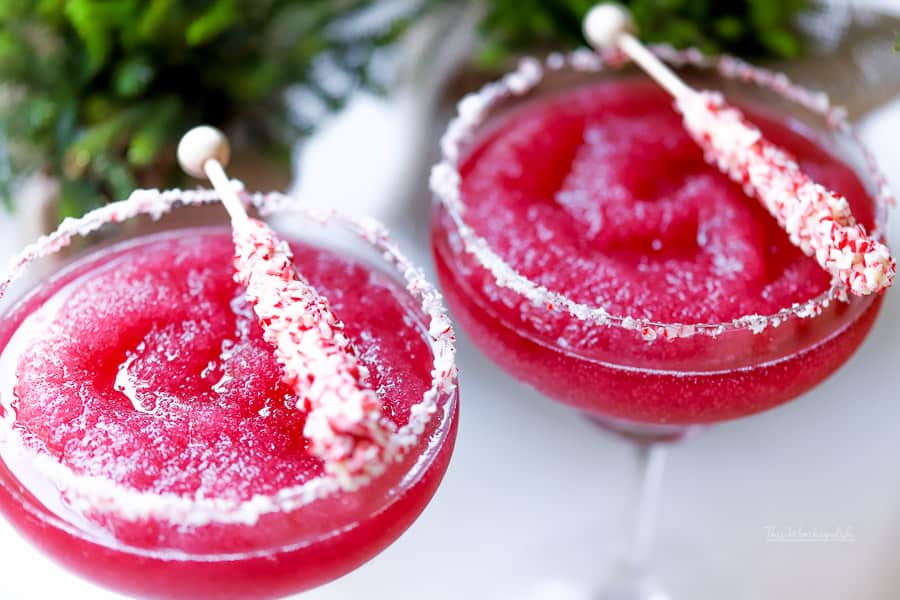 Want the recipe for this deliciously festive margarita? Get it here, Frozen Cranberry Margarita.
This holiday margarita is nothing to turn your nose up to; it is more proof that festive margaritas are very popular this holiday reason.
But that's no surprise because a good margarita is always welcome, and our festive Frozen Cranberry Margarita is no exception.
It has all the ingredients of a typical margarita, but we've added the sweetly tart sour twang of cranberry juice, and to make it even more festive, we went and added a crushed candy cane rim!
This one is Mrs. Claus-approved, and then some!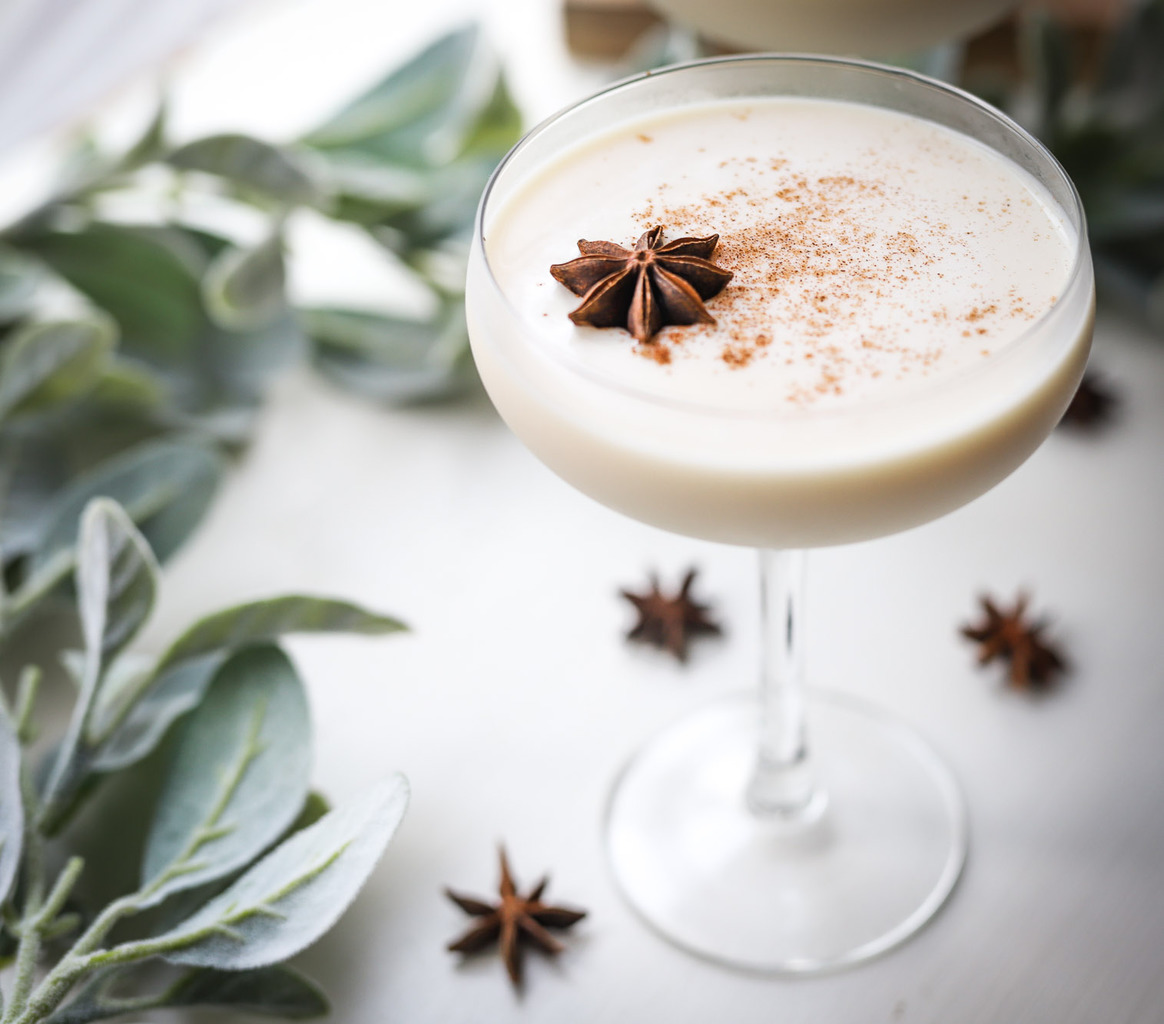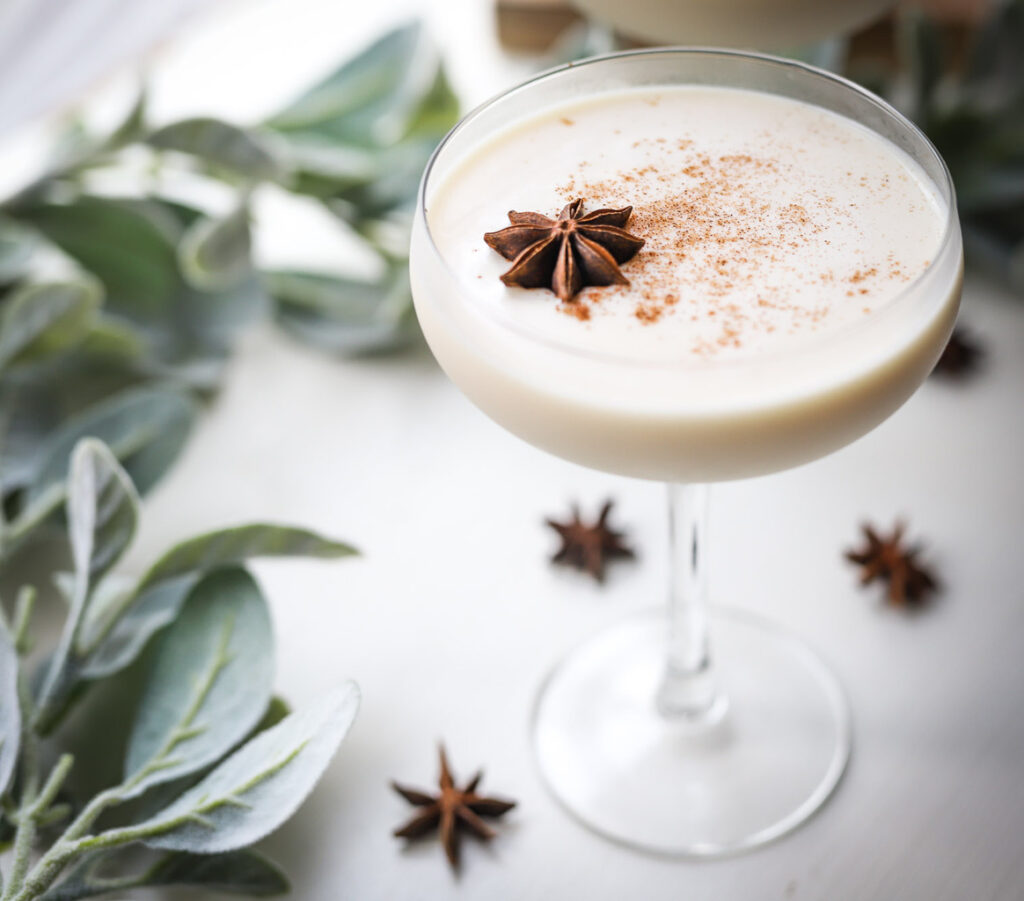 We got the best eggnog and bourbon cocktail you'll ever find! Here it is, White Chocolate Bourbon Cocktail.
This eggnog cocktail is like no other. This is not your grampa's eggnog recipe.
Well, maybe your gramps was a party animal and was so cool like dat'!
Regardless of your grandfather's rabble-rouser status, we got a rock-solid eggnog drink in our White Chocolate Bourbon Eggnog.
This one is so smooth and delicious that you'll have difficulty convincing your brain that it's not spiked with a big and potent pour of bourbon whiskey.
This one should come with a warning label. TASTE GREAT BUT WILL MESS YOU UP! YOU HAVE BEEN WARNED!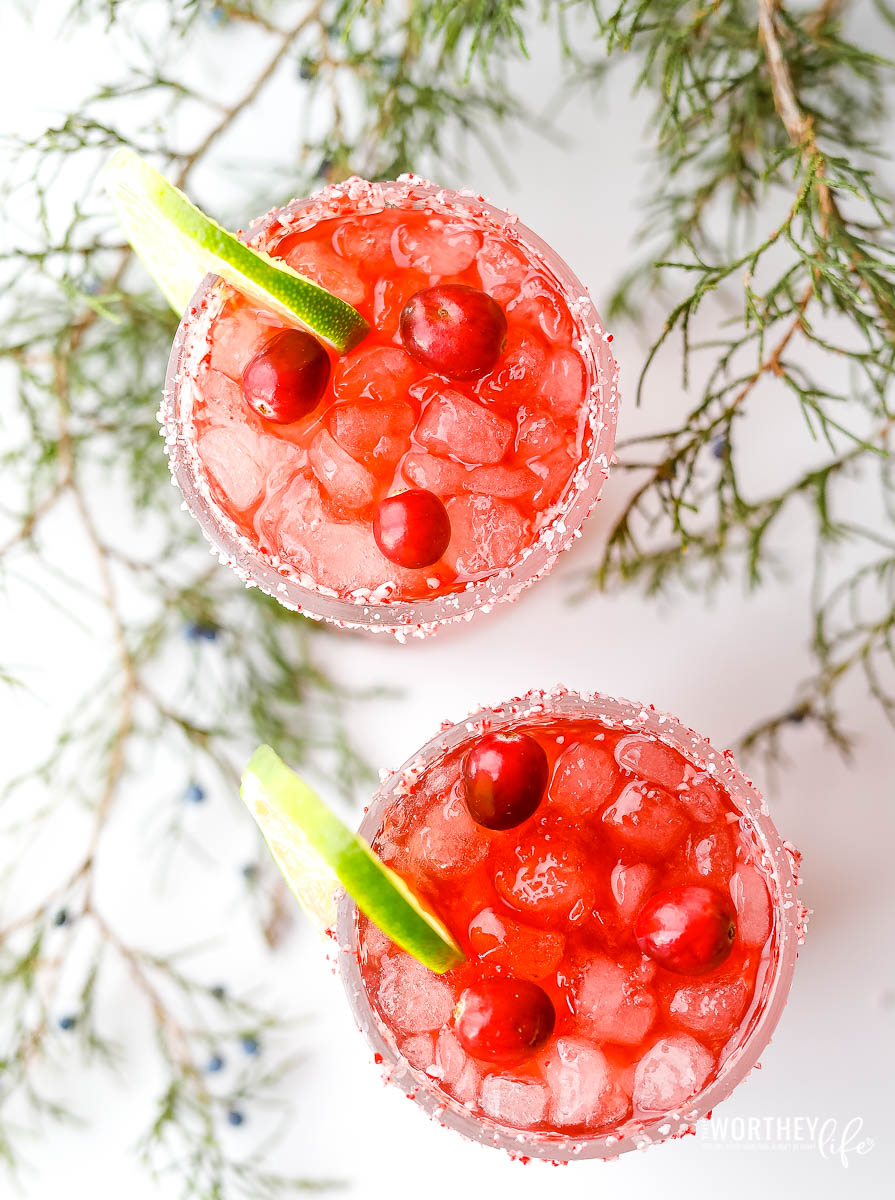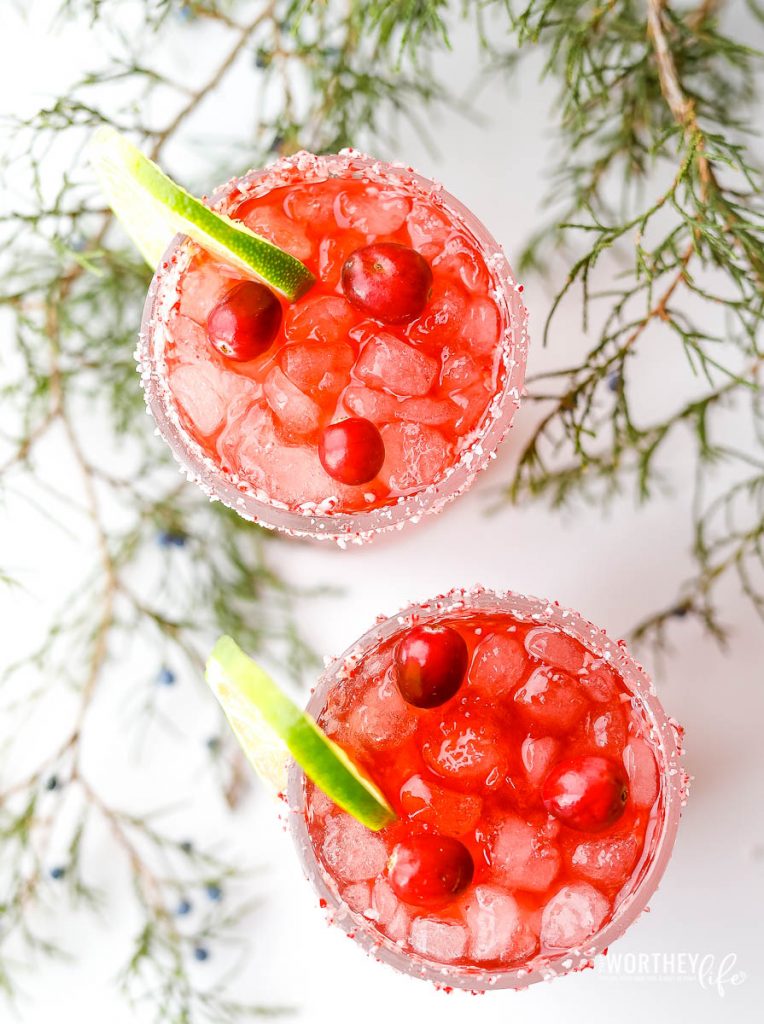 Then this combination needs to be on your cocktail bucket list.
We're bringing our classic margarita to the Christmas party by adding seasonal flavors such as cranberry and peppermint.
Our Cranberry Margarita recipe has a tequila soul but makes merry and raises a glass for peace on earth and goodwill to all mankind.

This sweet and festive holiday cocktail is a delicious Rosé Sangria.
Celebrating the holidays just got a little easier with a holiday Sangria.
You'll want to drink this one again and again.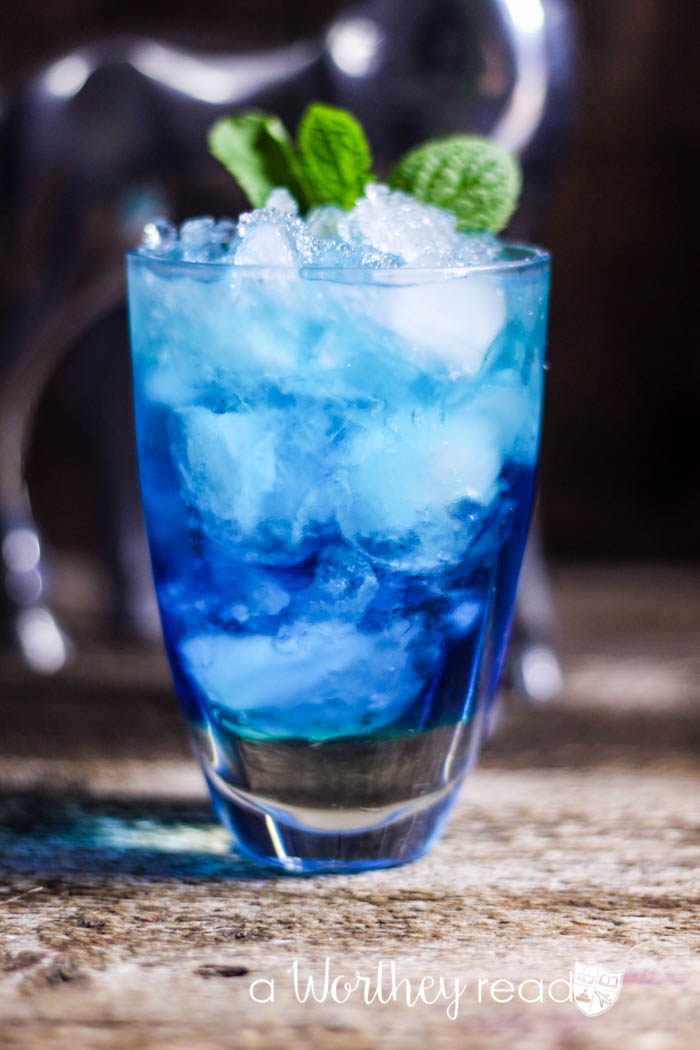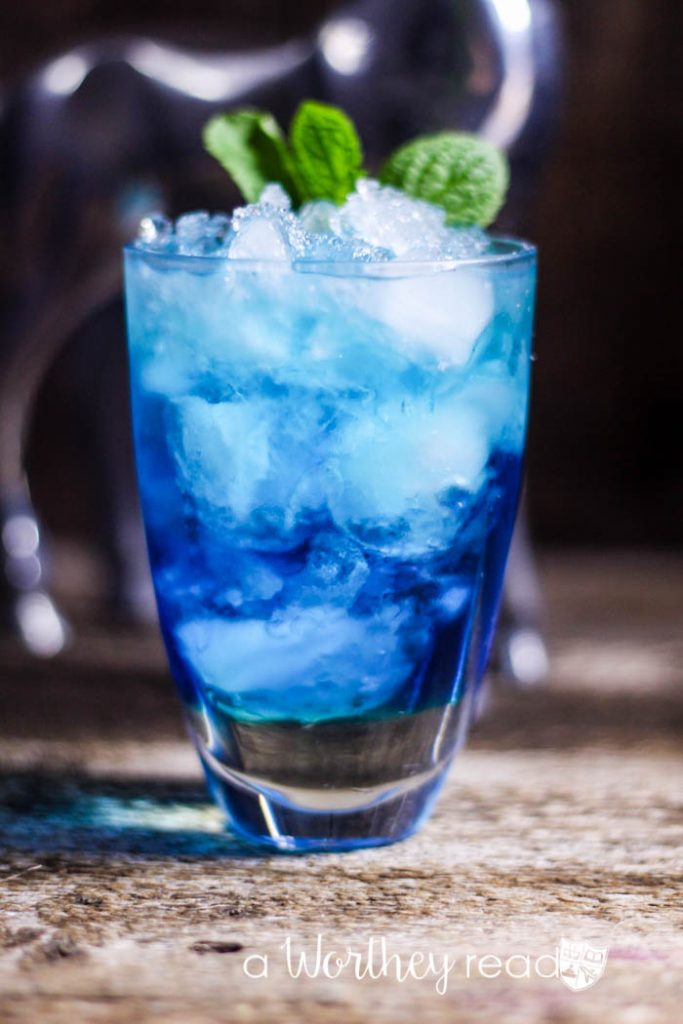 Easy Party Cocktail or Holiday Cocktail – The Blitzen
Tis' the season to be jolly, right? And nothing helps put the joy in jolly old Nick like a delicious and beautiful cocktail.
Our latest cocktail creation, aptly named The Blitzen fits the bill nicely.
It's got peppermint, which is the perfect Merry Christmas flavor bar-none.
And Blue Curaçao adds tons of festive color, and its sun-drenched orange taste mingles nicely under the mistletoe.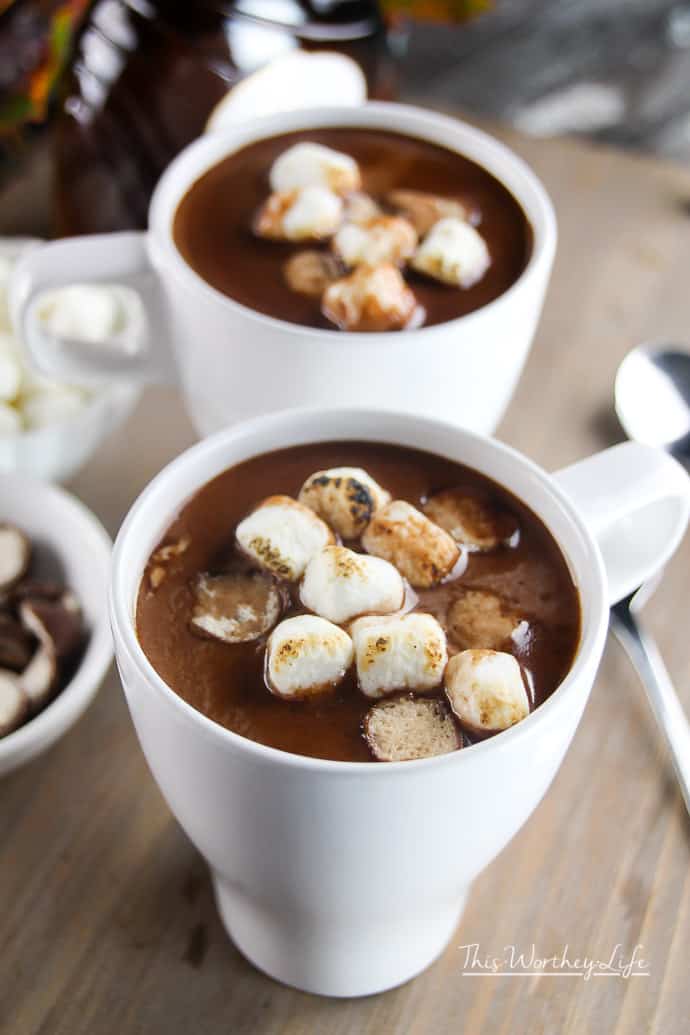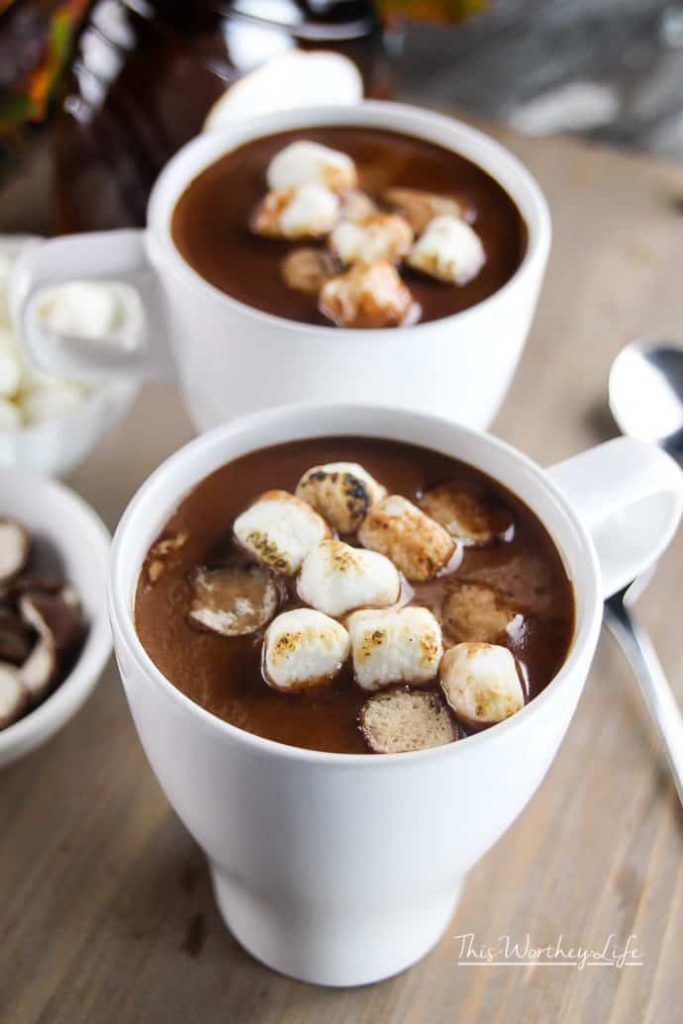 Cozy up with this hot winter drink's full-on malted hot chocolate flavor.
It is filled with rich chocolate, milk, and some Whoppers malted candies!
This quick hot chocolate recipe is ready to keep you warm on a cold winter's night.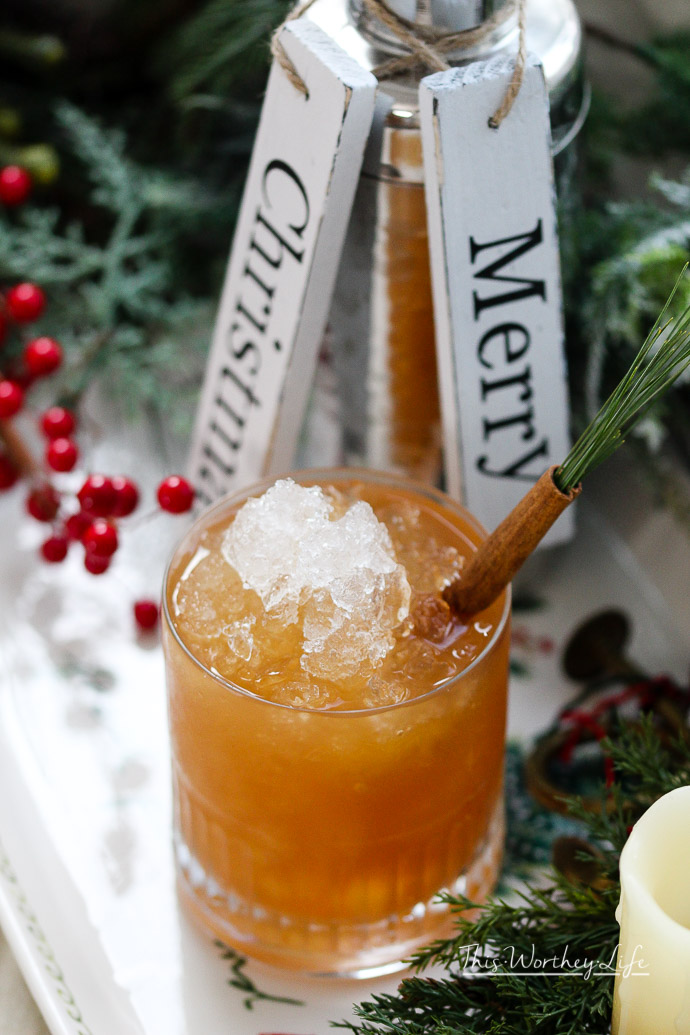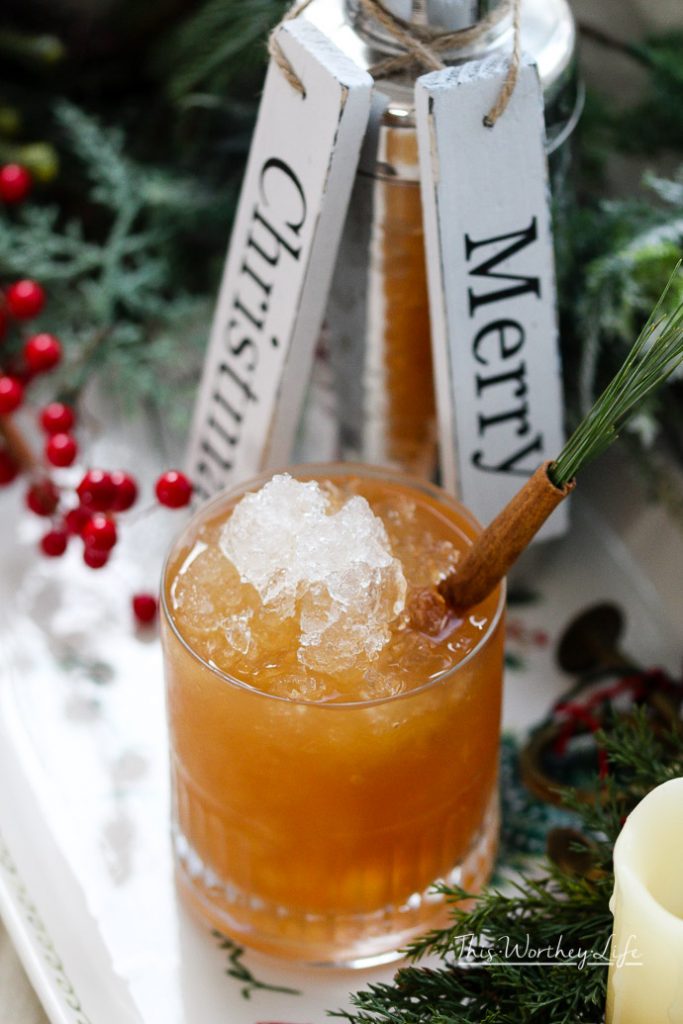 Twist your classic Manhattan cocktail with fresh pressed juice.
And if you don't have that readily available, mix your whiskey with apple cider to create our Old Town Manhattan cocktail.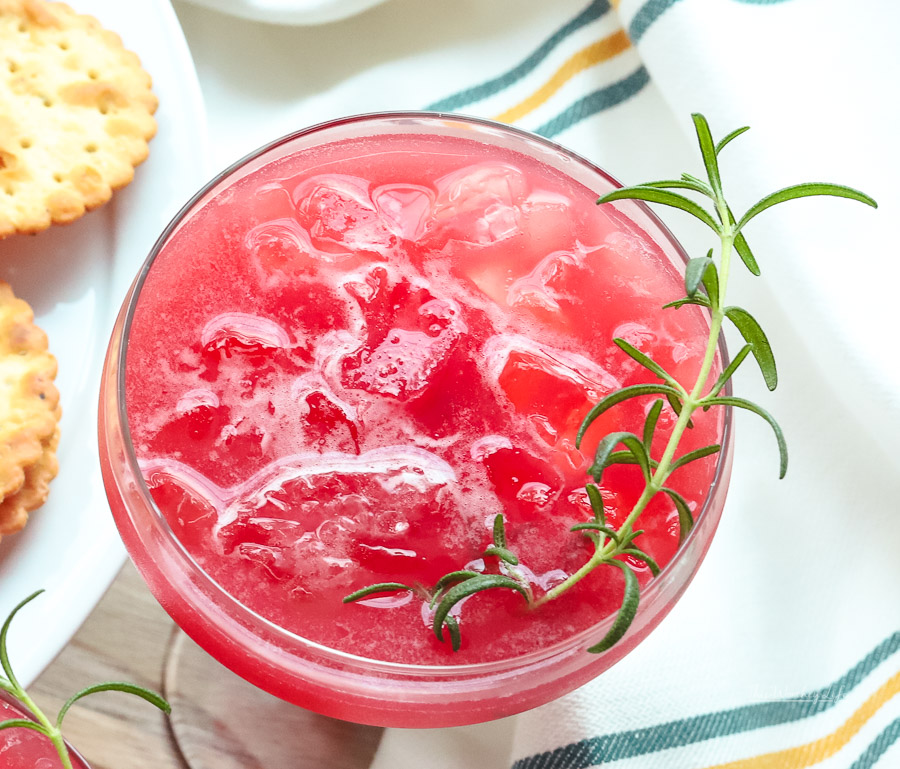 Make a very respectable and way toothsome cranberry and bourbon cocktail make our Cranberry Bourbon Punch.
Who says coming in second place is a bad thing?
Whoever spoke such nonsense never tasted our number two holiday cocktail of all time.
Our delicious Cranberry Bourbon Punch is not only 100% photogenic but also one of the best-tasting bourbon cocktails you will ever sip this side of Kentucky!
But don't take my word for it; grab your best bourbon and cocktail shaker and make this cocktail ASAP!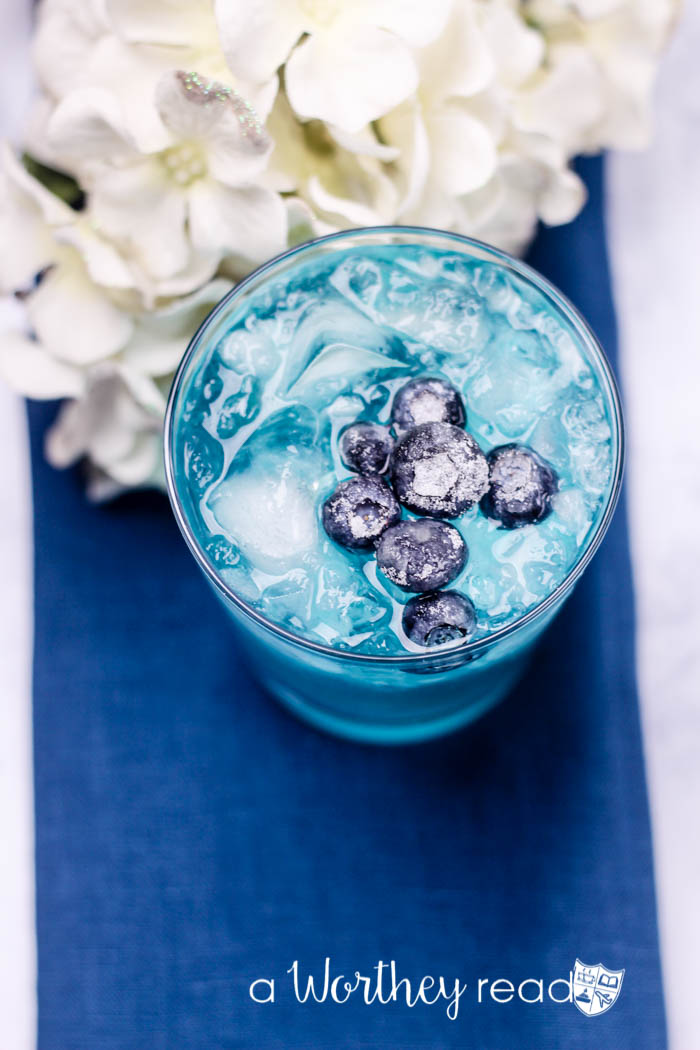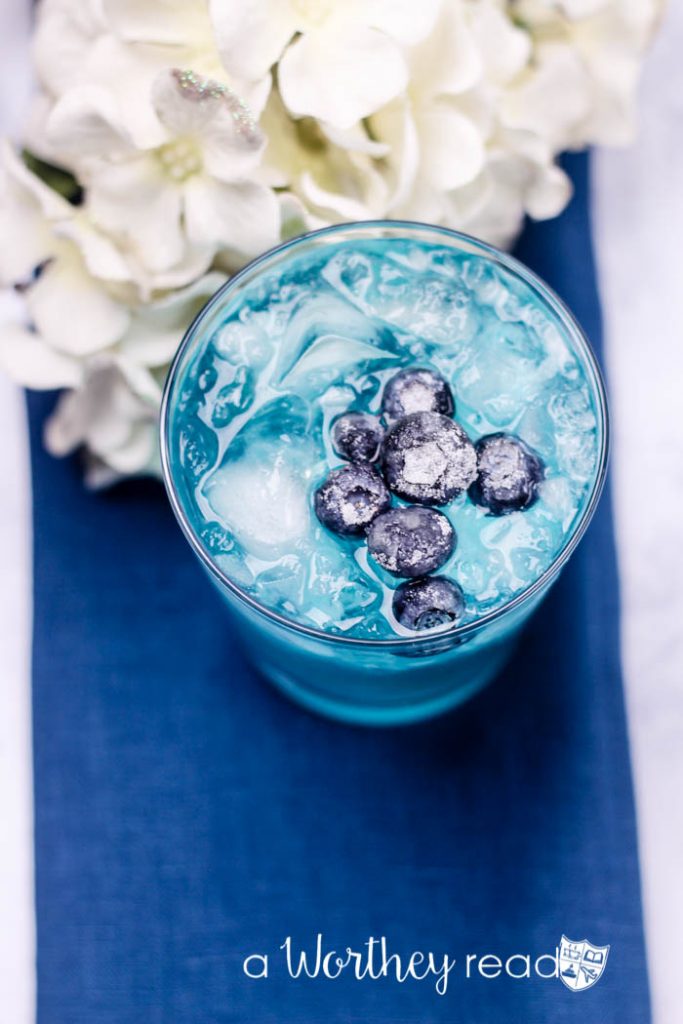 Whiskey will make everything better, especially this festive Blue Whiskey cocktail!
Your Christmas Eve can be the perfect type of Blue with this easy cocktail mixed with Whiskey, Blue Whiskey.
It's a stiff drink which is blue in color, with an amazing taste!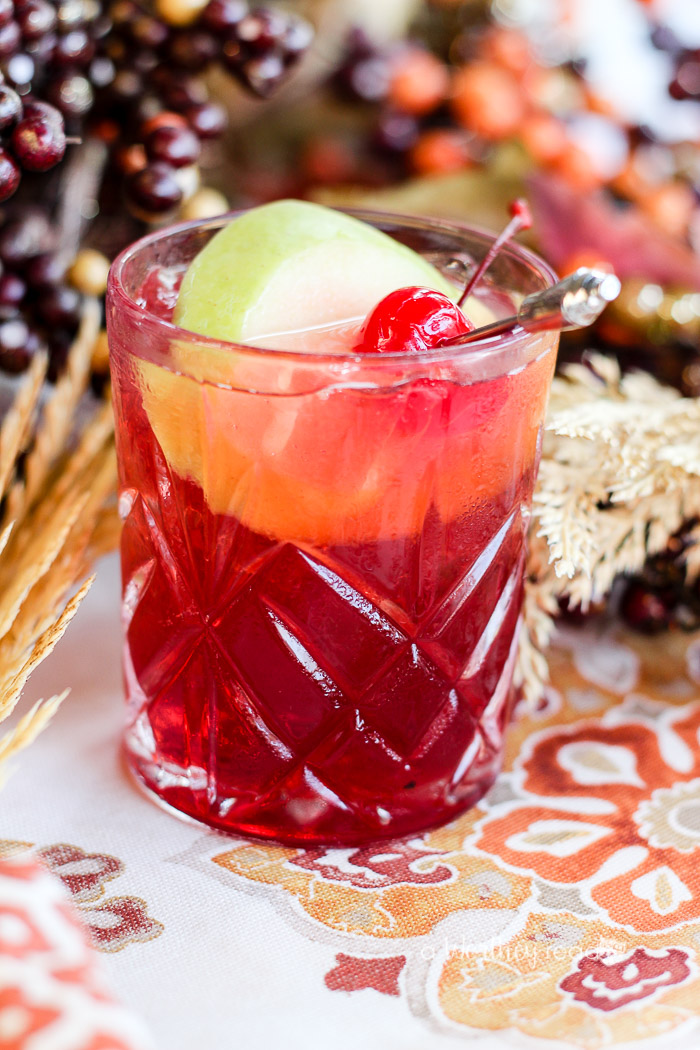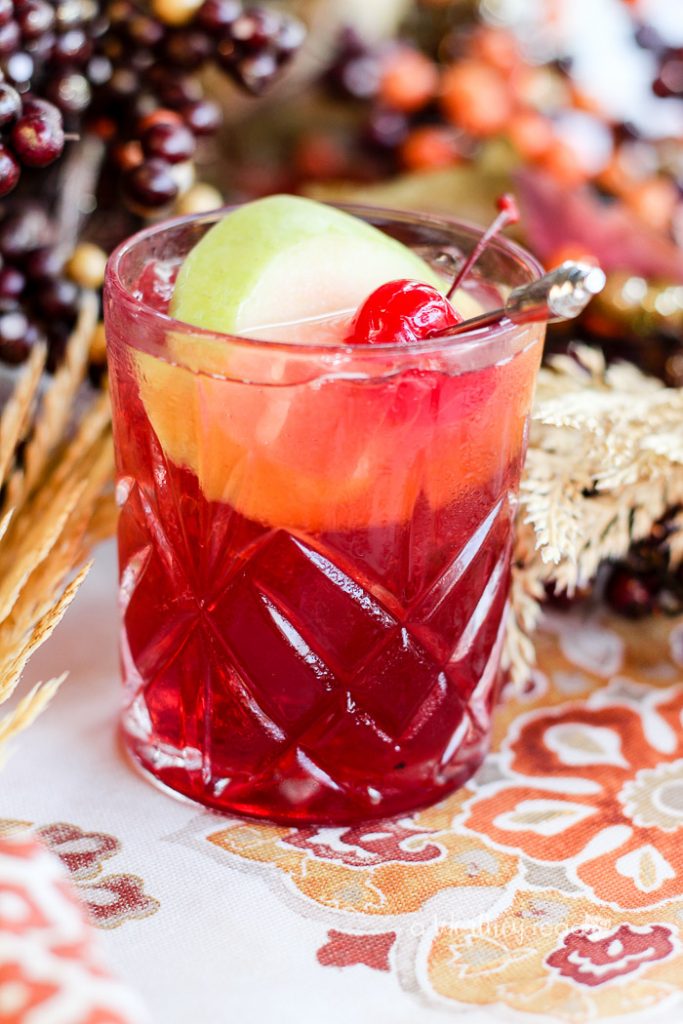 Our Hard Cherry Cider Cocktail is sure to be a big holiday hit.
It's the cherry blend of holiday cheer and sweet, delicious apple cider. Salud!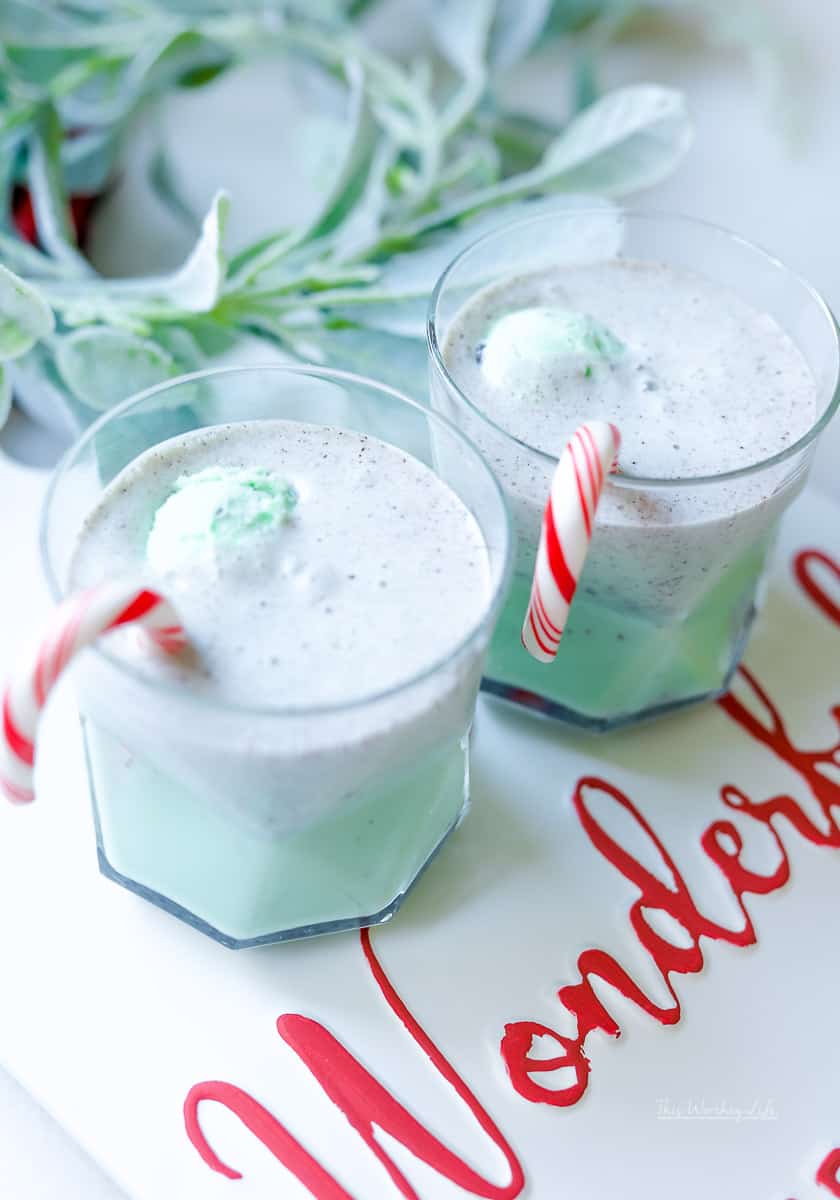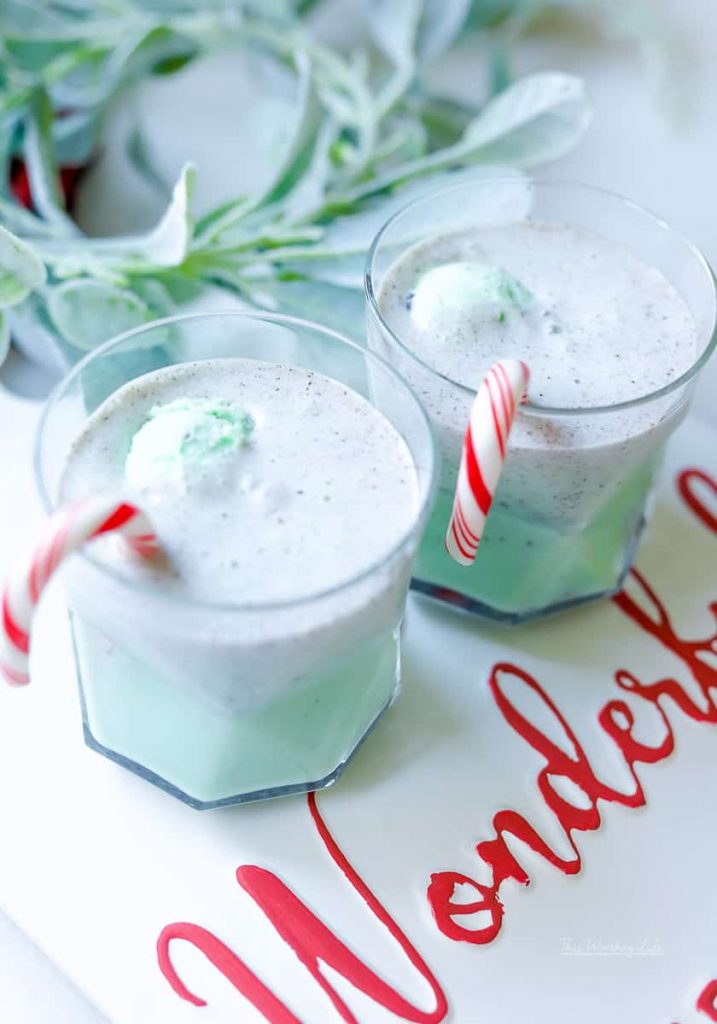 Boozy drinks are perfect for the holidays.
Mix in a bit of eggnog, rum, mint chocolate chip ice cream, plus ginger beer, and you have a festive holiday cocktail you and your guests won't soon forget!
Our Mint Chocolate Chip Eggnog Punch is bound to be the talk of Christmas dinner.
Or, if you're hosting Cousin Eddie and the fam, you'll want to keep dipping your mug in this deliciously spiked punch bowl!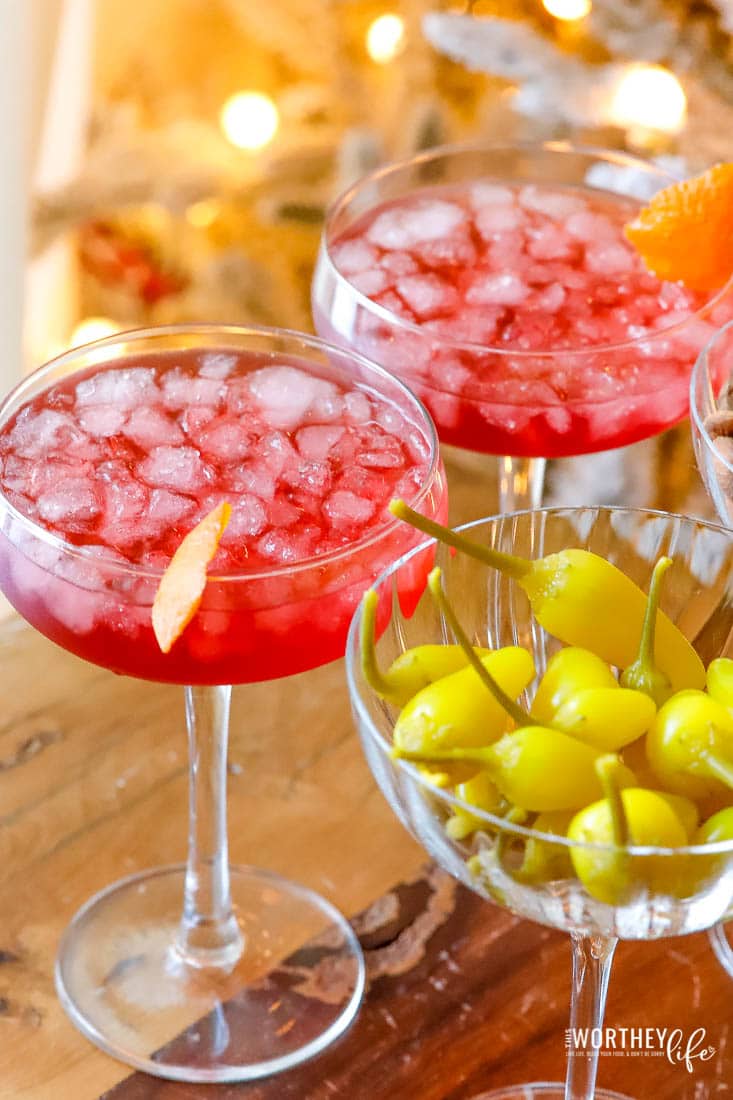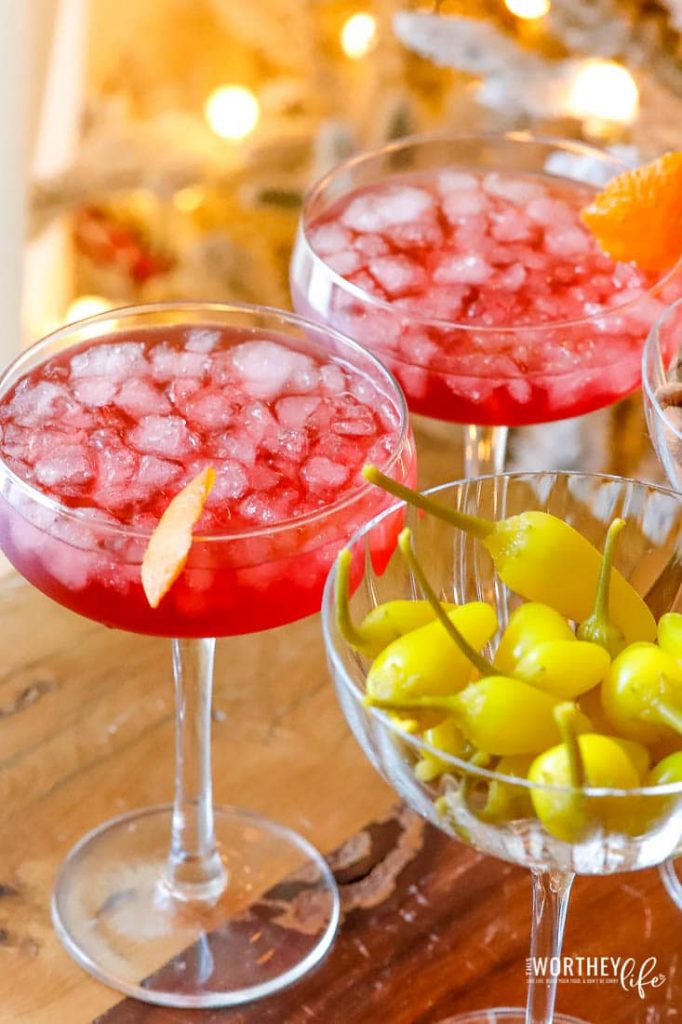 One thing about this cocktail is that it doesn't have the strong taste of booze, yet it's pretty boozy in terms of potency.
In other words, it's a sleeper, meaning it'll sneak up on you, and you won't even know it.
Too many of this particular holiday cocktail and you better call an Uber or have a designated driver, and you're good to go.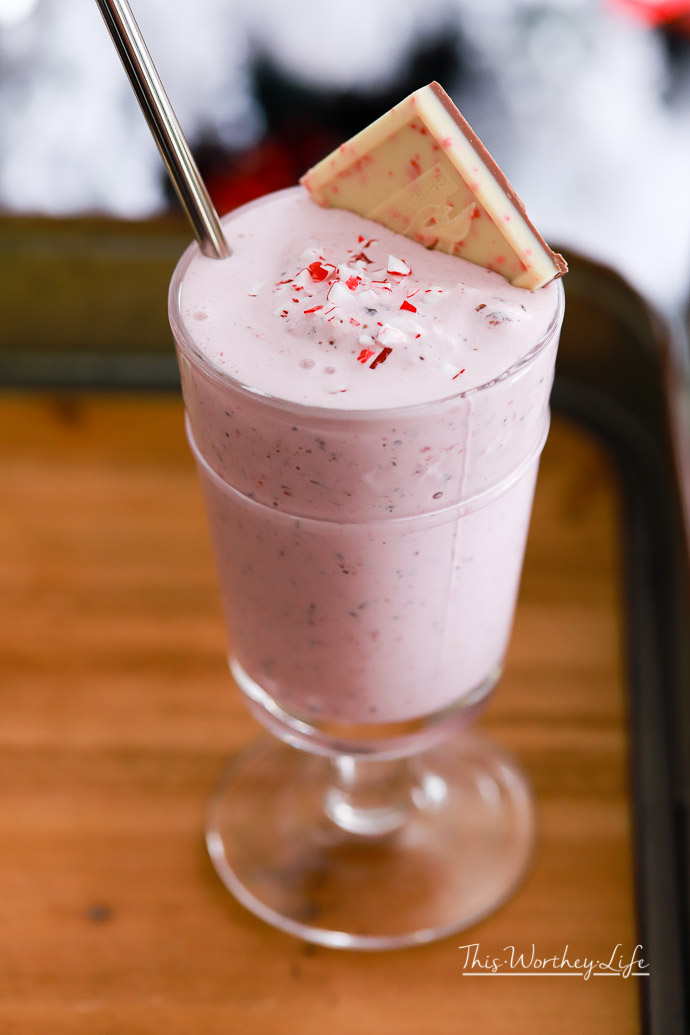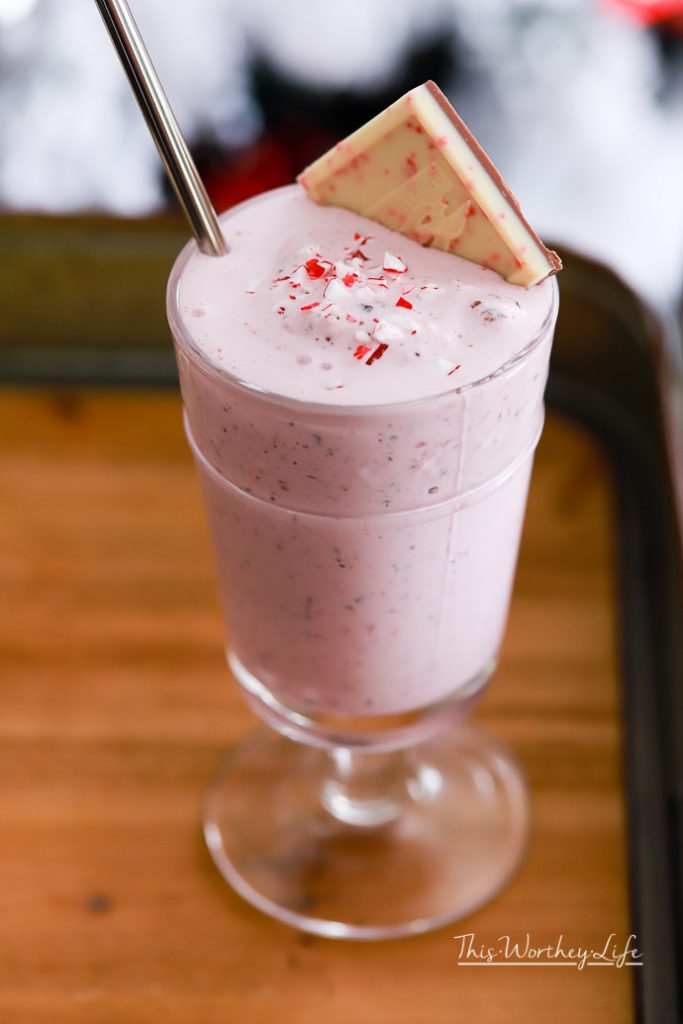 Of course, you want to make this Peppermint Shake Cocktail for your friends and family.
Can we get a drum roll, please!
Coming in at our numero uno NUMBER #1 most searched holiday cocktail to date is our reigning champion, The Perfect Christmas Peppermint Shake Cocktail!
This is the cocktail viewers have viewed and shared the most EVER!
These loving and caring folks have done the hard work of making, tasting, and enjoying this festive cocktail over and over again.
Now, that's what I call vetting at its very finest. See, these are true friends!
So, give one or all of them a try, and come back and let us know which one is your favorite holiday cocktail!
Cheers (and drink responsibly!)