Get ready to host your Golden Globes watch party award show!
I'm sharing tips on hosting an award watch party, what to serve, and free Golden Globes ballot printables to use.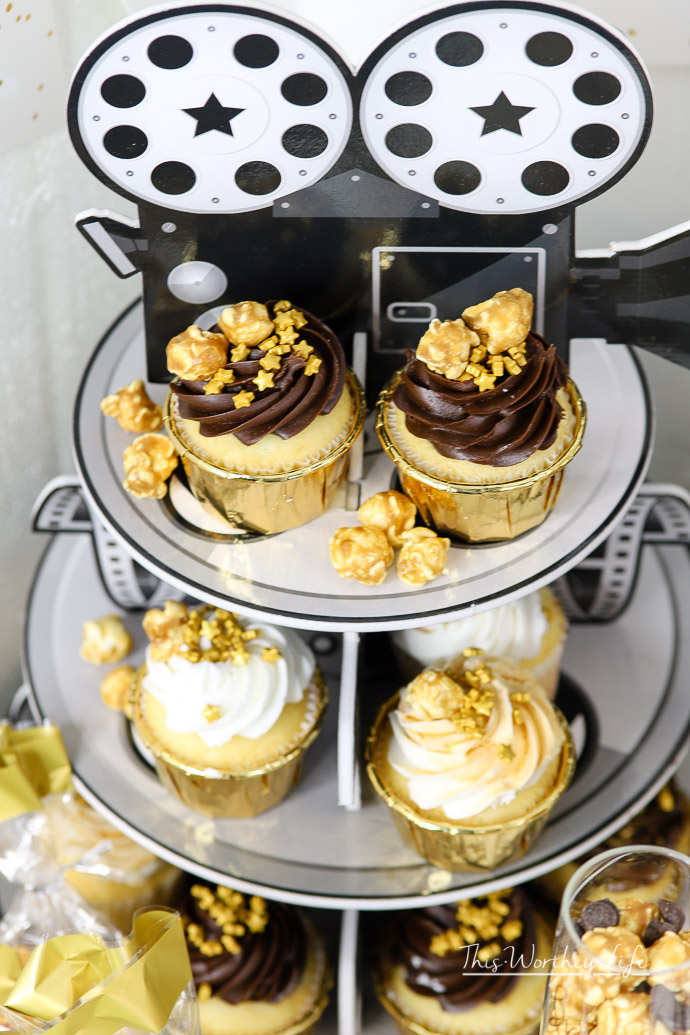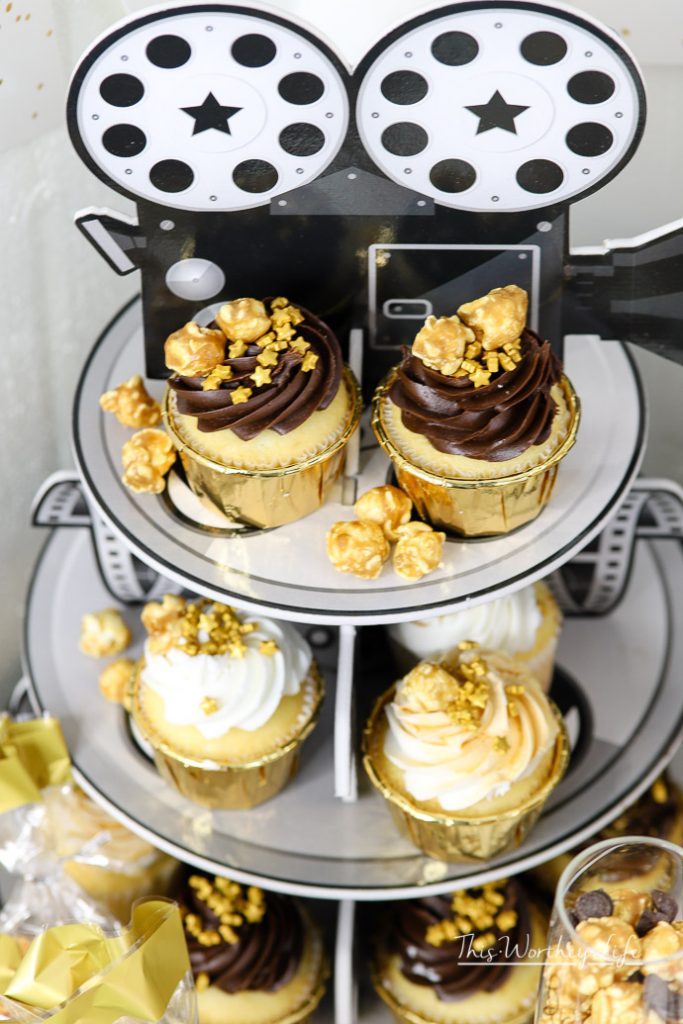 Golden Globes Watch Party + Free Golden Globes Printables To Use
The Golden Globes Award show is just around the corner, and it's a great excuse to have a party.
If you're a big movie buff or love to watch your favorite celebrity win, then I'm sure you're planning something fun for an award night.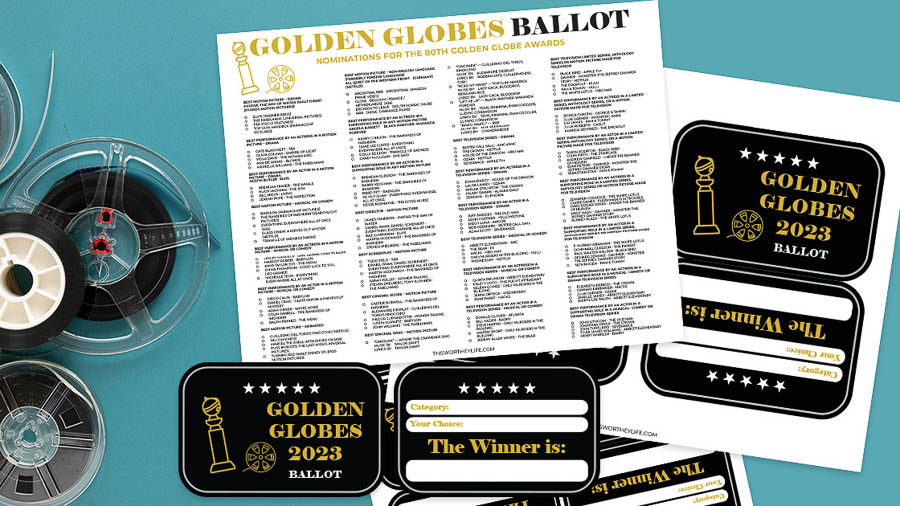 This post includes three Golden Globes printables:
Golden Globes Ballot checklist
Golden Globes 2023
It's the day of the party! Get up early so you have time to cook and get everything together.
Hopefully, if you have followed my tips, you have everything you'll need and rock this Golden Globes party OUT!
When are the Golden Globes this year?
The 2023 Golden Globes will air on Tuesday, January 10th, 2023, starting at 8 PM EST at the Beverly Hilton in Beverly Hills, California.
This ceremony celebrates the excellence of the film and television industry in the year 2023.
This star-studded event will include the presentation of awards in 25 categories, including Best Motion Picture, Best Actor and Actress in a Motion Picture, and Best Television Series. Additionally, there will be musical performances and special presentations from the Hollywood Foreign Press Association.
Where can I watch the live coverage of the Golden Globes?
Live coverage for the Golden Globes will start on Tuesday, January 10th at 4 pm EST on (E!).
They will also live stream on their social media channels.
The Golden Globes award show will air on NBC and Peacock at 8 PM EST on Tuesday, January 10th, 2023.
You can watch it live on NBC via your cable provider and several services that will live stream the Gloden Globes. (YouTube TV, Hulu with Live TV, Sling, etc.).
The ceremony will be televised live in more than 160 countries and streamed live on the Golden Globe Awards website.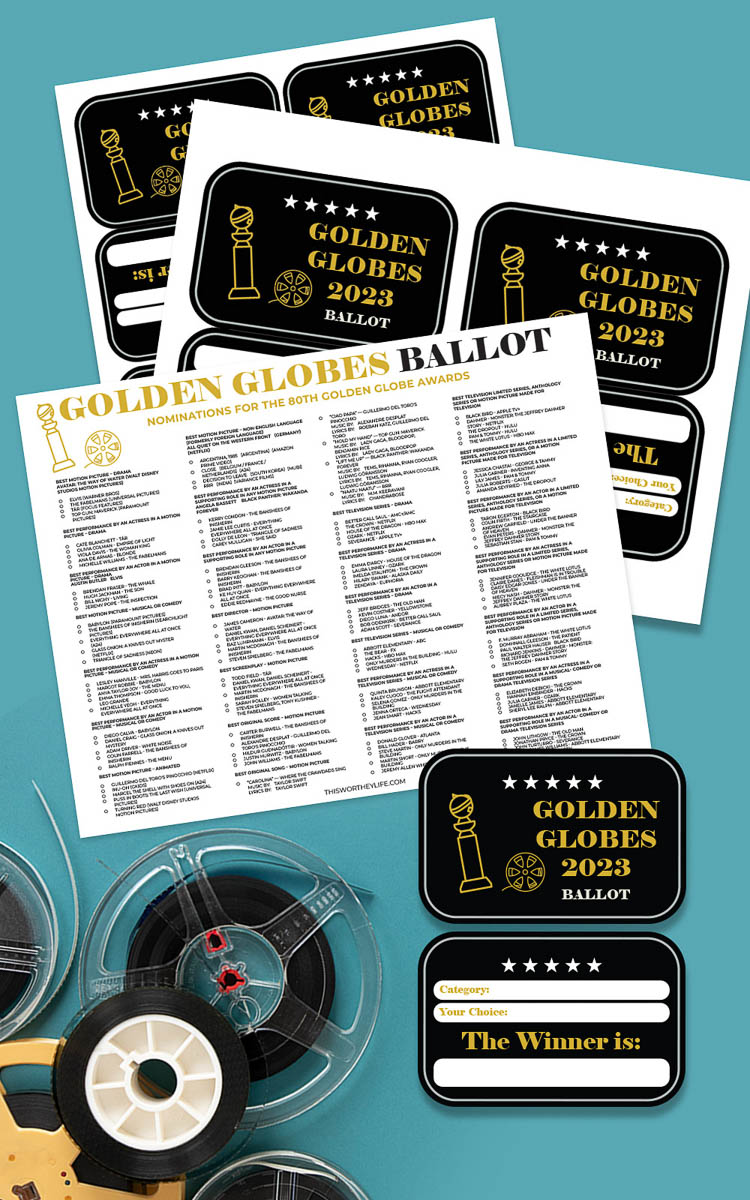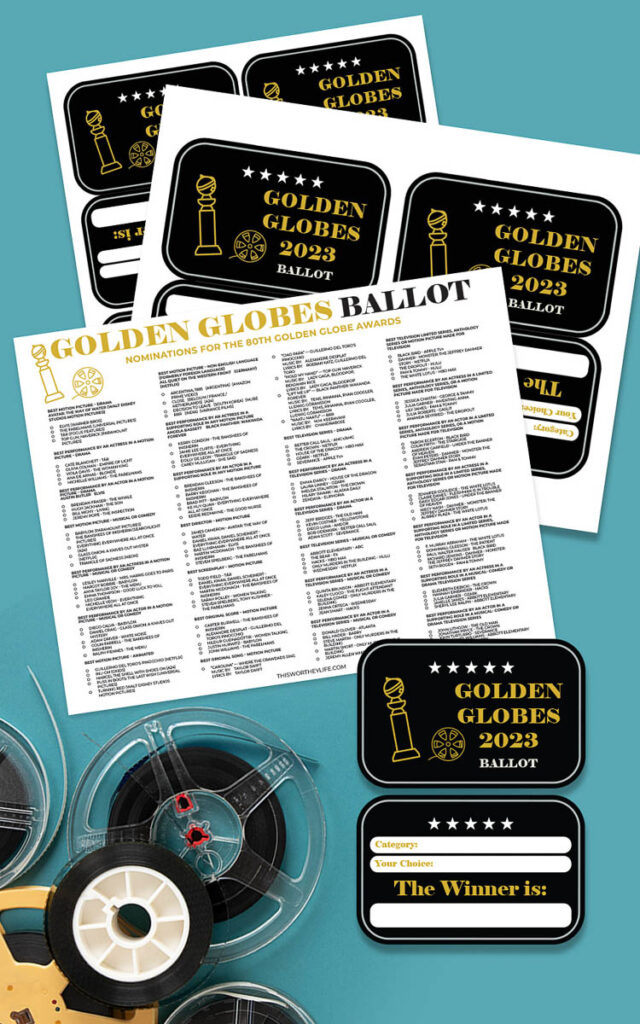 2023 Golden Globes Nominations
Searchlight Pictures tops the list of distributors with 12 film nominations, followed by A24 with 10 and Netflix with nine.
HBO Max and Netflix scored 14 nominations in the TV category, while Hulu earned 10.
The most nominated motion pictures are "The Banshees of Inisherin" and "Everything Everywhere All at Once," each with eight nominations, and "Babylon" and "The Fabelmans" with five nominations each. In television, "Abbott Elementary" leads with five nominations, followed by "The Crown," "Dahmer – Monster: The Jeffrey Dahmer Story," "Only Murders in the Building," "Pam & Tommy" and "The White Lotus" with four nominations each.
Angela Bassett is nominated for best supporting actress in her phenomenal role in Black Panther: Wakanda Forever, directed by Ryan Coogler.
I attended the premiere of Black Panther in 2018. You can read some of our coverage here:
8 Points You Need To Know From Marvel's Black Panther Press Conference
The Women of Black Panther| Interview With Danai Gurira + Lupita Nyongo
Interview with Daniel Kaluuya + Letitia Wright
Additionally, two new TV category awards have been introduced for the 2023 ceremony, splitting the previous supporting actor and actresses categories into two separate categories – one for Musical-Comedy or Drama TV Series and one for Limited Series, Anthology Series, or Motion Picture Made for Television.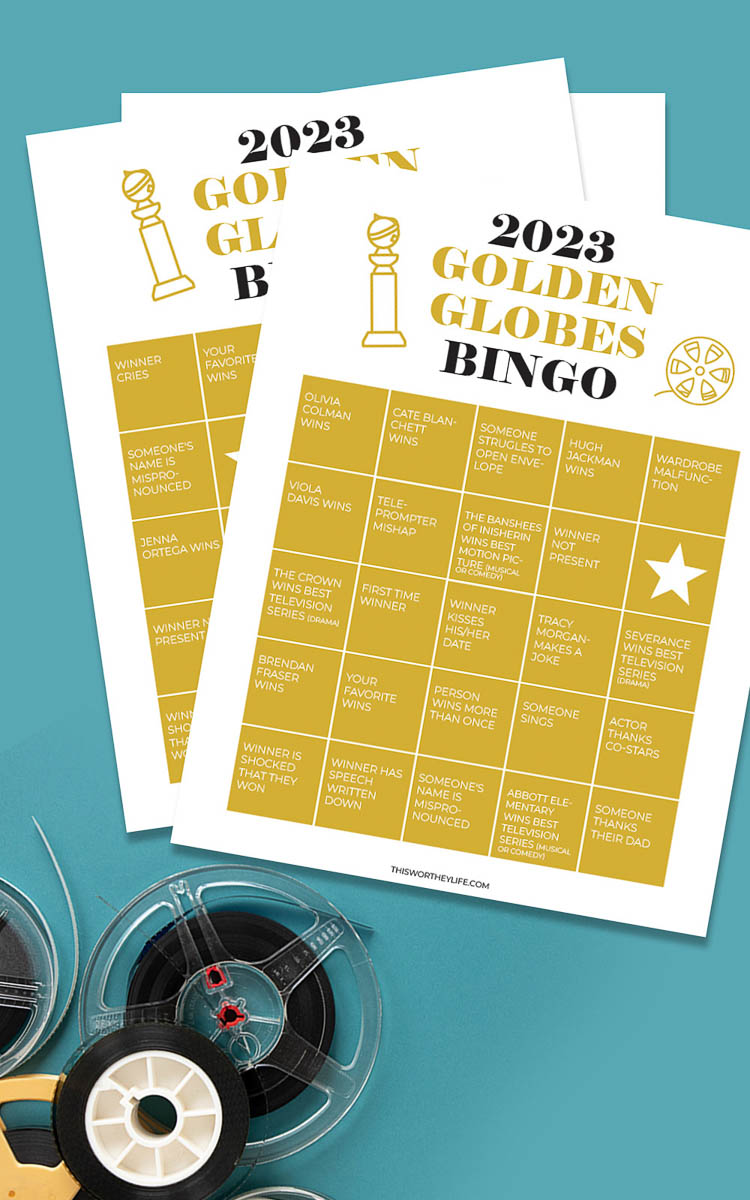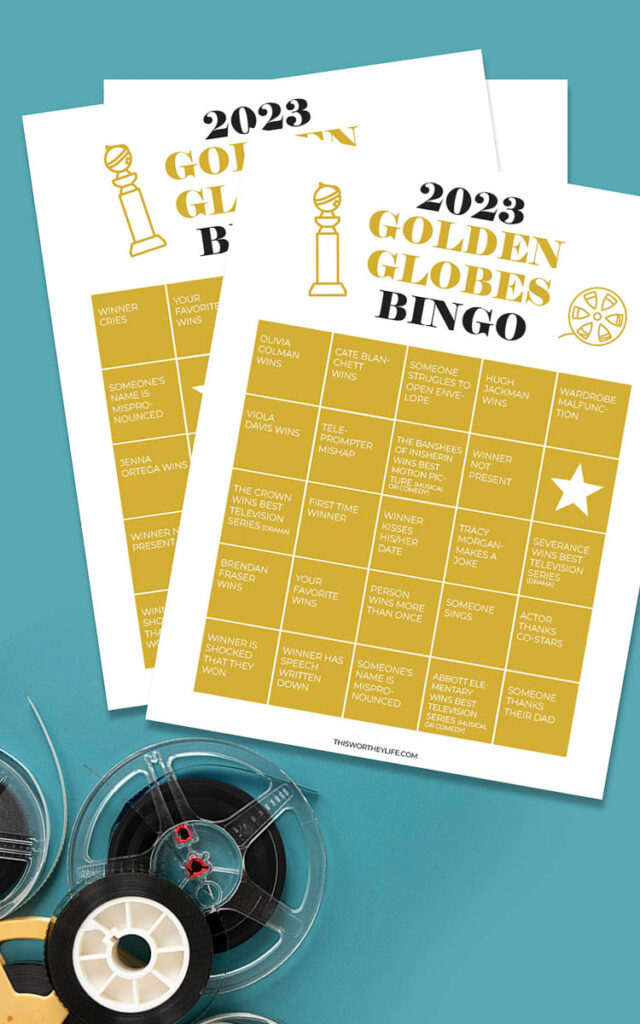 Free Golden Globes Bingo Printable
Of course, watching an award show together will be one of the highlights of the evening.
Let's take it up a notch! I put together a Bingo Award Show printable for you to use.
Each sheet has funny ideas, such as someone cries, someone photobombs a selfie, the winner mentioning kids, etc.
Whoever gets a Bingo wins! Have a small prize (optional), or the winner walks away with bragging rights.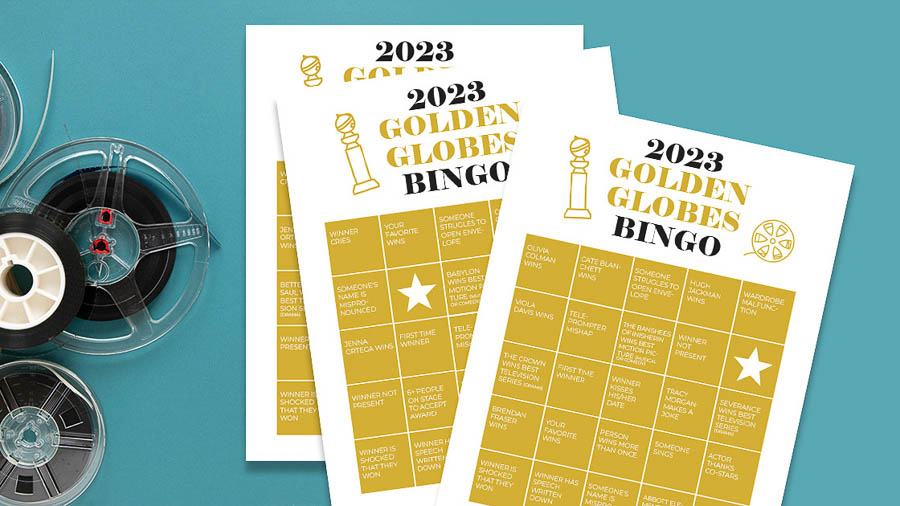 You can also use these themed Golden Globe Bingo printables at your viewing party.
The fun thing about these bingo printables is their versatility.
Whether you're planning an in-person or virtual watch party, these award printables will work for any setting.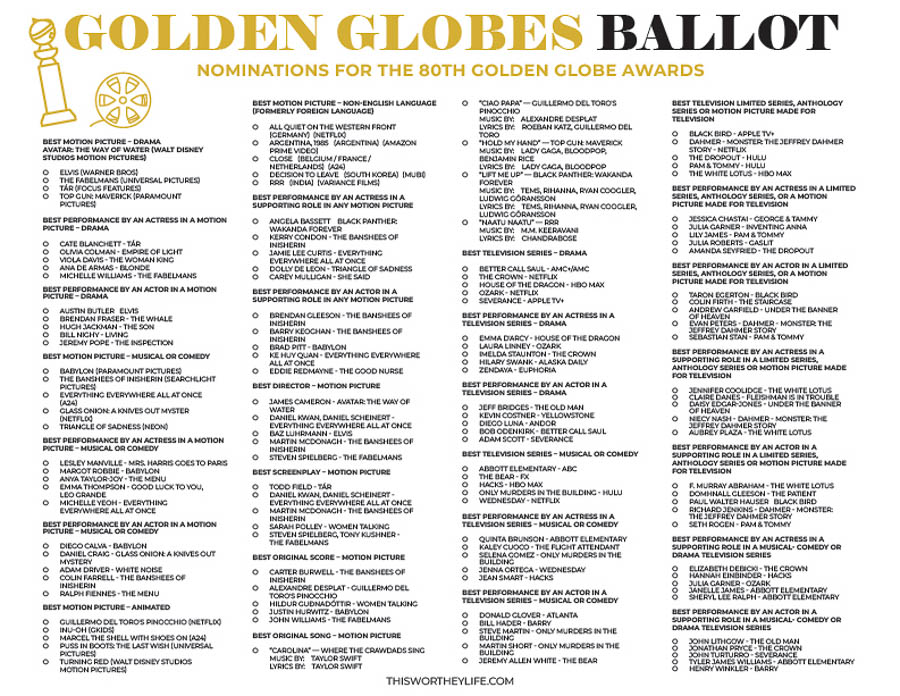 2023 Golden Globes Printable Ballot
Do you like to predict who will win best picture, best actor, best song, and best director?
Put your skills to the test by printing out this free Golden Globes Ballot checklist and filling it out before the show starts on Tuesday.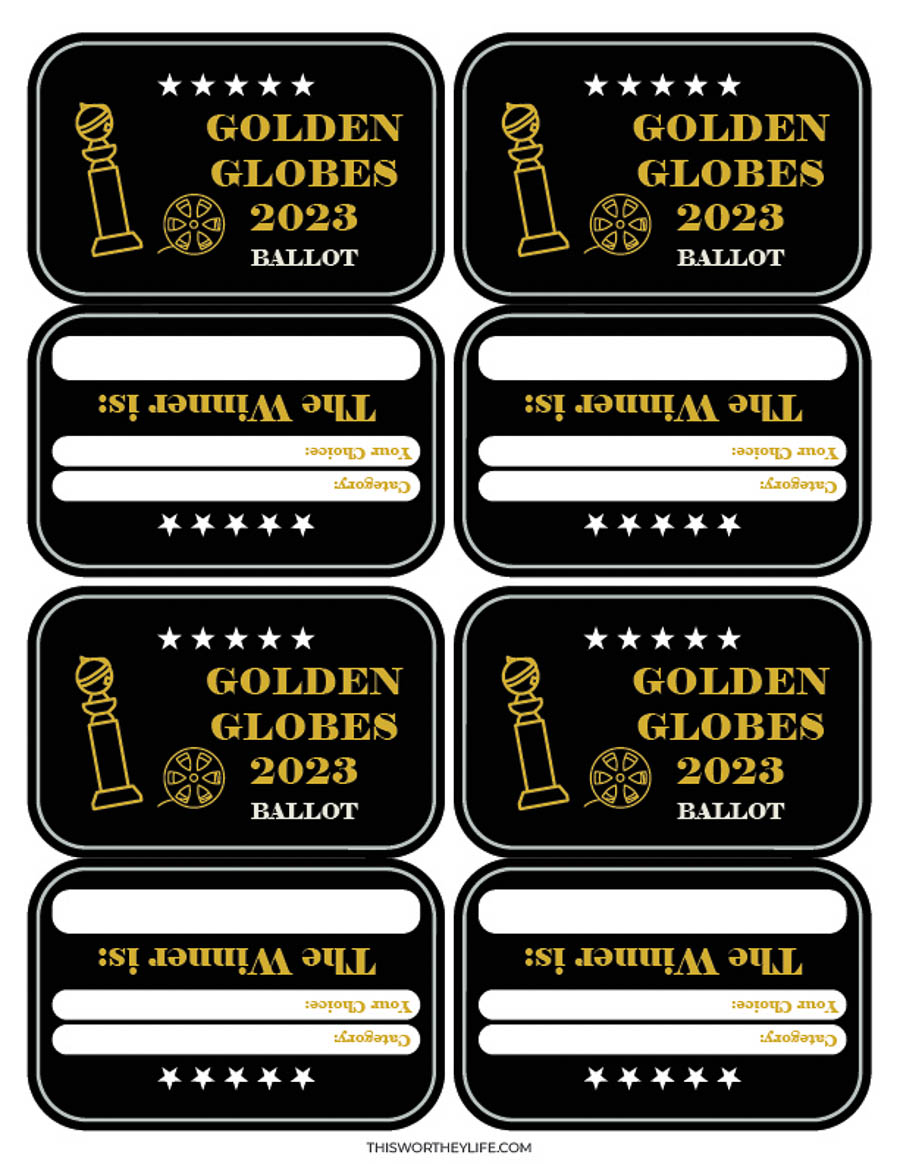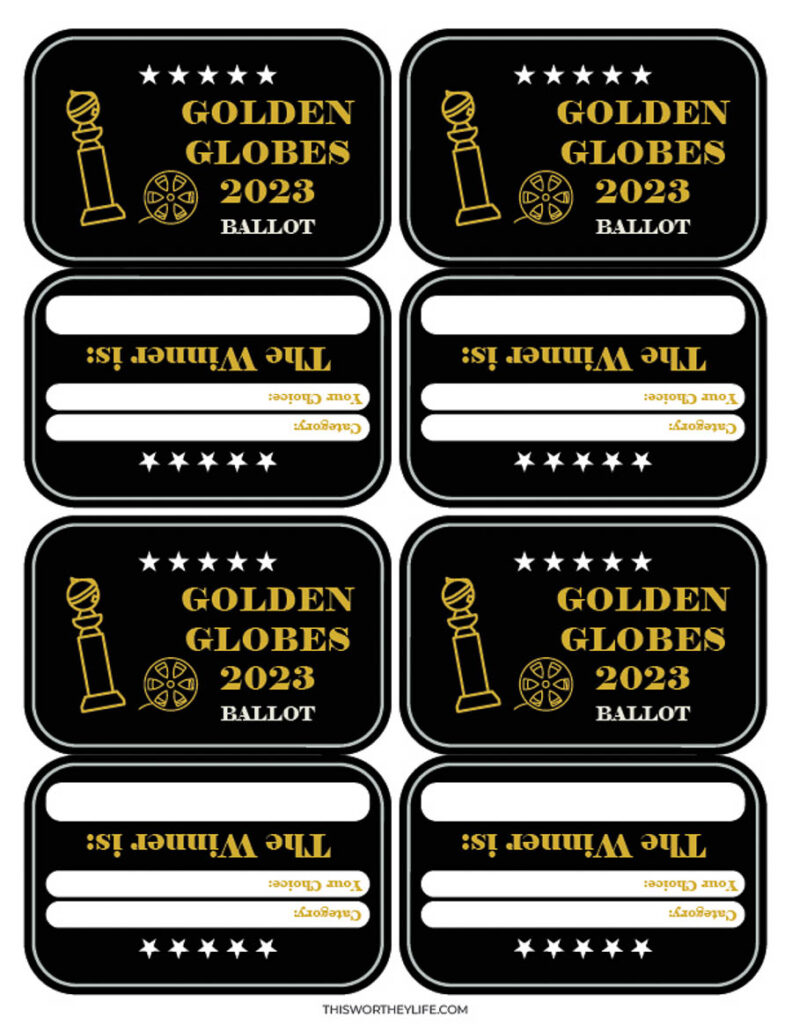 Free Golden Globes Ballot Cards To Print
Another creative + interactive way to entertain your guests (or yourself) while watching the award show is using these Golden Globe ballot cards.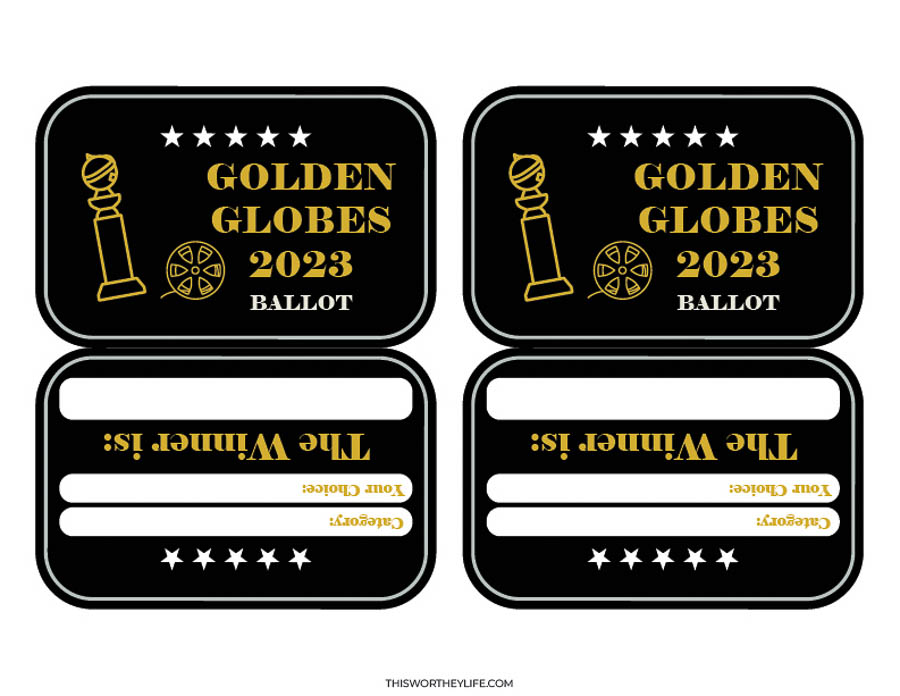 We used a similar one for our Oscar watch party and thought it would be fun to have this type of ballot for a Golden Globes watch party.
You can also use our free Ballot card (download the free ballot card).
While the award show is going on, you can ask your guests to accept the ballot card (if they won that category) and give them a statue. You can order a set of 12 here.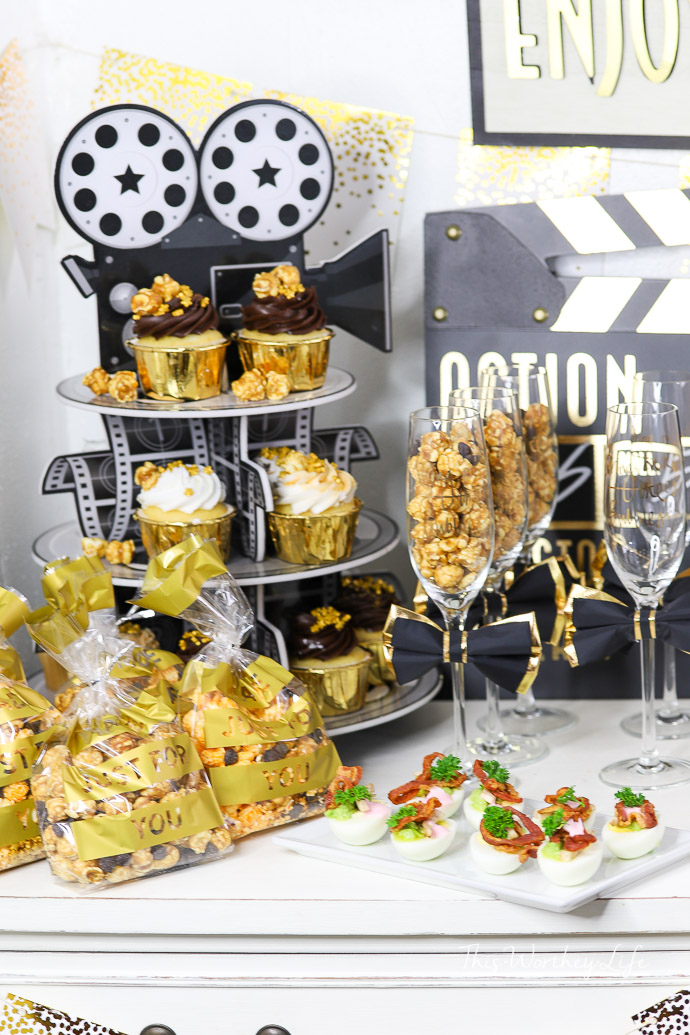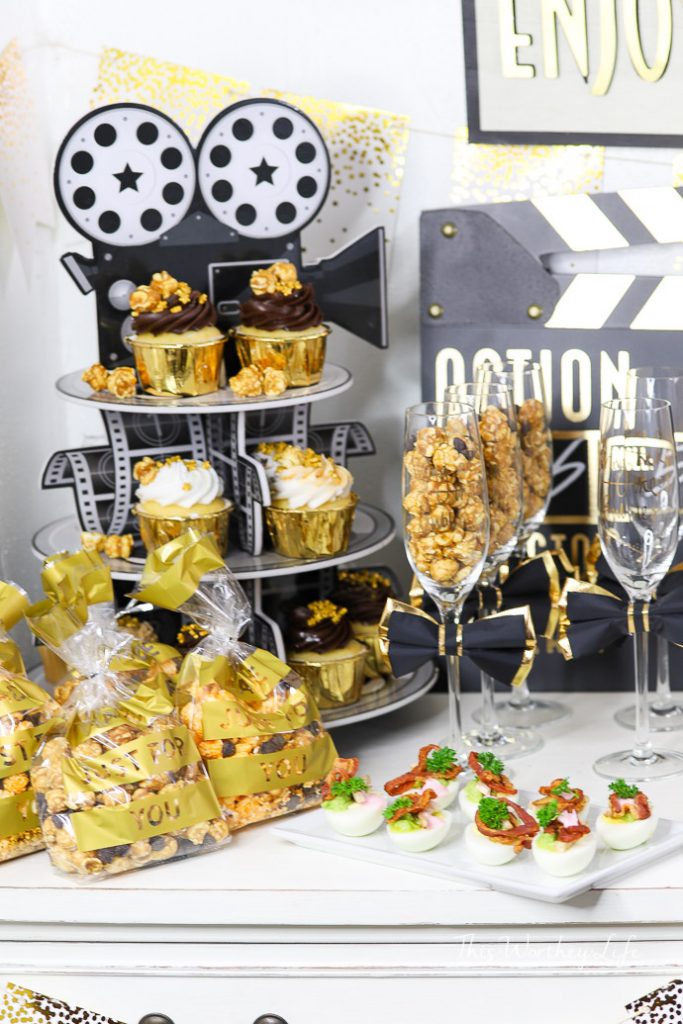 Hosting A Golden Globes Viewing Party
If you're planning to host a Golden Globes Award Show Party, here are some tips to help you plan + host a successful party.
Note: Due to the current pandemic, we highly encourage you to plan a virtual Golden Globes watch party.
We've previously shared some tips on hosting virtual parties on the blog, so be sure to check those tips out.
First things first. Before you do ANYTHING, you need a plan.
The Golden Globes for 2023 is on January 10th, 2023, at 8 PM EST.
How many people do you want to invite? (Also, will you email invites, create a social media invite, text message or send via mail?) And make sure they RSVP!
Do you have the capacity to host all of the people you invite? Look over the layout of your home to figure out how you can make it work. Our house is a little smaller, so I must get creative in finding places to seat guests.
What type of food do you want to serve? You can check out the recipes we recommend below for ideas and inspiration. Then, there are always recipe ideas to find on Pinterest. When in doubt, make recipes you are SURE will be a success!
What types of drinks will you serve? Alcoholic or non-alcoholic? It's ideal to have both, just in case your guests prefer mocktails instead of a cocktail.
Do you have any friends with food allergies, vegan, gluten-free, etc.?
How much do you plan to spend? (Create a budget for your party. This is crucial!)
Since this is an award show dinner party, will you have people dress up? Character or themed dinners are a LOT of fun!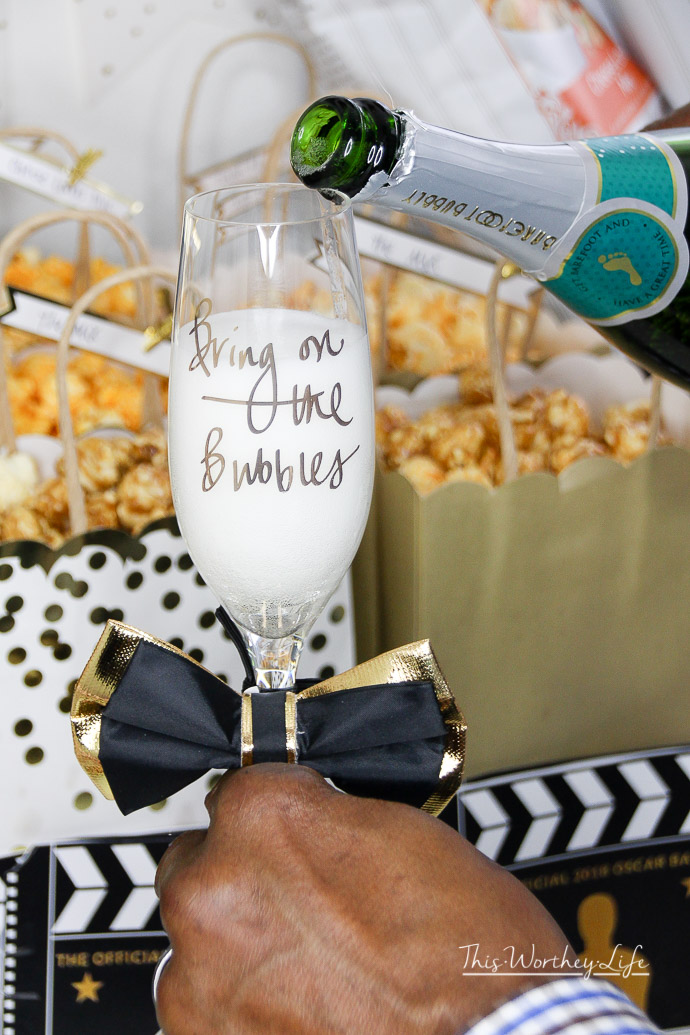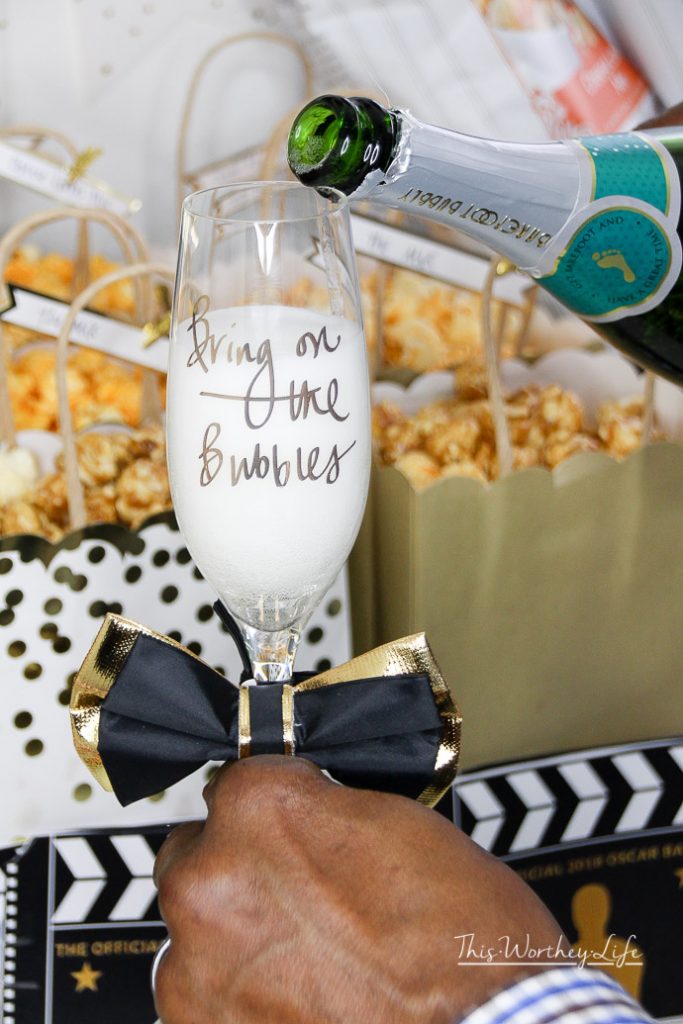 What you need to do prep for your viewing party
Once you know the date for the Golden Globes, it's time to start prepping for the party. About two weeks before the party, list everything you need.
This includes creating a cleaning schedule. I don't clean my house until the day or so before the party.
With three teen boys running around, it will only get dirty. Always clean bathrooms, living rooms, and dining rooms—pretty much plan on cleaning everywhere.
A week before the party, sit down and create your grocery list. Be sure to think of EVERYTHING you may need (this includes buying toilet paper).
The award show is typically held during the week, so try to shop the weekend before or at the beginning of the week.
Don't forget to think about your party decorations or themed items!
With today's modern conveniences, I love ordering groceries online and scheduling a pickup. This is an excellent option if you don't have time to shop in-store.
Also, double-check to ensure all guests have RSVP'd for the party.
Look over your menu. What items can you prep and store a few days before the party?
On the day of, you want to be as organized as possible, so prepping food ahead of time will save you a lot of time and energy.
The night before the party, double-check what needs to be cleaned. Focus on the areas where guests will frequent the most: dining room, bathroom, living room, entryway, etc.
Be sure you have air fresheners and essentials stocked in the bathroom. The Febreze Plugins or Small Spaces are my go-to when I want my space to smell fresh ahead of time and throughout the party.
This is also a good time to think about your cooking strategy for tomorrow. Which dishes need to be prepared first, last, served hot, etc.?
Need some inspiration on how to set up your space for an award show party?
See how we put together this black + gold idea for an award night watch party.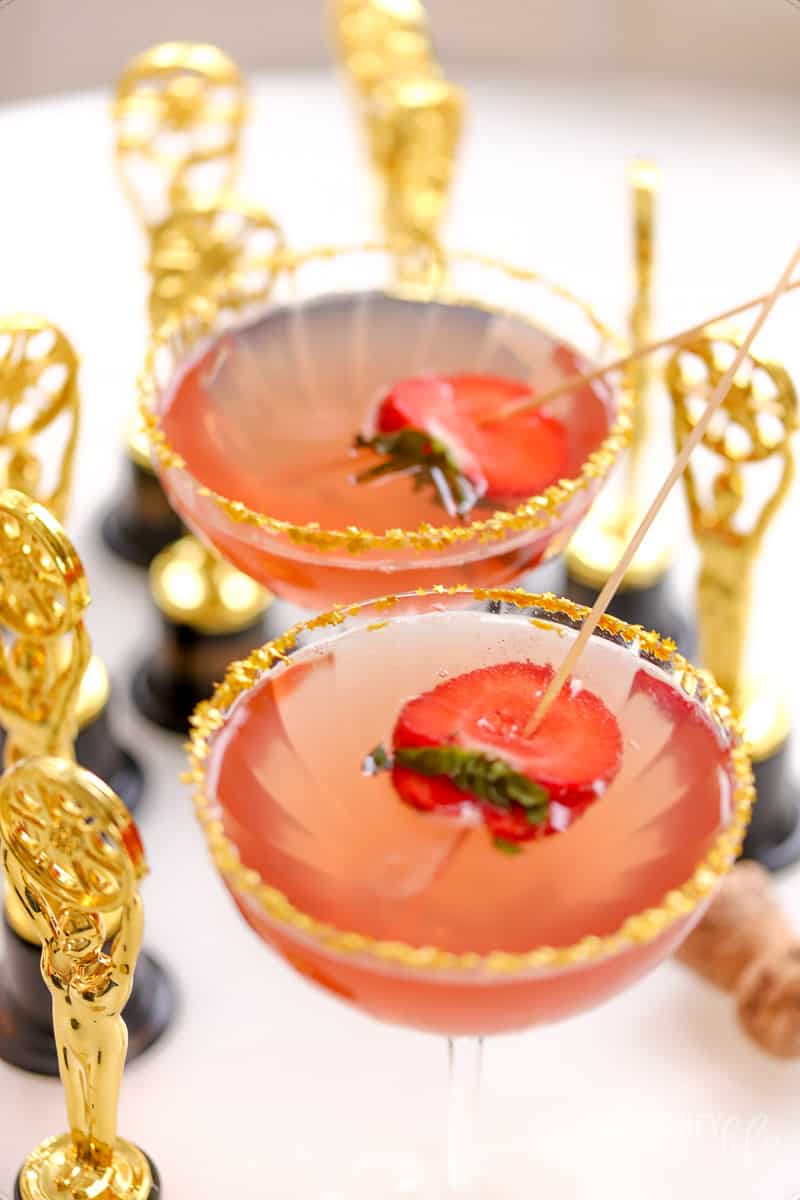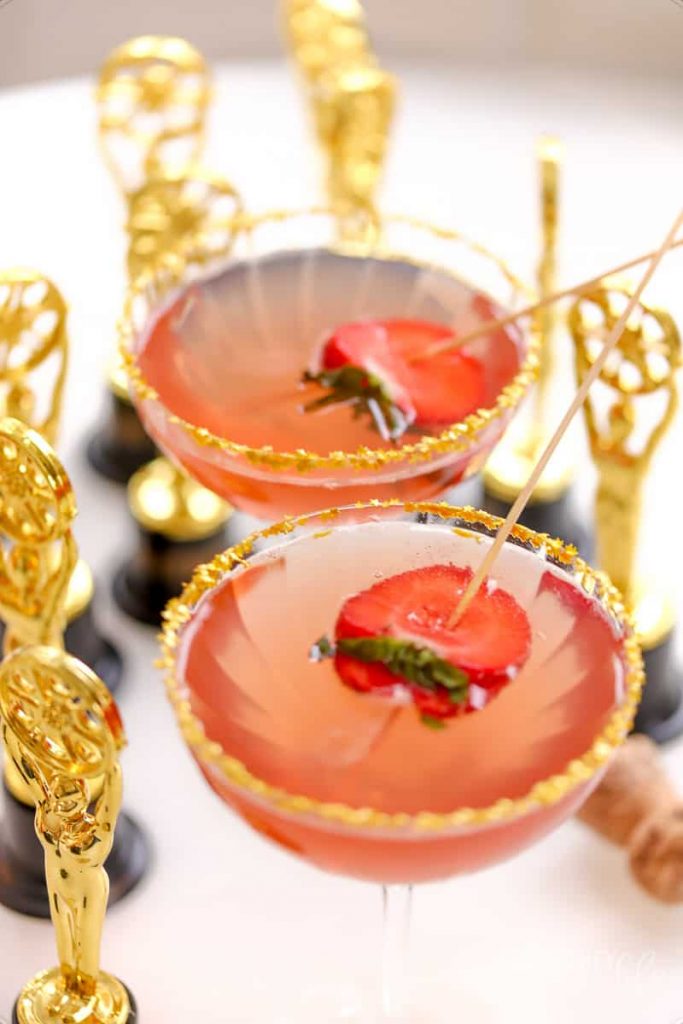 Golden Globe Food Ideas
Taquitos &Mini Tacos Grazing Board
Mini Cheese Balls Appetizers (perfect for individual serving)
Angus Steak Bruschetta Appetizers
Fresh Layered Salad with Blackberry Vinaigrette (great for individual serving)
Avocado, Sweet Potato & Gruyère Cheese Dip
46 Non-Alcoholic Drinks + Mocktail Ideas To Serve At Parties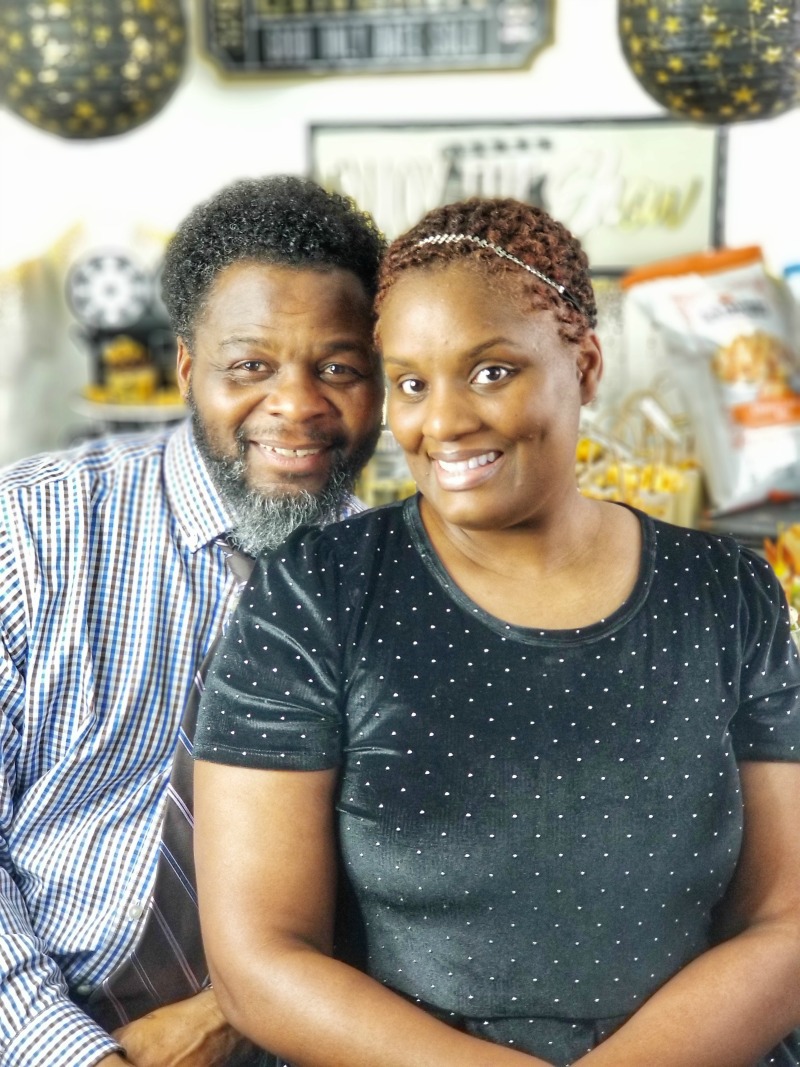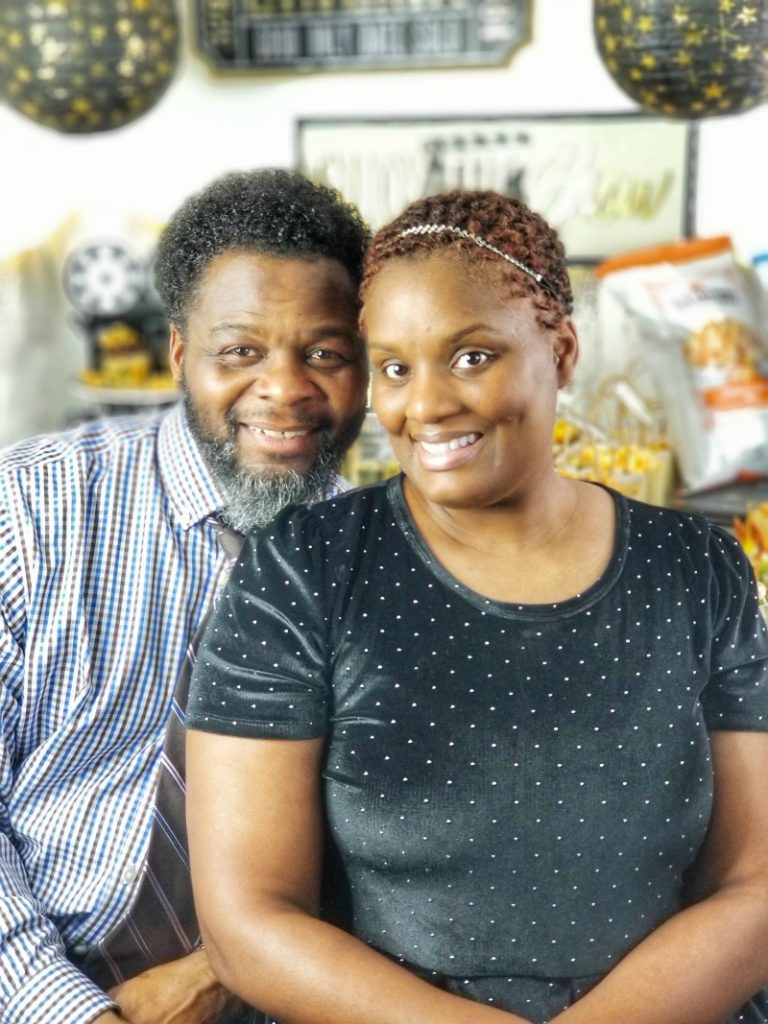 Golden Globes Afterparty
Whew! You made it! The party is over, and the last guest has finally walked out the door! Make sure there is a designated driver for everyone, or call a taxi/uber if you think a guest may need one.
So, now it's time to clean up. If you have friends like my friends, they are good at helping out without being asked. I don't make it a habit to have guests clean up, but I won't say no.
Since we're good at prepping and planning ahead of time and have a dishwasher, our clean-up process is straightforward.
We also use quality paper products, which makes the aftermath a breeze.
Follow up with your guests in the following days, and thank them for coming to your award show party.
Also, take the time to evaluate how you did.
Did the food come out okay?
Did you have too many people? Not enough people?
Did your guests enjoy the food? Entertainment, etc.?
Did you stay on budget?
Do you have plans to host a Golden Globes watch party?
I would love to hear about it! And if you have a few tips, be sure to drop them down in the comments below.
Post Created 1/2016 | Updated 1/2023