This shop has been compensated by Collective Bias, Inc. and its advertiser. All opinions are mine alone. #MangiaTonight #CollectiveBias
Are you scrambling to put together a last-minute date night idea? Here's a simple and easy way to plan a last-minute dinner date night idea in under an hour!

How To Plan A Last Minute Dinner Date Idea
It's the day before Valentine's Day.
Once again, this Hallmark holiday snuck up on you. It's like you knew it was coming, but man where did the time go? You would love to pull off the perfect romantic date night with your significant other, but you have a few problems:
No babysitter (this is what happens when you don't plan ahead, and your babysitter isn't available!)
You're low on funds (the extra money isn't in the budget)
All the nice restaurants are booked (again, last-minute planning snafu!)
How can you pull off a last-minute Valentine's Date night (or anniversary dinner or special date night) at the last-minute?
There's two things you need to do. One, don't worry. And two, whatever you do don't freak out! Tat (that's moi) is here to save your Valentine's Day.
I am the QUEEN of procrastination and waiting until the last minute, so I completely get it. Thankfully, I have a few tricks and tips to help you pull together a fabulous date idea in under an hour.
First, take five minutes to grab the good china, the delicate wine glasses and the forks, spoons, and knives you seldom use. Make sure everything is gleaming and spot free. Also, grab a few candles and other items you want to use for your table setting.
Second, put together a menu of his or her favorite foods.
'But Tat," you say, "I don't have the time to pull this off, particularly at the last minute."
No worries. Haven't you heard? The most romantic dinner idea is spaghetti and meatballs (from the Disney's classic, Lady & the Tramp). I mean, you can't beat staring into your lover's eyes, slurping up the same strand of pasta, bringing you closer and closer while Marvin Gaye's "Let's Get It On" is softly crooning in the background. Right? Right!
But here's one better, instead of spending time cooking a meal, head to your local Kroger and pick up a selection from Bertolli's new line of frozen meals. I grabbed the Bertolli Lasagna, it's family size because everyone knows that romance happens on a full stomach. I also grabbed fresh strawberries, grapes, a loaf of French bread and a variety of fancy cheeses from the deli. Thankfully, I had several selections of wine to choose from at home. However, you can grab her or his favorite bottle of wine or sparkling juice at Kroger too! Don't worry, they got you covered.
When you get home, follow the directions on the Bertolli package and place it in the oven. While the lasagna is warming up, you are going to put together a quick table setting.
First, place a beautiful tablecloth or wrapping paper (yes, wrapping paper is the next best thing to a fancy tablecloth or runner). Place the wine in an ice bucket and place it on the table. This is also a good time to line up your choice of music for the evening.
Pull out your fancy tableware and set the table for two. If you do not have the good china, use whatever you have on hand or make a mental note to add paper plates to your Kroger grocery run.
Remember those candles I told you to look for? Arrange those around the table. Don't forget to add your silverware and wine glasses. If you have Valentine's Day related decor, you can add a few pieces for extra pizazz. I added a set of V-Day coffee mugs, matching tray and coffee pot. Relaxing with a hot cup of coffee, hot chocolate, etc. is an excellent way to end the night (among other things).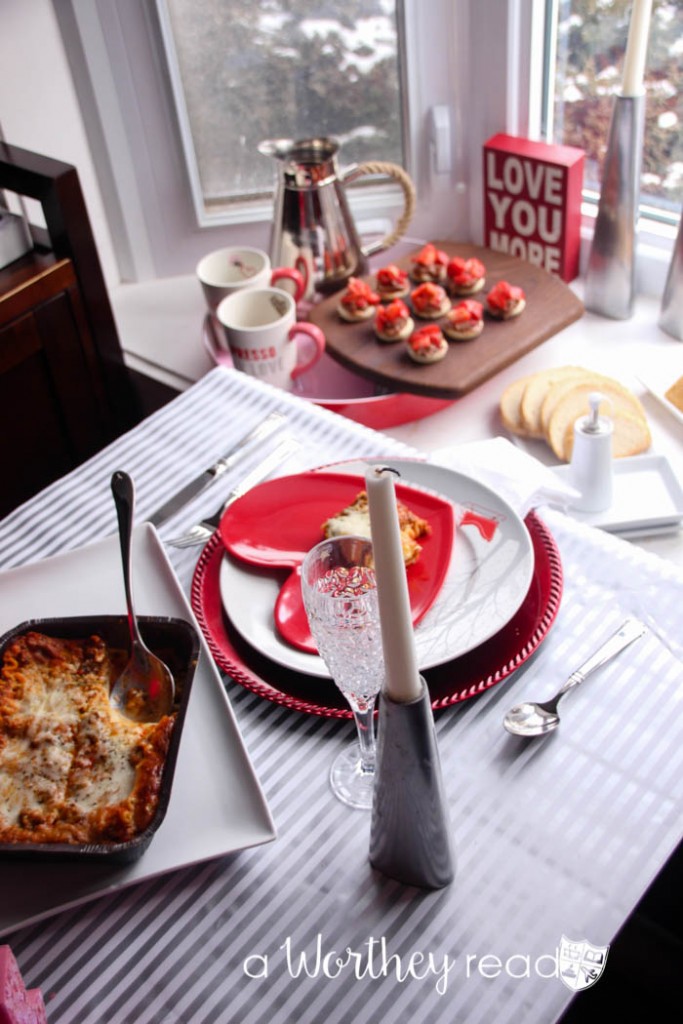 Now, let's head back to the kitchen. While you're waiting for the lasagna to finish, arrange the cheese tray with fresh fruit, slices of French bread and of course, the cheese selections you picked up.
If you don't have time to make a dessert, then be sure to add that to your grocery list. You can grab a basket of fresh strawberries, mini cupcakes, ice cream or other frozen desserts if you're short on time.
I made Strawberry Nutella Tart Bites. I was going to make a bigger tart, but quickly found out I had no tart pan. So I improvised and used a mini cupcake pan to make the bites. You can grab the recipe here if you want to try your hand at making these yummy dessert. It was easy, and they were done in under 30 minutes!
Once you finish making your dessert, arranging the cheese plate, and bread, the lasagna should be done. Take it out of the oven and allow it to cool for about five minutes.
Light the candles and call your love downstairs to the table.
If the look on their face is "WOW, I'm impressed," mannnnn I think you're in for a good night!
"Mangia" (meaning let's eat in Italian!)
And that's it. You pulled off a last-minute Valentine's Day dinner idea. Not only did you save money on eating out, babysitter fees, etc., but you also saved yourself time (and possibly a trip to the doghouse).
And don't think I'm talking just to the guys, right? Nope, I'm the queen of forgetting important dates like Valentine's Day, our anniversary, etc., so this is for me and everyone else that likes to wait until the last minute.
I mentioned earlier I stopped by my Kroger store to pick up the supplies and my Bertolli Lasagna frozen entree. I was able to find it in the frozen food section, aisle 20."Find Bertolli items at some of the lowest prices of the year in a Kroger or Kroger banner store near you. Kroger banners include Fred Meyer, Smiths, Frys, Dillions, King Soopers, City Market, and QFC. Find a store near you: http://cbi.as/22eph
So, what's your idea of the perfect dinner date? A romantic evening, anniversary dinner or just a night spent with the one you love? Share your thoughts with me below! I would love to hear from you!